Human SEO is the understanding of human search patterns when using tools such as search engines and social media networks. [For example] machines can never understand how a mom with a screaming baby at 3am searches differently than a CEO mom's nanny searching for that same product in the middle of her day with a laughing baby at the park. Humans search based on emotion. This is where AI and SEO intersect.
Since the industrial revolution of the 18th century, businesses have found profit in mechanizing everyday tasks. Back then, the steam engine powered every machine, today, artificial intelligence (AI) has taken its place by ceaselessly automating across every imaginable industry that has remotely anything to do with technology, and SEO is no different.
To understand whether or not traditional, manual, and human-centered SEO is threatened or augmented by AI, we invited Shannon K. Steffen onto last week's #SEMrushchat to share her tactics on targeting the right audience, increasing traffic, qualifying leads, and selling more with Human SEO marketing solutions. Here is what Shannon and the rest of our chat participants had to say:
Q1. In your opinion, do you think AI will make SEO obsolete?
No way, if you ask Shannon! Because SEO, in her opinion, is a living, breathing technology with immortal and ever-changing "best practices," such as keyword research, web development, content and link building, each of which is essential for search engines themselves to function properly.
AI enables humans to do "human" things more easily and improve how SEO is implemented. There is little chance of SEO "dying" as it forms the backbone of digital marketing. Instead, AI could make it more exciting and evolve to encompass optimization tactics beyond those directly related to search engines.
Experts including Craig Campbell - @craigcampbell03 and Bill Slawski - @bill_slawski predicted SEO will not become obsolete under any circumstances, because elements unique to human nature, like curiosity and empathy, are still beyond AI's reach. Further, humans control the AI tools themselves. Planning a marketing strategy is also a uniquely human occupation. However, there will definitely be a dip in hiring due to automation, as tools with more advanced capabilities continue to be developed.
SEO itself will be a lot better due to AI. Already, great progress has been made due to a collection of new, real-time data streams. AI will help humans optimize visual content better, improve voice search, target conversational keyword clusters, provide better UX, cut down black hat tactics, create efficient reports, and make informed decisions in general.
AI's integration with SEO will only become stronger, with machine learning and quantum computing delivering new insights that will help us create stronger, long-term, user-focused strategies. Marketers need to learn how to use AI effectively to strengthen various components of SEO.
AI reinforces human experience in SEO by automating tasks that we need to do and provides immediate feedback on the results. It can help us discover new patterns in our behavior and even simulate outcomes of decisions. However, it can't supplement or reproduce decision-making capabilities that have been developed over years of human experience. Like Andrew - @optimisey said, if multiple organizations use the same AI, human skills would be the crucial differentiator for each one of them.
Q2. What is the impact of AI on SEO?
AI has infused human traits into SEO and changed it from a system that could be easily manipulated to a knowledge-centered technology that encourages interaction and trust among people.
The short-term impact of AI on search algorithms and results won't be drastic. After all, algorithms are only as good as the data they're fed. Therefore, until AI becomes perfect, SEOs and engineers will be left scratching their heads when inconsistencies crop up.
Right now, Google is using AI to understand users and provide a better user experience. 
As marketers, we must adapt to the changes that AI influences. As JP Sherman - @jpsherman stated, we need to change our perception of the internet from a collection of web pages, to a database of information. This way, we would be able to correlate and study huge amounts of data, making our research process more effective.
We should also attempt to understand the potentially damaging impact of AI before we fully adopt it. Immoral inputs or inputs devoid of morals might lead AI to learn incorrect ethical principles, which would, in turn, have undesirable effects on content marketing and user behavior as a whole.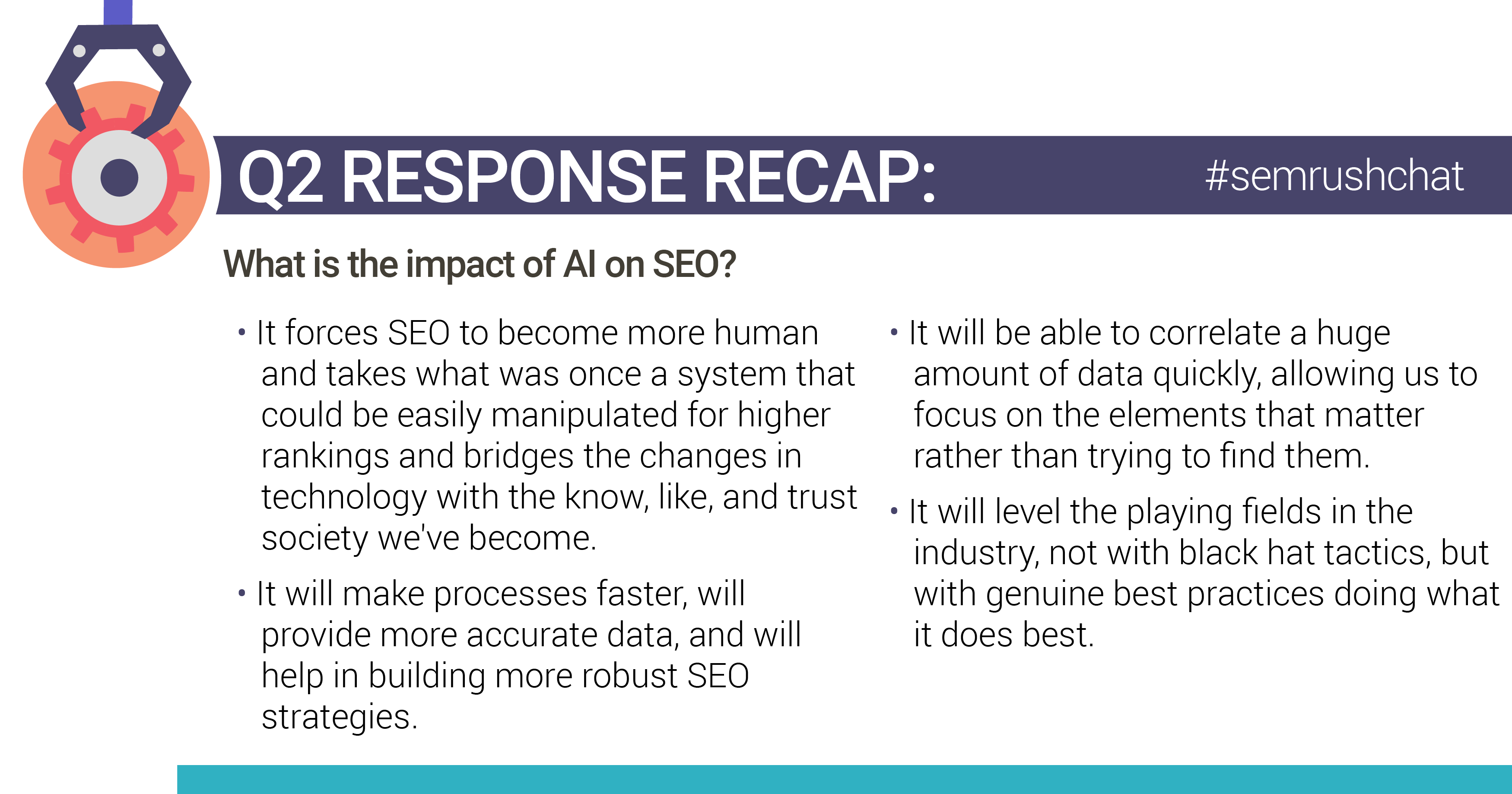 Q3. What are some of the advantages of using AI for SEO? Disadvantages?
Shannon K Steffen - @ShannonKSteffen believes that human connections and engagement are the central tenets of both AI and SEO. AI might not serve up the accurate content, but it will certainly help weed out black hat tactics for ranking. Ultimately, you will get more conversions from the traffic that SEO brings you. People who try and game the algorithms will be the only ones to suffer continued setbacks with the evolution of AI.
Automation is the single most important advantage that AI offers – improvements in speed, efficiency and cost savings allows us to focus more on key areas that impact user experience. However, faulty inputs will quickly lead to bad decisions.
AI helps marketers decide, filter, manage, and present complex sets of big data. Sometimes, though, this results in devaluation of human input. Human analysis is always needed to monitor and control results.
When it comes to SEO, AI gives marketers access to big data, a deeper understanding of industry trends, and helps prioritize UX by standardizing practices and processes. What is more, you can precisely match user intent based on their past behavior, while helping them discover new solutions with a personalized, humanized content strategy.
Over-reliance on AI could easily be your biggest drawback. You need to understand that AI is a reinforcement, not a replacement, to SEO, and figure out exactly how it will help you create successful campaigns.
Q4. How can SEOs keep the balance between what AI can do and what will be left for human specialists to work on?
Google keeps saying that their search algorithm chases user intent – a clear signal that marketers have no business chasing the algorithm. It has been said a million times, and Shannon isn't shy of repeating it, Create content for humans first. Your SEO efforts should focus on the wants of the customer, as opposed to those of the business. While SEO can help you communicate to the search engine, AI will assist you to create content directly aimed at humans.
Humans are the boss of AI. Humans decide what AI will or will not do. That said, you can tip the scale depending on the aims of your campaign and the capabilities of your team. You can go easy wherever AI becomes a deterrent instead of an advantage.
The two elements of marketing that will always be controlled by humans are creativity and responsibility. You need creativity to deliver your brand message to fellow humans; you need to take responsibility for the results returned by AI. While AI is good at processing data, humans are good at coming up with and communicating ideas. 
Don't forget that humans are behind the AI tools that automate SEO. Ultimately, your knowledge of SEO and digital channels is critical if you want to reap all the benefits that AI offers. You need to stay on top of the implementation process and not over-rely on AI for the outcomes. The balance will speak for itself in the results.
From the SEO point of view, it's difficult to achieve a balance while Google is constantly shaking things up. Humans need to decide where to begin and where to stop. So, do your due diligence and add your own insights if you want to pass on the results of AI to your customers in ways that truly benefit them.
The big question is how the growing use of AI in SEO and other digital channels will influence the marketing job market in the years to come.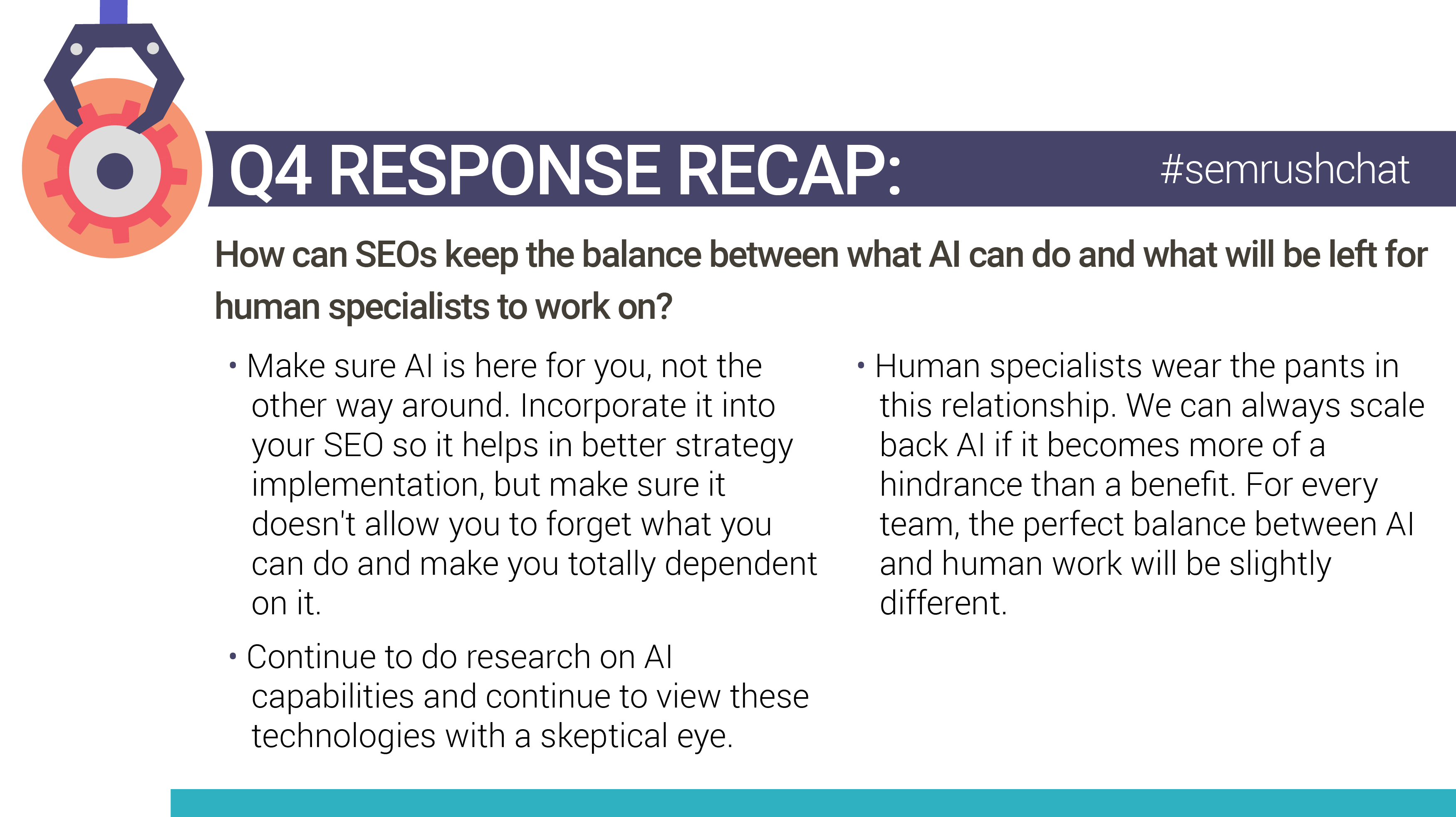 Q5. What are some of the best tools to use to optimize for both AI and SEO?
In Shannon's opinion, the best SEO tools combine on-page technical SEO tweaks with content marketing opportunities. No wonder she loves SEMrush for our comprehensive on-site audits, rank tracking, keyword research, and competitive analysis features!
SEMrush is the people's choice, not just Shannon's: 
Other tools include:
Google itself has a ton of tools that help you predict user intent via queries and understand user behavior. Start with the search results themselves to understand the AI beneath the ranking system. Try out Google Machine Learning kit for mobile, Google Assistant, Google Home, and Google Ads to understand how AI deals with the relationship between keywords and relevant content.
Don't chase AI and tools because they're constantly shifting with time, instead, focus on users, customers, their intents, and the content that connects them to you. Of course, you have a very special tool — your brain, that can help you to do that!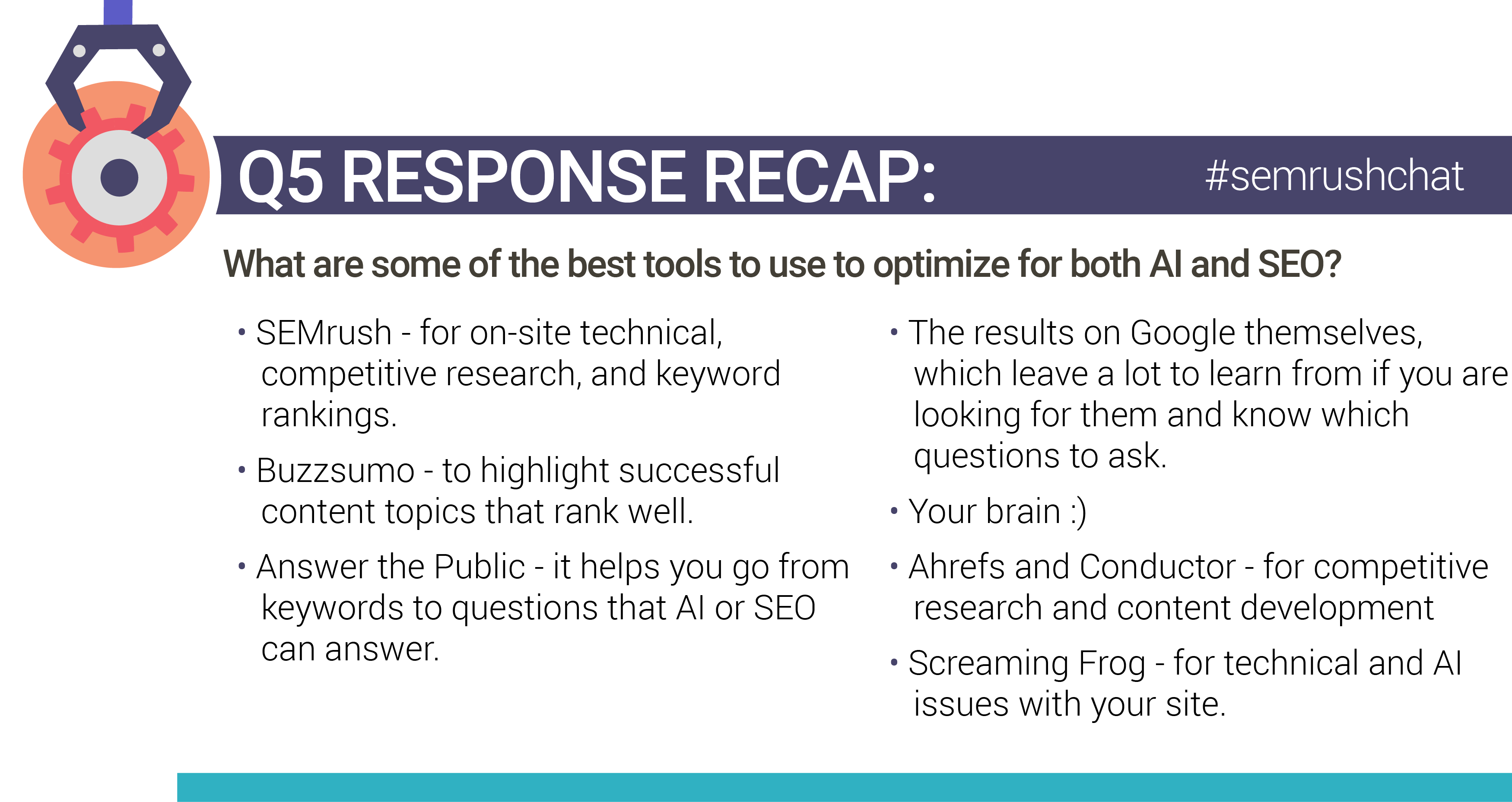 Shannon's Key Takeaways:
SEO increases traffic, but AI increases traffic conversions.
Automation and AI are not the same things. Automation speeds up a process. AI helps the process become more human and engage.
Use SEO to communicate to the search engines and AI-related content to communicate to the humans.
That is all for today! Tell us in the comments about your take on AI and SEO. How is AI evolving? Where does it overlap with SEO and various other digital marketing channels? What kind of tools do you use to analyze your customer or user data?
Don't forget to join us on this Wednesday's #SEMrushchat at 11AM EST to discuss "Ways to build Expertise, Authority and Trust to Boost your SEO" with Sherry Bonelli!