Originality, relevance, and knowing your audience are core considerations for making engaging content, though myriad criteria such as length, visual elements, and technical factors play important roles in the formula for content marketing success.
That's where our research comes in. We conducted extensive research to identify the key patterns of successful content that ranks and generates organic traffic.
Methodology
Focusing solely on organic traffic, we analyzed the visits, backlinks, and Facebook shares of 500K high-performing blogs that had 30-500K monthly views in 2021 to uncover several revealing patterns and characteristics. In our State of Content Marketing 2022 Global Report, we share several key factors for content creators to consider when designing and producing their content in 2022. In particular:
Headlines (types, H1 length, and specific word choice)
Structure (heading depth, list presence, and overall complexity)
Visual content (the presence of images and video in numbers) 
Article quality and topic coverage (considerations for user intent, article length, and offering unique value)
Our research takes a generic approach to analyzing the data behind top-performing organic content. While our research cannot confirm that these findings are applicable and hold true for every industry, they serve as insightful guidelines that content marketers can apply to their strategy for 2022.
Here's the summary of our findings:
Headlines
What's in a headline? Everything! The headline is the first opportunity you have to hook a reader, give them an idea of what to expect, and even give them a sense of your brand voice and tone in writing. 
Headline Types
Depending on the type of content you're creating, the type of headline you use can make a big difference in the visibility and click-worthiness of your article. In our study, we found that several headline types such as guides and how-tos, tend to garner more organic traffic, as well as shares and backlinks.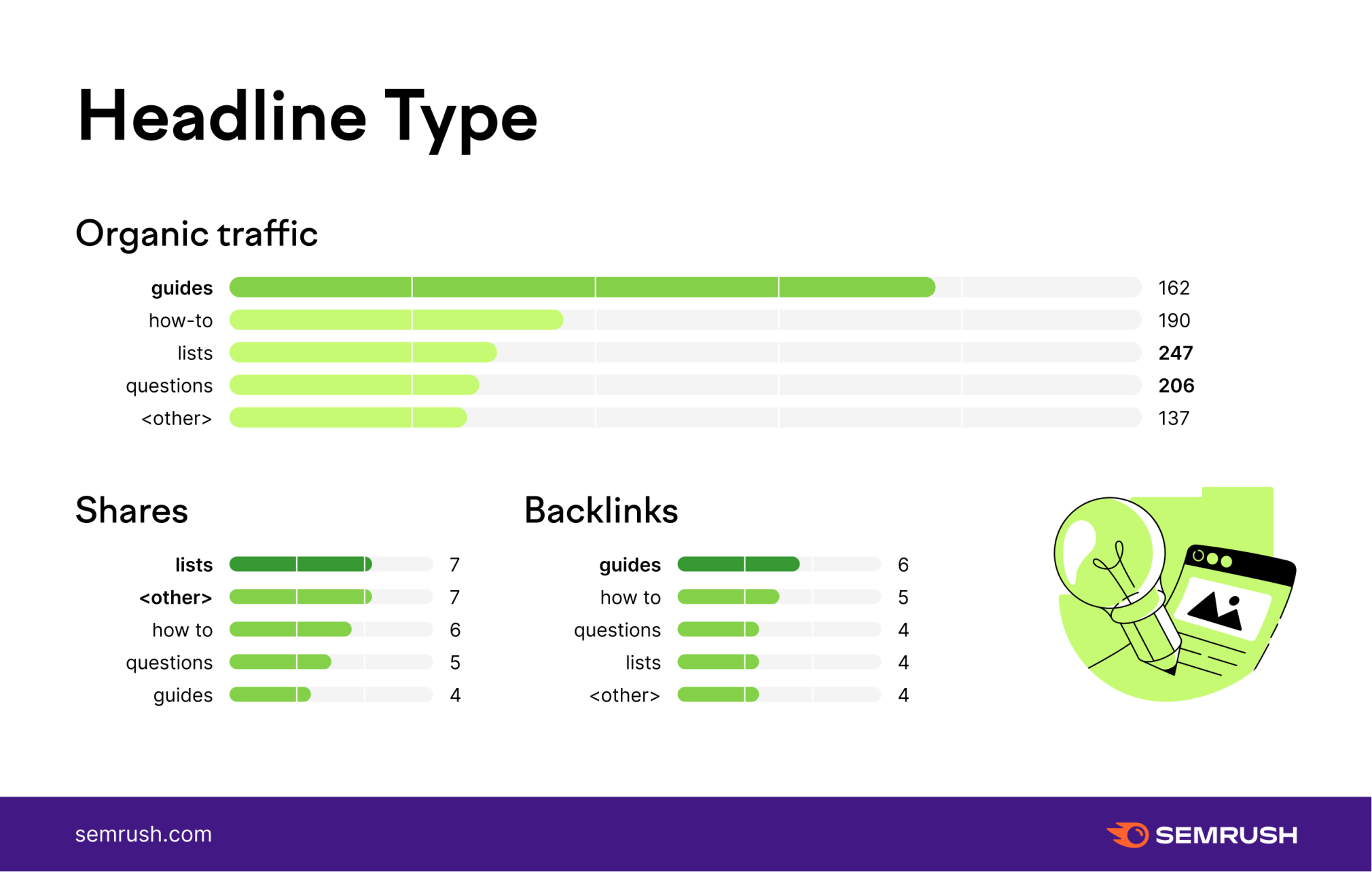 Key takeaway: Readers love guides and structured articles that give them answers to their questions. Titles with the word "guide" attract three times more organic traffic, and how-tos outperform by 1.5 times. Try implementing these headline types into your content to provide value and visible answers to readers' burning questions.
H1 Length
While your H1 is meant to hook and introduce your topic, it's also critical to take the length into consideration. 
We compared H1 length against the average monthly organic traffic, the number of social shares (Facebook), and the number of backlinks the article had. Because we focused on organic traffic, note that headlines on the search engine page results (SERP) favor shorter lengths to avoid truncation. Headlines for blogs, however, can be differentiated from the meta titles appearing in search and can sometimes perform better at longer word lengths.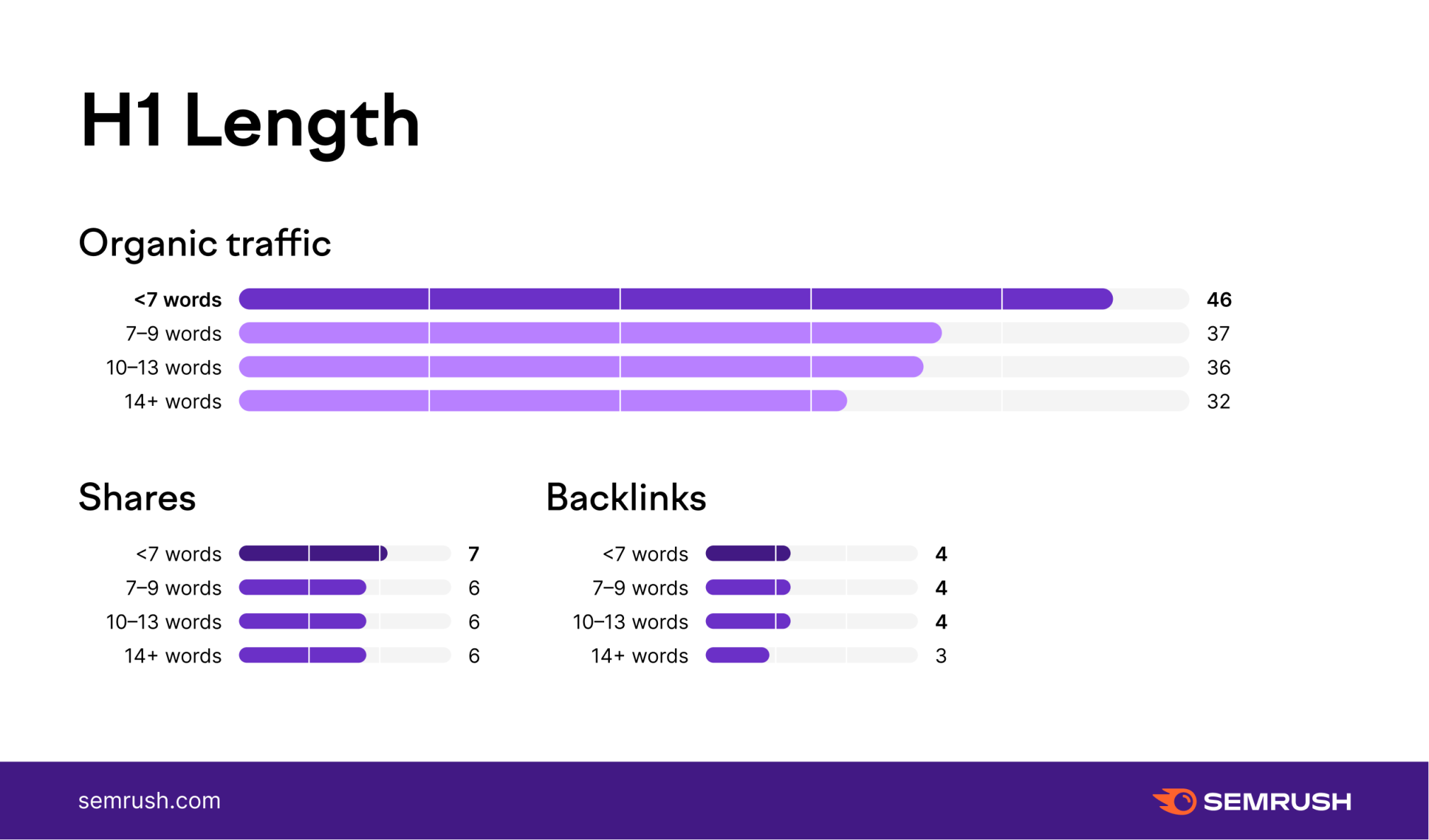 Key takeaways:
Articles with seven or fewer words in their H1 receive 36% more average organic traffic than those with 14 words or more in search
H1s with seven words or fewer receive more social shares
Article H1s with 14 words or more get slightly fewer backlinks than shorter headlines
Of course, not all headlines can easily be explained in seven words or less. When writing a meta title for search, shorter works best because it avoids truncation on the SERP. On the other hand, writing a longer, more explanatory blog title can be more enticing to a person. In such cases, you might consider creating a shorter meta title for search, and a longer (and more descriptive) heading for a blog post page.
Always consider how thoroughly the topic needs to be explored in order to provide value to your readers. Not to mention, your title should always give your reader a sense of what and how your article will explore the topic in question. Other elements of creating a strong H1 include:
Be descriptive: Try to provide your reader with some insight into what they can expect when they click on your headline and read your article. Does your content deliver the promise of that headline? 
​​Grab readers' attention: At the same time, you should keep your headline intriguing, encouraging the reader to learn more. Showcase the value of opening your article and make sure to be clear and concise.
Consider user intent: What is your target audience looking for? Consider whether or not they're looking to make a purchase, compare a product, or seek out specific information.
Article Structure
Building out your content with advanced structure, such as the presence of H2, H3, and H4 tags, is one of the best practices for creating content with enhanced readability and aesthetic appeal. Depending on how complex your topic is, it provides the reader with an in-depth exploration of a topic in more digestible, meaningful pieces. If you want to learn more about how to set up your heading tags correctly, head over to our blog where we cover the topic in greater detail.
With all that said, it's not too surprising that our research found a correlation between high-performing organic articles and increased engagement and monthly traffic.
Distribution of Heading Depth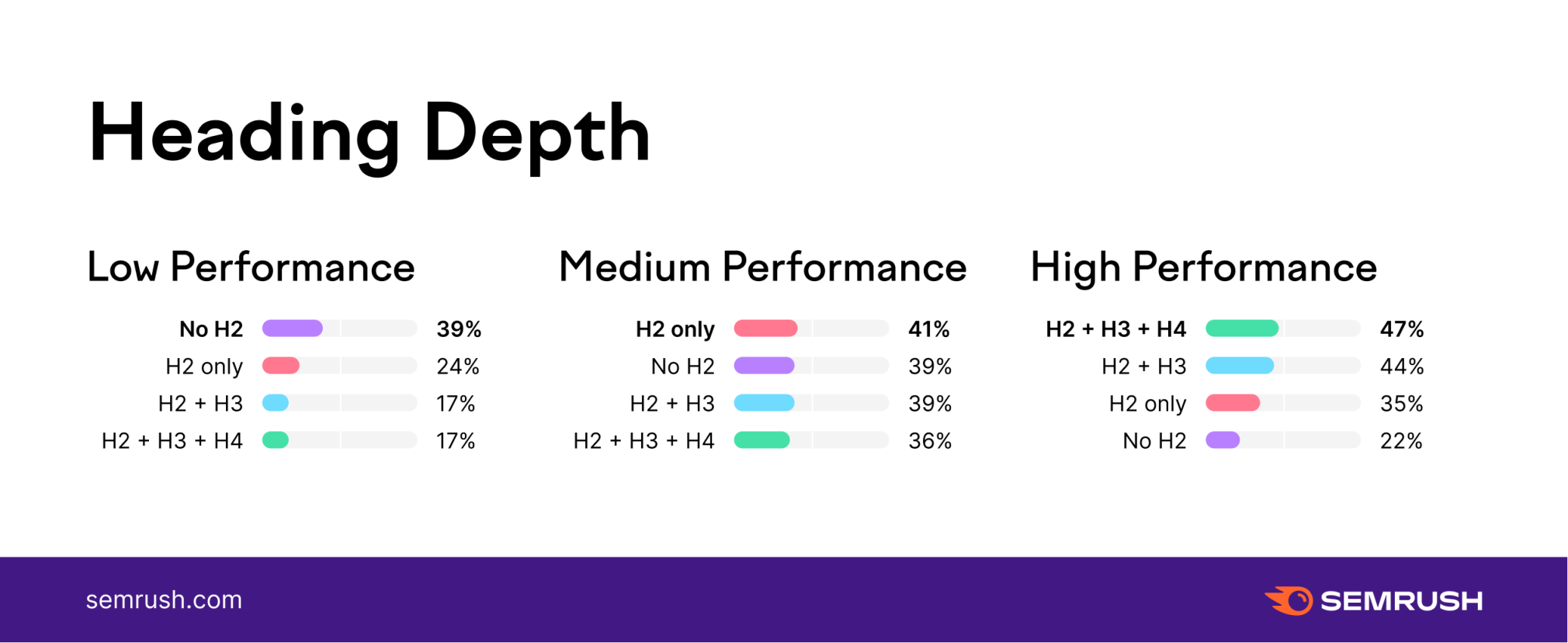 Heading depth is determined by the number of H2, H3, and H3 tags present in your article. Structuring heading depths may seem more of a technical SEO activity rather than a staple of effective content marketing strategy, but the two are becoming increasingly interconnected, according to our findings. 
Aside from providing the reader with a more pleasing visual experience, we found that articles with complex structure (the presence of H2, H3, and H4) belonged in the top 47% highest-performing content group. Breaking down the content into subsections can also help you explore the topic in greater depth.
Key takeaways:
47% of articles with advanced headings (H2 + H3 + H4) are in the top group of performing organic content
39% of articles that lack an H2 are lower-performing
The Power of Lists
As a reader, it's easy to see the appeal of lists, which can be extremely powerful when incorporated into the body of text. 
Backlinko's roundup of Google's 200 ranking factors explained that bullets and lists make content more user-friendly, and it's likely Google agrees. 
We analyzed the number of lists per every 500 words of plain text (excluding bullets) and compared it against the average monthly organic traffic, number of social shares, and backlinks it had.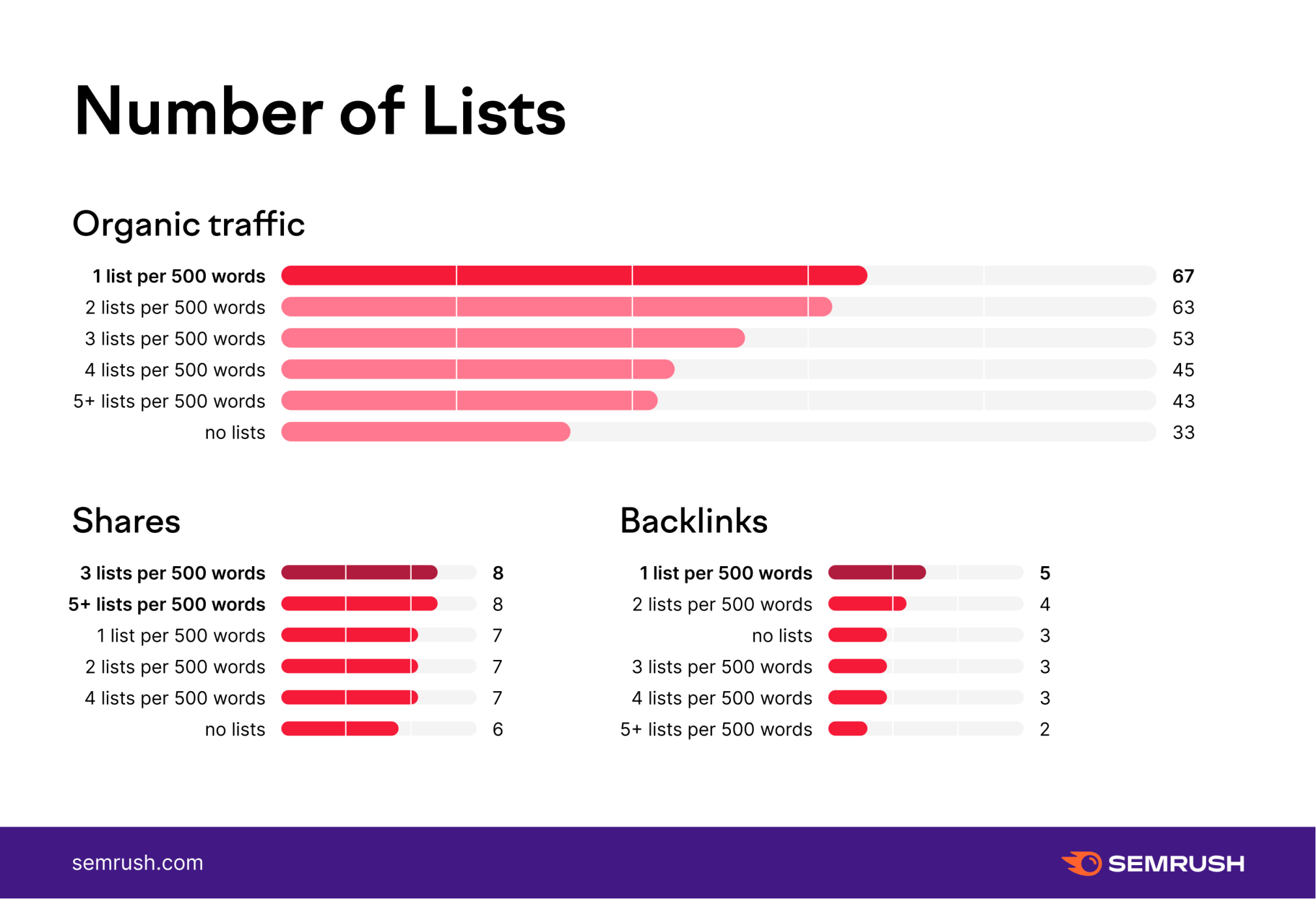 Key takeaway: Lists are an excellent way of organizing information for your reader, but too many lists without context might be less effective. Articles with one list per 500 words performed best in our study.
Visual Content
In the world of content marketing and SEO, a picture isn't always "worth 1,000 words," but our study reveals fascinating insights surrounding the use of visual elements in content creation.
Not only are images more visually appealing, but they also help break up long sections of text and tell a deeper story. Similarly, many people might prefer to watch a short video instead of reading an entire article—it depends on the topic, industry, and your audience's intent.
We took the number of images and videos in the article and compared it against the average monthly organic traffic, number of Facebook shares, and backlinks it had.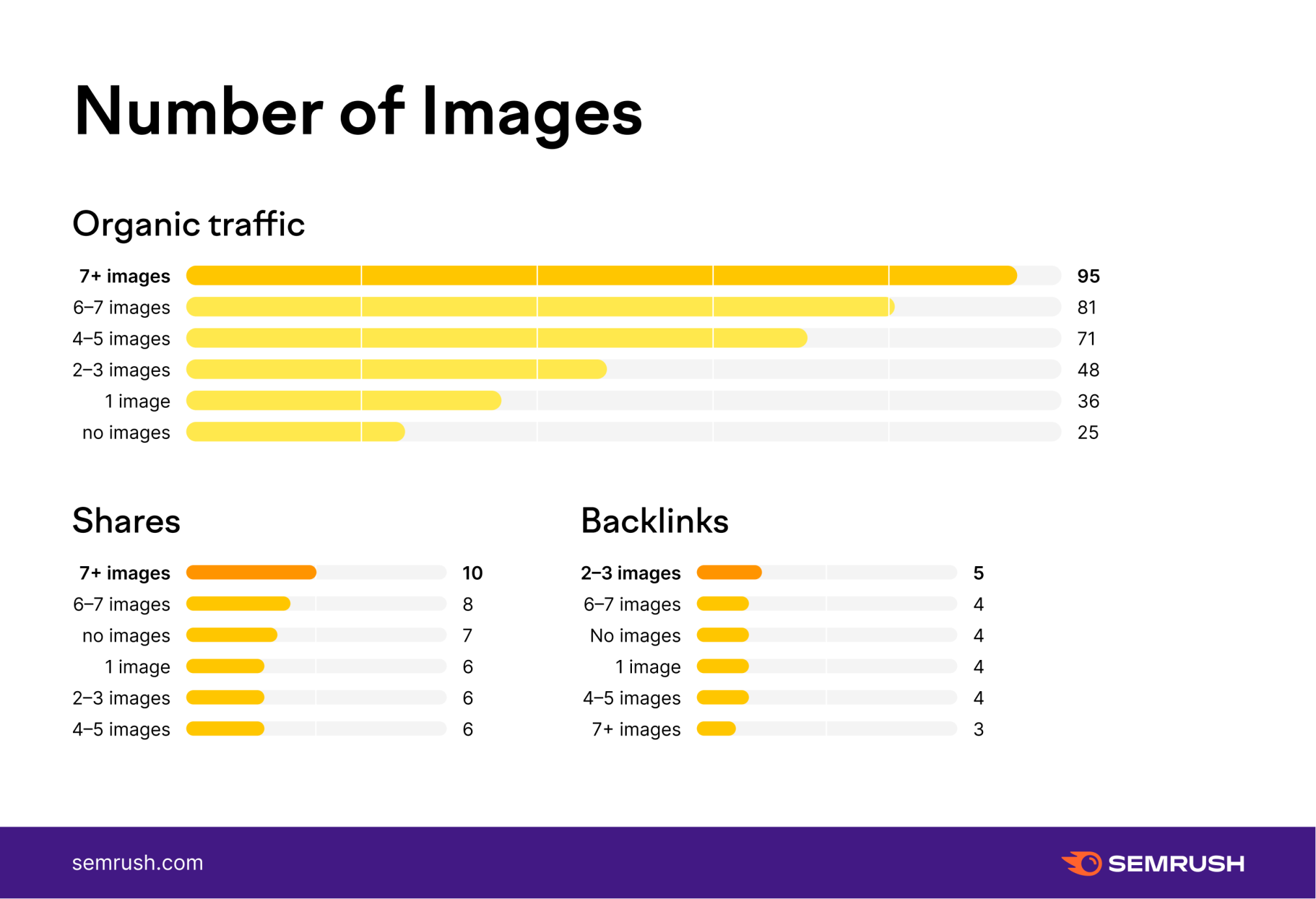 As we've seen in our study on content marketing trends, video, and especially—short-form video—keeps getting more popular in both B2C and B2B markets. Besides, adding video to your articles can help you generate clicks for different SERP features.
Key takeaways:
7+ images receive 116% more organic traffic than those with none
1 video receives 83% more traffic than those without
3 or more videos gain 55% more backlinks than those with none
Article Length, Quality, and Topic Coverage
We have seen that longer articles covering their topics in-depth tend to attract more organic traffic and backlinks. However, determining the "magic word count" depends on a number of factors: the topic, the format, and the unique standards each industry sets.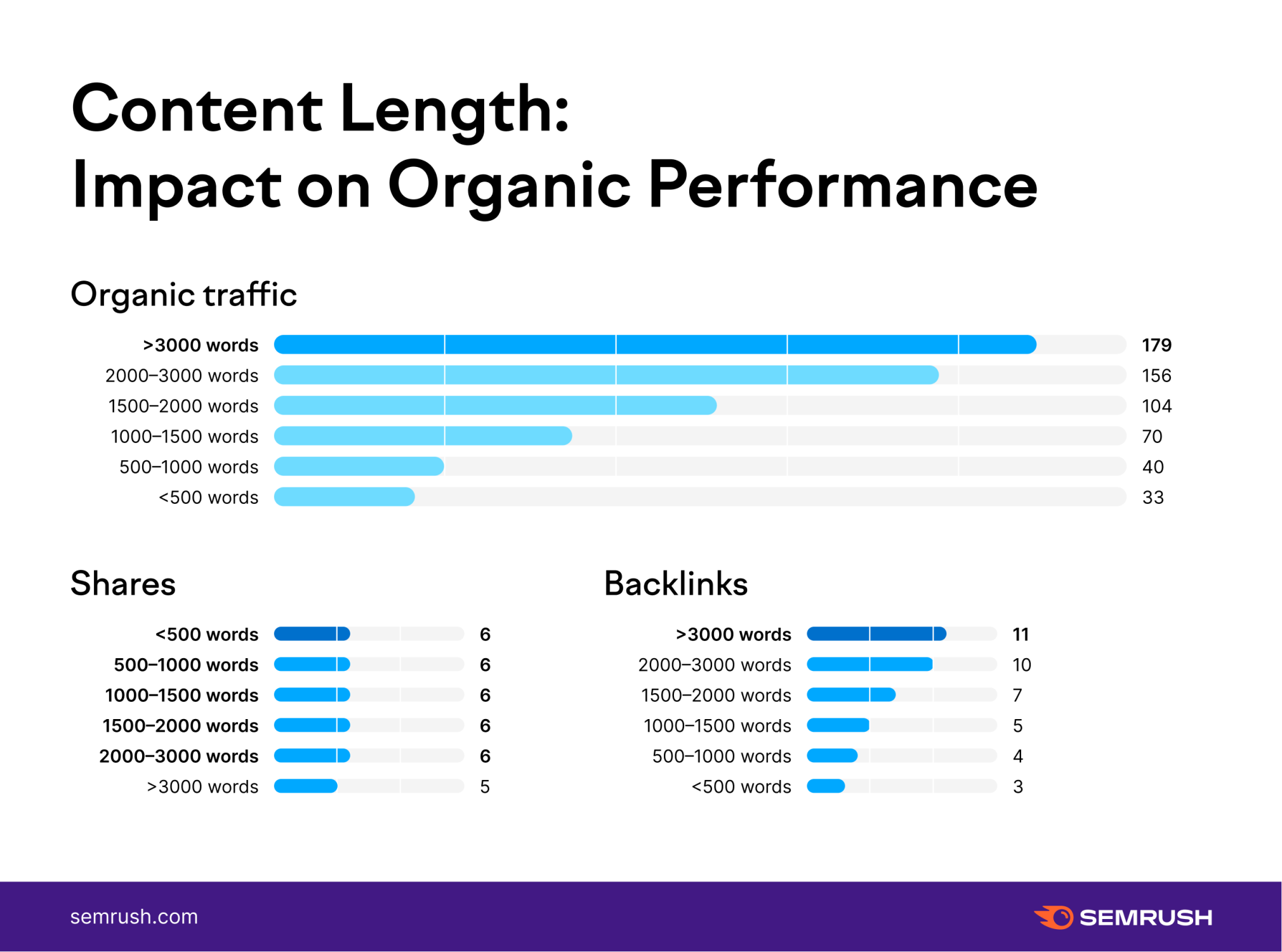 Rather than creating long articles just for the sake of it, focus on your target audience, their intent, and the information they ultimately need. Your main task is to provide a comprehensive, yet clear and concise answer to their question or search query, whatever it might be. At the end of the day, this is one of the most important traits of quality content.
In our survey, respondents cited that quality content was the most important factor in improving their organic ranking.
Key takeaway: Top-performing content adheres to principles of quality, authenticity, unique research, and appropriate topic coverage set by each industry. While many long-form articles tend to rank higher and perform better organically, it's not dependent on word count so much as it reflects that the topic is explored in depth. The SEO Writing Assistant provides guidelines and competitive insights to help you find the ideal content length based on existing articles that rank for your target keywords. 
Ideas for Creating Top-Performing Content: Key Findings
As we venture from this study into the world of content marketing in 2022, try implementing these key considerations when creating and optimizing organic content this year.
"Guide" and "How to" are magnetic words for headings. They attract 3 and 1.5 times more organic traffic than others, respectively. As expected, performing topic research can help you find an opportunity to understand what kind of content your audience needs and is anticipating. What kind of content is your audience looking for? What questions are they asking? To get started with this, try Semrush's Topic Research tool to discover relevant questions, compare against similar headlines in real-time, and access other tips for formulating a headline that speaks to your audience.
Brevity beats out long headlines in search, but descriptive and specific headlines are essential for human readers. We found that articles with seven or fewer words in their H1 get 36% more organic traffic than those with 14 or more words. At the same time, your main focus should be on telling the right story with your headline. Creating different blog and meta titles can help you boost the click-through rates on all channels.
Advanced H structure wins. 47% of articles with advanced headings (H2 + H3 + H4) are in the top group of performing organic content. On the flipside, 39% of articles that lack an H2 are lower performing. Structured content performs better across the board. Develop sections within your article that focus on digestible, contained ideas for the reader. It also helps search engines understand and index your content more easily.
Lists, in moderation, provide balance to text. Articles with one or two lists per 500 words garner 68% more organic traffic than those that don't. Use lists in your content thoughtfully. Excessive lists compared to plain text do not perform as well as those that have enough context to support them. Consider the topic with care and decide whether a list or plain text would truly give the reader a benefit. While every industry, topic, and audience is different, one list per every 500 words seems to be a general guideline.
Visuals are powerful. We found that articles with seven or more images generate 116% more traffic versus those that lack them. Articles with one video attract 83% more traffic than those without, and articles with three or more videos receive 55% more backlinks.
Topic coverage impacts the chances of backlinks and shareability. Articles with 3K words or more receive 138% more traffic than articles with 500 words or fewer. In the same vein, 78% of 500-word articles have not been shared. The key, however, is to cover the topic fully and to consider the intent of the reader. For more tips on writing content that resonates, explore this article. 
Research Methodology
We analyzed blogs with 30-500K average monthly unique pageviews, discounting any articles published in the last quarter of 2021. We looked at: 
Average organic traffic
Social media engagement on Facebook
Number of backlinks
We then segmented them into high-performing (20%), average-performing (60%), and low-performing (20%) groups, analyzed the segments against our data, and compared them to determine several common characteristics. These included:
Article length and topic coverage
Headline types (how-tos, lists, questions and answers, guides, etc.)
H1 lengths
Heading depth (H2, H3, H4) of low, average, and high-performing articles 
List presence
Image and video presence
Enhance Your Content Marketing This Year
Even with no single recipe or roadmap for content marketing success, our research uncovers that there are indeed specific traits common to the anatomy of high-performing content. Supported by research and nuanced understandings of your industry and audience, we hope these insights will provide you with best practices to enhance your 2022 content marketing strategy.
To learn more about the anatomy of top-performing content, download the entire State of Content Marketing 2022 Global Report.