As an SEO, you probably grew up in the industry learning about anchor text and its benefits. For those of you who don't know what anchor text is, to put it simply, anchor text is words (often keywords) that are hyperlinked.
And it used to be that if you used anchor text all over a page, in a blog comment, in forums, what have you – all of these links pointing back to your site were golden. They let spiders know what your pages were about.
Fast forward from 2007 to 2014. Rich anchor text has "epic fail" written all over it.
Why? 
Because Google is slowly but surely taking away our ability to make spiders love us. No longer can we woo them and buy them lunch and expect something in return.
Think about it.
The keywords meta tag has been dead for ages. Anchor text footer links – gone. Buying links – the kiss of death. And so on. NONE of the things we grew up learning as SEOs work anymore. One of the newest murders happened to anchor text, and Google is its killer.
Google wants to crush false links
One of the most important things to Google is clearing out Web spam, and top priority seems to be directed at backlinks.
We all know links are still the lifeblood of SEO. If nobody is "voting" for your content (regardless of what type of content you're putting out there – written, video, audio, or graphic) by adding a link on their site back to yours or a link in their social media profiles back to yours, you're undoubtedly having a tough time ranking in search. Without those links of love, you're pretty much lost.
So, what exactly is link spam?
Again, buying links is the cardinal sin. Spam can come in the form of using a link broker, of paying for "likes," or of joining one of those nice, fat, juicy link wheels. NONE of that stuff works anymore and today, any of that stuff can get you into big trouble with the algorithm.
Reference the Google manifesto on "Link Schemes."The very first sentence reads, "Any links intended to manipulate PageRank or a site's ranking in Google search results may be considered part of a link scheme and a violation of Google's Webmaster Guidelines."
But where we get to the juicy part is the part where they say that one of the big no-nos is:
"Large-scale article marketing or guest posting campaigns with keyword-rich anchor text links."
BOOM!
Is all anchor text bad?
So, let's ask: Does that necessarily mean all anchor text is bad?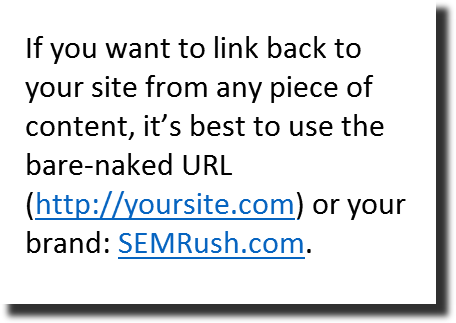 I wouldn't do it on a large scale anymore, that's for sure. Here's Google's example, and it's most def pretty spammy:
"There are many wedding rings on the market. If you want to have a wedding, you will have to pick the best ring. You will also need to buy flowers and a wedding dress."
If you want to link back to your site from any piece of content, it's best to use the bare-naked URL (http://yoursite.com) or your brand: SEMrush.com.
Other generic terms like "click here," "read more" and such are OK, too. It's just the keyword-laden anchors that are going to get you into trouble with the law. (Great to be the murderer and the law, too, innit?)
One of the techniques I use is to post articles on other websites, which link to interior pages of another. So, we write about the same topic as the article we refer to in our article, and use a quote from the original article on the client's site. The link usually reads, "For more information on XYZ, read more at LINK," or something similar. It's not anchor text, but it gets the job done. I've tested the method over the past two+ years and have seen great results.
Plus, it's not a scheme. Good content adds value to the Web. Isn't that really what Google wants? So…Give it to them. Create killer content and then, forget the anchor text. Semantic search is making it unnecessary, anyway.
Forget what you learned
Think less about what you learned SEO was in the past. It's morphing like crazy, and rumor has it that a new round of Google updates is coming to crush us just a little more. (They say they don't hate SEO, but the proof is out there.)
So, what's next? Stop worrying about Google and start worrying about the quality of what you do online. It's MUCH more important, and not just for search engines. It's important for your potential and existing customers, too. Give them stuff that solves their problems, and stop worrying about yours.
Oh, and BTW, there IS more than one search engine. I don't know about you, but I'm getting darned sick and tired of worrying about what Google thinks. Aren't you?
Author bio:
Pat Marcello is President and SEO Manager at www.MagnaSites.com, a full-service digital marketing company that serves small- to medium-sized businesses. Follow her on Facebook, Twitter, or Google+ so you don't miss a thing. She's waiting to see how excellent YOU can be. Pat's last article for SEMrush was "How to Be Shareworthy in 5 Steps."