Have you set your Google Business Profile (GBP) up to succeed or to fail? Your GBP Knowledge Panel (KP) should be chock-full of awesome and vital information about your business. It is your opportunity to let your customers get the much-needed information that they crave.
When was the last time you checked out your GBP KP? If it has been a while, you need to double check your information to ensure all of your information is added and correct. Here is what a standard KP looks like, using SEMrush as the example.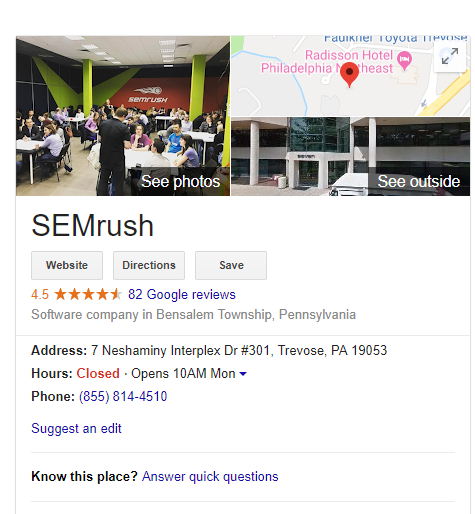 The vital information Google displays:
See Photos
See Outside aka Streetview
Map 
Website
Directions
Reviews
Address
Hours
Phone number
Questions and answers
About 
If you are not monitoring any of the above information not only are you are providing a bad user experience, you can be losing out on new customers. Below are the nine most common GBP mistakes business owners make. They are all easily rectified. You need to monitor your listing, or these mistakes might affect your listing. 
Nine Common "Google Business Profile" Fails
1. Unclaimed Listings: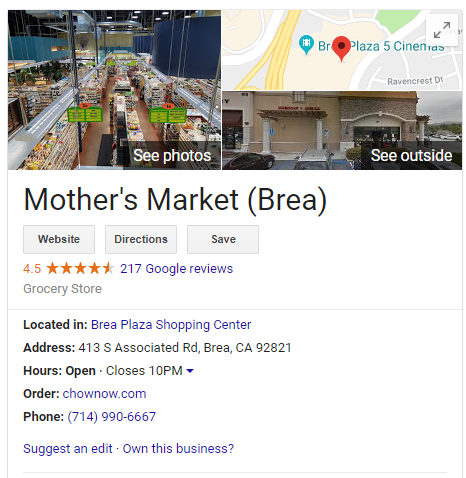 Unclaimed GBP
If you do not claim your GBP, how are you going to manage it? You will not be able to reply to reviews. You can suggest edits on your address, phone number, website URL, and hours. You can upload photos, but it will be from a customer and not the owner. The Google Business Profile team will not be able to assist your concerns while the listing is unverified. You will not be able to use or create Google Posts.
If your listing is not claimed and left dormant long enough, a user can suggest an edit that the listing does not exist and Google more than likely will accept that edit and delete the listings. If your listing is unclaimed, you run the risk of another company coming in and either claiming your listing or editing your information and adding their telephone number and website. Since the listing is left unclaimed, Google will not be able to alert you that the information has been updated or changed and your business can be hurt.
The easiest way to claim your GBP is directly from the Knowledge Panel. Click the "Own This Business" and follow the steps.
2. Closed Businesses:
How to close a GBP listing
If your business shut down, please mark your business as permanently closed. I understand that you may no longer need for the listing, but it presents a bad user experience. If a potential customer attempts to visit you only to find out that you are closed, they will become upset when they discover that they wasted their time. In your Google Business Profile dashboard. Google filters out closed GBP listings to prevent them from coming up in the map pack. 
3. Missing Information: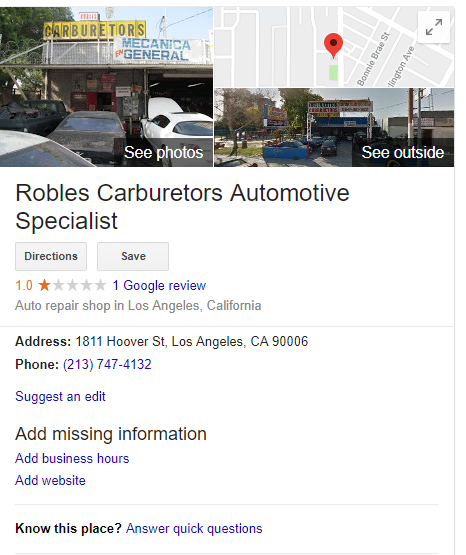 Missing GBP information
If you have set up your GBP and have not checked in on it in a while, your listing could be missing vital information. The most common missing pieces of vital information are hours, website URLs and phone numbers. How are your customers going to know when you are open or how to contact you if this information is missing? Potential customers are going to go to your competitor if they are unable to reach you.
I don't know any business that wants to lose potential customers to their competition. Log into your GBP account and check that all of your information is A. listed and B. correct. 
4. Incorrect Information: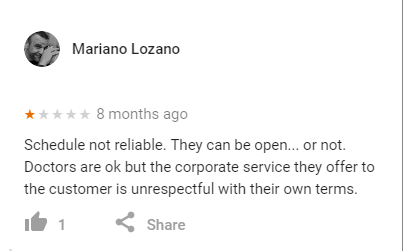 Negative review over operating hours
Having incorrect information is actually worse than not displaying information. If you do not update your hours and potential customers show up at your location only to find out that you are closed, that will upset them. I had to take my car to get smogged. I checked the hours of the business I was going to, and they did not open when they said that they would. I left a negative review for them, went to their competitor and left them a positive review; this is how it works.
5. Map Pins: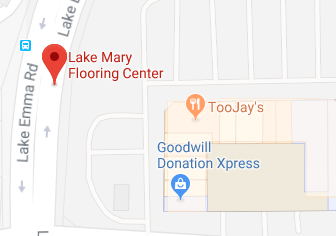 Map pin in the street
Map pins are often overlooked, and too often in the wrong place. I have found map pins on the opposite end of a shopping center, in the middle of the parking lot or in the street; this doesn't help potential customers. More and more people are using GPS programs, and they don't want to be directed to the wrong spot. If they can't find you, they may call or just assume that your business is gone and go elsewhere. 
6. Reviews: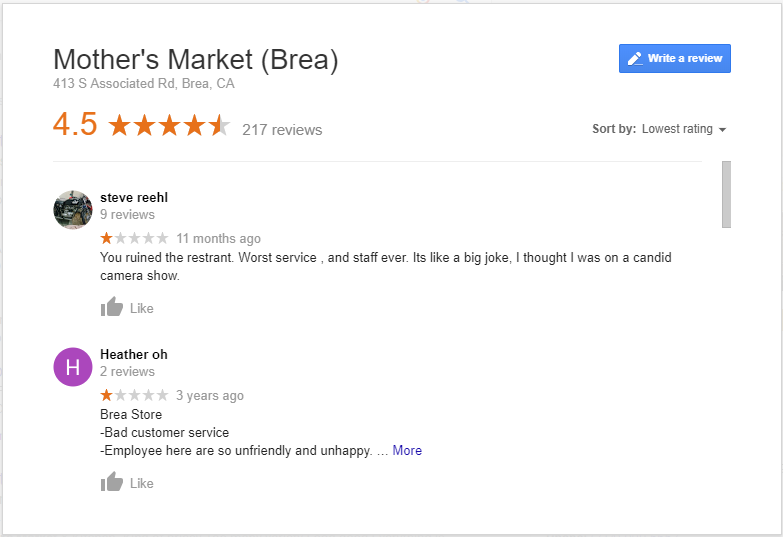 Ignored Reviews
I don't know why but reviews are one area I see business owners mess up the most. For starters, they ignore or don't reply to the reviews, positive or negative. Consumers want to see a business that is engaged with their customers. If you don't reply to the reviews, you are showing potential customers that you don't care and they will go elsewhere. Reply to both positive and negative reviews.
I booked a massage for my wife's birthday. She enjoyed it so much that I left positive reviews on all of the review platforms they were listed on. The owner, replied to me directly to thank me for my review and kind words. It felt great to be appreciated and acknowledged. 
Replying to negative reviews is tough and not enjoyable. Sadly, I see business owners respond in anger, lash out, and insult the reviewer. While you may want to tell the customer to take a hike, you need to know that future customers will see your reply and judge you on your response. Your future sales are also dependant on your response. 
Some ways to reply to a negative review:
That is not how we want our customers to feel.
We are going to address this and ensure that it won't happen again.
Please contact us so we can address this with directly.
7. Q and A's: Google Customer Missed Q&A
Q and A is a new feature, and because of this, they get ignored a lot. There are a lot of questions from potential customers that could translate in new sales. If you don't answer them, they will be left unanswered or answered by somebody else, and what if the answer that is provided is wrong?
Google allows business owners to post their own questions, so post the 'frequently asked questions' you get. If users can get the information from your listing, they won't need to call you looking for the answer, and you can focus your time on the customer in front of you. 
8. Photos:

Customer posted photo
Photos are often neglected. I have seen businesses where they only have the Streetview. Sometimes the only other picture posted is from the customer. The example above is a customer sitting in their car; you can see the dashboard, and this is not an overly attractive picture for a business. Also, if you not careful, Google will pull in a photo from the wrong Facebook page or a news article.
I recommend adding five to eight exterior and five to eight interior photos with and without staff. Pictures with people look much better than empty storefronts and lobbies. Show off your personality and let people see that real people work at your business. Play around taking photos at different times of the day to see which photos you like more. Ask your friends and staff to vote on which pictures they like. You can hire a Google Trusted Photographer to take a 360 tour of your location, and they also snap staff photos. 
9. Located In: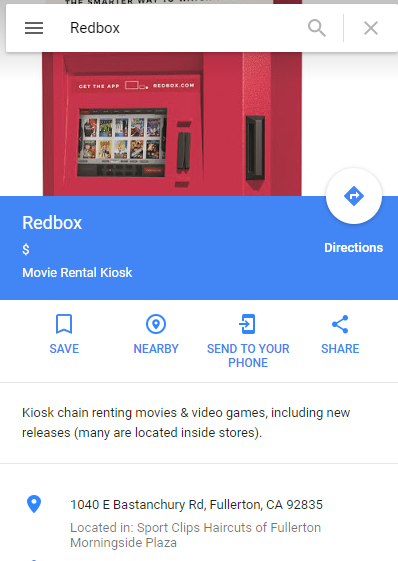 Wrong located in
Google now allows users to edit the located in featured in Google Business Profile. The example of RedBox above was shown in the wrong business; I also noticed that the hours are missing. You need to perform a Google search to verify that your GBP shows the correct "located in". If not, you can advise users that you are located in a specific store, shopping center, grocery store, building or in a mall and help make it easier for your customers to find you. 
If you have a Google Business Profile, you need to perform an audit on your listing. Look and see if any of the above glaring issues are affecting your listing and correct them. Your customers will appreciate it and you it might be the key ingredient between remaining in business or closing down permanently.