Do you know who's competing for same search traffic as you? Are you surrounded by businesses with bigger names, larger budgets, or selling their products for less? The Auction Insights tool in Bing Ads and in Google can tell you whether your campaigns are in such a shark tank. Before you start using this tool, here are some things to know:
Auction Insights data is available at the campaign, ad group or keyword level, and your can access it via Bing Ads online or by using the Bing Ads Intelligence Excel add-in.
To safeguard data quality, search engines only provide insights to campaign entities that have generated sufficient data during a selected period.
Review the Share of Voice report to better understand your campaigns before looking into other insights data.
Auction Insights generated for Bing could differ from those generated for Google, as merchants could have a specific campaign strategy for each marketplace. Use the insights data from both search engines to gain additional intelligence.
Below are key steps to knowing your campaign inside and out:
Step One: Perform a Self-Assessment by Studying Share of Voice Data
Before comparing yourself against the competition, use Share of Voice (SOV) report to assess your strengths and weaknesses. Here are some things to know to get the most out of SOV report:
Regarding Bing Ads' "Impression share lost to Landing Page Relevance" and "Impression share lost to Keyword Relevance:" Landing page relevance is based on your landing page and the user search query (i.e. not based on your keywords). Keyword relevance is based on expected click-through rate (CTR), which predicts whether your keyword is likely to lead to a click on your ads. Search engines calculate expected CTR based on the relevance of a user's search query to your keyword, match type, ad text, and landing page.
Compare "Lost Impression Share Budget" and "Lost Impression Share Rank" to help you understand the nature of losing impression share. While additional funding might be harder to get, you can improve your keyword/ad ranking the right way.
The Bing Ads SOV report provides keyword-level data at the account, campaign, and ad group levels. The SOV metrics, or performance statistics, are available to you in performance reports at these respective levels.
If you're interested in checking data with Google, AdWords provides SOV data across the campaign, ad group, and keyword tabs in its web UI.
Use "Impression Share Lost to Keyword/Landing Page Relevance" in Bing Ads to identify specific ranking improvement opportunities.
Screenshot of AdWords web UI showing SOV data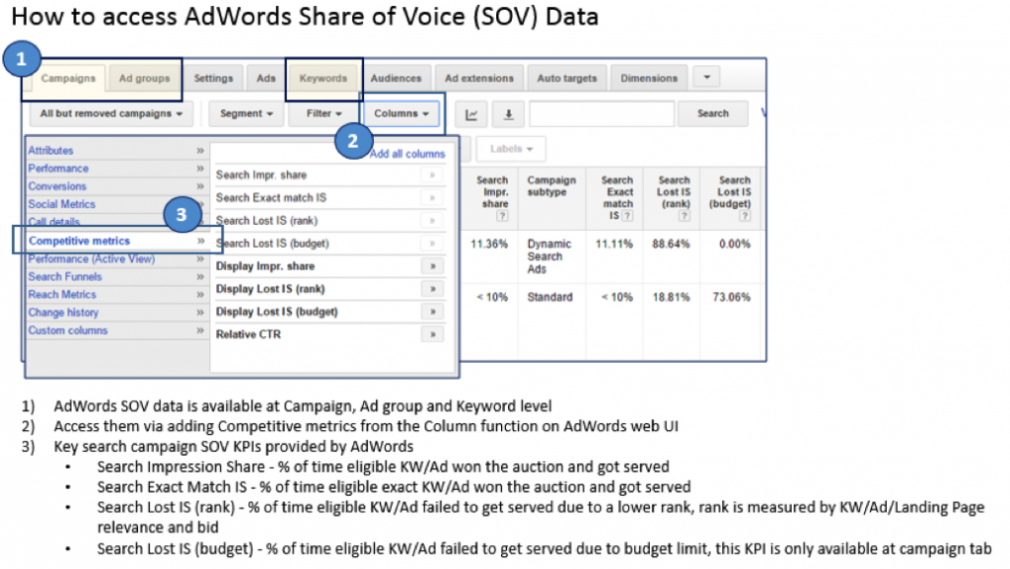 Screenshot of Bing Ads web UI showing SOV data

Step Two: Study Your Competitors with Auctions Insights
After understanding the quality of your campaign and whether you have sufficient budget to pursue all your targeted audiences, use Auction Insights to identify and assess your main competitors. Before diving into the details, you need to know:
How the impression share column in SOV and Auction Insights is generated:
Your SOV impression share is calculated based on your own data.
Your Auction Insights impression share is calculated based on your own data. Competitors' Auction Insights impression share is calculated based on the time they enter the same auctions as you.
Numbers shown in Auction Insights are relative; use them to compare data (i.e. not to calculate).
Both Bing Ads and AdWords provide Auction Insights via the Web UI.
Auction Insights is available using the Bing Ads Intelligence tool in Excel as well.
AdWords offers a segment function to help identify where and when those competing "sharks" show up.
The insight behind Auction Insights:
Impression share is driven by sufficient budget, campaign quality, and bid.
Average position is about average ad rank. Having a higher ad rank doesn't guarantee top of page (or mainline) position; reference the top of page rate to better understand this data.
Overlap rate is about who you are swimming with and it has a very high correlation with impression share
Position above rate: Ads in a higher position have absolute advantage over those in a lower position (here is the study).
Screenshot of AdWords Web UI showing Auction Insights Data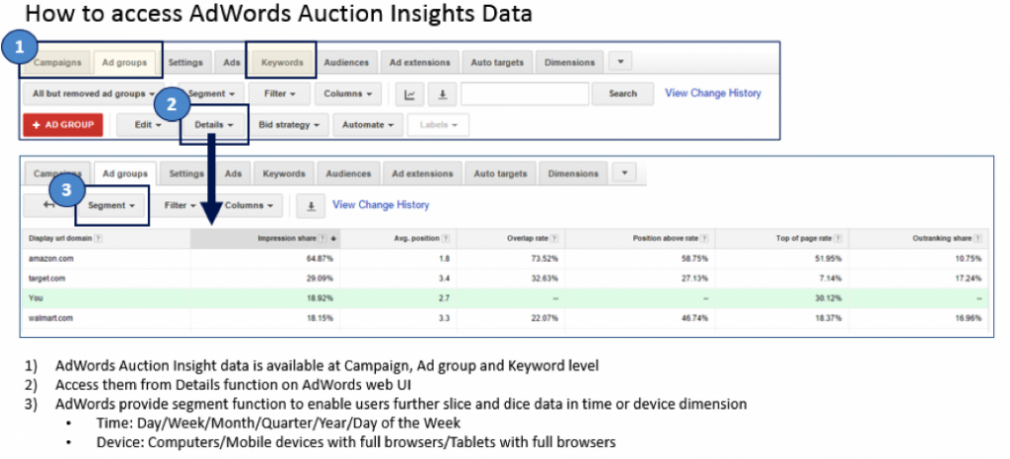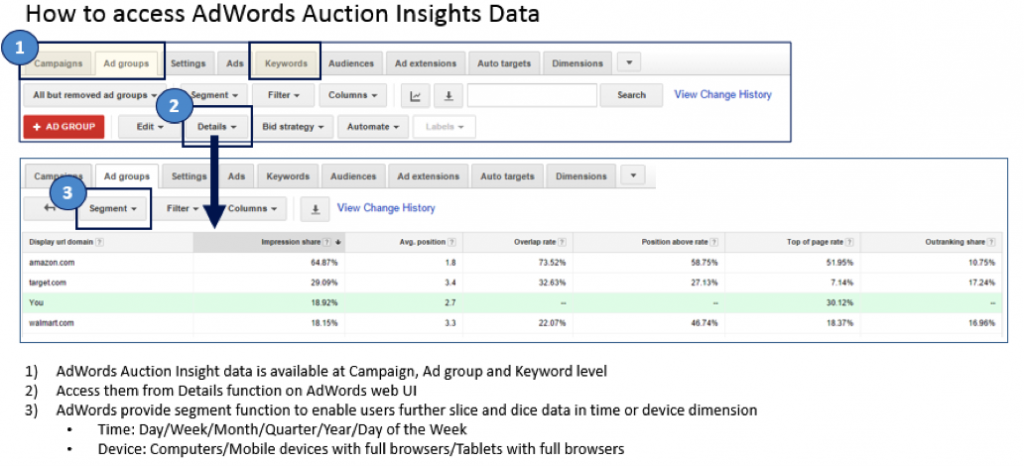 Screenshot of Bing Ads Intelligence Tool Showing Auction Insights Data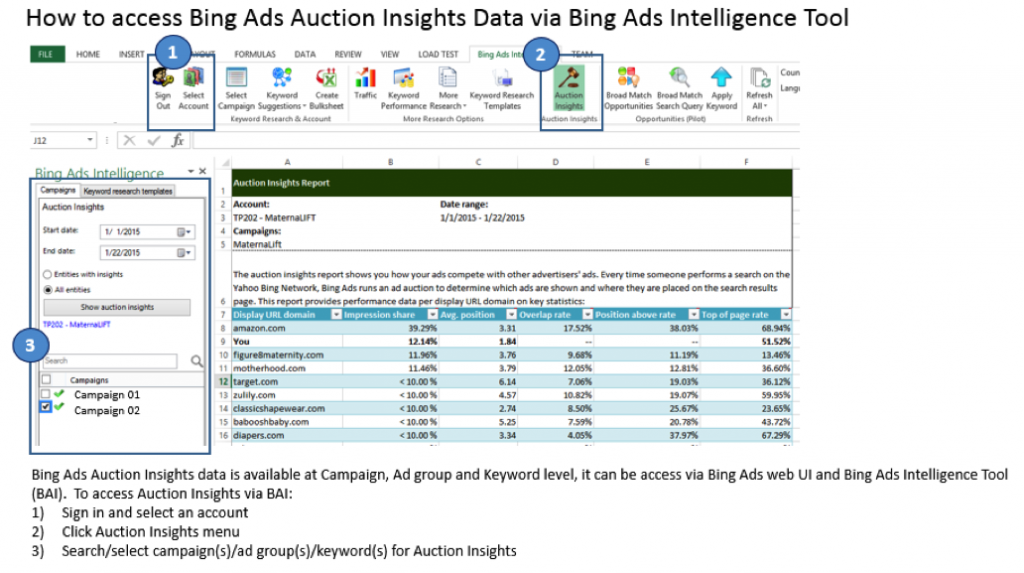 As mentioned in the beginning of this post, merchants could have different strategies on different marketplaces.So, remember to combine Auction Insights data from both Bing and Google to help you develop a holistic SEM strategy and view of your competition. Let's discuss how to compete in a shark tank by using tools from search engines and Semrush in the next post.