Link building plays a prominent role in SEO. However, many companies still struggle with it and approach this element of website optimization as if they are groping in the dark. Meanwhile, earning genuine backlinks from trusted sources can help you improve your organic search rankings and bring highly targeted traffic to your website.
One of the most challenging aspects of planning a successful link building campaign is finding reputable and high-quality domains to get backlinks from. That is why we decided to collect data on and analyze the experience of industry leaders to provide you with some insights into where and how you can find potential backlink partners. We looked at the backlink profiles of companies that work in highly competitive industries such as real estate, legal services, and accounting, to figure out where they acquire their links.
We used SEMrush's comprehensive backlink database and analyzed over 60,000 referring domains that link back to corporate websites in these three niches. The data included the authority, website categories, and estimated traffic of those domains. The results of our research have been collected in an in-depth e-book, which contains lists of valuable backlink sources for real estate, law, and accounting firms.
To help businesses better understand the process of earning genuine links, we also asked SEO experts Bill Slawski, Marie Haynes, and Judith Lewis to share their experience on building a strong backlink profile in these and other industries.
Expert Corner
Bill Slawski — Director of SEO Research at Go Fish Digital
"When I first started out as an SEO, one of my clients was a solo practitioner law firm who was interested in Delaware General Corporation Law and blogging. He worked on building relationships with other lawyers outside of the state of Delaware who was also interested in blogging, and he mentioned some of them in blog posts and linked to things they had written that he also had opinions on. He developed relationships with them on a blogging level, and then on a professional level when some had questions about Delaware General Corporation Law, and sometimes they then referred clients to him. The people he chose to link to were professionals who were writing interesting things, whom he felt comfortable linking to. At the time, it was possible to view the PageRanks of pages from Google using the PageRank Toolbar, but that wasn't a consideration in deciding whom to link to.
A lawyer just starting out as a blogger may not have developed many links to their site yet, but if they were producing quality material, they had the potential to attract attention, and traffic and interest from others. His blog was listed in a bestselling book on how to blog (Rebecca Blood's The Weblog Handbook) as an example of how to build a positive reputation as a blogger."
Marie Haynes — Owner of Marie Haynes Consulting Inc.
"We like to do everything we can to generate good press for clients. In most cases, if we are building links on our own, they likely aren't going to be helping a whole lot as Google is getting better at determining which links are true recommendations for a company and which are just there for SEO reasons.
Relevance is generally important. With that said, if a local realtor gets good press and for some reason is getting legitimate links from unrelated sources, we wouldn't turn those down! We make good use of HARO to get journalistic mentions."
Judith Lewis — Founder of DeCabbit Consultancy
"Blogger outreach is my favorite way of earning links (and buying them) but I'm a little controversial here. I don't pay a blogger for a link — that's not what I'm paying for when I reach out to a blogger. When I pay for a blog post I'm compensating the blogger for the time I expect them to put into researching and writing a blog post, placing it on their blog with appropriate images and creating content so compelling that people want to learn more by clicking a link to my client. I'm also paying for access to their audience, which they themselves have spent time and money building up.
For me link building isn't about increasing rank alone — I take a holistic approach involving looking at business goals and working hard to deliver value by helping to meet those business goals through a variety of different content outreach approaches. I also always say that you really need to be careful about just trying to manipulate the Google rankings by link building. Today, link building has to be as much about creating additional places for people to find your brand as it is about getting higher rankings. It needs to be a part of a bigger, better strategy that involves the whole business and overall business needs rather than just short-term rankings."
What We Found Out
Our study helped us discover a typical backlink profile of the companies that work in these industries. Here are a few findings from our research:
Industry media, professional directories, and professional associations can be a great opportunity for backlink placement, which can benefit your website in terms of SEO and brand awareness.

We noticed that law, real estate, and accounting companies diversify their link sources, which Google views as a good thing. If the search engine sees too many links pointing back to your site from a single domain, Google may flag that as suspicious.

When it comes to law and accounting firms, many of them have backlinks from universities, which can be considered highly reputable backlink sources.
These are just a few extracts from our research. You can find all the results in our e-book  "How to Build a Perfect Backlink Profile."
Listed below are the most popular referring domains for real estate, law, and accounting firms.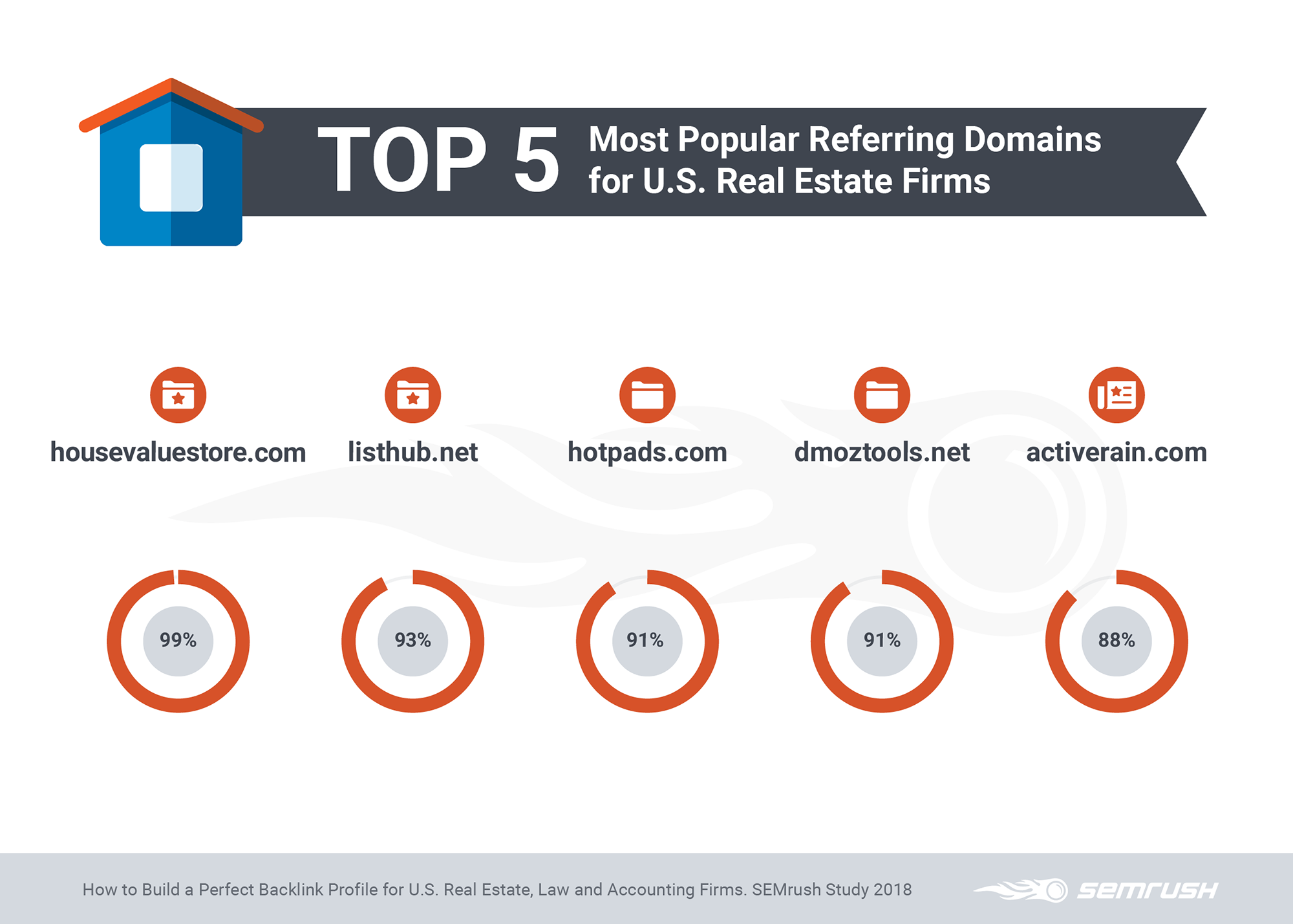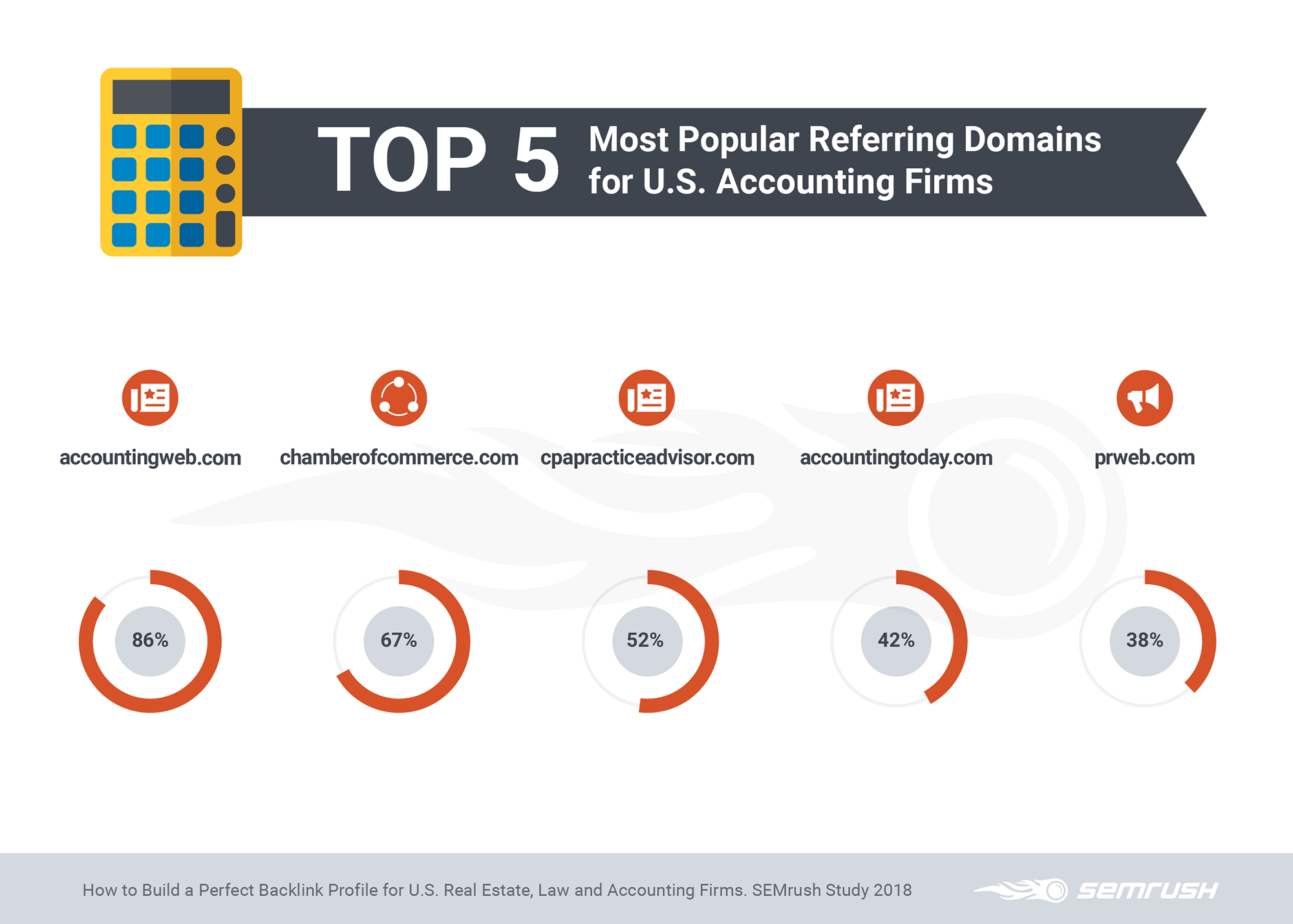 We hope you will find the information provided in this research helpful and can use it to fuel your own campaign.
In addition to all the findings collected, this e-book will walk you through the link building workflow, explaining how the SEMrush tools can help you grow your backlink portfolio. We will show you how to:
Discover your backlink competitors

Narrow down your findings

Analyze your main competitors in detail

Spot the backlink gap in your profile

Explore fresh backlink opportunities

Maintain your backlink profile in good shape

Determine prospective backlinks and reach out to potential link partners

Find more backlink ideas for your future content