In last week's #SEMrushchat, we asked for opinions on pillar content and topic clusters. Our community shared their insights on the following: 
What is Pillar Content? 
A pillar page serves as the foundation for a topic cluster that is built around it. The pillar page will attempt to include several to all aspects of a core topic on a single blog post or web page. Cluster pages will break down the individual subtopics on the pillar page, and those cluster pages link back to the pillar page.
Let's look at an example:
Pillar Page Core Topic: An overview of SEO that discusses Technical SEO, Local SEO, Google Algorithms, Best Practices, and Backlinks.
Cluster Pages:
Technical SEO
Local SEO
Google Algorithms and SEO
SEO Best Practices
Backlinks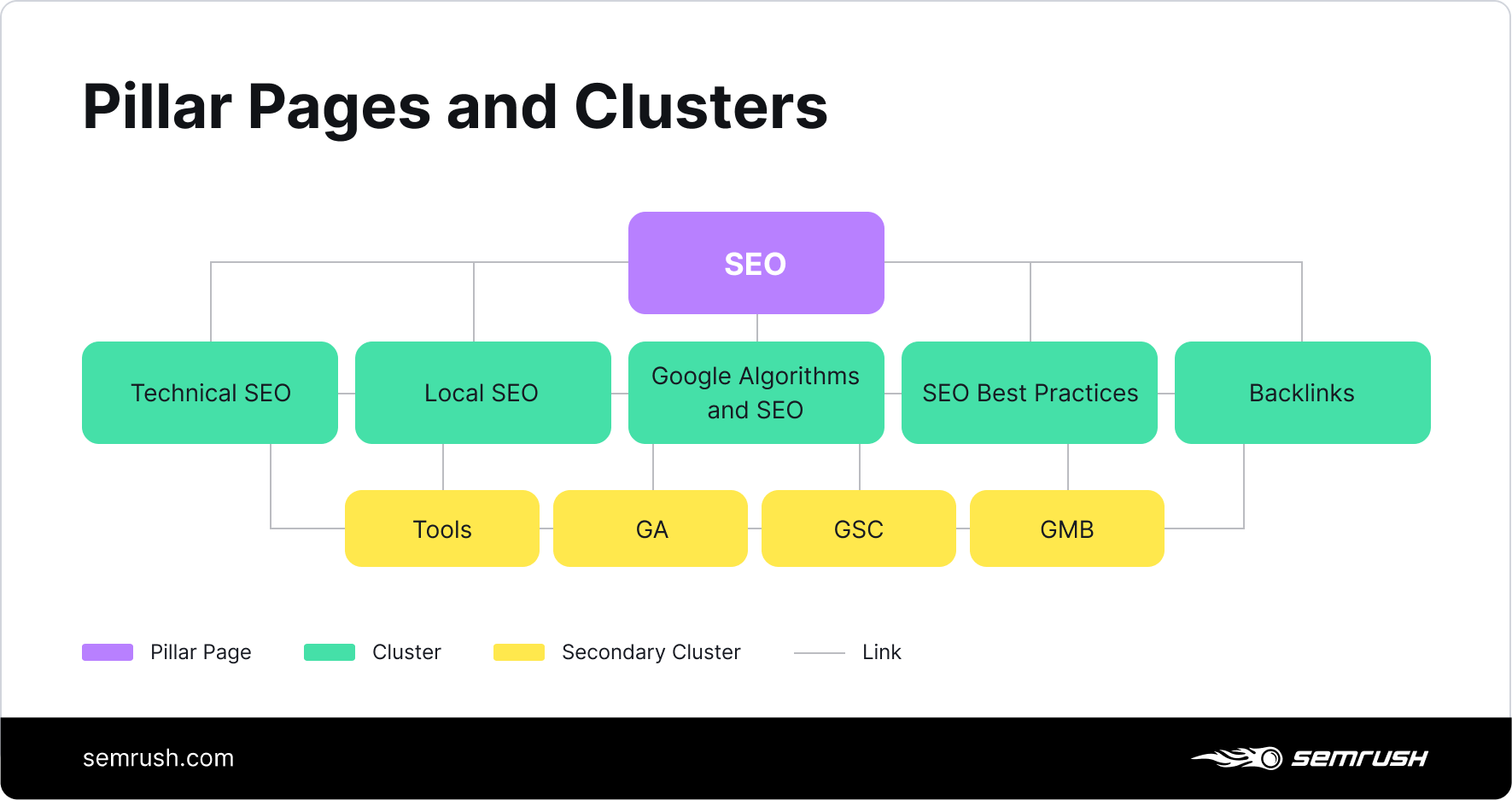 Pillar pages tend to be more long-form, while clusters are often shorter, but the clusters include more details on a specific subtopic. Both pages can be useful to readers and can rank well. 
---
How Pillar Content is Different From Other Kinds of Long-Form Content
I think the graphic above shows why pillar content is different than long-form; pillar content has defined goals and a detailed strategy planned around it to support it with clusters/subtopics and secondary clusters/subtopics.
Traditionally, a piece of long-form content is intended to be an evergreen piece that stands on its own. Obviously, there can be some overlap with different kinds of content, but let's get some additional insights.
What Participants Had to Say:
Simple Strat — "Pillar content comprehensively and compellingly answers a question or educates about a topic - then offers the opportunity to create offshoots of niche-focused parts of that topic. There are so many tentacles to it, which isn't always true of long-form articles."
Simon Cox — "Grouping your content together as topics in a way that suits the content consumer (user) rather than the way you structure your business. Preferably it's on evergreen URLs. Your other content spins off this and supports it. internal linking structures are key."
GreenRope — "Pillar content can easily be broken up by subtopic and redistributed as several pieces of smaller content."
Sam Ruchlewicz — "I tend to view pillar content as the "crown jewels" of your website content -- it's uniquely valuable, better than anything else out there quality & maintained/ polished consistently. It should represent the best of what your organization has to offer."
Kieran Ledger — "To me, your pillar content is what makes you stand out, it's about you, written by you. You explain and engage with your audience about what you do and how you do it. Your other long-form content could be about achievements you've made plugging in other content."
Mark Armstrong — "It's the content that can stand alone; it's the sole content your target audience could read and know exactly what you do, and what sets you apart from anyone else."
---
Why Pillar Content and Topic Clusters are Essential for a Good Content Strategy
If one of your goals is to be an authority on a specific topic and everything related to it, pillar content and topic clusters are a great strategy. Pillar pages should be detailed, helpful, and provide evergreen information your readers need.
The organization behind the structure helps both readers and search engines see where your expertise lies, and the supporting content clusters can be helpful for E-A-T and YMYL. Pillar content and clusters are also often considered the foundational content every website needs to prove the brand is authoritative on a topic. 
Let's see what our chat participants had to say: 
Yellowphin Digital Agency — "It boosts your authority, keeps your site organised for the user, and usually consists of evergreen content that you can update."
Simon Cox — "Hate to suggest E.A.T. but clustering great content in a well-structured site shows some E.A.T and that gives users a warm fuzzy feeling of being in the right place - this is trust-building that's good for the brand."
Gilmedia — "Pillar content gives an overview of the brand and builds authority for the online audience. Topic clusters are important for a deeper dive into each of the topics/concepts covered in the pillar content. Key to fulfilling the customer journey creatively."
Amar — "Pillar content explains everything about the core business including features, benefits & so on. Whereas topic clusters are based on providing further information in detail - specific categories. Pillar content is macro-level & topic clusters content is micro-level."
Maddie Clark — "Topic authority for multiple queries. It represents a deep understanding of the topic and builds ranking authority w/ Google because Google wants to provide queries with the best answers. If you are answering from all angles (clusters), you will answer more queries."
Adam Reaney — "They can establish your site as an authority on a subject with lots of relevant, informative content that avoids duplication. Topic clusters also allow for a regular publication calendar, so you can feed expertise into the ether slowly rather than all at once."
Remco Tensen — "Honestly? They're not. They CAN be. But it depends on how your content strategy is defined. "Content" is basically everything you can create. So do we always need pillar content and topic clusters? No, we don't. They can be a good investment, but it depends."
---
How To Identify An Ideal Topic for Pillar Content
There are two things to look at — the needs of your users and data from a competitive analysis.
Let's start with your audience. What do they need to know? What topics can your cover that will result in conversions? What types of content will meet their needs and offer them solutions? Create a pillar page that provides everything your audience could need, and link out to cluster pages that provide even more details. 
A detailed competitive analysis will show you what your competitors are ranking for that you are not. It should also provide you with keyword and topic ideas that you can use in pillar content and integrate into existing content. 
---
Rob Sankey — "Understand user intent, review competitors & volumes. But most importantly identifying a topic we can provide the best possible answer/content in."
Alexis Katherine — "Overlap your target personas on your sales funnel/buyer's journey. What questions is your audience asking from Awareness to Close?"
Adam Reaney — "Something that is: * Relevant to your business and it's target audience.* Something you have a lot of knowledge of.* Something you're passionate about. Can't stress that last point enough. If you're not enthused, your audience won't be."
James Scroggie — "I would try and find a topic that could act as a 'parent' to many subtopics and interlink between them, and back to the 'parent'.
Gilmedia — "I would try and find a topic that could act as a 'parent' to many subtopics and interlink between them, and back to the 'parent'."
Remco Tensen — "Again, kinda depends on the brand and what the vertical looks like, but I could go for a scalable topic I want to show expertise in. It's not even about being unique. Long term thinking is important here. Pick something you can run with forever."
---
Developing Topics for a Pillar Pages and Cluster Pages
Always start with research! What you think is a good idea might not match what your target audience wants, what your competitors rank for, and what will make you money. Always start with research. 
Several members of our community mentioned using the SEMrush topic research tool to help generate ideas for topic clusters and for creating a substantial piece of pillar content. This tool makes it easy to find related search topics with high search volume.
Below you can see some subtopics for SEO.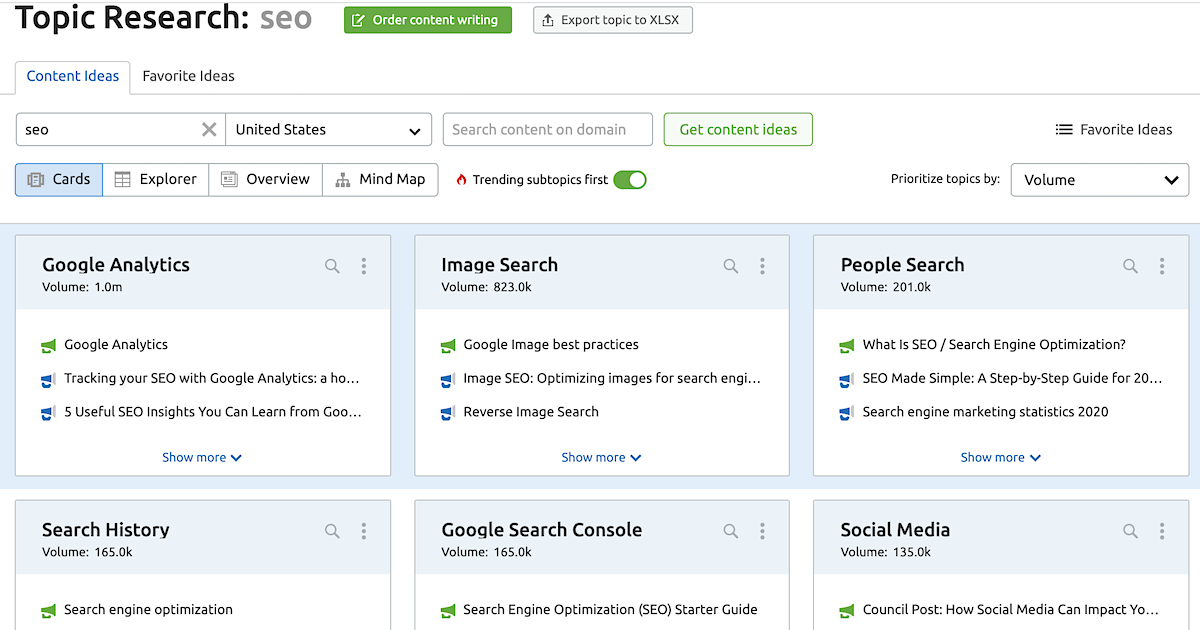 Each subtopic has it's own card with additional information you can use. When you click on a card, you see the latest articles related to it and recent questions asked in search. This data can help you create a great pillar page full of information people need and want, and also give you articles to review for ideation.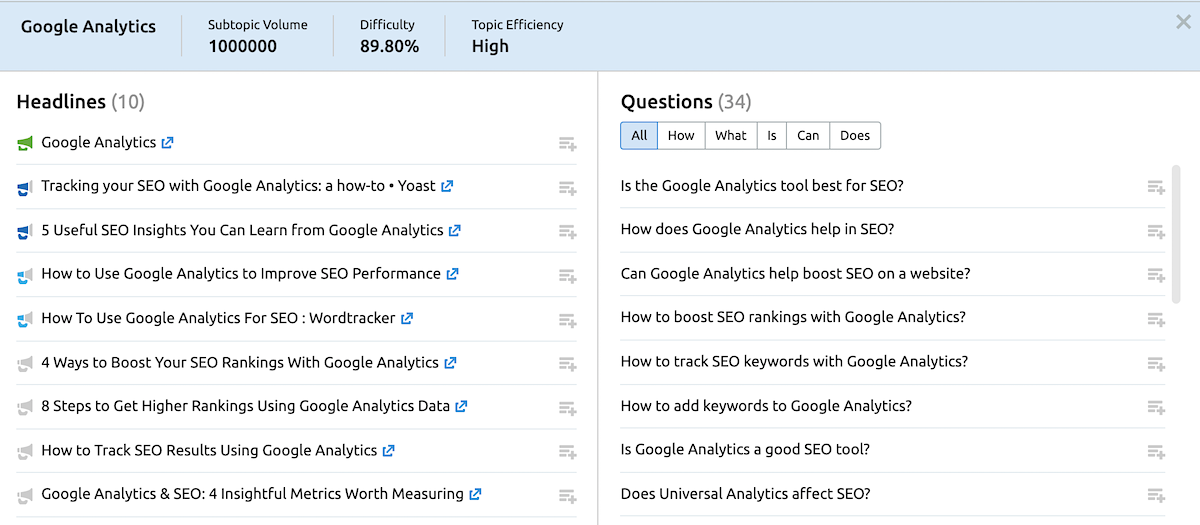 ---
Additional Recommendations:
Youness Bermime — "Divide and conquer. Turn each question into its own subtopic and prioritize based on importance and relevance."
Maddie Clark — "Totally depends on the story you're telling. What are the core elements of the story, then the details, then the fluff. But don't ignore volume, buyer's journey, user intent, and ranking difficulty."
Fistbump Media — "Really, it just needs to make sense to the end-user more than anything else. Is there a flow or progression in questions/answers? Other step-based order/flow? It might also be helpful to think through the funnel/lifecycle stages."
Simon Cox — "Planning. There are some good mind mapping tools out there that can help you put together a topic and all the things you can think about being connected to it. It's a great way to plan your content."
Social INK — "Braindump ALL the ideas, then organise and trim it back according to customer journey, high search volume for subtopics, and the "context" of current search results to make sure you're not wildly off track for what people want when they look for that topic."
Don Dingee — "There's lots of long-tail ammunition.
Localization
Use cases
Upsell/cross-sell
Maintenance"
---
Best Practices for Pillar Content Creation
Here are some things to consider before you get started:
What are the goals of the content?
What are you trying to accomplish? Rankings, trust-building, brand awareness, etc.
What is the planned return? What do you want to gain from this effort? 
Who is going to create this content? Do they have the expertise to create the content? 
What are you ranking for now? What are you not ranking for? What are your competitors ranking for? Recommendation: perform a gap analysis. 
Things to do:
Keyword research and a competitive gap analysis need to be done for the pillar page AND each of the topic clusters before you begin.
Identify topics and subtopics with decent search volume.
Create a plan for interlinking the pillar page with each topic cluster, and each topic cluster with the pillar page. You also want to interlink the topic clusters. 
What do people want to know? What questions do they want answered?
You can use the topic research tool to discover the questions people are asking in real-time. Answer those that are asked often, and think about the follow-up questions people will have; answer those as well. 
More Pillar Page Best Practices
Youness Bermime — "Relevance. Focus on what's relevant to your business first and foremost. And certainly, be careful of trends."
Sam Ruchlewicz — "What you *don't* include in your pillar content is as important (if not more important) than what you do include. Take your time. Do your research. Write something that is clearer, more comprehensive & more valuable than everything else out there."
Alexis Huddart — "Look at your SERP's, keywords used, and SERP's around your topic, Look at competitors - note the unused keywords in your content, build these into the pillar content, and make those pages a resource, as it reassures/enhances the user journey on the site."
Amy Hampton — It's all about the basics for me. Strong, quality content that provides value for your audience. Written for them using language they understand. Packaged in an attractive setting. You know it when you see it. Do that. (And leave all the lingo at home!)"
Maddie Clark — "Do your homework: research topics, user experience pain points, market place, competitor tactics, & much more. take your time: great pillar content is game-changing. poor pillar content is confusing and appears sloppy and erratic."
Gilmedia — "One thing that stands out to us is 'Stay Authentic'.There should always be intent and goal in sight when planning pillar content. Also, committing to create more content branching from the pillar. Summary: Authenticity, Goal-oriented, and Scalable"
---
Have any pillar content tips? 
We would love your thoughts on the questions and tweets above, so please share in the comments below. We also want to thank everyone that participated in the chat. Our SEMrushchat starts at 11 am ET/4 pm BST every Wednesday; join us and share your insights.