The pairing of social media and politics is anything but new, but the former has mostly been where people go to stay connected, updated, and entertained. Over the last few years, social media has become increasingly political. Surveys indicate social media has done little to change people's stand on political issues—in fact, most users do not like talking about politics at all—but this has not stopped politicians from increasing their investments in the platform.
Twitter Responds to the Call for Transparency
Following questions about the magnitude of social media's sway over public opinion during the 2016 US Presidential elections, Twitter enacted stricter advertising policies and augmented the transparency of ads in their platform. Even non-Twitter users will be able to check for advertisers and the ad campaigns that they ran over the last seven days. In particular, the Transparency Center will display:
All ads the account being searched for had run, including Promoted-Only ads

The duration of the ads

Ad creative associated with the campaign

Ads that are targeted to you, as well as which ads you may receive based on targeting
The Transparency Center also includes a special section on electioneering ads, showing:
All ads from the account, including Promoted-Only ads

The total amount spent by the advertiser on the campaign

The organization that funded the campaign

The demographics being targeted, including geography, gender, and age

Historical data about the advertiser's spending on electioneering ads
The new policies change the way advertisers do social media ads, although they do have a greater impact on political advertising. As a business owner or advertiser, there are numerous ways for you to adapt to these changes and make them work for your brand's advantage.
A Look at Twitter Ad Transparency
As mentioned above, searching for an account in Twitter's Transparency Center lets you see all the ads, as well as the creative for said ads, it has run within the last seven days. If an ad is taken down because of reports from users, it will be preserved in the Transparency Center for about 24 hours. Deleted posts and tweets from suspended and deleted accounts will not be visible.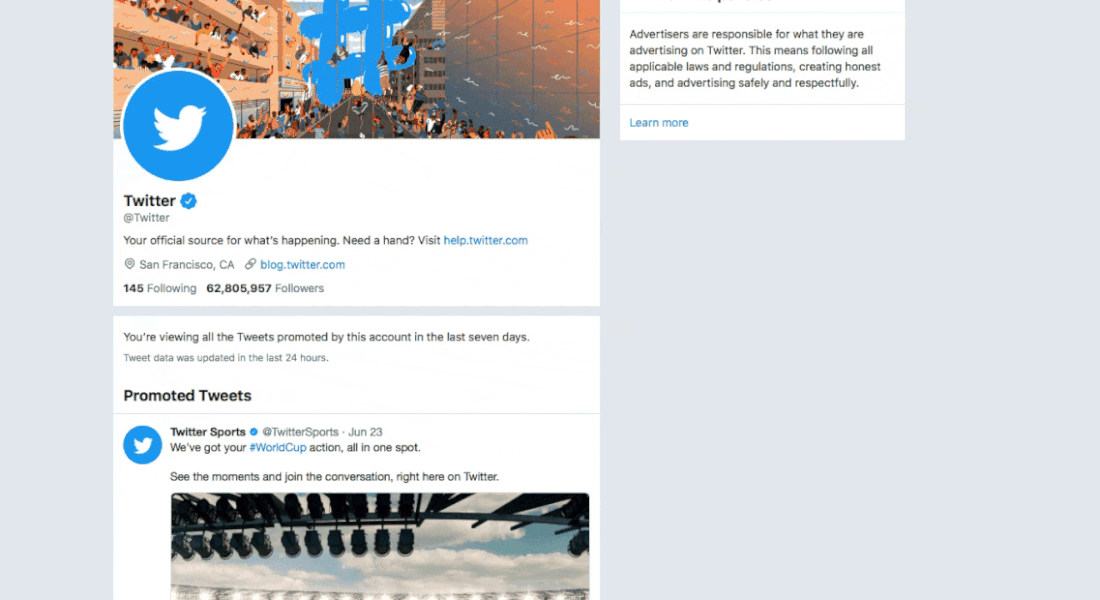 Source: https://blog.twitter.com/content/dam/blog-twitter/official/en_us/company/2018/atc/ATCScroll1.gif
Political ads are a different matter. In accordance with Twitter's Political Campaigning Policy, the social network will show pertinent details, such as the demographic data used to target users, billing information, ad spend, and impression data per tweet.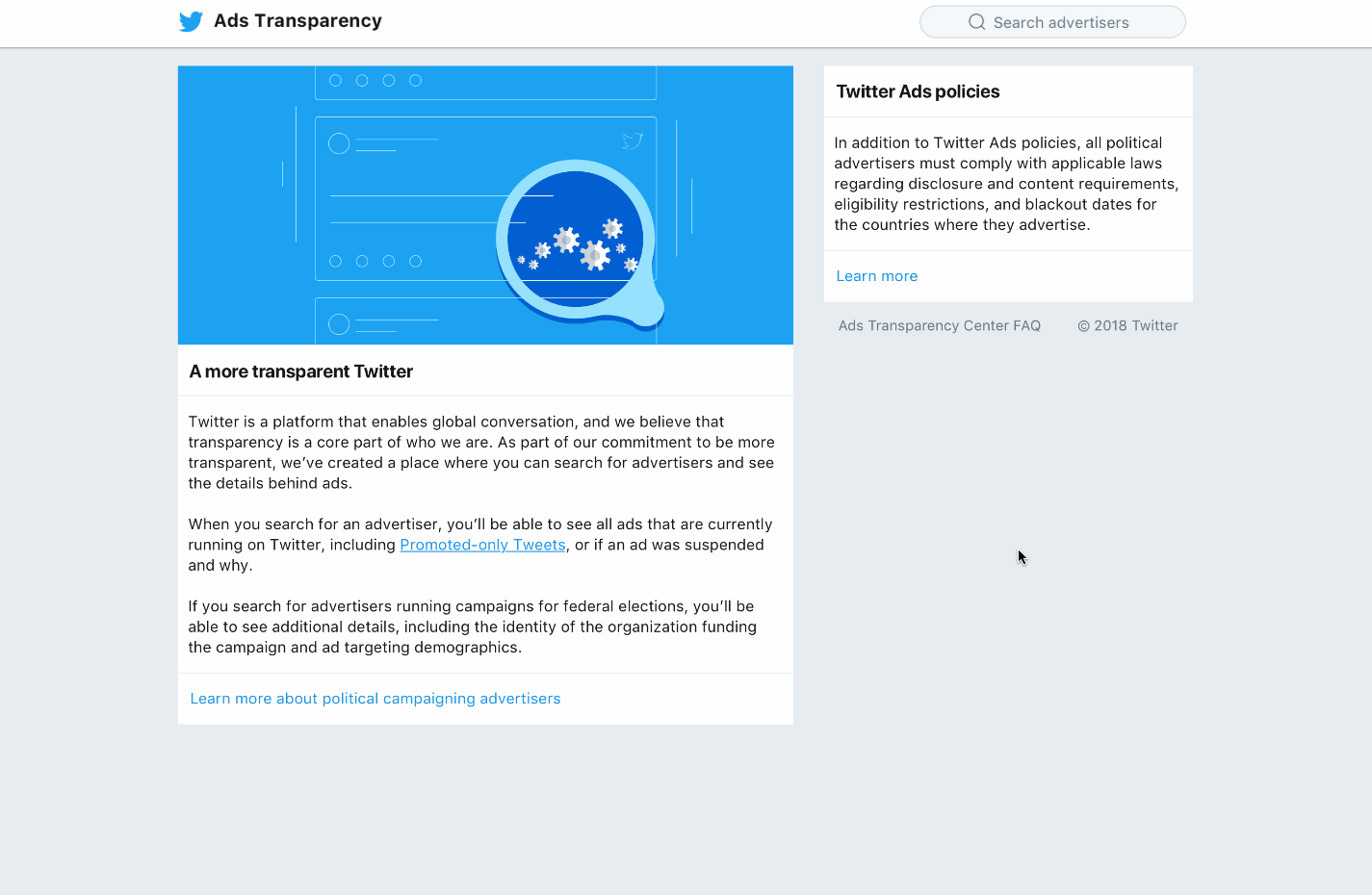 Source: https://blog.twitter.com/content/dam/blog-twitter/official/en_us/company/2018/atc/ATC_PoliticalAccount_new.gif
Twitter also makes it clear who is publishing and paying for the ads, as well as whether or not the ads were authorized by a candidate. These are visible through a visual badge and disclaimer information from certified accounts on promoted ads.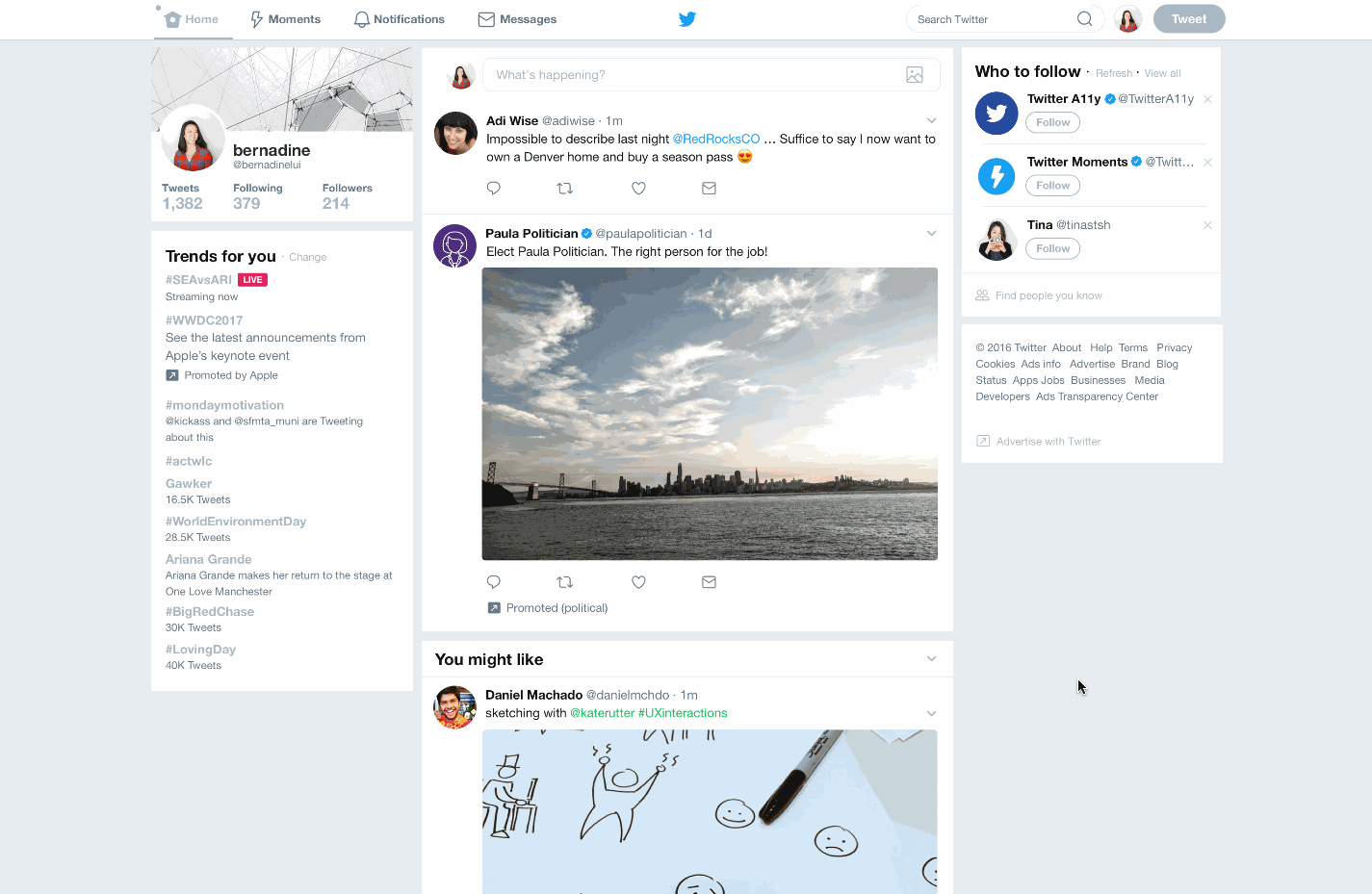 Source: https://blog.twitter.com/content/dam/blog-twitter/official/en_us/company/2018/atc/ATC_PoliticalTweet.gif
A Move in Favor of Trust
Twitter's move toward transparency was seen as a way to minimize the impact of issues like those that occurred following the 2016 elections. But for brands and business owners, this could be an opportunity to build and regain trust from their respective communities.
This is all the more relevant nowadays, what with more and more customers trusting brands less and less. Reports revealed that only 48 percent of the U.S. population trusted businesses in 2018, down 58 percent from the previous year. The different factors to which this trend has been attributed included the lack of brand transparency.
Yes, transparency is a big deal for today's customers. In a survey, almost nine out of 10 American consumers declared the willingness to give transparent brands a second chance even after a bad experience. The same ratio will remain loyal to transparent brands during crises. More than half are willing to make purchases from brands that are transparent on social media, but only 15 percent believe that businesses are being transparent on the platform.
Make the Most of Twitter's Ad Transparency Tools
There are many ways to use the information provided by the ad transparency tools from Twitter. To start, go to Twitter Ads Transparency Center. In the upper right corner, you will see a search box. Enter the business name or username you would like to research and select the right profile from the resulting list of accounts.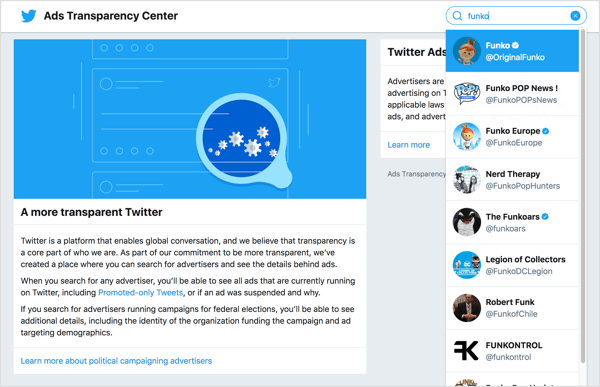 Image Credit: SocialMediaExaminer.com
Once you have selected an account, you will be able to see all its ads in the last seven days. Clicking on the ad will lead you to the landing page that users are taken to.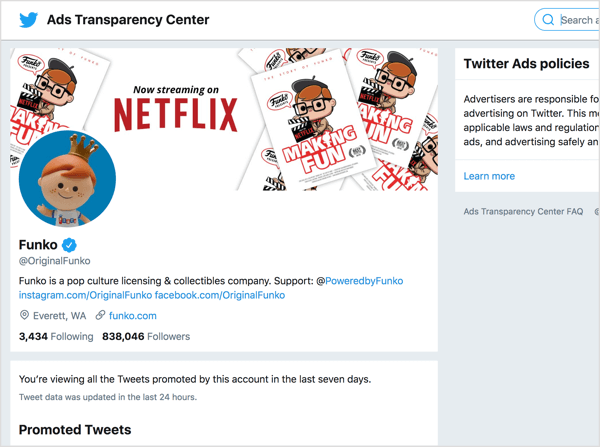 Image Credit: SocialMediaExaminer.com
Here are four ways to put these tools to good use:
1. Learn More About Your Competitors and Their Markets
Competitor research is crucial in marketing. It allows you to uncover the secrets of your competitors' success — essentially, what they are doing right that you are not — and accessing information that you can use to improve your own campaign. Twitter's ad transparency tools give you a lot of information that let you do just that.
The tools allow you to interact with ads the way users normally would. Pay attention to particular details:
What special offer are they providing customers?
What type of media are they using (take note of elements like image format or video length) that are different from what you have in your campaigns?
What do they want to achieve from their campaign — is it clicks, awareness, traffic, or conversions?
If they are advertising using other social networks, are there variations in the strategies they use across platforms? In particular, do they use a different tone, media, or call to action?
Put the seven-day limit to optimal use by examining trends in your competitors' ads. Are there any copywriting styles, media preferences, or other strategies they have used throughout the period or for a longer time? What could have compelled them to use such a long-term strategy?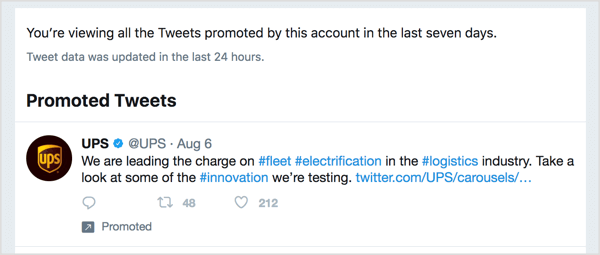 Image Credit: SocialMediaExaminer.com
Needless to say, just because a tactic worked for your competitor doesn't mean it will work for you, too. Still, you might happen upon an idea and get a lot of good results for your campaign.
2. Ensure Your Customers Don't Miss out on Active Campaigns
Technology doesn't always work as intended. At times, no matter how well you target your ads, you will miss a few prospects or loyal customers who could have added to your brand's revenue. Sometimes, users may see a promotion only to find that it has disappeared the next time they try to look for it.
Twitter's new ad transparency tools could be an easy fix for such issues. Just tell users how to look for the ads your brand is currently running through the Ad Transparency Center. Because ads work in the Transparency Center the same way, they would on an actual Newsfeed, your customers will be able to sign up for an offer or make purchases they missed out on previously.
However, do keep in mind that this strategy also shows your consumers all the promotions and ads you have run during the last seven days. If you are offering discounts for specific audience sections, customers from other segments may feel frustrated that they cannot benefit from the same promo.
Another way this can backfire is if you have ads whose copy or offer may be considered by users to be conflicting or contradictory to those of other ads. Such a misgiving will harm your brand more than it would help, so make sure it is resolved before you run your ads or reveal the strategy to your consumers.
3. Give Client Access to Active Campaign Collaterals
Outsourcing to third-party marketers is quite common nowadays, especially for businesses that have difficulty managing their marketing efforts, and brands that cannot afford the expenses of managing an in-house team. If you are a marketer, you can use Twitter's transparency tools to show your clients the ads you are running for them. All the clients have to do is search for their business' name in the search box. This speeds up communication between parties by eliminating the need to send inquiries through email —as it is usually done— and wait for replies.
4. Get an Idea on How to Use New Features
It is expected of social networks to churn out up to several updates and new features in a year. They help improve user experience and extend the benefits they bring to advertisers. But mastering these new features and figuring out the best ways to use them can be challenging. Unfortunately, testing new features, especially paid ones, can be costly, so errors must be kept at a minimum.
With Twitter's ad transparency tools, you can search for big names — or at least those that can afford to make mistakes — to see how they are using the new features. This strategy will give you a great idea of what the feature does and how you can incorporate it into your campaign without having to spend anything.
Five Twitter Ads You Can Emulate for Your Business
In the realm of social media, imitating is not just acceptable; it is sometimes downright encouraged. After all, getting the right mix of factors that appeal to your target audience can be difficult and expensive, so it is easier and more practical to just take cues from others who have done it just right. That said, here are five Twitter ads that did it right and why you need to emulate them for your campaigns:
1. Hootsuite
Hootsuite's Twitter ad proves that immediately selling isn't always the key to success. Instead of selling or asking for people to sign up, their ad invites potential customers to see results. Not only does this jumpstart awareness about the brand and what it has to offer, but it also acts as a guarantee of sorts that signing up in the future will yield actual outcomes.
Image Credit: AdEspresso.com
To boost the effectiveness of this approach, Hootsuite makes sure to provide high-quality content that is aligned with the service they offer. This approach furthers their authority and makes their audiences more likely to trust them.
2. Progressive
This ad by Progressive demonstrates the wonders of good copywriting. Instead of using jargon and buzzwords to beef up their copy and make their offer appear irresistible to users, Progressive used simple words and a concise format to drive their point home. They even added a dash of humor and a lot of honesty for good measure. While some brands promise the lowest price for their services, the insurance provider goes ahead and admits that they are not always the cheapest, then invites people to compare rates. That, by the way, is an excellent way to get traffic.
Image Credit: Astute Solutions
Additionally, the ad shows a deep understanding of visuals and how people react to them. The image is humorous, but it also plays with emotions. Paired with the copy, the image delivers the brand's message home.
3. Casper
The first thing you will notice in this Twitter ad by Casper isn't the colorful visuals or the text. In fact, it has very little of both, yet it works. Most users would agree that Twitter's news feed can be noisy, especially if you are following a lot of accounts. The ad's white space is so great that it becomes the most readily visible and attention-grabbing element.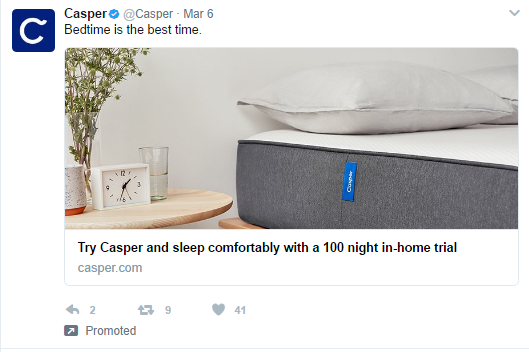 Image Credit: Astute Solutions
Thanks to its brevity, the copy's punch doesn't miss. It's something users immediately get and relate to. The offer that follows isn't bad either. It's a great example of knowing your platform and putting its characteristics to good use.
4. WordStream
This Twitter ad is carefully planned and executed, combining a catchy promise, an appropriate image, and a strong call to action. The writer knows the offer and subject are likely to intimidate users, so emojis were added to lighten the ad a bit.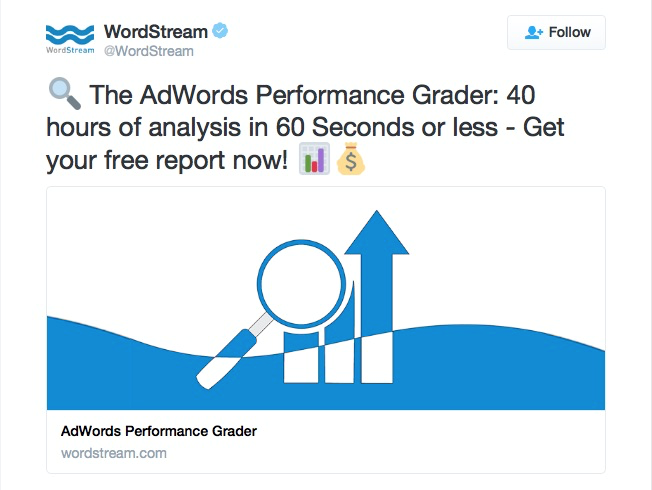 Image Credit: WordStream.com
Not much else is offered, and this brevity makes the ad work all the more. The concise copy emphasizes the promise of quick results —60 seconds or less— that users are not likely to resist.
5. Gas-X
Visuals are a sure-fire way to grab attention. Gas-X had succeeded by using not just an image, but an animation, to demonstrate just how ineffective their competition is by comparing it to using a voodoo doll. Images are powerful enough for these types of messages, but animated images, especially if they come with a hint of humor, more so.
Image Credit: Astute Solutions
When planning your ad, try to imagine how you can incorporate animation to drive your point. Pair them with a catchy and punchy copy, and you are golden.
Conclusion
Considering how easy it is to obtain information these days, it is essential to gather this data and use it to win the trust of potential customers. People clearly use social, so the likes of Facebook and Twitter are great places to start. The availability of ad transparency tools should be seen as an opportunity to learn from brands that do their ads right, as well as a challenge to create more effective ads that drive consumer trust, among other positive outcomes.
How do you think you will benefit from ad transparency? Tell us in the comments.