Quick Summary
We define what bounce rate is and why it matters for SEO.

High bounce rates can indicate that a website's content or design is not engaging or relevant to visitors.

Analyzing the bounce rate on your pages can give you paths to improvement. You may find issues such as slow load times, navigation issues, or irrelevant content that are impacting your bounce rate.
---
What Is Bounce Rate?
Bounce rate is the percentage of visitors who leave a website after viewing only one page. It indicates how frequently users visit your site without interacting or exploring further.
While some bounces are unavoidable, a high bounce rate may indicate that your content is unsatisfactory or poorly optimized.
Let's learn more about bounce rates and how to improve them.
What Is a Good Bounce Rate?
A good bounce rate is around 40% or lower, while a bounce rate of 60% or higher may be an indication that you need to evaluate your page content and make it more helpful and engaging for users.
While you want your bounce rate to be as low as possible, bounce rates can also vary depending on the industry, page type, and even seasonality.
Here are some average bounce rates for different types of websites and webpages, according to Custom Media Labs: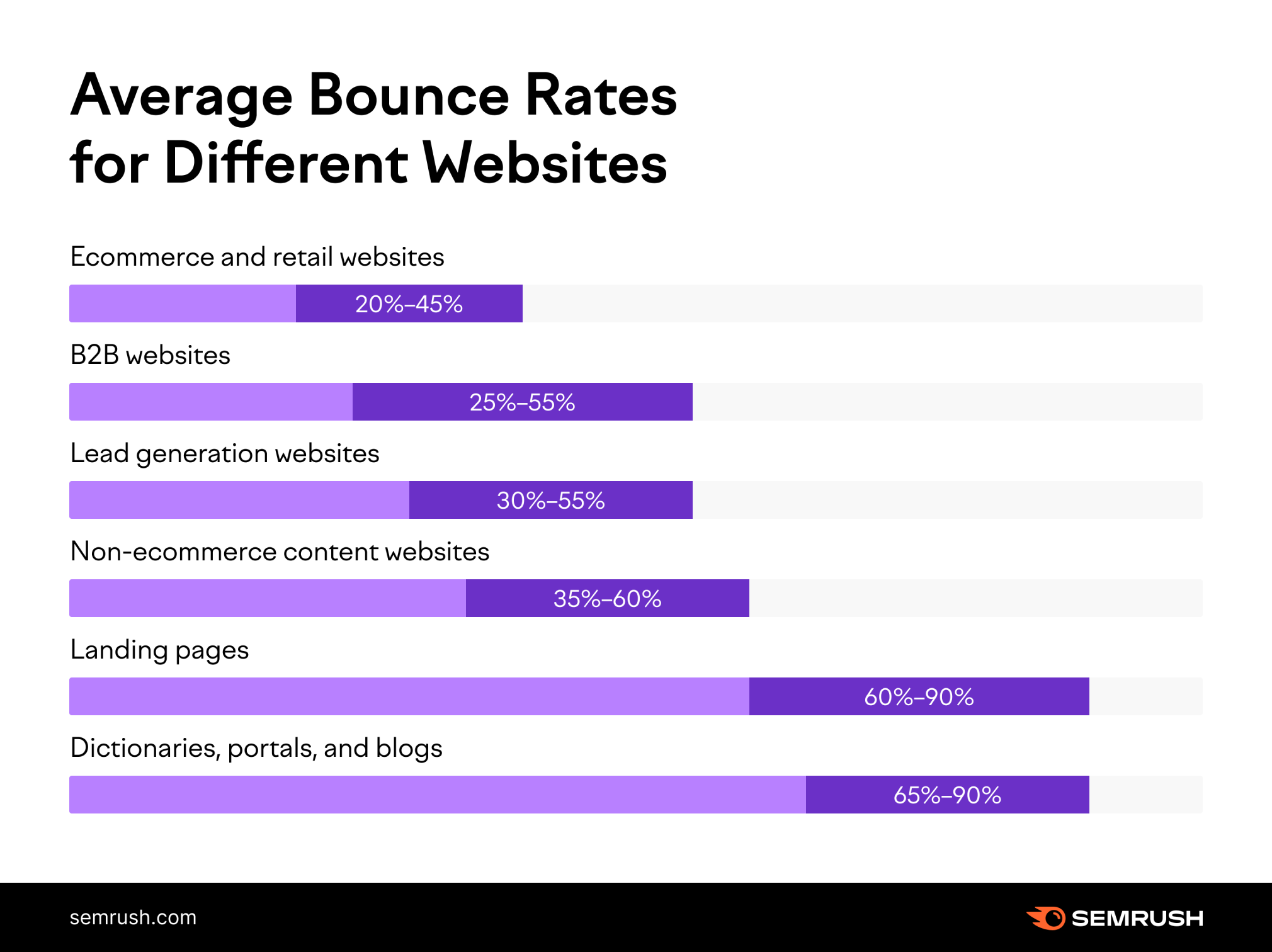 This means that a high bounce rate is generally above 45% in ecommerce, but above 90% on blogs. 
Your bounce rate can also vary dramatically by traffic source (where your visitors come from).
Here are some average bounce rates by traffic source, according to CXL: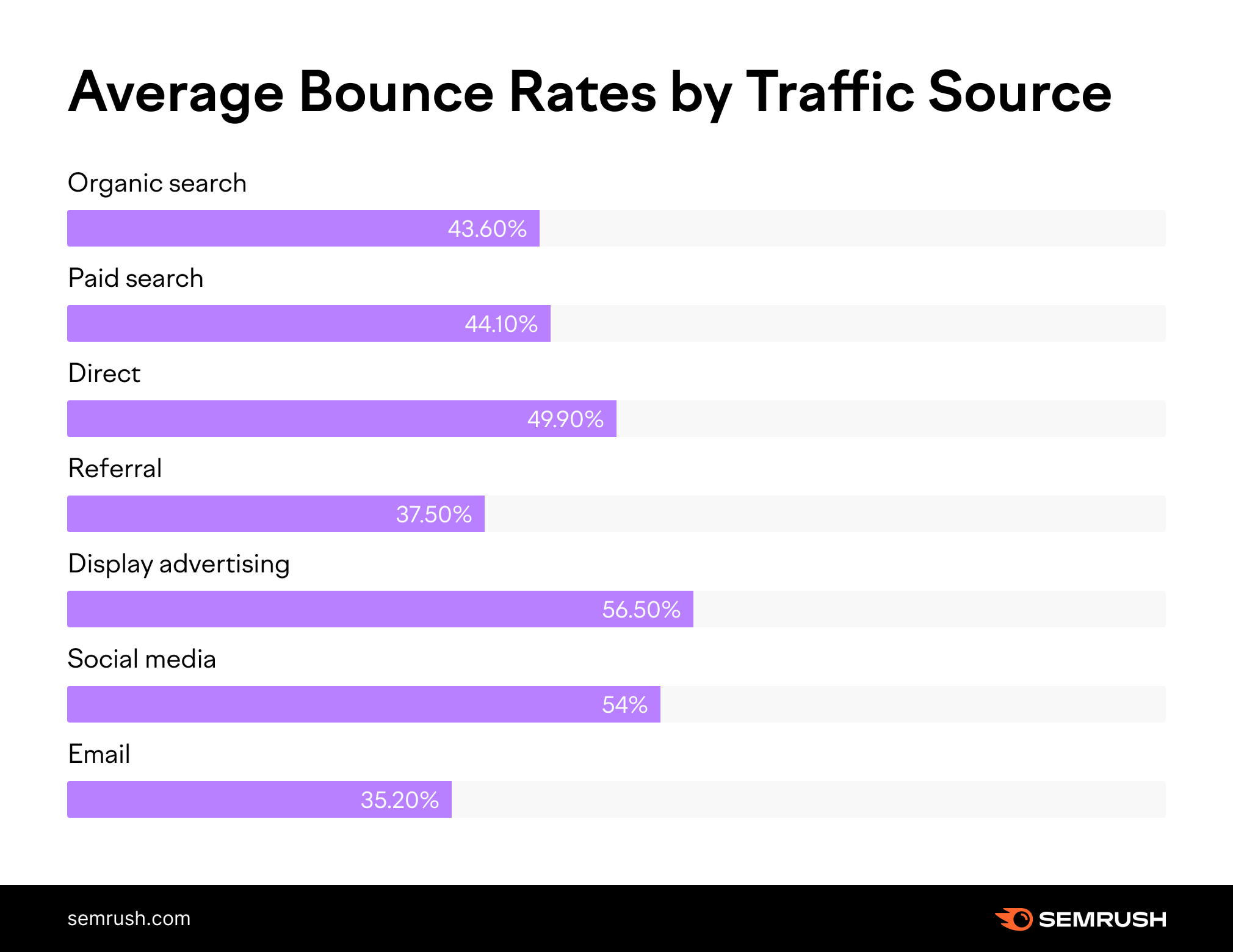 To sum up, your question shouldn't be: What is a good bounce rate?
You should ask yourself: 
How does my website bounce rate compare to industry benchmarks?
How do my webpage bounce rates compare to each other?
How do my campaign bounce rates compare to each other?
How have my bounce rates changed over time?
Is Bounce Rate a Ranking Factor?
Bounce rate is not a confirmed Google ranking factor. 
It's just a metric. And one Google has repeatedly said does not directly influence rankings.
(Although some studies have shown a correlation between bounce rate and ranking.)
But you should try your best to improve your bounce rate. 
Why?
A high bounce rate is often a symptom of weakness in other SEO factors like:
Slow loading speed
Low-quality webpage design
Mismatch between content and keywords
Poor mobile optimization
When someone "fixes" your bounce rate, they're usually addressing one of these issues. 
Plus, a lower bounce rate usually indicates that your content is engaging or useful.
And Google definitely cares about that. 
Bounce Rate vs. Exit Rate
Exit rate is the percentage of people who leave a particular page after visiting any number of pages on a website. 
For example, say a visitor lands on an article on your blog. 
Then, they click on an internal link and land on another article. And after reading that second article, they close their browser. 
That's not a bounce. 
But, because the visitor left your site on the second article, it will increase that page's exit rate. 
Bounce rate, on the other hand, is the percentage of people who land on a page and leave that same page. 
For example, a visitor lands on an article on your blog. And then they close their browser seconds later. 
That's a bounce. It'll increase that page's bounce rate.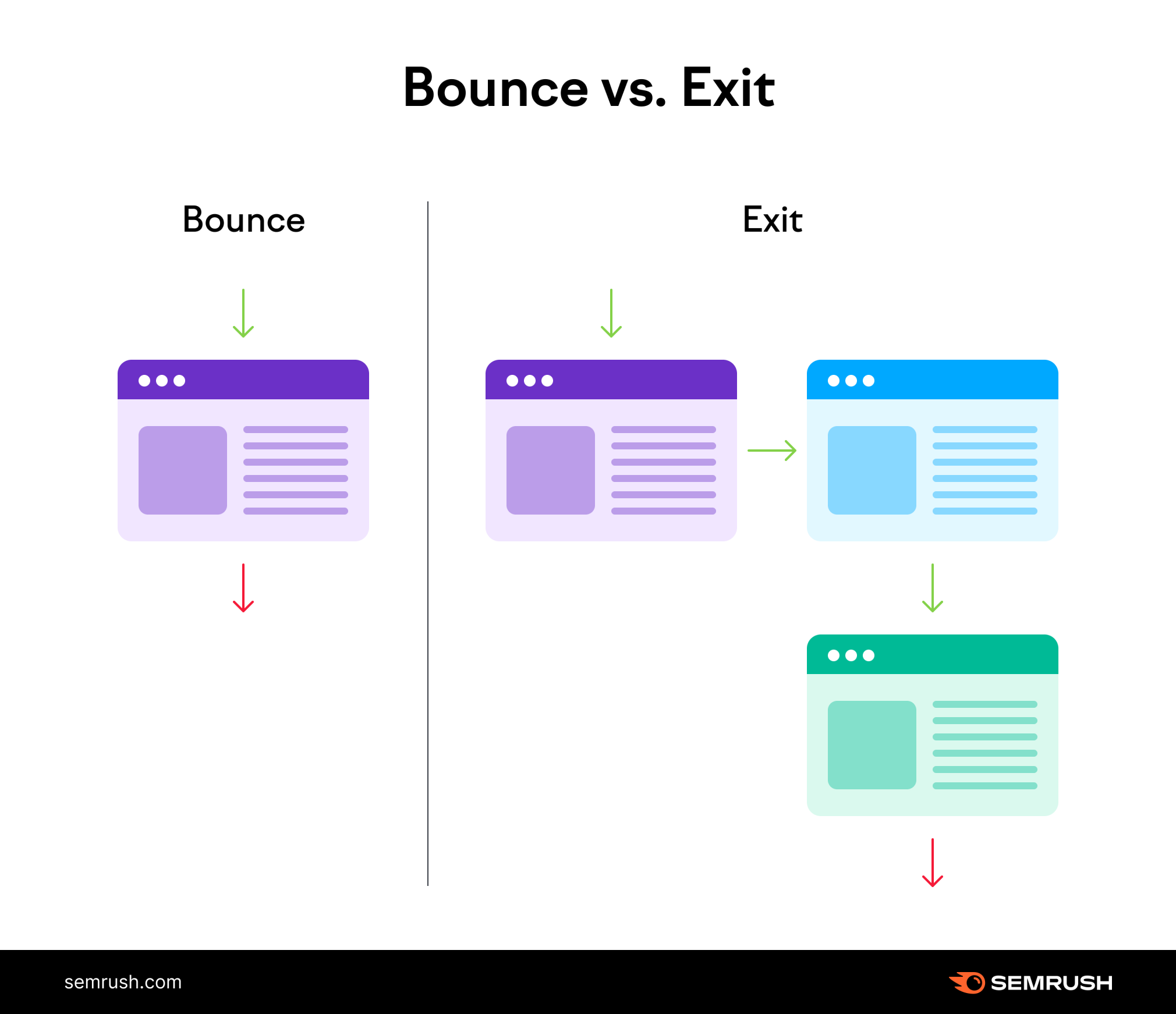 So, all bounces are exits. But not all exits are bounces.
Bounce Rate in Google Analytics: UA vs. GA4
Google Analytics currently has two data collection technologies: Universal Analytics and GA4. 
They both measure bounce rate differently. 
Universal Analytics defines bounce rate as:
"The percentage of single page sessions in which there was no interaction with the page." 
So, if a visitor lands on your page, reviews your content for several minutes, and then leaves, the session counts as a bounce. 
Here's what the bounce rate metric looks like in a UA dashboard:
GA4 defines bounce rate as:
"The percentage of sessions that were not engaged sessions."
An engaged session is a visit that lasts 10 seconds or longer, has one or more conversion events, or has two or more page views.
So, if a visitor lands on your page, reviews your content for more than 10 seconds, and then leaves, the session does not count as a bounce. 
Even if they didn't perform any other action.
Here's what bounce rate looks like in a GA4 dashboard:
Keep this distinction in mind because Google will stop using Universal Analytics on July 1, 2024. 
The bottom line is still the same:
Bounce rate is a way to measure user engagement. 
You want your visitors to land on your page and do something. Even just browse around. 
If they don't, it could indicate that your page has issues with content, layout, copywriting, or user experience.
How To Find Your Bounce Rates
A page's bounce rate is calculated by dividing the number of single-page visits by the number of total visits on the site. 
Page bounce rate = single-page visit / total visit
For example, if 100 users land on your site (total visits) and 10 of them leave without performing any other action (single-page visit), your page's bounce rate is 10%. 
10% = 10 / 100
You can easily check a page's bounce rate using Google Analytics. 
Universal Analytics
To check your bounce rate in Universal Analytics, go to any report with a data table (Acquisition, Behavior, or Conversion tabs). They all include the bounce rate metric.
For example, if you click on "Behavior," "Site Content," and "All Pages," the report displays a "Bounce Rate" column.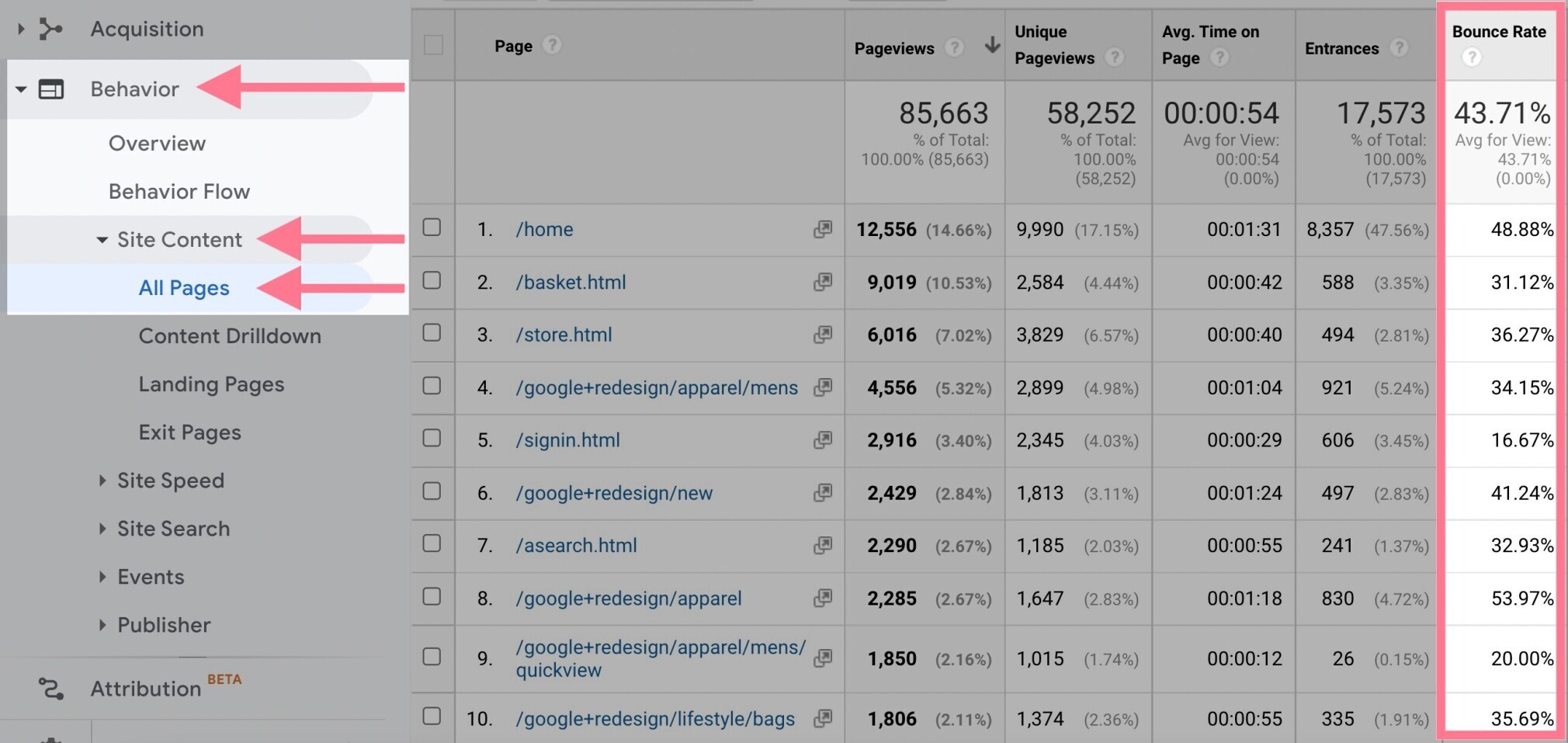 To see bounce rates for individual pages, click on one of the entries in the table. 
For example, /home.

Clicking on the entry will give you more specific details about that page.
Including a chart and the page's average bounce rate over time.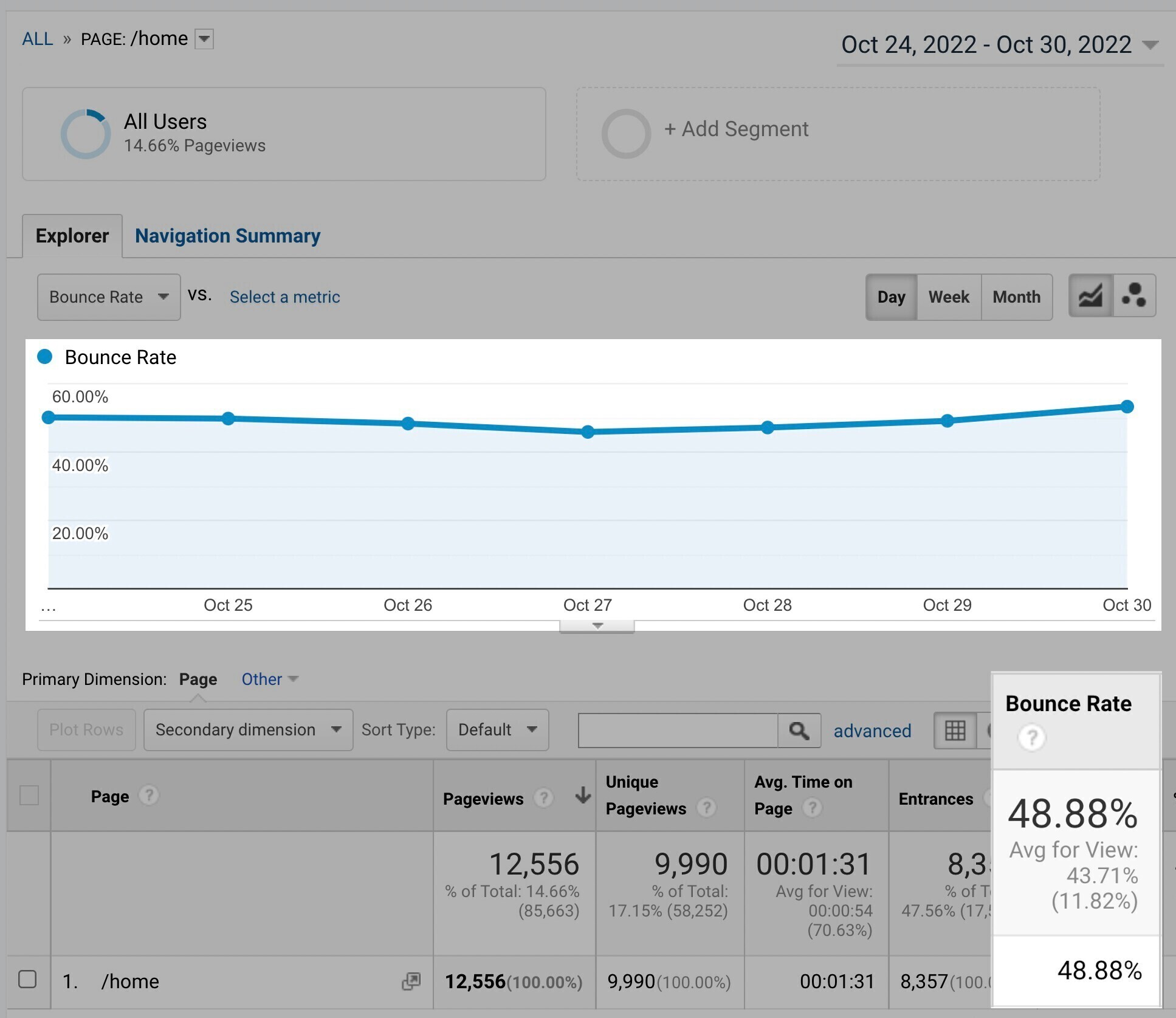 Or you can use the advanced search feature to narrow down the search results by adding inclusions, exclusions, or dimensions and metrics. 
Start by clicking on the "advanced" button found above the table. 
That'll open a drop-down form that lets you narrow your data set even further.
Pro tip: If there's a page (or pages) that you know have higher bounce rates and don't want them to skew your overall percentages, you can exclude them from your reports. 
For example, say you want to know how your ecommerce site pages are performing. 
You see a lot of traffic to your homepage. But you're more interested in how your visitors are responding to the rest of your site. 
Use the "advanced search form" to exclude /home from your report in Google Analytics.
Like this:
After you hit "Apply," you should see that your advanced search filter is on and that the /home page is no longer in the table.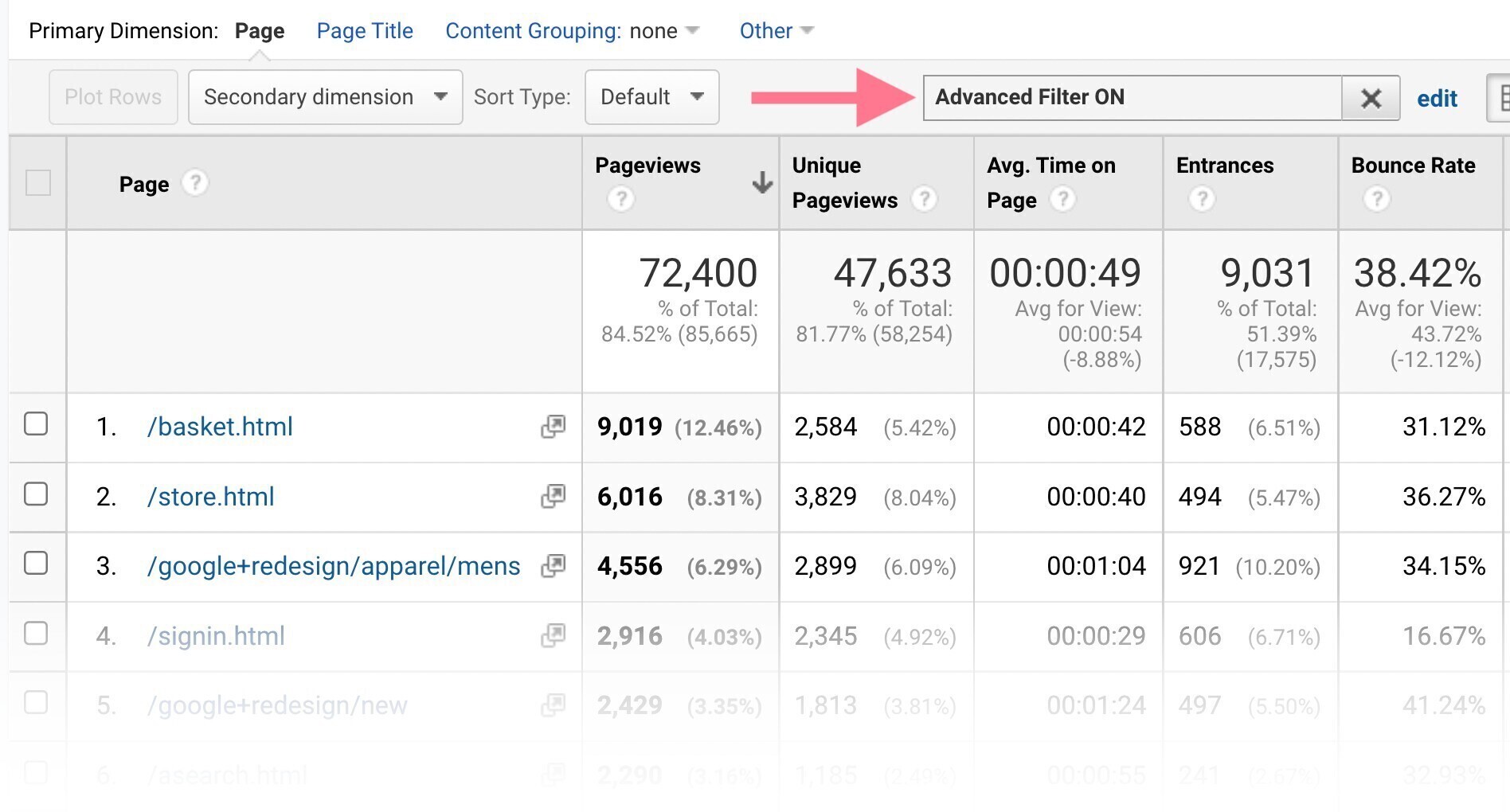 GA4
Checking your bounce rate in GA4 is a little tricky.
First, go to the "Reports" tab (on the left-hand side).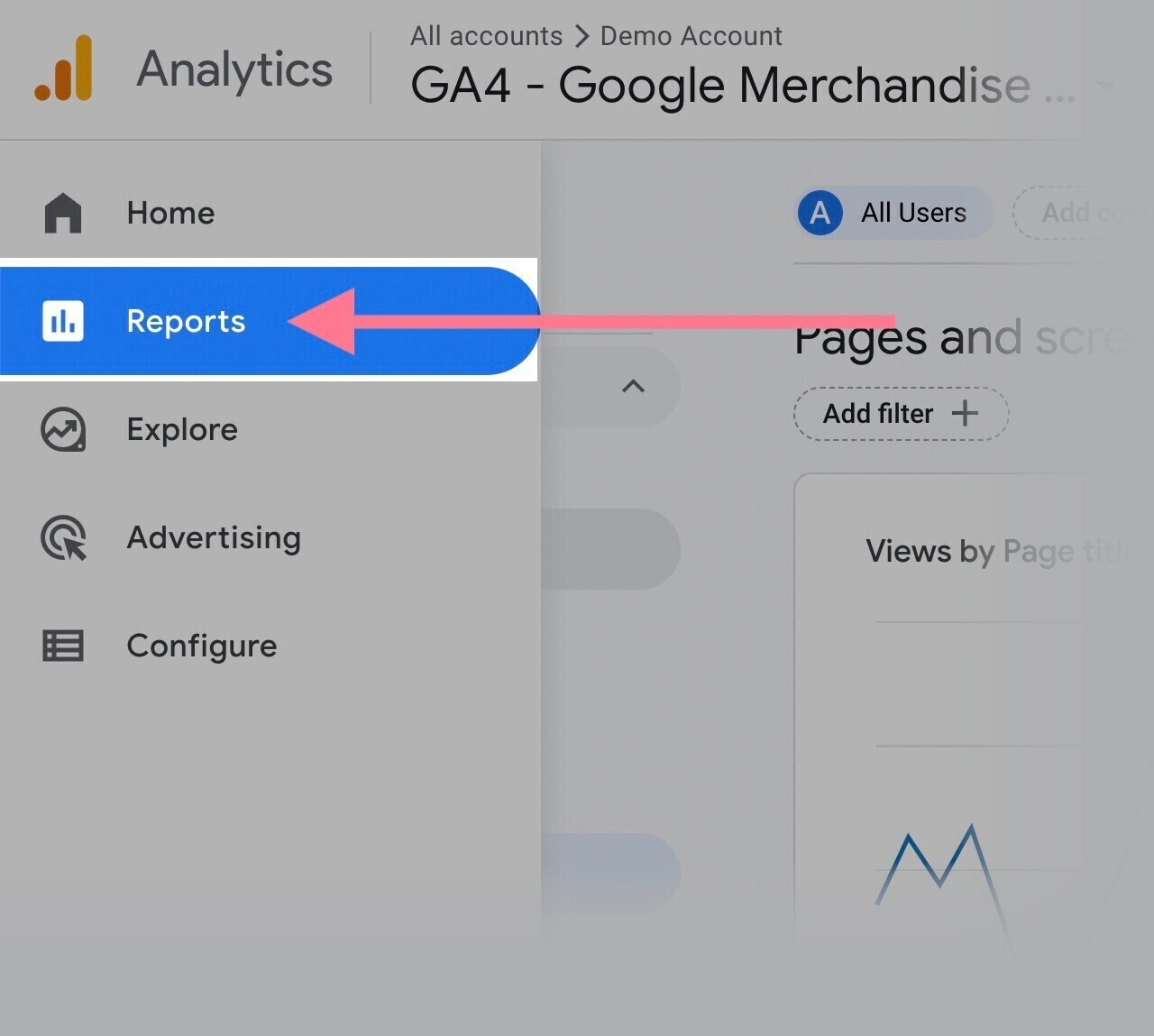 Then, click on "Engagement" and then "Pages and screens."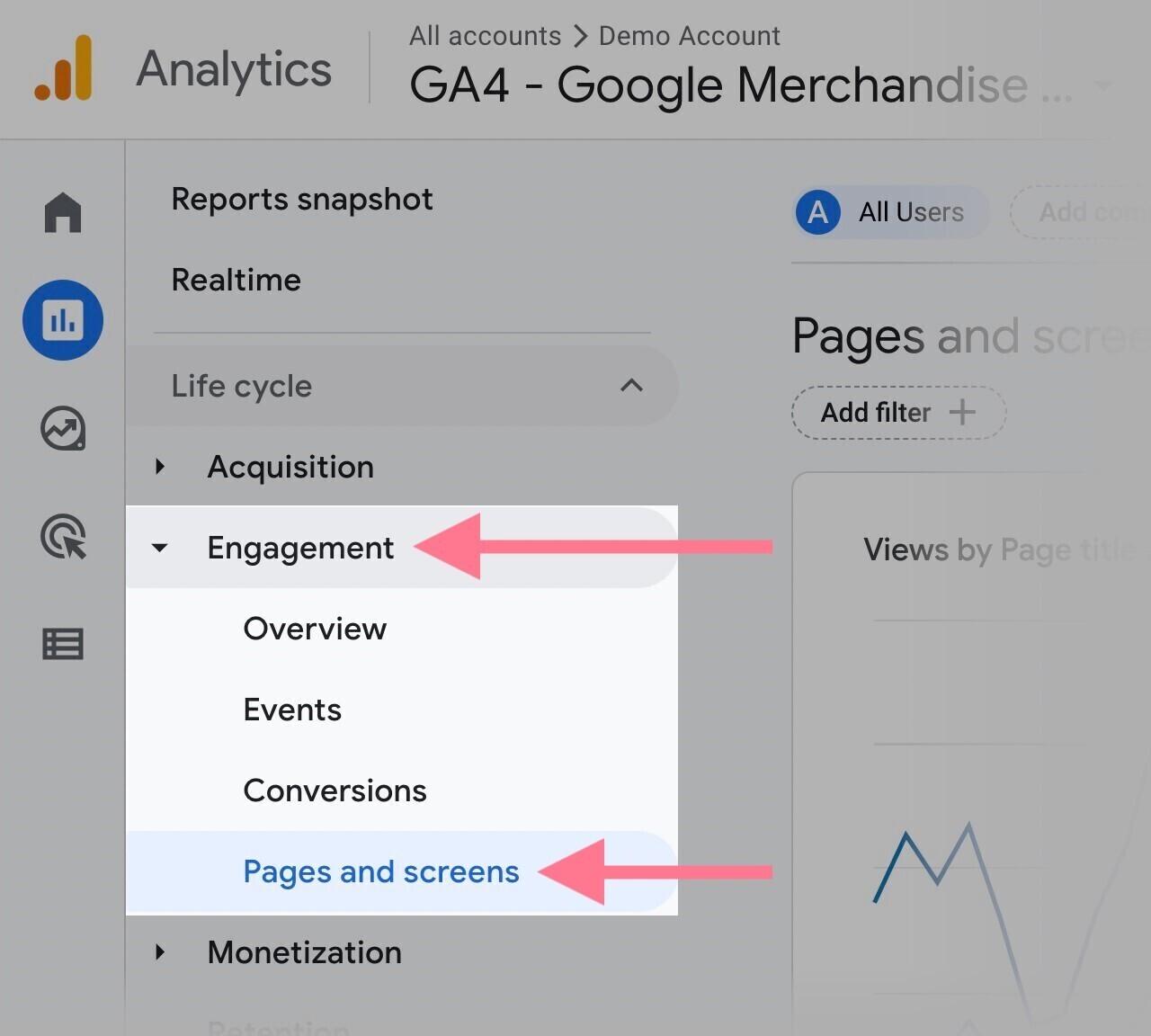 Next, use the pencil icon on the top right portion of your screen to customize the report. 
Like so:
A sidebar should appear to the right of the icon. 
In that sidebar, select "Metrics."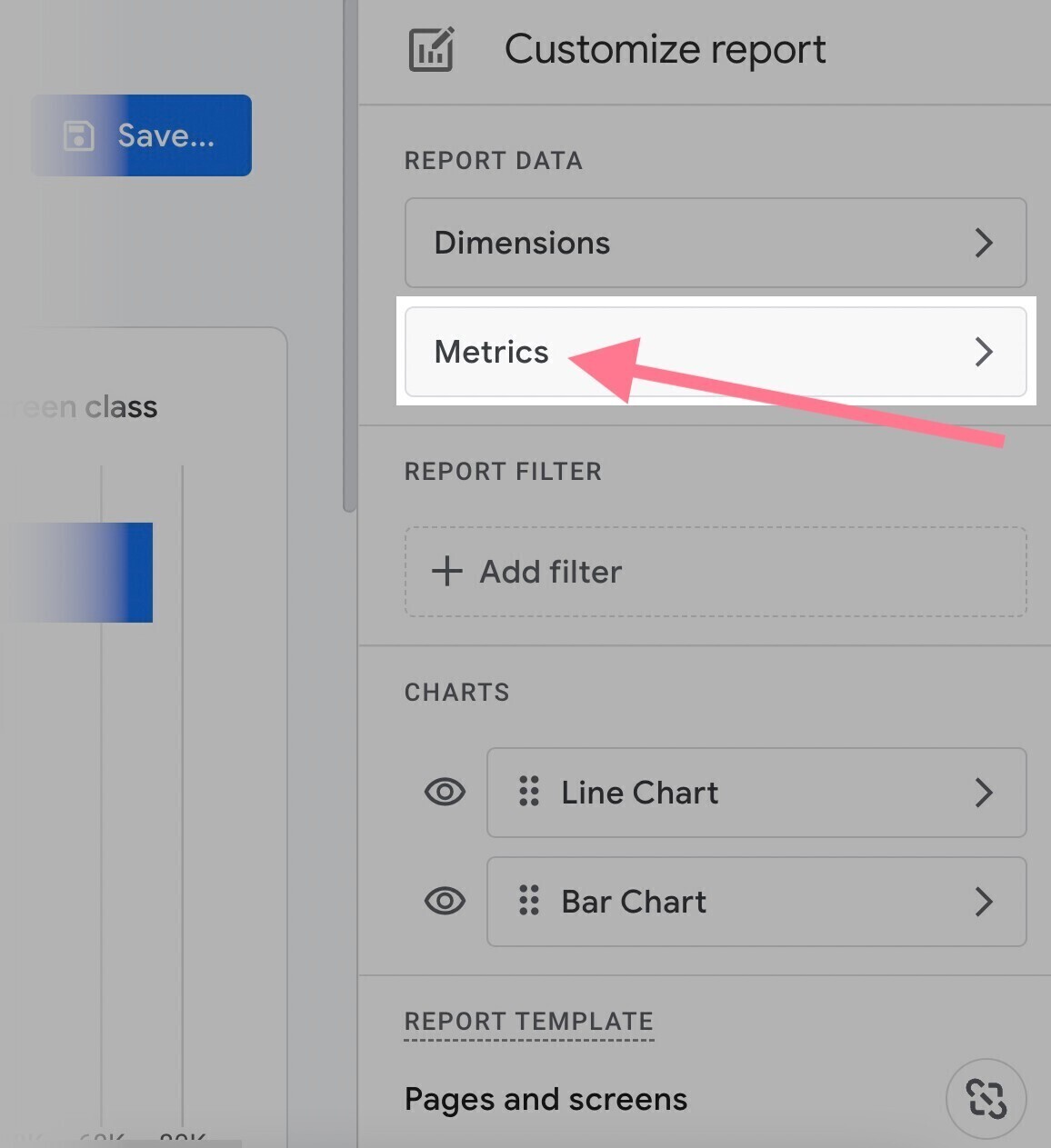 This sidebar shows the default metrics included in the "Pages and screens" report.
Click "Add metric" at the very bottom.
And select "Bounce rate." 
Click and drag the six dots beside the "Bounce rate" to move it up so that it's one of the first columns. 
Like this: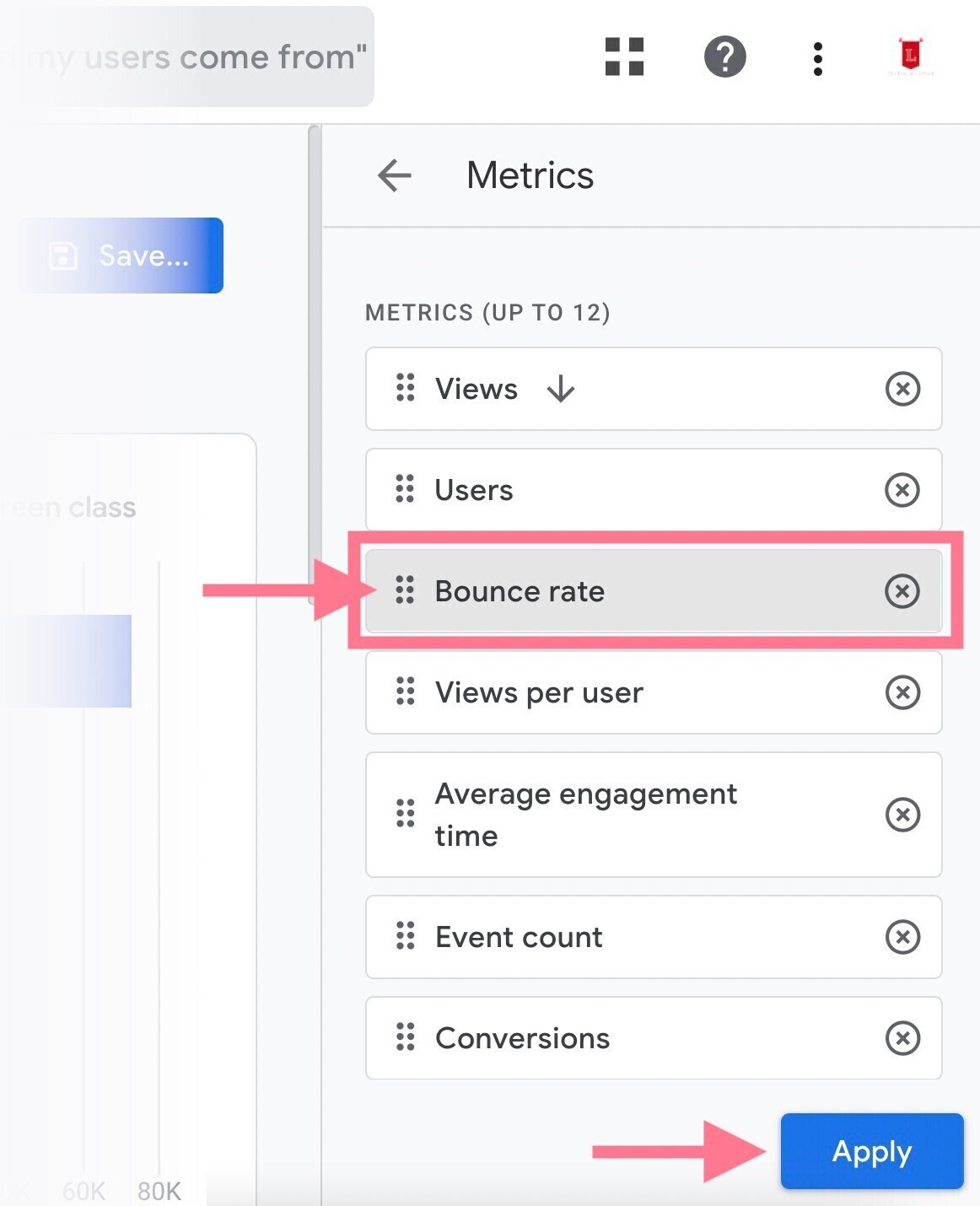 Then, click "Apply."
Bounce rate is now included in the report. So, click "Save" and then "Save changes to current report." 
And then "Save."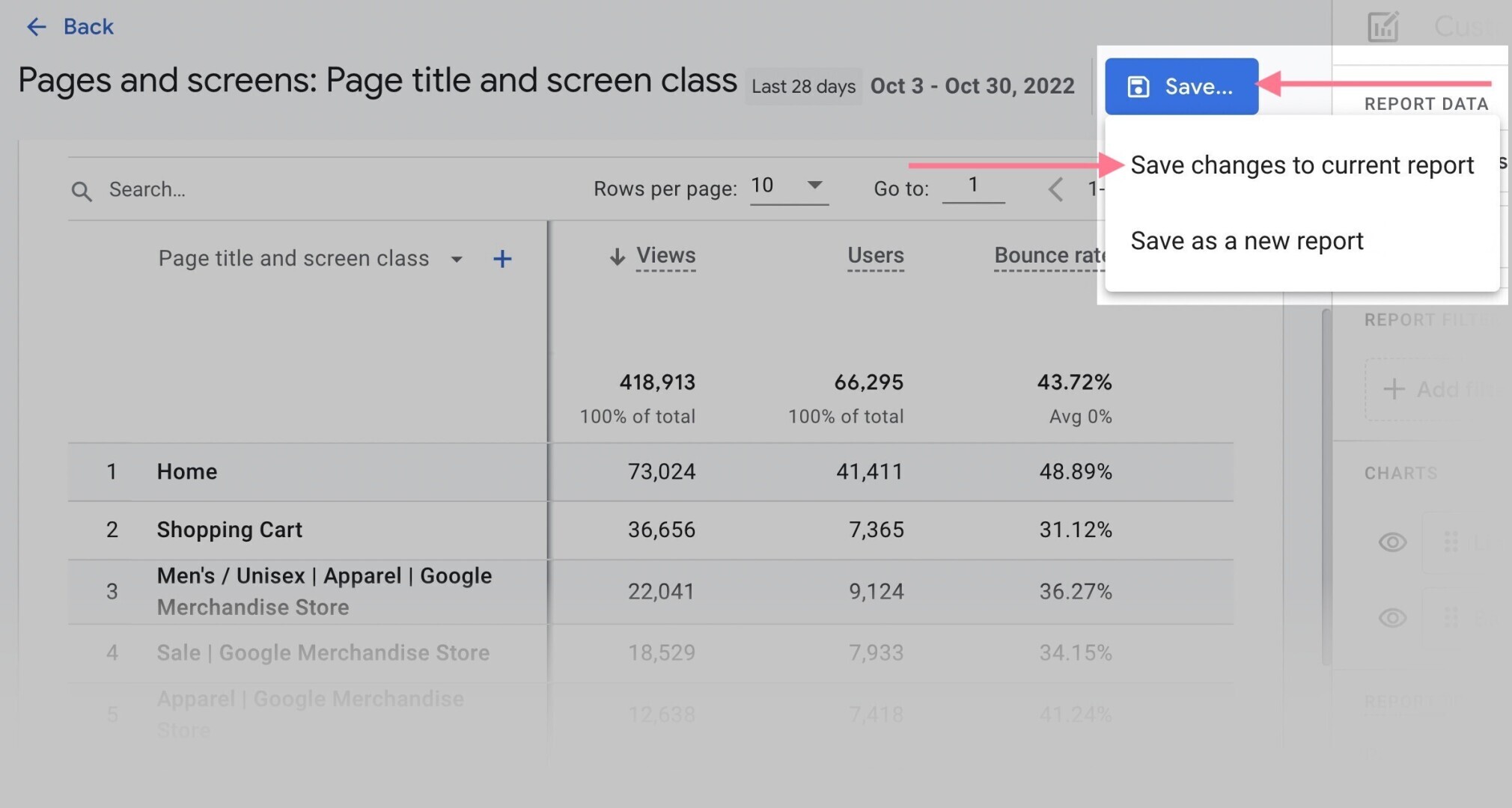 Now, you can navigate back and check that you've successfully customized the standard report to include bounce rate.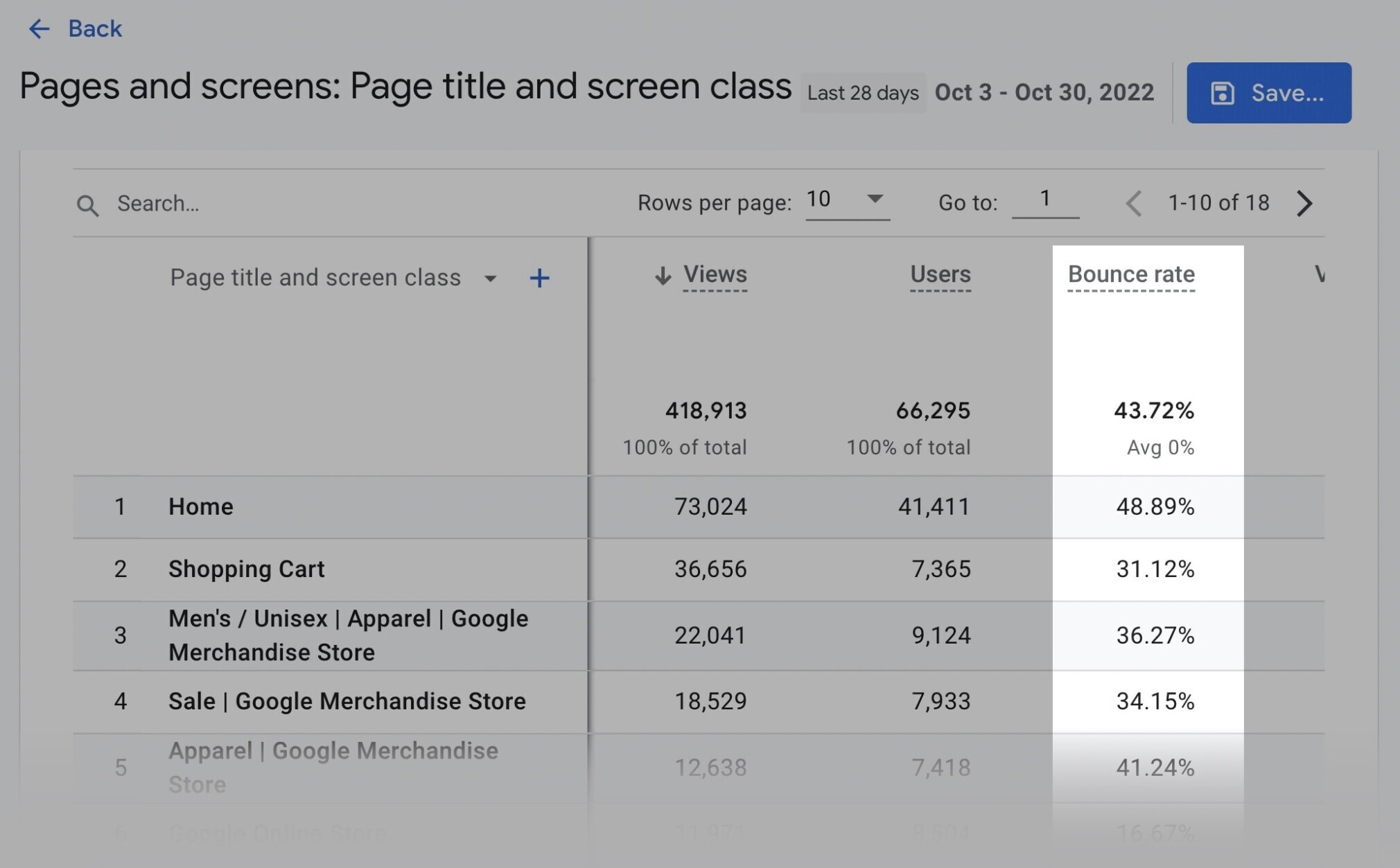 How To Lower Your Bounce Rates 
Here are six ways to improve your user experience, engagement, and, ultimately, bounce rates. 
Improve Page Load Speed
Page speed can make or break user experience. As page load time increases, the probability of someone bouncing increases. 
By a lot.
A Google page-speed study of 11 million pages confirms this correlation.
Here's a look at how load times relate to the probability of a user bouncing: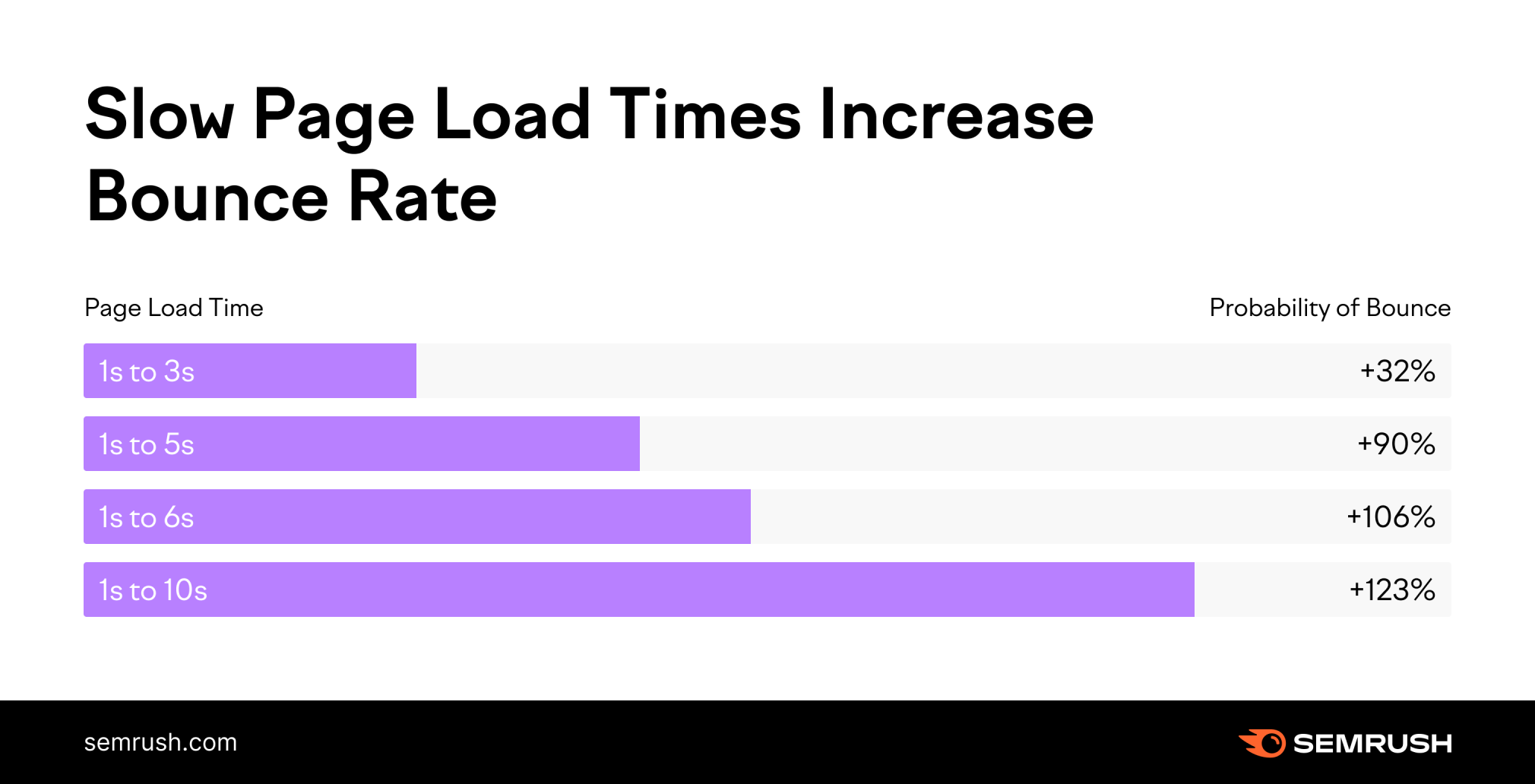 You can use the "Site Performance" report in Semrush's Site Audit tool to get an overview of your website's speed metrics.
Like so: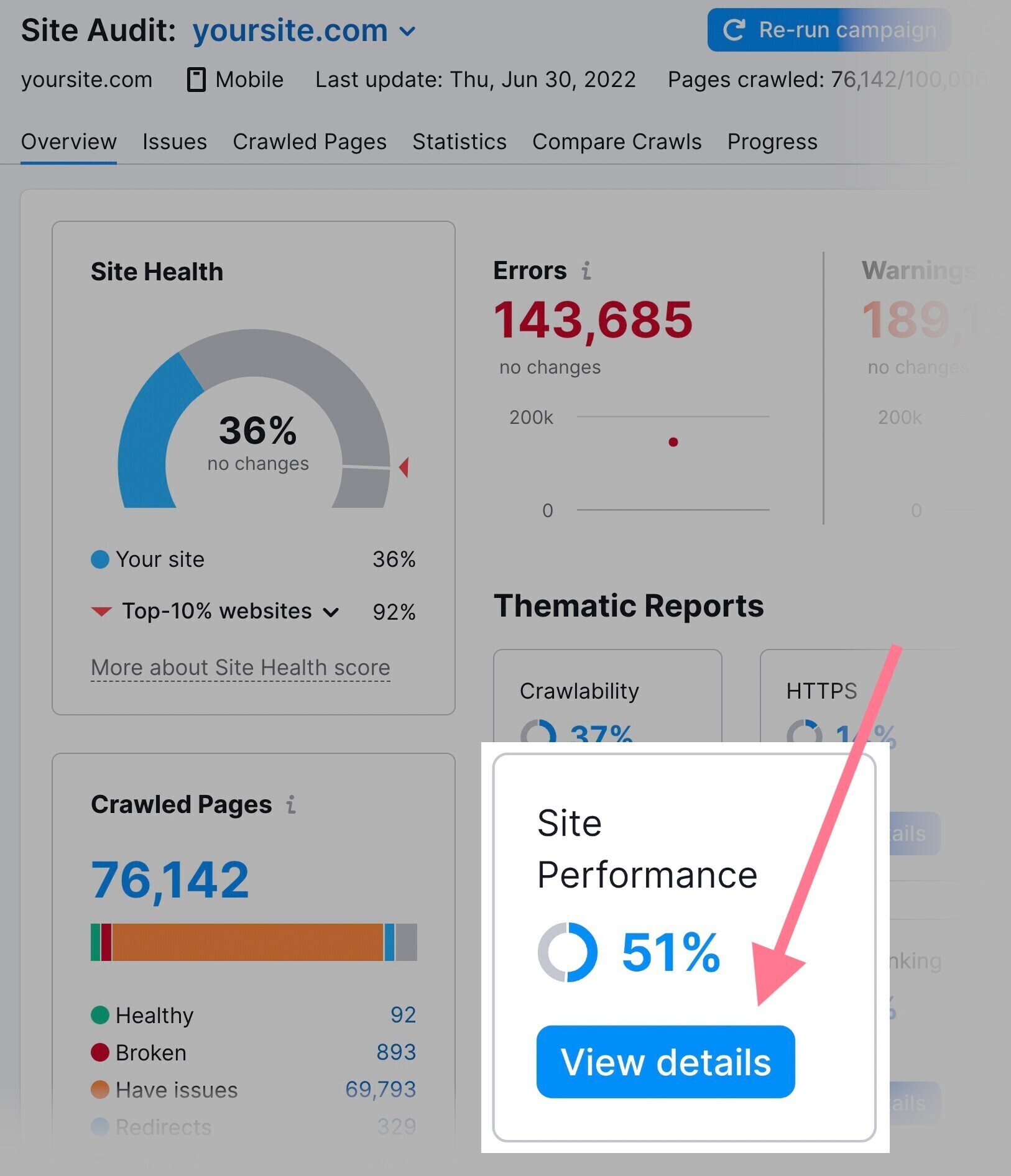 You'll get insight into what issues are causing slow loading times. And actionable advice on how to fix them.
The report will give you specific recommendations. 
For example, in this case, it shows there are uncompressed pages on the site. 
Clicking on the "Why and how to fix it" link will open a pop-up telling you all about the error and how to fix it.
Like so: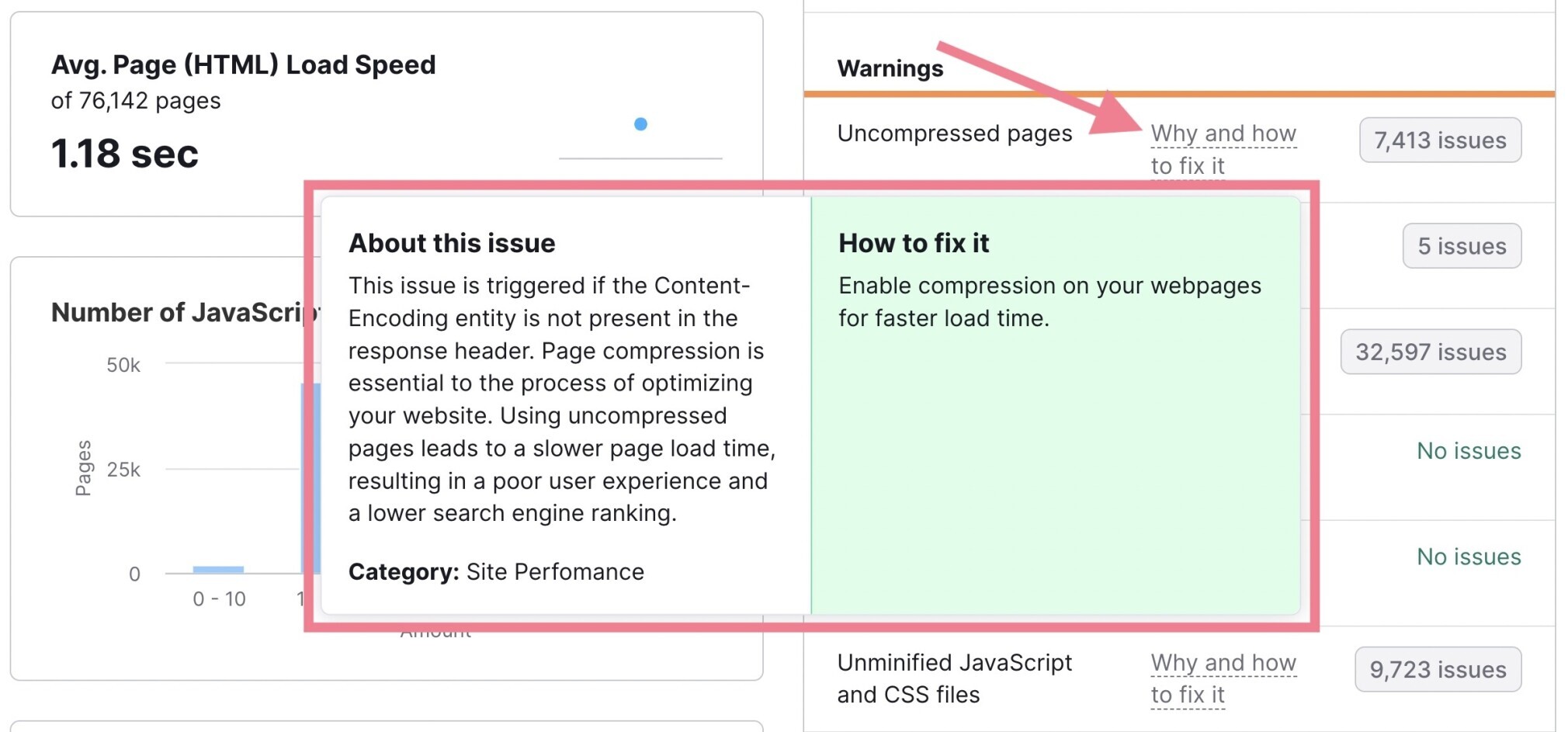 To enable compression on your webpages, download a plugin like PageSpeed Ninja. 
You can also download an image compressor like TinyPNG to keep your image sizes small. 
Optimize Your Mobile User Experience 
Mobile traffic accounts for more than half of all web traffic worldwide.
Meaning that:
If you want to have a low bounce rate, your site needs to work really well on phones and tablets. 
That includes having intuitive navigation, large fonts, and responsive images.
Here's how to make that happen.
First, see how your site performs on mobile devices.
One way to check quickly and easily is to use Google's Mobile Friendly Test.
Enter the URL of the page you want to test and hit "Test URL."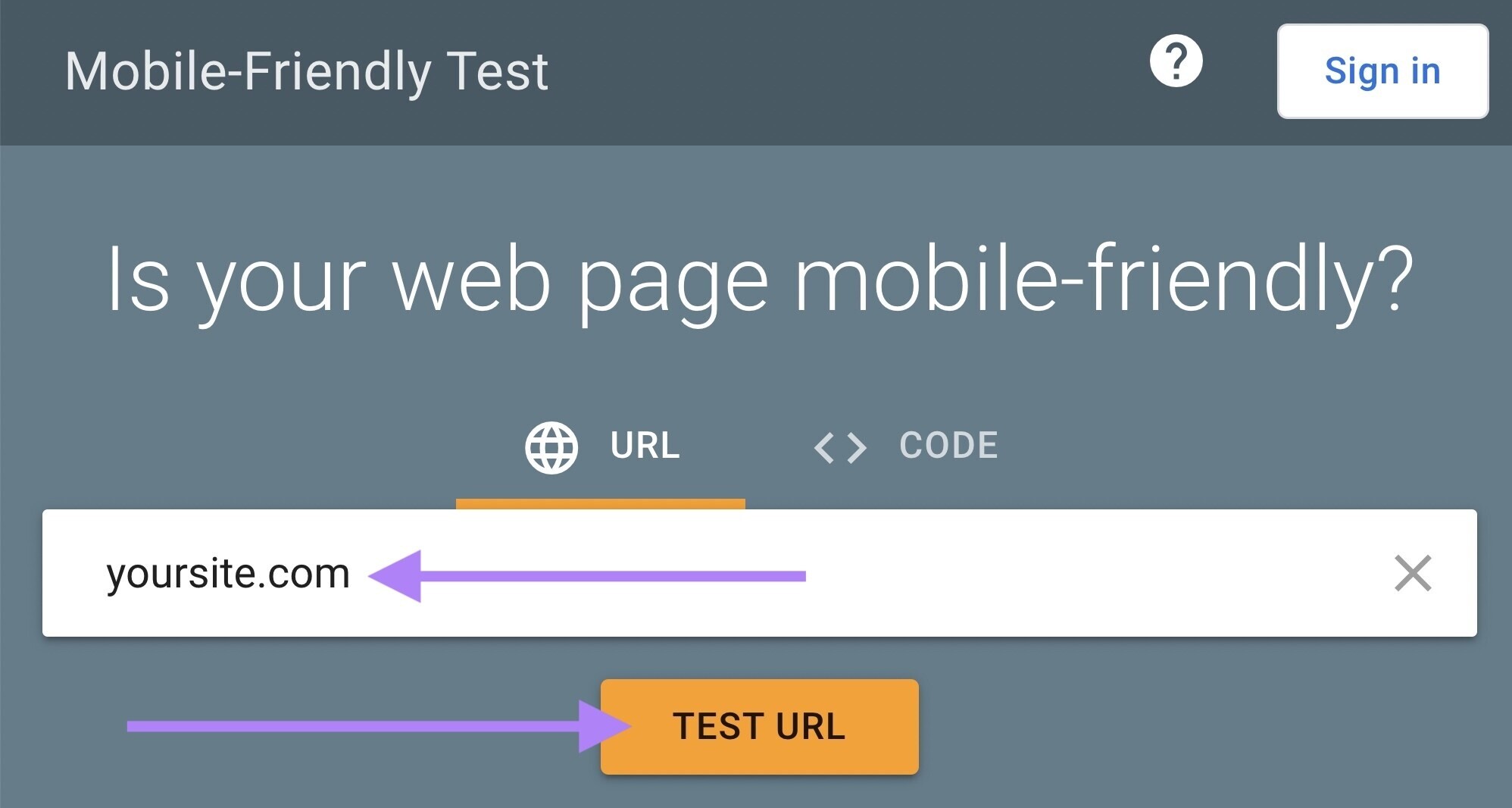 After a few seconds, the tool will let you know whether the page is usable on mobile.
You can click on "View Tested Page" to see a screenshot of the URL and more detailed information.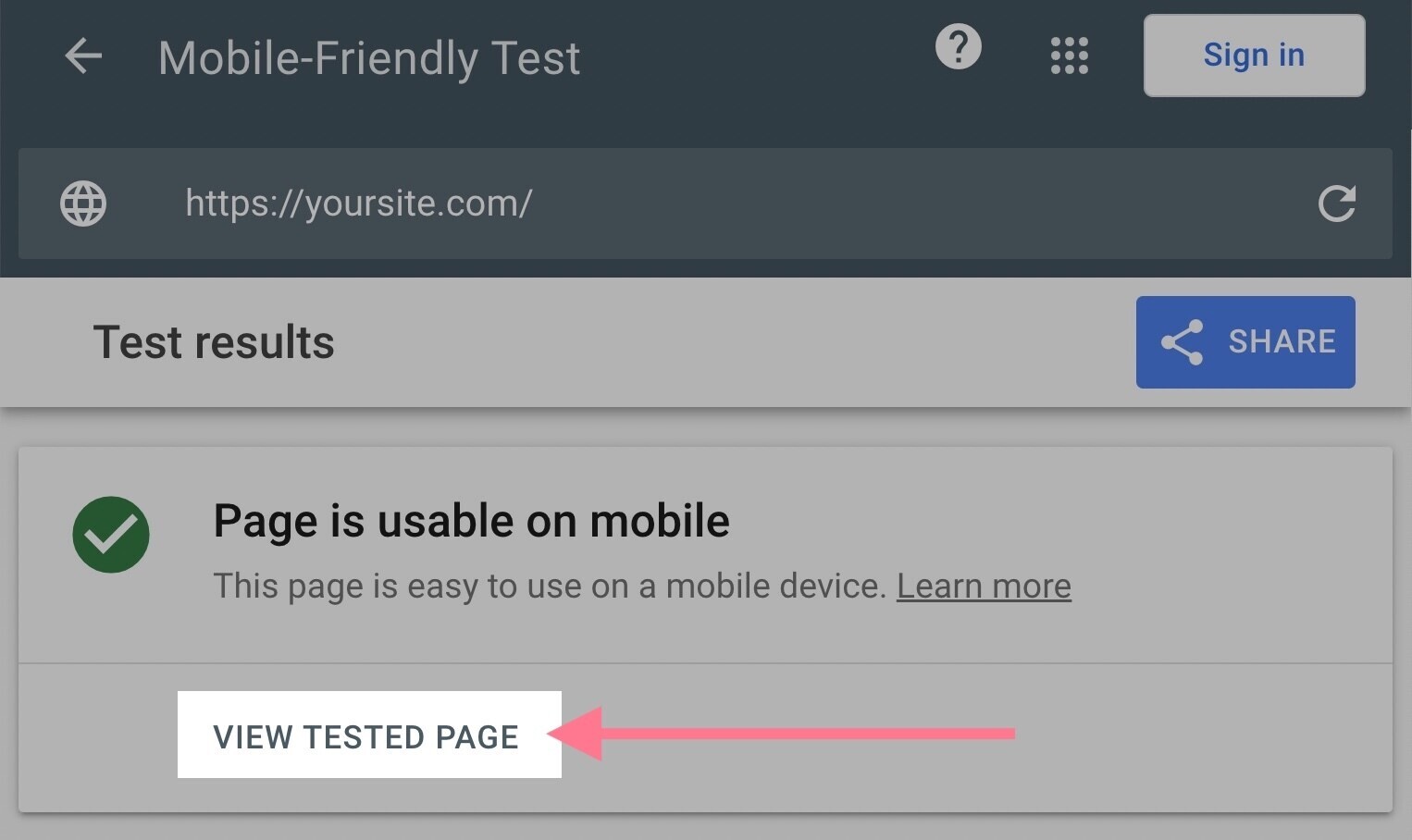 If the URL isn't usable on mobile, you can go to the "Details" section to learn why it isn't. 
You can also use Google Chrome to see what your page actually looks like on mobile. 
It's a quick and easy test that's useful when you're building a site. Or to see how your site looks on mobile at a moment's notice. 
To do so, go to the page you want to check and right click anywhere. Then hit "Inspect."
The inspect window will appear to the right or bottom of your page. 
Click on the mobile device icon in that window.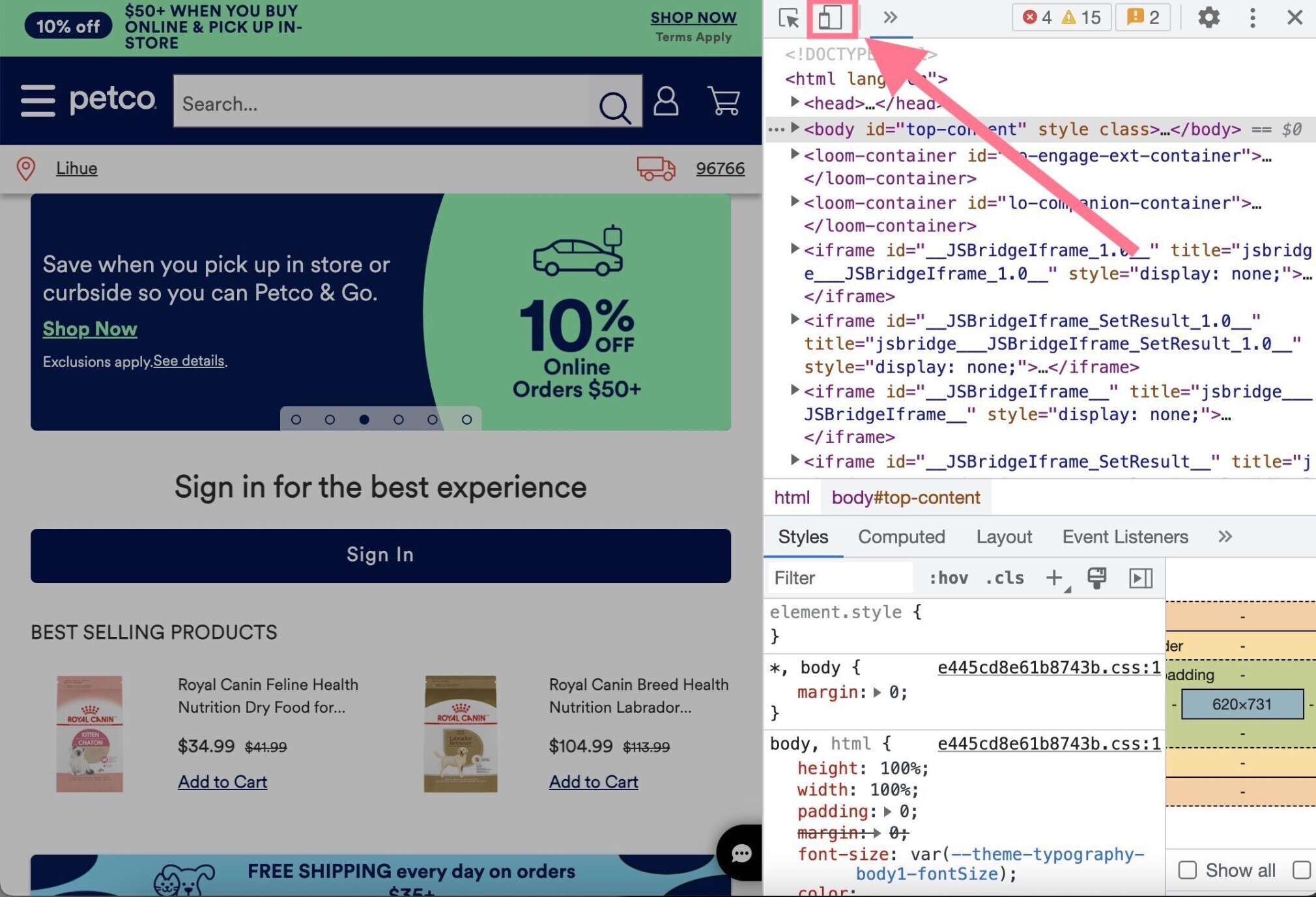 If you'd like to see what your page looks like on different devices, you can change your screen size.
To do so, use the "Responsive" drop-down menu located on the upper left corner of your window.
To return to your normal screen, click on the "X" on the far right. 

Purposefully Use Internal Links 
If you want to prevent visitors from bouncing from your pages, consider adding internal links to other content from your site.
Especially on blog posts. 
By linking to related posts and articles, you provide an opportunity for someone to click through and read other posts. 
And, therefore, not bounce. 
Another great way to do that is to add a "related posts" section at the end of your articles.
Like this: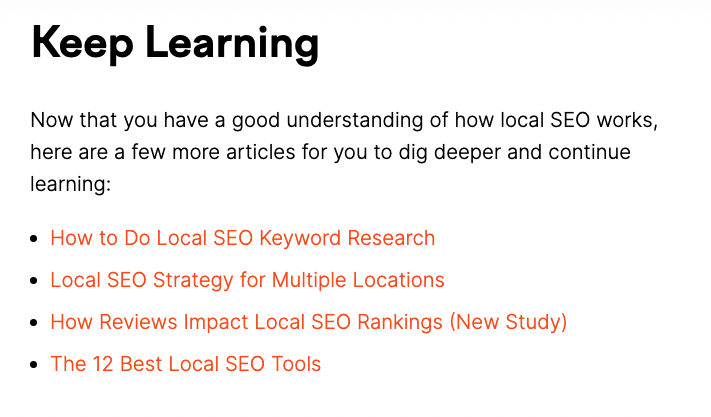 That way, you give visitors something to do after reading your post. Instead of bouncing.
Note: Internal links are also crucial for SEO success because they:
Help Google find and understand all of the pages on your site
Help Google understand which pages on your website are most important
Make Your Content Easy to Read
Web visitors are in a rush to learn something. They're scanning for the information they want. 
Which means:
If they can't find what they want fast, they're going to bounce. 
Here are a few ways to make your content easy to read:
Use subheadings. Headers break up your content into digestible sections. And make it really easy for readers to skim and understand your content.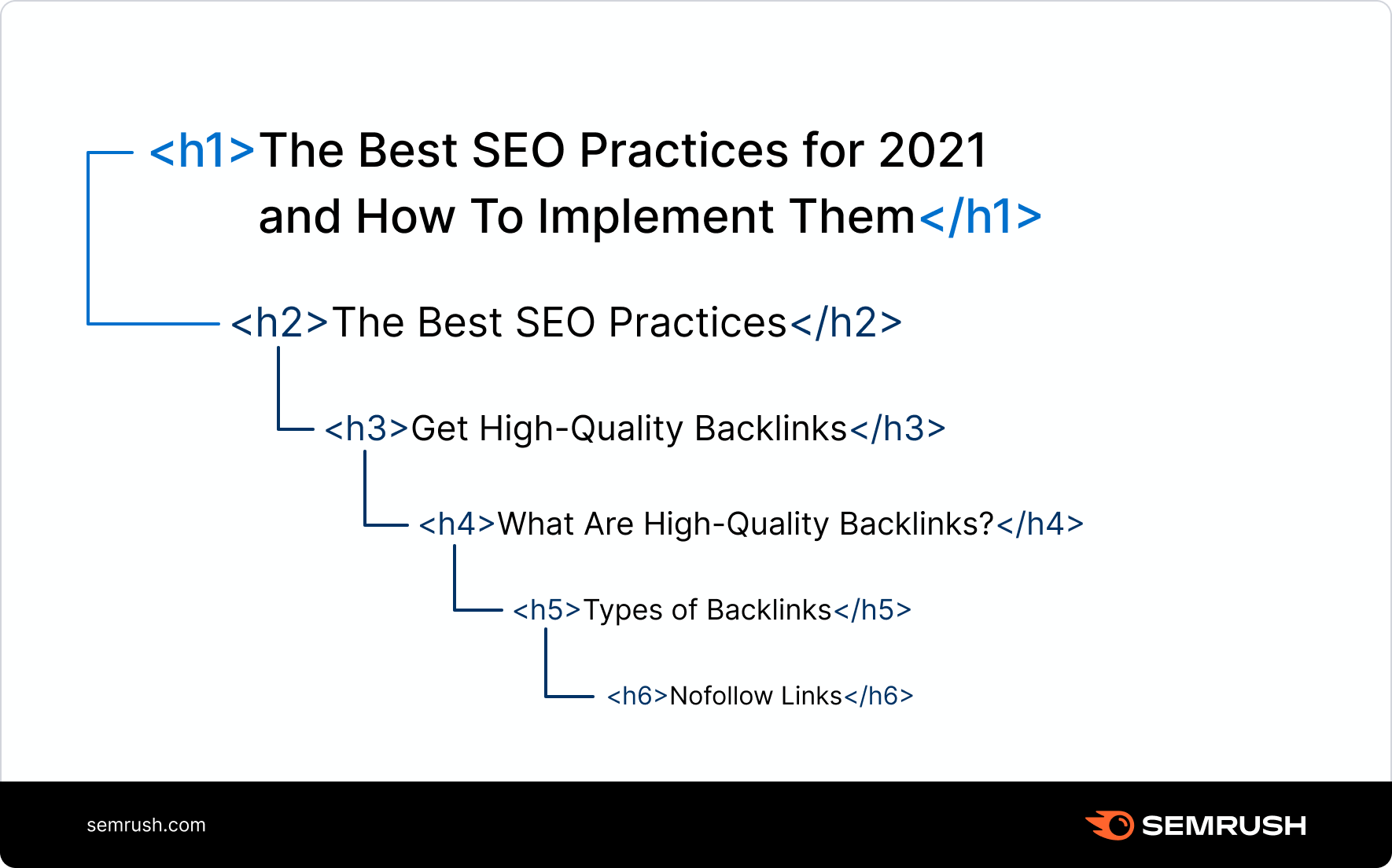 Use white space. Give your content room to breathe by using lots of white space around your text. Like this: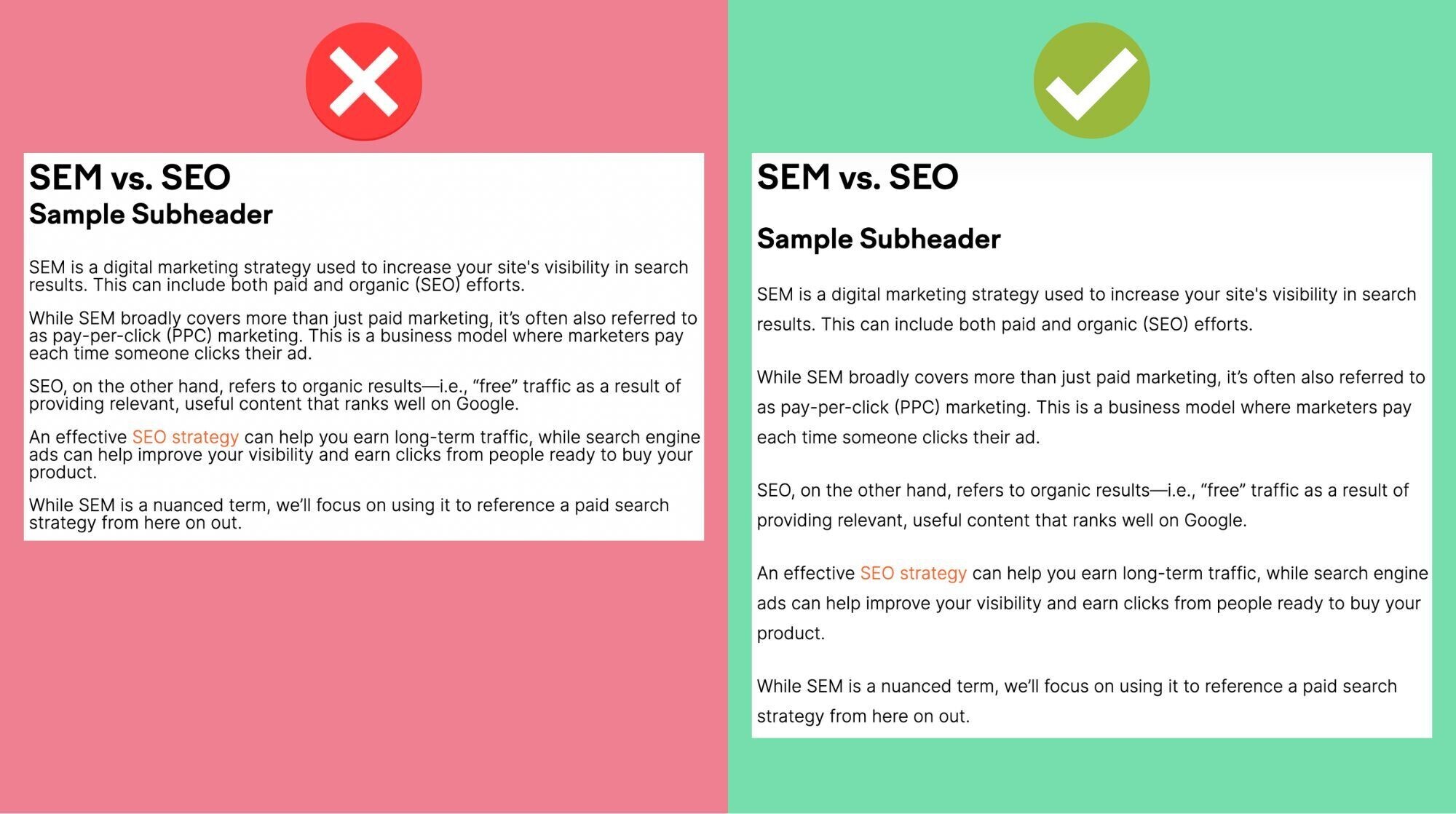 Use short paragraphs and sentences. Break up paragraphs into one- to two-sentence chunks. And try to write only one idea per sentence.
Satisfy Search Intent
Search intent is a user's main goal when typing a query into a search engine.
And a search engine's main goal is to provide searchers with the most relevant result for their query.
Which means:
Your pages should give searchers what they're looking for. Otherwise, they're going to bounce back to the search results. 
A great way to hit search intent is through SERP (search engine results page) analysis. 
Why?
Google has already figured out what searchers want to see for a given keyword. So, use that. 
Here's how to conduct a quick SERP analysis.
Let's say you want to write about content writing.
Go to Google, and search for "content writing."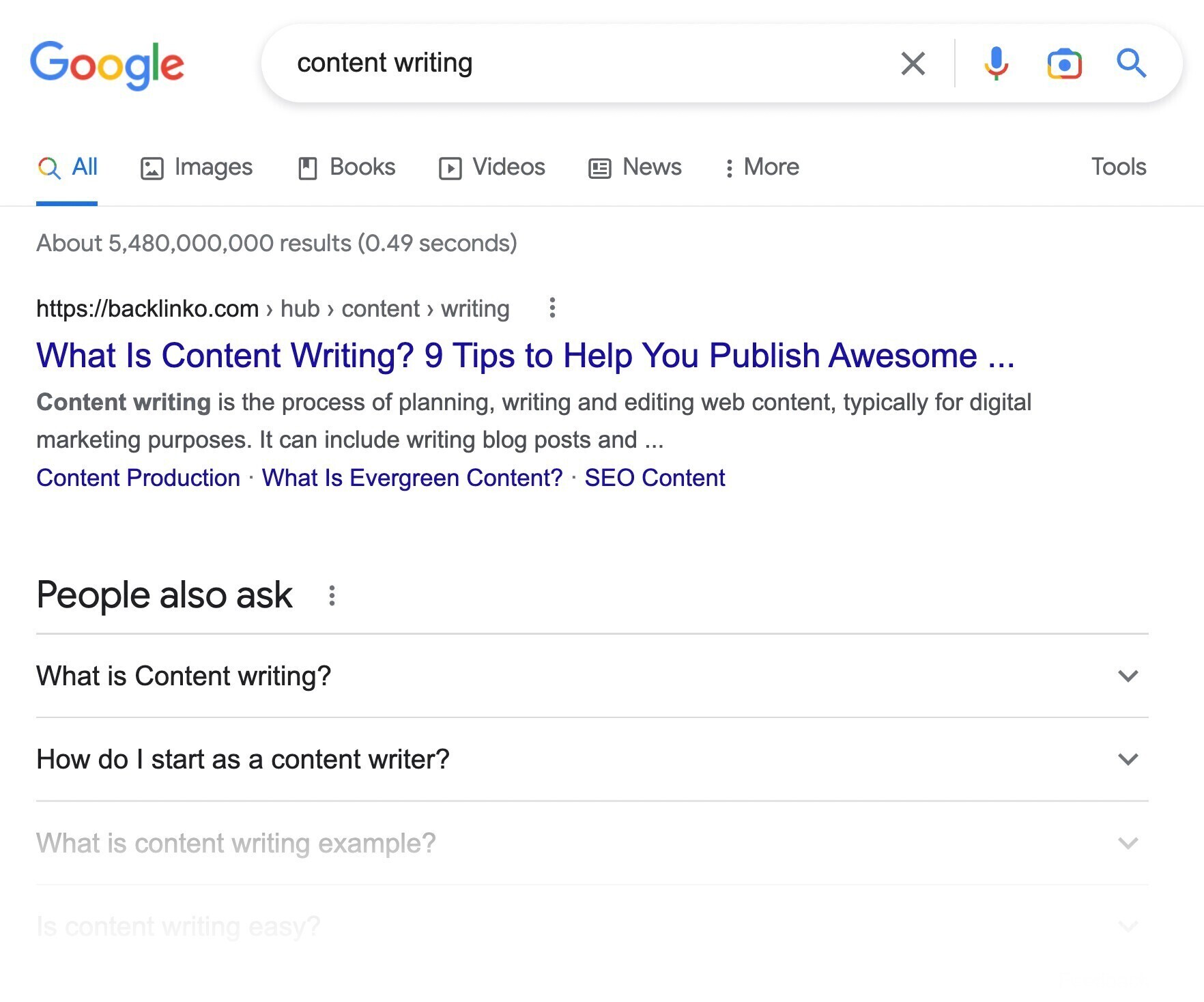 As you can see in the SERP, most results are beginner guides. They have basic questions like this: "What is Content Writing?"
They focus on educating readers about what content writing is, how to do it, tips, examples, etc. 
On the other hand, a keyword like "content writing services" brings up different companies that offer content creation services. 
So, if you created an article to educate readers about what "content writing services" are, it likely wouldn't rank very well for the keyword "content writing." 
Why?
It simply wouldn't satisfy search intent. 
You can also quickly find a keyword's search intent using a tool like Semrush's Keyword Overview.
First, enter your keyword and hit "Search."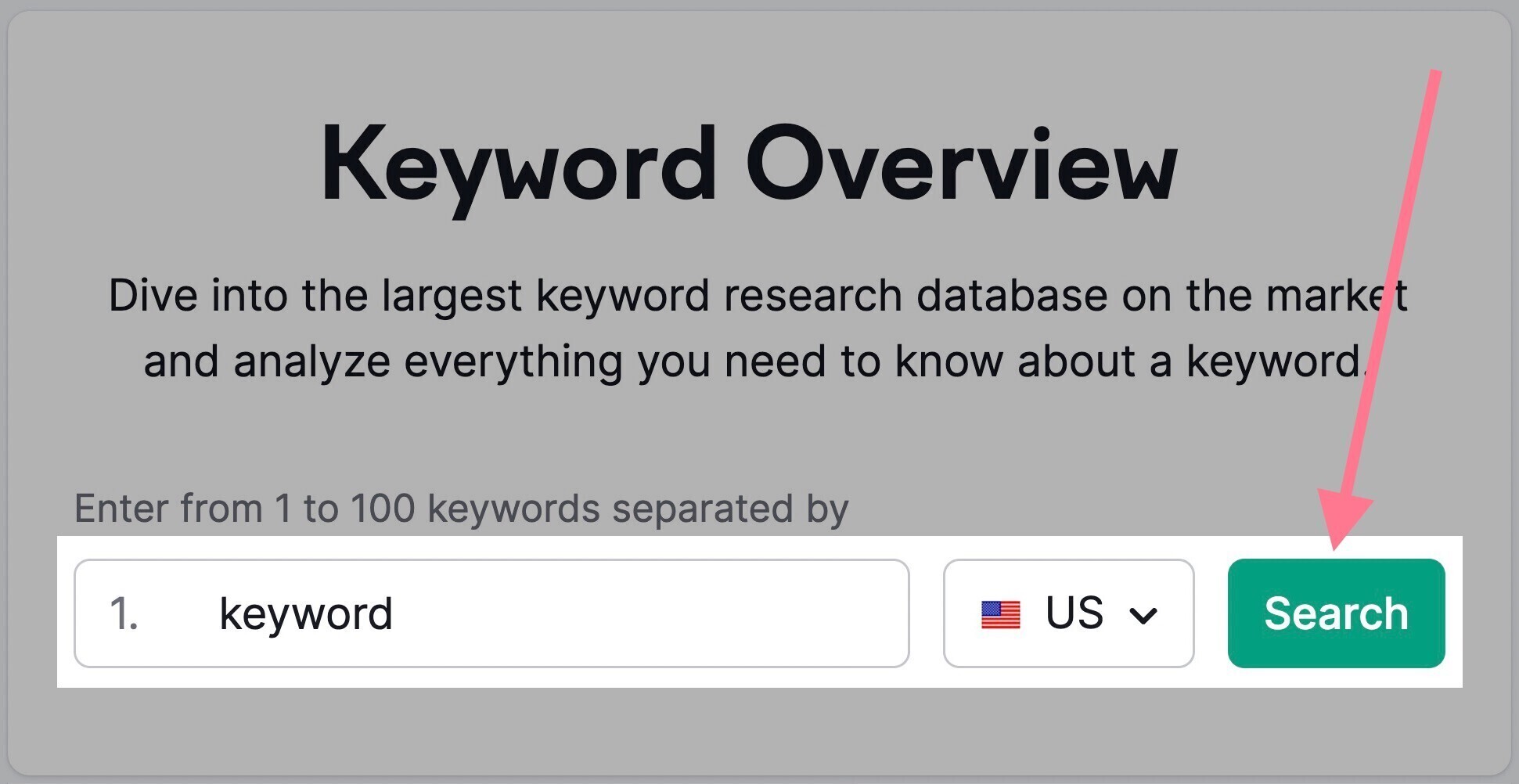 Then, look for the "Intent" box.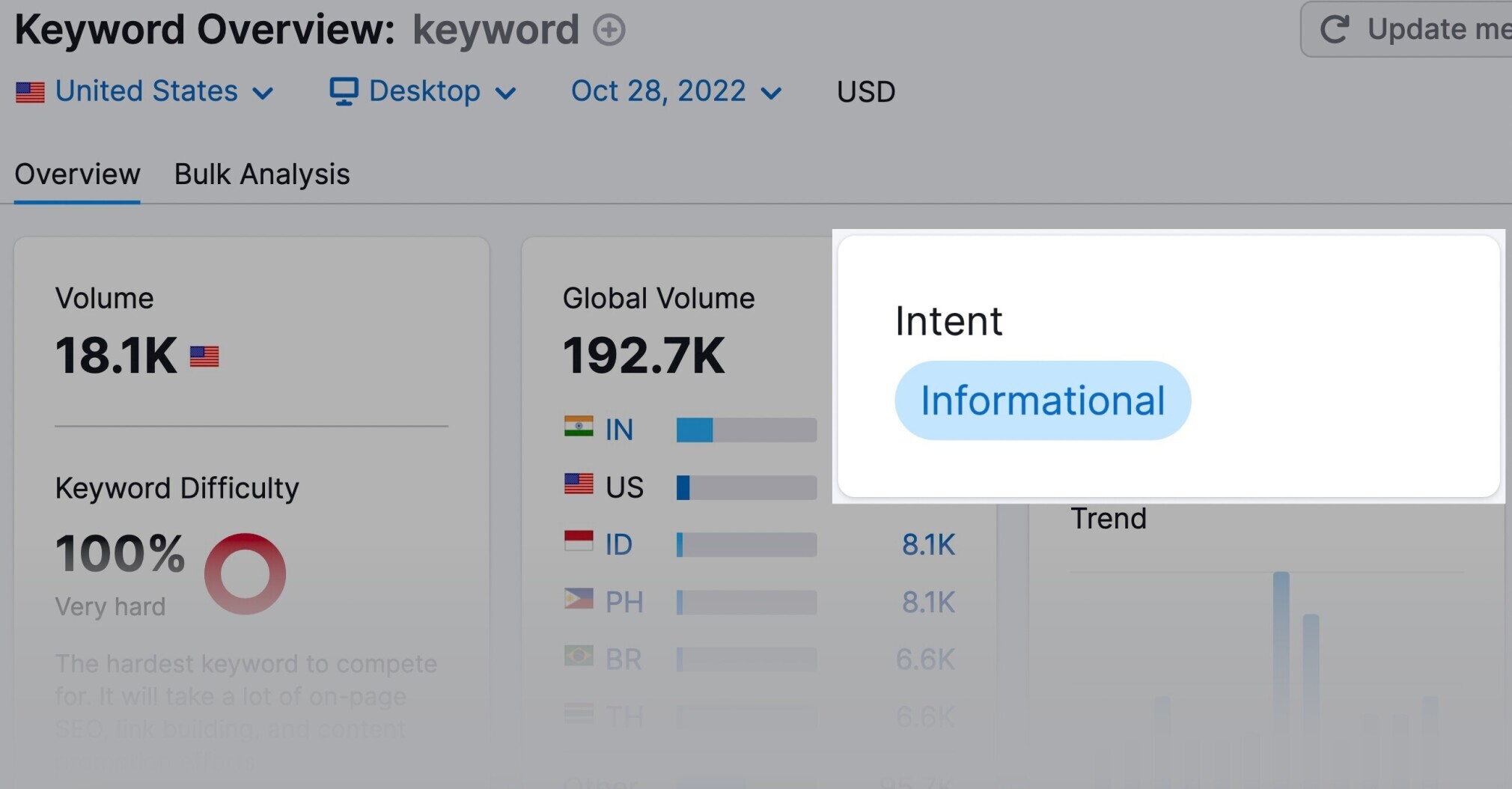 In this case, the intent is informational.
Which means the user wants to learn more about a specific question or topic. 
The "Questions" box below also contains related questions. You'll likely want to answer these in your article.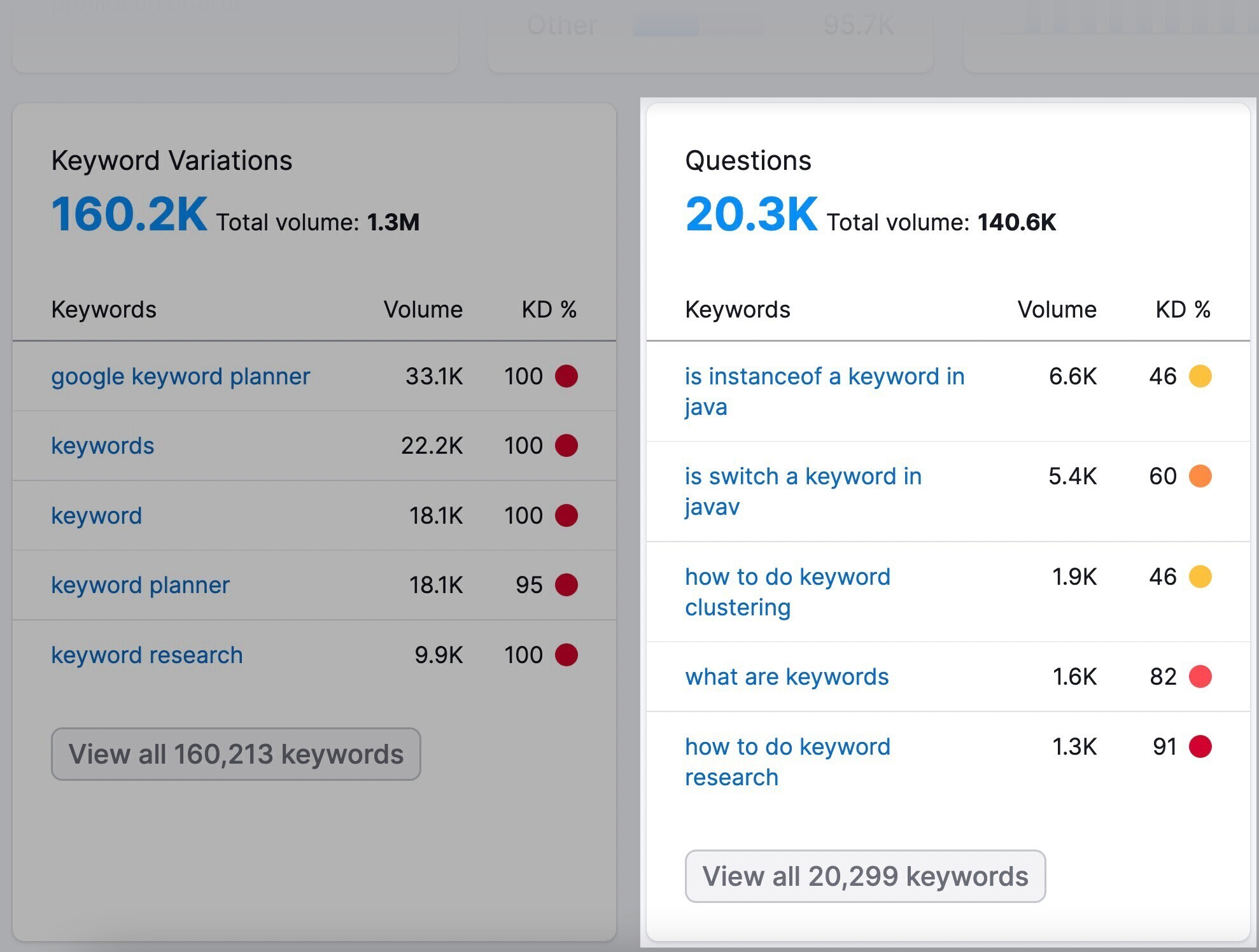 To learn more about search intent, read our in-depth guide. 
Use a Table of Contents
A table of contents shows the reader they'll get exactly what they're looking for (search intent). 
And lets them skip to the section that's most important to them. 
If you make both those things as easy as possible for visitors, they'll be less likely to bounce. 
Let's say you land on this page:
It's a great guide.
But it's really difficult to find one specific tip, strategy, or step. 
Whereas in this guide, you can instantly find what you're looking for.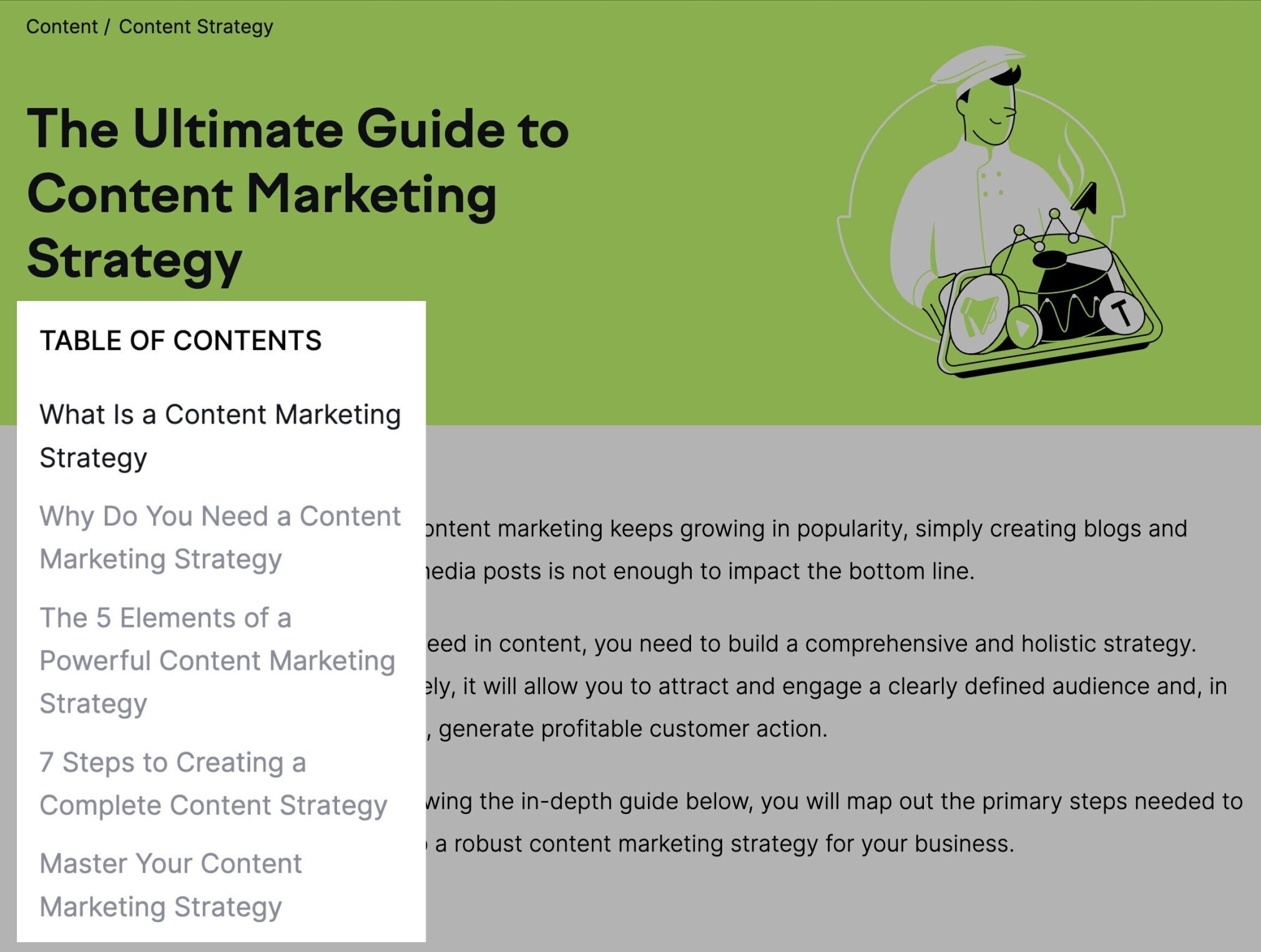 Bonus tip: Make the table of contents appealing. Like a movie trailer is for a movie. Think of it as a sales pitch for people to keep reading the article.
Continue Learning
Now that you have a clear understanding of what bounce rate is, here are a few more articles for you to keep learning: