Build Social Communities: Real World Strategies for SMBs
Jun 08, 2015
9 min read
If there's one thing small and medium-sized businesses (SMBs) understand, it's how to operate on a shoestring budget. And that's what makes social media marketing seem like such a great outreach tool. After all, social media platforms are free to use for companies and customers alike. And the only cost involved is the time it takes to plan and implement a strategy.
Yeah, right. If only it were that easy.
While we can all agree that everyone needs to maintain a profile on one of the "Big Three" social networks — Facebook, Twitter and LinkedIn — it's less clear what SMBs should do when they stare down the promise of "thousands of new followers!" and "going viral!" on every new social platform that pops up.
Let's face it, these platforms come with impressive numbers. Pinterest and Instagram each reach almost a quarter of the entire adult population in the United States. But when you're short on cash and time, you can't jump on every platform and hope it works out. So, instead of asking, "How do I market my business on these platforms?" the real question SMBs need to ask is "Should I market my business on these platforms?"
Don't Join Networks Unless Your Community Is Already There
Community is what makes the world go 'round. Or in the case of SMBs, community is what makes social networks such a powerful tool for marketing and growth. The real reason SMBs fail with social media marketing is because they are shouting into the void; they're active on networks that aren't important to their target customer.
When you decide to investigate a new platform for your marketing strategy, you need to approach it with a shrewd eye, asking whether these networks accurately represent your audience. Otherwise, you can develop the perfect strategy and implement it down to the finest detail...without seeing any ROI because your target audience isn't there to see it.
No one wants to waste their time and money trying to reach a group uninterested in your products and/or services. Before you get too excited about "these other" social networks and individual strategies, you need to get clear about where your community lives and let that information guide where you invest your time.
With that in mind, here are three steps any SMB can take to identify where its online community hangs out and to develop a strategy that engages with that community.
1. Understand Who Your Audience Is and How They Use the Internet
You can't get anywhere with social media marketing without figuring out who your target demographic is. Who is your target customer? How do they find and communicate about your products and services? Why do they go online?
Understanding what makes your target demographic click will help you create a plan that helps engage with your target audiences and generate content that will actually resonate with them. You also need to understand how your customers use the Internet. In web search, customers are looking for something they already know they need or want. With social media they are engaging with their friends, family and other brands that they have selected to consume content from (whether this content is educational, recreational or promotional).
Next, consider the possibility that your audience isn't active on social media. Let's say you run a local appliance repair company. A customer transaction begins when something breaks and your potential customer needs to fix it. This potential customer (most likely) will not read your blog and (probably) doesn't care to see photos of your latest employee baseball outing on Instagram. What he or she cares about is that you show up in search results (hopefully at the top of the page), answer the phone, show up on time, provide a reasonable quote and fix their broken appliance as fast as possible.
If this sounds like your customer purchase process, social media marketing outside the "Big Three" might not be the best use of your resources. Asking customers to follow you on Instagram or subscribe to your YouTube channel won't benefit your bottom line. If your target customer doesn't shop for your services online, you're better off investing your budget in PPC and retargeting strategies that are more likely to convert.
2. Figure Out Where Your Audience Spends Time Online
Once you know who you're looking for, find out where they spend time online. This is often easier than you might think. We live in the age of data, so there's no excuse for not doing a quick web search to discover where your audience is. Targeting 18- to 35-year-old females? Pinterest is mandatory. Reaching out to 13 to 18 year olds? You need to be on YouTube. Use the research of those who have gone before you to get an idea of where your community is on social media, then sign up and join them.
Here's some data to help get you started:

Now, to be fair, some platforms are so new that it's impossible to find reliable demographic data. If that's the case, get in there and find out for yourself. Sign up for an account that seems like it might work for you and join the community. Engage for a few minutes a day to get a sense of who participates and how the platform works.
Try to figure out if the medium is a natural fit for displaying the best side of your business.
For example, a wedding videographer or photographer might find video and image-based networks to be a natural fit for an audience that wants beautiful, shareable photos. A plastic surgeon? Not so much.
3. Engage in the Give-and-Take to Get Results
When it comes to building community, social media marketing has a lot in common with real life. If you think about it, a regular community member at a bar doesn't walk in with an ad, spray it on the wall and run out thinking he's made 15 new lifelong friends. Relationships take time, attention, and personality to build anything substantial, and SMB social media marketing is no different.

Once you've identified the right platform for your community, here are several platform-based strategies that an SMB could use to engage in the give-and-take of new and off-the-beaten-path platforms:
YouTube Strategy
YouTube is not a small social networking site, but it's still on the edge of the SMB comfort zone. If you've identified YouTube as a hotspot for your community, there's one particularly effective way to find and connect with a community of like-minded prospective customers.
First, search YouTube for videos relevant to your business. (For example, if you run a cupcake shop, search for cupcake recipes.) Then, filter your search results to show the most recent videos uploaded to the site. Find the videos with fewer than 10,000 views and click through to look at the comments. Identify people who are asking questions or leaving positive comments and connect with them by sending a personalized message. Tell them you saw their comment on the video and that you think they will enjoy your video.
As you work through this strategy, try to target influencers or people who have a significant number of subscribers. Because YouTube is a social platform, any action a person takes will be visible on the person's YouTube "homepage" and will allow you to expose your video to more people.
If there are a lot of comments with the same questions, take note of them and address them in your video. Then, when you do your outreach, you will be able to reference the question and let people know that your video answers it. Because you've targeted your outreach to be relevant, it will generate a lot of views, comments, and subscriptions.
Instagram Strategy
If you haven't heard about Instagram, you must be living under a rock! Instagram is a "little" social network with 300 million monthly users. It allows people to engage with each others photos and videos and has the typical engagement actions that you see on Facebook and Twitter (like, follow, comment, hashtag). It might seem a little "trendy" but you'd be surprised how effective this platform can be in building a community around your product or service.
I am fortunate enough to have a very good friend who is a master social media marketer and a co-founder of a startup called TALNTS that allows talented individuals to get discovered and hired. Vlad Pesin was kind enough to share the strategy he used to build a large targeted community for his application before it even went live.
Vlad writes:
"I have to say that this was a very tedious process but we understood how crucial it was.

In 2014 Talnts started an Instagram account in order to grow more brand awareness and build a subscriber list of talented users who would be interested in promoting their content on our mobile platform once it went live. We also had an issue with not having enough of our own content to promote but what we did have was the ability to communicate with our future fans.

We initially identified a wide range of target audiences (people who would be interested in our application), from CEOs, freelance writers to musicians and DJs. We decided to start our outreach with musicians.

We used social listening tools such as Iconosquare to understand which hashtags musicians on Instagram were tagging their posts with. This led us to the specific users we wanted to reach out to. We went after people who we felt were very talented, thus making them perfect for our platform.

We commented on their posts, letting them know that we noticed them, checked them out and loved their work (which we actually did). In return these users came back to our Instagram page (to check us out, read more about us) and while they were there, they followed us and liked and commented on our posts.

Our engagement didn't stop there. Every new follower we received, we went back to their page and actually checked out their post and engaged with them (liked and commented on their posts).

Within a week an amazing thing started happening. People we engaged with started tagging other talented individuals' posts with our Instagram name, signaling us to check them out (which we did and again commented and liked their posts, letting them know that we really like their work).

The results are amazing. Keep in mind we still have not launched our app and we have 58,000 targeted, engaged, talented active Instagram users following us (our community), our brand name has become an active hashtag (#TALNTS) that's been tagged on over 51,000 posts and to this day is being used to tag between 700 to 800 new posts per day."
The bottom line for this Instagram strategy? TALNTS didn't need a lot of content to grow their community. Their understanding of where their target demographics congregated online, coupled with their ability to understand how they communicate and how to engage with them led to this growth.
Pinterest Strategy
Have a lot of "Pinheads" in your audience? Then jump into Pinterest to build community and drive traffic to your SMB with links and images surrounding your industry. Pinterest's basic function is to pin images from websites as backlinks. So, when you publish a worthy piece of image-rich content, you can pin it on Pinterest for others to see and repin to their own boards.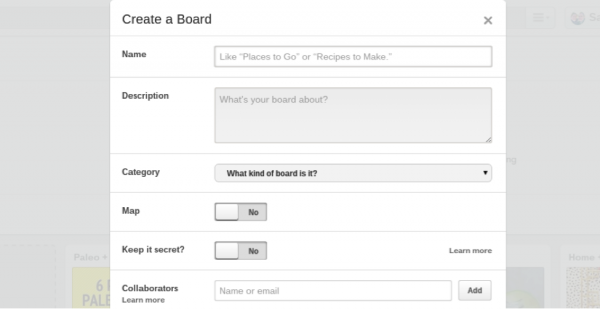 Get the most out of your time on Pinterest by pinning strategically. Center your targeted boards around a niche topic that interests your target customer.
Pro Tip: Keep keywords in mind when you name the board, Pinterest boards can rank in search results and Pinterest generates a unique URL with your board's name (keyword) in it. Do some keyword research and use a keyphrase to name your board that is not too competitive but has good search volume.
Next, stake out your competitors' Pinterest pages to see what's working for them. Pin things your followers would find useful to gather an audience, engage with them and then insert your own content every now and then. Optimize each pin to get the most out of it by using the right image sizes for your pins and filling out all of the information on the pin to make it as rich as possible. Then start networking. Follow people who follow your competitors, and repin generously to participate in the community.
Not every SMB needs to market itself with social media, let alone hop on board new platforms as they come out. But the only way to figure out if you do — or to identify the right network to use — is to understand where your community lives online and join it by building relationships. If you're an SMB wondering if you should jump on the latest social platform trend, use the concept of community to guide your strategy, which will ensure you make the best possible decision for your budget and your time.
Have your SMB social media marketing efforts presented you with a success or challenge? Let's chat about it in the comments!
Arsen Rabinovich
Arsen Rabinovich is the founder and managing partner of TopHatRank.com, a search and social marketing agency that helps expose brands of all sizes to online consumers.