The marketing is the ever-changing strategy, which must be looked with deep thoughts. The proper analyzing of a website must be done in order to bring in more innovations and bring in more customers and achieve better profit.
As the marketing process is a constant changing field, there are various aspects of the marketing which become obsolete with times, and there are certain aspects and innovative ways which become a part of the marketing strategy with changing times.
What we work on today may be completely irrelevant few years from now and thus, in order to achieve success, one has to change marketing strategies with the changing times and must incorporate new and innovative techniques.
Marketing online is the future for business
With changing times and fast paced technology revolution, the internet connectivity, spreading out with the lightening speed, the whole world is becoming a small place. The process of reaching to the larger audience is no more a hefty task in the modern era of websites and many such associated features.
A website allows a business to reach the larger audience with the minimum effort and the best part of the whole story is that the process of this desired engagement to the larger audience can be achieved in minimum time.
Websites provide businesses time to devise a better plan in their marketing strategies with the carefully devised aspects which can be included for the greater target reach including geo-location, browsing behaviors, heat mapping, and more.
The proper analysis and tracking of a website help people in understanding the needs and demands of the business and devise a better marketing strategy accordingly. You can improve the sales effectiveness of your website by using some different techniques.
Repositioning of your opt-in offer
With the slight repositioning of an opt-in offer, you can achieve great results! A common or best practice is to provide some incentive to collect email addresses.
Keep in mind that an opt-in offer is a great tool for gathering customer's email address and building your email list for better marketing strategy further in future.
The opt-in offer appearance on a website can have a huge impact on the number of subscribers as well. There are some options to put your opt-in form on website:
sidebar
header
footer
middle of content
bottom of the content
pop up
welcome page
For example, check out the way  Shopify placed the opt-in form:
Build a value to your Customers
Make adjustments in a website for fruitful results is one of the strategies which a marketer can easily adopt. Provide value to the website of your business.
Offer your audience a more value to them; always believe that the more is the value your customers feel, the more likely they are going to recommend your brand to their close ones.
ALWAYS follow this rule:
The best way to connect with customers and grow your network is to give or to add value.
Build a relationship with your customers
The best thing about marketing online is that it provide you an opportunity to create a genuine relationship with your customers. The connectivity of the business and customers is deeper when you have this additional channel and it can build an in-depth level of relationship and in a way earn you a brand reputation.
Clear and Actionable Calls to Actions
Always remember; you can provide a clear call to action on everything which a user or visitor touch.
Whatever you are offering, a sign up option for the newsletter, connecting with the social media platforms of yours, downloading any important documents related to your business, or any purchase options available to the customers, you can include each of them in your website and thus, can better achieve your goals of the marketing.
To achieve your initial results, always research for the best practices and incorporate the most profitable ideas on your website and offer your audience a compelling reason to complete your call to action.
Don't use terms like "click here".
A CTA is an instruction that encourages action. Use actionable, and clear language in your CTA. For example, "Shop now", "Reserve Your Seat", "Download The Guide Now", etc.
See how Asana uses the word, "FREE" in CTA to make it more compelling.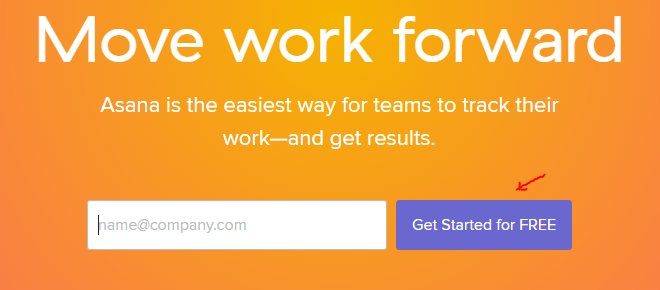 Boost Website Speed
Google has stated that "Page speed used as a ranking signal."
If your website is slow to load, your prospective visitors will move on to your competitors' website and you may have a risk of losing potential customers. Thus, improve your website's page load time, which allows a user to load pages very quickly and remain connected and interested in your website.
MunchWeb found that:
75% of people wouldn't return to a site that took longer than 4 seconds to load.
GTMetrix can help you to check your site's speed:
Feature benefits in your headline on website
The headline on a website offers a huge story to tell to all. The heading on the website has a huge impact on your marketing strategies.The heading is one of the first things, which a visitors a website sees and thus it must be compelling enough and should a reflection of your business promotion of the day.
Offer testimonials on website
Websites do have a very powerful option of highlighting your success stories with the help of testimonials.
Customer testimonials and case studies are considered the most effective content marketing tactics, identified by 89% and 88%, respectively, of B2B marketers. ( Pardot)
Do offer a testimonials page to enhance your credibility in the eyes of customers. Offer them a reason to believe you and give them a chance to show a trust for you.
See how Agorapulse uses users testimonials on their website:
Competitor analysis with the help of other websites
One strategy which a marketer can adopt is with the help of other websites apart from their own. There are some other websites or tools, which offer a depth analysis of the competitors and their online presence.
Run a competitor tracking for your competitors on those websites and monitor their progress. Pick a fight and secretly kill them with their own weapons.
Use social sharing buttons
Make your content easily shareable by placing easily accessible share buttons.
" Studies show people are discouraged from sharing when it's difficult to do so."
BrightEdge found that prominent social sharing buttons can increase social sharing by 700%.
Brian's ( Backlinko) take on social sharing,
"Social signals aren't an important part of the Google algorithm. But social shares on sites like Facebook, Twitter and Google+ may give you an indirect rankings boost."
Final Thoughts
The websites have great features on hand to offer a complete package for the best marketing strategy of your business. Create a website and take the unlimited advantages offered by a website to improve your marketing strategy. Good Luck!
What do you think is the most important tip business owners should know before updating or creating their own website in 2017?