Move over Facebook, Instagram is the social networking app redefining photo and video sharing. Instagram is also the fastest growing social network in history and is owned by Facebook. From sharing photos to promoting brand awareness or products, Instagram can fit a wide range of business and personal brands - both content generators and audiences. According to a Pew Research Center study, over 35% of all US adults use Instagram.
Why Instagram? All Brands Aboard
Pushing almost 1 billion active users, Instagram is gaining speed on Facebook popularity. It has 25 million business profiles attract more than 250 million Instagrammers each to its profile. That makes it a behemoth of social media, only behind Facebook and YouTube in terms of social media interaction. It leads other popular apps like Snapchat, Pinterest, LinkedIn, Twitter, and WhatsApp. The opportunities afforded by this reach can mean that an Instagram account with savvy management can have tremendous engagement.
Instagram is a platform that allows you to show and catalog, promote, and inspire. A properly curated post can capture interest and generate an ROI on engagement with its audience.
The Beauty of Instagram
Profile Image
First impressions count! Your profile picture is the first image anyone sees when they see your content, your comments, or your messages. Make sure you put your best foot forward.
Bio: A short description (think tweet-length in terms of short) opportunity to describe yourself, your brand, or your business. It is your chance to not only introduce yourself but also to give your audience that hook that gets them interested enough to continue checking out your blog or website.
Links, @ and # in the Profile Page
The one link in your profile is finally expanding. Instagram just announced that when you include a # or @ in your bio, they become live links that lead to a hashtag page or another profile. Yes!
So make all the links, @ and # count! Want more links? There are ways to expand on this via 3rd party apps such as Linktree.
Captions
You can't have an Instagram post without a caption. Well, you can, but it is not recommended for success. When writing a caption, you will see:
Short: Keep it short, simple and catchy. Shorter captions are designed for a quick impact and to capture or inspire an emotional response. These should be evocative of the spirit of your niche. A short enough caption will show fully when a follower looks at your content while scrolling through their feed, so this can be an effective way to communicate short, powerful messages to your following.

Long: Instagram long captions can be longgggg. 2200 characters long. Even George R.R. Martin has to be impressed at that. They are so long that some have turned their Instagram pages into a new form of hybrid photo/text blog. Combining the visual impact and hook of an image with the informative, personal involvement of a blog or journal post can create a deeper connection with their following.
Nitty Griddy Grids
The grid is what anyone sees when they first come to your Instagram page. Having a grid that flows together is a surefire way to improve the appeal of your blog and allow viewers to see at a glance exactly what you are all about. You want to own your grid and make it matter. Brands can decide the strategy behind the grid and think in terms of single posts or post in 3's or last nine.
The app Preview can help get you started and inspire you with these following grid themes from easy to Instagram pro:
Rows - pick one filter, one color combo, and stick to it!

Diagonal - this is one of the most popular grid strategies - pick a type of photo and a color scheme.

Tiles - sharing in a pattern-like formula is one easy way to create a thought out grid; one way to do it is to alternate tile sharing a quote, then photo, then quote, then photo. 

Row by Row - this allows you to tell your brand story in using a series of three posts; each three posts will tell a story. One row - one story. For example, if you are a foodie blogger, each row can be dedicated to one recipe or dish. Travel blogger? Each row can be one destination.

Line in the Middle - usually using quotes, this grid is easy and pretty to look at, the line in the middle theme gives purpose and flow. According to Preview app, that line in the middle will guide your viewers as they scroll down your feed," Preview tells its readers. Learn more with this tutorial.

Rainbow Feed - If your brand is leaning towards a lollipop and unicorn vibe, the rainbow grid is for you. A rainbow feed is when you use different colors in your photos every 3, 6 or 9 and with that you get - the rainbow effect!

Borders - For a geometric style feed pick a border and stick to it. Maybe you always use the same white border or even a black border and round out your grid with a circle border.

Puzzle - Things can get complicated, interesting, and tricky with a puzzle grid. Be careful with this type of grid and make sure each individual image makes sense on its own or your followers might be confused.

Mix - Preview app advises if you want to go the extra mile, try to mix different types of grid layouts and showcases these feeds as inspiration@glitterygreta: one row = one story + white border@danka_designs: puzzle + squares@joi.knows.how: line in the middle + row by row@paperandaplan: line in the middle + puzzle
The Aesthetic
Instagram is all about the vibe. Having a consistent feel throughout your blog can actually expand the content you can post - as long as it fits your vibe, you can go wild! But beware, you want to avoid looking like a crafty scrapbook. However, you do want to be intentional in how each post flows together.
The Instagram aesthetic to match your brand
Think beyond each individual photo and understand how each post creates a grid. Color palette, theme, pattern, tones, font, subject matter, angles, composition, and creativity are some of the considerations when coming up with your Instagram aesthetic.
One way to look at your aesthetic:
Each post is an individual story, and your Instagram grid is your magazine layout. Every magazine has a design theme keeping fonts, tones, color scheme, and audience in mind.
Need help building your aesthetic? Check out Planoly, VSCO, UNUM and Preview app.
Or here is a free Instagram style guide by social media expert Peg Fitzpatrick.
Hashtags
Hashtags are a way to make your content stand out by associating it with specific, searchable keywords. A great way to build a consistent following in a niche is by finding the standout hashtags and including them in your posts.
Keep in mind 30 hashtags is the limit per post (hyperlink Instagram Limits Post) and studies show the sweet spot is seven hashtags per post. For best results and to play nice with Instagram's algorithm make sure each hashtag is well researched and relevant to the content. Even though you can have up to 30 tags per post, less is more, and Instagram is looking for quality over quantity.
Instagram recently introduced the concept of following a hashtag so it will then show up in your feed. It is the perfect way to follow relevant topics, trending news or events.
Imagine the public relations power of having your audience follow your branded hashtag?
Trust the Instagram Universe
If you are looking to focus in on the most popular hashtags in the Instagram universe, here are the top 20 hashtags according to Webstagram:
#love #instagood #me #tbt #cute #follow #followme #photooftheday #happy #tagforlikes #beautiful #self #girl #picoftheday #like4like #smile #friends #fun #like #fashion
Emoji-onal
?According to Emojipedia, there are 2,770 different emojis, so that means we have a lot of choices to personalize and express ourselves with a little emotion on Instagram. One thing to keep in mind is emojis are also searchable on Instagram.
From a branding standpoint, you can stand out ?in the feed using emojis that match your brand. For example, Halo Top ice cream uses the emoji with the ? halo, and Dominos pizza fittingly uses the slice of pizza ? emoji.
Bonus tip: Emojis are searchable on Instagram along with hashtags, usernames, names, and places. So be sure to optimize your content to get found in search results.
E-commerce on Instagram
Shopping and selling on Instagram are more of a reality thanks to Instagram's latest announcement making allowing for shoppable posts. Online shopping sites on platforms like Shopify are rejoicing!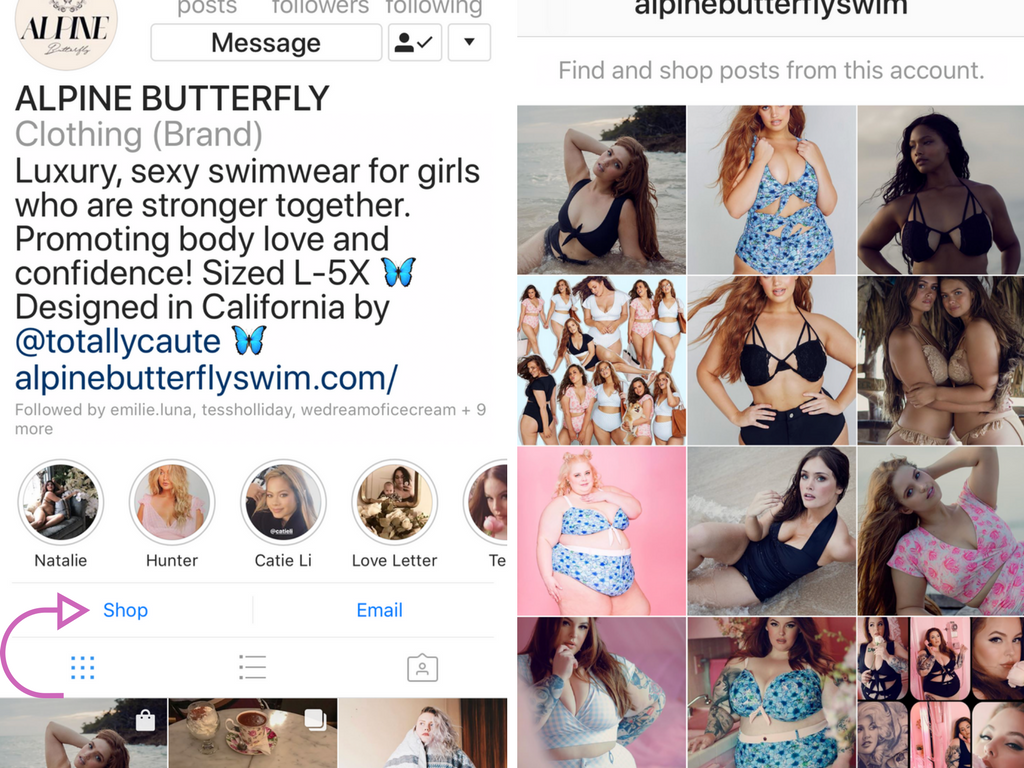 Make posts shoppable on Instagram
Until this was made possible, third-party platforms such as Snappit, Linktree, and Short Stack were needed. Now Instagram users can buy something without ever having to leave the app. Shoppable posts are now possible and making online shopping a win-win for Instagram business owners and followers.
Here is what Shopify had to say about Instagram's new ecomm feature:
"The expansion of the shopping on Instagram channel means that merchants can now tag products in their posts, letting consumers complete the entire buyer journey from discovery to checkout. With 9 shopping posts or more, businesses also get a persistent Shop tab on their Instagram business profile that allows customers to tap to view all products on a post."
Content Calendar
You have got an idea of what you want your grid to look like, and you have your aesthetic well in hand. But how do you keep your content conforming to your plan, day in and day out? One of the best ways is to think ahead and plan it out.
A content calendar is a perfect way to do this. By planning out your content and creating a social media posting schedule, you not only can maintain consistency in your grid and your aesthetic, but you can also generate a consistency on Instagram that will keep your following entertained and engaged.
Social PR Secret
Planoly and Buffer are great tools to help you schedule your content too!
Attracting Followers
Quality. Over. Quantity.
This cannot be overstressed. Spammy and clickbait-y Instagram shares are a dime a dozen. To create a genuine following, you need genuine followers. Which means putting out genuine content. The benefit of doing this is that you will create followers who care to engage your content, spreading it further and in turn attracting new genuine followers.
Stories
Stories are a form of temporary content that can increase engagement if used properly. They expire after 24 hours, which means they can be an awesome tool for a short-term promotion or to increase engagement without flooding your feed (and thereby avoiding having to worry about your grid and your aesthetic). They can also be used to directly interact with your followers. Talk about versatile!
Brand Journalism Using Stories and Live Video
Feature Stories - you can easily repurpose featured content or news from a print campaign, website or blog and build a condensed version of it using Instagram stories. A journalism tip is tip image or video you want to highlight most in the middle of the story.
Breaking - Use Instagram Stories to break news and cover on the spot coverage your audience would like.
Summary - look for your the top performing content on your website or blog and create a "top 5" using one image and link back to the website in a series
Special Events - Be like a journalist and live stream from special events, but offer short glimpses versus one long stream and simultaneous have another person publishing to stories with images and video!
Highlights
Highlights give brands extra storytelling boost to feature stories longer than 24 hours and you can even make custom covers like @PaleoHacks did.
But wait, some stories are so good you just wish you could save them somehow… thanks to the nifty Highlights feature, you can! Your Instagram homepage is getting a website navigation-like feature allowing stories to appear on your profile as highlights, even after they disappear. Highlights can be saved for as long as the user wishes, in specific categories that allow you to turn this transient content into lasting added value for as long as it is relevant. Even better, you can create custom covers for your highlights to match your brand's mood and theme.
Apps and Tools
There are a TON of apps capitalizing on Instagram's popularity by providing shortcuts and assistance in key areas of Instagram use. Apps like:
Iconosquare

Planoly

Buffer
These apps offer solutions for organizing and planning your posts, keeping up with the latest hashtags, and preserving your aesthetic. Some apps offer increased tracking of activity across your posts as well. These tools can be invaluable when used properly.
Publishing Dos and Don'ts
Do - Post fresh content that fits your vibe authentically.

Don't - Post a bunch of essentially the same thing, with minor differences. This comes across as spammy and too forced.

Do - Use relevant hashtags that apply to the image and fit your niche.

Don't - Just throw in the most used recent hashtags in an attempt to spike your activity - this will come across as clickbait. Nobody likes clickbait.
Algorithm Blues and Don'ts
The Instagram algorithm has seen tons of changes recently, and in 2018 it has already gone through plenty of growing pains. It seems there are a few solid takeaways that can increase anyone's rating with the algorithm (and thereby increase their exposure).
Do - Storytime! Stories can be a great way to increase exposure and engagement, and as the new algorithm rewards engagement that makes this a great plan!

Don't - Think that you can post and then step away. The new algorithm requires engagement from both ends, and expect to put in some ongoing work to build the rapport with your following necessary to earn those top spots on the list.

Do - Communicate! The comments have become a far more influential part of the algorithm which means that you need to comment back to boost exposure. It also helps to build your following, so it is really a win-win!

Don't - post at a time where your followers are likely busy. Pay attention to when your posts get maximum engagement and schedule accordingly. You want to put your content in front of your followers while they are there!
Inspirational Brands to Follow That Do it Right: Learn
Here are some people and brands to gain inspiration from:
Follow @PegKitzpatrick on Instagram for inspiration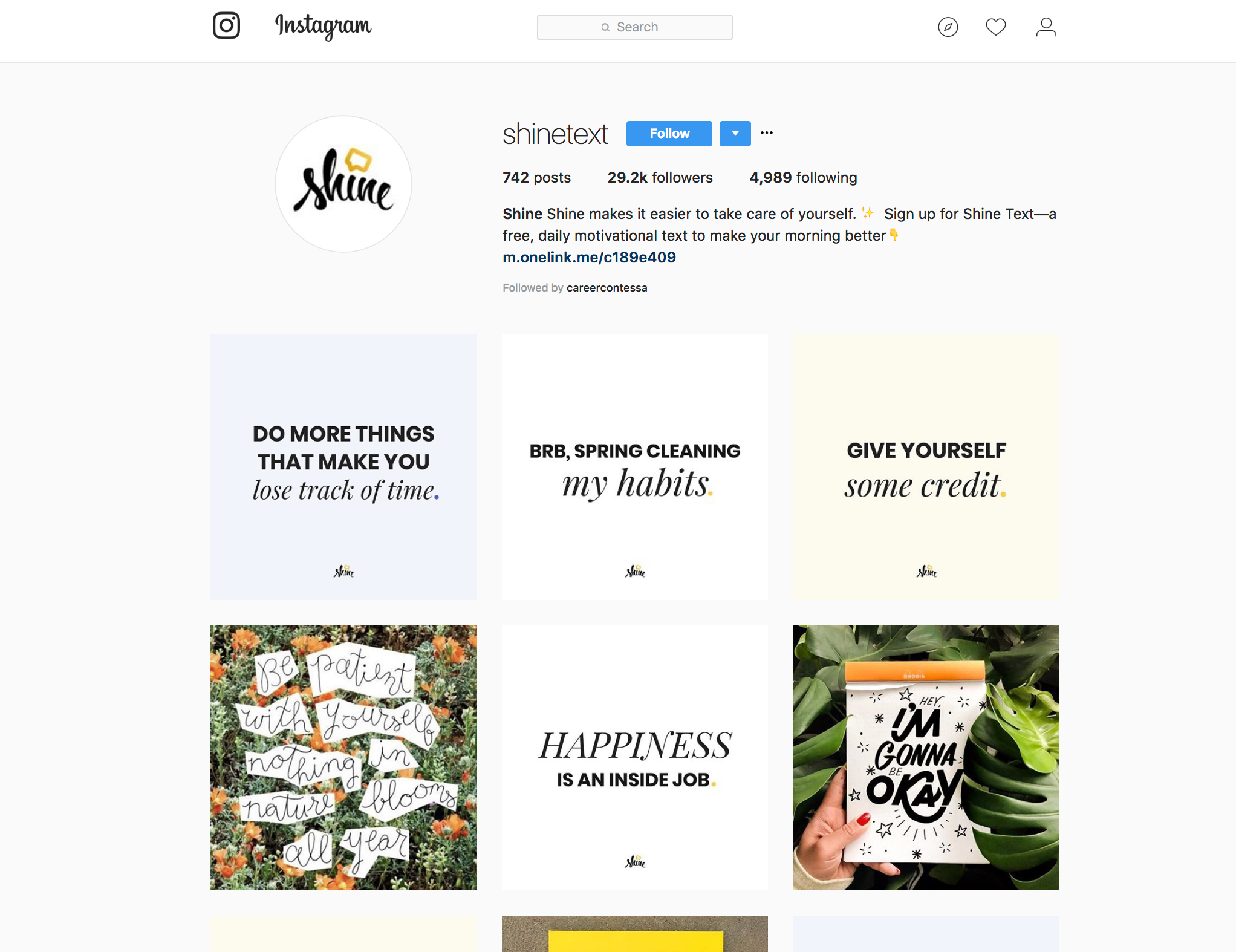 Shine Text Instagram account shows how to get actionable, intentional and creative with the aesthetic
Also - Follow Instagram Blog, Instagram IG, Instagram on Twitter and Facebook.
This is a no-brainer. If you want to master the platform, you need to keep your ear to the source of all upcoming changes and new features!
Here is an inside tip: Check out who Instagram follows for inspiration on aesthetics, bio, and grid themes.
Instagram Ads
Instagram advertisements can be similar to any other content on the platform. They can be pictures, videos, carousel, and/or story advertisements. This allows them to be integrated into any type of blog. Instagram ads are used to promote new products, enable companies to engage new and existing customers, and allow brands to grow organically through their target audiences. With built-in features to track engagement across target audiences and demographics, these ads provide highly sophisticated tools to engage their audiences. 
Instagram Public Relations Tips
Some growth hacks for IG used to stimulate or control PR:
For businesses, a photo of a product or service isn't always compelling. So get creative! Show the product in use, and let your audiences connect to using it. Or flip the script and pull back the screen, and give your target audience a peek inside the company. Introduce your employees and your work culture and humanize their experience, and watch the engagement spike.

Put your brand in action - few things are as photogenic as humane shelter puppies looking for a home, and many brands and organizations have taken a page from this long-standing trend to showcase their brand helping those in need.
Winning with Polls, Contests, and Sweepstakes
Warm up to your users with engagement. Have your audience weigh in on a topic. Just ask a question in stories and see the results. It is an easy weight to let your audience participate in brand decisions and even figure out what content they like best.
Instagram users love free stuff from brands they love. Platforms such as Short Stack make social promotions easy with landing pages, giveaways and templates your customers will fall in love with, and you will get results.
Contests and giveaways create engagement and excitement around your brand on Instagram. Make sure you stay focused and strategic.
Suggestions Before You Start a Contest on Instagram
Did you consider and review the logistics and legal requirements for an Instagram promotion? Check out Instagram's official terms of terms of service regarding promotion guidelines. Try third-party platforms such as Short Stack or Wishpond to help cut through the red tape.

Are you clearly expressing the rules and restrictions in a place your participants can find them? Consider a landing page on your website.

Decide on what the goal/objective is for the contest (increase your social media following, promote a new collection, generate email signups)?

How does an Instagram contest help your overall marketing strategy?
Know Your Limits
Instagram is hyper-defined. Their algorithm is incredibly specific, seeking to maximize the value that the hundreds of millions of active users receive from the platform. Understand how the game works, and you are on your way to playing it better than the rest. Know your Instagram limits from character count, to photo tags to number of likes per day.
Measure What Matters
Number one priority, make sure your Instagram account is a business account and follow the easy steps listed on the Instagram business page. Doing so gives users pertinent info like business hours, directions, and email contact. The Instagram business account also gives you business tools and analytics with insights on your audience, performance, and progress.
Want to eye spy the competition?
The  SEMrush Social Media Tracker is one of the best social media analytics tools that makes it possible to get detailed and deep analytics to see what's up with your competitors and inspiring brands. Just throw in all of your social media profiles and benchmark your profiles against competitors and you automagically have the social proof needed to get ahead and optimize your channels in an Instagram.
Editor's note: Due to the recent Instagram API changes, the Instagram support in our Social Media Tracker was disabled. You can find more details about this here .
Want more free training?
Don't stop now; you are on a roll! Check out these additional resources for free training to keep your Insta A-game going.
If you want to focus on the rewarding benefits of Instagram for business, you can't ignore the creative details of how this mobile app can work for your brand.