All businesses, from online education courses to dog boutiques, face multiple obstacles on the ways towards their success. Whether your business is small or enterprise, maintaining a thriving business is a huge achievement. However, there are some challenges that are unique to small businesses — ones that most large enterprises have already grown out of.
During our weekly Semrush Chat, we decided to take a look at some common concerns and challenges that small business owners face. David Mihm, founder of Tidings, was our special guest. He and our other chat guests discussed some major issues that small businesses have to deal with and set out ways to conquer them:
Q1. What are the benefits of running your own company instead of working for someone else?
Starting a business is challenging and can involve a number of pitfalls. However, many new businesses are launched each year in different industries. Why do so many people prefer to run their own company as opposed to working as an employee for someone else? Here are the most common reasons:
1. You can follow your passion and gain personal satisfaction.
Some people quit their job and start their own business because they want to follow their dreams. Many entrepreneurs say that running their own business doesn't really feel like work because they love what they do and enjoy the satisfaction of promoting what they believe in and making it successful.
2. You have full decision-making authority.
When running your own business, for the most part, you are the one in control. You have the ability to make your own choices and decisions on the best way your business can create new opportunities. On the other hand, it's important to remember that owning a business doesn't mean that you don't have to listen to other people any longer; your customers, suppliers and other people still have a say in the best ways to run your business. However, when you can make your own decisions about your business, you can create its culture, its brand, and its organization on your own.
3. You have more of a flexible schedule.
Owning a business gives you the flexibility to achieve your own type of work/life balance. You have the ability to set your own hours and work from wherever you want, raise a family, and still have a successful career.
4. You learn much faster.
Many entrepreneurs believe that owning a business is the best way to learn. In order to keep their business on track and ensure its success, they have to learn faster from their mistakes and act proactively. We all make mistakes, but when you run a company, some serious failures can crush your business. To prevent this from happening, you need to learn how to fix your mistakes and address the consequences effectively and quickly.
Starting a business can be a risky choice, but with risk comes rewards. We named just a few benefits of running your own business, but what are some other advantages of owning a company? Please share your thoughts in the comment section!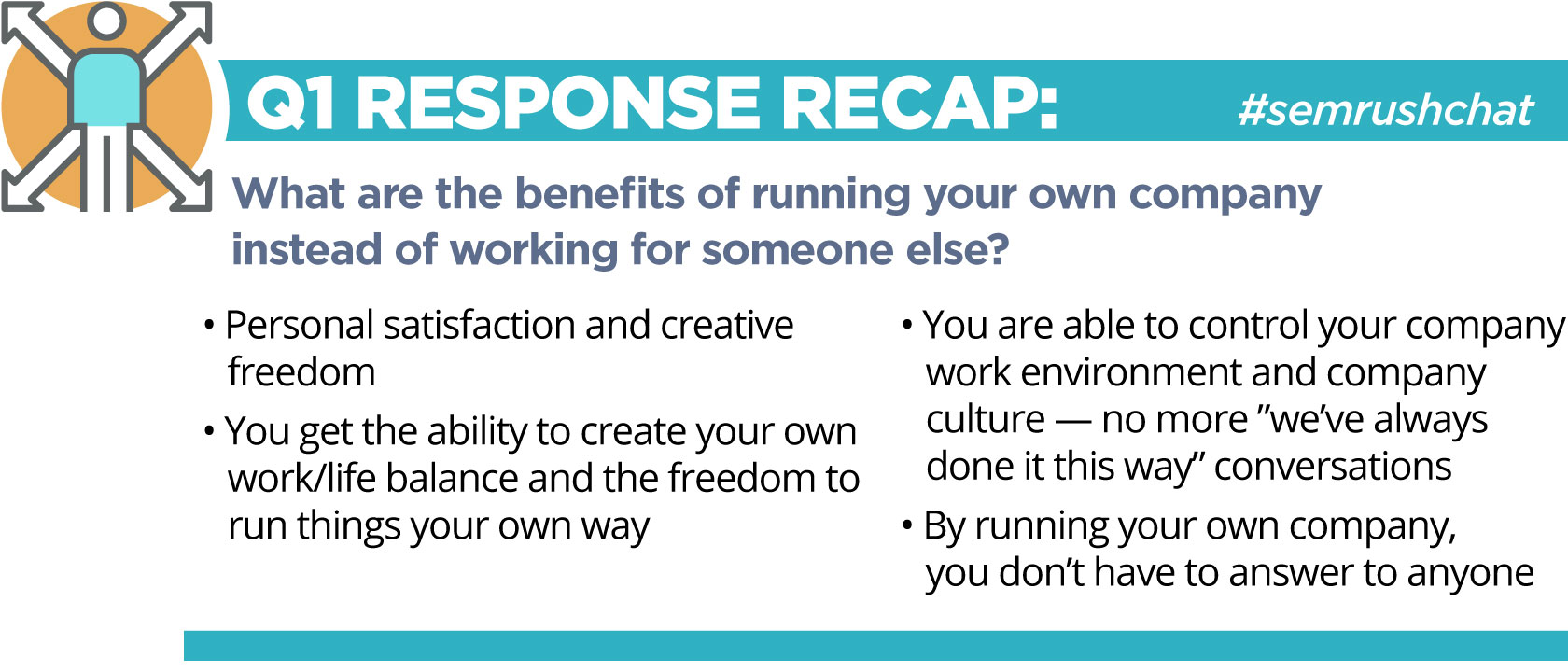 Q2. What was your biggest marketing challenge this past year? How did you resolve it?
There are multiple benefits that come with running a business, but countless challenges and obstacles can arise that prevent business owners from succeeding. Here are the top three challenges that our chat guests (and many marketings and entrepreneurs) faced in the past year:
1. Getting other departments to understand the importance of your job.
Effective communication between different departments is crucial to the success of your business. All of your company teams should work together, respect each other's ideas, and understand one another's roles. Without this, it's practically impossible to maintain a strong business performance. Roslyn Wertheimer, @RE_Wertheimer said that she found it difficult to get other departments to understand the importance of social media to their company. The same is often said for SEO, which is one of the most misunderstood and misinterpreted terms of marketing. It can be a challenge to explain to other teams in your company the importance of the area you're responsible for.
Resolution: Take the time to have clear, open, honest, and respectful communication between the different departments in your company. Encourage your team members to ask questions about different business processes and listen to one another. This will help you to establish strong relationships within your company.
2. Time management.
Time management remains one of the toughest challenges for many companies, regardless of the industry. Who has enough time in the day to get everything done? The crazy rhythm of the modern life makes it extremely hard to master your day-to-day tasks, however, managing your time is not rocket science.
Resolution: Learn to prioritize your tasks and choose the most important ones first. This is the golden rule of time management. Each day, you need to identify the two or three tasks that are crucial and should be completed first. Also, learn to say 'no', whether it's a project, an assignment, or someone's request. Saying 'no' doesn't mean you are being selfish, it means that you are being reasonable and purposeful to avoid burnout.
3. Finding a niche.
When starting a business, it's important to figure out who your market is. No business can be all things to all people and trying to do everything for everyone is a mistake that many entrepreneurs fall into. Instead of trying to be good at multiple things, you need to carefully craft your own niche.
Resolution: Identify your interests and passions and gain a clear understanding of what problems your business can solve. Research your competition to better understand your market and find new opportunities to standout from the crowd. Finally, make sure to test your ideas. For example, you can this by creating a landing page for a pre-sale of a product or service that you are working on.
Let's sum up!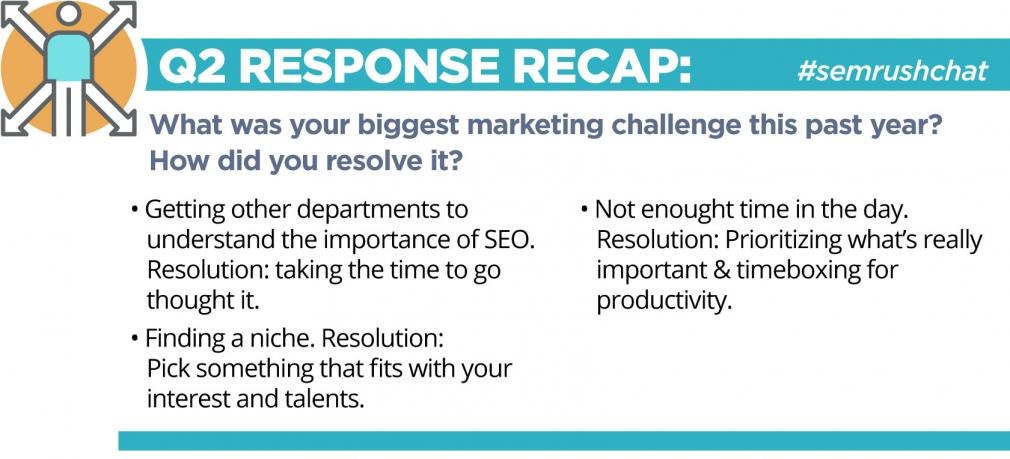 Q3. If you had a marketing budget of $50K for your business how would you use it?
What would you do with a marketing budget of $50,000? Here are a few options from our chat guests:
Also, some of our chat participants pointed out the importance of planning your marketing budget in place before you spend: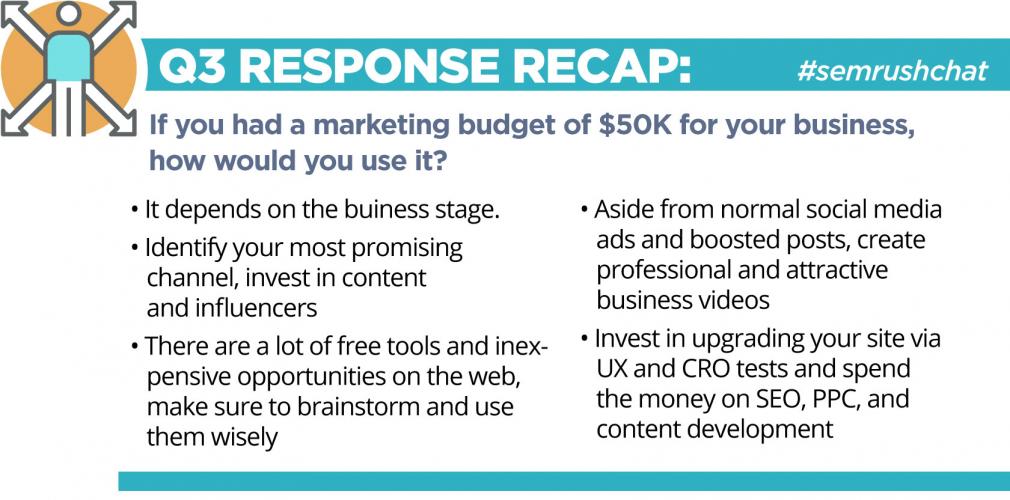 Regardless of the size of your budget, you always need to have a well-developed business plan with milestones and trackable events.
Q4. What are the ways small businesses can attract top talent?
For any company, having smart and engaged employees is an extremely important investment. However, these type of employees can be hard to find. When competing for top talent, small businesses usually can't put together the same compensation package that large and well-known enterprises offer. Small companies, on the other hand, have their own competitive edge. Here are five values that can help small businesses attract top-notch workforce:
1. Unique company culture.
Your company culture defines the way in which your team interacts with the outside world, including your customers. The culture of your workplace should resonate emotionally with your employees to help them thrive and make your company successful. Small businesses can stand out by offering a unique corporate culture that promotes creativity, innovation, interesting challenges, and an employee-friendly work environment. Sujan Patel made a list of 10 companies with fantastic cultures.
2. Flexibility.
Small businesses can get top talent by providing a challenging job along with flexible work schedules and autonomy that so many candidates are seeking today. People who have a flexible work schedule tend to work more overtime hours, compared to those who have a strict work schedule. According to a research published in the European Sociological Review, employees who have more control over their work schedule work more than those who have less control.
3. Transparency.
When a company is open about its operations, it can successfully build a high level of trust that it wouldn't have earned otherwise. Many large companies disclose a lot of information related to different work processes. Small businesses, on the other hand, can use transparency their competitive advantage. By being proactive in opening up its business information, small companies can avoid mistrust and establish strong relationships with their employees. You can use these five strategies for building transparency in the workplace.
4. Scope for Growth.
Most people want a job that offers opportunities for growth, and it's not just about money. Smart and motivated employees want to grow and evaluate as professionals. In order to attract these employees, you can offer educational programs and skills training that are tailored to your business and your employees accordingly. When people see the opportunity to develop their career with your business, it will be much easier for you to attract them.
5. A Sense of Purpose.
This is one of the most powerful motivators. People want fulfillment at work and they want to feel that their job has a real purpose. Money is important, but, Millennials in particular, seek to be a part of something bigger than themselves. Giving your candidates a purpose of employment will make your small business more attractive and show that your company is a place where they can thrive, grow, and bring their talents to light.
Talented employees are essential for the long-term success of your business. Therefore, you need to make sure you can offer candidates something they can't find anywhere else.

For small companies, recruiting is even more important than for a well-established business. Think what unique values of your company can be your competitive advantage in winning a talented workforce.
Q5. What are some actionable insights businesses can take to improve their online marketing strategy with no ad budget?
Small businesses are always looking for effective ways to improve their marketing efforts without breaking the bank. If you have a small or no advertising budget, here are four cost-effective, yet still powerful marketing strategies: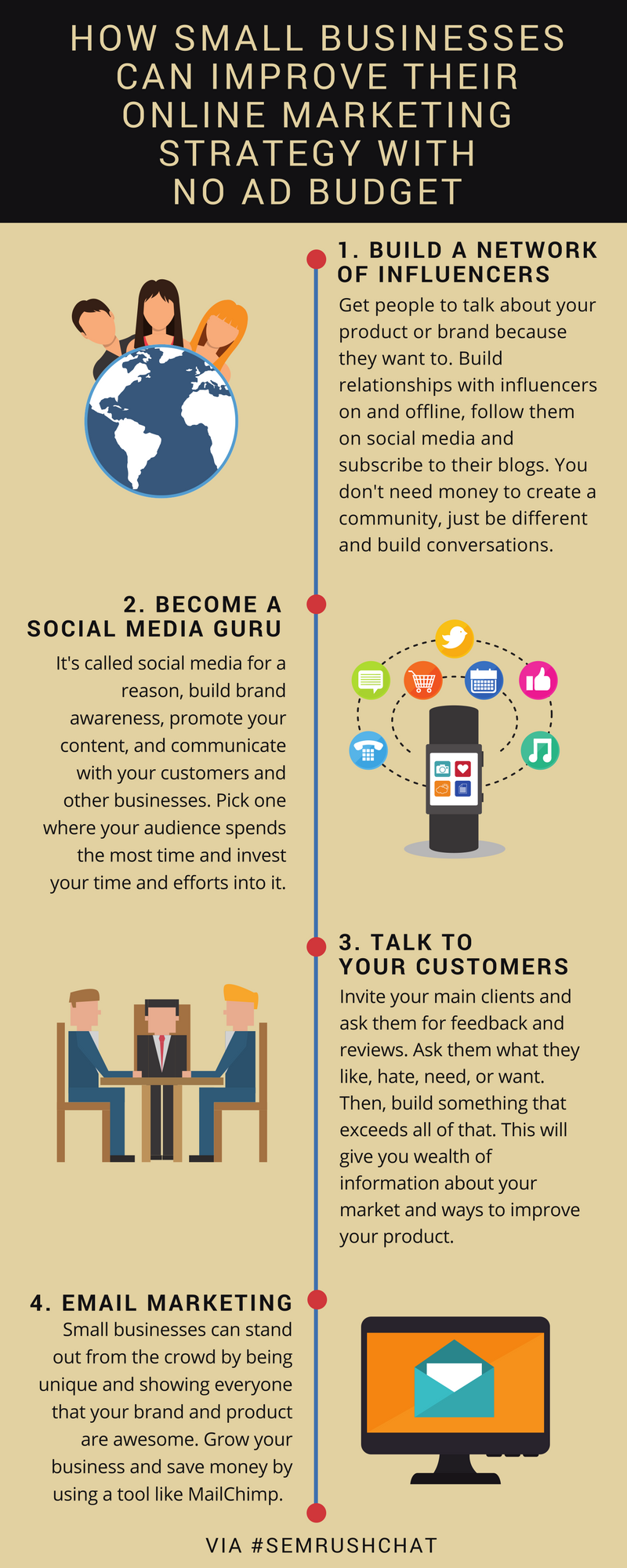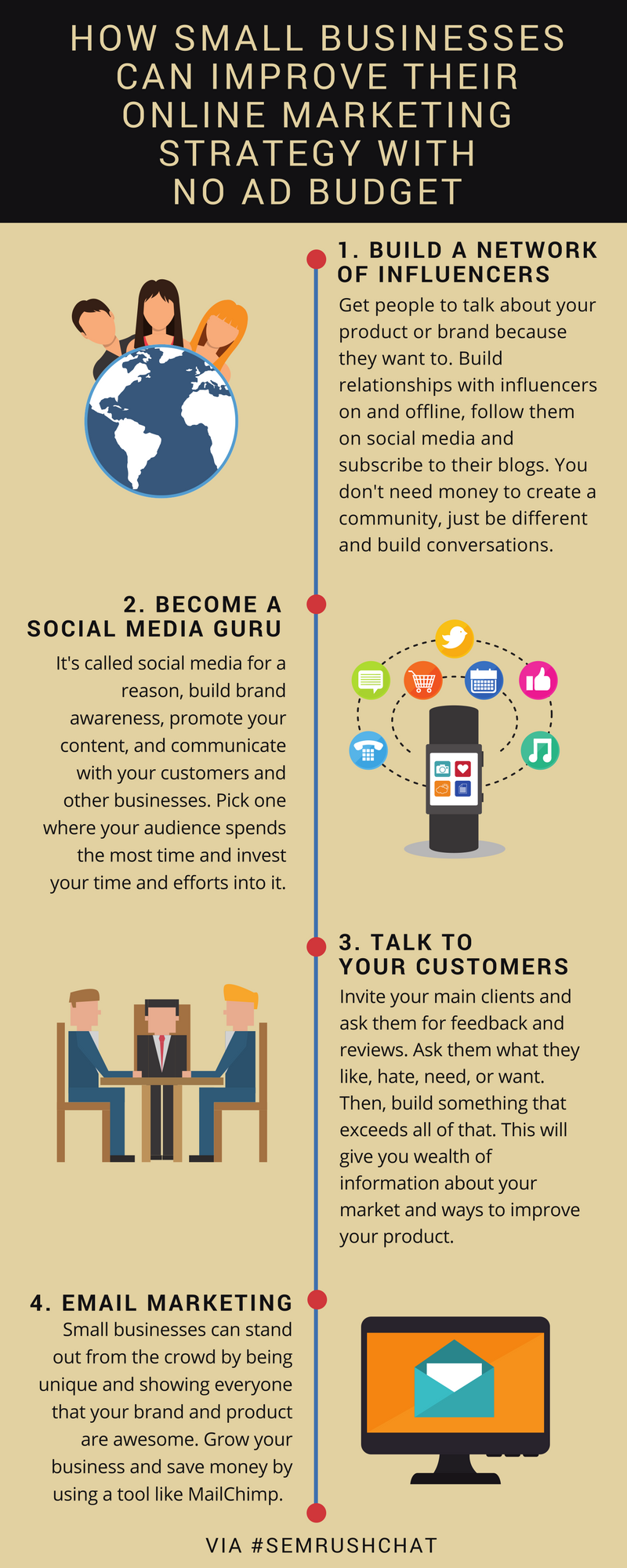 Specials thanks to everyone whose tweets we used to make this image: @davidmihm, @Fernando1Angulo, @theAJSingleton, @Kevin_Indig, @jakebohall, @BecomeKnown
As long as you put time and efforts into at least one or two of these tactics, you should see a noticeable impact!
Q6. How are you looking to grow your online presence in 2018?
Finally, at the end of our discussion our chat guests named the best tactics they are going to use to grow their online presence in 2018:
Learning more about customers.

Testing new ideas.

Being more active on social media.

Becoming a better storyteller.

Finding more interesting stories to tell people.

Participating in more offline events.

Nurturing relationships with influencers and building a community.

Looking for ways to crush voice search and aligning content with it.

Being innovative.

Utilizing PPC to create brand awareness.

Exploring new marketing channels.

Reducing the time it takes a user to find what they're looking for.

Creating more meaningful niche-specific content.

Investing in SEO.

Utilizing video more.

Not being afraid to make mistakes.
Thanks to the following chat participants who helped us make this list of marketing goals in 2018: @davidmihm, @HilaryStJonn, @bill_slawski, @Fernando1Angulo, @Spotibo_tool, @davidrosam, @Perfect_Search, @dannyraylima, @AdarMedia, @VinodDongdi, @jpsherman, @bertocci_luca, @Carolyn_Lyden, and @BecomeKnown.


Are there any other goals your business is going to pursue to build your online presence next year? Share with us in the comments below!
Many thanks to David Mihm and our other chat guests for sharing so many insights for small businesses!
Join us this Wednesday to discuss the "Toolkit of a 2017 SMM: From Smallbiz to Enterprise" with Ian Anderson Gray.