Every social media manager has a favorite set of tools that help make their job easier. But when a tool is coupled with a Chrome extension, it adds an additional time-saving element that we all need.
In light of the recent release of our Social Media Poster's Chrome extension, we decided to compile a handy list of the best extensions available for social media managers. To help you handle the list, we split all the extensions by the stage of a social media manager's workflow where they best fit.
Plan & Organize Your Activities
Todoist
Todoist is a great task management extension. It has all the organization features you need to manage your tasks right from your browser.
It takes just one click on the top right of your screen to plan and organize a new task: add a deadline, set a reminder and a priority, and off you go. Going on a business trip? No worries: the tool allows you to sync all your devices so that you can manage your tasks offline wherever you are.
An added benefit is that you can save websites, articles, Amazon and IMDB pages, and Google Docs for future reference; your task will link back to the original web page so you can refer to it when you need to. Your team collaboration can also become easier with Todoist because you can share your projects, assign tasks to your team members, and add comments where necessary.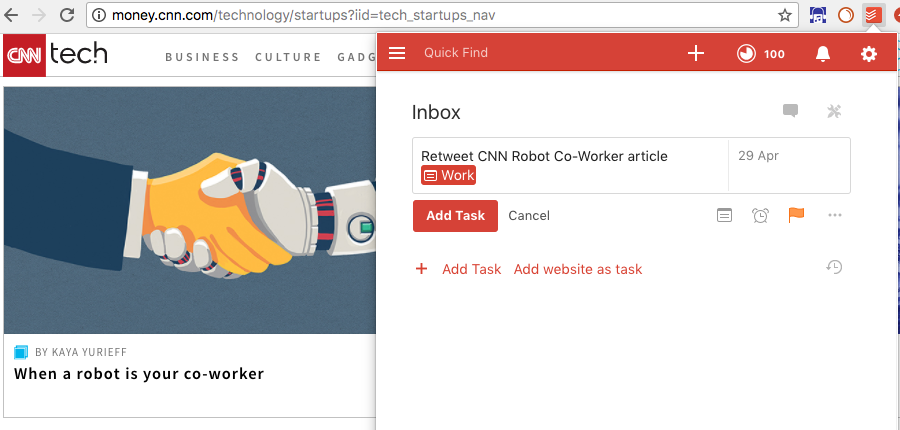 To help you stay motivated and productive, Todoist also offers their Karma system, which will visually display your progress and achievements in easy to read graphs that are color-coded by project, giving you that sense of accomplishment at the end of each workday.
The tool's motto is 'do more and stress less,' which is a fair statement considering how much routine work it can help you with. This simple yet powerful task manager will definitely free up your mental space!
Search for Relevant Content
Inoreader
One of Feedly's main competitors, and a very decent one. The tool allows you to keep up with your top information sources, save pages from the web for viewing later, and subscribe to social feeds.
The greatest thing about Inoreader is that it doesn't restrict the number of sources you can subscribe to in the free version, which gives it a huge competitive advantage over other newsreader services.
The extension's design is minimal, so you don't get distracted. You get to choose your favorite topics, and then all the related content starts coming straight to you, saving you from having to go and check every site on your own. Whenever you are not sure which topic you need, you can monitor news about specific keywords or regular expressions.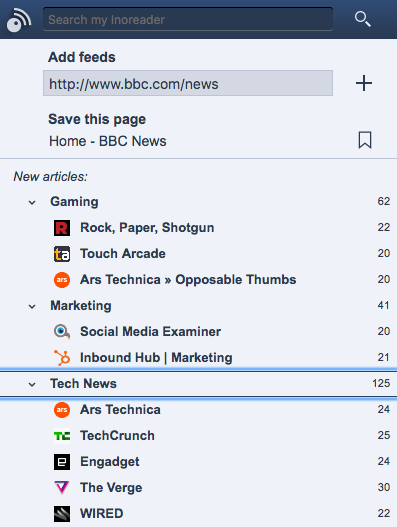 Oh, and remember that article you read a few days ago that you liked, but you can't think of its title? With Inoreader, you can easily find the content you have read by some keyword, and it is free for everyone.
For those night owls who prefer reading articles at night, the tool also has a night mode!
Schedule & Post
SEMrush Social Media Poster
How many times have you come across a great article and regretted not being able to share it with all your followers across all social networks at once? The new SEMrush Social Media Poster extension makes it possible.
Whenever you find something your followers would find valuable or if you find a website where you have been mentioned, you can post it on all your social media accounts with one click. It'll help streamline your social media posting giving you the option of posting immediately, scheduling for later, or saving as a draft. Choose 'Share via Poster' on the right click menu or click on the extension button for the wizard to pop up. The tool will automatically pull pictures from the article you are going to post, and you can also write a message to accompany it: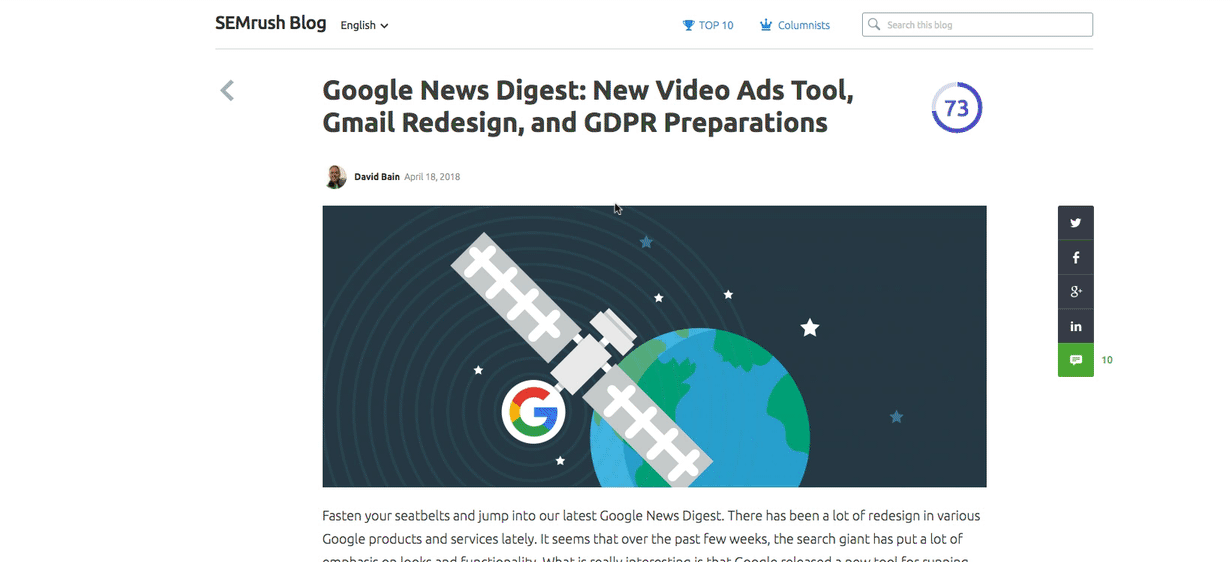 The same goes for retweeting - just click on the extension's icon below a tweet. This feature works great for those who need to schedule their retweets to create powerful themed series or launch event-centered marketing campaigns.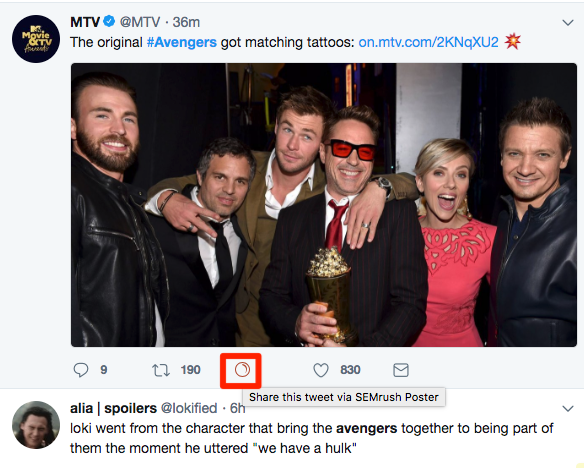 Here is another great feature of this extension: if the article's title is not a straightforward one, you can choose to post only the selected text:
SEMrush Poster also has a built-in link shortening service ( Bitly) for posting on Twitter. Once a link appears in your posting wizard, it automatically gets shortened: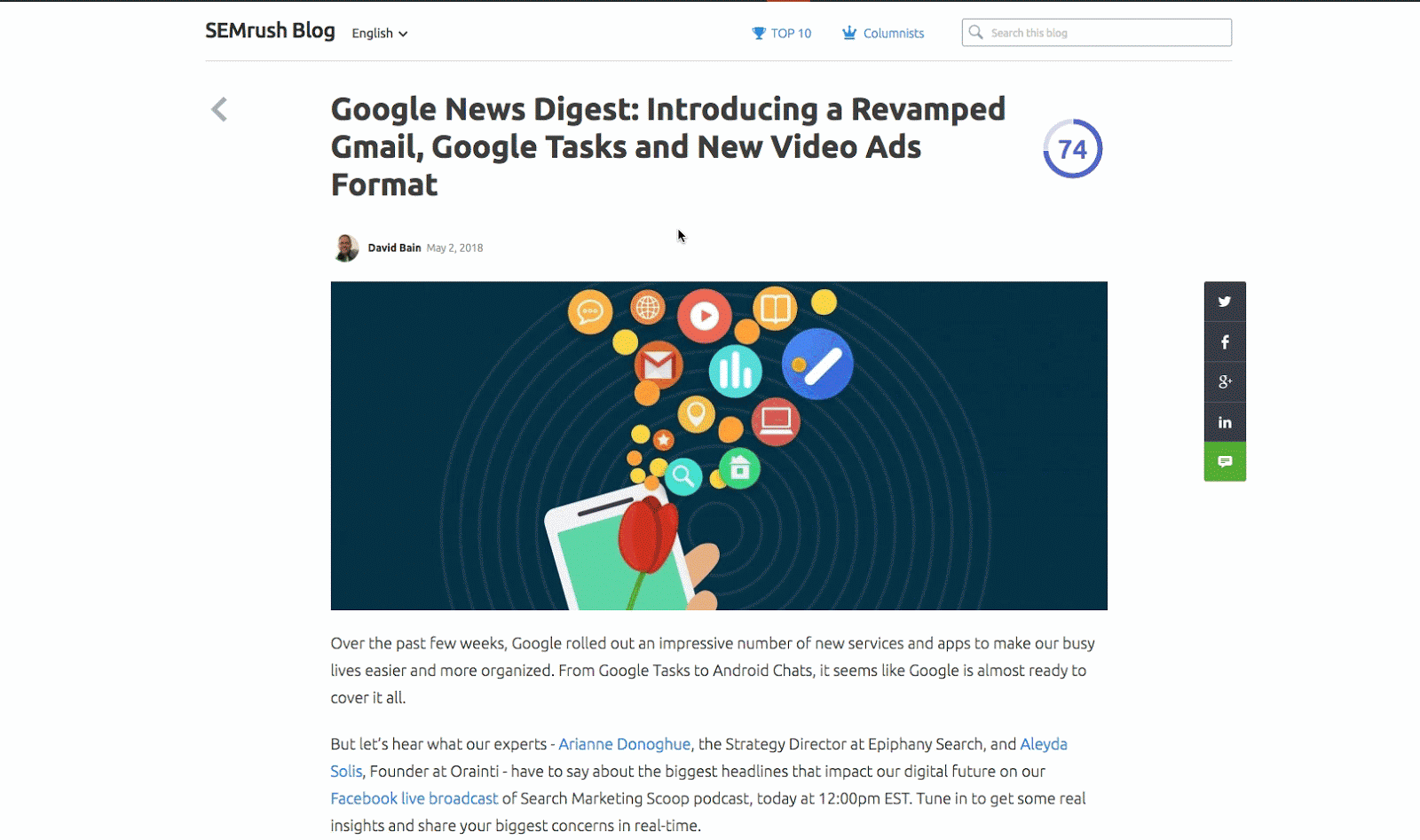 Grammarly
Social media can be merciless if you make a mistake.
If everyone had Grammarly installed on their browsers, the social world would never have seen the ' seizure salad' and the ' undateable human bean.' Misspelling words or making grammar mistakes can make you look uneducated and diminishes your credibility; and if you are posting on behalf of a brand, a tiny mistake could change how people think about that brand.
With Grammarly, you can be sure that your grammar, spelling, and punctuation are perfect. It is an indispensable tool for social media managers, who are always at risk of making small errors. Use Grammarly to keep your brand's reputation intact.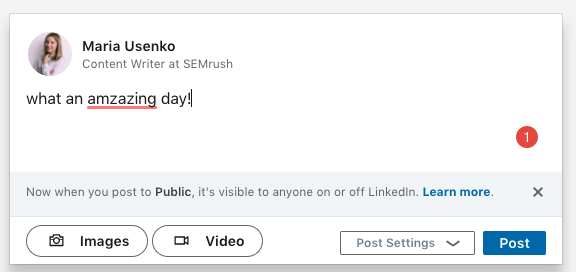 Find Hashtags
RiteTag
This is an absolute must-have for any social media manager. The tool gives you tag suggestions for images or text on any site and multiple social networks like Twitter, Instagram, Pinterest or Facebook. All it takes is a right click on the image or text!
RiteTag has their own color system in place to indicate the hashtag strength. For example, using a red hashtag puts your posts at risk of disappearing in the crowd, while green gives you all the chances of getting seen right now.
Choose the Visuals
Lightshot
This extension is a no-brainer, must-have solution for every social media professional. Make customizable screenshots of any selected area by hitting the Lightshot icon on the toolbar. What is great is that you instantly get a link to a screenshot you have just uploaded so you can share it with others very quickly. This is a simple, convenient, and, more importantly, lightweight tool!
Awesome Screenshot
If you want to get a little more advanced with your screenshot editing, try the Awesome Screenshot extension. There are lots of nice little tricks in it, like the ability to blur sensitive information and add annotations to the screenshot. With this extension, you can even record what is happening on your screen and upload it to YouTube or Google Drive immediately:
Pablo
Each social network has its own size and format requirements when it comes to images. Instead of keeping all that information in your head, try using Pablo -- an extension that creates images with the perfect size and format for Twitter, Facebook, Instagram, and Pinterest, and allows you to share your images to popular social networks directly from Pablo.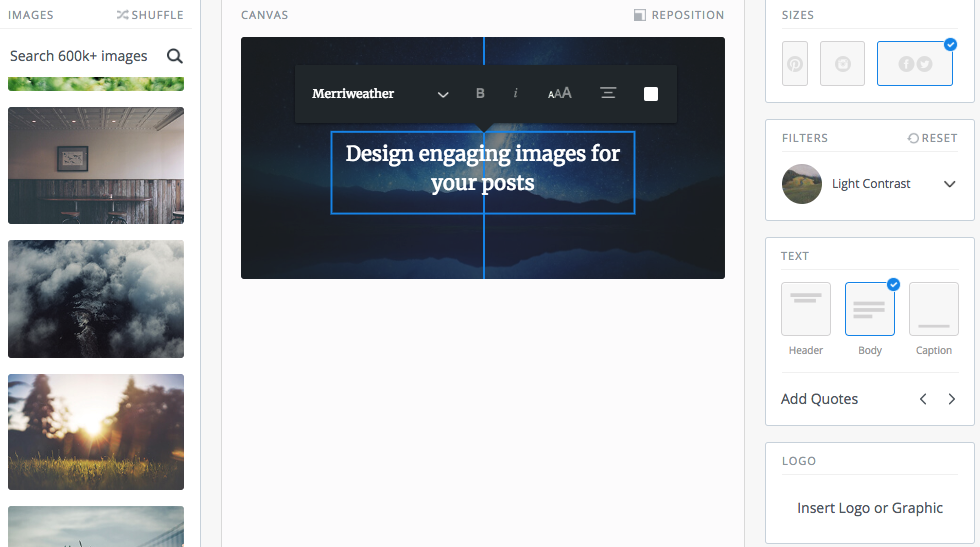 You can add a background picture to an inspirational quote you found, or you can use your image and add text; it is simple. If you need an image, highlight your desired text and right click to see an option for opening that text in Pablo to create beautiful images. If you are looking to add text to an existing image, right click on it to open it in Pablo for editing and choose one of the stylish fonts it offers.
Colorzilla
This extension does all sorts of color-related magic, from color reading to gradient generator and color history. It can also help graphic and web designers analyze a page and inspect a palette of its colors. Color management is easy with Colorzilla thanks to the built-in palette browser, which allows you to choose colors from pre-defined color sets and save the most used colors in custom palettes.

Giphy
Using a funny GIF every now and then is a way to keep your audience engaged and entertained. With GIFs being highly situational and only needed there and then, having an extension that can find you a relevant GIF in a matter of seconds is just amazing.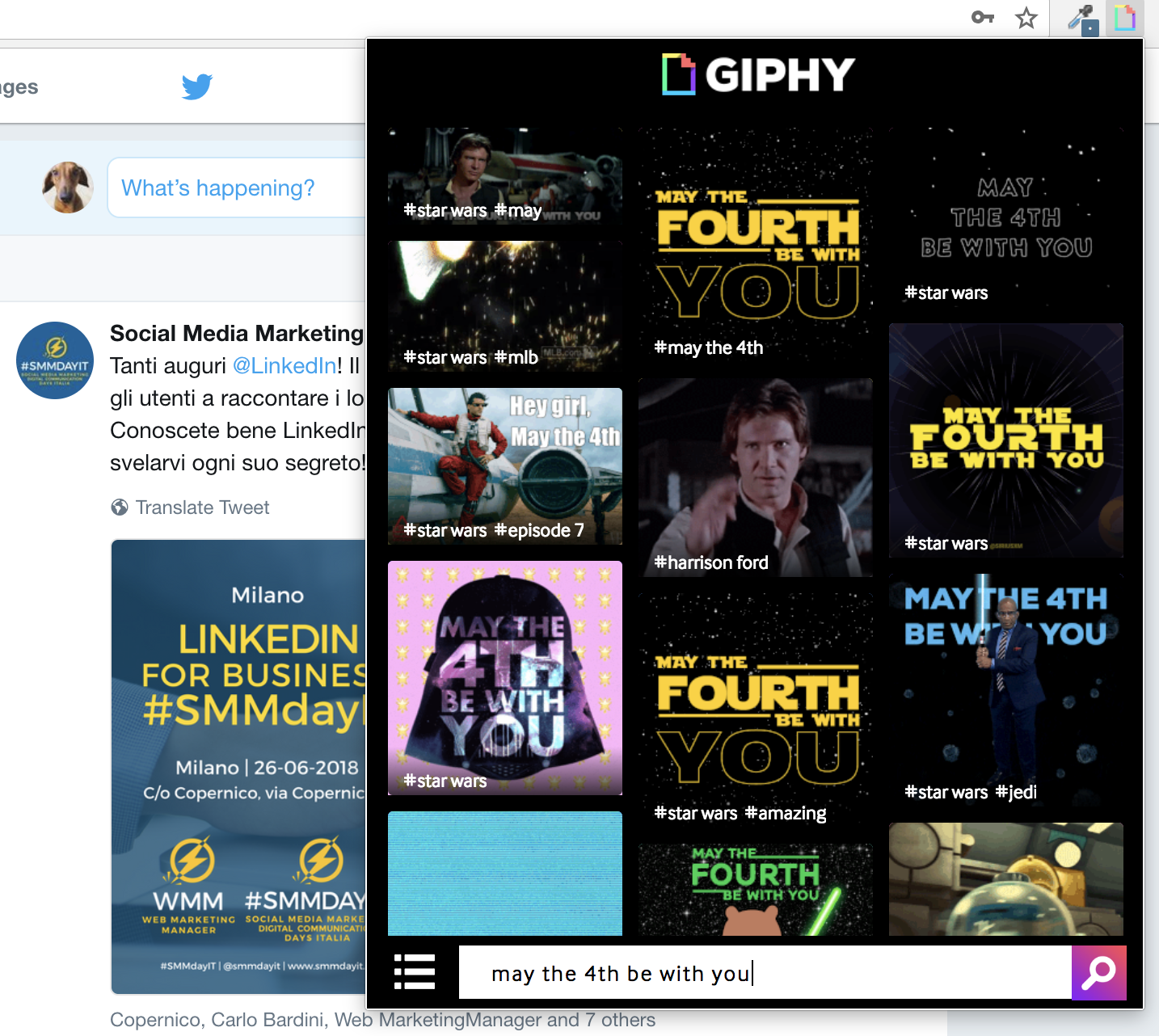 Piktochart
Have you ever tried creating infographics from scratch? Have too little time to fill your presentation with easy to understand graphs and charts? Then this extension is for you. Piktochart offers dozens of ready-made graphic templates and downloadable materials to turn anything from a slide to a poster into a designer masterpiece.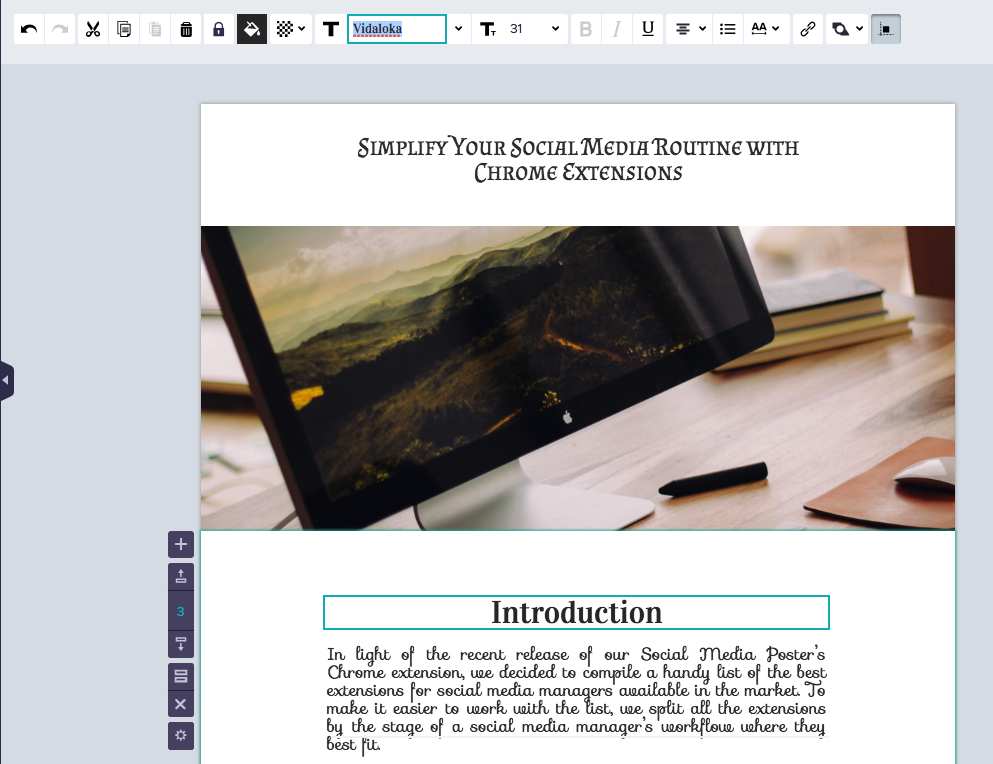 Why Extensions? 
Chrome extensions can be your time-savers, advisers, and to some extent even tutors. Most of these are free, require no special skills or experience. They can quickly take on the role of a designer, proofreader, secretary, data analyst and more — if the task is not too difficult, of course.  We made this list based on time-proven preferences of our team members. Do you have your own favorites? Please share your thoughts in the comment section below.