Search engine optimization (SEO) and conversion rate optimization (CRO) each focus on two very different aspects of marketing. SEO focuses on driving traffic to your site, while CRO focuses on increasing conversions like lead generation, event registration, and sales. The two are very different focuses, but they are most effective when their efforts are combined.
This was the topic of discussion in last week's #SEMrushchat, where digital marketing expert and president of agency inSegment Alexander Kesler joined us and our chat participants to talk about how SEO and CRO should be used together to drive engagement. Let's take a look at what they had to say...
Q1. How are SEO and conversion rate optimization related to each other?
SEO and CRO are separate focuses, but they're closely intertwined, and both are needed for the success of an e-commerce business. As chat participant Ryan Johnson stated in our chat, "SEO is the cheese, CRO is the mousetrap." You need the search engine optimization to draw people to your site and increase traffic, and then the conversion rate optimization will allow you to get people to purchase and convert. Both are essential, and both won't be enough to get you sales individually without the other.
If your site can get a large amount of traffic, but you are failing to convert visitors, you are leaving ROI on the table. One place you may commonly see this is with content marketing that only has a focus on SEO; they use all the right keywords and get plenty of hits on their site, but then they don't have the right conversion optimizations in place to actually get those readers to convert. Without CTAs and strategically written posts that can showcase the value of your product, you may have plenty of loyal readers than never turn into loyal customers (or customers at all). And this means that you are spending a lot of time and money, but you aren't getting anywhere close to the return on it that you should.
Similarly, strong CRO isn't nearly as effective without good SEO. What does it matter if your site utilizes a perfectly mapped-out funnel if you can't get enough traffic to the site to appeal to new customers?
Learning and implementing good SEO leads to a significantly better conversion rate, especially since choosing the right keywords — particularly transactional and intent-to-buy keywords — will help you attract site visitors who are further along in the buying cycle and most likely to convert. It can help capture people at the funnel, and then CRO can help push people further down the funnel to purchase.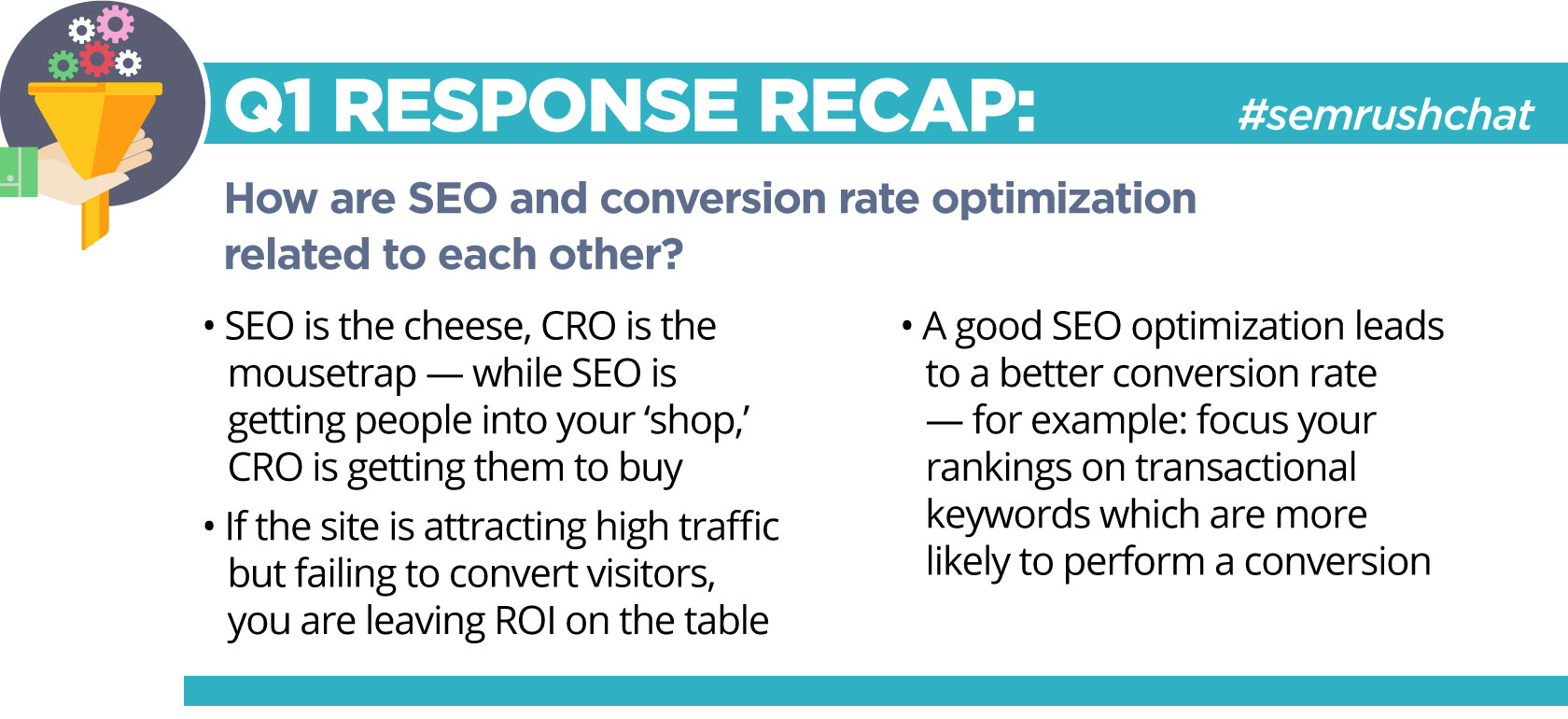 Q2. What are some ways to optimize and increase the rate of conversion?
There are several important ways you can optimize for conversions on site, increasing the rate of conversion and improving your bottom line.
The first is to make sure that you fully understand your audience. This will always help improve both your SEO and your CRO because without understanding your audience's pain points and what they are looking for, you won't be able to create copy designed to increase traffic and sales effectively for your specific audience.You should be making sure that your content answers any questions your audiences may have, and that your funnel is designed to appeal to pain points and overcome common objections.
A crucial part of this funnel will mean having clear CTAs on your site. If users are on a page and don't see a cue to "contact us to discuss options" or "click here to start your free trial," they will think "now what" and end up clicking away. Use CRO to create a clear pathway to conversion, from site page to site page. Utilizing color theory — like using contrasting colors to highlight your CTAs, or to showcase your best offering — can also be exceptionally effective. The best way to find out what works for you is to utilize PPC campaigns to split test different theories on landing pages.
You should also eliminate potential distractions that could make it difficult to get more conversions. This includes unclear CTAs, lacking CTAs, and even social jump-offs. That conversion path and funnel should be clear; if there are distractions, you can kiss those conversions goodbye.
It is also important to look at how users are moving through your site and interacting with it. That can tell you a lot about where and how you need to optimize the site. This includes taking a close look at where users are entering and leaving your site, and how they are progressing through it. Look at what content they engage with, and what seems to cause them to drop off, and use that information to optimize your site for more conversions.
And you should be testing your new optimization strategies. Test them intentionally, monitor your metrics for traffic, clicks, and conversions carefully, and then implement new strategies based on your findings. Keep repeating this. Unfortunately, it can be a never-ending process, but it is one that will improve your CRO results significantly.
Q3. What might scare users off once they land on a page from search?
Sometimes, badly optimized sites can scare off users who could have potentially turned into loyal customers had things been a little different. This is a huge loss of opportunity, so avoiding this is crucial because they are unlikely ever tocome back.
One of the quickest ways to lose a user is if you have content that doesn't match their search intent. This often happens if you optimize for the wrong keywords, or keywords that are too broad. While using broad keywords can help bring traffic to your site, it is important to note that only a small portion of those visitors will actually convert, and niche, intent-related keywords may be more beneficial. If people end up seeing content that is not related to the information they were seeking, they will just leave immediately and go looking for the answers they need. Bait and switch does not work online.
Mediocre sites themselves are also a common culprit. Sometimes this will mean that your site just doesn't quite look professionally-made, which is a requirement in this day and age. It could also mean that it has a confusing layout, or that it is too cluttered and they are not able to find the information they are looking for. Slow loading times or error pages are absolutely the kiss of death of an otherwise well-designed site, on both desktop and mobile.
On this note, you must have a mobile-optimized site. Pages that aren't mobile-friendly will risk you losing a ton of traffic, even if your desktop site is in top shape. Optimize all crucial pages on your site for mobile performance to avoid this issue.
Users also will click away quickly if they don't see the value of what you have to offer. Why stick around when you can't tell them why they should? Use clear, simple CTAs on your pages (not multiple on one page in general), and feature-benefit copy to explain why your products and services are valuable.
The last thing that is almost guaranteed to send users running? Overly aggressive sales copy and funnels. No one likes an aggressive salesperson, and even though it is just text online, people are inclined to feel the same way on websites. High-pressure tactics like cheesy auto-play landing page videos that feel overly sales-pitchy with big claims, overly consistent pop-ups, and being asked to give personal information too early will send even the most relevant, perfect-for-you customers running the other way.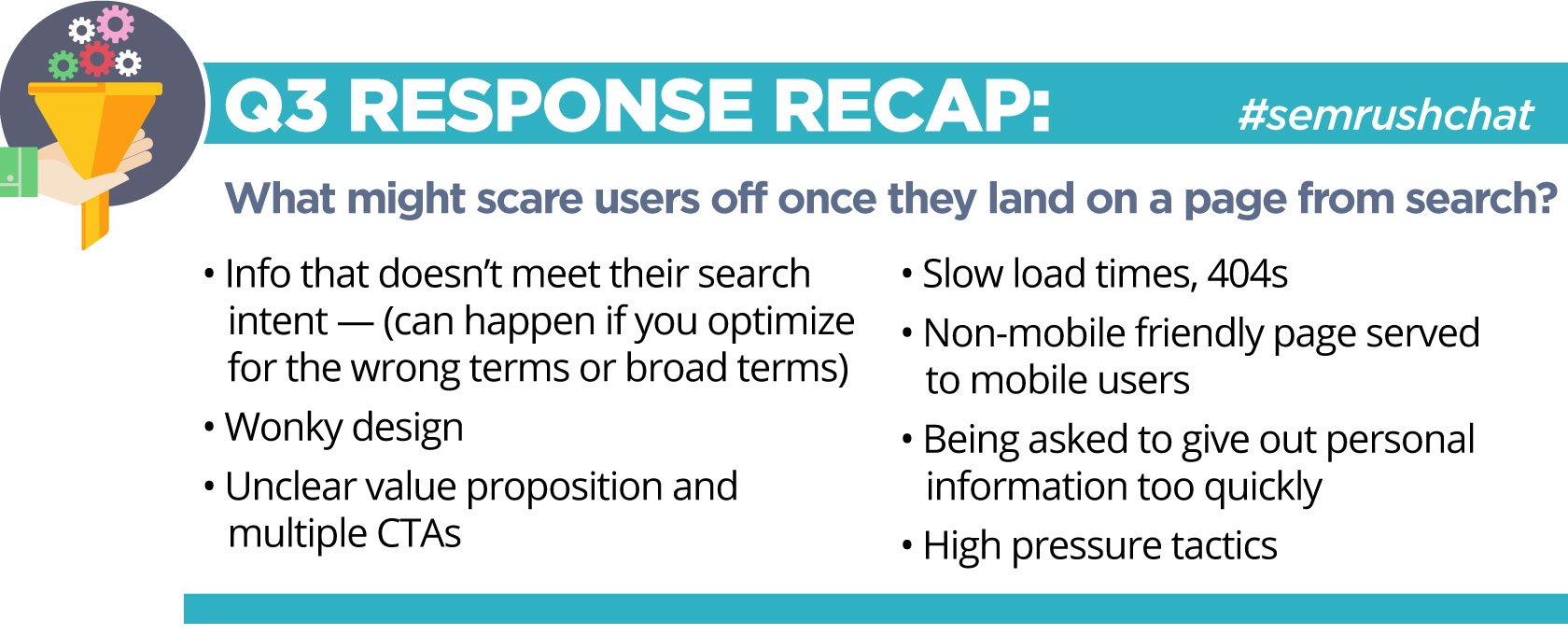 Q4. Which metrics should an SEO focus on when measuring the quality of organic traffic?
While an SEO specialist's main objective will be getting traffic to their site, it is also so important to make sure they are driving quality, organic traffic to the site. This means that the traffic they are attracting is the business's target audience, who is most likely to convert. It doesn't matter, for example, if Jimmy Choo shows up in the top spot of "red heels" if 90% of the traffic can't afford them.
There are certain metrics that SEO specialists can use to measure the quality of traffic coming to a site. The first of these is user engagement metrics, like the bounce rate, number of sessions, session duration, scroll depth, and the number of pages the average visitor views. This indicates interest and intent. If a customer were to click on that result taking you to red shoes, which cost more than three of their paychecks, they would likely click away immediately. The right audience member, on the other hand, would be interested to see what else you had to offer and keep clicking to look at other options.
The number of new or repeat sessions and unique visitors you are getting is also important. Repeat sessions indicate high interest, but you need to get enough new traffic to grow your business at the same time. Unless your site just surged in traffic within the last month, you should have at least a decent chunk of repeat visitors, which indicates relevance and intent.
Revenue per purchase, revenue per visitor, and cost per acquisition are three important financial metrics you want to measure. This can help you evaluate if you are maintaining the purchase order value and ROI you need to be profitable and successful.
Examining keywords is also essential. You need to know not which keywords you are using, but which keywords actually brought traffic to your site and which drove conversions. You can look at conversion rate by search query, which tells you which are your most profitable keywords. You can then evaluate the profitability of those keywords against which are sending you more traffic to your site, and see if there are any gaps that are sending you low-quality traffic.
You should do the same thing for each page of your site. Segment off your landing page by topics and tag your internal links to monitor conversion rates at every step and individual page. You may find that certain pages or certain types of content have significantly higher conversion rates than others that have more traffic. And while traffic is great, it doesn't amount to much if it isn't converting.
Q5. What SEO issues can hold your conversions back?
As we have touched on in the questions above, there are some SEO issues that will not only drive traffic from your site but can result in poor conversion rates.
Poor keyword optimization is a big one here. Focusing on keywords that aren't relevant to your page content and your product, will bring interested users to your site, but not get you any conversions. Think about those Jimmy Choos-- even if your customer is looking for red patent heels and you have them, it doesn't make any difference if they only want a $20 pair of shoes. Trying to optimize for appropriate searches like "designer heels" would be a better way to go.
Technical issues like broken links or crawl issues can also be significant in holding your conversions back; your customers can't find you if you can't get them to your page. If users click on your CTA to learn more about your program or contact you or start a free trial and the page is slow to load or sends back a 404 page, you will likely lose them even if they were invested.
Poor site architecture — with muddy or unclear conversion paths — and a bad user experience or UX will absolutely drive people away. Sometimes sites are designed only with SEO functionality in mind, and they fail to take the customer and an intuitive site architecture into consideration.
Sometimes, it is also as simple as poor copywriting. Choosing poor page titles or meta descriptions can affect whether or not your site pops up, and whether or not users decide to click. You should be choosing clear, descriptive titles and descriptions so that people know exactly what they are clicking on.
When we are searching for something, we automatically look for the titles and descriptions that indicate they will best be able to answer our question. Make sure that you do that.
https://twitter.com/davidrosam/status/951133337137111040

Q6. In order to increase your conversion rate, what are the top 3 things people should focus on?
Increasing your site's conversion rate is something that most businesses are focused on, but sometimes it's easier said than done. Fortunately, our chat participants and experts weighed in on the best things to focus on when you want to increase your conversion rate.
Testing is one of the most important things that most of our chat participants mentioned. They discussed testing every part of your content, including headlines, CTAs, body copy, and even your images. You should also test your unique selling proposition to make sure it is hitting all the right notes with your target audience, and just as important, finding the right platform to run your tests and experiments. Some businesses use social media to test the responsiveness of different CTAs, while others use tools like Unbounce to test entire landing pages. PPC campaigns are also a good way to test out different types of copy and offers.
You want to understand how your audience interacts with your site and what appeals to them, and that all comes down to understanding and targeting the right audience. It doesn't matter how much traffic you get to your site if you aren't attracting the exact people. Do thorough research to understand exactly what your target audience is searching for and what keywords they are using, and create offers and copy that specifically appeal to their common pain points and objections. You will also be able to create more interesting content to draw them into the funnel.
You should also focus on optimization. Make optimizing the navigation of your site a big priority. This means that your site structure and the layout of each page should be intuitive and exceptionally user-friendly. Remove clutter and distractions, and make sure that your site progression follows a well thought-out sales funnel. Make sure that your internal links and forms all work when clicked and submitted, so there is no risk of error messages that drive customers away.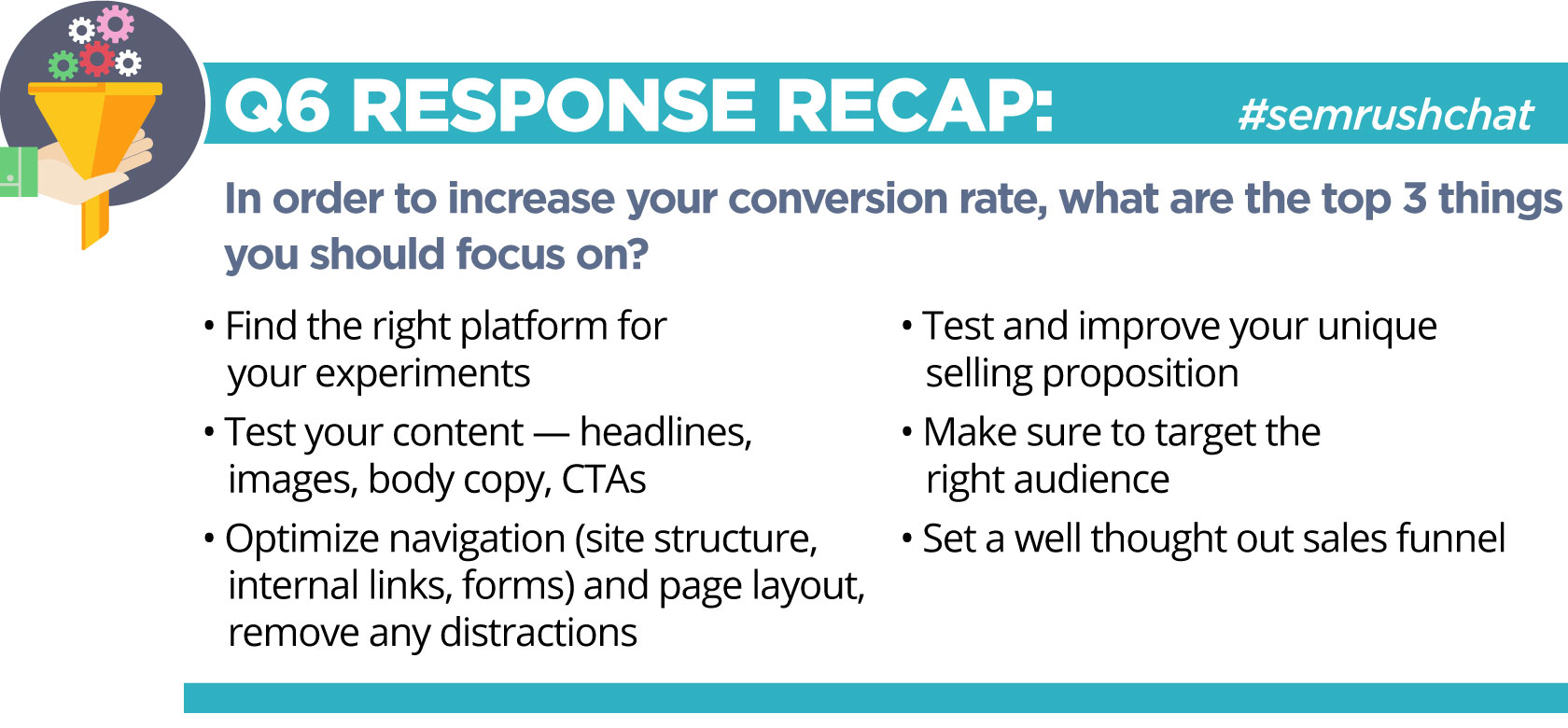 That's all for today! Make sure you join us this week as we discuss How to Leverage LinkedIn for Business Development with special guest, Eve Mayer!