When companies start up, more often than not their focus is to acquire customers, sell products, make a profit, and grow fast to become a sustainable business. What they frequently overlook in the process is the value of cultivating the lasting engagement and positive sentiment of their customers.
In last week's #SEMrushchat, we focused on how we could put people over profits, and build a community that buys a company's products, advocates its brand, gives constructive feedback, and helps it make money in the process. Our guest was Jen Cole, Community Manager at Social Media Examiner, who shared her expertise on how to build a community while building a business. Here is what Jen and our other chat participants had to say:
Q1. In your own words, what is community building and why is it important in today's day and age?
Marketing in itself aims to communicate with your customers using inbound and outbound strategies such as advertising, promotion, branding, engaging audiences on various channels as well as providing customer support. All the time, however, your focus is on acquiring more customers and ultimately, selling your product or service.
Community building instead tries to meet the social, unspoken, "interest" needs of your audience as a whole (which includes customers, employees, and the community at large). The purpose is to cultivate frequent bidirectional communication in order to:
Do away with communication barriers.

Identify customer needs and wants.

Acquire more customers through word-of-mouth.

Increase product usage and satisfaction.

Channel constructive feedback to product improvement.

Increase customer loyalty.

Identify and reward brand advocates.

Minimize skepticism towards brand messaging.

Prevent PR crises and minimize impact of negative sentiment.
=====================================================================
Jen compares a digital community to a tribe. It has a similar dynamic as the "right here, right now" attitude prevalent on the internet these days. Consumers buy only from the brands they know, like, and trust.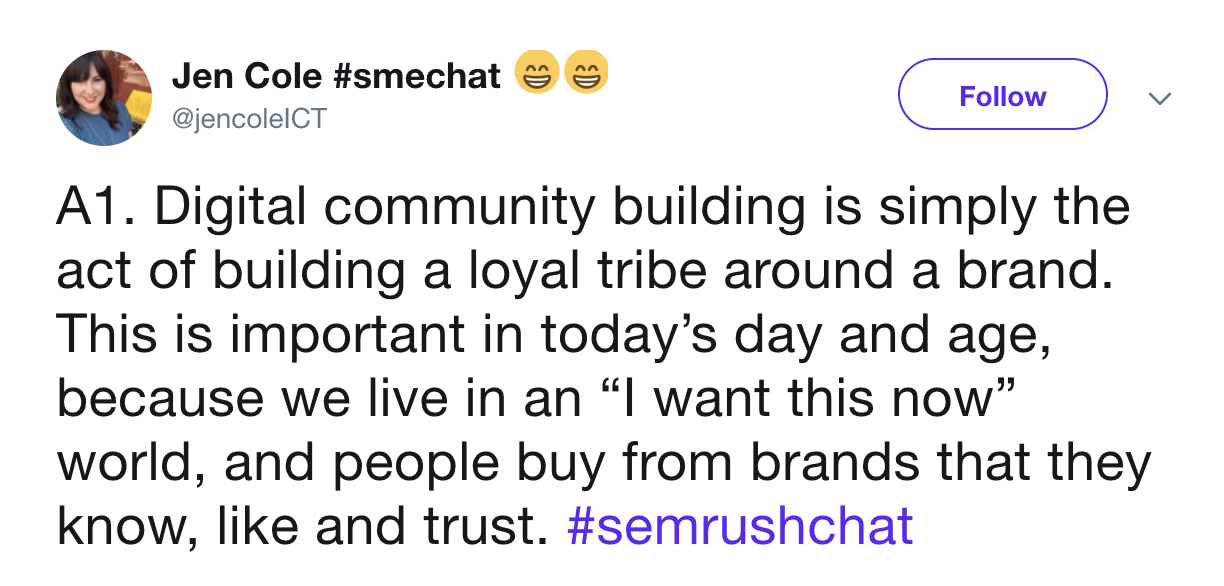 Community building is about engaging audiences on different online and offline channels and establishing credibility on each of them.
Community building is about connecting people with the brand and using that synergy to drive growth.
Community building is about spontaneous conversations.
Community building is about nurturing an audience online and cultivating shared interests that are relevant to your brand.
Community building is about establishing and building relationships.
Community building is about fostering trust and honesty in the brand-customer relationship.

Q2. What are the top 3 ways a brand can ensure that they create an engaged and loyal community?
Communities, both digital and offline, are built and strengthened on the basis of acceptance. When a brand engages people with the aim of forming a close-knit community, they have to make every effort to bring out their human side and prioritize it withing their social media routine over corporate communication.
For this:
Make your audience feel accepted. Help them identify not only with your brand but also other members of your community. Understand their point of view and show them how they can relate to your brand.

Ceaselessly (and quickly) solve their problems. If you can do that with your product or service, nothing like it!

Give them a reason to come back and keep interacting with your community platform. Any and all content that you create should provide value by educating or entertaining them.
=====================================================================
Jen's top three tips for building a super-active, rabidly loyal community are:
Make sure your brand voice is simple, clear and approachable.

Use hashtags strategically.

Prioritize audience engagement over follower acquisition and maximize your interactions with everyone.
Engage with your audience regularly and consistently. Touch base with them on all platforms that they frequent. Reply to all their comments and queries.
Take advantage of the community building features of social media. Create and nurture Facebook Groups, LinkedIn Groups, Twitter Chats, and so on. Use appropriate content formats.
Understand the individuals who make up your community. Invest time and effort in keeping the community going.
Provide value to your audience. Make them feel special to be part of the community.
Be proactive and selflessly help community members make decisions that work best for them. Show what your products can do but don't try to peddle them. Sales will follow.
Genuinely care about your audience. Make it personal. Go all out to make them happy and help them succeed.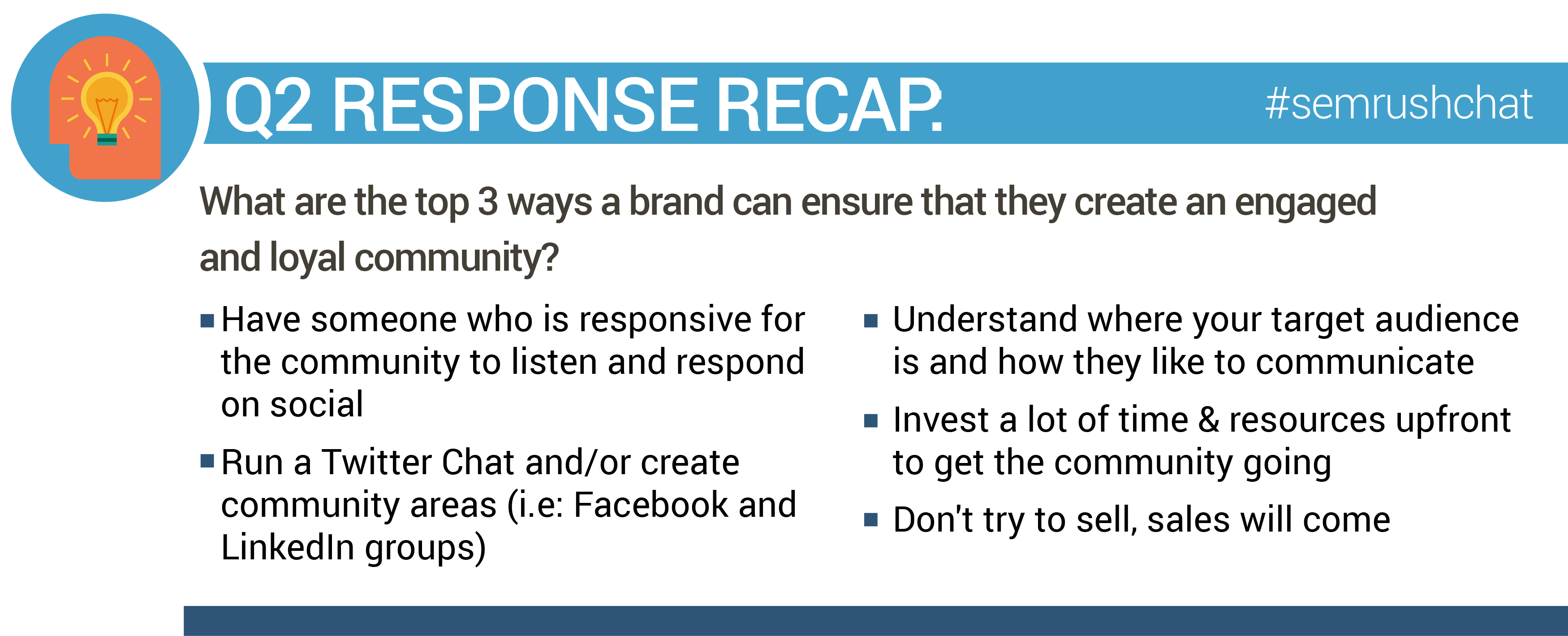 Q3. How can a brand build trust within their community and stand out?
Building trust doesn't happen overnight. It takes radical transparency, as well as diligence in producing useful, relevant content in order to build trust with your audience.
There are several factors that help in building trust online:
Search visibility: Google recognizes and prioritizes brand signals in order to provide the best experience to searchers. The more keywords your community members find you for, the better they recall your brand outside the community platform.

Reviews and ratings: Encourage customers to review your products and rate them for usefulness. Study after study has proved that potential customers read existing reviews and ratings before making a purchase decision.

Authenticity: Demonstrate your expertise and thought leadership by having your content appear on the top sites in the industry. Further, the more this content is shared on social media, the more trustworthy it appears to your audience.
=====================================================================
Brands that can leverage transparency and customer education through live interactions with their audience will stand out, according to Jen. She strongly believes that brands must openly show empathy with their customers on digital media.
Create relevant content that solves for your customers and provides real value to your audience.
Consistency in product quality, brand voice, and marketing communication is key to expanding your customer base.
Maintaining transparency, honesty, and integrity are critical to projecting the human face of your brand.
Always meet customer expectations. But do the unexpected once in a while.
Dependable customer service is vital to keeping your customers coming back and your community positive towards your brand.
If you want to grow your community, you need to develop and demonstrate exceptional leadership qualities.

Q4. What are the most important things to focus on when building an online community? Why?
The single most important reason why people in your niche want to join your community is the expectancy of value. Give them exclusivity and extra value via the information you share with them. In return, you have a higher chance of getting perceptive feedback that you can use to drive product innovation – you just have to be on the lookout for and willing to act on these insights.
Growing your community is just as important as growing your company – and you should approach it in the same way! The only difference, don't look for "customers," look for "people" who're interested in things relevant to your brand. Never lose sight of why you created the community in the first place.
=====================================================================
Jen makes it clear that "being human" lies at the core of your online community building efforts. When you show empathy and patience towards the views of your audience and keep interacting with them regularly, they will relate naturally even to your branded content.
Remember: people make up your community.
Listening to your community members is that fundamental first step you take before you even attempt to engage, guide, or solve for them.
Engagement is very important. It consists of two-way communication, problem-solving, and value addition.
Real engagement means you consistently spell out the purpose of your business, and consistently use feedback to improve your product and communication channels.
Make community members comfortable and give them a sense of belonging. Help them relate to each other and your brand.
Take into account the nature of the platform where you're building a community, and shape your strategy and culture accordingly.

Q5. How do you address negative interactions from individuals in your community?
Negative comments are an unavoidable part of brand engagement. Given the right approach, you can glean useful knowledge from every negative interaction, turn it into an opportunity for strengthening your brand and your standing in the community, and possibly win a customer for life. Some helpful suggestions:
View the customer's complaint as a concern. Then aim to assure them.

Respond quickly and consistently. Don't aggravate their pain by keeping them waiting.

You can't control their words, but you can control the outcome. Help the customer reach the end result that they want.
=====================================================================
Jen believes that more often than not, people just want to be heard as opposed to deride someone. So, the way to go about addressing their negativity is to demonstrate genuine empathy, acknowledge their pain, and do your best to help them out.
Discord and disagreement are natural. Expect some. Whenever it happens, handle the situation calmly and professionally.
Having in place a process to deal with negative comments and attacks always helps. Prevention is better than cure.
Acknowledge that there is a problem, but remind the community of your shared goals and commitment to improvement.
Don't dilly dally on the issue. Get to the bottom of it as soon as possible. Trytake the conversation offline, but do show your community that all concerns are being addressed.
Look for the positive in the negative. This will help you deal with the situation objectively.
Matt Shanley kindly shared a practical example of how his company handled the backlash from a brand's community.
Q6. What are some ways that someone can decide which kinds of content to feed their community?
All your community-specific content efforts should be directed at keeping the conversation with your customers going. Identify which topics appeal to them. Don't hesitate to broach the subject, however controversial. Use ancillary channels such as email and social to update members and bring them back to ongoing discussions, or encourage them to take part in new ones.
In order to create personalized and contextual content that's laser-targeted at your users, you must know their habits and preferences inside out. Ask yourself:
Who shares similar interests – and talks about them?

How active are they on the platform you're targeting?

Who do they hang out with online? Who do they admire and follow online?

What kind of content do they like and share?

What kind of content do they ignore? What offends them?
=====================================================================
Jen emphasizes the importance of recording the conversations you have with your audience. This will be a bottomless knowledge base that you can use to create relevant content. Education is one of the main aims of community building, so always be guiding them!
Start by listening closely to what everyone is saying. Make a note of the topics that warrant further explanation. Use their feedback and add your expertise to plug gaps in the customer journey with your content.
Find what your audience wants to figure out and what kind of content appeals to them. Create content accordingly.
Use data from conversations and monitor your engagement metrics to constantly improve the performance of your content.

What are your thoughts on community building? Do you find it fundamental to growing your business in terms of users or sales? Even if you missed this awesome discussion, you can still continue the conversation – type away in the comments below or tweet to @semrush with the hashtag #SEMrushchat and we will jump in right away!
And if you are game for another live session on Twitter, we would love to see you this Wednesday on #SEMrushchat, where we will be talking about How to Develop a Persona-Led Content Strategy with Alan See!