We all know what it's like working with clients who misalign offline and online business concerns. This is especially true of clients running local businesses who know exactly who their competition is and what it takes to beat those competitors offline. However, that offline understanding often clouds the insight needed to win online in the SERPs.
One such client we have is a high-end real estate brokerage. Their most expensive listing at the moment is going for $19 million. If you're interested in it, I can send along your contact info — I had to pass since I'm saving up for next year's Bugatti Veyron W16 Quad Turbo. Or not.
Anyway, my clients are amazing at what they do. But because of their expertise, it's difficult to sway them from opinions they hold. Unless I show them some data.
Here is one example of how I used competitive analysis to persuade my client to trust my recommendations.
Commence competitive analysis
When working with any client, it's always great to know what their competitors are up to. When I took on this client, the first thing I did was figure out who's beating them in the SERPs.
SEMrush's competitor tool made this discovery process pretty simple. Just type in the client's domain and then click "Competitors." Easy.
Funny thing is, no matter how much a client thinks they know their competition, I've found that SEMrush will uncover at least one competitor that wasn't on the radar before. This tool is a must-have.
New kid on the block
Yes, I did just reference a 90s boy band.
When performing the competitive analysis, I discovered a new competitor that the client hadn't mentioned on my first call with them. So I used another SEMrush tool: Domain vs Domain. And here's what I found: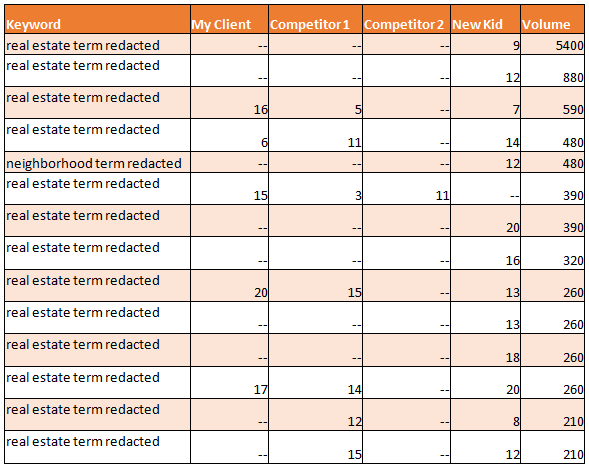 Whoa, the new kid was more ubiquitous than cassette tapes of "Step by Step" in 1990. And the other discovery was that a main offline competitor (Competitor 2 in the table) really wasn't a competitor at all online.
Breaking the news
Since I was new on the account, I told my team about the new competitor before talking to the client. Their response? "Oh yeah, we know they're winning. But the client won't listen to us because this other site's listings are so low-class."
But did we plainly lay the data out for the client to see what was going on? Nope.
So, armed with digestable data, I decided to forge ahead. And it worked.
The client couldn't deny that this other site — which wasn't even a real brokerage, just a site that posted MLS listings for an affiliate commission — was actually mopping the floor with us and our offline competitors.
What the "new kid" was doing
Content. But not even a lot of content, just regularly updated, applicable content to the target demographic. One of their blog posts ranked for a hot, school-related keyword. And they were increasing site engagement by providing e-books on buying and selling tips, as well as hosting pages that served as an introduction to the various neighborhoods in our city.
All of this data helped me make content strategy recommendations to my client. They might not have seen the need for this had I not presented what was actually going on in the SERPs.
Now we have several content pieces up that are performing remarkably well. We also have more content planned for the spring when the market really heats up.
So, if you have trouble convincing your client, use data from SEMrush to show them who is winning and who isn't. Present it plainly to make the need undeniable. Your client will want to switch to your recommendation every time. Well, almost every time.
Author bio:
Shawn Cohen is the SEO Director at Standing Dog Interactive where he gets to work with a caring team of SEOs, social media consultants, copywriters and developers. His last article for SEMrush was, "Google Revamps the PageSpeed Extension Into a User-Friendly Tool."