Display advertising is suffering from two controversial yet die-hard myths. There are those who think display campaigns are all about spraying and praying, and there are those who think "It has too many settings, I will never have enough time to dig into it."
However, with display advertising growing in popularity year over year, we can see that marketers do get profits from this channel.
One of the ways to steer clear of the budget drain in display campaigns is competitive analysis. Whether you are just planning your first campaign or want to improve your active campaigns, you can find precious insights that will add some extra value to your advertising strategy.
Let's take a look at four aspects to be considered when evaluating competitors' GDN (Google Display Network) campaigns. We will use the website bicyclewarehouse.com as an example and SEMrush's Display Advertising report as the main data source.
Where to Start
Display Advertising reports provide data on a domain's use of online display ads, enabling you to study your key competitors' banners and text ads placed through Google Ads. There are two options you can choose from to start your research:
Enter a domain in the search bar
Type in any word or phrase to search ads by a certain keyword

You can use the former option if you're looking to analyze a particular domain and explore the behind-the-scenes details of its advertising profile. On the other hand, if you want to discover ads that are triggered by a certain term or phrase, just type it into the search bar, and you will see ads where this term or phrase was used by any advertiser.
Now let's delve into it.
Audience Targeting [New Feature]
Selecting the right target audience is crucial for a successful display campaign. GDN has many targeting options: you can identify your target customers using interests, demographics, 3rd party data or look-alike technology (for more details about audience targeting explore our Interactive GDN Campaign Checklist). However, Google doesn't allow you to access data on your competitors' audience. Luckily you can find it in SEMrush reports.
Our new Audience Targeting widgets will provide you with the following info about your competitors' customers:
 Age and gender
 Interest categories of this advertiser's website audience
 Interest categories of this advertiser's target audience
For example, the visitors of grammarly.com are both men and women, aged 25-34 and 35-44, mainly interested in Technology, Media & Entertainment, and News & Politics:

On the other hand, grammarly.com as an advertiser is placing its ads on other websites whose audience is mostly interested in Reference, Arts & Entertainment, and Books & Literature:

Understanding the target audience of your rivals can help you expand your own marketing funnel, test new audience combinations and attract more eyeballs to your content.
Ad Formats
In GDN, there are several types of ads: text, image, rich media, etc. By analyzing which format is used more often by your competitors, you can get an idea of the most successful ad types in your niche.
In SEMrush, the ads found on publisher websites are divided into three categories:
Media - ads containing only images (either static or dynamic)
HTML - responsive ads containing both images and text blocks
Text - responsive ads containing only text
Search by domain
We used the Advertising Competitors and Keyword Ad History reports to find potential GDN competitors of bicyclewarehouse.com. Let's take a look at one of them, bikesdirect.com, and see the proportion of ads this domain has ever placed in GDN (since 2013):
And, to see the current ads breakdown, we'll go to the 'Ads' tab and get an overview of how the situation has been changing over the last 30 days:
We figured out that during the last month this advertiser didn't run HTML ads at all, but began to show some activity in November. It could mean that this format didn't work well for them, but they had recently decided to give it another try. This is a reason to stop and see if the same is happening to other websites in your niche.
Also, it is a signal that this domain may have some well-performing media ads which are worth exploring (and we will get to this later).
If you are running campaigns in different countries, the 'Location' filter will provide you with more information to reflect upon. For instance, we found some interesting trends concerning ad formats in the US and the UK:
We see that this advertiser has never used HTML ads for the UK, while in the US this format is widely used. So you might want to dig deeper to see if this is typical for other websites. And if it is, you have two options: stop offering responsive HTML ads to your British customers or, on the contrary, try experimenting with this format in your campaigns for the UK.
Search by keyword
We can also search ads by a certain word or phrase. For example, we want to find ads that contain the term "bicycle". If we type this word into the search bar, we will see the "Ads" tab with a list of HTML and text ads in which "bicycle" was used by any advertiser.
In the report, we also see the total number of ads with the word "bicycle" and the Indexed Ads graph showing how actively this term has been used in ads over the last 30 days.

These insights can be a good source of inspiration for your own campaign. By analyzing popular ads that were seen most frequently, you can discover some advertising trends in your niche.
Devices
In our Display Advertising study, we found out that, when running display campaigns, advertisers tend to choose a particular device to target, based on the niche they work in. For example, desktop is the least popular device type among retailers (only 14%), while for software products it's twice as popular (28%). With this in mind, a thorough analysis of devices which are being targeted in your niche is a must.
To find out which OS and devices your competitors prefer to focus on, use the 'Device' filter in the 'Ads' tab: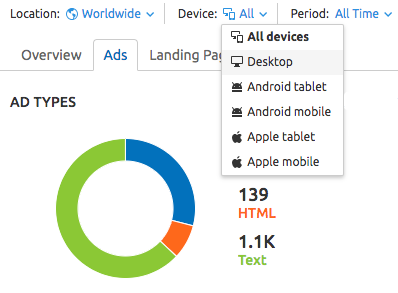 Here are a couple of insights you can find exploring the competitors of the analyzed domain:
1. Bikesdirect.com tended to place its HTML ads much more on mobile and tablet devices rather than desktop: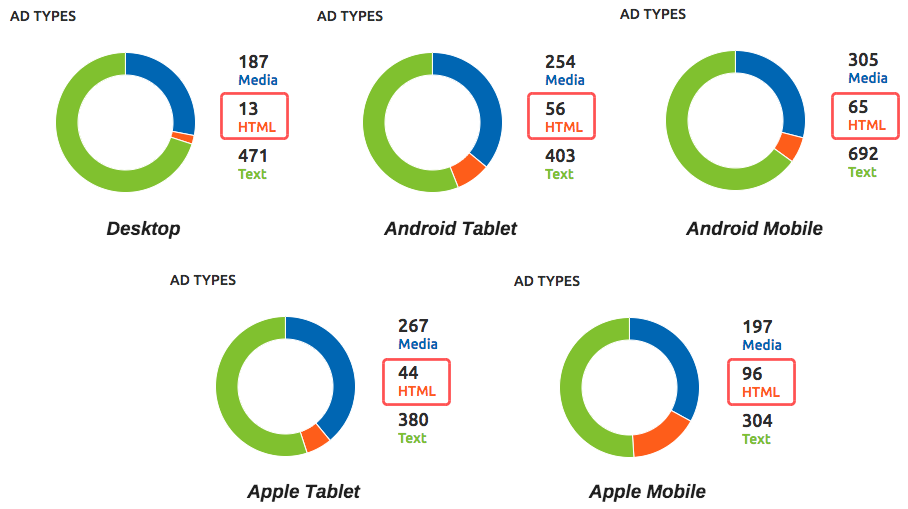 2. Modernbike.com was generally focusing more on mobile (both Android and Apple):
3. The same trend can be seen for yoeleobike.com:

This doesn't mean that targeting only mobile and tablet users (strictly with HTML ads) will be your silver bullet. But it looks like the hypothesis deserves a test.
Publishers
Choosing the right targeting option is crucial.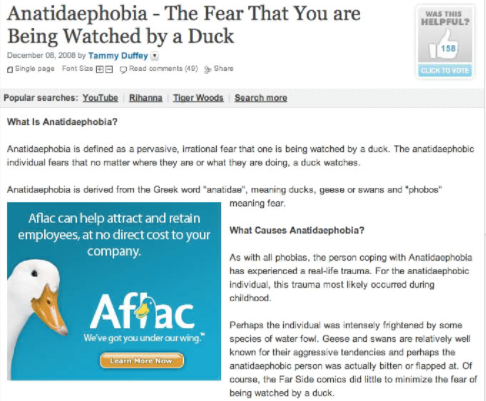 GDN's 'thing' is that it's automated to a great extent. But this can turn against you (see the picture above). However, you can minimize risks and increase the chances for your ads to appear only on relevant websites.
In Display Advertising report, you can see which websites your competitors are putting their ads on by switching to the 'Publishers' tab:

So, what should you pay attention to when exploring this report? First of all, note the publishers that have been showing the domain's ads most often. They are worth exploring because they are probably driving relevant traffic to your competitor's website.

Out of these websites climbbybike.com definitely deserves attention:
It has been one of the three most active publishers for bikesdirect.com, even though it started running the advertiser's ads only in 2016.
It has active ads right now.
The website has a thriving community of cycling fans.
Click on the number of ads in the first column to explore the ad creatives that were noticed on this publisher's website: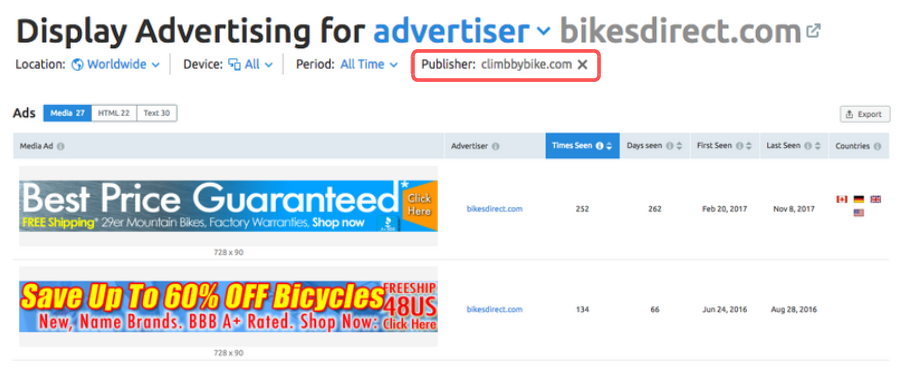 You can extract more useful data from the 'Publishers' report. Try sorting the list by the 'First seen' criterion to find interesting newly added publishers. The table below will explain in more detail which publishers place which type of ad formats (we noticed that for 8 out of the top 10 publishers of bikesdirect.com, text ads were the most used ad type):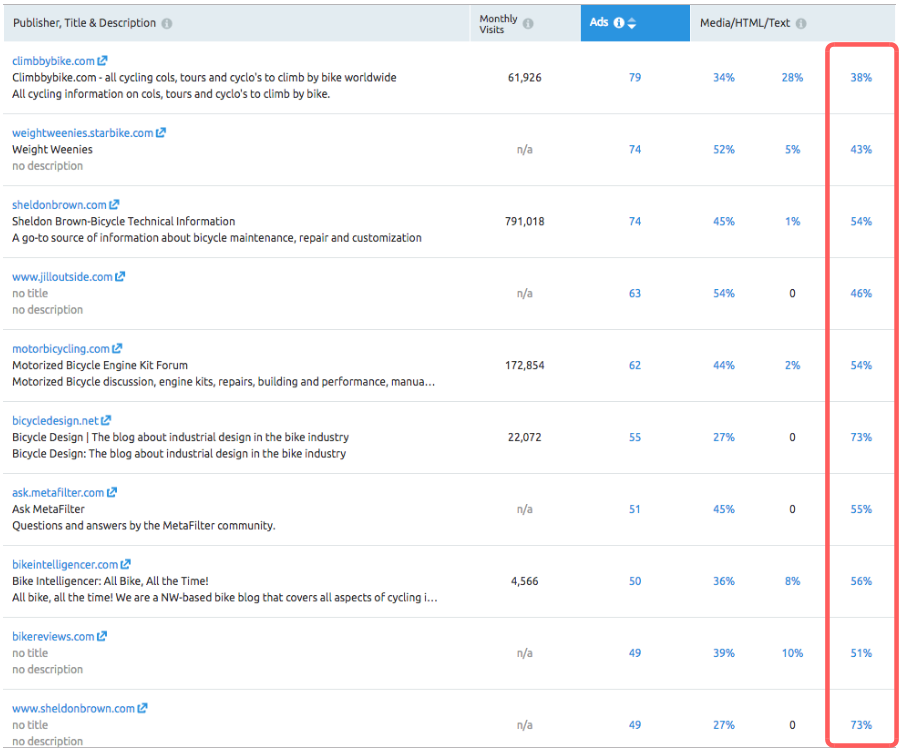 After you repeat these steps for several competitors and come up with a list of relevant publishers, add them as 'managed placements' in Google Ads.
Live Ad Examples
Now that you have an idea on the best formats to choose, devices to target and publishers to whitelist, there is a little left to do: create ads.
Growing your golden pool of CTAs, visuals and unique selling propositions take time. It also requires brainstorming sessions, noticeable investments in split tests and hours of analysis.
If you don't want to go down the long route, consider exploring which of your competitors' ads are already bringing them traffic. Go to the 'Ads' tab and sort the ad list by 'Times seen' to get the (potentially) most effective ones at the top:

For bikesdirect.com, we see that the record-holding media ad has been active since December 2014; however, the last time this ad was seen was in December 2017. Clicking on the ad will bring you to the detailed report: you'll also be able to see the landing page and the list of publishers for this banner.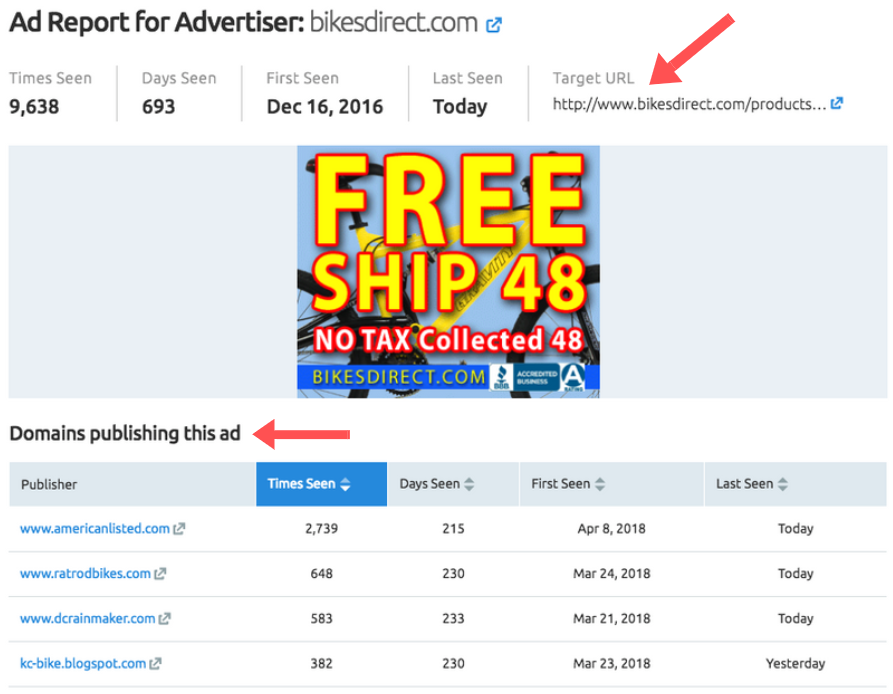 Switch to the 'HTML' tab to borrow some ideas for "mixed" ads and then to the 'Text' tab to discover the most used calls to action and USPs: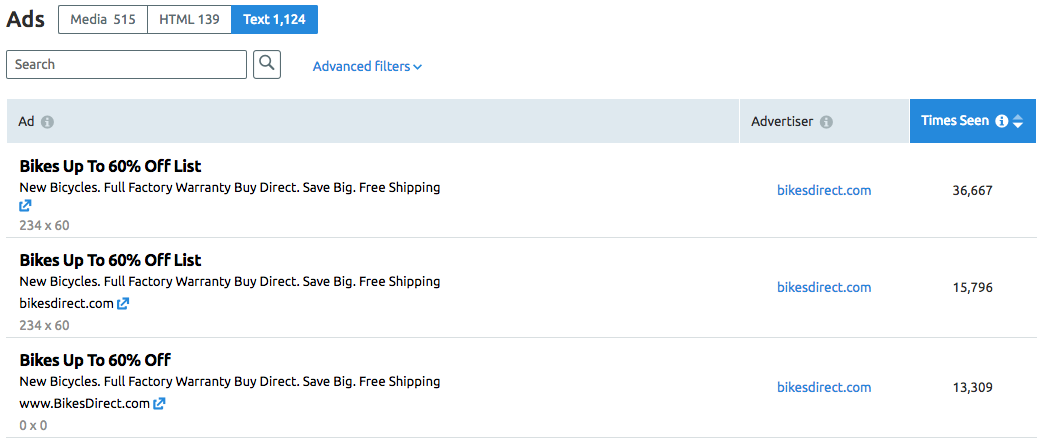 We have analyzed the most popular media ads of five more competitors and came up with some ideas on what messages seem to work best for bike retailers. 728x90 turned out to be the most frequently used ad size, and the focus on prices and discounts is obvious: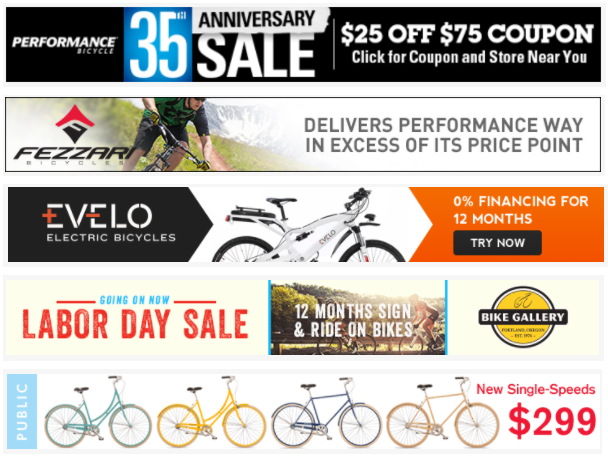 Passing the mic over to you!
The principles your competitors use for their display advertising are not the ultimate truth you are destined to follow. But a closer look at your competitors' ad strategies will definitely help you clear things up in terms of how to tweak or not to tweak your campaigns.
We'd love to hear about your experience with display campaigns and, in particular, about competitive analysis stage. Have you used others' best practices? Did they work for you? Is it common practice for you to analyze your competitors' campaigns before launching your own? Share your thoughts in the comments!