What is Competitor Backlinking?
Competitor backlinking is an SEO technique that involves analyzing and replicating the backlinks of competing websites to improve your own ranking and traffic. To find competitor backlinks, you need to identify your main keywords, competitors, and top-referring sites, and use a backlink checker tool to evaluate their quality and relevance.
Like any task in marketing, the best way to do competitor analysis is through a consistent and proven process. 
You don't need to reinvent the wheel, but you do need to do your due diligence. 
We break down the process of analyzing your competition into five main steps. The same five steps can be taken when analyzing both keywords and backlinks — two of the most important elements of SEO.
How to Do Competitive Keyword Analysis
Even though you know most of your keyword competitors, there is a chance that you could have missed a dark horse and may be surprised when thrown from the high organic positions.
1. Identify Your Competitors
The Organic Research Competitors report will compile a full inventory for you: you'll find all the big names and potentially some new up and coming competitors in this report.
To indicate how closely a domain competes with another one, we use a parameter called the Competition level.
Competition Level depends on two things: how many ranked keywords your competitor has, and what percentage of them are your common keywords.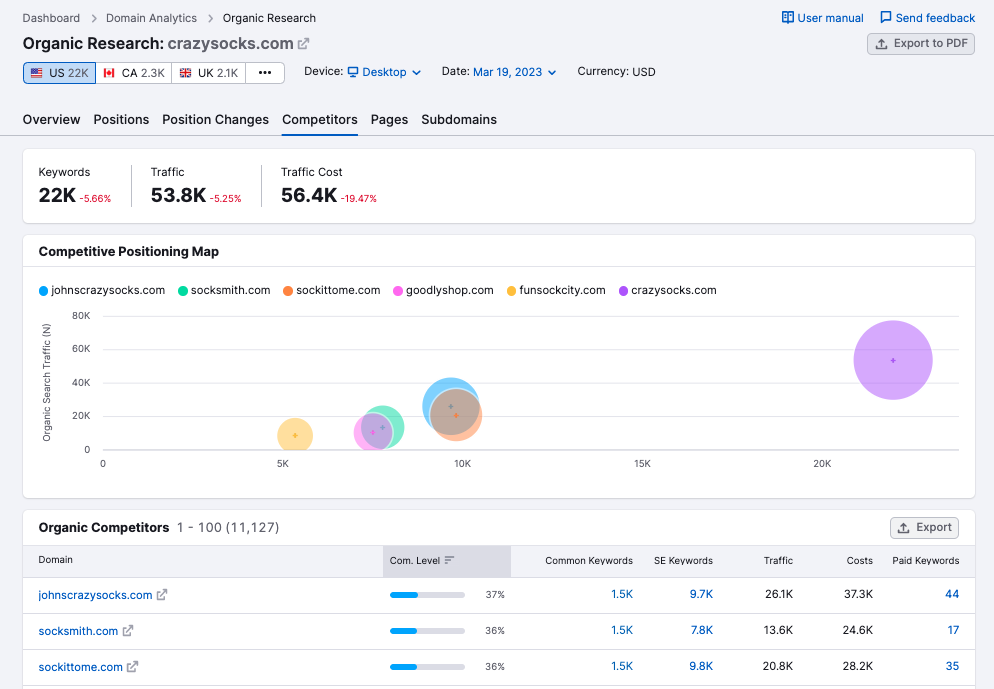 For example, if you are a travel blog, Wikipedia won't be your competitor because, in addition to all of the possible places and travel tips you have written about, it also ranks for billions of other keywords. 
On the contrary, another travel blog of similar size will be competing with you.
Pay special attention to those competitors whose sites are competing with yours the most in terms of traffic and total keyword numbers.
After you have made a list of rivals it's time to take a closer look at them. 
2. Pinpoint Their Strengths
Let's start with analyzing your competitor's new and improved keywords. You can find all this information in the Position changes report.
Spikes on the graph will let you know about sudden changes in your competitors' rankings. By clicking on a spike and sorting the results by position or using a filter, you will learn what keywords have undergone the most changes.
Their new or improved keywords may show you a potential new niche or new focus in your competitor's strategy. 
Their lost or declined keywords might show you where they were penalized and lost their positions, so there could be an opportunity here for you and your site. Keep these keywords in mind and bookmark them for step 4 when you are picking out your opportunities to get ahead. 
To do a quick SERP features competitor analysis, hit the SERP features filter above the table.
This shows you keywords where your competitor recently gained or lost a special SERP feature ranking.
In order to learn what types of content on a competitor's site were most successful in organic results, go to the Pages report.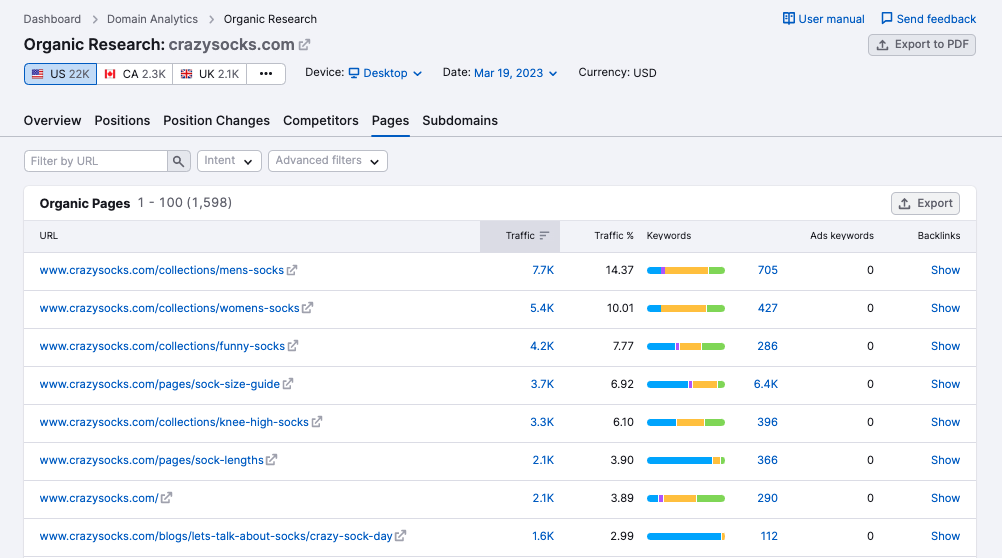 This report will show you the percentage of traffic that a specific competitor's URL gets and the number of keywords the page ranks for. You can inspect each of these listed URLs to study what their top content is about and how it is structured to attract readers and rank well on Google. 
The colored bars in the Keywords column gives you an instant look at how their top pages cover more transactional, commercial, informational, or navigational keywords.
3. See How Your Keywords Stack Up
The next step after finding out what your competitors are doing well is to look closely at the gaps between your existing keyword portfolios. 
The Keyword Gap report lets you compare up to five sites and can show you unique keywords that only one competitor has as well as all of the strong spots and weak spots for each site. 
Enter up to five competing sites in this report (including yours) to get the big-picture look at your niche.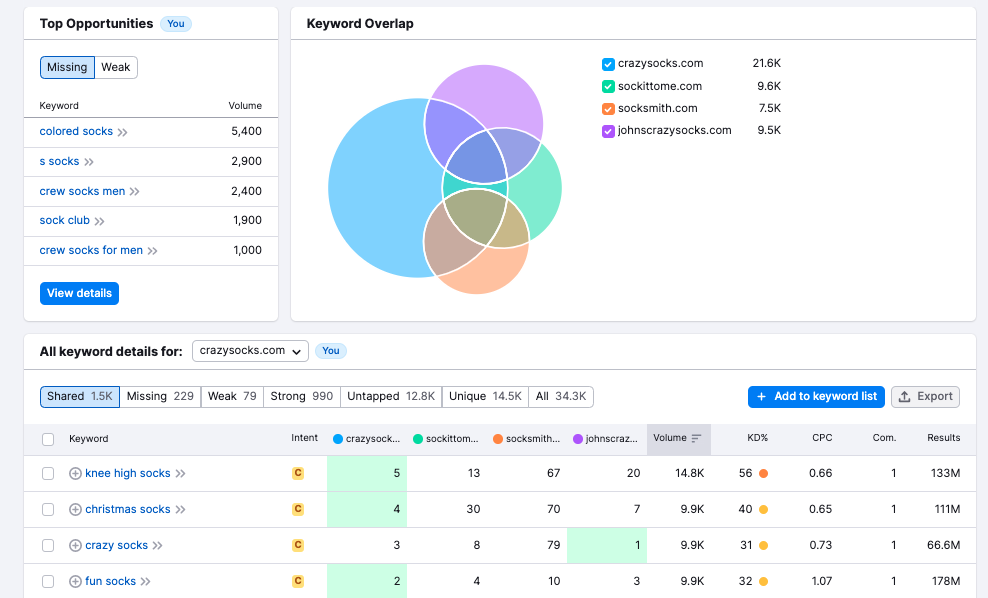 After you receive your list, you can easily apply any of the pre-set filters for quick insights. Select your site in the "All keywords details for:" dropdown to tailor the report to your site. 
Shared — keywords where all of the entered competitors have a ranking (in the top 100). 
Missing — keywords, where all of the entered competitors except for your selected site, have a ranking.
Weak — keywords where your site is ranking worse than your competitors.
Strong — keywords where your site is ranking higher than your competitors. 
Unique — keywords where only your selected site has a ranking.
All keywords — the complete pool of keywords that these sites have rankings for.
4. Find Your Keyword Opportunities
Now, by applying advanced filters, find the keywords that your competitor ranks higher than you, and make a list of those. These are keywords that need your attention right now.
Look for where your competitors are ranking in low positions in the SERPs for relevant keywords and aim to beat those rankings with your content. If they are stuck on the 2nd page you can always aim for the 1st and gain more visibility in the SERPs. 
This can be done with a position filter — with rankings between 11 and 20.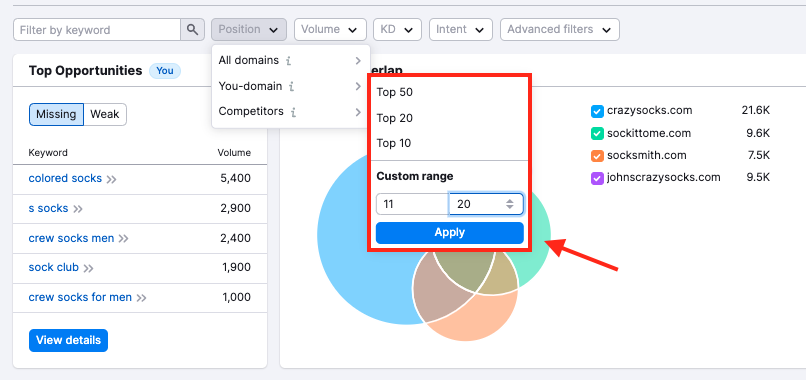 Another tactic here is to find the keywords that both you and your competitor have in common, but your site's rankings are not as strong. 
To find these, select the "Weak" filter with your site in the dropdown.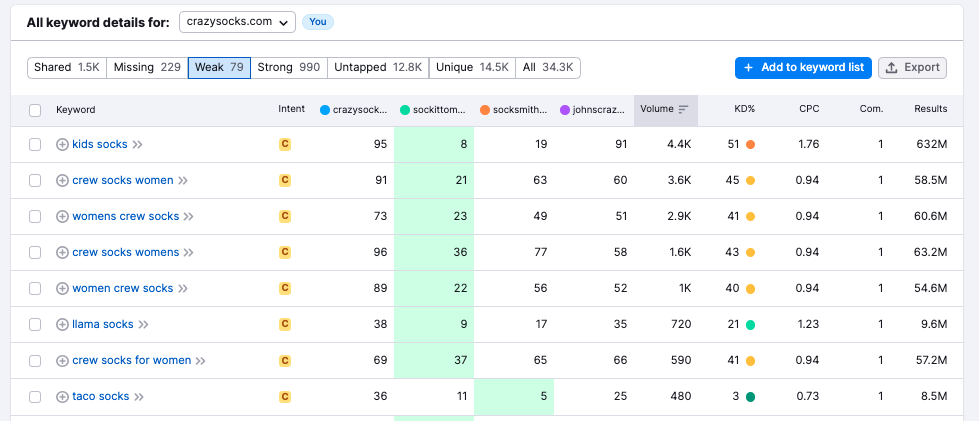 In theory, these are your "low-hanging fruit" opportunities — because you already have some ranking for them, you may just need to implement on-page SEO or improve some internal linking to give these pages a boost to compete. 
5. Report and Execute Your Next Steps
After running through the steps above, you'll want to export your research and connect your insights to the next steps for SEO success.
To save your keyword research, you can save your desired targets to the Keyword Manager for further work on your keyword master list. 
To make a PDF report to pass along your insights, use My Reports and drag and drop widgets and images of your findings. 
Find quick on-page SEO wins with the Site Audit tool and On Page SEO Checker.
For help writing new SEO content, use the SEO Content Template and SEO Writing Assistant.
Follow your improvements on the SERPs with Position Tracking.
Using Keyword Research to Improve Your Content
If you really love keyword research, you can dive deeper into the data to improve your content. Learn shortcuts for conducting keyword research in our Advanced Keyword Research Guide using the Semrush Keyword Magic Tool.
SEO Competitor Analysis: Keywords
How to Do Competitive Backlink Analysis
Studying your competitors' backlinks helps you gather new ideas for your own link-building strategy. Take a careful look at your competitors' profiles and make a list of domains on which they have already placed their high-quality backlinks.
1. Identify Your Backlink Competitors
Just like with keywords, you have to make a list of your competitors before analyzing each of them. The Semrush Backlink Competitors report shows you all of your rival domains, along with their Сompetition level. 
The higher their percentage of common backlinks, the higher your Сompetition level will be. Having common backlinks means both sites have at least one backlink coming from the same referring domain. 
This report also shows you each competitor's total number of backlinks and referring domains.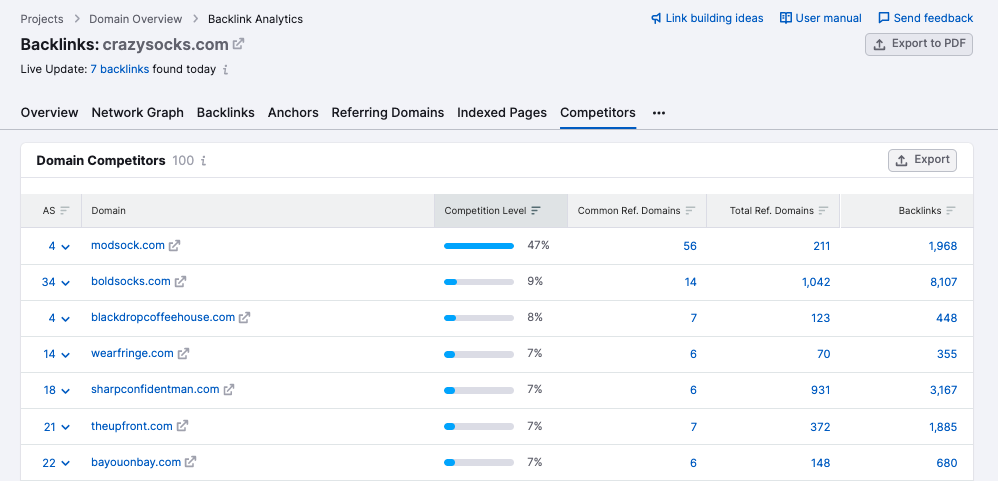 Obviously, the higher a rival's competition level is, the more relevant they are for further analysis. 
But don't only focus on this number. Another important characteristic is the backlink/domain ratio. It can show you whether your competitor makes an emphasis on building high-quality organic links, or if they resort to gray methods.
2. Pinpoint Their Strengths 
To find your competitor's best links and most-linked to content, enter their domain in the Backlink Analytics tool.
This tool gives you a handful of reports to dive into their backlinks. The Backlinks tab shows you all of their backlinks, the Referring Domains tab breaks these down by domain, and the Indexed Pages tab shows you their top pages in terms of attracting links from other domains.
By sorting your competitor's referring domains out by Authority Score, you can see exactly which links are helping them the most in terms of SEO and authority. 
The Indexed Pages report will show you which URLs on a competing domain are most popular for linking. 
Just like studying the Pages report in Organic Research, studying the URLs here the most backlinks and linking domains can help you understand how to make your content attractive to external sources. 
For example, has your competitor found a new popular content format? Do they know what type of content is often referred to in their niche? Find out!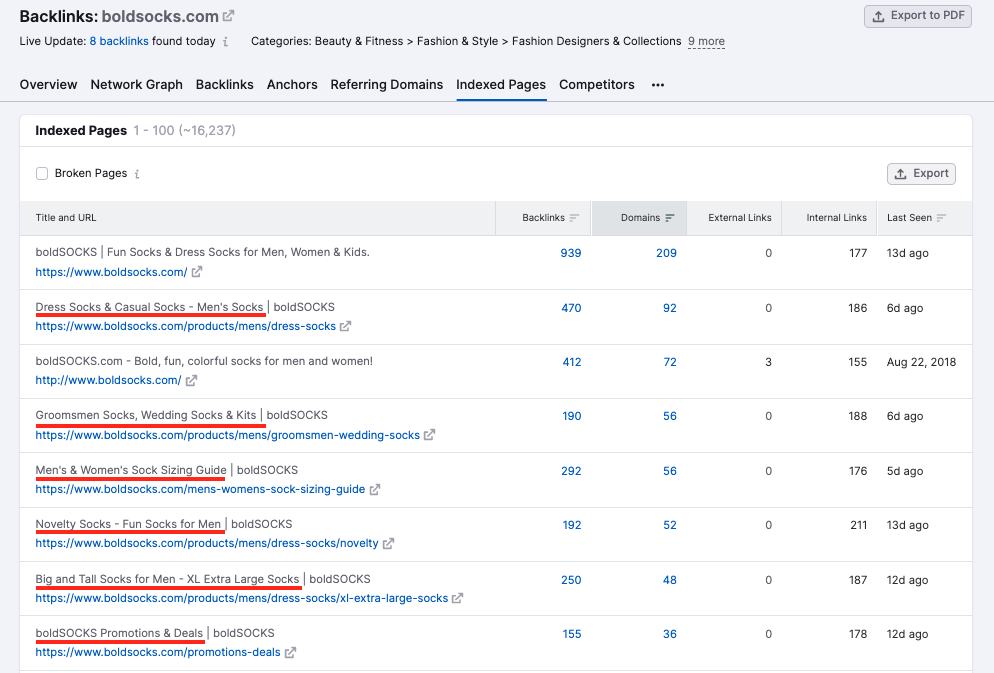 3. See how your backlink profiles stack up
The easiest way to benchmark your backlink profiles is with the Backlink Gap tool and the Overview report within our Backlink Analytics tool. Both tools allow you to compare up to 5 competing domains side by side. 
In the Backlink Analytics Overview, you can enter competitors in the input fields at the top and quickly see how many total backlinks, referring domains, IPs, and Authority Score each competitor has. 
Note that the fields will offer auto-fill options that are your site's competitors based on backlinks.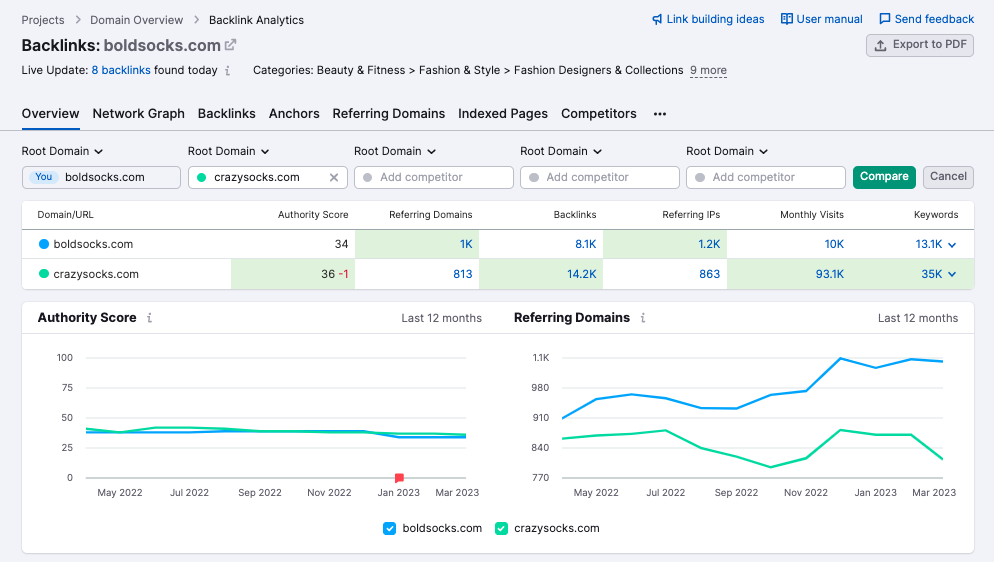 This report will give you a clear idea of how far behind you are from your competitors in terms of backlinks, or how close you are to catching up.
To see the full table of referring domains in the Backlink Gap, click on "view all domains" at the bottom of this report. 
Backlink Gap gets more specific and shows you the actual backlink opportunities that you're missing (the referring domains that your competitors have links from but your domain does not).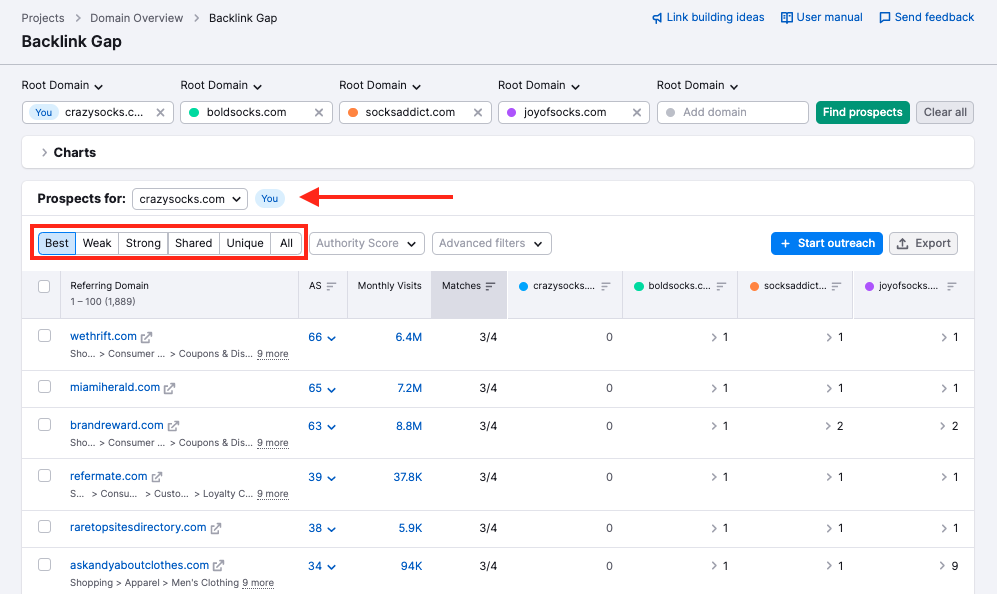 Select your domain in the dropdown above the table and you will then find all the domains that link to your competition, but not your website.
There are six filters, similar to the filters in the Keyword Gap tool.
Best — find the best prospects for your domain, based on how many of the other sites get links from this site, and the referring domain's Authority Score.
Weak — domains that link to your site less than the link to your competitors.
Strong — domains that only link to your site, and not the competition.
Shared — domains that link to all of the competitors being compared.
Unique — domains that only link to one competitor.
All — all domains that link to any of the competitors.
4. Find Your Backlink Opportunities
The best filters to use in the Backlink Gap to find your own opportunities are the Best, Unique, and Weak reports. 
The Best filter is where you should start, as these are sites already linking to your competitors, and chances are you could also get a link. 
The referring domains will be sorted by their Authority Score (AS) so you can estimate their potential impact on your SEO — the higher the score, the more potentially helpful a link will be.
The websites listed as your prospects could be your next link-building targets!
Find new and lost links in their backlink profile
Another quick way to look for quick backlink opportunities is by finding your competitor's newest and most recently lost links. 
To do this, go back to the Backlinks report, which will show you all recent changes in their backlink profiles. If you see a "New" spike, check it out. One possibility for the spike is that your competitor got a new partnership, uploaded new content that went viral, or just bought a bunch of links.
By checking "Lost" links, you can find a whole list of domains that were previously linking to your competitor, but for whatever reason are no longer. 
Perhaps the links are now broken, or the referring domain changed their page content and removed the link. Either way, you can take this as an opportunity to reach out and offer your site as a replacement link.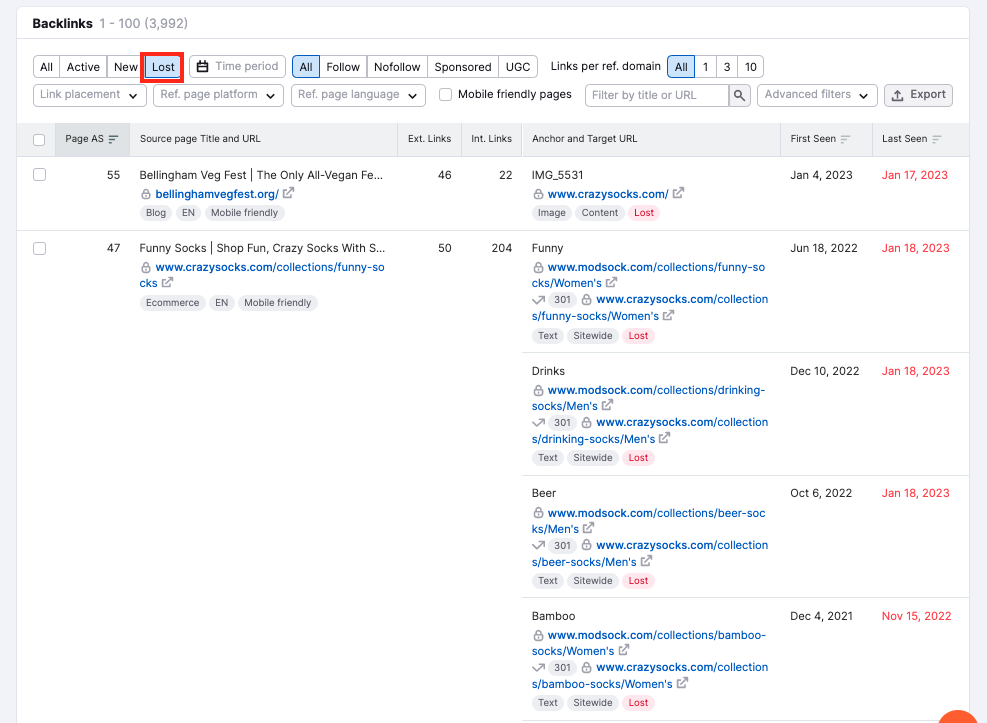 5. Report and Execute Your Next Steps
Now that you have some idea of a benchmark for backlinks in your niche and a list of link-building prospects, here's what you can do next. 
Create a PDF report with widgets from Backlink Analytics and images and screenshots to pass along your insights in My Reports.
Export your list of link-building prospects from the Backlink Gap tool.
Start a Link Building Tool campaign in a Semrush Project.
Upload the list of your prospects from the Backlink Gap into the Link Building Tool.
Conduct outreach from Semrush by crafting email pitches and responding to webmasters via a connected inbox in the Link Building Tool.
Run a Backlink Audit to keep track of your backlink profile's overall health and potentially dangerous backlinks.
Learn more about building your backlink profile with Semrush in this post.
Final Thoughts
With so many tools in hand, you have no excuse but to start analyzing your competition right now! Your journey will take time, careful guidance which we are happy to provide you with, and finally your determination to succeed.
Be sure to let us know how you get on in the comments below! Have any tips for SEO competitive analysis? Please feel free to share!