We all know content is king in this modern age of SEO. So, anticipating a quick boost in sales, you created a new blog post and, sure, it's absolutely epic. Then you pressed the "Publish" button in the CMS and…well, pretty much nothing changed. But why?
No doubt, every king needs a queen to rule in peace and harmony. The same is true in the digital kingdom — even articles with great potential tend to be loners if they're not properly distributed to end users. And this was the topic we discussed in our recent #seocafe chat with Doyle Buehler.
Follow this short recap for expert tips on content promotion.
Ok, It's Published. Now What?
As informational queries are usually the very reason users even interact with major search engines, there's an excellent chance that unique and well-crafted content can turn this interest into conversions. Moreover, content is often considered to be helpful for building a community around your brand, service or product. But first, you must learn how to turn your efforts into so-called "content unicorns" – pieces that lead to lots of new traffic and conversions.
Let's get back to the example in the introduction of this article: what should be done right after you click "Publish?"
Look at other platforms where you can post your content.
The wider the reach, the more likely the article, post, tweet or whatever else will meet the right audience. As you monitor your users' interests, you'll notice a lot of differences in how they how they spend their free time or their time at work.
Recycle promising content on a regular basis.
For example, let's assume your article covers pricing calculations. Then someday the numbers change and the whole article is of no use anymore. Else one of your users left a comment that deserves to be included in the article body.
A1 don't forget to Schedule the content over time so that it is not a one-hit wonder #seocafe

— Doyle Buehler (@doylebuehler) December 29, 2015
We saw a lot of examples of blogs and social media profiles getting weak after one success with a single piece of content, blog or social media profile.
This usually happens when too much energy is wasted on creating just one article or blog post. You should always plan future publications on a weekly or even a daily basis. Above all, it's also a signal to search engines: "Hey, I'm here and I'm developing!"
People don't want more content - they want better content @semrush https://t.co/7kukGOiZfO #seocafe

— Doyle Buehler (@doylebuehler) December 29, 2015
Paid content distribution can work in the right circumstances.
Paying for content distribution is a good opportunity to reach as many potential buyers as possible, but it's only worth it if you are sure that you're targeting the right audience. So, allocate your promotion budget accordingly and monitor your content's success.
Don't forget link building.
Build and earn links to the promoted content by sharing it with social media opinion leaders and on platforms that are popular with your users.
Do You Utilize Low-Cost Content Distribution Strategies?
Budgeting is a typical pain point for small businesses and startups.
A2: the beauty of internet marketing is that the most effective platforms don't cost much of anything except time! #seocafe

— Anthony Randall (@tonyxrandall) December 29, 2015
With the development of new tools and platforms, a lot of new approaches to content delivery have appeared. In most cases, you may have to do a lot things manually or deal with limitations, which wastes a lot of your time. And as we all know, time is money for the marketer.
Doyle shares his most affordable yet simple tactic:
Don't forget - Find your influencers followers and find their pain - suggest where they can go to get help @semrush #seocafe

— Doyle Buehler (@doylebuehler) December 29, 2015
Experts emphasize that the quality of low-cost free tools is, in general, significantly lower than paid tools. Instead of searching for a two-dollar silver bullet, they suggest focusing on building a community around social media, rather than your website – it's cheap and helps in many different ways.
How Can Marketers Prolong the Lifespan of Their Content?
A good distribution model requires that you reuse content, mainly because it takes a lot of effort to create really epic things, so it would be a shame if all your investments went down the drain. The lifespan of your content shows how much you care about its existence and, in turn, how much you care about your readers and buyers.
You still need to be "active" not passive with content - @tonyxrandall @semrush @doylebuehler actively engage. share. post. repeat #seocafe

— Doyle Buehler (@doylebuehler) December 29, 2015
Your content should be adapted for other channels, e.g., it could become a webinar, infographic or SlideShare presentation.
What Are the Top Marketing Sources To Discover New Ideas?
Content marketing is all about finding new ideas, delving into new information or problems, and preparing a perfect solution that considers your audience's interests. The most popular source for new ideas is social media. 
A5 It can be random like reviewing twitter and facebook @semrush - if you are truly interested in the content of your audience #seocafe

— Doyle Buehler (@doylebuehler) December 29, 2015
But before looking for insights, you need to clearly understand exactly what to look for. To make your research more specific, stick to your keywords, trending hashtags and your audience's complaints or problems to determine the pain points your content should be relieving.
Social media platforms like Twitter, Facebook, Quora and Reddit, as well as tools such as BuzzSumo and Buzzfeed, can become your ultimate weapons in the marketing war.
What Techniques Worked Best in 2015?
The list of available channels has become incredibly long. The recent success of Medium and LinkedIn Pulse emersion are good signs for marketers that are looking for new ways to better distribute their content. The biggest mistake you can make here, however, is to rely only on one channel, instead of distributing your content all over the Web.
Don't forget – the more people see your well-crafted content, the more likely they will be to engage, comment and ultimately convert.
A6 - a presentation becomes a podcast becomes a video becomes a slideshare becomes and infographic @semrush @doylebuehler #seocafe

— Doyle Buehler (@doylebuehler) December 29, 2015
Expand the life of your content by determining ways it can be used over and over again. Remember, all new ideas are actually old, "re-thought" ideas. Learning about competitors' distribution strategies will also help you understand what should be done next and how exactly to go about it.
A6. Twitter Hashtag campaigns and TwitterChats, FB boosting and video content creation and sharing! #SEOcafe https://t.co/44VY4C8CDP

— Moin Shaikh (@moingshaikh) December 29, 2015
Engaging even 20 percent of your audience in a conversation is a 100 percent opportunity to get the attention of the other 80 percent, so invest more in chats and webinars. Promoting content through emails and paid advertisements is also a good way to get more attention.
A6 Email, paid and #socialmedia but it can depend on content to content basis #SEOcafe https://t.co/pQObWeJhFn

— Varun Kumar (@varunkr842) December 29, 2015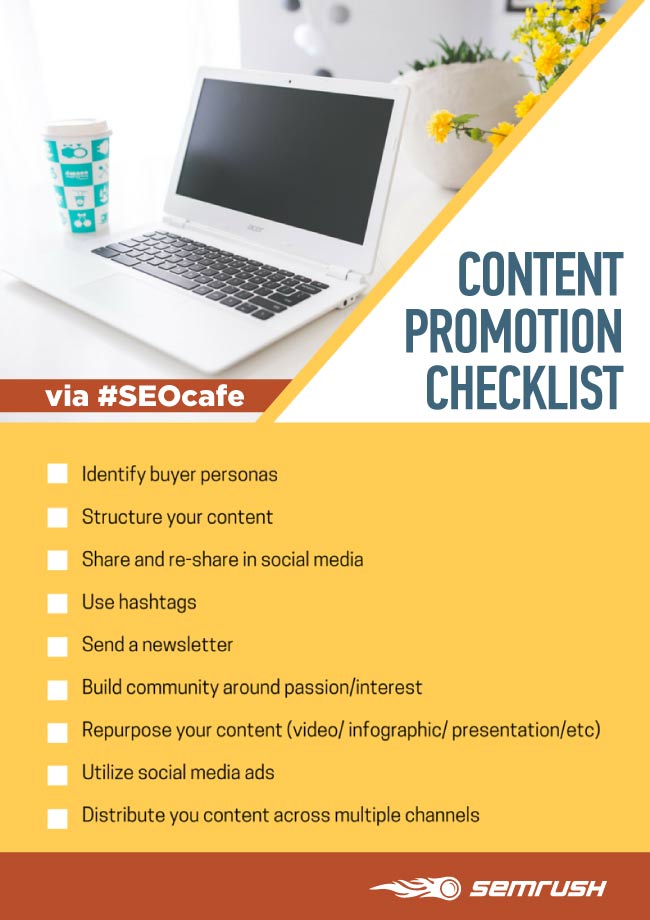 Do you have any content distribution strategy tips of your own that really work, or do you still have questions? Please share them in the comments section below!