Content marketing is more lucrative than ever in 2023. 
How do we know? By surveying 1,700 marketers and business owners about their efforts in this area. 
They were generous enough to give us their feedback once again. As a result, we have compiled this data into the comprehensive State of Content Marketing: 2023 Global Report. 
Below, you'll find over 100 content marketing statistics that showcase the most important industry trends and benchmarks.
Without further ado, let's get started.  
Content Marketing Strategy Statistics 
As Semrush Director of Organic Search Kyle Byers stated, "Understanding what your audience needs and values will be your key to content marketing success in 2023." 
He's right. Our statistics show that this is one of many essential factors influencing content marketing success. 
When asked "What factors lead to success in content marketing," here is what the survey respondents had to say: 
47% research their audience 
46% perform search engine optimization (SEO) 
45% are publishing more content and publishing more frequently
44% said improving the quality and value of their content has led to success 
42% said updating existing content has boosted their content marketing value 
41% said analyzing their competitors influenced the success of their strategy 
40% said creating more visual, and video content improved their content marketing 
In addition to these necessary content marketing components, respondents had a lot to say about which tactics boost content ranking the most: 
55% create more content and post more frequently 
53% are focusing on improving the quality of their content 
37% are prioritizing research-driven content 
36% said they are improving their technical SEO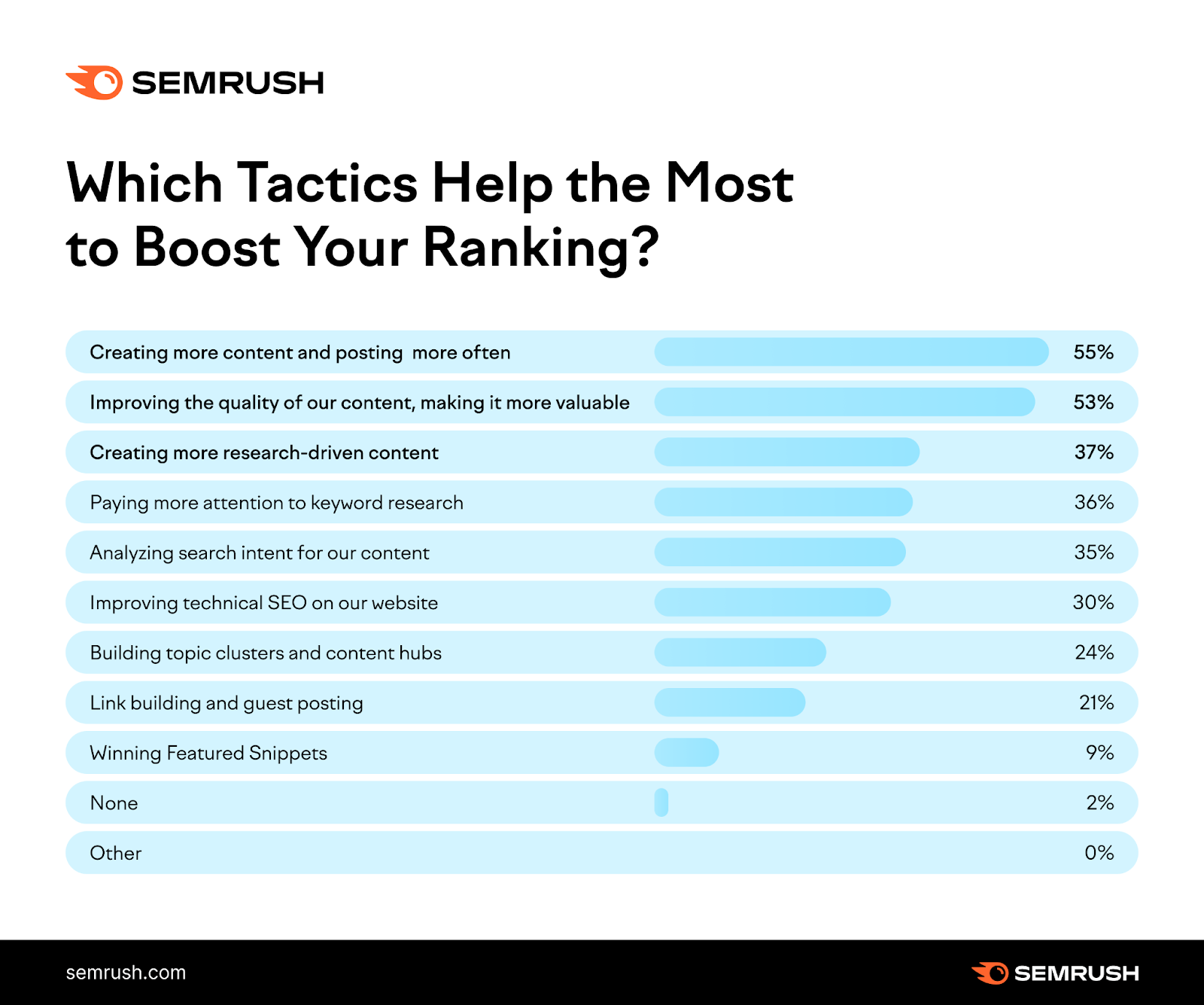 Takeaways 
Content quality and frequency are top-of-mind in 2023. It's not enough to churn out long-form post after long-form post without research. Careful planning and data analysis will help you rank higher than your competitors who aren't doing those things. 
Content Marketing Budgets
Budget will play a significant role in content marketing this year. Michael Brenner, CEO at Marketing Insider Group, predicts, "Proving return on investment will be a principal aim" in 2023. 
With that in mind, here is what respondents had to say about their monthly content marketing budgets: 
27% spend less than $1,000 
19% spend $1,000-$3,000 
20% spend $3,000-$5,000 
17% spend $5,000-$10,000
10% said they spend $10,000-$20,000
6% said they spend over $20,000 
These statistics suggest many marketers, businesses, and agencies are hesitant to spend large sums on marketing. 
But some promising trends are emerging for 2023. 
69% of businesses plan to increase their content marketing budgets in 2023—that's pretty impressive. 
The top responses were: 
A medium increase of 11%-25% in spending (28% of respondents)  
A slight increase of up to 10% in spending (25% of respondents) 
The budget will stay the same (21% of respondents) 
A significant increase of more than 25% (16% of respondents) 
Surprisingly, only 3% of respondents said they would decrease their content marketing budgets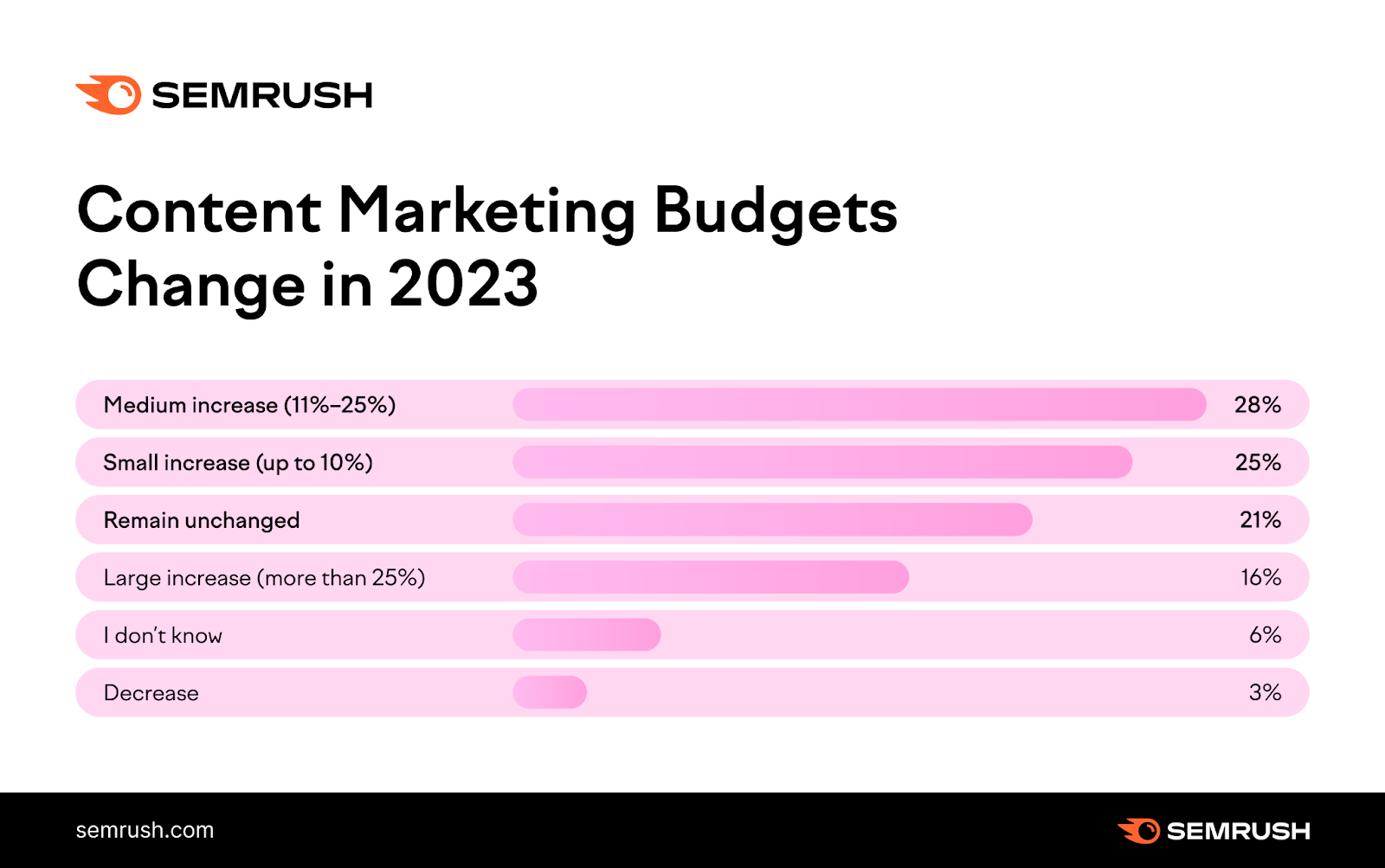 Takeaways
So, even with a potential global recession looming over many businesses, marketers have identified that spending more, not less, on their content marketing is a crucial business decision in 2023. 
Content Production and Content Teams 
Julia McCoy, VP of Marketing at Content at Scale, predicts, "Businesses will look for reliability over novelty." 
She continues:
AI tools like ChatGPT will help brands scale production but generate tons of low-quality content. Brands will need original, human-researched content to stand out.
So, content generated by reliable human content specialists and content teams—whether it be an in-house resource or an agency—is still a good investment. 
A human touch is needed to do more than just write. When asked which tactics best help propel blog content in the SERPs, respondents ranked them: 
Researching and adding related keywords in addition to primary keywords (45% of respondents) 
Analyzing and addressing customer questions in their blog posts (38% of respondents) 
Adding more visuals—such as images and videos—to their blogs (33% of respondents) 
Doing in-depth search intent analysis before writing (27% of respondents) 
Working on link building for their blog posts (26% of respondents) 
As McCoy says, AI can only take your content so far. 
So, what else does a content team do? Take a look at some of the content-related responsibilities our research identified: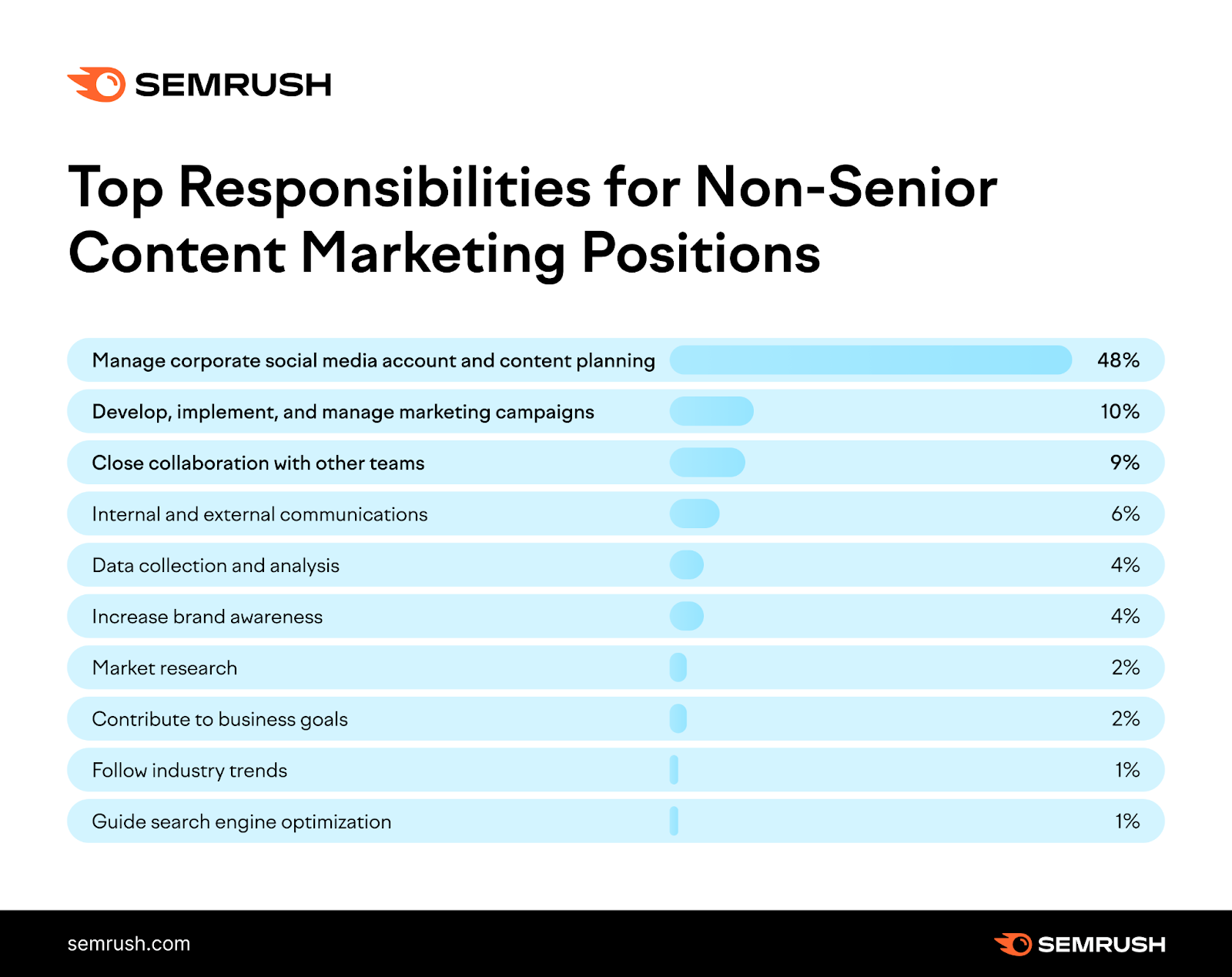 The numbers make sense. AI tools can help refine content production, but they don't innovate. 
For example, ChatGPT's information comes from the internet before 2021. And 48% of non-senior content team members are responsible for the planning and strategic elements of social media and other assets. 
Takeaways
Having someone who can optimize posts by adding in videos, conducting user search intent research, and other nuanced content-related tasks is vital to producing the kind of content your users want to read. 
Content Promotion 
Identifying a successful amplification strategy for your content in 2023 will involve a multi-faceted approach. 
Our survey respondents cited several channels that have the highest impact when it comes to content reach. 
Some of these may be a surprise, while others might be things your business is already using: 
73% use social media (organic posting) 
53% use email marketing 
51% invest in paid social media ads 
33% invest in organic research 
29% prioritize sponsorships (events, webinars, podcasts) 
28% use PR and media outreach 
25% leverage influencer marketing 
11% use guest posting for their content promotion 
When it comes to organic promotion channels, our research also showed that social media is the most popular tactic (56%). 
Interestingly, ptimizing content for search is in second place with 32% of respondents. 
It also seems that marketers are beginning to see the value in optimizing their content for aggregate sites like Reddit (16% use this as a promotion tactic). 
These aggregate sites rely on user-generated content, which is often seen as more trustworthy in customers' eyes. 
In 2020, Reddit hit 52 million daily active users, up 44% YoY. As its popularity grows, so will the number of searchers using the site to look for honest product and service reviews. 
Takeaways
Overall, we saw that 63% of respondents use paid channels to accelerate their content distribution. But organic promotion is still relevant, especially on social media. 
73% of respondents shared they use organic social media channels to promote their content. 
Yet another reason to make room in your budget for a holistic content marketing strategy. No one thing—organic or paid content marketing—will help you boost the signal on your content. 
Our top tip: Approach your promotional efforts from several angles to get the best ROI on your marketing spending. 
Content Audits 
Content audit—a phrase that can sometimes strike fear in the heart of a marketer. 
But content audits don't have to be terrifying, especially when you have the right tools and knowledge to refine your approach. 
Those we surveyed saw improvements in a couple of key areas after performing a content audit, such as: 
53% in engagement rate 
49% in rankings and traffic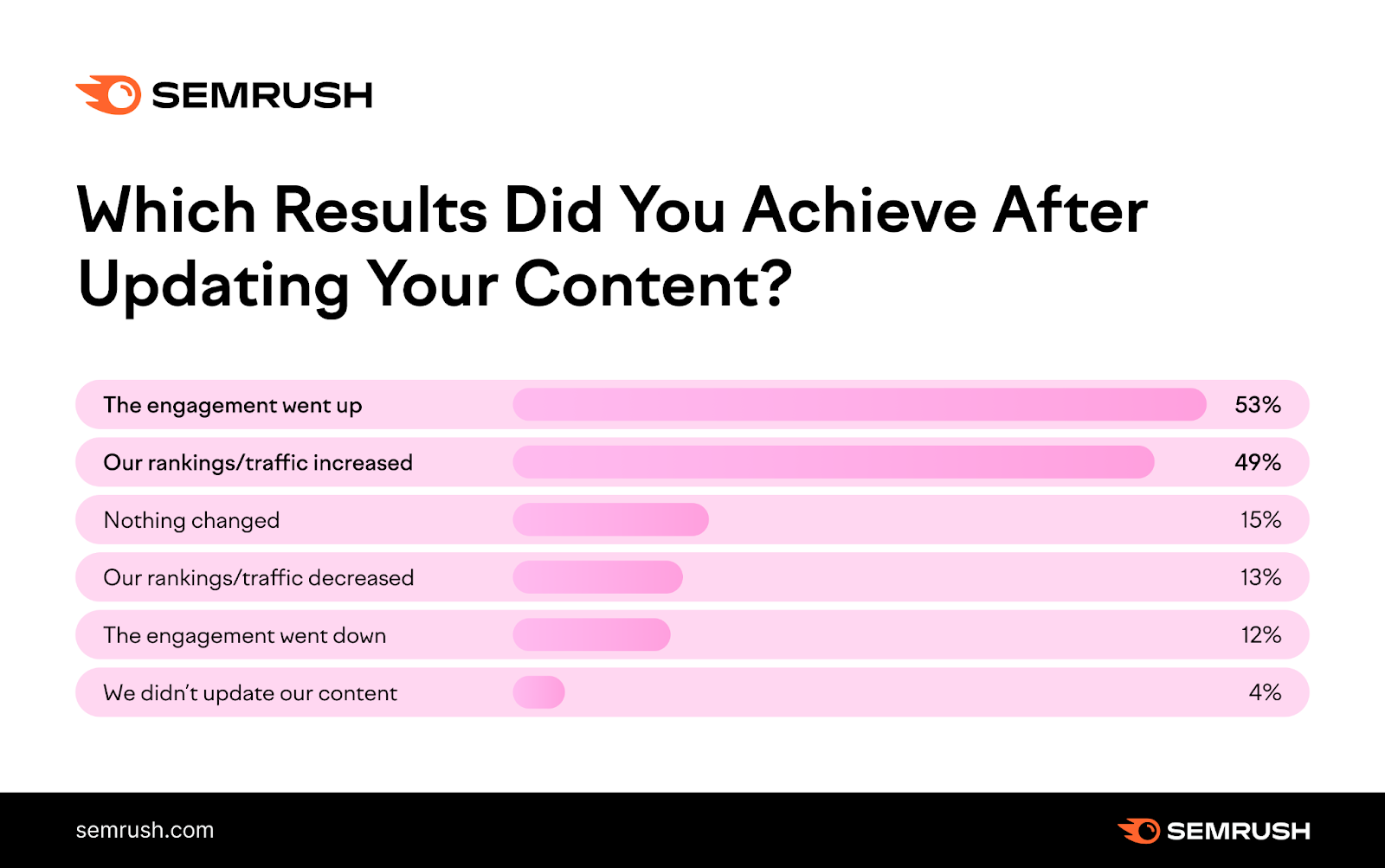 Furthermore, the frequency of audits varied among respondents: 
33% do an audit twice yearly 
24% do only one yearly audit 
21% do an audit more than three times a year 
16% never do content audits 
Only 6% do content audits every two to three years 
Out of the companies reporting they were most successful in content marketing in 2022, 61% conducted audits more than twice a year. 
So, how should you determine your content auditing frequency? 
You may find that your business only generates enough content to warrant one audit a year. Or maybe you have a large ecommerce site that requires a lot of content audits and maintenance. 
Takeaways 
In 2023, there is no one-size-fits-all approach to content auditing.
You might have to experiment to find the right frequency and depth for your audits. While a content audit rarely wastes time, it can strain your marketing budget. 
Be mindful of how much time and how many resources you invest in this effort. 
Content Performance
Measuring the performance of your content is practically non-negotiable. Especially if you have a tight budget or a small in-house team in charge of creating and publishing content for your business. 
In this instance, ensuring your content is performing well will make it easier to justify additional spending on your content marketing strategy. 
Regardless of company size, of those that reported extreme success in content marketing, 70% said they do indeed measure content marketing ROI. 
However, in the overall survey results, only 54% of all businesses engage in this practice.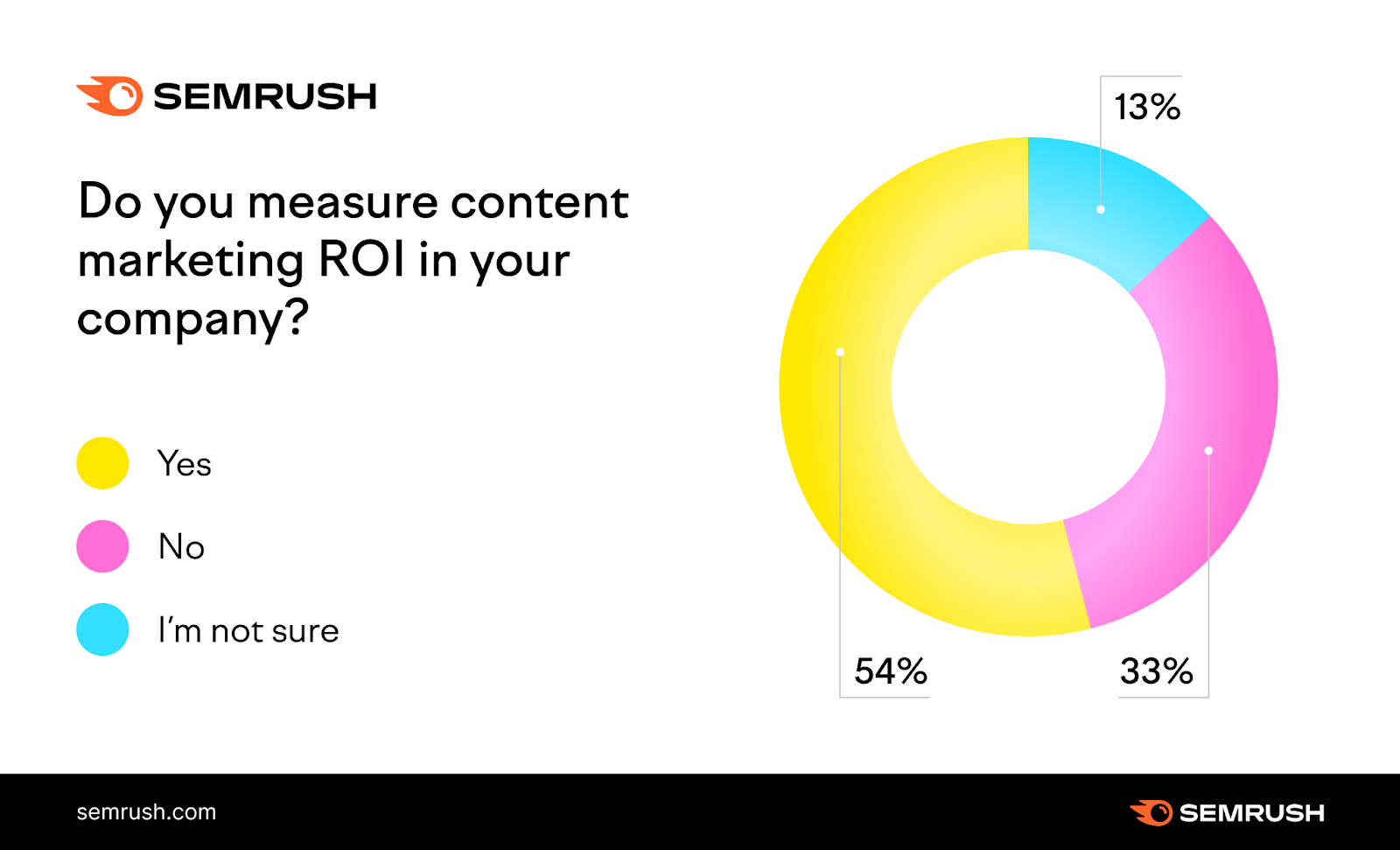 And 61% of respondents believe they are at least above average at measuring their ROI.
Measuring performance goes hand in hand with your intentions for your content. Respondents to our survey had some practical goals for their content marketing.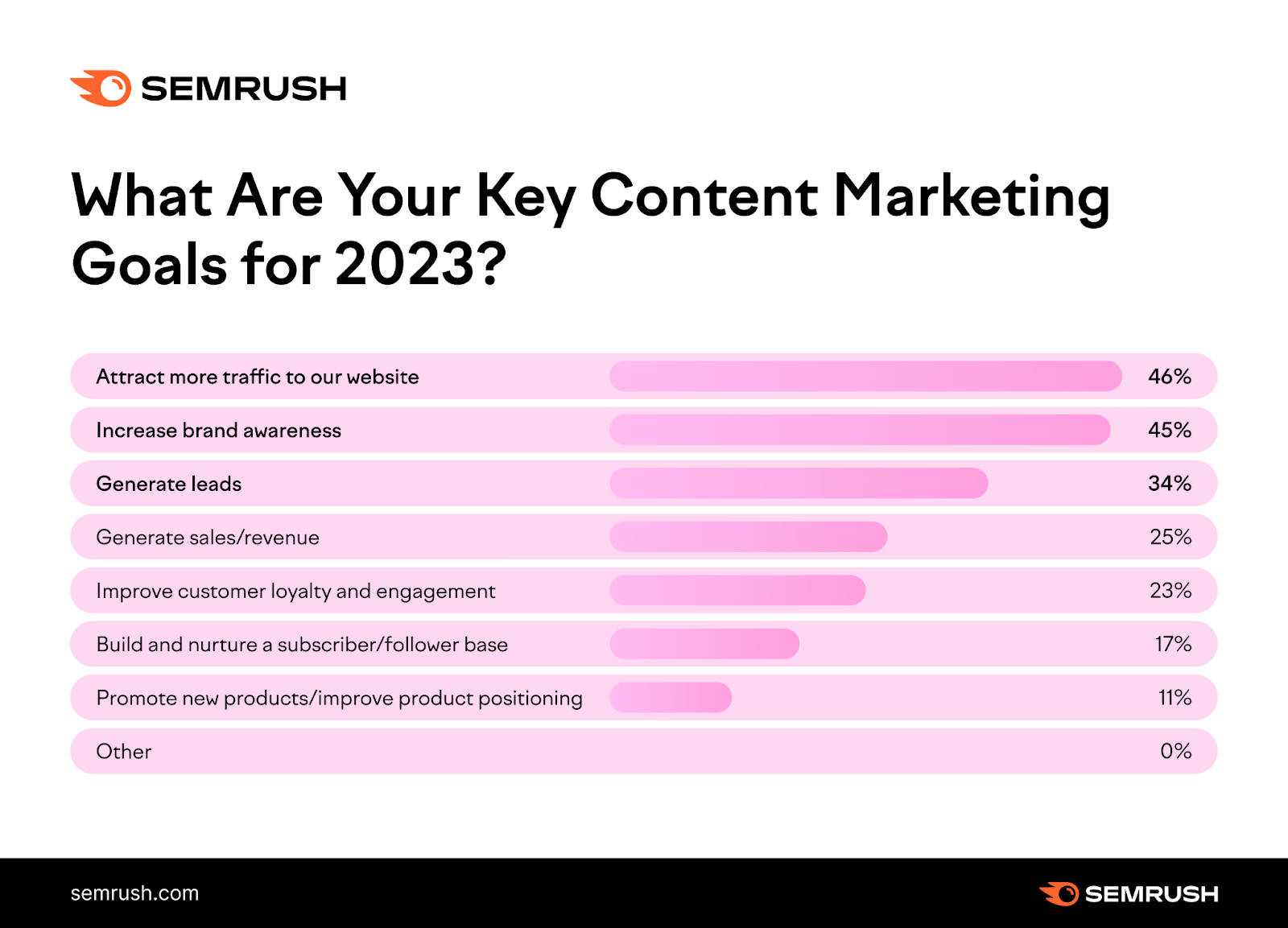 How they measure that ROI was also an interesting find. Take a look: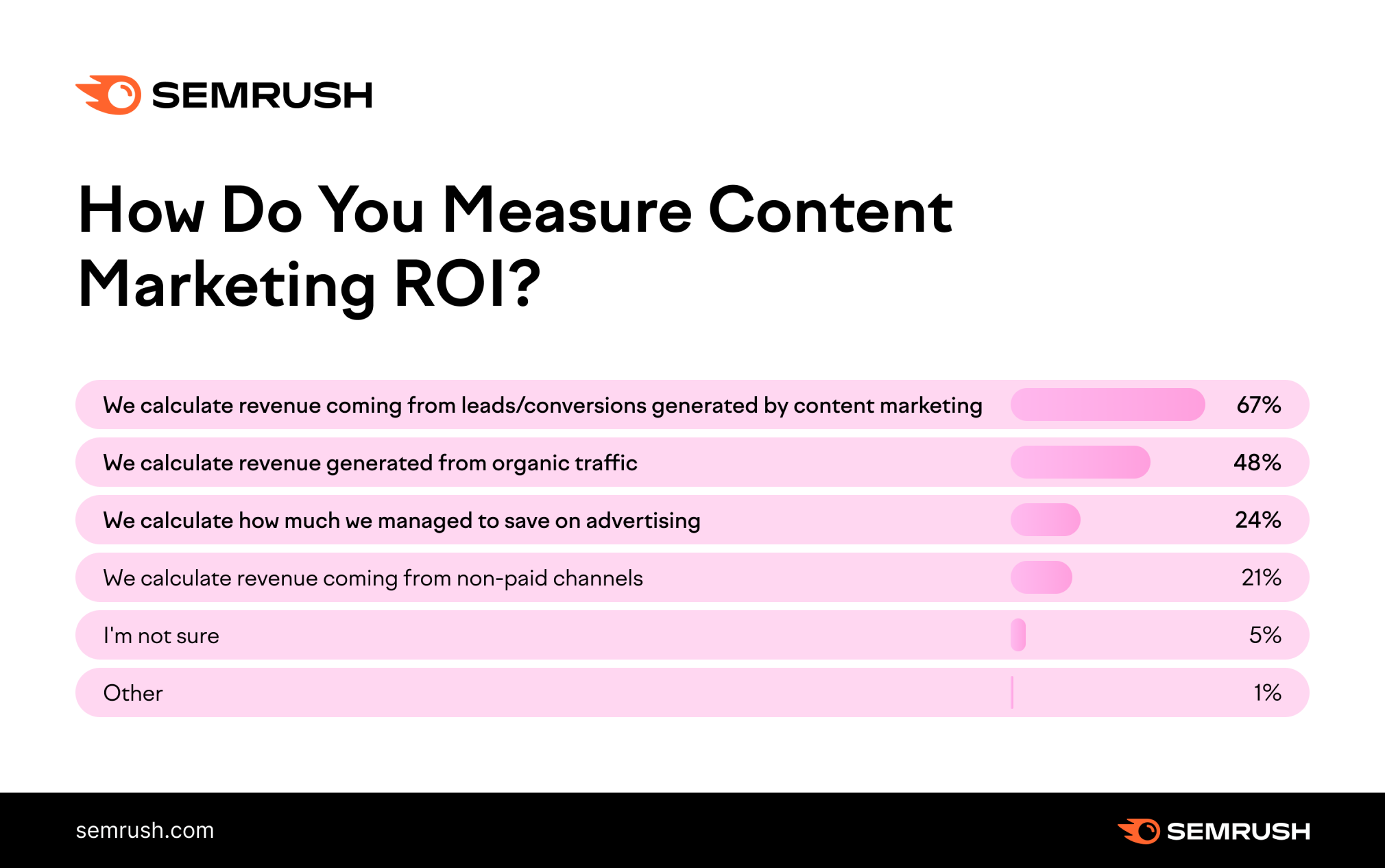 It seems most respondents do a straightforward calculation of revenue vs. measuring leads and conversions generated by content marketing (67%). 
However, 24% of respondents are wisely looking at what content marketing can do for their advertising budget. 
Takeaways 
The majority of successful companies believe they are effectively measuring their ROI. If you're not measuring it yet, you should be in 2023.
Companies are also spreading out their ROI efforts among content marketing, ad spend, and organic channels.
This suggests that taking a multi-faceted approach to measuring ROI can help you make better decisions about where to invest your spend.   
Chances are your competitors will be focusing on these areas as well. 
Content Optimization 
Content optimization is a mixture of art, science, and some stellar SEO practices. 
Let's focus on SEO. How much is your business investing monthly in this tactic? The most recent research from BrightEdge shows that 53% of businesses get their overall web traffic from organic search. 
The 2023 State of Content Marketing report also found that some articles perform better than others, based on what type of common query or SERP feature the content is optimized for. 
We reviewed half a million English language articles with 30,000 to 500,000 average monthly organic views through September 2022. 
Taking a look at organic traffic, social media engagement, and backlinks, we averaged the metrics and split them into three areas: high-performing (20%), average-performing (60%), and low-performing (20%) articles.
The report also found that newer, fresher content performs better in search. 27% of high-performing content was a month or less old. 
Readability was also a vital performance indicator. Here's a look at the readability level for each of those.
High-performing content offers either a standard reading experience or a fairly easy one. 
So, simply stuffing content into a blog for the sake of length will probably end up hurting your content efforts. 
Pay attention to the reader's experience and offer only the information they seek. This provides the best readability. 
Takeaways 
The "Everything You Need To Know" titles and comparison articles generate the most organic traffic on average. 
This presents an opportunity: While these article types get the most traffic, they're uncommon. Only 0.4% and 0.8% of all articles are written in this content format. 
The data also shows the more readable an article is, the more likely it is to perform well. Only 17% of high-performing blogs were found to be very difficult to read. In contrast, 33% of high-performing blogs were fairly easy to read.  
These results highlight the importance of craftiness in content optimization. If you gear your content toward answering your audience's search requests more thoroughly than your competitors, you will win their attention first. 
Content Marketing Jobs 
Are you ready to build up your internal content marketing team? Or are you looking to get a better understanding of what the job market looks like for content? Our report has some data you will want to see. 
Using keyword-related searches within Indeed.com, we compiled and refined over 85,000 job listings into a more focused group of 10,000 job listings. 
Of those 10,000 listings: 
50% were content marketing manager roles
26% were content marketing specialists 
8% were content marketing director roles 
5% were content strategist roles
4% were copywriter roles 
The top three desirable qualifications among senior-level content marketing positions were:
Excellent written and verbal communication
6 years of relevant experience 
Relevant bachelor's degree 
Similarly, the top qualifications for non-senior marketing jobs were:
Relevant bachelor's degree
Excellent written and verbal communication
Strong time and project management skills
Three years of relevant experience
Senior positions had a heavy writing (29%) and analytics (25%) focus, while writing (61%) and video (40%) topped the skills requested for non-senior positions.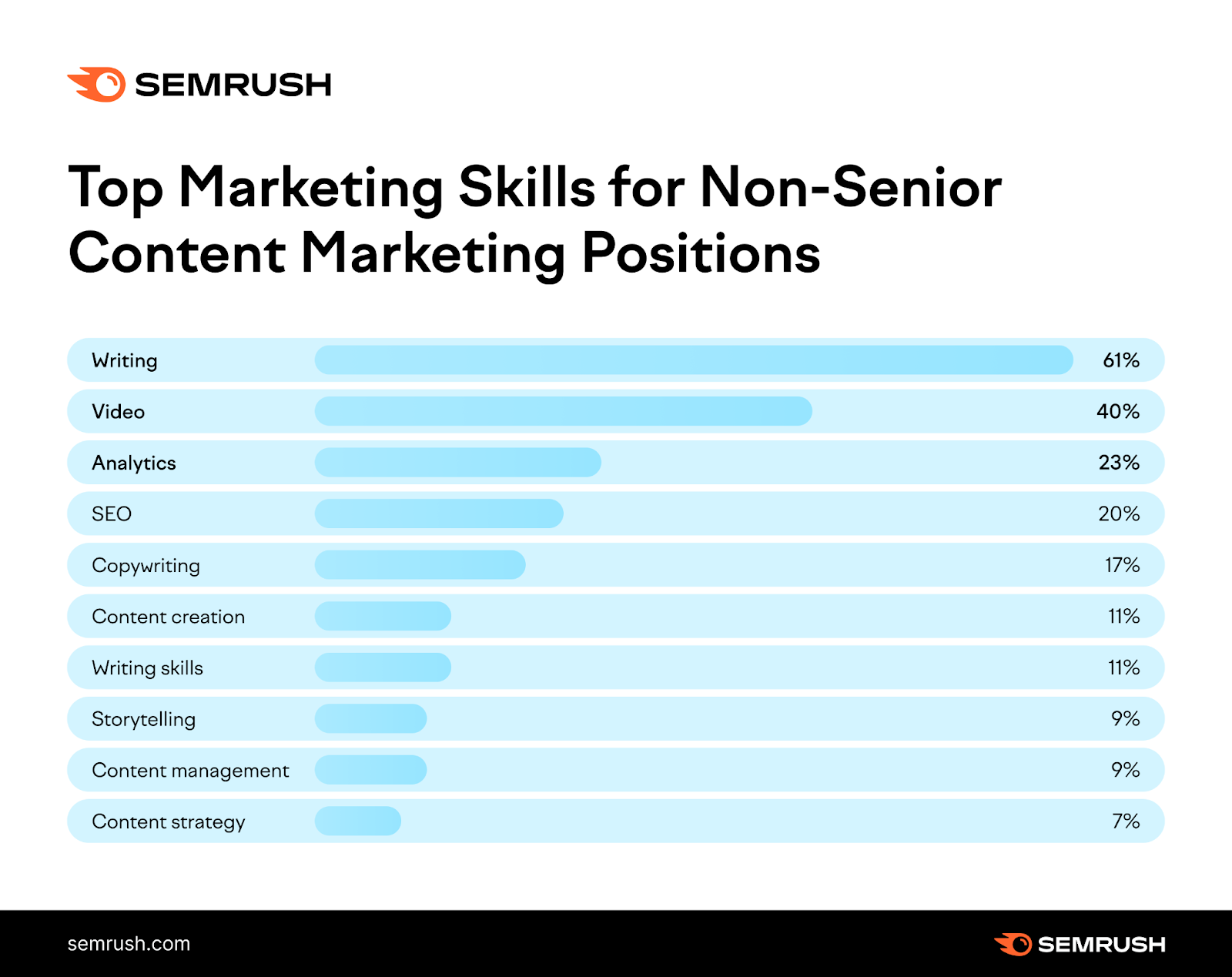 Takeaways
Both senior and non-senior positions require strong writing skills first and strong analytic skills second. 
If you are building an internal content marketing team, look for candidates skilled in both content creation and strategic thinking. 
Companies that prioritize both of these skills know how critical they are to helping them reach their goals. You'll be wise to do the same.  
B2B Content Marketing 
For B2B businesses specifically, our respondents cited creating and posting more content (52%) and improving content (51%) as the top tactics for gaining more organic traffic to their sites.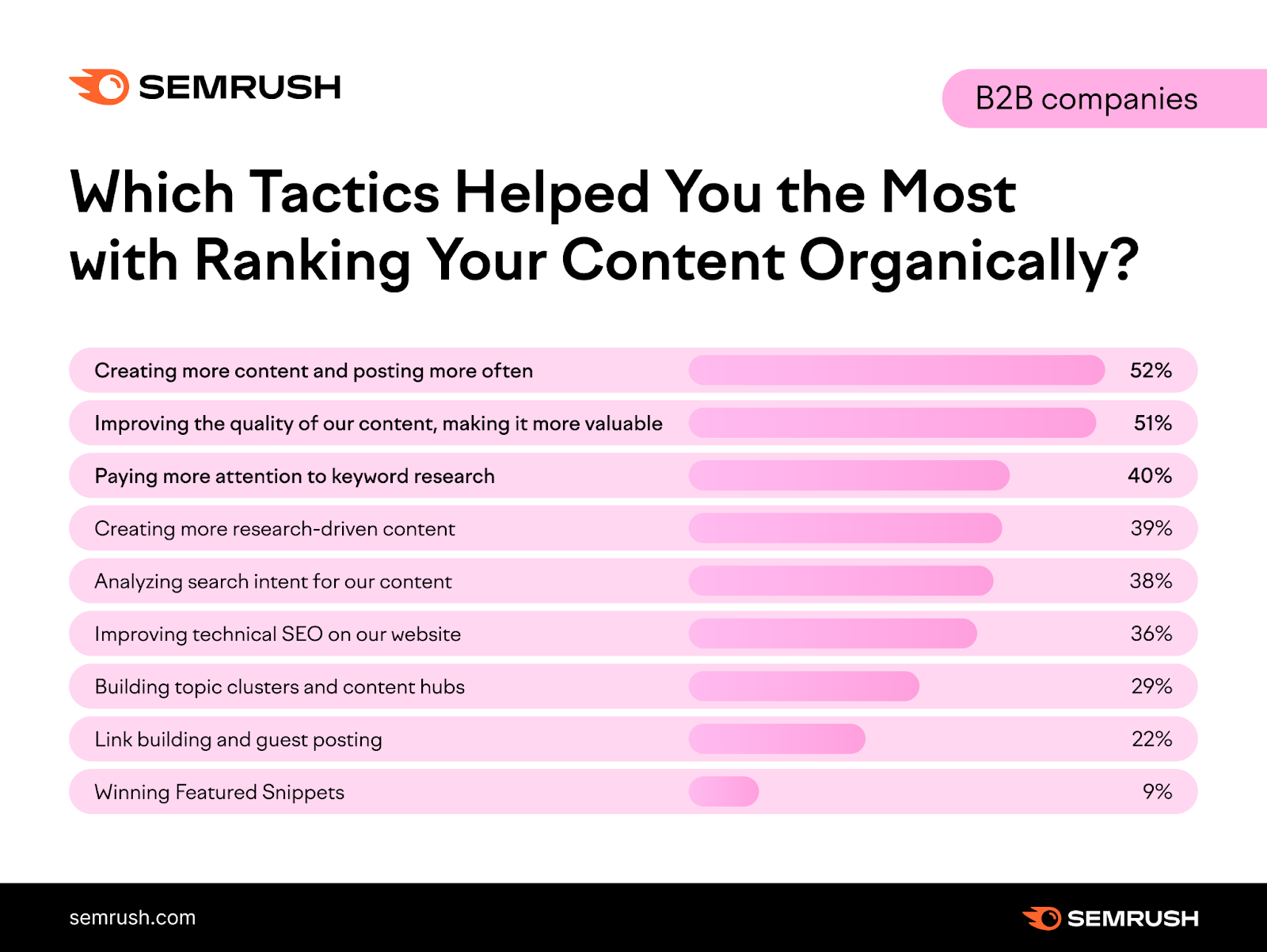 Despite their efforts, B2B businesses do face challenges.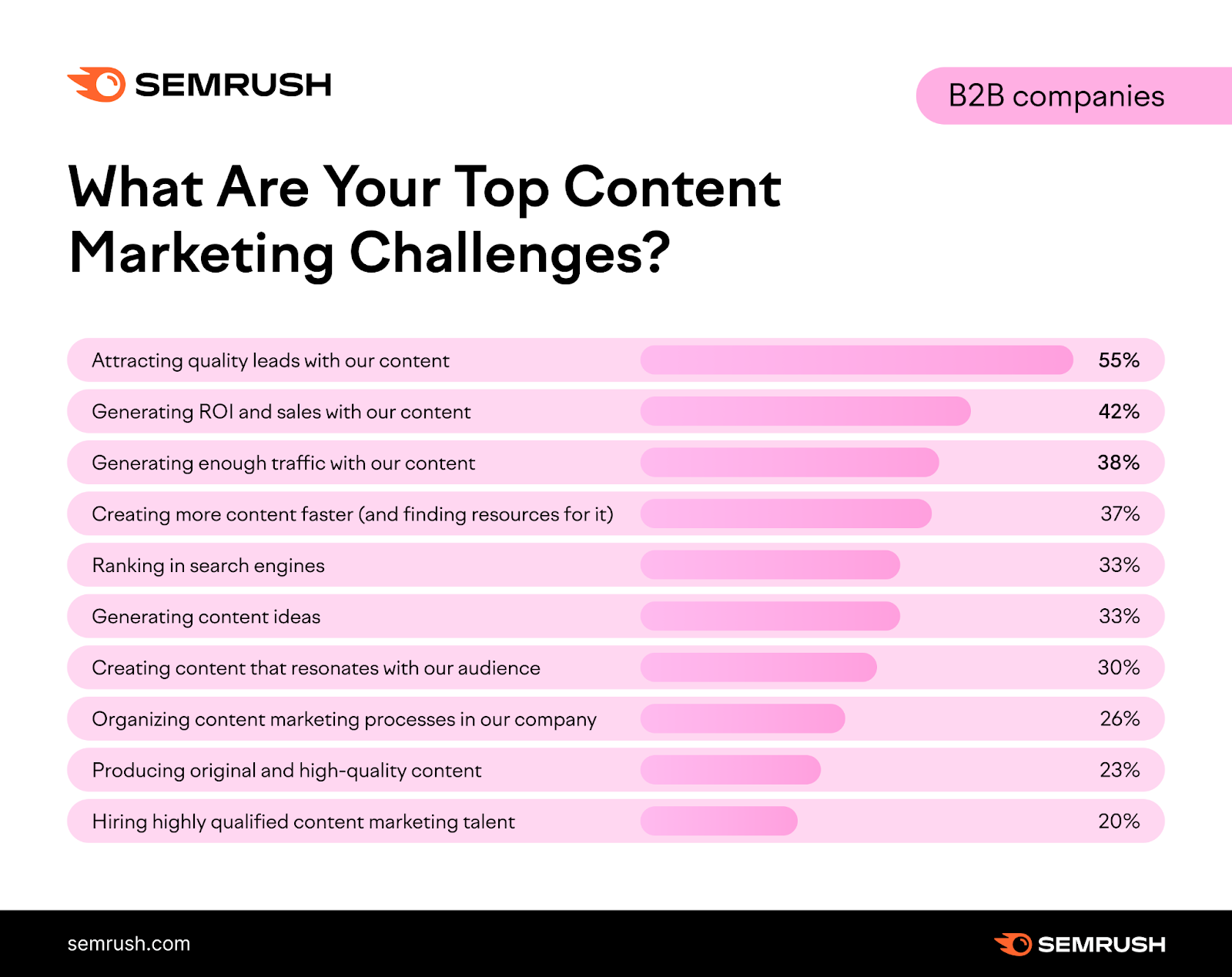 Attracting quality leads with B2B content came in as the top challenge among respondents (54%). 
This signals B2B businesses aren't interested in creating content for just anyone—they want their content to resonate with qualified prospects. 
Understanding this specific buyer's journey will help improve ROI as well. 
Takeaways 
There is plenty of opportunity to gain a competitive edge with your content marketing if you're a B2B business. 
Much less than half of the respondents focus on audience research—so you should. 
Even less (18%) said user experience was an important investment in 2023. 
Take advantage of where your competitors are lacking. Put resources into improving your content to meet your audience's needs and improve your website for better UX. 
B2C Content Marketing 
This year, B2C companies are focused on where their leads are coming from. 
64% of respondents reported calculating revenue that their content marketing generates
51% reported measuring organic traffic 
19% reported calculating revenue from non-paid channels 
Perhaps this is why B2C content marketing is seeing interesting investment trends in 2023. 
Here is what respondents in this arena had to say about where they will be putting their money in the coming year: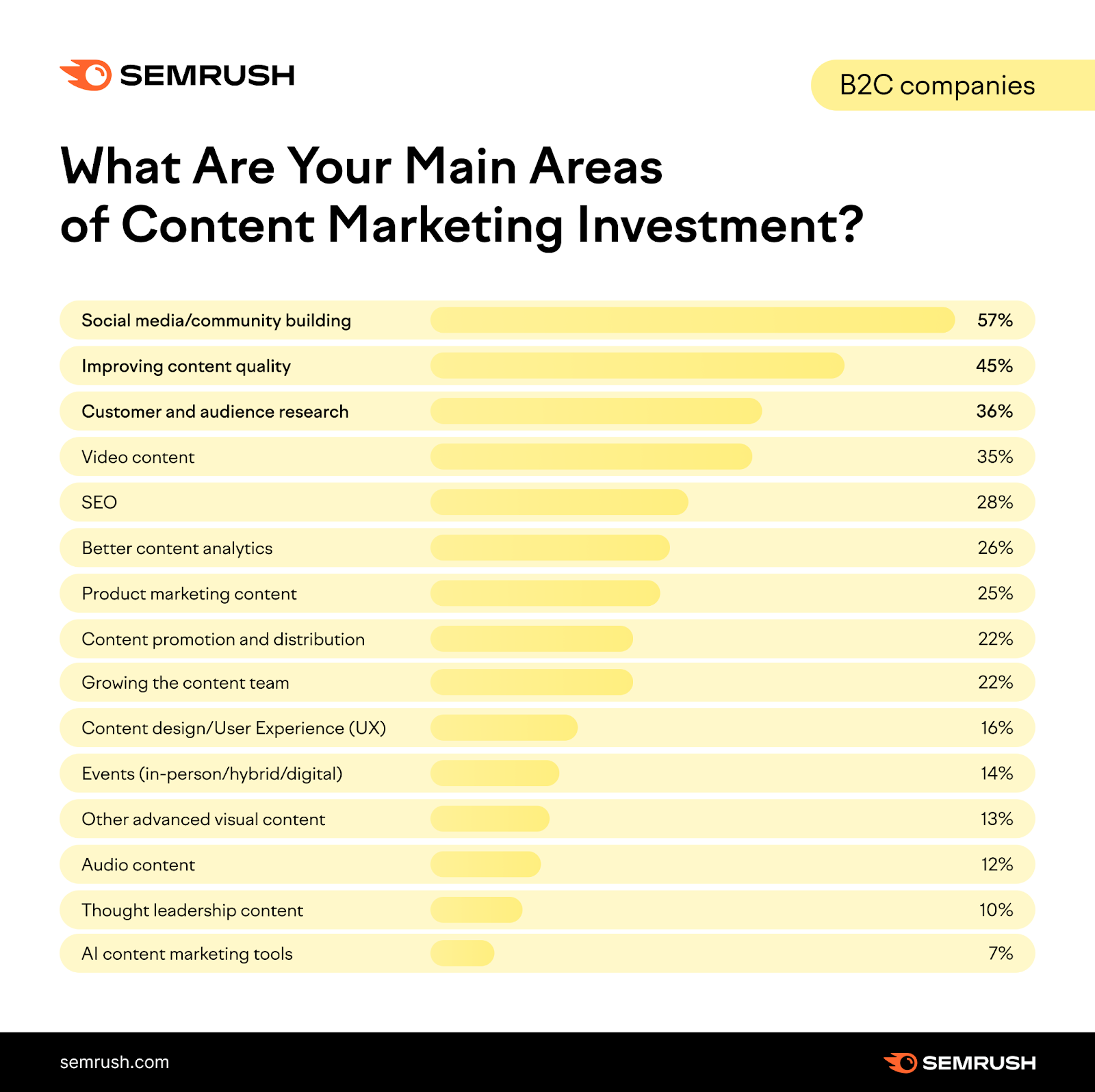 Based on these numbers, growing a social media presence and building a brand-loyal community are where the big investments will be in 2023. 
In addition, B2C companies are utilizing at least some specialists to ensure content marketing tactics are carried out effectively.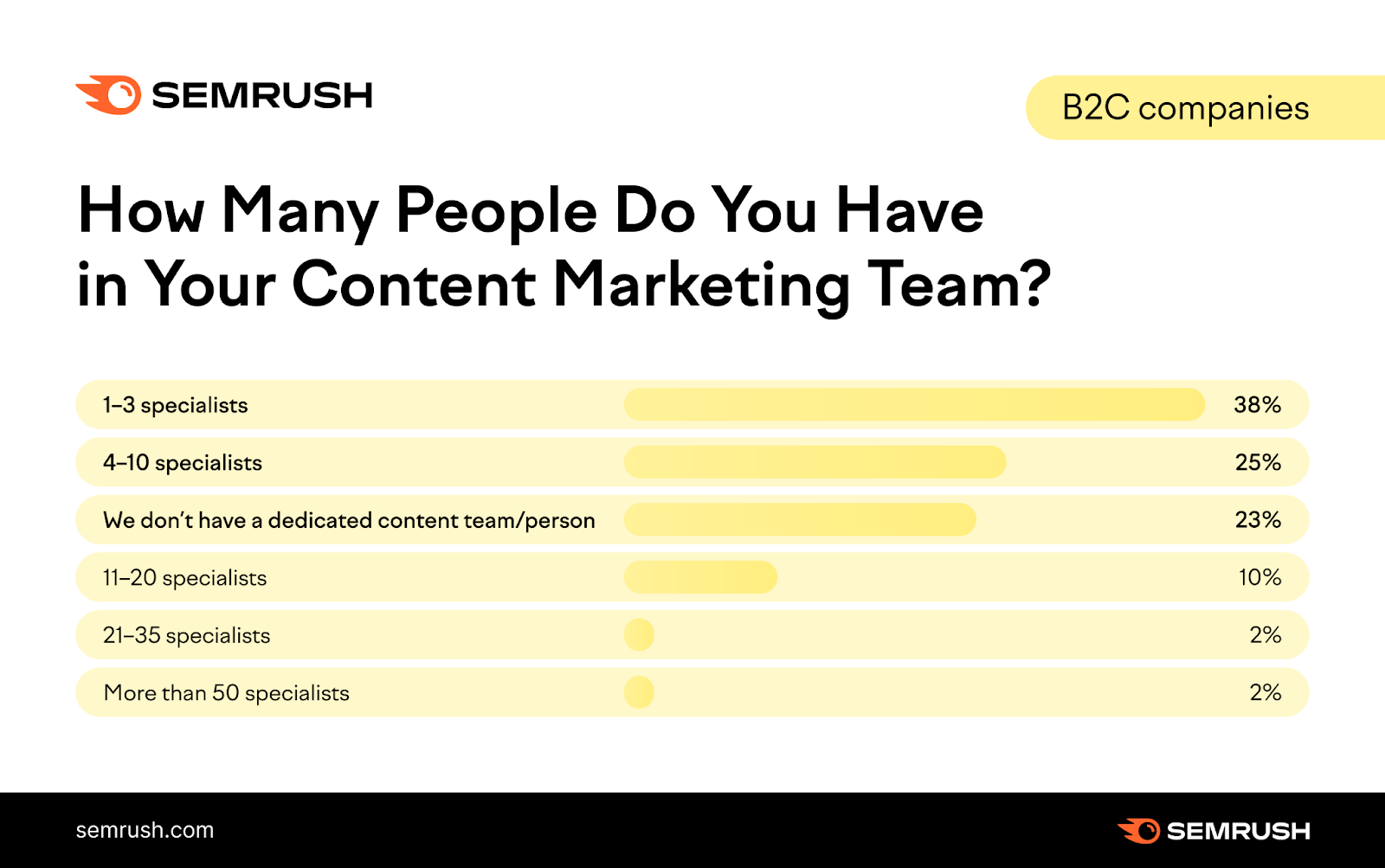 38% of respondents said they had a dedicated team of one to three specialists doing their content marketing. 25% had four to 10 specialists doing this work. 
These are even bigger numbers than dedicated marketing agencies—only 37% of agency respondents said they had one to three specialists, and only 21% said they had four to 10 specialists. 
Takeaways 
While customer and audience engagement is important in B2C content marketing, social media is far and away the place where most marketers will be putting their dollars to work. 
If you don't have a strong social media presence or only infrequently post or respond to customer comments, look into social media toolkits that can help. Or consider hiring a social media manager to do the footwork for you. 
In addition, many B2C businesses invest in dedicated teams to do their content marketing work (over 38% said they had one to three specialists). So, make sure to have enough specialists for your content to be effective.
Agencies 
It's probably not surprising to read that 71% of agency respondents said they have a documented content marketing plan in place. 
It makes sense. Especially when you consider how frequently they have to explain their strategies to their clients.
You might, however, be surprised to learn that only 28% of those surveyed believed their content marketing strategy was mature or complex. 
That said, agencies still have ambitious goals for 2023.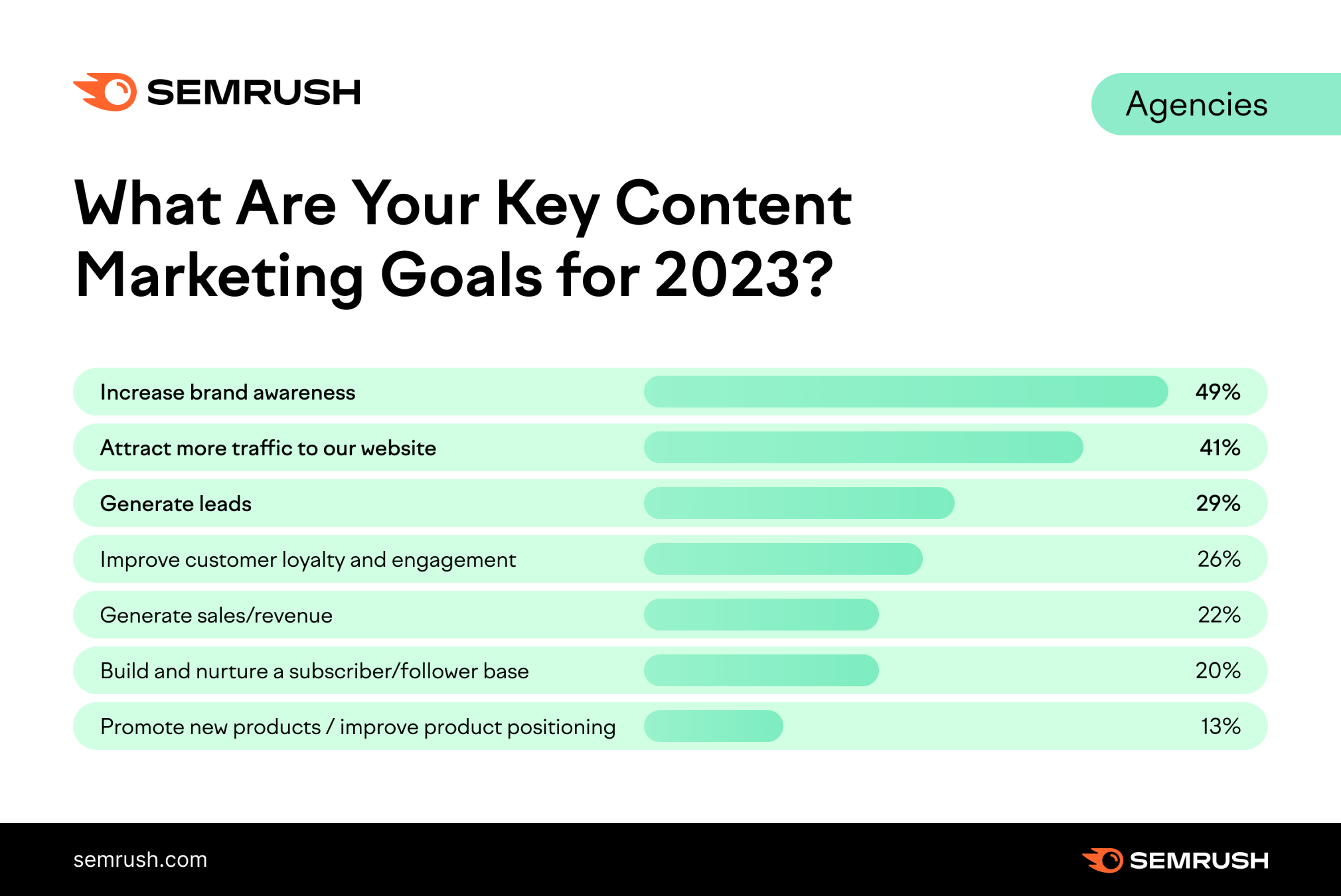 49% identified increasing brand awareness as their top 2023 goal. Just over half of agencies surveyed also planned to measure their ROI (54%).
Takeaways 
2023 is the year to write your content marketing strategy down if you haven't already done so. In fact, based on the data, you could gain a serious competitive edge if you approach client content marketing work holistically.
This demonstrates maturity and complexity in a way few agencies are reportedly doing. 
Earning your clients' trust is one advantage of this practice. Become the experts and show them that their content marketing strategy is in good hands.  
Small Business Content Marketing 
Small businesses (1-10 employees) usually have to streamline their content marketing strategy to serve their customers better and reduce overhead costs. 
Like virtually every other type of business, small businesses face their own unique challenges. 
When surveyed, here is what they had to say about the impact of current global economic conditions and how a potential recession might impact their content marketing strategy: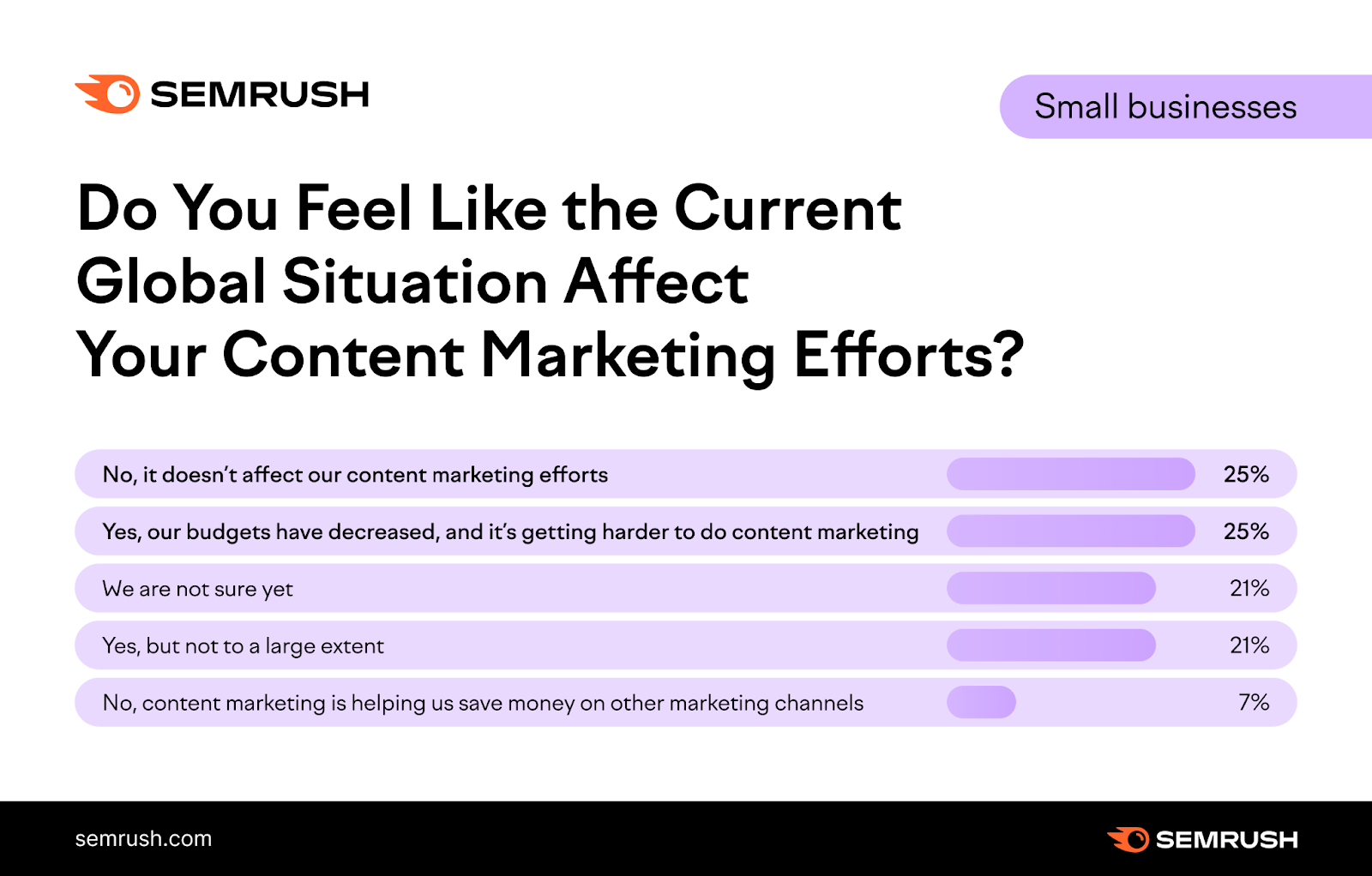 Small businesses also recognize that they must bolster their marketing budgets in 2023.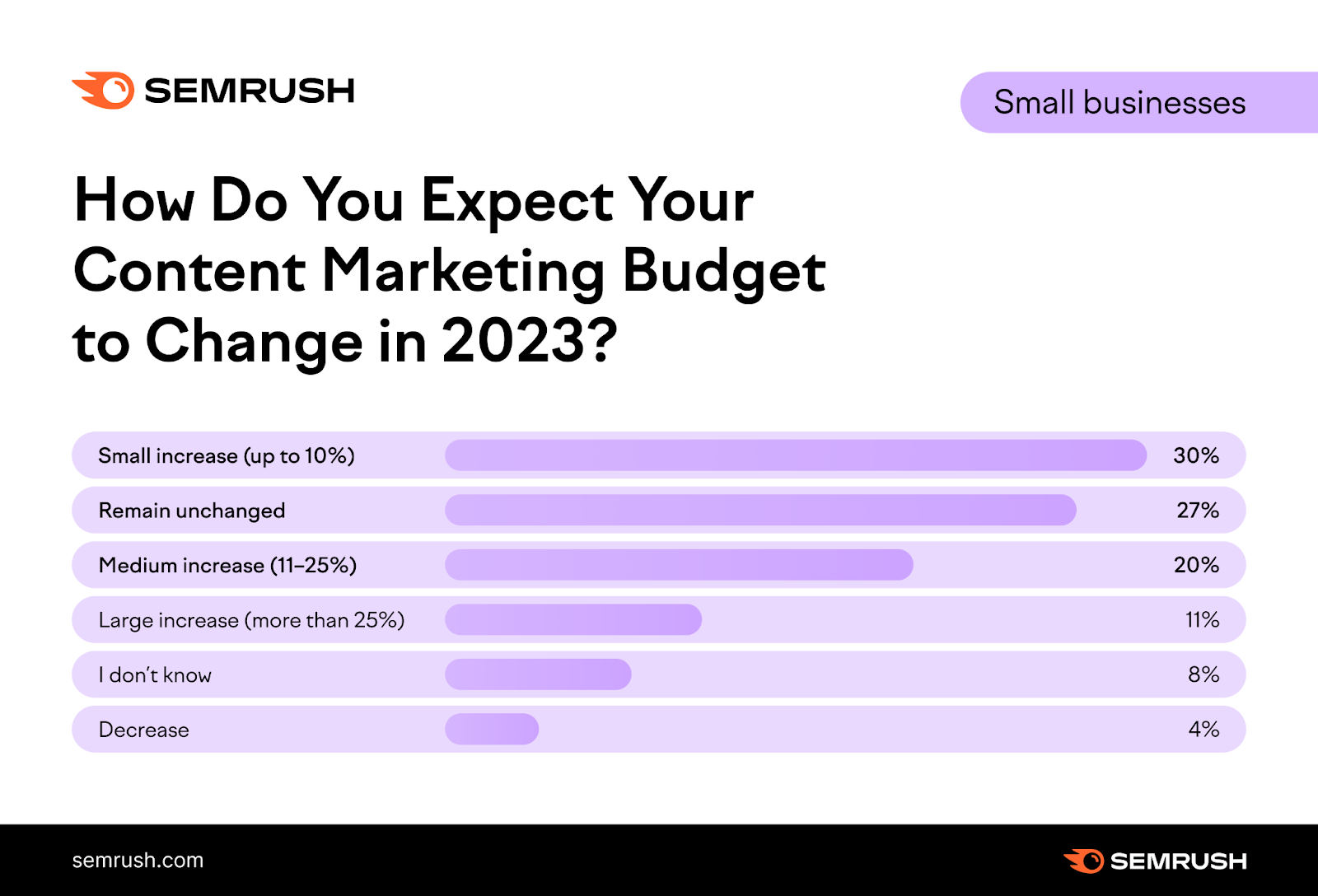 Just two-thirds of respondents said they'd be making at least some sort of increase to their current budget. 
Takeaways
Opinions seem to be split on whether the current global climate impacts small business content marketing. 
Just over 25% said no, while just under 25% said yes, it has made them decrease their content marketing budgets. Regardless, the majority is still making an increase this year.
Ultimately, it will come down to your bottom dollar. Figure out what kind of content to invest in based on what has performed for you in the past. Once you have that determined, focus on building your 2023 content marketing plan.
Get Ready for the Year Ahead—Read the Full Report 
Hopefully, by now you are excited to start or improve your content marketing strategy for 2023. 
If you plan to bulk up your content, post more frequently, or add to the number of channels you use for content amplification, you will be in great company. 
These 100+ statistics were just a start. 
The full State of Content Marketing: 2023 Global Report has hundreds of metrics to help you build a content marketing strategy customized to your business needs. 
Get a head start on the competition by downloading your copy of the report today.