As we enter 2021, it's clear that the face of content marketing is shifting more rapidly than ever. Lockdowns are drastically altering consumer habits all over the globe, and businesses of all sizes are being forced to adapt.
The digital space is now a tightly contested marketing hotspot. Therefore, it's absolutely crucial to understand current industry trends and to be able to identify the areas where you can potentially capitalize and improve.
To equip you with the most recent data, we surveyed over 1,500 marketers from different countries and analyzed over 17,000 content marketing positions on the largest active job posting sites.
We also compared the report's findings against the 2019 edition of the survey, in order to try and highlight longer-term trends and insights – with some interesting results.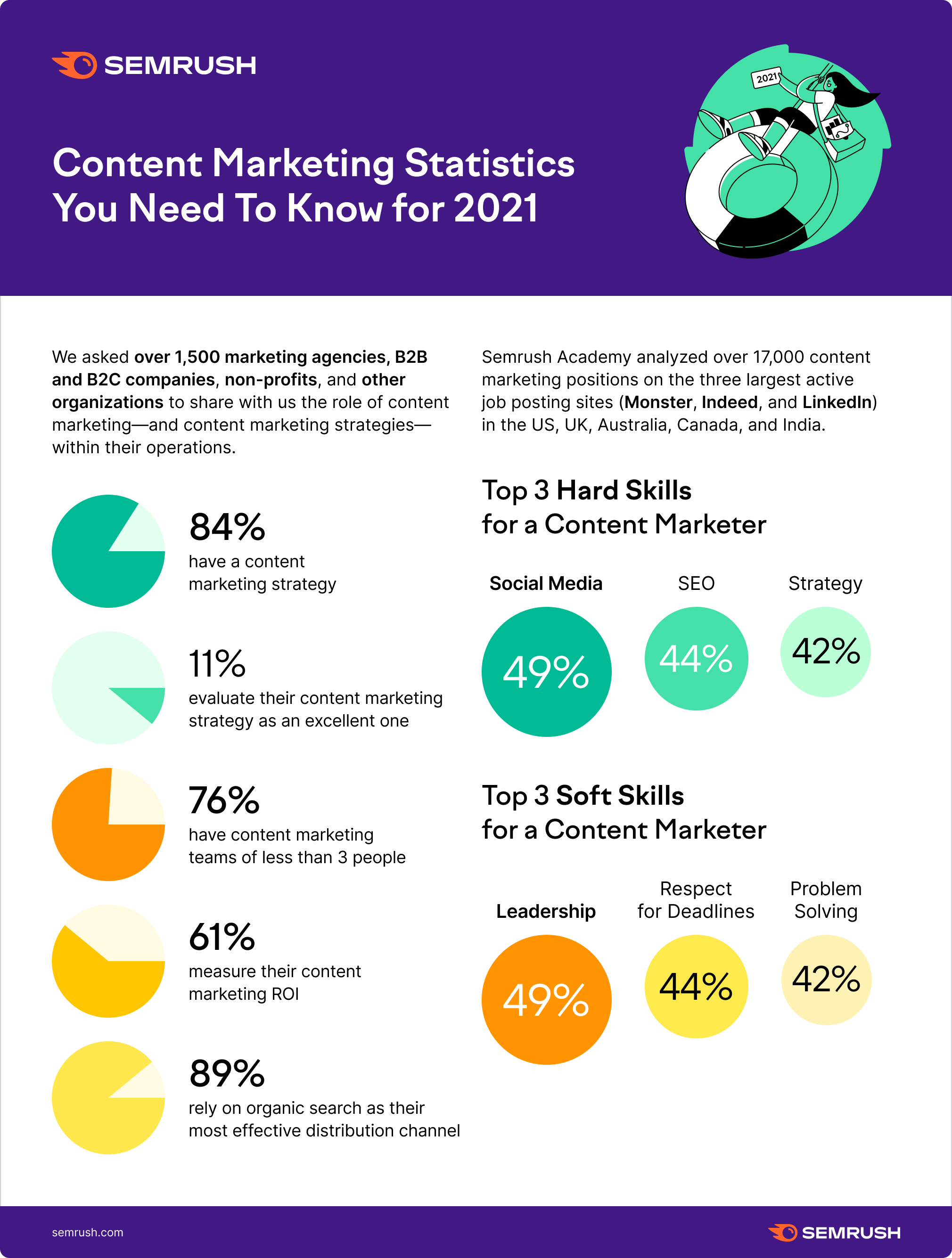 So, to better illustrate our findings – and what they mean for you – here is the full breakdown of the data:
Content Marketing Strategies and Their Efficiency
The implementation of a content marketing strategy is vital in today's digital landscape. It enables organizations to build relationships and communities, generate leads, and - most importantly - increase sales. But how many businesses are implementing strategies? And how do they assess their performance?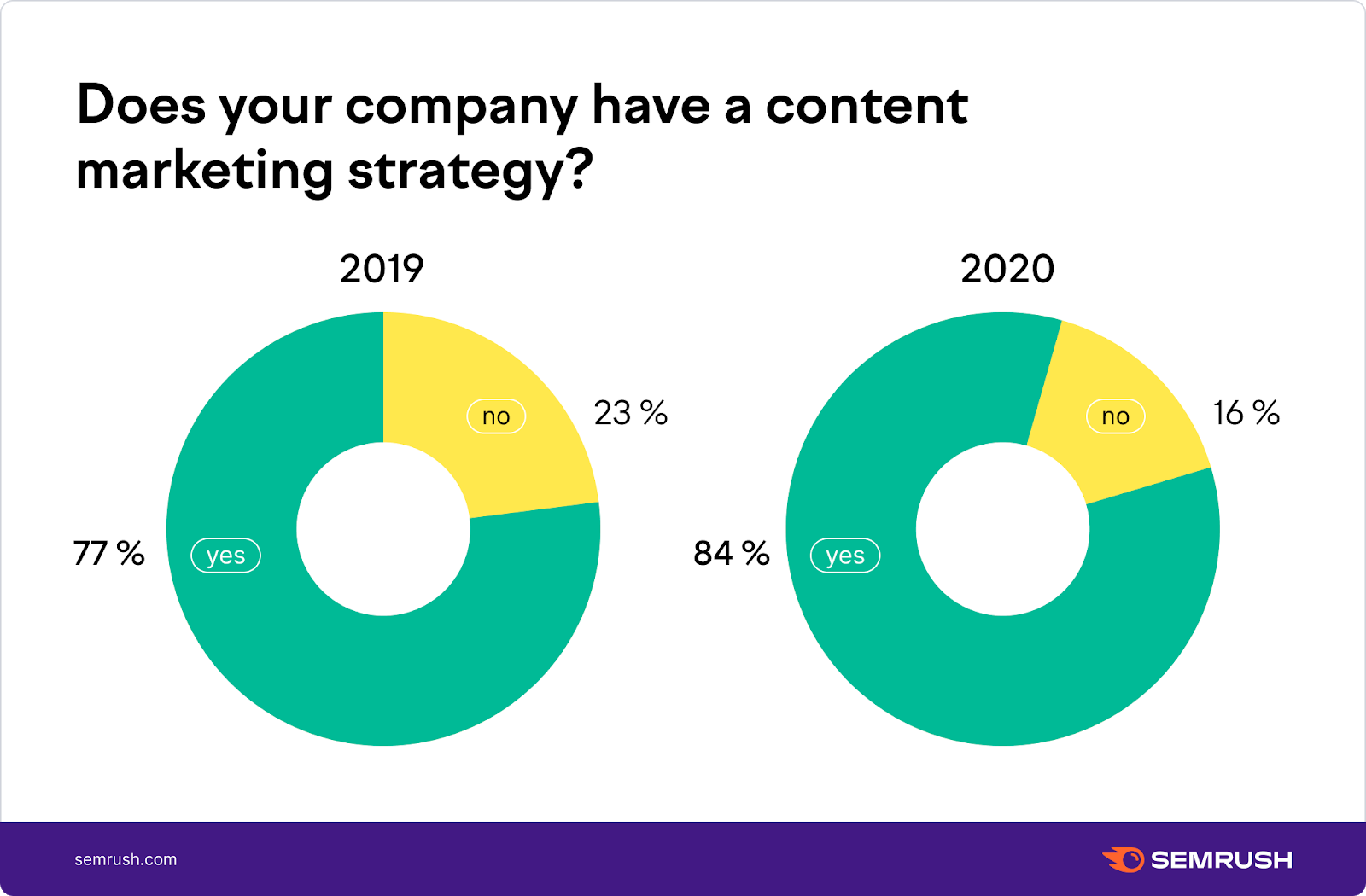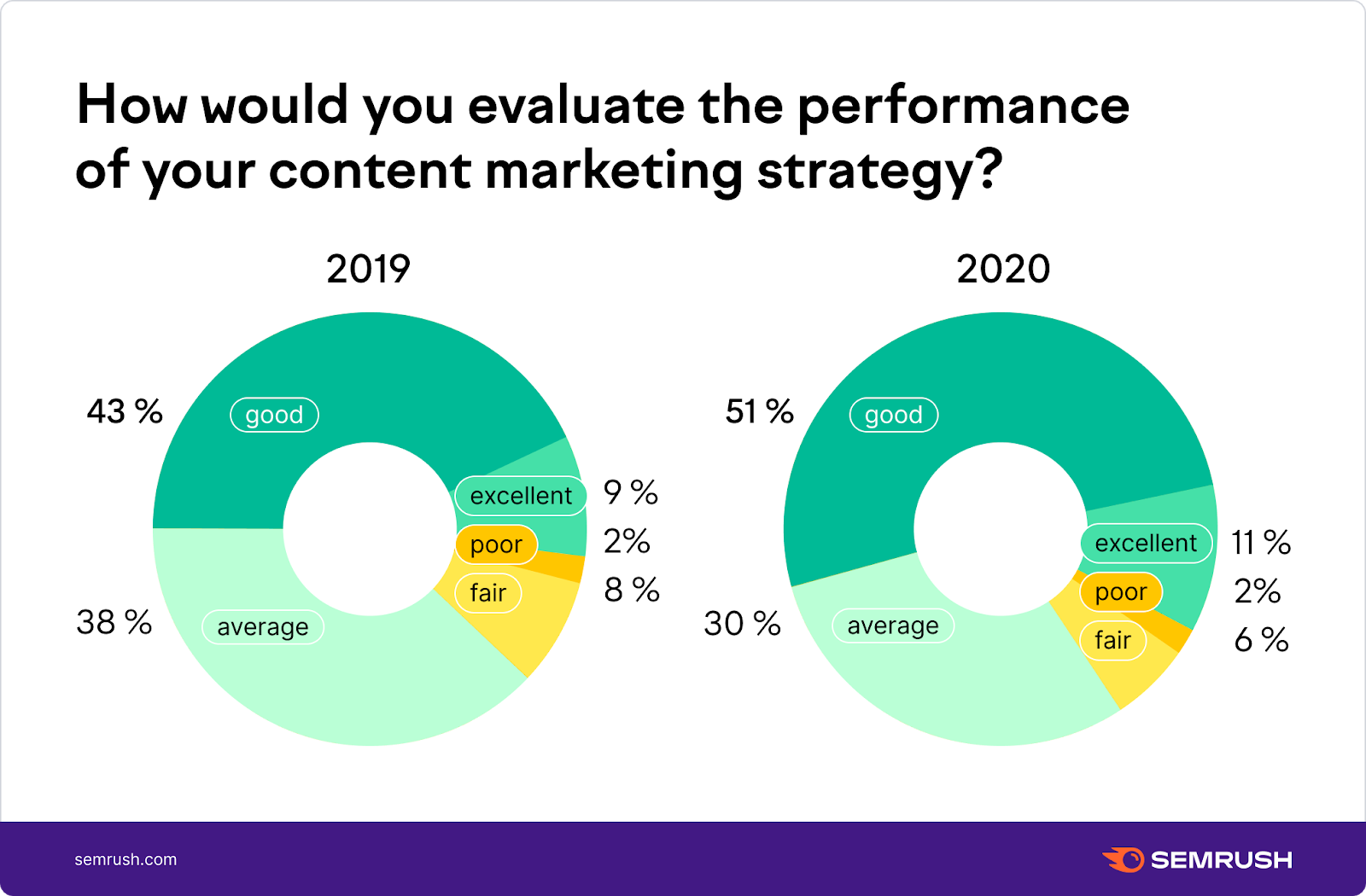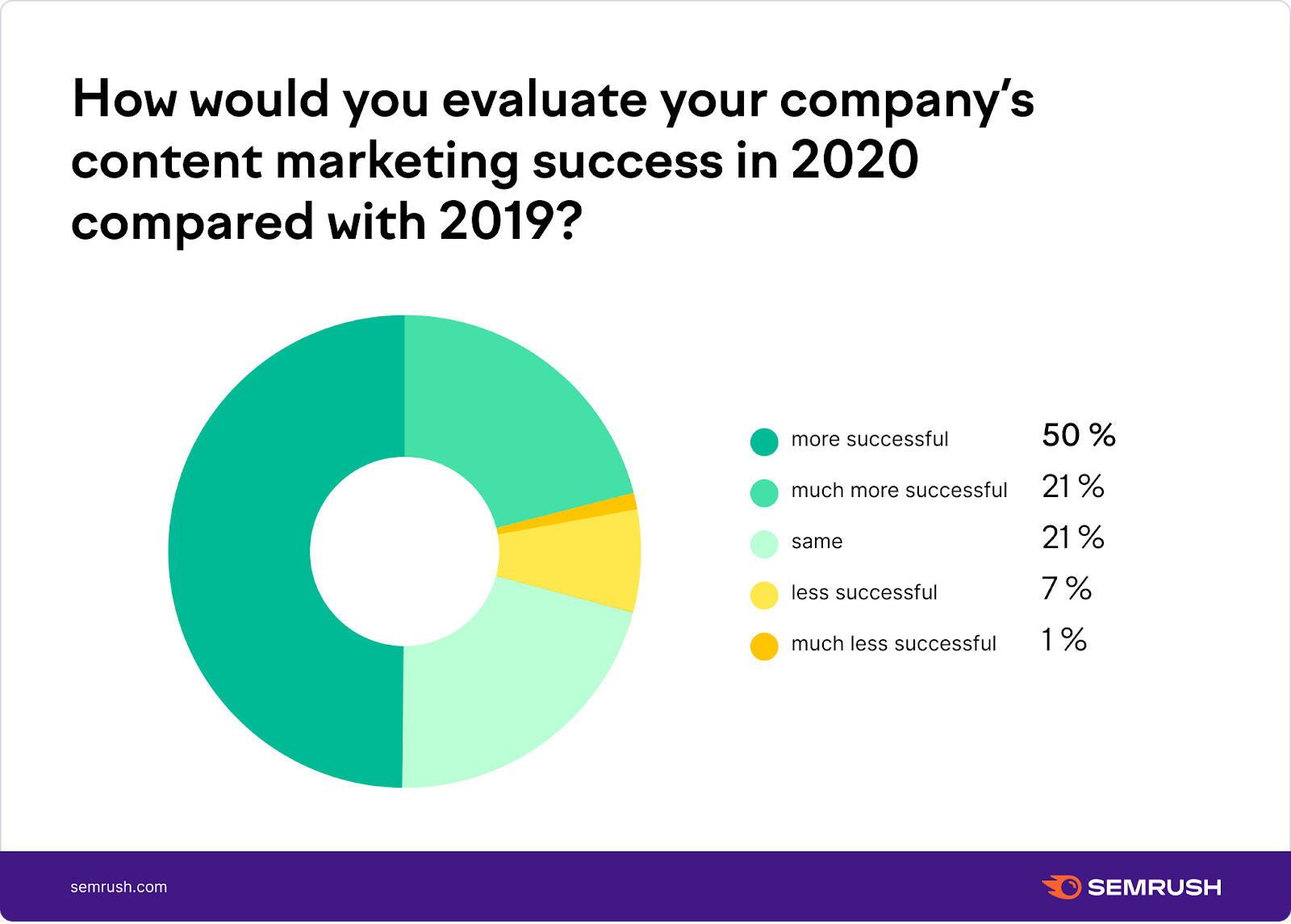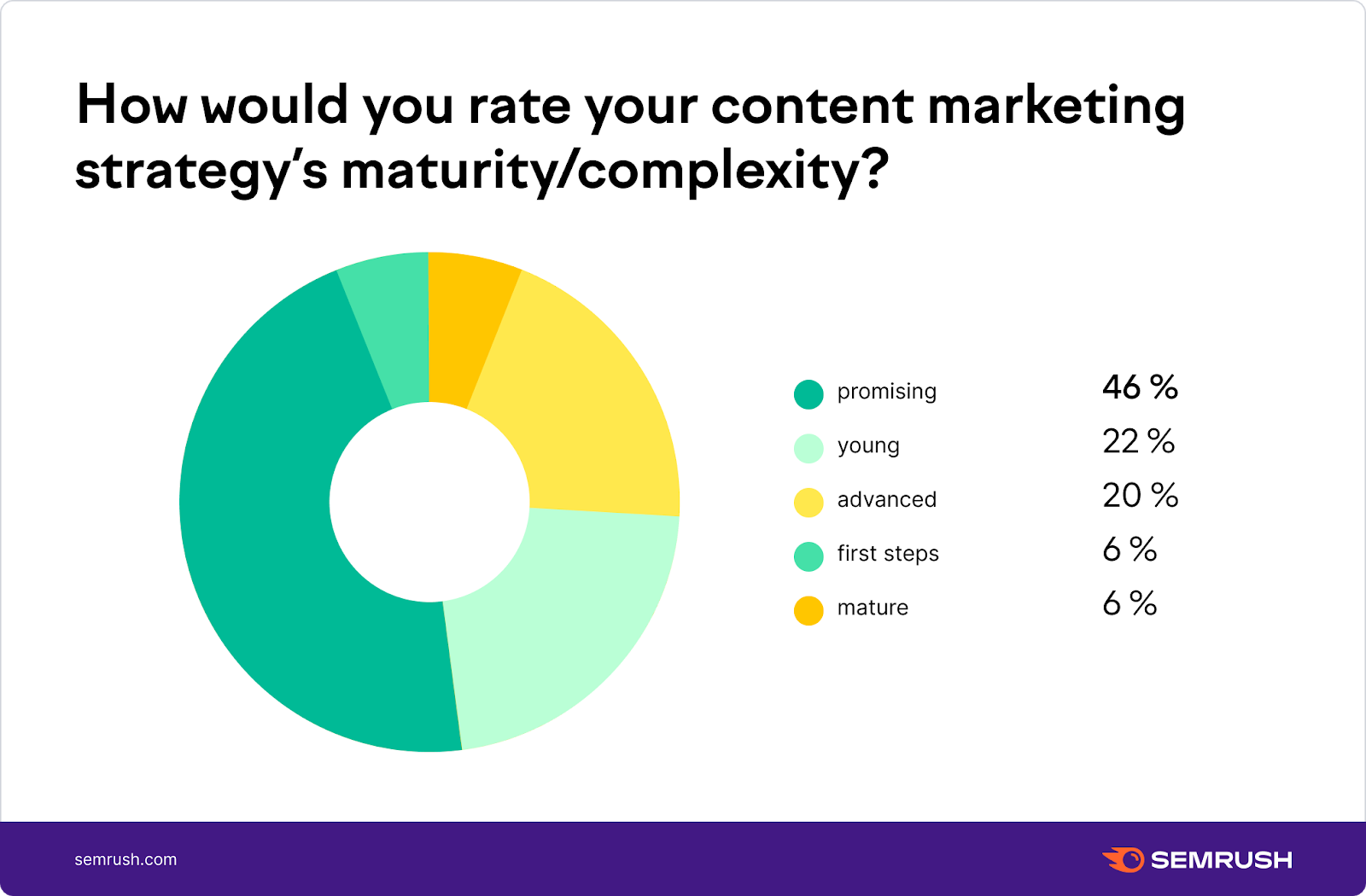 Both b2b and b2c marketers are clearly taking the initiative here, with a sizable increase in the number of respondents who have put a strategy in place. Most are seeing success, too, with over 70% believing that their content marketing efforts are now more successful than the previous year.
Of course, organizations have also been dealing with the effects of the COVID-19 situation. According to the Content Marketing Institute (CMI), 94% of content marketers changed their strategy in 2020 as a direct result of the pandemic, significantly reshuffling their messaging approach and adjusting their editorial calendars. While these may be necessary reactions in the short term, the CMI argues that organizations will need to continue to research and understand the changing needs of internet users when developing their strategy in the long term.
To start developing your own content marketing strategy, make sure you check out our dedicated, in-depth guide.
What Are the Main Content Marketing Goals and Challenges For Companies?
Before we delve into tactics and performance metrics, it's first necessary to understand what exactly organizations are trying to achieve with their content marketing efforts – the primary challenges standing in their way.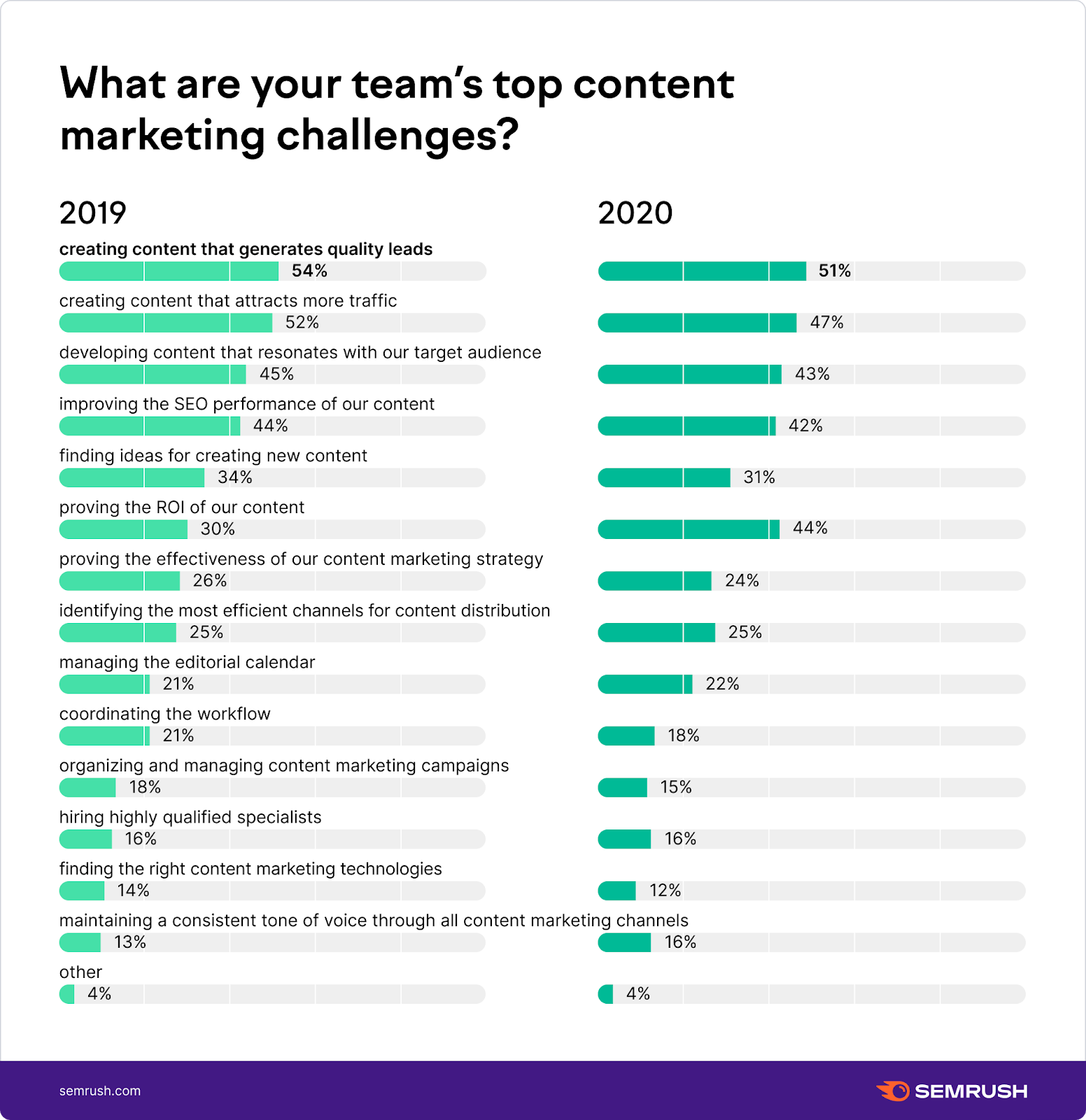 We can see that, in general, organizations are still pursuing the same primary goals, with the intention of attracting high-quality leads and traffic at the top of the pile.
To achieve these goals, organizations are creating content for the top of the marketing funnel (ToFu). According to another recent Semrush study, 'how-to' guides are the most effective way to do this, with infographics and checklists also proving valuable. These types of content allow organizations to develop relationships with potential customers because they resonate, but more importantly, because they are relevant.
Meanwhile, there are numerous ways that content marketers can drive traffic, such as through direct traffic, referral traffic, and, of course, by targeting organic search queries. Organic traffic is particularly valuable and cost-effective, as it brings long-term results. In most cases, that content is evergreen, too, which means that once it is posted, it will continue to attract visitors and generate value.
What Are the Most Effective Content Marketing Tactics?
Given the goals and challenges discussed above, content marketers might be interested in the processes and approaches are most likely to help them achieve success. So what has been working for organizations in the last year?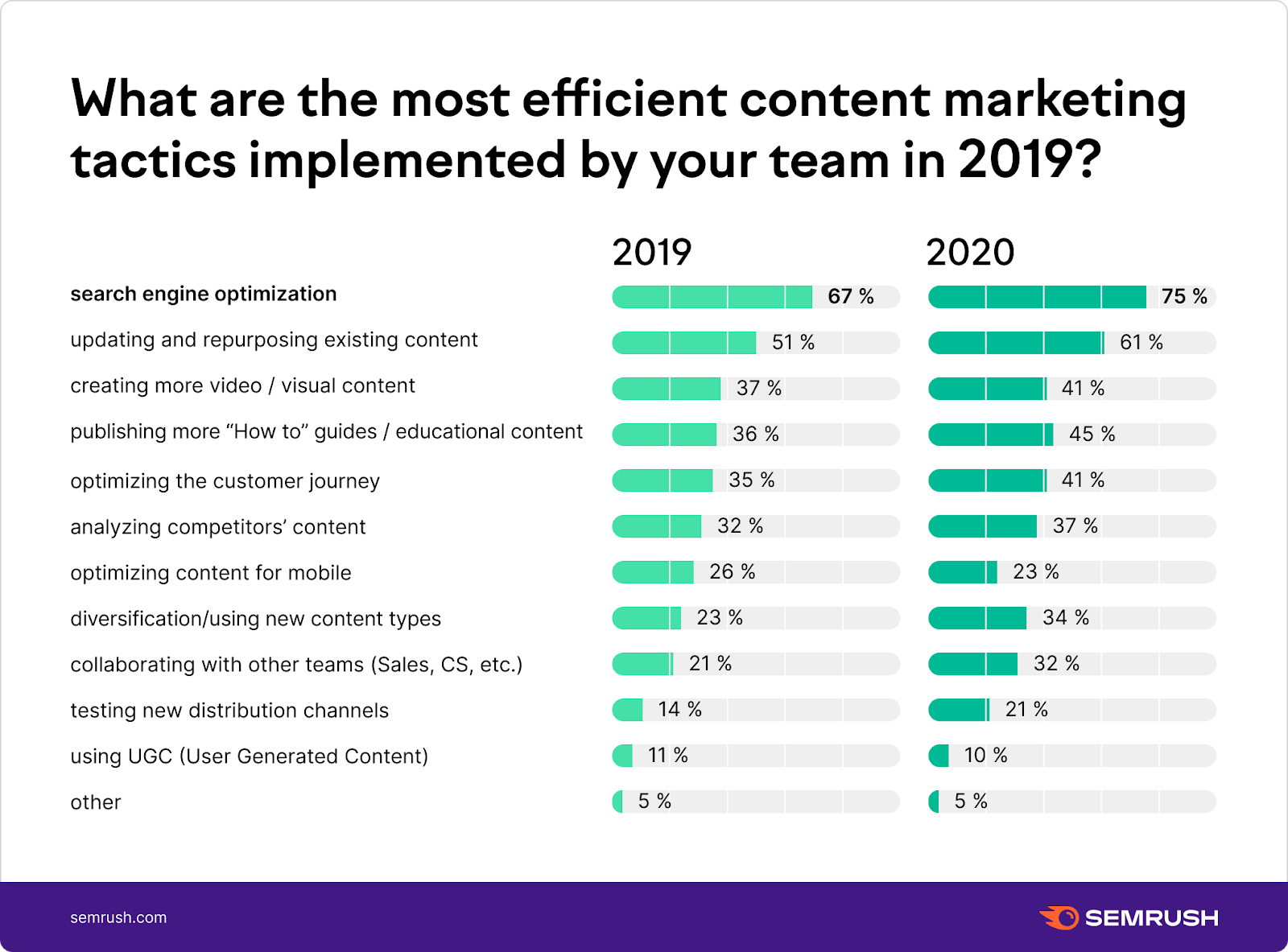 It's clear from the survey that organizations are continuing to use the same tactics and metrics as in the previous year, which suggests that they are generating some success.
Of course, search engine optimization is a highly effective tactic, for the same reasons as discussed in the previous section. To discover how to create SEO-friendly content, you can view our step-by-step guide, and ensure that you are creating content that provides long-term value.
Likewise, by repurposing and updating their content, organizations can invest their resources more effectively, as well as target multiple platforms and audiences. This approach also has SEO benefits, enabling companies to adapt their keyword strategies and stay relevant (to learn more about this, check out our content repurposing guide).
As we can see (and as we have already touched upon), the use of 'how-to' guides has also grown. Arguably, this is because of their flexibility; they can be used in both the ToFu and middle of the funnel (MoFu) stages, addressing audience needs and tapping into the wider consumer trend of preferring educational content over traditional advertising. As a result, it is a highly effective way to both engage and nurture potential leads, as well as attract organic traffic.
How Are Companies Measuring Their Success?
Organizations have adopted a number of metrics to measure their success, which can be seen below.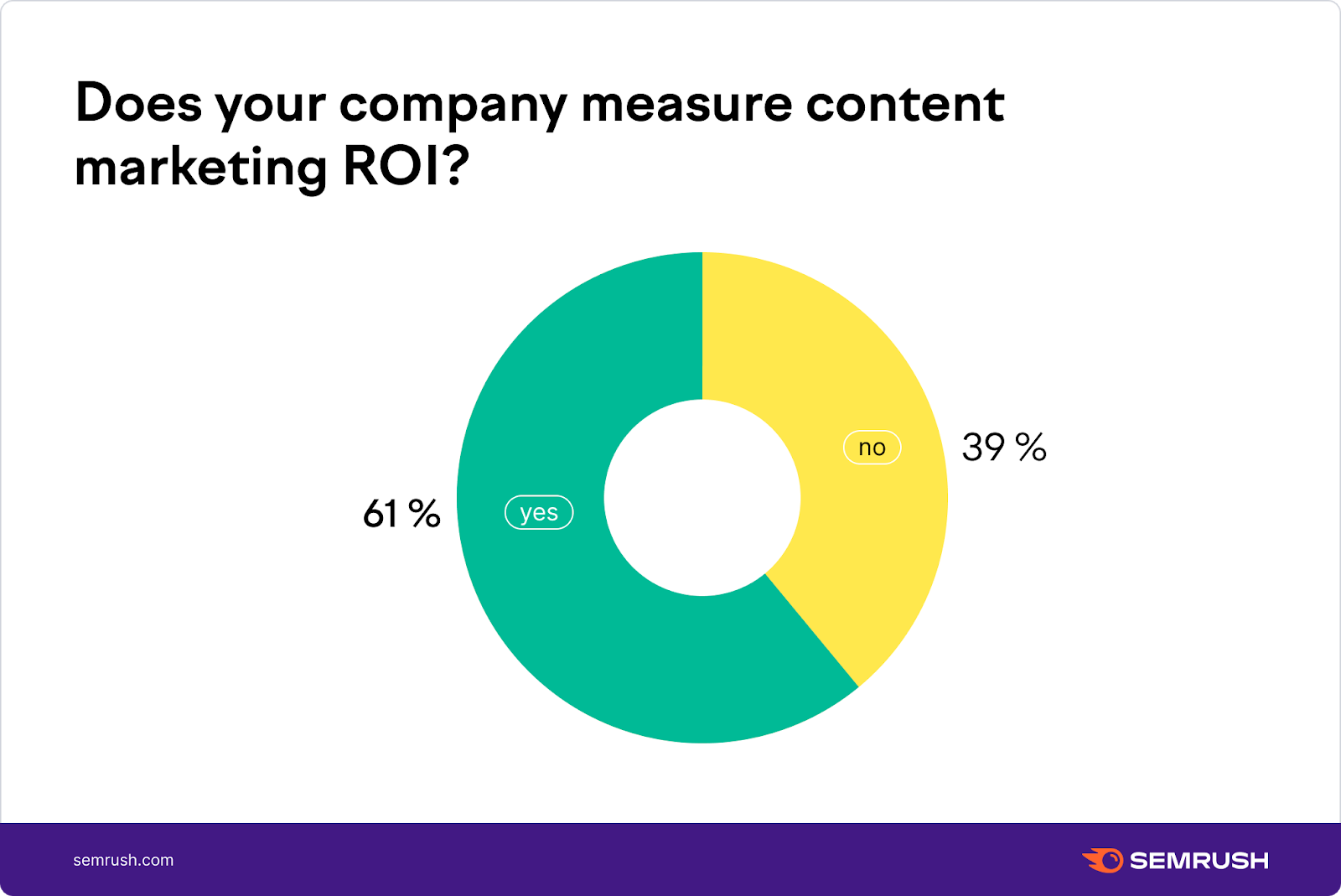 Unsurprisingly, these metrics correlate heavily with the goals discussed in the previous section, with long-term, SEO-driven organic traffic more important to organizations than sessions or page views.
It is also notable that more weight is being placed on ROI, too, with organizations keen to see their content investments translating directly into revenue. In recent years, this has been a notoriously difficult metric to measure, but it is an increasingly crucial step for businesses that want to get the most out of their marketing budget and ensure that they are creating bottom-of-the-funnel (BoFu) content that converts.
How Much Are Organizations Spending on Content?
Given this renewed emphasis on ROI, it's interesting to see how much organizations are spending on their content marketing efforts.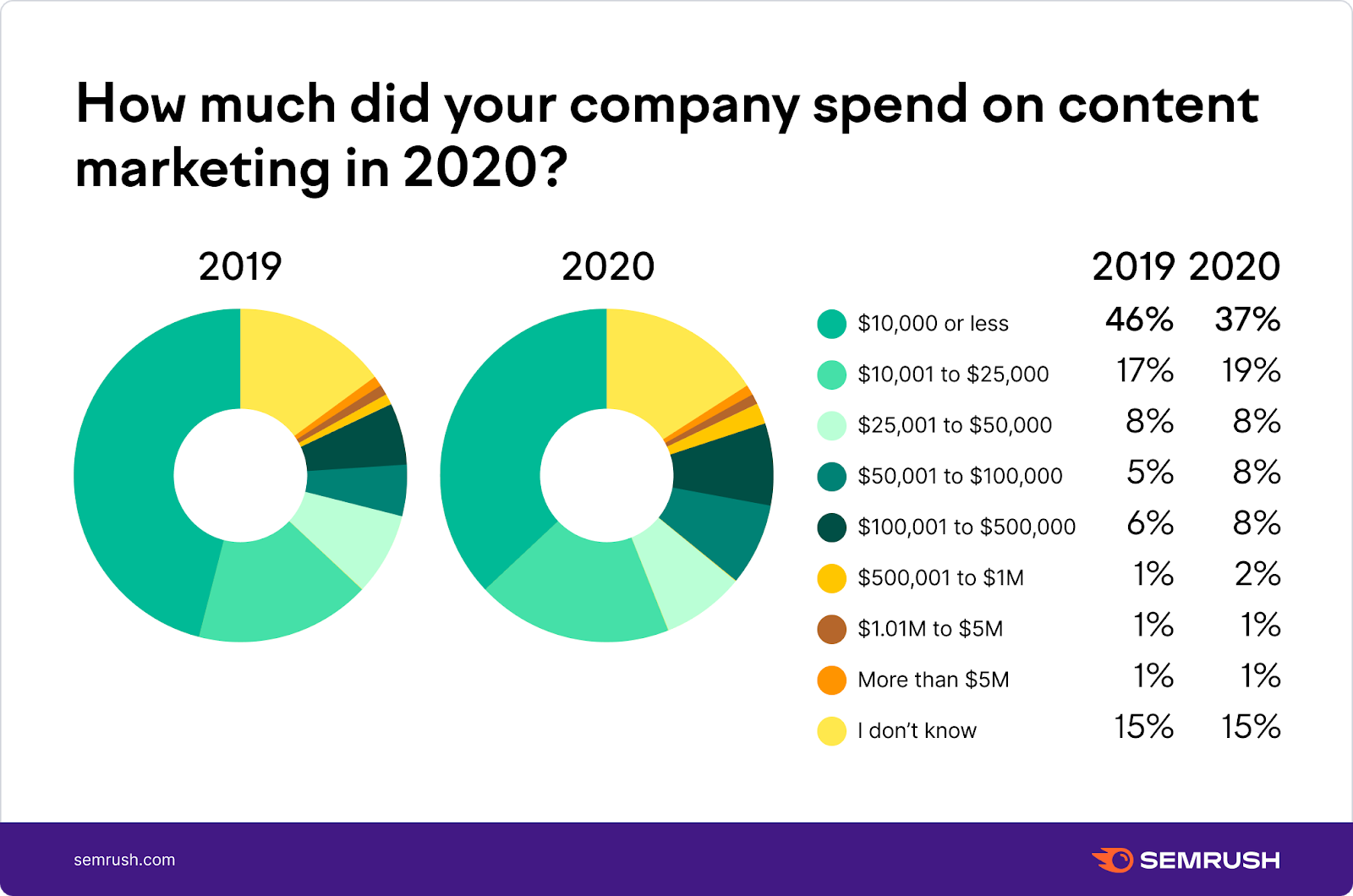 The biggest visible shift is in budget expectations, with businesses spending more on their content marketing efforts due to increased competition. There's also another reason, too; businesses are recognizing the long-term cost efficiency benefits of organic content over paid ads. This is backed up by a 2019 survey by Databox, which found that 70% of companies generated more sales through SEO than through PPC.
Either way, these budget trends only look set to increase, with respondents expecting their spend to rise in 2021.
What Does a Typical Content Marketing Team Look Like?
As the importance of content marketing has increased, organizations have come to realize the need for a dedicated, in-house team of professionals with experience in this field. But how big should such a team be? And what kind of professionals are in the most demand?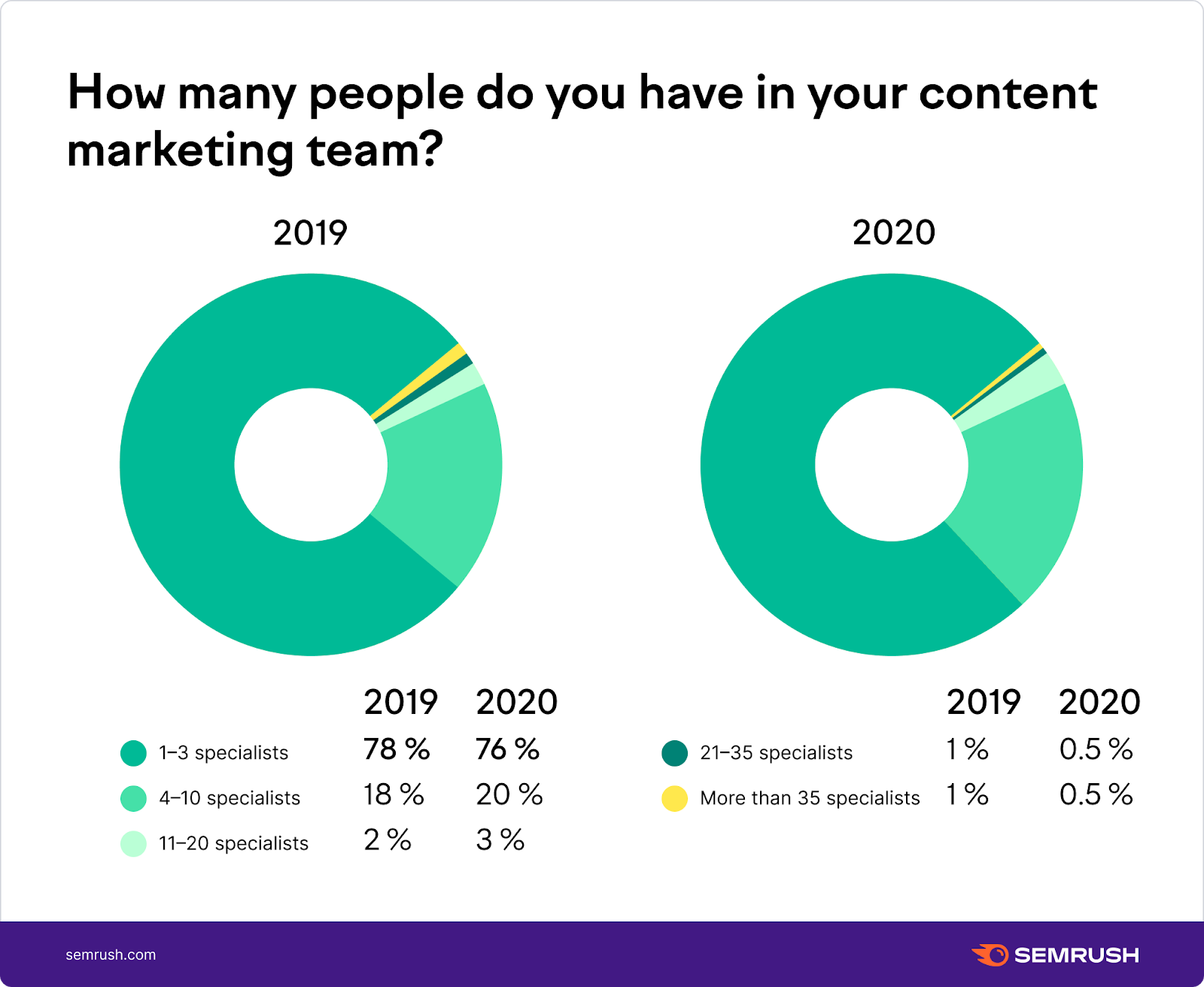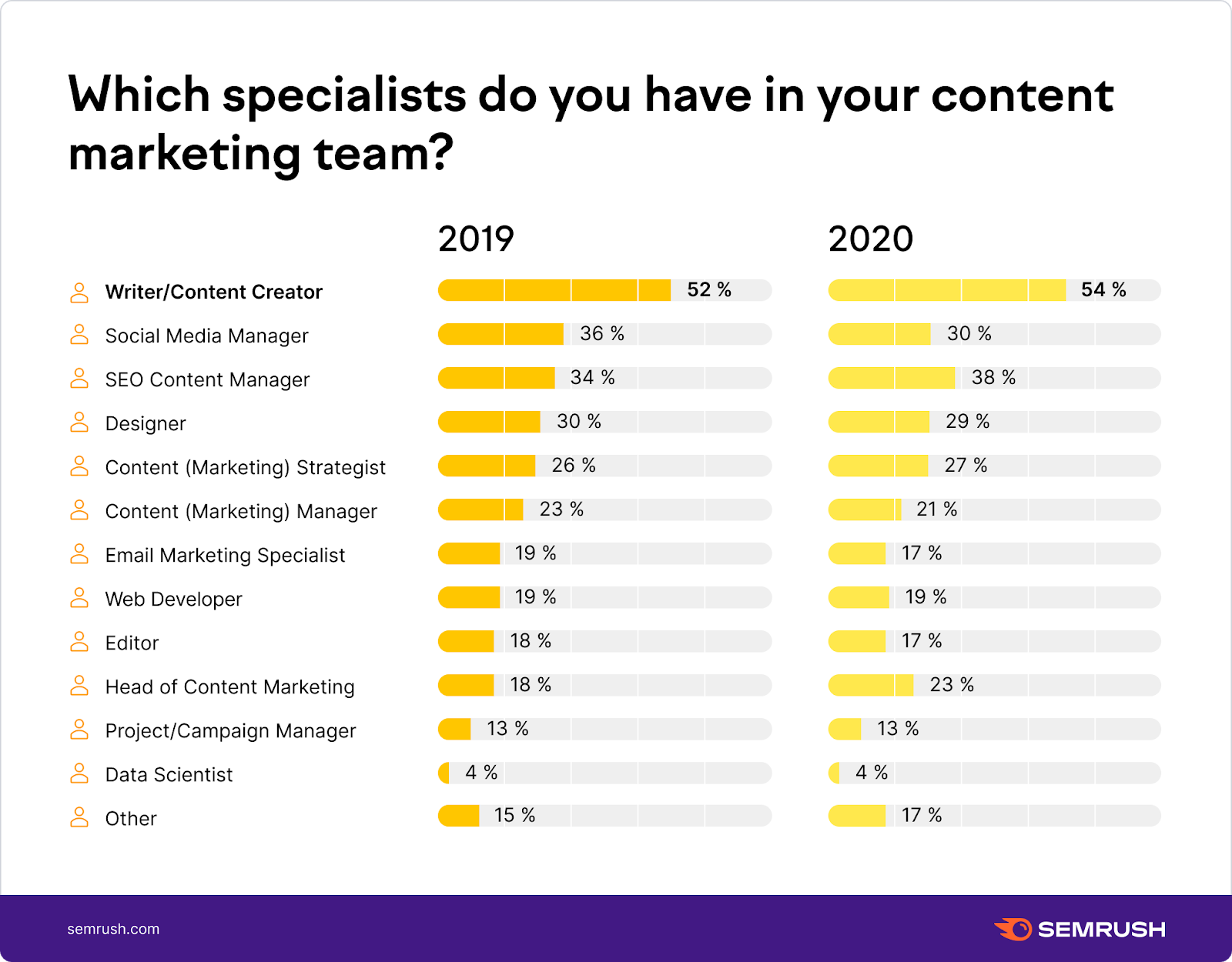 With organizations competing ever more fiercely to be visible in search engine results, it's no surprise that the demand for high-quality content writers and SEO specialists continues to increase.
There is also a rise in the requirement for managers and heads of content marketing, indicating that organizations are looking for professionals that can create and maintain content strategies, as well as demonstrate core leadership skills.
What Tools Are Content Marketing Teams Using?
For organizations to get the best out of their content marketing efforts, it's necessary to leverage supporting tools and software. But what kind of programs are content marketing teams using?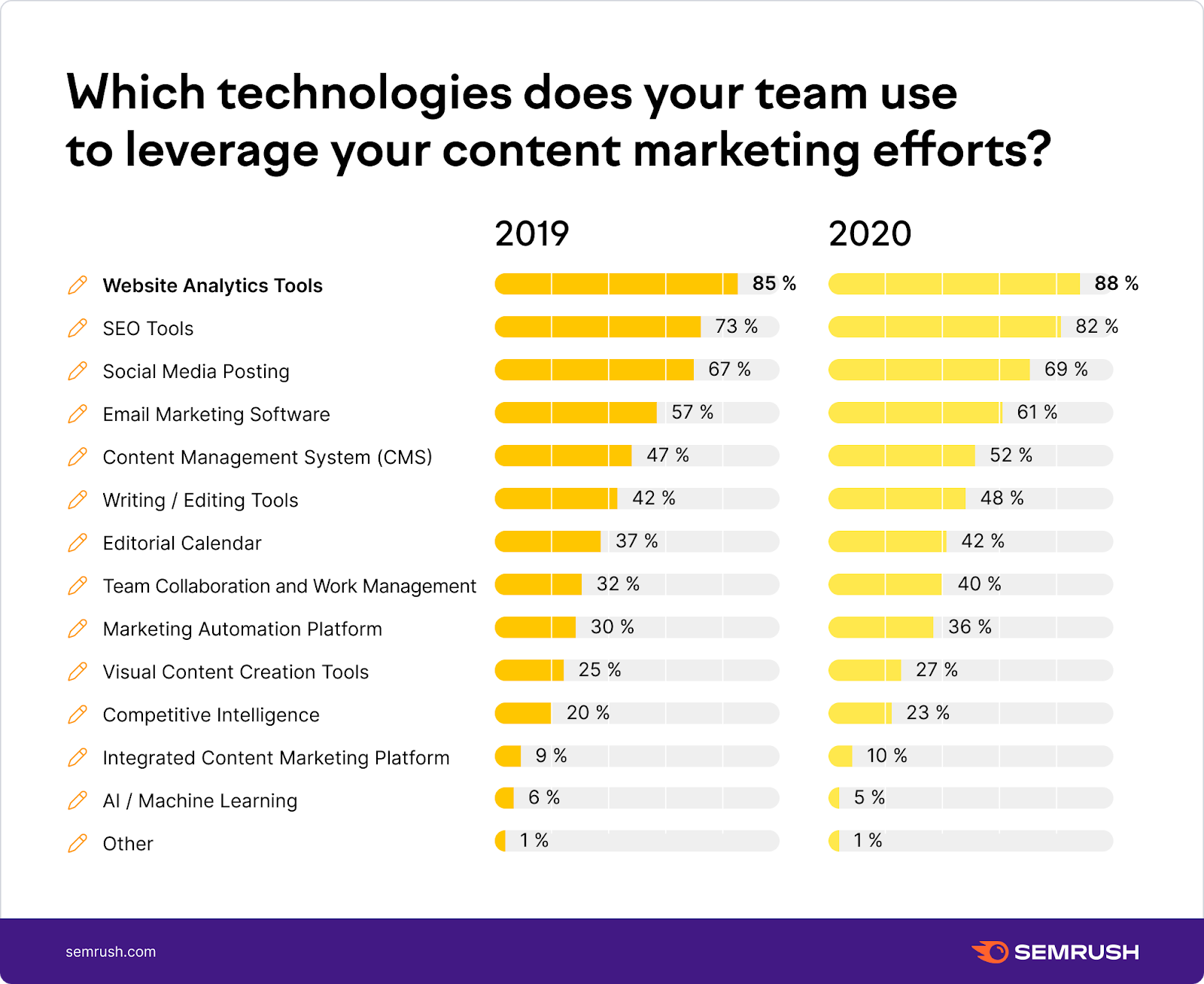 SEO and analytics tools continue to be used heavily by organizations. A pickup in the adoption of editorial tools also suggests that teams are focusing more on the quality and consistency of their content.
As a result of the pandemic, we can also see that organizations are investing more in collaboration and work management programs, as teams become increasingly remote.
What Types of Content Are Being Produced, and Where Are They Being Distributed?
There are numerous forms of written and visual content that companies can leverage to achieve their goals, with some more effective than others. In addition, there are also a wealth of ways in which that content can be distributed, depending on where your target audience is likely to be found. So what is proving most popular?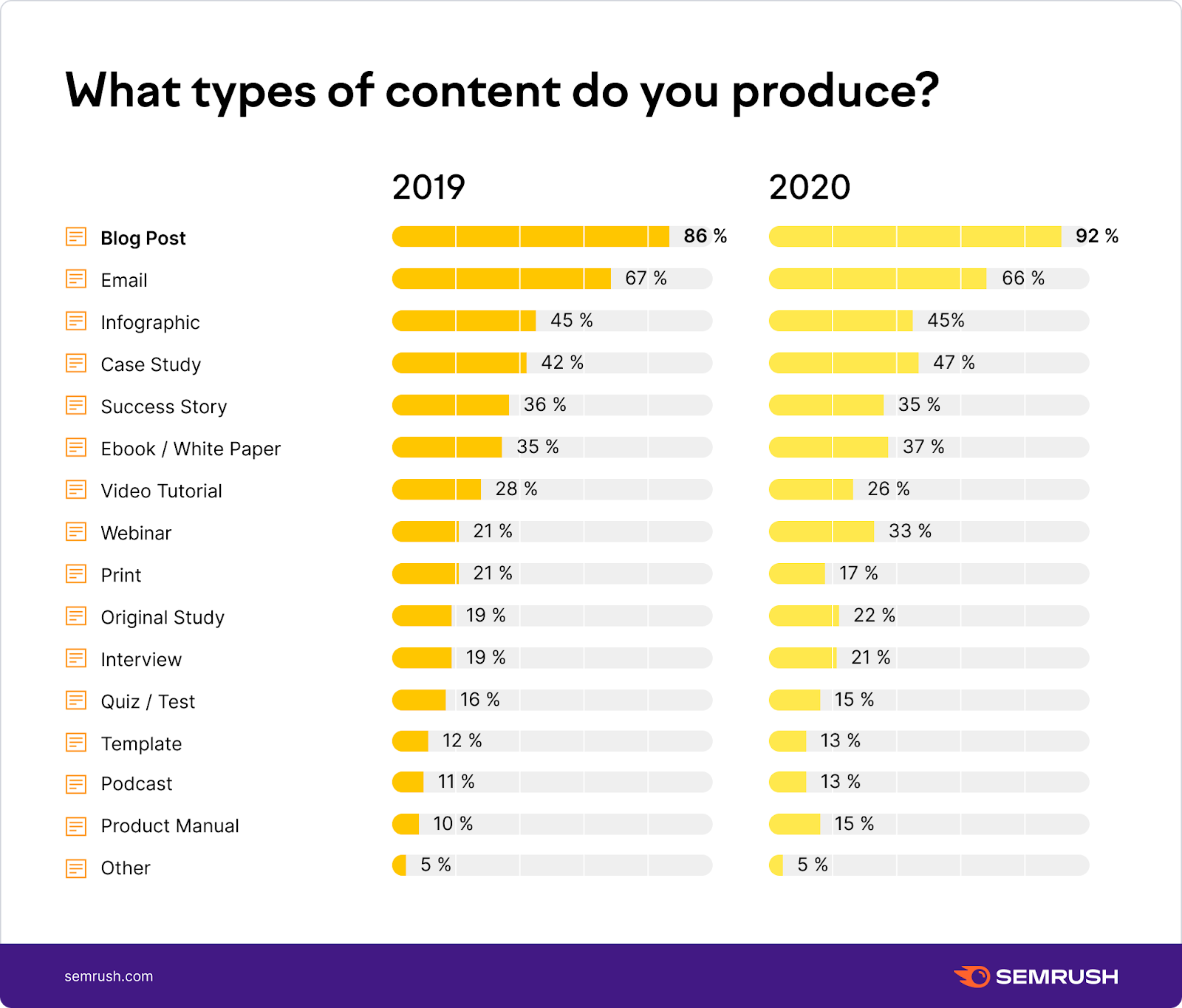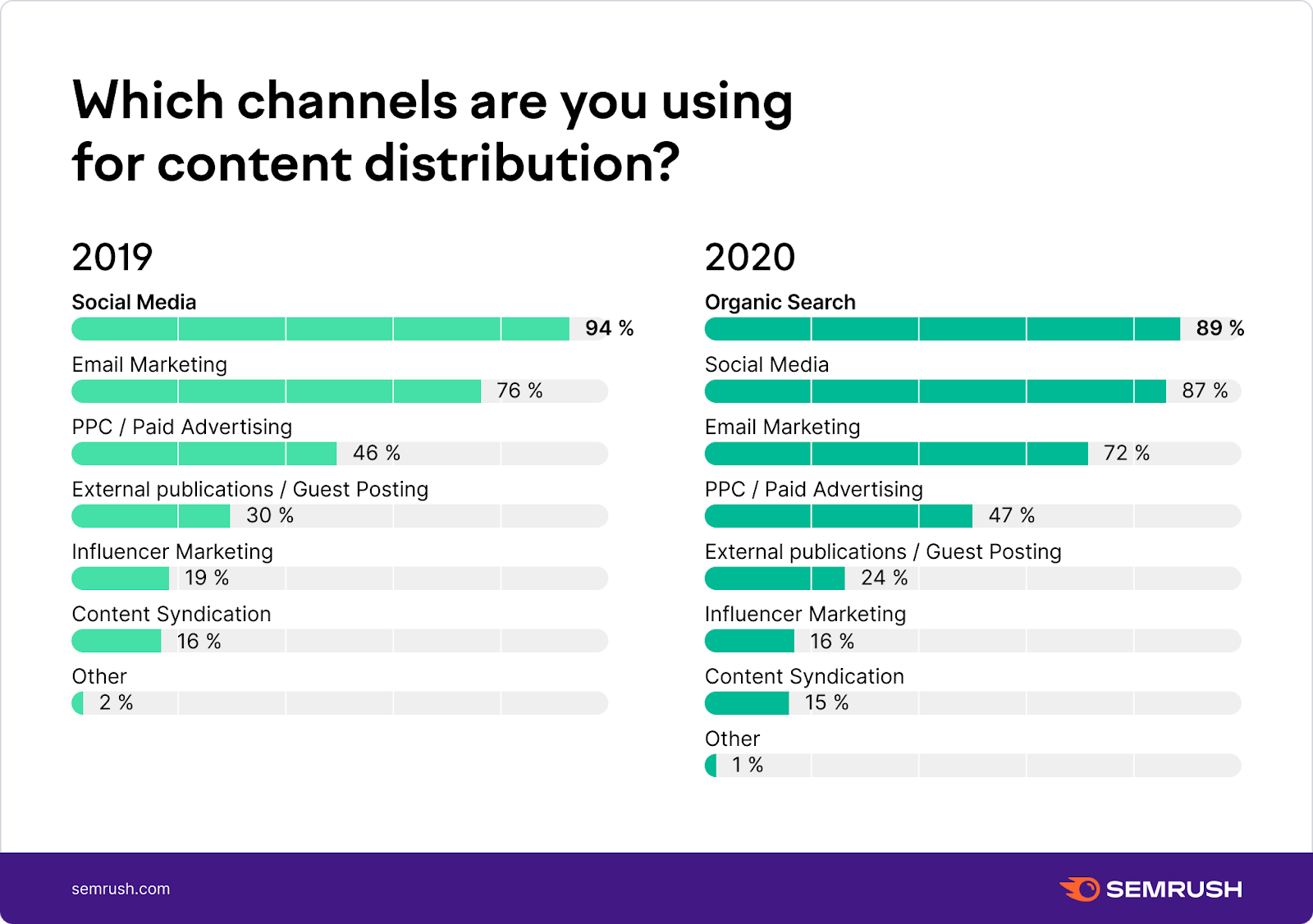 Given the emphasis organizations are putting on organic search results, it's little surprise that blog posts remain – by some distance – the most popular form of content produced. This kind of content doesn't only just attract traffic, however; it also pushes users further down the content marketing funnel, which - as we have already seen - aligns with most companies' lead generation goals.
This emphasis on lead nurturing throughout the funnel also explains why email marketing continues to thrive in popularity, as does the increased production of ebooks and white papers. Ebooks, in particular, are a great way to nurture targeted leads, allowing organizations to demonstrate authority, build their email list, and even generate revenue directly. To find out more, check out our dedicated guide to writing an ebook.
Are Organizations Outsourcing Their Content?
While it is a divisive topic in some circles, the outsourcing of content can be an excellent way to achieve your content marketing objectives. But just how popular this practice is? And which areas are the most outsourced?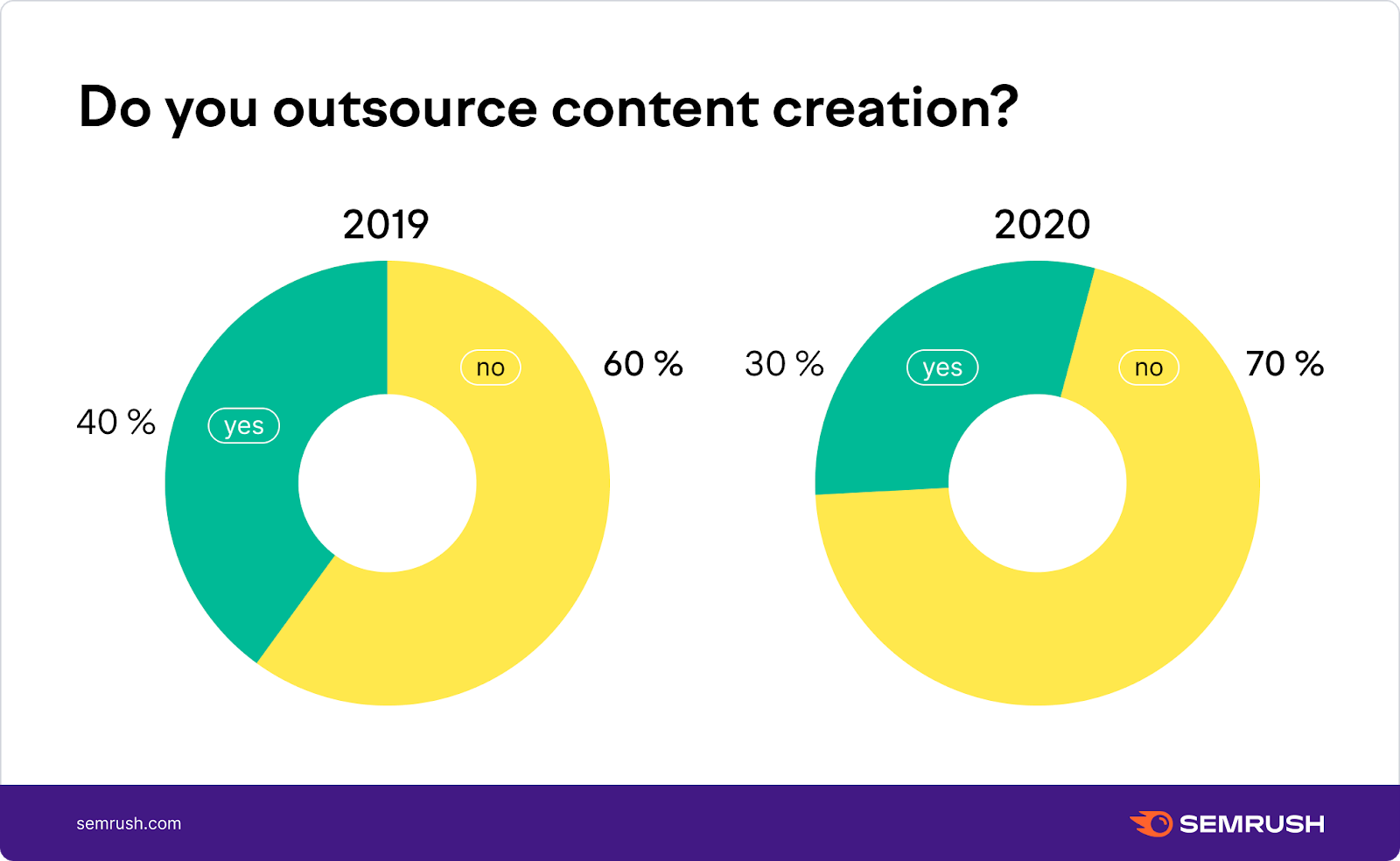 There is a decrease in the number of organizations outsourcing their content marketing needs, with less than a third of businesses now doing so.
However, of those that do, there is a massive increase in the need for content writing services, which aligns with the demand for blog posts, ebooks, case studies, and other content formats. At the same time, more content professionals are offering their services remotely, giving businesses a greater depth of choice and quality.
The services of designers and video animators have also undergone a surge in demand, suggesting that organizations are more willing to outsource creative roles. Cost is also a factor here, with specialist roles such as these generally more expensive to fill on a full-time basis.
How Is Content Being Distributed Within the Marketing Funnel?
Content has various applications within the different stages of the marketing funnel. For instance, at the top of the funnel (ToFu), potential leads are in the discovery stage of their journey, and are looking primarily for information. This generally means blog posts, infographics, or social media posts.
As they progress further, however, more detailed content such as ebooks, white papers, and in-depth specs are required.
So which stage are organizations most focused on?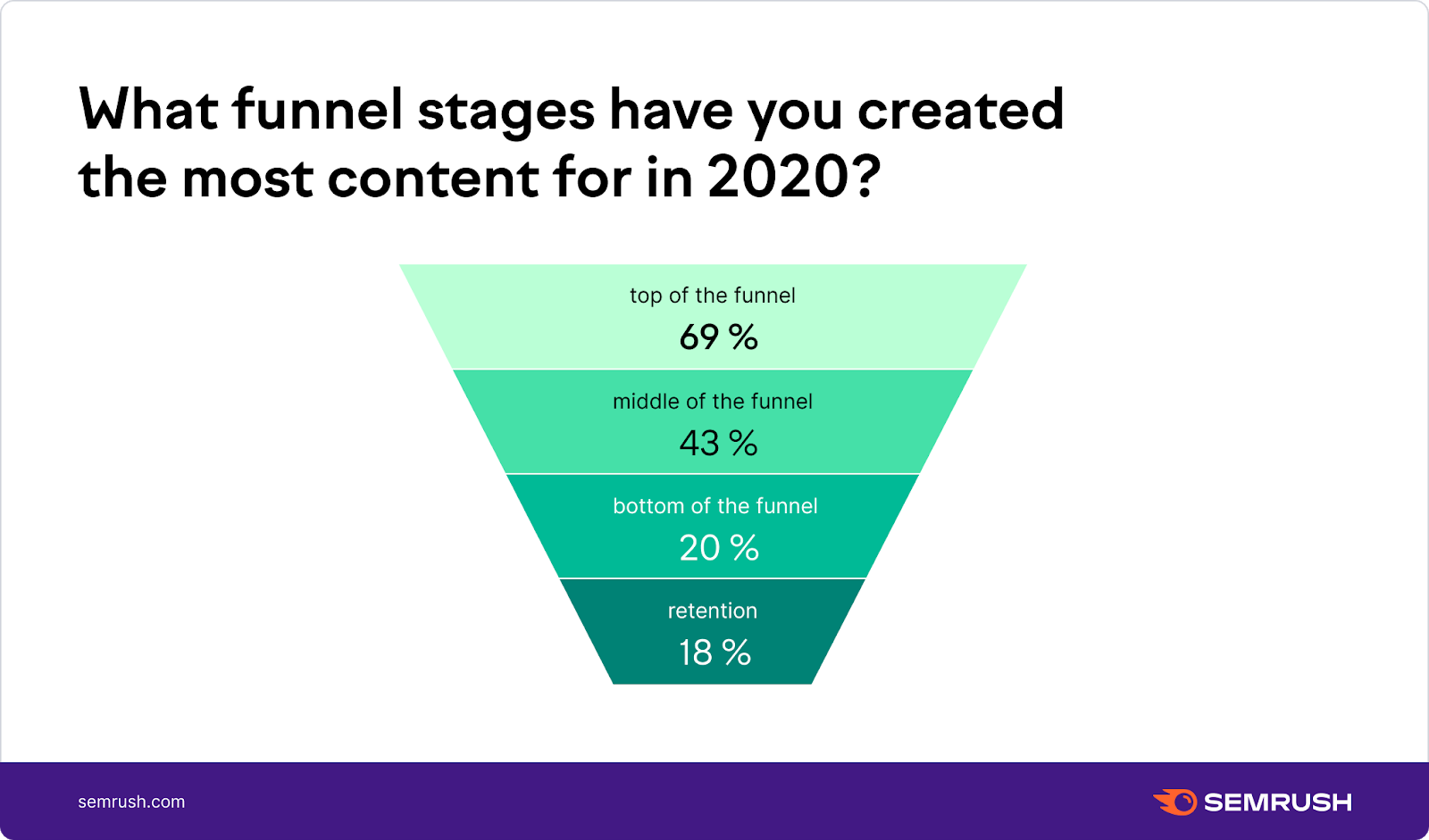 As you can see, over two thirds of companies are prioritizing the creation of ToFu content. This correlates with other elements of the survey that suggest attracting traffic and generating quality leads are the primary goals for most content marketing teams.
However, it's important to produce content for all stages of the content marketing funnel, as this is what will help to convert (and keep!) those leads. While ToFu content may be the primary focus, this doesn't mean you should ignore the other stages. As we revealed in another recent study, 86% of marketers also create MoFu content, while 76% produce BoFu content.
How Often Is Content Reviewed?
A content audit is an important first step when creating a content marketing strategy, but it's also a valuable tool for checking the ongoing health of your content.
So how often are organizations doing this?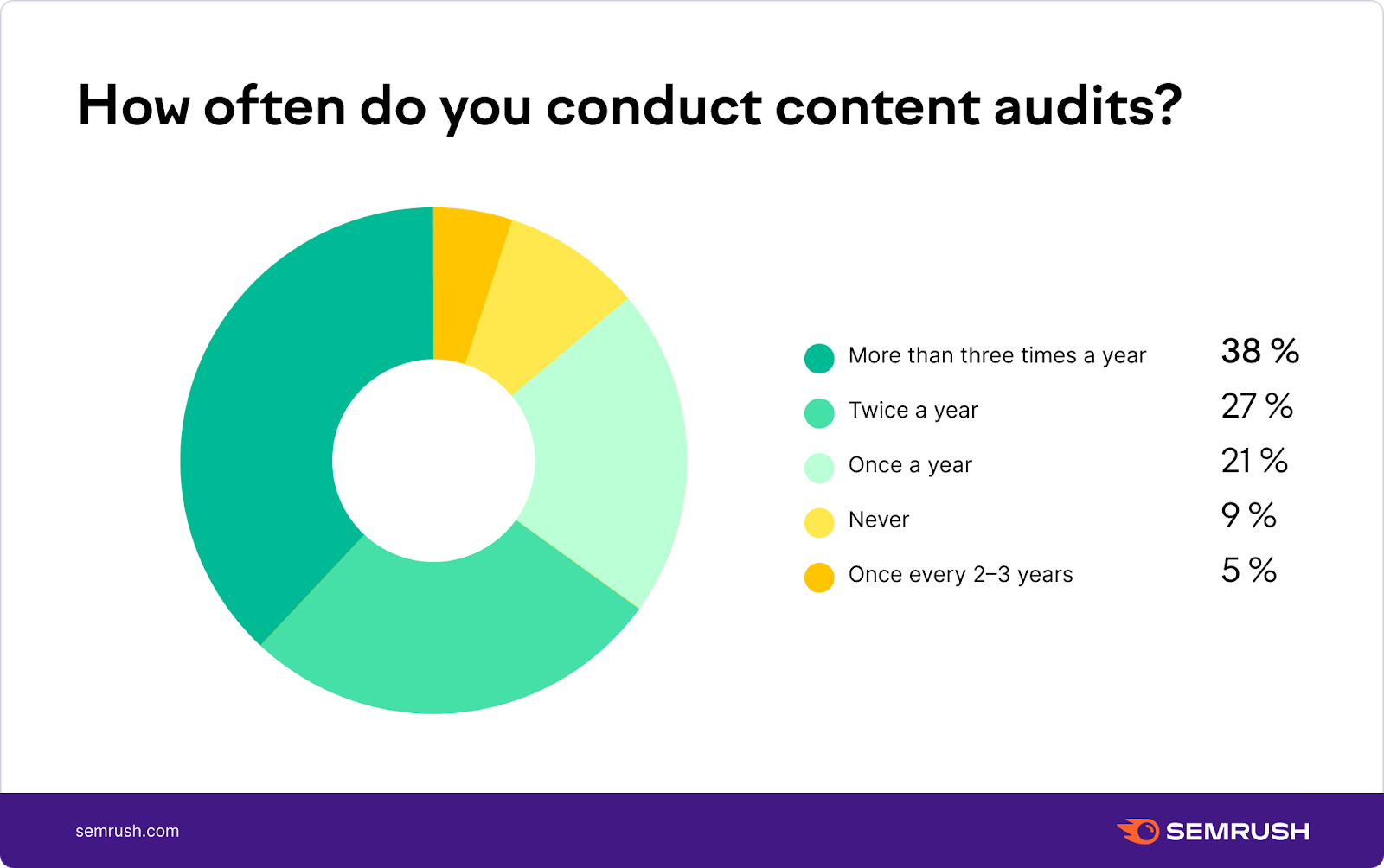 As we can see, over a third of respondents are auditing their existing content regularly, although 14% deem this process to be a low priority - or not needed at all.
In most cases, this approach isn't advisable. By auditing content at reasonable intervals, companies may discover content that is ripe for repurposing, potentially saving time and money. It can also allow marketers a chance to understand why certain content isn't performing, tie their content into other sales and marketing campaigns, and identify opportunities for improvement or additional content.
If you're unsure of how to audit your content, be sure to check out our full step-by-step guide.
What Are the Most In-Demand Skills for a Content Marketer?
We have already seen that content marketing teams are growing, and that organizations are using this approach to generate leads, build ROIs, and be more competitive in an increasingly dense field.
To achieve these goals, it's crucial to hire the right people with the most suitable skill sets. Therefore, we closely analyzed which skills are the most desirable for content marketing professionals to possess, not just in terms of technical capability, but in regards to character and personality, too.
Note on the methodology: We analyzed the employers' requirements as mentioned in each job offer. The percentage shows the mentions of a particular skill out of the total number of content marketing job offers.
Hard Skills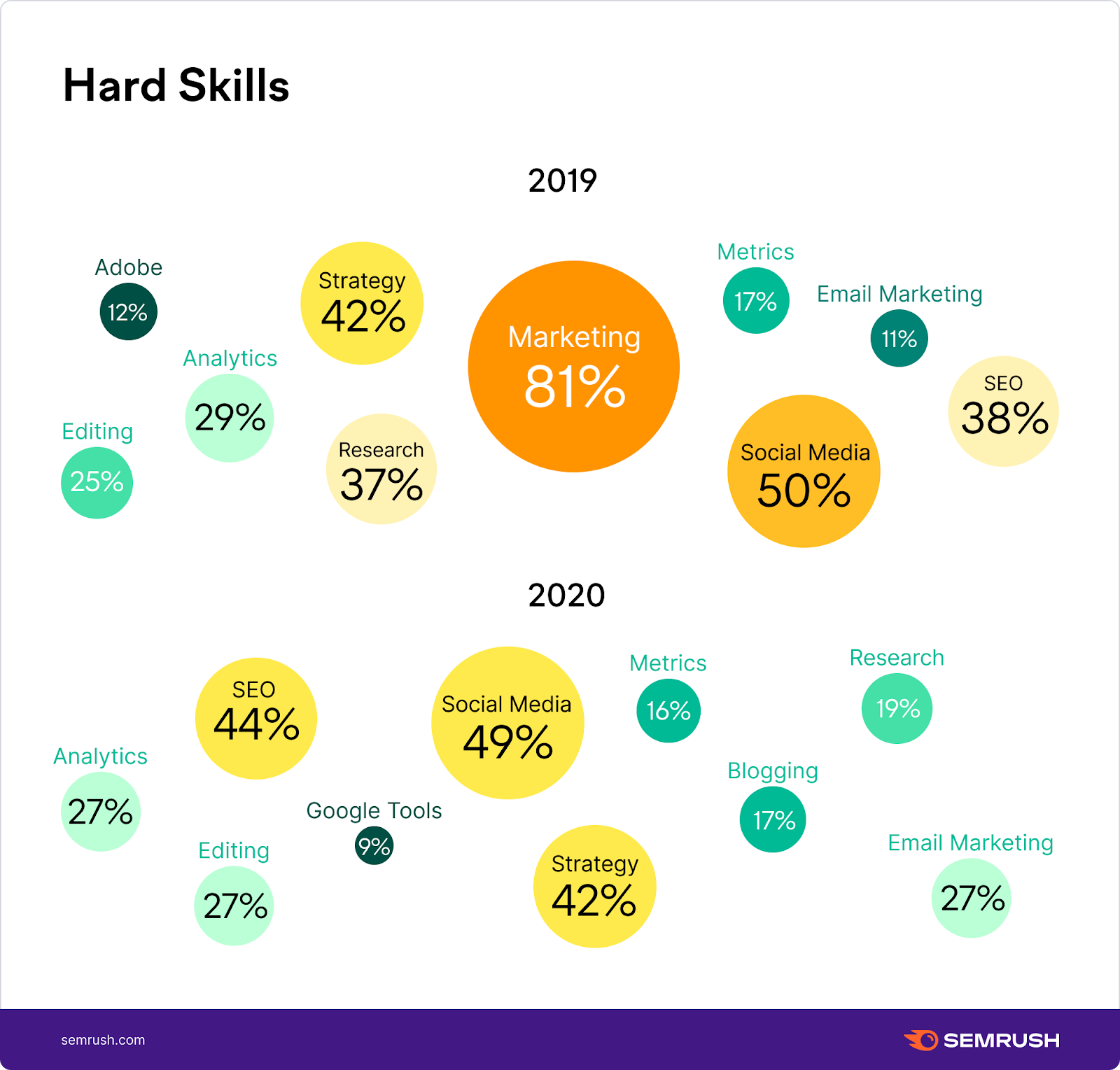 In 2019, the term 'marketing' was clearly used broadly, with most employers now narrowing down their requirements to more specific skills.
Unsurprisingly, proficient knowledge of SEO is chief among these specialist skills, with the increase in demand aligning with organizations' organic search goals. There is also a significant hike in interest for professionals with email marketing skills and experience.
'Strategy' continues to be a significant skill in demand, too. This makes sense, given that more and more organizations are creating and adopting content marketing strategies. Many of the hard skills required for this role appear here, with a good content strategist needing to be proficient in editing, analytics, SEO, and technical SEO.
Soft Skills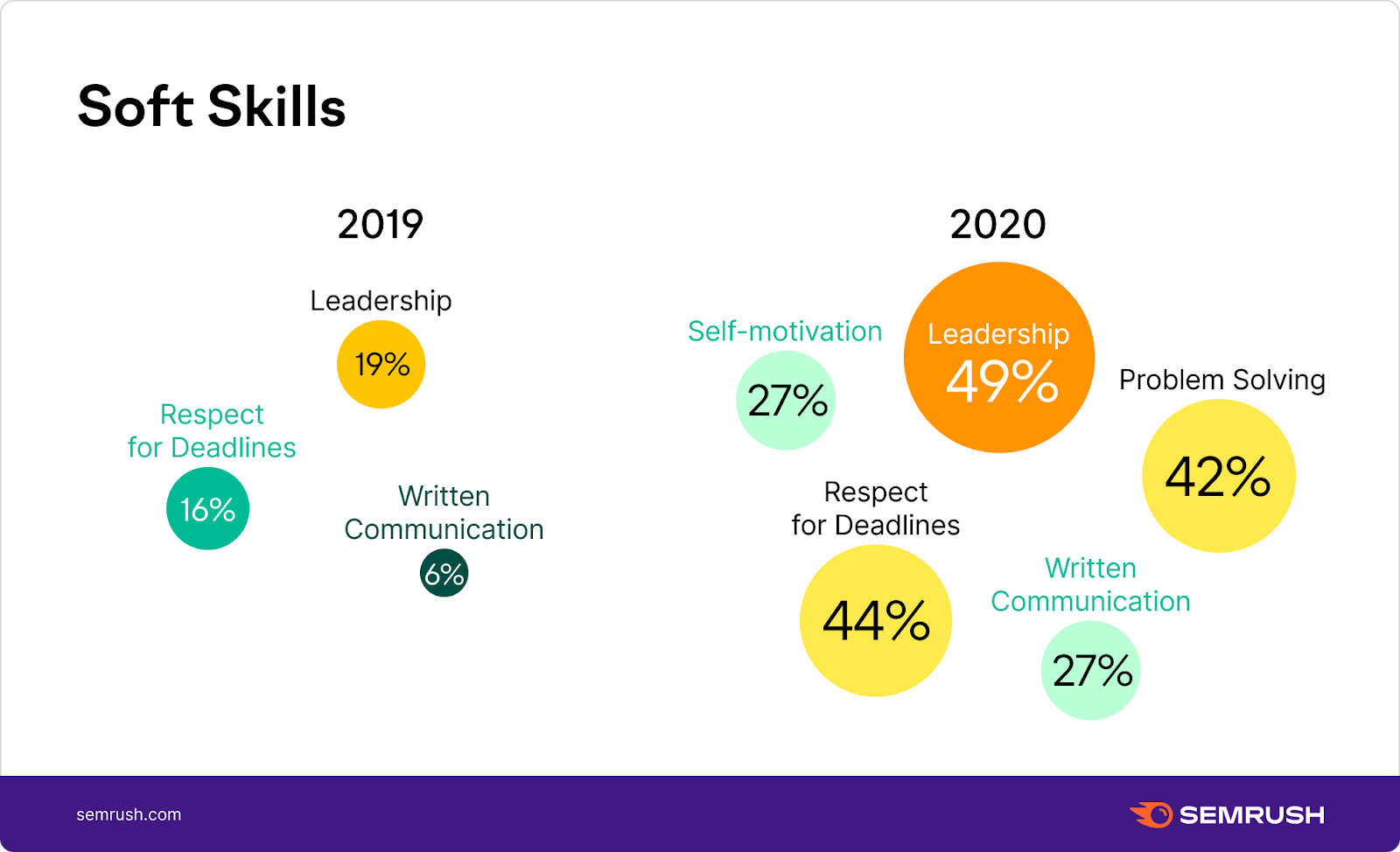 Leadership remains the top soft skill that organizations are seeking among new hires, which correlates with the increase in management and head of content marketing positions already highlighted elsewhere in the survey.
The ability to work to deadlines also remains pivotal while, interestingly, the ability to solve and overcome problems now has more precedence than the ability to produce written communications. This suggests that content marketing professionals are now expected to serve more than one purpose within their teams.
Key Takeaways of the Survey
So, given the information and responses collected, what can we ascertain about the immediate and longer-term trends within content marketing? And, more importantly, how can you apply these findings to improve your own content marketing efforts?
Here are the key takeaways:
Content marketing strategies are becoming more effective. Although only 11% of companies evaluate their strategy performance as 'excellent', more than half believe their approach is performing well. In addition, over 70% of the organizations surveyed believe that their content results were more successful in 2020 than in the previous year, with only 8% believing that their efforts regressed.

It's not just about driving traffic and leads, but generating an ROI. Organic traffic and sessions/pageviews remain the most common indicators of success for most organizations, but ROI is becoming increasingly important as businesses seek direct financial returns on their content efforts. Meanwhile, other traditional SEO metrics such as backlinks, session durations, and bounce rates still hold sway, although we are seeing a stagnation in the importance of social shares for respondents.

Content marketing teams are generally small. The vast majority of organizations operate with small content marketing teams of 1-3 people, although there is evidence in the survey that these teams are slowly growing. Typically, the majority of these teams contain a content writer, SEO specialist, and/or content strategist, while, over the course of the last year, there has been a decrease in the number of social media managers within these teams.

Organizations prefer to have an in-house team. There was a 10% decrease in the number of surveyed organizations outsourcing their content marketing needs in 2020, suggesting that businesses increasingly prefer to create their content in-house. Of the roles that are outsourced, it is primarily creatives – writers, designers, and video animators – that are the most required.

Businesses are increasing their content marketing budgets. In order to achieve their content marketing goals, organizations are increasing their spending across the board – and expect to continue to do so in 2021. As an indicator, 47% of the respondents now spend more than $10k on their annual content marketing output, compared to just 38% in 2019.

Teams are using even more technology than before. Content teams are continuing to heavily utilize technology and software in their approach, with a significant rise in the use of analytics software, scheduling and management systems, and automation tools. Unsurprisingly, given the pandemic, there has also been a strong uptake in the adoption of team collaboration software.

Blog posts remain the most popular form of content. Blog posts continue to thrive, reflecting the intent of most organizations to generate leads and attract organic traffic. That said, emails, ebooks, and white papers also remain popular, especially further on down the funnel.
Methodology
Content Marketing Survey
To obtain as comprehensive an overview as possible, we asked over 1,500 marketing agencies, B2B and B2C companies, non-profits, and other organizations to share with us the role of content marketing – and content marketing strategies – within their operations.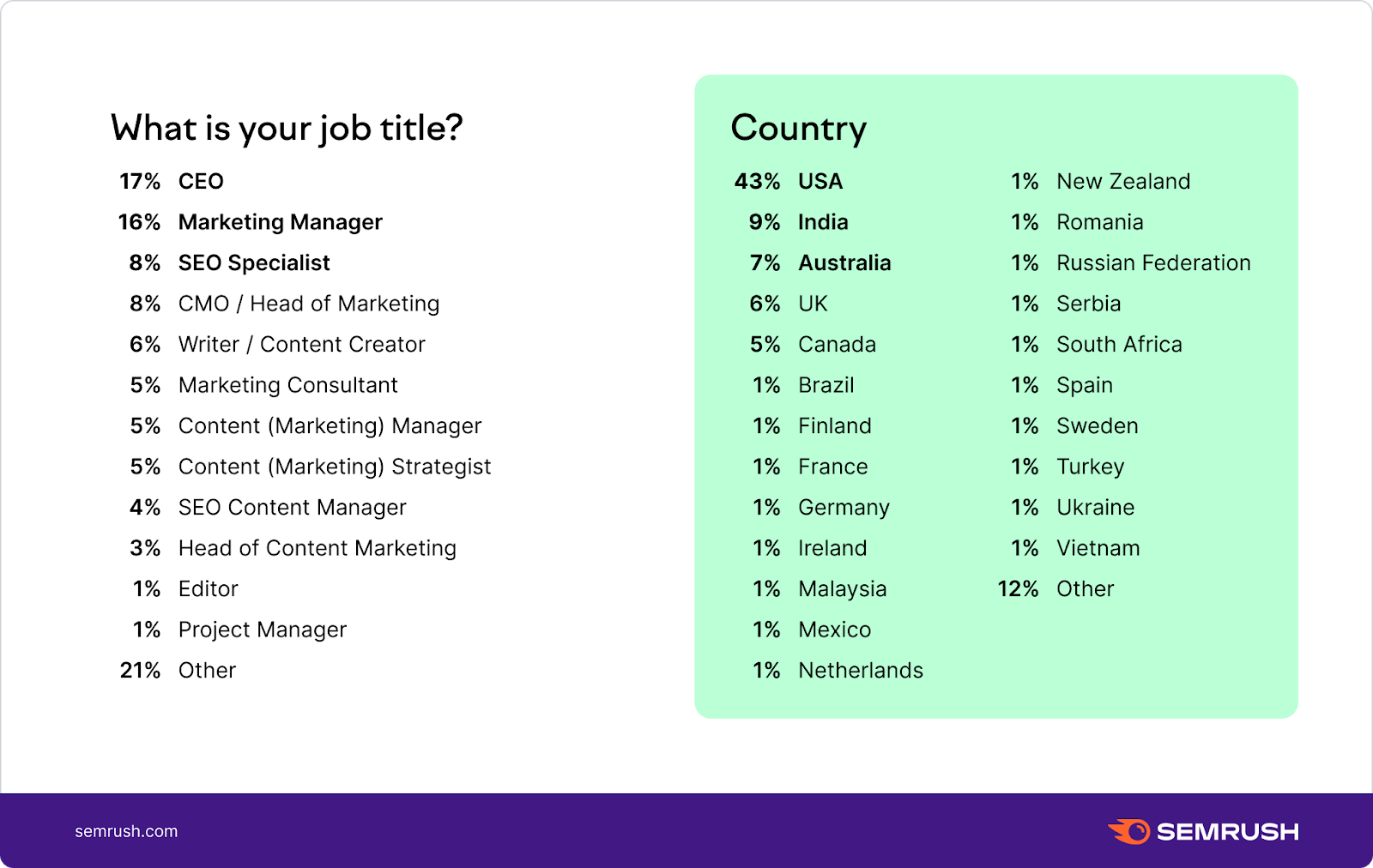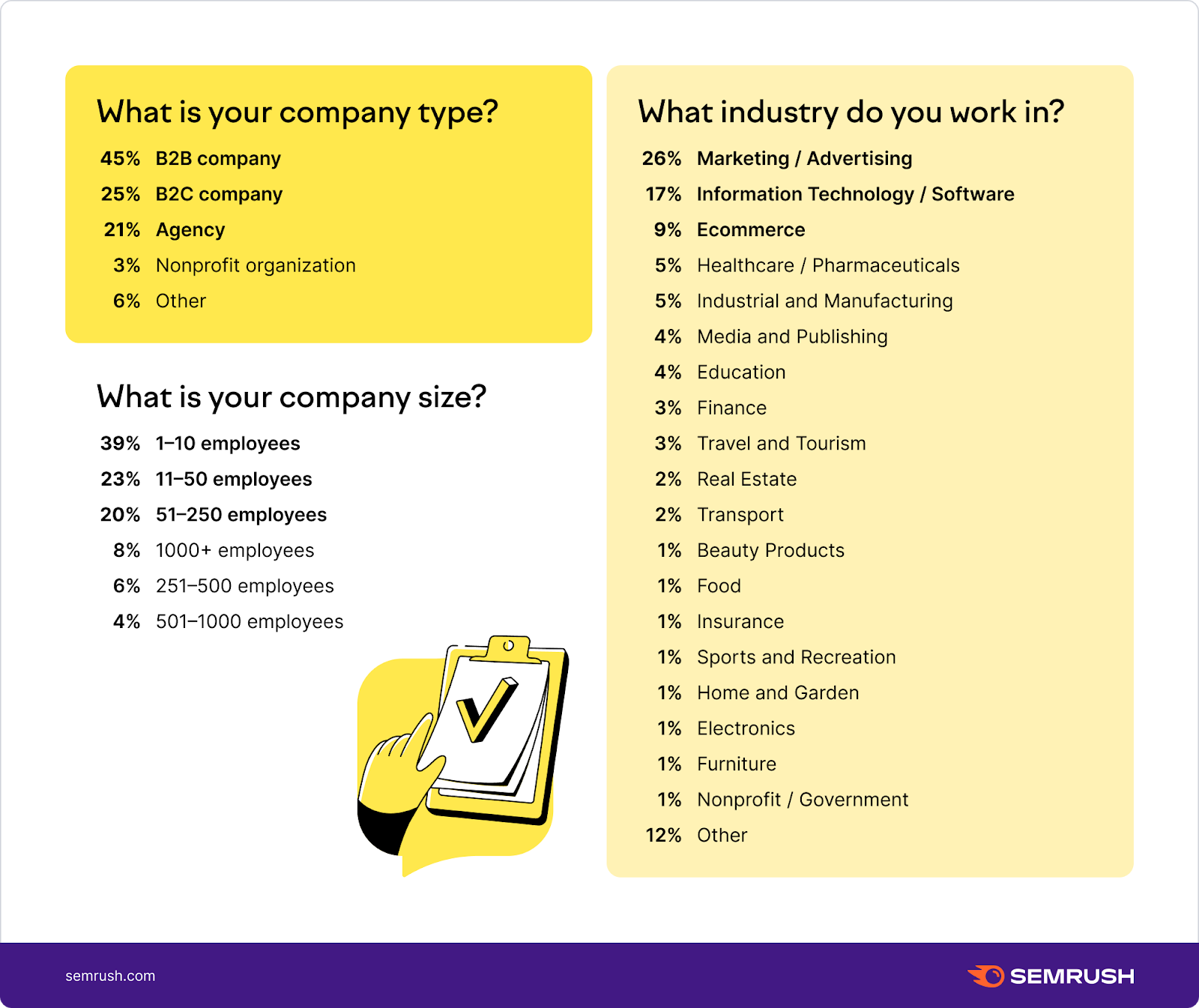 We also expanded our survey from 2019, in order to compile more detailed data and to reflect various developments and trends within the industry. Due to the additional questions, this meant that in some cases we could not provide a direct comparison between the results.
Top Required Skills for a Content Marketer
To identify the most required skills for content marketers, Semrush Academy analyzed over 17,000 content marketing positions on the three largest active job posting sites (Monster, Indeed, and LinkedIn) in the US, UK, Australia, Canada, and India.
In Conclusion
As we dive deeper into 2021 and beyond, we hope that the insights and trends uncovered in this study can allow you to improve the effectiveness of your content marketing efforts. The ongoing effects of the pandemic suggest that this industry is only going to get more competitive as the year goes on, so any steps you can take to identify areas of improvement, or to simply achieve a better understanding of your competitors' behavior, could potentially prove valuable.
With this in mind, you can check out the full State of Content Marketing 2020 report, which also includes extensive research into the various Twitter trends and Google search queries dominating the industry.