When people talk about content optimization, they're often referring to search engine optimization (SEO). However, this doesn't mean that you should be optimizing your content specifically for search engine bots.
Rather, the opposite is true; when you optimize your content for humans, it then becomes search engine friendly. 
In this guide, we'll talk about the different ways that you can optimize your content to improve performance, as well as explain why this is so important.
What Is Content Optimization?
Content optimization is the process of refining and enhancing digital content to improve its visibility, engagement, and effectiveness. The process involves ensuring content quality, including keywords, writing compelling titles and meta descriptions, and earning authoritative backlinks.
Why Is Content Optimization Important?
Let's say that you've written a great top-of-the-funnel (TOFU) blog that's related to your core product, and you want to get as many eyes on it as possible. Two to three months after publishing, you check the performance of the post only to find that nobody has seen it.
Why? Well, maybe:
The keywords you have used have little to no search volume
You haven't covered the topic in any real level of detail
You haven't used a coherent heading structure, so Google's bots have had a hard time making sense of your article
Your title tag doesn't accurately reflect what the article is about
Essentially, if you don't optimize your content, your piece might disappear into the Google vortex. You might have written the best article in the world, full of unique insights and helpful advice. But, if search engines can't find it, nobody's interested in it, or it's pitched at the wrong audience, it's unlikely to help you achieve your content marketing goals.
To help you avoid this, we've compiled some helpful tips to keep you on the right content optimization path and make sure your content marketing strategy is successful. 
Methodology
In our State of Content Marketing 2022 Global Report, we analyzed nearly 24K articles that rank in Google's top 10 results. Then, we correlated their quality score in the Semrush SEO Writing Assistant tool (SWA) with its ranking. 
What did we find in common with the highest-ranking articles? 
They measured a perfect score (9 or 10 out of 10) across the four main pillars: SEO, readability, tone of voice, consistency, and originality. We found out that 34% of the articles ranking on the first page had perfect scores, compared to 13% of the pages that scored poorly.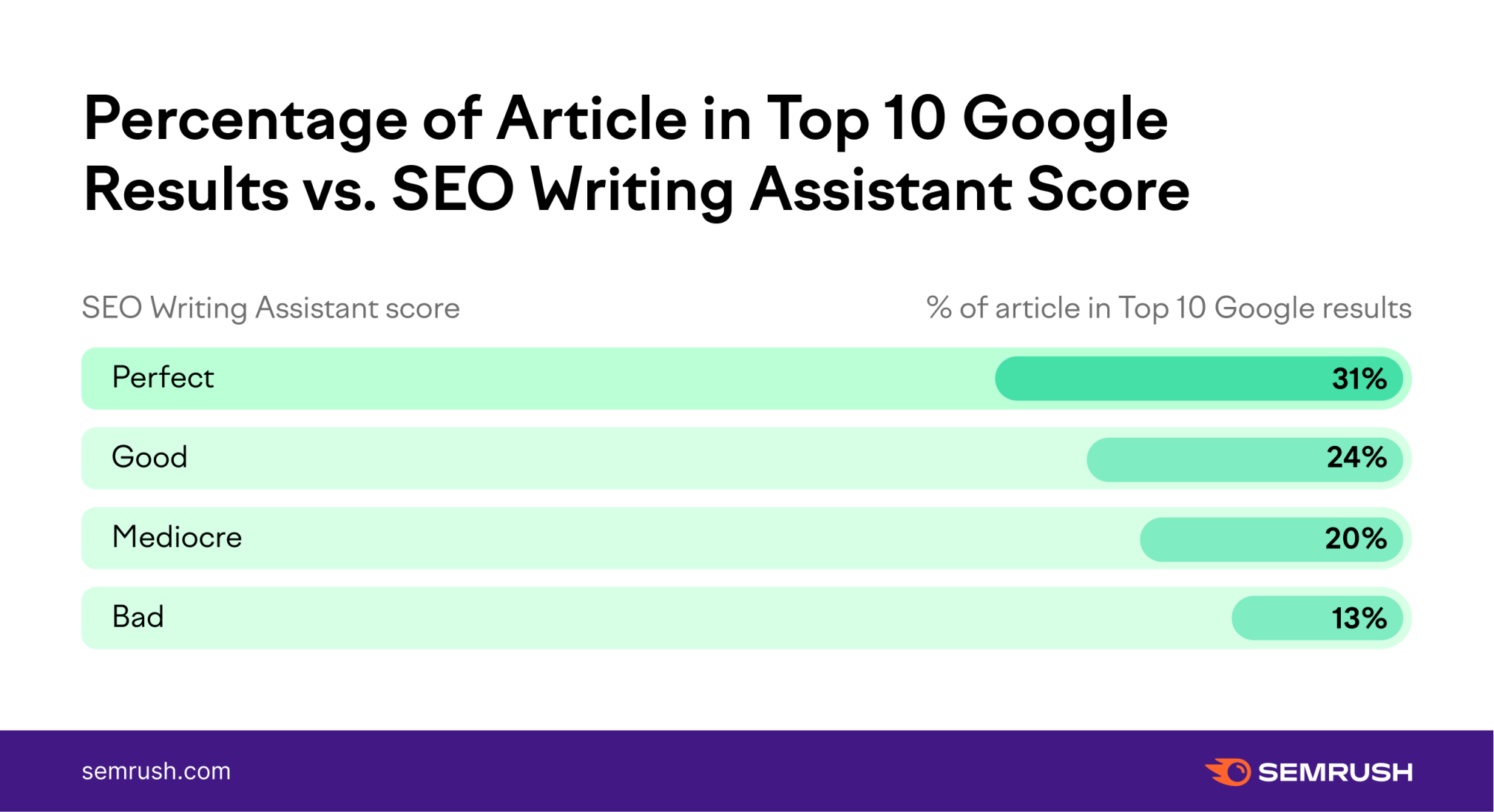 In our research, we classified scores in the following way:
The highest scoring content was considered anything that scored between an 8-10
The lowest scoring content was considered anything that scored under a 6 
Ergo, it's safe to say that there's a strong correlation between quality content, what search engines like to serve, and what people find valuable amidst the digital noise.
Now, let's move to specific tactics you can implement when optimizing your content for SEO, backlinks and shares, and conversions.
How to Optimize Content for SEO
Many marketers start by optimizing their content for search engines so they can get a higher quantity and quality of unpaid traffic to their page. Here are the 10 best ways to optimize content for SEO: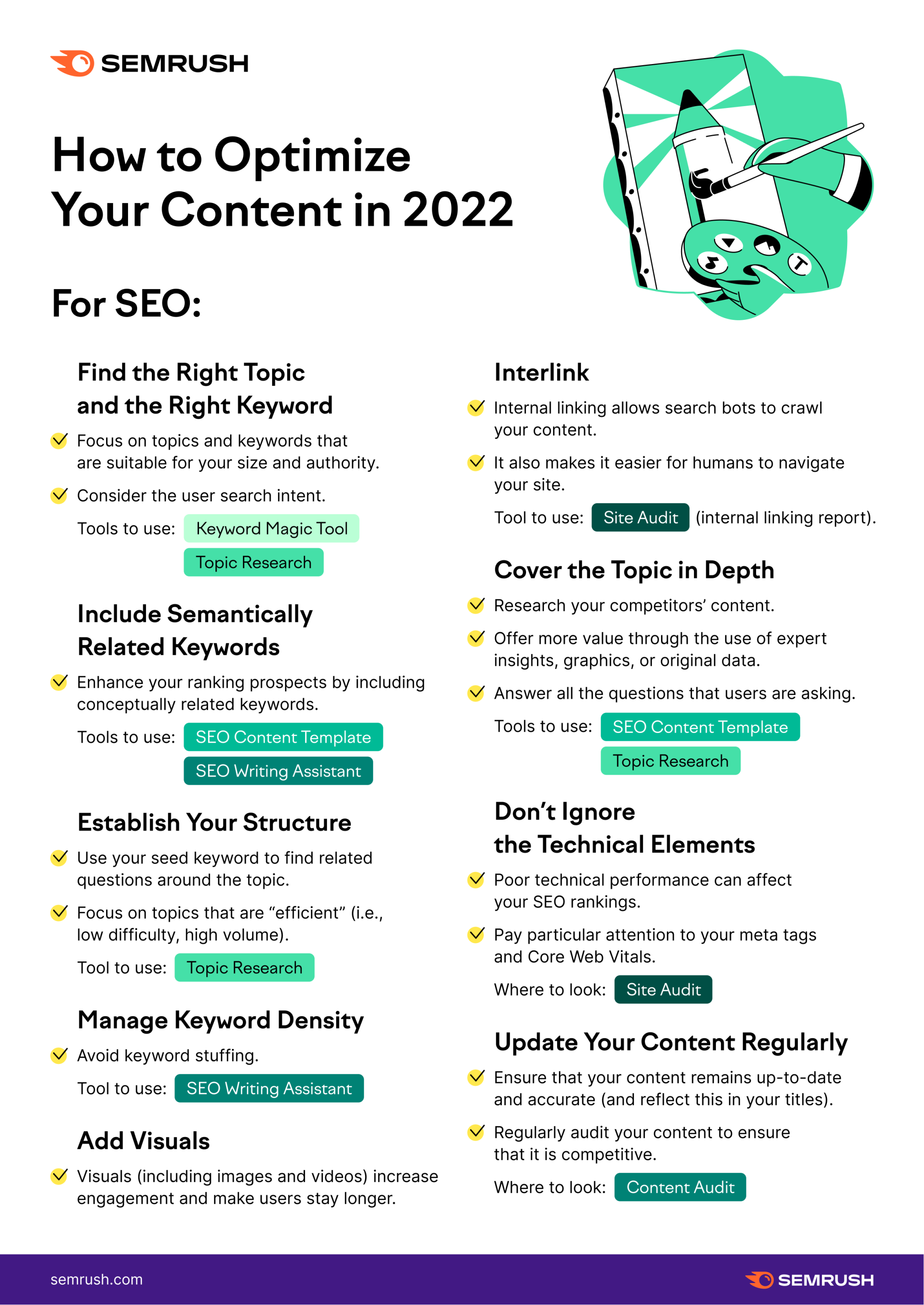 1. Target Relevant Keywords with Traffic Potential
The fundamental building block of every piece of your content is the topic and the target keyword(s). It's important to identify those before preparing and writing your piece.
Start with a bigger topic that you'd like to focus on. Google is now paying more attention to how you are covering the topic vs a single keyword.
Remember: Keywords are separate search queries that people use, while topics bridge the semantic relationship between those keywords.
To streamline this process, you can use the Topic Research tool. First, type in a general idea that you think might resonate with your audience.
For instance, if you are a healthy meal delivery service, you might want to start with a 'healthy diet' topic. You can also select the desired geographical location: country, region or city.

Next, you will see a wide list of related subtopics you can choose for your article.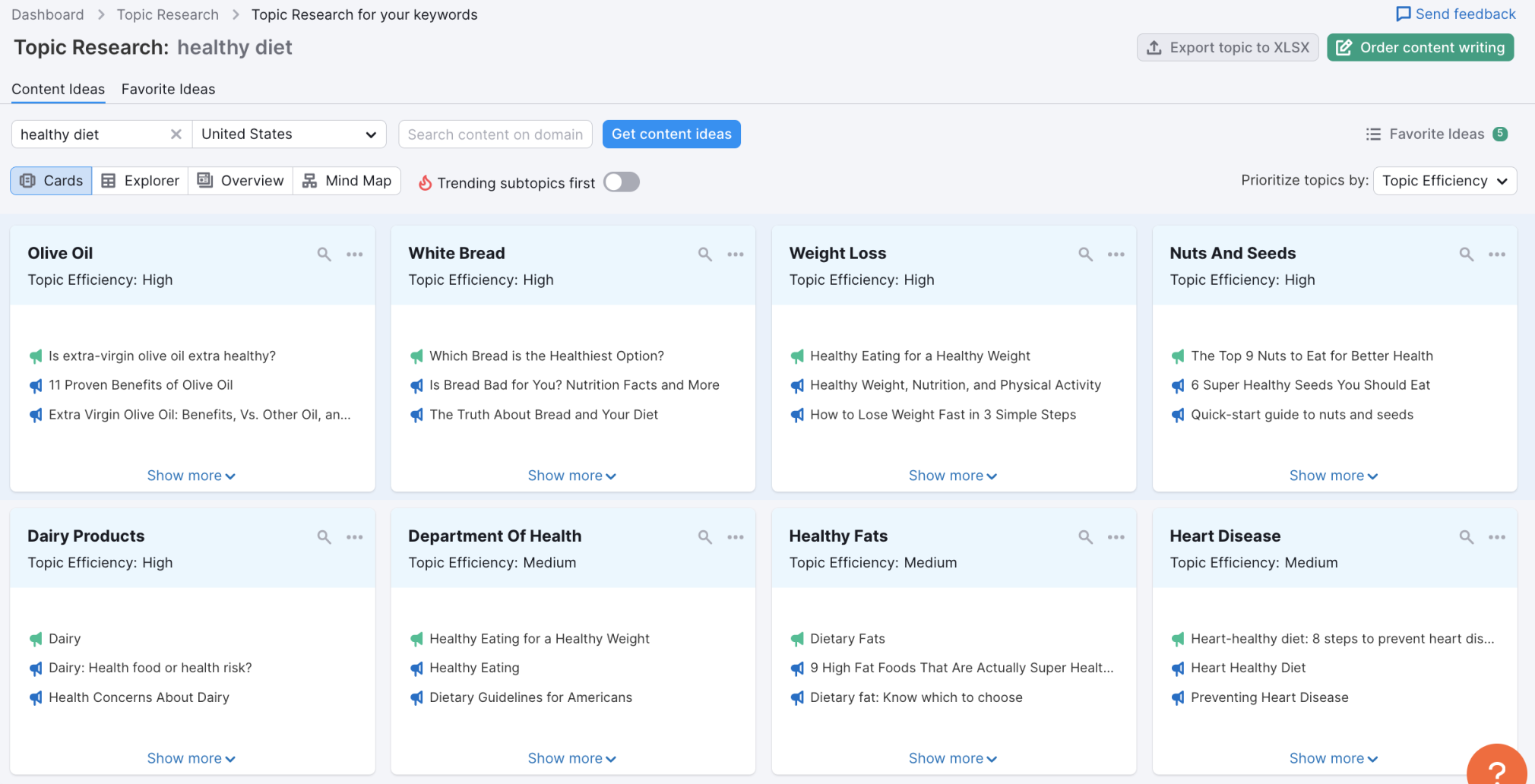 For instance, you can decide to opt for the 'Healthy fats' topic. Click on the card to see the most popular headlines and questions related to this content idea. At the bottom of the card, you will also see a list of related searches.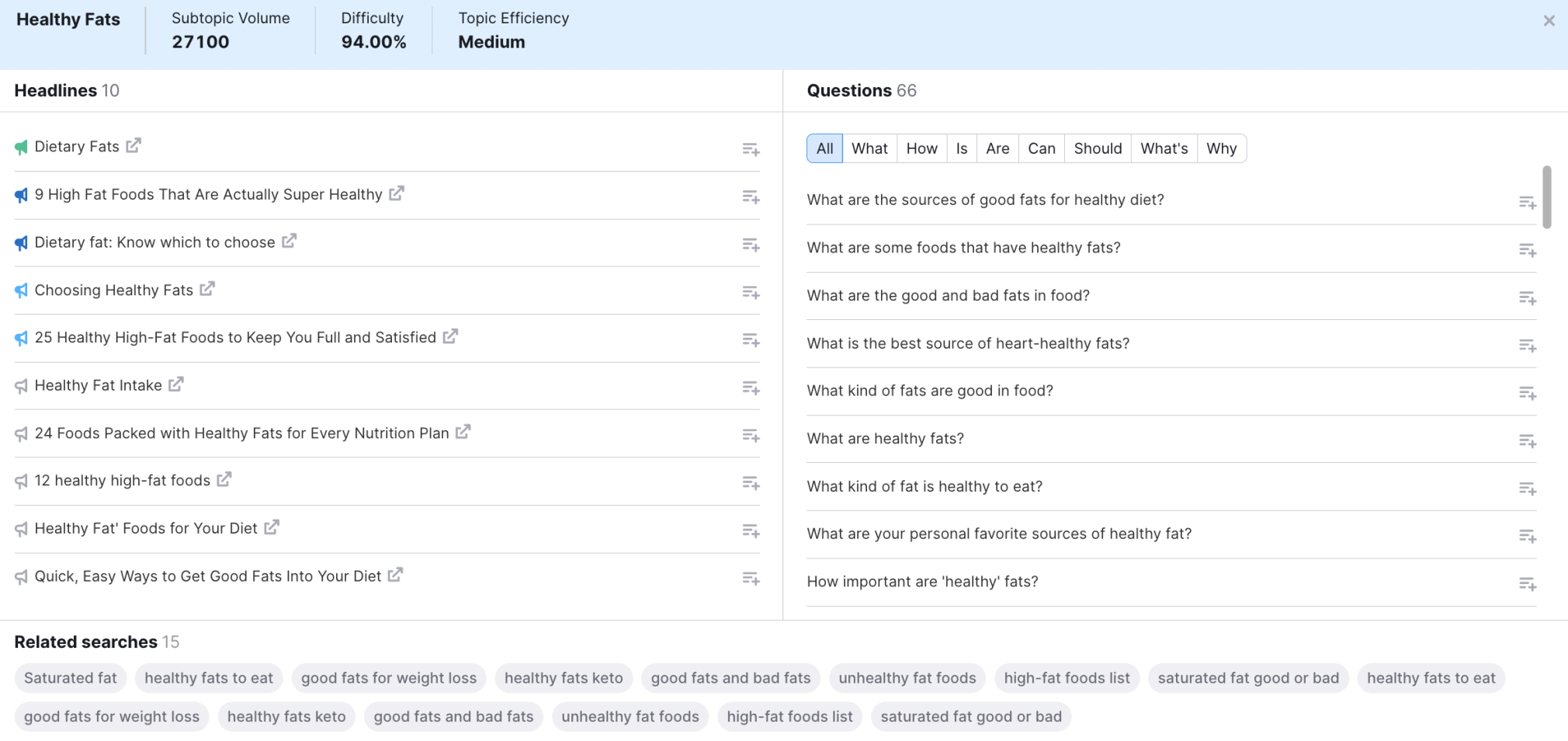 Now that you've decided on your topic, you can decide on the target keywords for your blog post. 
There's far more to keyword research than identifying phrases or words that are relevant to your product or business, though.
Depending on the size and authority of your brand, you also need to consider if the keyword is achievable and whether it meets the search intent of your target audience. 
Semrush's Keyword Magic Tool enables you to generate keyword ideas based not only on traffic volume and difficulty but on user intent as well. For instance, you can choose keywords that are informational or transactional.
Head to the tool and type in one of the keywords, for example, starting with 'healthy fats'.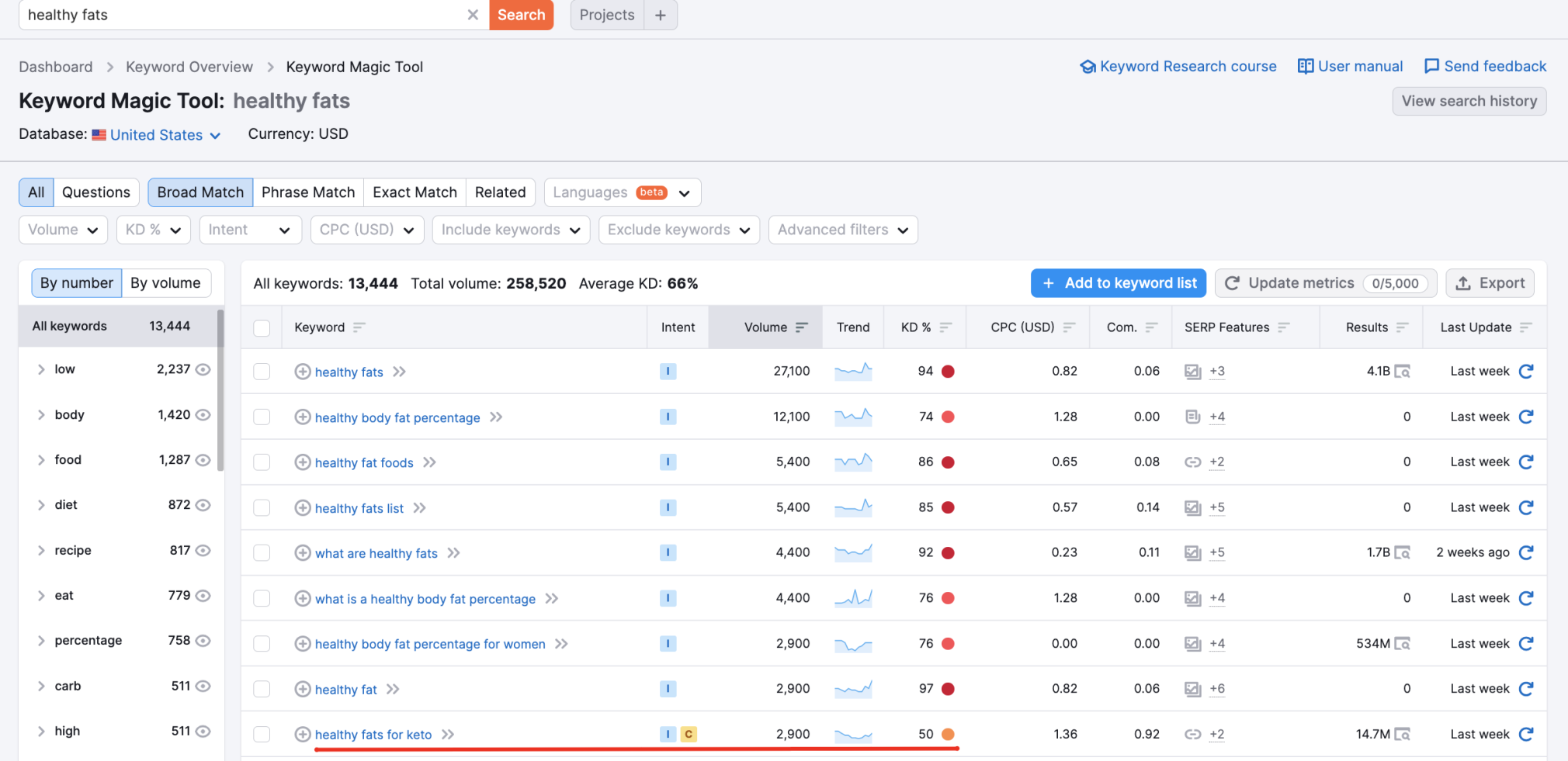 As you can see, many of the related keywords have a high keyword difficulty. If you feel like it won't be a realistic target for your business blog, try to explore further to find more attainable options.
For instance, the 'healthy fats for keto' keyword seems to have a much lower ranking difficulty, while the search volume is still pretty high.
Once you've picked the keyword, click on it and you will be transferred to the Keyword Overview tool. Here you can analyze the core information about it: the intent, keyword variations, related keywords and questions. 
It's also a good idea to type your selected keyword in Google to analyze the results that pop up. Do you feel like you can create content that will be better than anything already shared? And do the current search results match what you have in mind for this topic?
Finally, you will end up with a list of keywords that your piece will focus on, which can usually be divided into primary (most important, core keyword) and secondary (supporting and related) keywords.
To further expand this list, you can analyze the top-ranking pages using the Organic Research tool.
For example, after checking the article currently owning the Featured Snippet for our target keyword, we saw that it ranks for 1,8k keywords.
Knowing this information and including some of those keywords in your list will help you make your piece more relevant and build a powerful blog outline.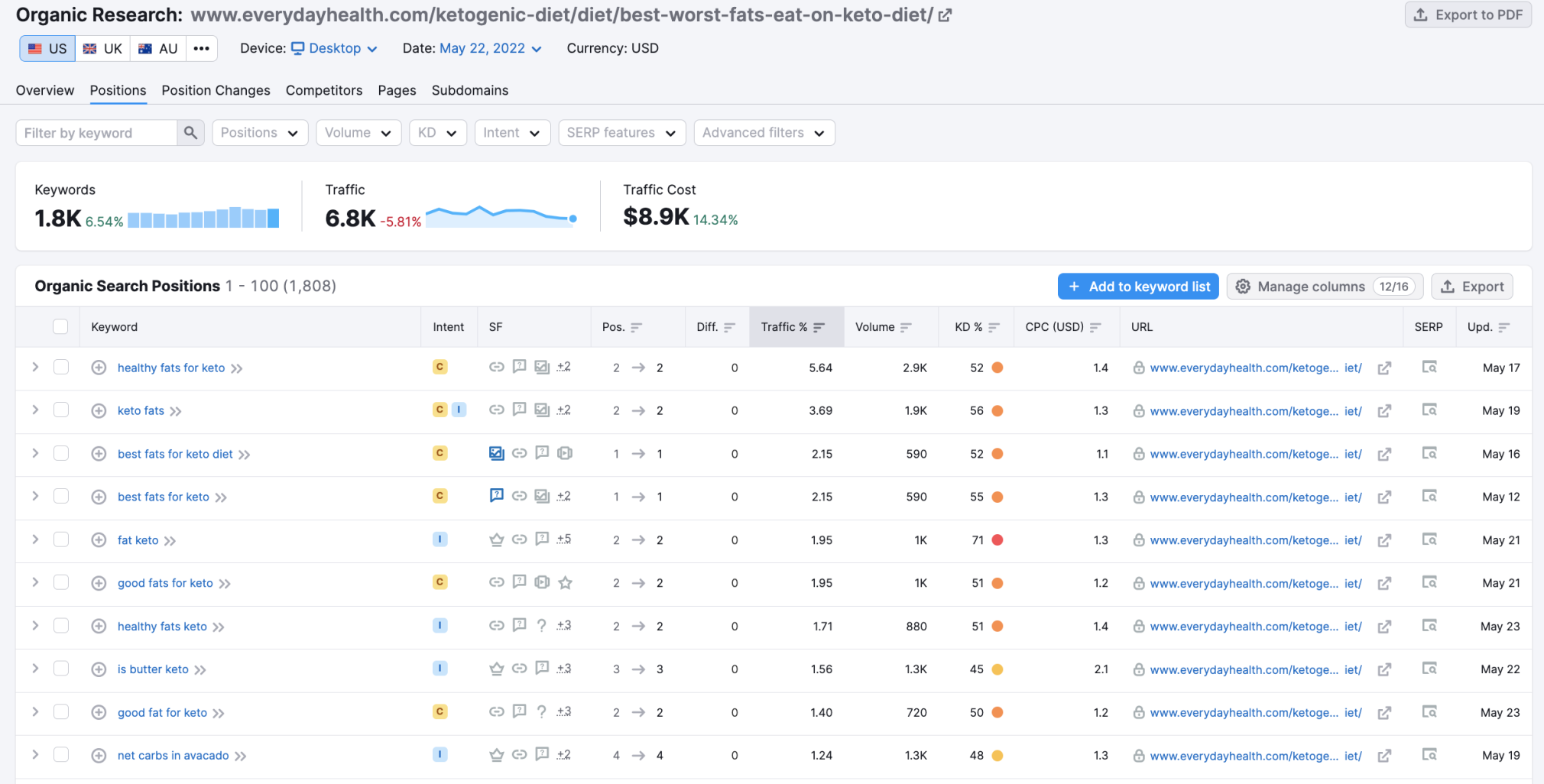 2. Include Semantically Related Keywords
To give yourself the best chance of ranking, include semantically related keywords that are conceptually connected with your target keyword. It helps search engines better understand the topic you are covering. It's important, though, that you don't deviate from the original intent of your article.
To quickly and easily find such keywords for your content piece, use the SEO Content Template, which provides suggestions based on the top 10 organic search rivals for your selected keyword.
For instance, for our article about healthy fats for keto, you can include such words as 'losing weight', 'saturated fats', 'type of fat', and 'keto friendly', among others.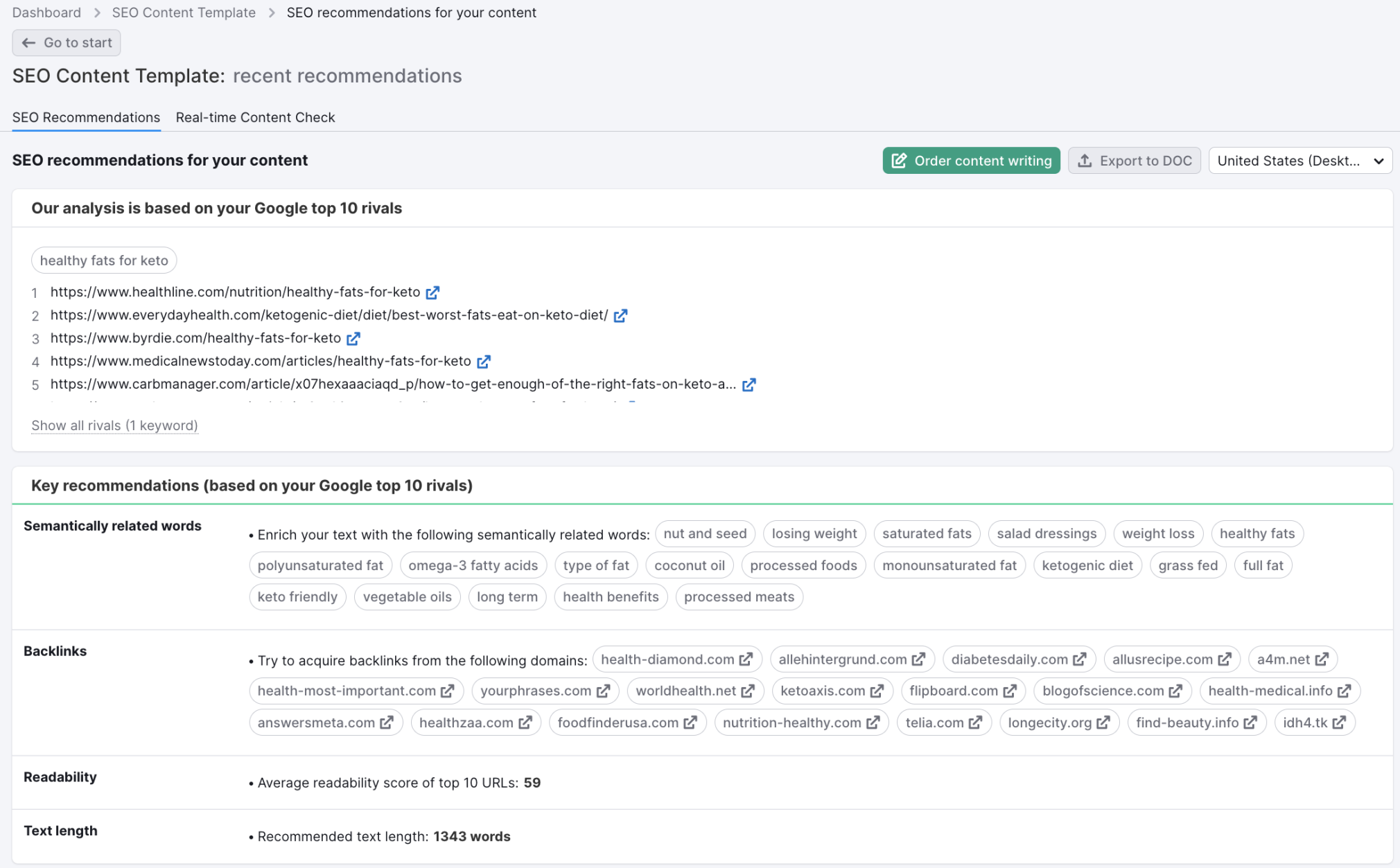 3. Create a User-Friendly Structure
Once you have your topic and keywords, outline the structure of your piece and design a logical flow. The related questions you saw in the Topic Research and Keyword Overview tools can assist you with this step. In technical terms, it means mapping out the H tag structure of the page.
According to our 2022 research, 47% of articles with advanced headings (H2 + H3 + H4) belong to the group of top-performing organic content. 
This is important for two reasons:
First of all, breaking down your topic into subtopics helps readability. Visitors to your page will have an easier time navigating and identifying the depth of coverage you're providing.
Secondly, an advanced heading structure makes it much easier for search engines to understand what's important in your article by breaking them into sections with code that they can crawl.
To automate this step, use the Content Outline Builder tool. First, type in your primary keyword.
Next, click 'Create Outline' and the tool will automatically generate ideas for mapping the structure of your article.
To get more creative ideas on what to include in your blog post, or to even plan new related articles you would link in this piece, you can go back to the Topic Research tool and retype your topic.
For example, if you select the 'Mind Map' view, you will see all new subtopics related to 'healthy fats for keto', such as 'keto healthy fat snacks' and 'healthy fats for keto without carbs'.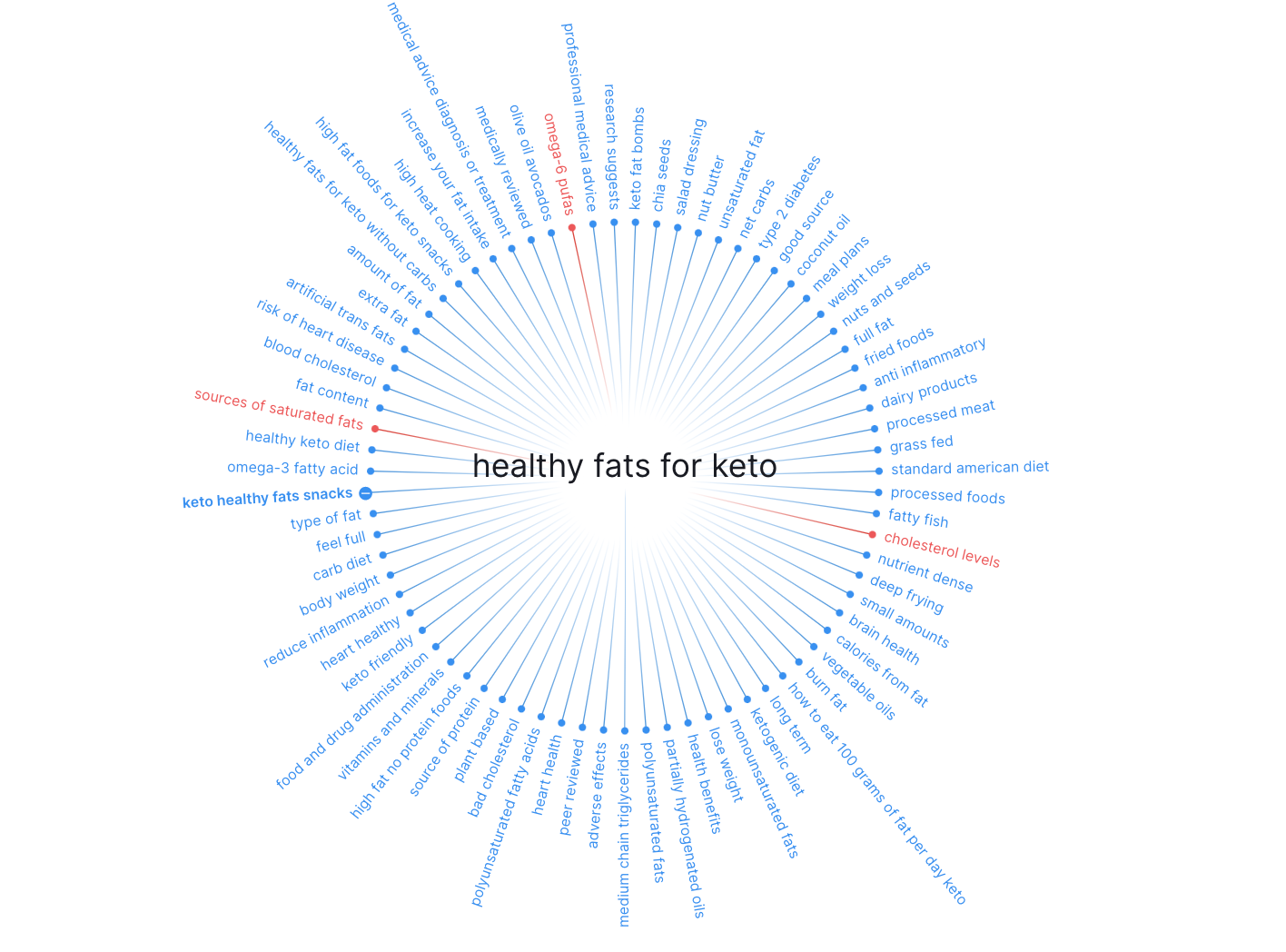 4. Include Compelling Visuals
Visuals are proven to increase user engagement with a piece of content, meaning visitors stay on your page longer and pay more attention to what you have to say.
In our global content marketing research, we found that articles with seven or more images receive 116% more organic traffic than those that don't.
We also discovered that articles with at least one video garner 83% more traffic, and articles with three videos or more attract 55% more backlinks.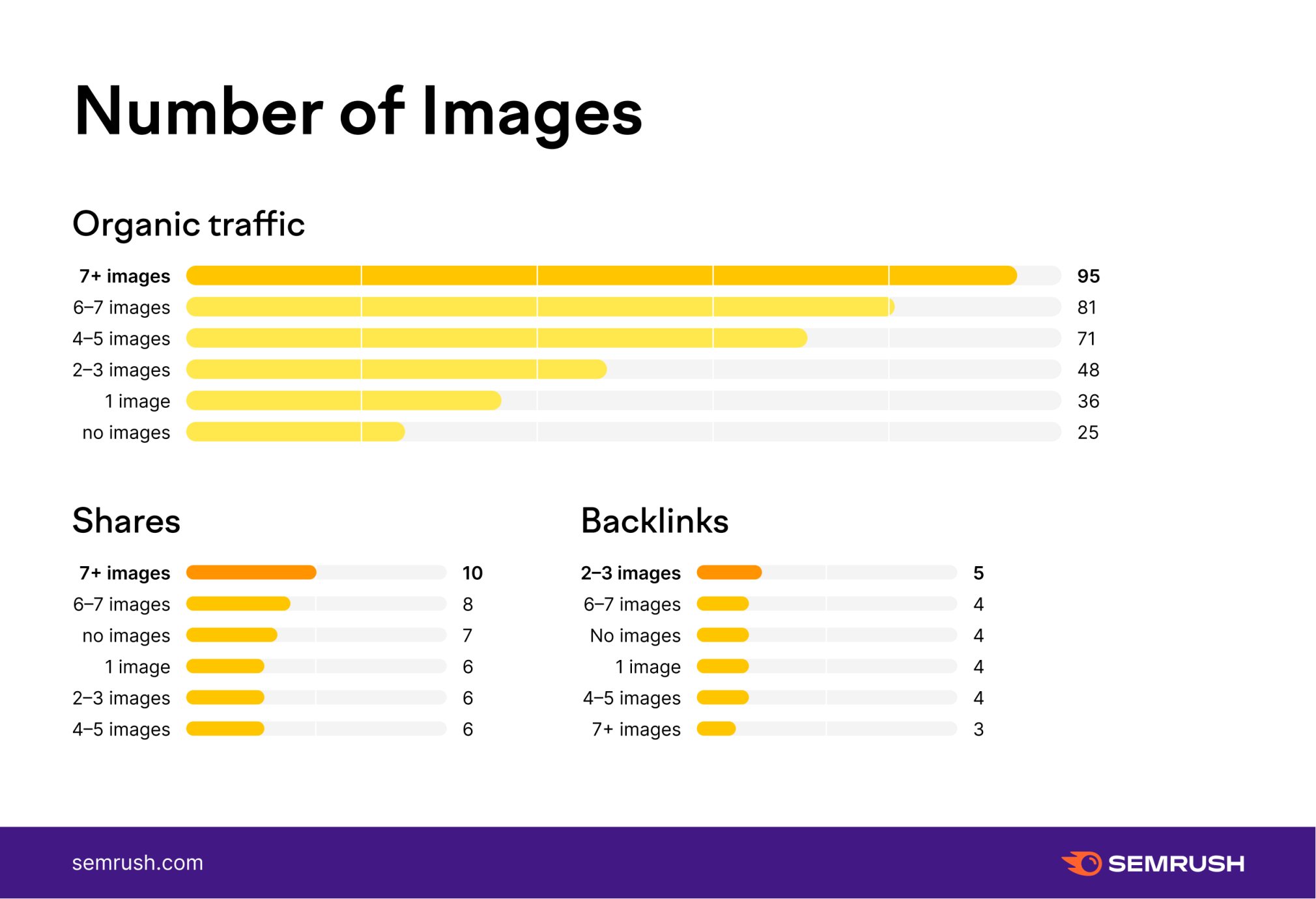 Consider the following ideas for making your content richer with visuals:
Add and create relevant infographics
Add videos - either those created by your company or by other creators in the industry 
Add useful industry examples 
Collaborate with influencers and content creators 
5. Add Relevant Internal Links
Internal linking is one of the most important SEO practices. It allows search bots to find and rank your pages more easily and passes authority from your "power" pages.
It also allows human users to navigate more efficiently around your website, increasing engagement and user experience (UX), which we'll discuss later.
For each new article, create a list of related content that you already have, which could help you support your ideas or allow your readers to explore further.
For instance, if you already have a blog post about starting a keto diet, it would be a good idea to link to it from your piece on healthy keto fats.
Besides, do not forget to update your existing pages when publishing new articles. In the same fashion, your previous blog post about keto snacks could benefit from linking to your new article on keto fats.
You can also use Semrush's Site Audit tool to strengthen your internal link structure and identify pieces of content that can be improved in this regard.
6. Cover the Topic Comprehensively
In order to rank—especially for competitive topics and keywords—your content needs to be comprehensive when addressing the search query.
To achieve this, follow these steps:
Research what your competitors are serving for this keyword
Start with typing your keyword in Google and analyzing the top results. This will help you get a general idea of what has already been covered on the topic and identify ways you can share something that is even better. 
Using the Outline Builder tool we mentioned above, you can streamline this step and analyze the aggregated data about your organic competitors' content.
However, it's still advisable to do some manual research to get a deep understanding of the landscape.
2. Analyze what your customers are asking about this topic
Completing steps 1-2 that we covered above will help you create lists of all potential questions you'll need to cover in the piece. And yet, you can go the extra mile and involve additional sources of insights when creating your article: e.g., collaborating with your Sales team, talking directly with your customers and analyzing important industry publications.
3. Avoid regurgitating the same points made by other ranking articles and provide unique value
Go beyond making your content piece slightly better: come up with original ideas and new methods, highlight innovative ways to solve a problem, and share practical case studies.
In other words, act as a true thought leader in your space, making sure each article answers all potential questions related to this topic and is based on your own experience and research. 
7. Include a Compelling Title, Meta Description, and Alt Text
Don't ignore a big part of the optimization process: the technical aspects of SEO. Your content could be perfectly written, but if your page takes too long to load or it's structured in a confusing way, then you run into roadblocks in accomplishing your goals.
The most important aspects of technical SEO to consider include:
On-page elements such as UX and page speed (these factors are known by Google as Core Web Vitals)
Organization of your meta tags
Absence of broken links
Correctly placed alt tags 
8. Ensure Content is Accurate & Up to Date
Finally, don't ignore your existing content once it's published. Remember point 8? Well, your competitors are going to be doing the same thing to your content, which means that you need to frequently review and update your most important pieces to keep a hold on your rankings.
This is especially true if your article is covering a fast-moving topic where trends often evolve like, say, SEO or content optimization!
Tweak your titles to reflect that your content offers the most relevant, up-to-date information (e.g., "The Best Keto Snacks in 2022").
In fact, leveraging the content you already have by auditing and pruning it turns out to be one of the most effective ways to make SEO gains. 65% of successful content marketers perform a content audit twice a year, and doing this more often may yield even better results.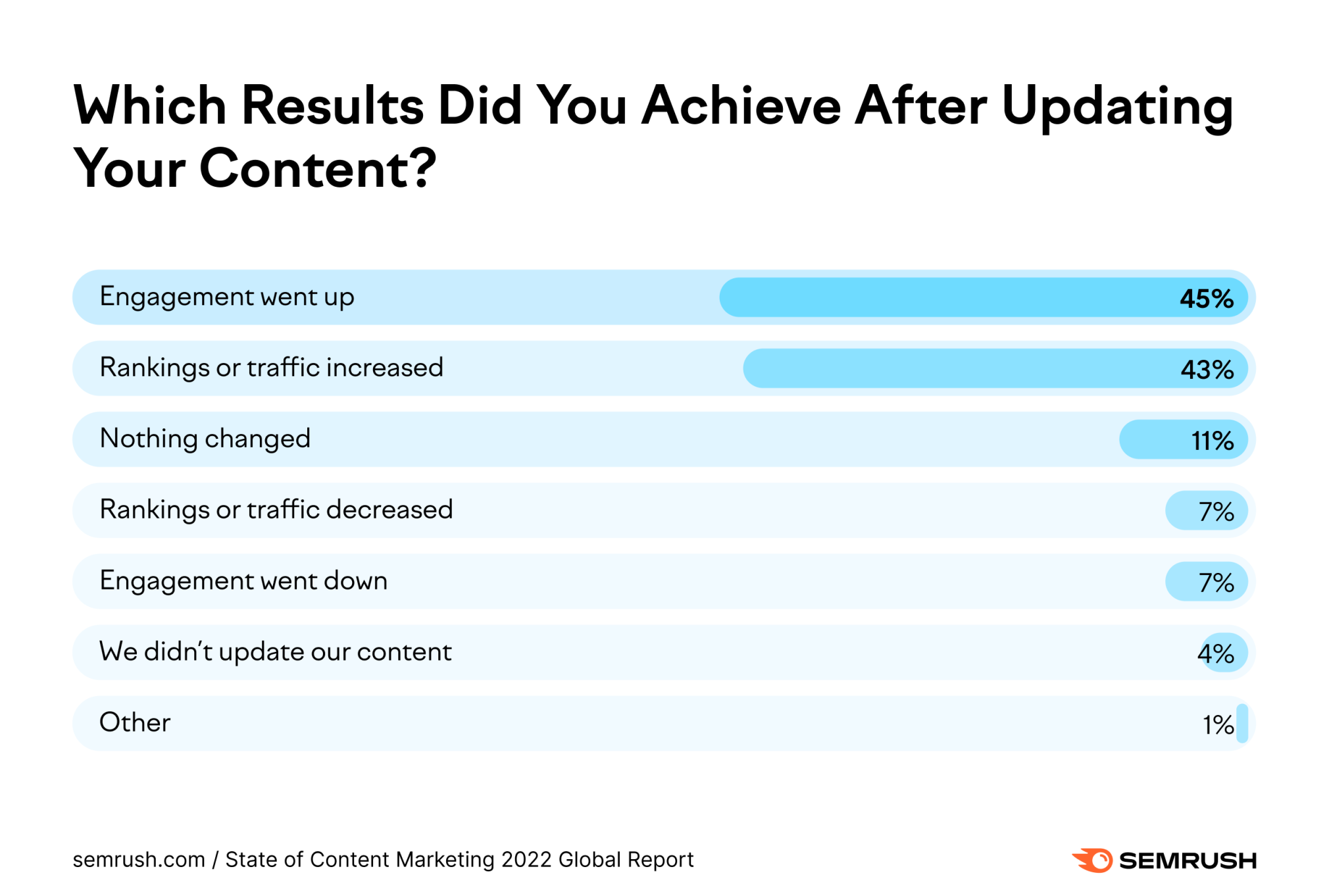 Optimizing the Quality and Style of Your Content 
Now that we've covered these 10 fundamental tenets of content optimization for ranking, it's time to focus on another key activity: improving the quality of your content. 
According to our research, improving content quality was the most effective content marketing tactic in 2021. So, it's imperative to make it your top priority.
Tips to Improve Your Writing
Writing compelling and engaging content can be a real challenge—even for the most skilled writers. But through our extensive research, we found some simple tips to implement into your copy to improve its quality:
Personalize your content. Making your content more human is one of the biggest content marketing trends this year. Before writing anything, make sure you have an in-depth understanding of your target audience. Write for them, focus on things they care about and talk to them in their own language. 
Write like you speak, not like a dense textbook. Shorter words and sentences are easier to read and understand, full stop. Don't make your reader spend more time than necessary to glean the information they need from your article. 
Use plain words. 41% of texts we analyzed use words that are too complex. Would you rather your audience spend time reading your content or reaching for the dictionary? Write with your audience in mind, not your literature professor. 
Vary sentence length. We found that 43% of low-scoring articles have sentences that are too long. Then again, a stream of short sentences can feel jarring and choppy. Alternate between sentence length and read your copy aloud to see if it sounds natural. 
Write in short paragraphs. According to the SEO Writing Asisstant, it's recommended to aim for fewer than 90 words per paragraph. Use the tool to analyze your content and identify paragraphs and sentences that are too long and need to be rewritten.
Maintain a consistent tone in writing. Defining your brand's tone of voice and using it in each piece of copy will improve your company's image and cement it in the minds of your audience. We found that 78% of high-performing articles maintain a consistent tone of voice.
Optimizing Content for Backlinks and Shares
Another fundamental aspect of SEO is attracting backlinks, which means creating content that is both linkable and shareable.
So, how can you do this?
Become a "Link Magnet"
Make your content more conducive to backlinks:
Be controversial. If you offer an opinion that goes against the grain, this can help you to stand out and attract more attention (and, thus, backlinks). Be careful, though; if your entire approach is to produce controversial content just to get attention, your audience will know and you'll lose any long-term impact. 
Be original. Offer an original opinion or concept that has the potential to shake things up or change the way people view or approach something. If readers like your "take," and it starts to generate some traction, this approach can result in a significant number of shares and backlinks. Sharing unique, research-driven content is a great example. 
Be authoritative. This should hold true for all your content. In some niches (e.g., health care or nutrition), it's mandatory for a recognized expert to write or review your content, but this principle applies to any sector. When a competent authority on a subject writes an article (or it at least contains insights and guidance from such experts), it will carry more weight and be more linkable.
Take a stand. The line between taking a stand and being controversial is thin, but brand values and ethics are important—especially as readers hold brands accountable for everything they publish. By nailing your flag to a particular mast, you can generate a unique voice that makes you a more attractive backlinking option than your rivals.
Follow and leverage trends. Pay attention to the latest trends and topics that the backlink creators in your niche are into, and then create unique and useful content on that topic. Of course, don't jump on the bandwagon just for the sake of it, but if you have something genuinely interesting to say, then this is a great way to strategize your backlinks.
Have a recognizable voice. As mentioned, a unique voice makes you stand out and creates a sense of loyalty among your followers. For instance, Andy Crestodina, author and co-founder of Orbit Media Studios, has a unique writing and talking style that is popular among marketers and business executives, allowing him to build a dedicated following that generates backlinks.
Promote Social Sharing
The best way to encourage social shares of your content is to make it easy. Make your social icons clearly visible on your page and encourage readers to share your content at the end of your article as a friendly reminder.
Ensure that the content itself is shareable, too. It should:
Validate your audience's opinions. This makes it easy for people to share your content because it aligns with (and, ideally, reinforces) their beliefs and values. For this to work, you need to genuinely understand the sentiment of your audience and be authentic in what you are writing about.
Establish your sharers as experts. If your content is credible, authoritative, and accurate, then people will want to share it to establish or verify their own position as educated and informed on the subject in question. Therefore, put particular emphasis on creating content that is informative and helpful.
Resonate with your audience. Create emotive connections with your readers by posting content that is inspirational and encourages a particular action. Or, reference something deeply important to them. Tell a story that is relatable, making them want to share it with their own personal networks.
Optimizing Content for Conversions
Optimizing content and improving SEO may not be the primary goals of all of your content. This is the case for pieces that are strategically placed within your content funnel.
Every content piece you publish actually should have some form of a conversion path in mind. Ask yourself, what is the next thing you would like this user to do after engaging with your content? 
Here are three points to consider when optimizing content for conversions.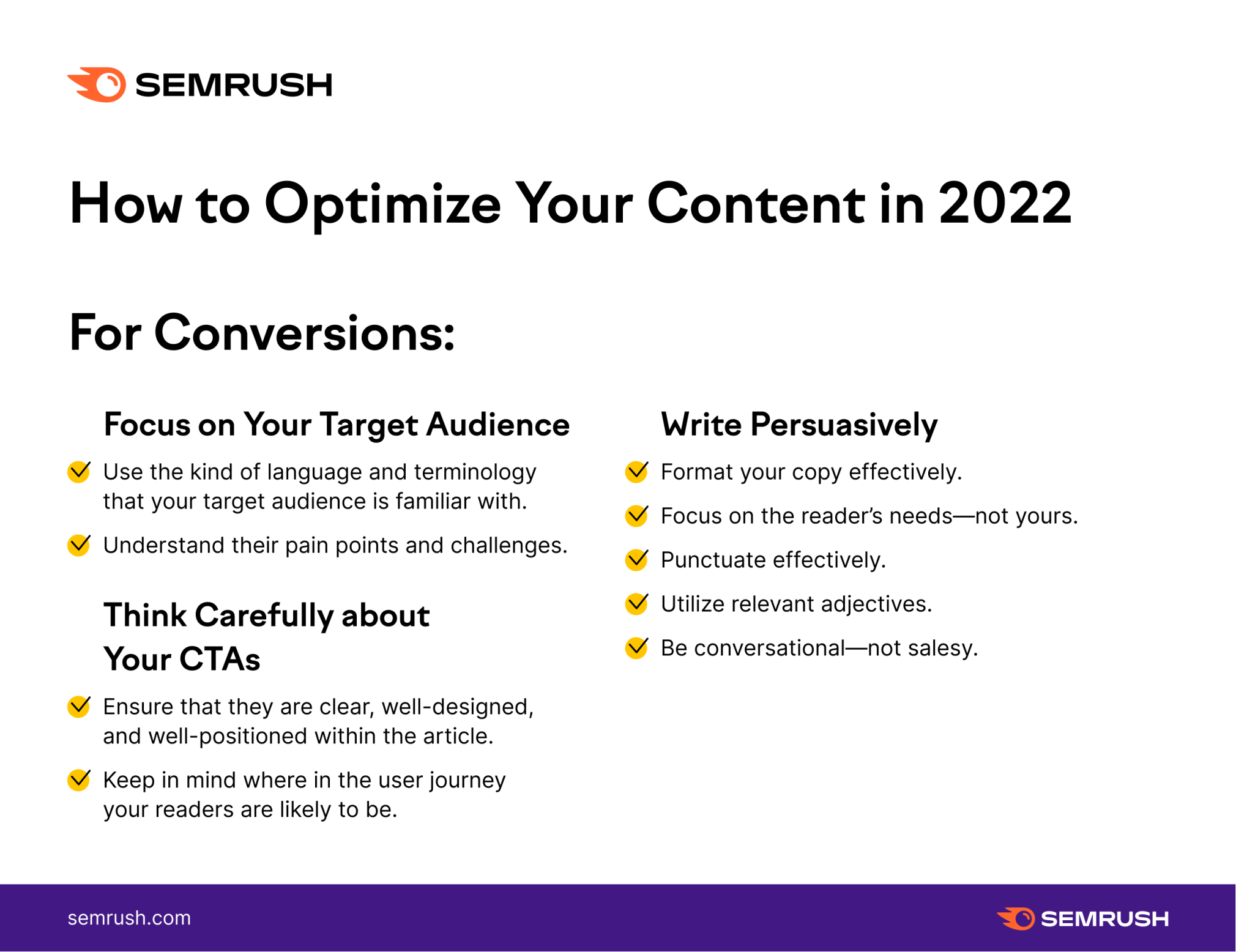 Your Target Audience
As touched upon at the start of this article, pitching your content to the right audience is crucial. If you are a B2B ads agency, for example, your content should be aimed at decision-makers, such as heads of marketing. This means using language and terminology this audience will be familiar with, as well as having a knowledge of the pain points and challenges they face.
Your Call to Action
CTAs are arguably the most important section of your content, especially when the goal is to make readers do just that: take an action. Therefore, you should not only provide a CTA, but ensure it is well-positioned, well-designed, and aligned with your goals for the content.
When creating your CTA, it's pivotal that you understand where in the user journey your readers are, too. For example, if you are sending an email about a new product to users who have just subscribed to your newsletter from a TOFU blog post, the majority of those folks might not be at the purchase decision stage yet. 
However, if you are sending an ebook or a case study, these users would be far more likely to click and engage, allowing you to nurture them along your funnel instead of scaring them away.
Finally, to create effective copy that converts, you should:
Format your copy effectively. Grab your audience's attention and make it easier to digest key information by using lists, numbers, comparison tables, and bullet points.
Focus on the reader's needs—not yours. For example, when it comes to the bottom of the funnel (BOFU) content, it's all well and good talking about how amazing your product is. Yet, the only thing readers really want to know is if—and how—it solves their own problem. Focus on the benefits of the product and the use cases, rather than the product itself.
Punctuate effectively. Punctuation is absolutely crucial in copywriting, as it allows you to break up sentences and make them more readable. It also allows you to emphasize tone or intent (although there is such a thing as too many exclamation points). 
Utilize relevant adjectives. You don't have to describe every single noun in your copy as "amazing," "awesome," or "groundbreaking," but a well-placed adjective can make a subtle but sizable difference in the perception of your reader.
Be conversational—not salesy. In your copy, don't talk at people; talk with them. In many cases, it's acceptable to adopt an informal tone and use first or second person, as opposed to bombarding readers with sales fluff and grandiose claims. For your readers, the former feels like a conversation, whereas the latter sounds like a hard sell.
Optimizing Content for Other Formats
It's no secret that regularly publishing optimized, reader-friendly blogs is a key driver for content marketing success. But what about optimizing your video, news, or visual content?
These formats are equally important because they appear on different SERP features. You'll want to make sure they're optimized for enhanced visibility on image, video, and news search results as well.
Optimizing Video Content
YouTube is an excellent platform to showcase your brand, being one of the world's most popular video websites and the second largest search engine globally. In the U.S. alone, YouTube reaches 81% of Internet users, making it a prime channel for content marketers to wield new audiences. 
While optimizing your content for video is another science in and of itself, here are some essential tips to follow:
Create relevant, interesting titles that include your target keyword. Just like a Google search, YouTube search results are based on keyword queries. And just like a meta title, include a descriptive headline to hook your viewer and let them anticipate what they'll watch.
Maximize the video description. Write a catchy description or preview of what your video covers. In case your viewer wants to learn more, be sure to include a link to your website for more information.
Optimize your video file name. When you or others embed your video onto another website, your video's file name will be included in the code. Be descriptive and be memorable. For example, a video file titled "How To Get a Job in Advertising.mov" is far better than "Movie1Final.mov." Ensure your file name is optimized, typically the same way you would optimize an image with your targeted keyword. 
To learn more about the power of video marketing, check out our comprehensive guide that covers five ways to optimize video content for search engine visibility.
Optimizing Images
So, you've put in all kinds of work strategizing, producing, publishing, and optimizing your content—but have you optimized your images for maximum effect?
As we covered earlier, articles with seven images or more garner significantly more organic traffic than those that lack imagery, and it makes sense. Including visual elements within your copy can have an exponential benefit to your reader in that it both tells and shows the message you're communicating. 
Here are the three core elements to optimizing metadata for images:
Alt tags. Short for "alternative," alt tags convey a description of an image in the case that it cannot display or loads too slowly on a webpage. Be sure to include your keyword and describe the image as vividly and literally as you can.
Image tags. These are descriptions that appear when a user scrolls over an image. Just like alt tags, be sure to describe what's going on in the visual.
File name. When you upload your final images to your website, be sure to rename the images with your keyword or phrase. Just like the importance of properly naming your video file name, be descriptive and memorable. "Pearl Jam performing live at Rogers Arena 2002" is far better than "IMG034909.jpg."
Another benefit to image optimization is that it improves accessibility for readers. (Quick internet history fact: alt text was originally created to make images accessible to those with impaired sight.) 
Make the most of your images. Read our detailed guide that explains it all.
Position Yourself for Content Marketing Success
Content optimization should be a crucial component of your wider content strategy. It gives you the best chance to rank for your target keywords, build authority as a brand, and convert leads into paying customers.
Remember to write for humans as opposed to writing for search engine bots. Apply what you have learned during your competitor analysis and research. The tools mentioned in this article allow you to conduct and streamline many of these tasks and activities, ensuring that your content is perfectly positioned to succeed both before and after publication.
To learn more about Semrush's Content Marketing toolkit, and how our research can help you optimize your content, download the State of Content Marketing 2022 Global Report.