The coronavirus pandemic has shaken businesses to the core within an alarmingly short space of time. This temporary, newfound reality means that almost one-third of the world's population is currently in lockdown, dramatically altering people's daily routines, behavior patterns, and ultimately their consumer needs.
For many small and medium businesses to have the best possible chance of surviving and even thriving under these testing conditions, this requires change and adaptation.
COVID-19 has changed everything. And, let's be real for a moment... we are ALL still figuring this out — we are in untested waters, and things are somewhat uncertain.
It won't be easy, but it is critical we try to consider the big picture. In particular, think about how your business can help people through this crisis. As a result, you will help your business get through this crisis.
We understand just how overwhelming this could be right now. To guide you through this difficult time, we have put together a survival guide that covers not only marketing advice, but also support regarding financing options, as well as managing team and commercial operations.
We have included great tips given during last week's #SEMrushchat on this topic by our community. We also reached out to several leading marketing influencers for insights, Kevin Indig, Amy Bishop, and Adam Connell.
How to Pivot Your Marketing Strategy During Coronavirus
EMPATHY IS IMPORTANT
Empathy is key during this difficult time, and this should be reflected in the content you create, meaning you should avoid the hard-sale of your services at all costs. 
Recognize that nearly everyone's day-to-day has shifted in a major way. People are trying to acclimate to a new normal, all while feeling anxious about the pandemic, their work, the wellbeing of their friends and family - and potentially their job security and their income.
Consumers and businesses are vulnerable, so it is important that advertisers take that into account in messaging.
Being empathetic was reiterated in last week's #SEMrushchat too:
Socially responsible brands right now have empathy and truly understand their marketplace and their customers.
Any companies who don't - or do the opposite - are making a big mistake.
An example of lack of empathy: 
To ensure your content is appropriate during the crisis, we recommend that you:
Prioritize highlighting the things that will matter most to your customers, such as contactless delivery and safety precautions being taken at your business.

Make sure that scheduled editorial or social media content is not insensitive. For example, a promotional piece that says 'dresses to die for' in the title is inappropriate.

Check that scheduled launches are still relevant, given the pandemic.

Remove impertinent call-to-actions. For example, this could be a CTA that encourages customers to 'visit today' when your store is now online only. Provide replacements, if possible.
SEO STRATEGIES
Continuing to invest time in SEO during this crisis is worth it, as it can help you identify new ways that your brand can add value and fulfill consumer needs. Here are some tips from our three experts:
Kevin Indig
Perform keyword research for concerns customers have in your industry or around your product and create content around it.

Closely monitor what keywords or categories on your site increase in impressions/search volume and double down on them.
Amy Bishop
"Look at keywords and queries containing 'near me' that perform really well. Determine if there is a way that you can still fulfill that need, online or via pickup/shipping/dropoff. Determine if there are new needs that have arisen that your company can fulfill. Then adjust your keyword strategy to capture that search volume."
Adam Connell
"Develop your online presence - More people are spending time online than ever before, but many brands are pulling back on advertising due to the uncertainty COVID-19 presents. Use this time to create helpful content and build an audience you can market to when the time is right."
---
We also suggest closely monitoring Google Trends, which collects data in real-time, so you can determine which topics to focus on for content creation, at a time when search demand and trends are constantly changing.
Three areas to review during the pandemic:
Schema: Ensure Google is showing the most accurate information possible to consumers.

Improve existing on-page copy: Make sure it is still relevant in the current climate.

Fix any technical SEO backlog: Improve page speed and user experience.
PROVIDE AN ESCAPE
People are spending more time watching TV and using their mobile devices. SEMrush found that the biggest streaming services experienced a dramatic rise in searches during March, rising by 87.6% on average.
However, people's attention spans are under severe strain due to coronavirus-related fears and concerns. Now is the time to engage your audience by providing them with a welcome entertainment break that takes their mind off the situation.
 Creating something thoughtful and memorable now could build trust and result in future leads.
GENERATE GOODWILL AND BE A HELPFUL RESOURCE 
Use this time to create helpful content and build an audience you can market to when the time is right.
Now is the time to focus on helping over-selling. For example, Frank Turner, a musician from the UK, is using Facebook Live to raise money for local music venues who need help to get through this crisis. And Signature Brew is hiring musicians who are out of work to help deliver their products.
Kevin Indig also recommends:
Extending free subscription months or adding free products for customers if financially viable.

Combining your products with high-demand goods such as face masks, wipes, and toilet paper.

Offering Facetime and Facebook Messenger text consultations.
---
Our community in last week's chat agreed that the focus should be on providing value, status updates, and helpful information to customers. Here are just a few of the tweets from that discussion:
---
ADAPT YOUR ADVERTISING
It is commonplace for marketing campaigns to be paused or dropped entirely in an economic downturn, but statistics show companies that continue will get to enjoy lower Cost Per Leads than before. On average, Cost Per Clicks have dropped by over 50%.
This is the first time in as long as I can remember, that inventory demand and costs have declined. If you can afford to be marketing and you are able to be operative &mdash now can be a really great time to push into paid social.
There is a really captive audience on social networks right now, and there have been major declines in CPCs, CPMs, and CPVs - leading to major decreases in CPLs (depending upon what you are selling).
VIDEO CONTENT IS KEY
With social distancing measures in force, we have seen an astronomical rise in demand for video, especially video apps and platforms. For video conferencing and webinar platform Zoom, its traffic increased by 67 million site visits in March alone.
The popularity of the social networking app Houseparty has also skyrocketed, with its downloads up by 2902% month-on-month since January 2020. Meanwhile, the social video platform TikTok's downloads are up by around 96% year-on-year from February 2019.
Consequently, shifting your company's attention to videos is going to be important in this pandemic. Consider the ways your brand can utilize your assets and turn them into video content, to help build a sense of community.
A lot of people are looking for human connection right now. As a bonus, everybody is at home, even popular talk shows are filming from their home, so the opportunity for some really genuine, authentic video content has never been greater. Even if you film your video with your laptop or your iPhone within your home — that won't seem out of the ordinary!
---
Commercial Strategy During Coronavirus
IDENTIFY HOW YOUR BUSINESS CAN MEET NEW CONSUMER DEMANDS 
Can your business provide products that consumers need? Can you build trust by helping consumers and first responders? 
Businesses everywhere are moving fast and pivoting to assist people through this crisis. For example, in-person events are being moved online, and manufacturers such as Dyson, GAP, Nike, and others are creating products specifically to address COVID-19.
For example, Dyson is manufacturing ventilators for the NHS here in the UK. And the likes of GAP and Nike are manufacturing masks & gowns, etc.
GET ONLINE
For offline businesses, bring your inventory online, or turning in-person events to online conferences or webinars, is likely needed to survive the crisis.
Many restaurants worldwide are now online, providing delivery options for menu items and meal kits, and many retail stores now allow you to order items online and provide curbside pick up — get creative. One grocery store lets you print a newly created checklist every day with items that are in stock, and when you get to the store, they go shop for you. 
For restaurants without the necessary infrastructure to go online quickly, companies such as food surplus firm Too Good To Go are now allowing local businesses to use their app as a takeaway platform; this comes with an automated payment structure already in place.
CHANGE YOUR GOOGLE MY BUSINESS LISTING 
Make sure that you have updated your Google My Business listing if you have physical locations because consumers are relying heavily on the information provided by Google for real-time information.
Your updates should include pivotal information such as your new operating hours and/or pick-up and delivery options.
---
Team Strategy During Coronavirus
Remote work has now become the norm for many businesses in this public health crisis. Here is our advice on how to maintain productivity and morale:
Internal communication is key: Use online platforms such as Slack, Google Hangouts, and Zoom to help you to do this. Maintaining a dialog is important.

Provide clarity to your team as to how each of these channels will be used to communicate and have different departments can lean on one another for support.

Keep employees updated: Share company policies for the pandemic, and make sure all teams are educated and onboard. Also, share company updates and provide support (working from home is hard for some). 

Set clear parameters as to your work expectations from your team. For example, giving plans for the day and designated checking-in times.

Encourage online team building: This could be holding Zoom breakfasts or lunches or having happy hours to keep everyone connected in the pandemic. Help people feel not alone. 
---
What Businesses Should Avoid Doing During Coronavirus
EXPLOIT THE SITUATION
"bove all else, do not exploit a tragedy. Trying to make weak connections just to ride the wave of the current news cycle is a bad idea. Using words like Corona as a promo code is a worse idea.
People will remember the way that businesses behave right now. You do not want to damage your brand by leaving a negative impression during a crisis.
This was reiterated in our #SEMrushchat too:
FAILING TO ADAPT 
To survive, many companies will need to diversify, expand, or pivot to avoid going out of business altogether. Look at the ways you can re-segment your audience and get creative with your strategy.
DROPPING MARKETING EFFORTS 
Stopping marketing altogether may cut costs, but it could be at the expense of your business:
---
Examples of Successful Business Responses to Coronavirus
The following businesses have chosen to adapt. Here are some quick examples, and if you have others, please include them in the comments below.
A number of zoos and aquariums have gone online, providing live streams. This includes the Shedd Aquarium in Chicago, who tweeted a video of their penguins waddling around the aquarium that has since gone viral.
---
There has been a huge increase in searches for home fitness. The online demand for yoga alone saw an 811% increase.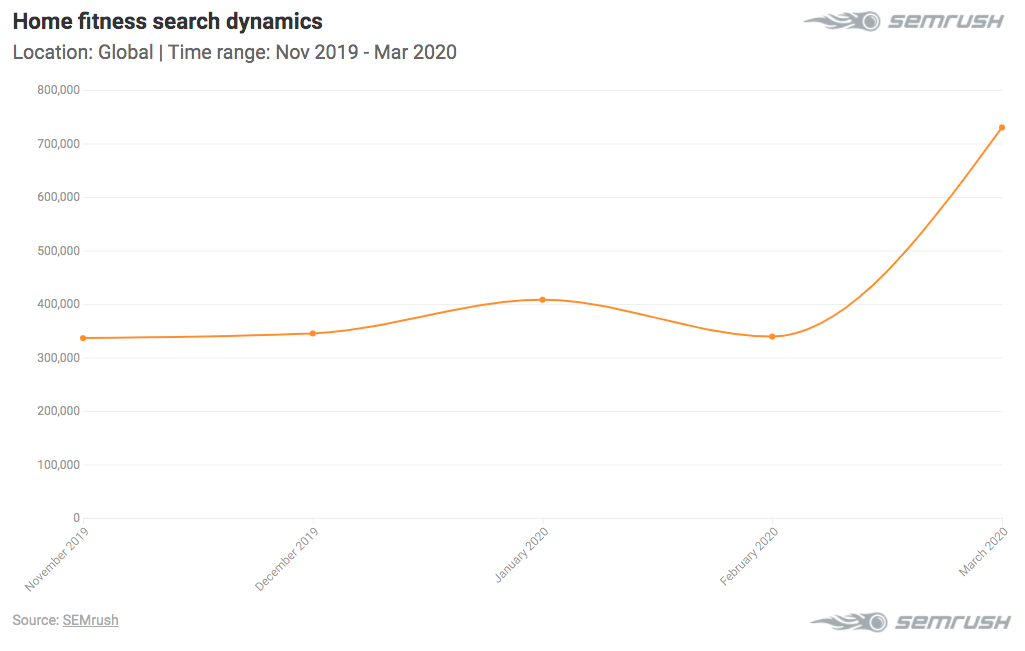 Workout studios such as the UK based Barry's Bootcamp are now giving free 20 to 30 minute online workouts on Instagram Live.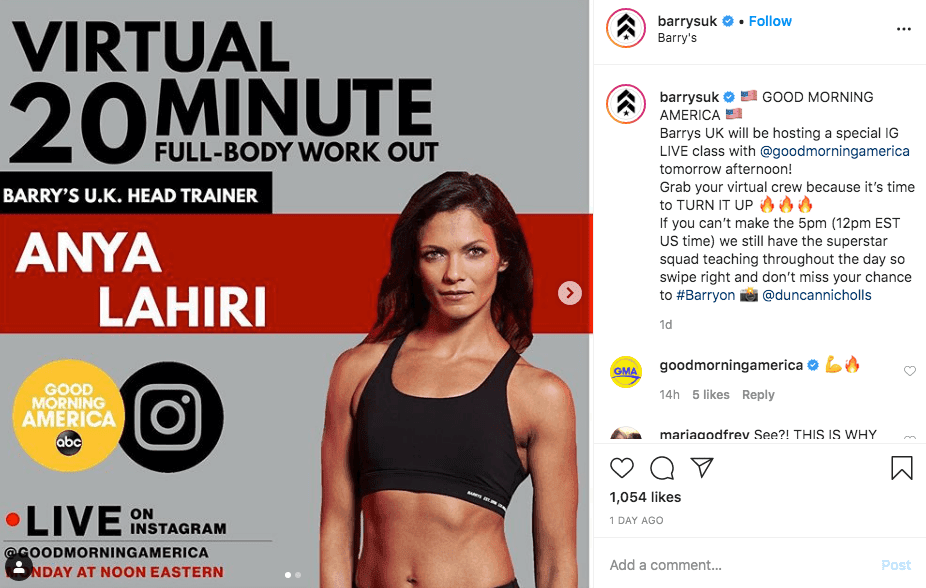 Hobs 3D, primarily a 3D printing studio for construction purposes, is using its technology to print thousands of visors to provide PPE equipment for NHS workers in the UK:
Mexican restaurant chain Chipotle has set up 'Chipotle Together Sessions', creating virtual community building through lunch hangouts on Zoom. Every session includes celebrity appearances, competitions, and Q&As.
Source: Contagious
Airbnb has started a new global initiative to help house 100,000 healthcare professionals, first responders and relief workers, as well as waiving all their fees during COVID-19.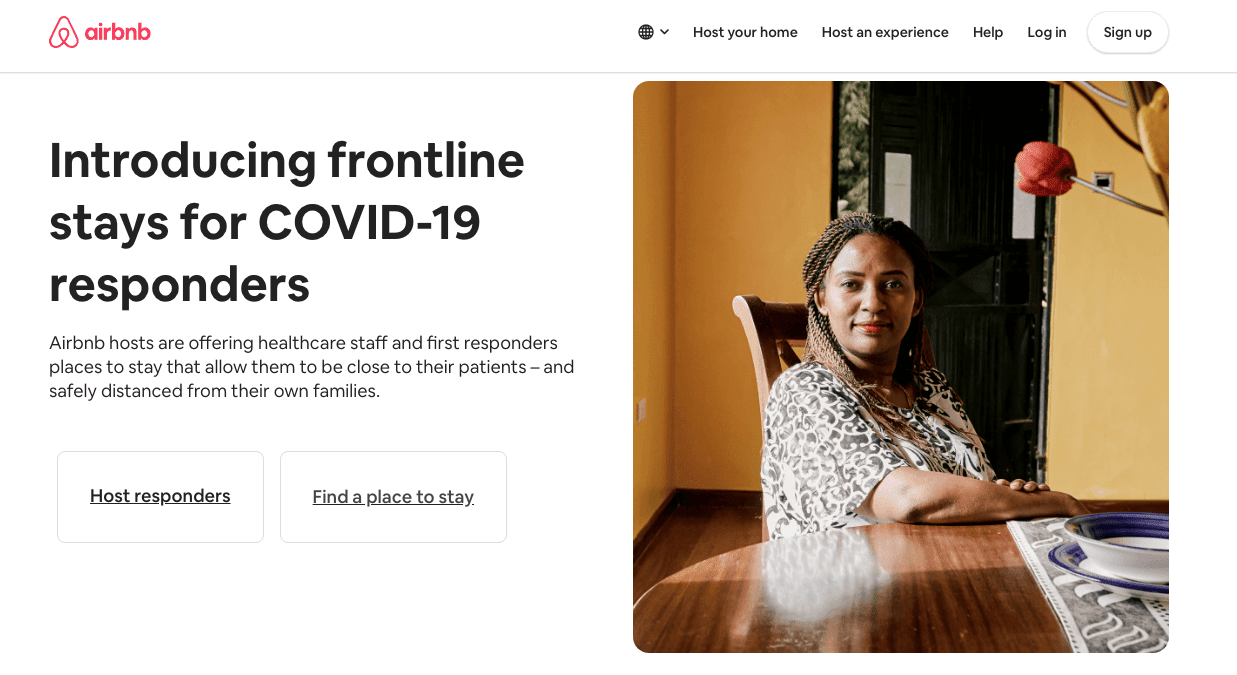 E-commerce fashion brand Rosie On Fire has turned its attention to selling lockdown-related packages to UK consumers, such as the lockdown birthday kit (containing home workout gear and pamper products) through a dedicated website.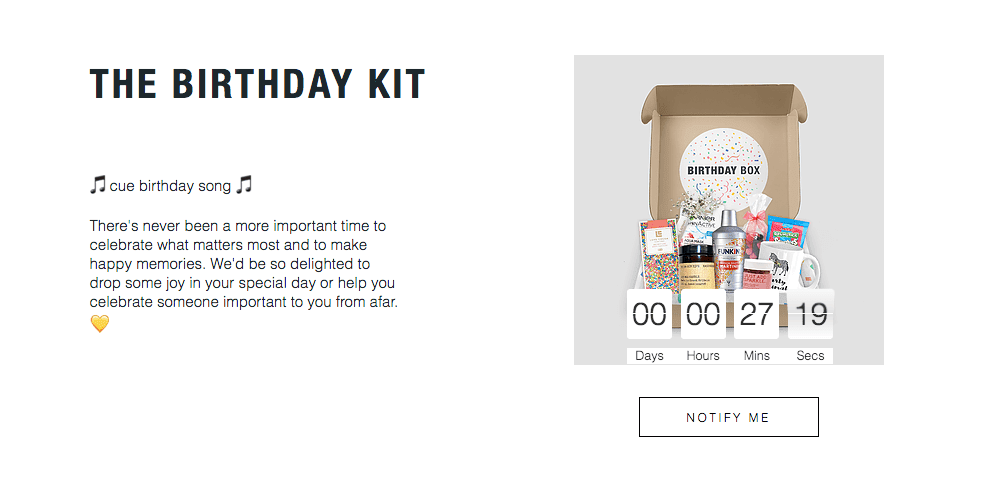 UK experiences firm Secret Cinema started by pivoting to Zoom, hosting a 90s themed party on the platform. This has now transformed into a deal with Häagen-Dazs for an eight-week run of virtual screenings called 'Secret Sofa', involving interactive elements related to the film.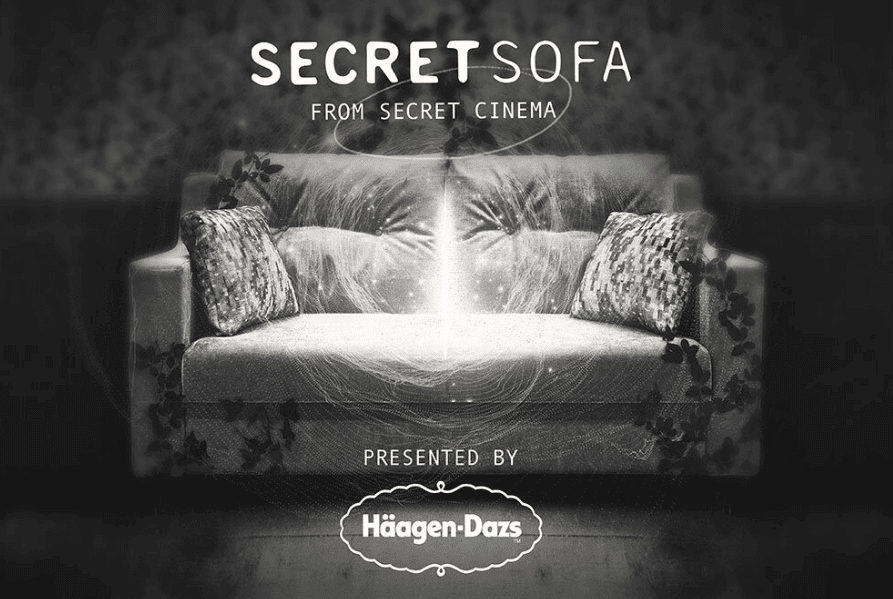 London-based childcare startup Koru Kids is helping essential workers to keep working by providing nannies in their homes.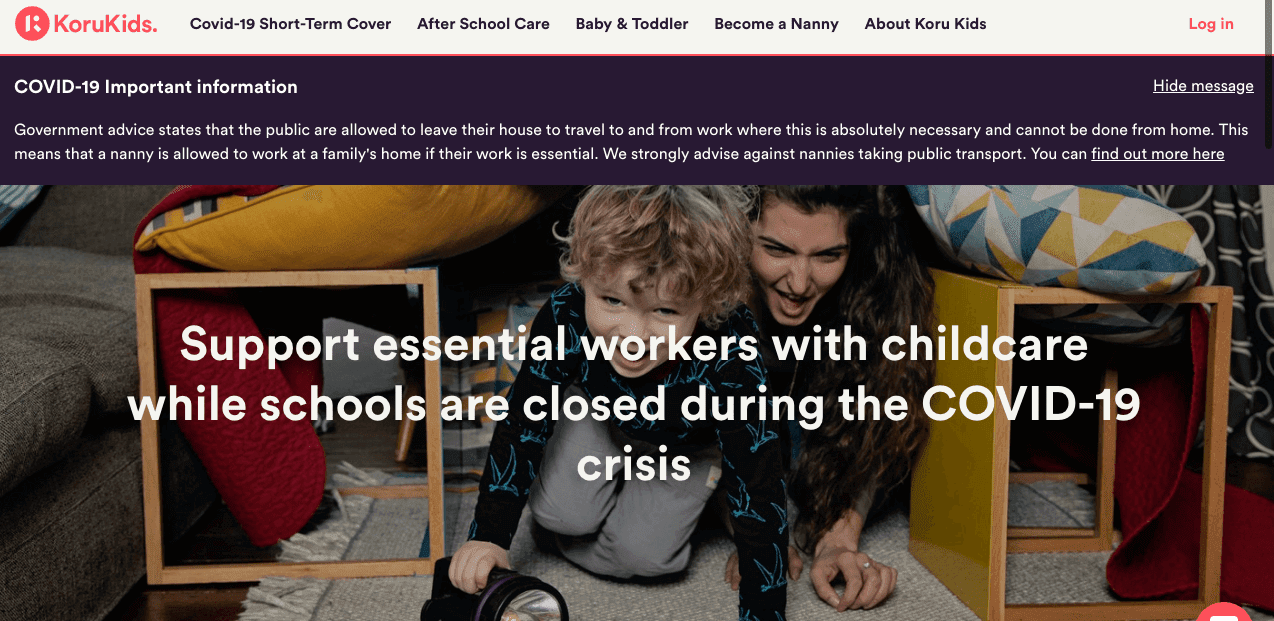 The Scottish craft beer company BrewDog has created 'online bars' for every one of its 48 UK bars, as well as for its locations in the US, Germany, and Australia. They have also transformed their distillery to create hand sanitizers.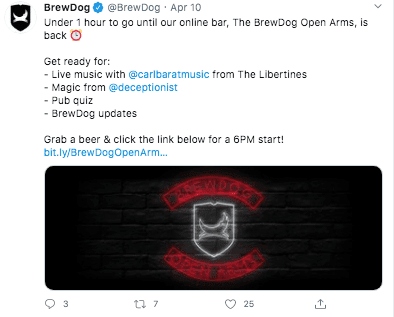 Conclusion