As an agency, one of the most important resources you will need to create and develop is your pitch deck. It is one of the last steps in the funnel for converting your leads into clients, which, in turn, allows you to grow your business — a major problem for 47% of marketing agencies.
It makes sense, then, to ensure that your pitch deck covers all bases and seals the deal. After all, nobody wants to go into a potential client meeting unprepared and underwhelm their audience. To make sure this doesn't happen, we've compiled an in-depth guide on how to make a pitch deck, including references to some real-life examples. We've even thrown in a free Google Slides pitch deck template to get you started!
Here's what you need to know.
What Is a Pitch Deck?
Essentially, a pitch deck is a presentation that provides your audience with an overview of what your business offers. It is usually created using tools such as PowerPoint, Prezi, or Zoho Show, and is designed to be brief, engaging, and insightful.
It should also be targeted, as pitch decks can serve different purposes. For instance, they can be used to highlight a company's potential growth value to investors or to present strategic movements to potential partners and external stakeholders.
In this instance, however, we are discussing how your agency can use its pitch deck to attract clients. This means placing an emphasis on the value you can create, and how your services can benefit your customers.
Pitch Deck Examples
There are many real-life elevator pitch examples available online, many of which are for established B2B brands such as Salesforce, Microsoft, and LeadCrunch.
Taking a look at some of these presentations can be beneficial, as you can identify common themes and get an idea of what generally works and what doesn't. You can then apply these observations to your own pitch deck.
To give you an idea, we've highlighted several sample pitch decks that are worth paying attention to.
1. Snapchat Ad Sales
Snapchat — a social media platform aimed at Gen Z and millennial users — is a perfect advertising medium for brands that target these demographics, yet it struggled to generate media buying attention in its early years.
As a result, when pitching to advertisers, it decided to break things down and present its key benefits and figures in a way that was highly visual and easily digestible — much like Snapchat itself. It also places particular emphasis on the future spending power of these demographics, positioning itself as an early access point to a lucrative long-term audience.
2. LeadCrunch
LeadCrunch is a B2B demand generation tool that uses artificial intelligence to identify missed opportunities and reduce waste. Which sounds intriguing, but for many businesses, also unclear.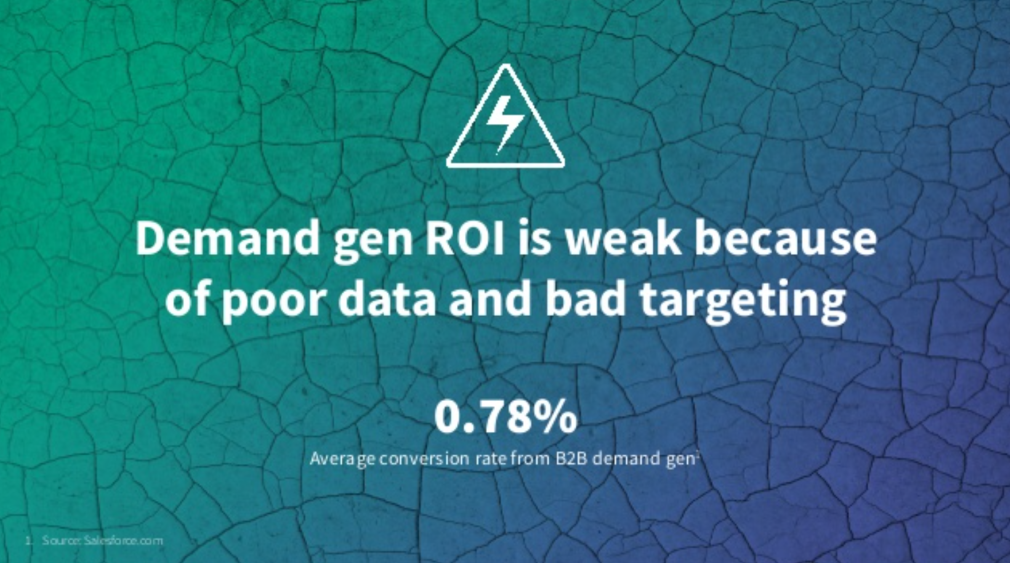 This is why the company's pitch deck is so good. It ensures that potential users understand the problem that LeadCrunch is aiming to solve, and doesn't try to bury viewers in technical jargon. Indeed, it focuses less on the workings of their patented technology, and more on how that technology can be leveraged to benefit clients.
3. Reddit Ad Sales
Reddit's ad sales pitch deck is living proof that pitches don't need to be conventional; in fact, it illustrates that it's often better to be more closely aligned with your brand's identity. For context, Reddit's pitch begins with a picture of a cat riding a unicorn, and doesn't deviate far for the remainder of its 69 slides.
That's not to say there is nothing of substance here, though. It highlights a wealth of valuable data for interested brands in a visually impressive way, and clearly communicates how an advertising partnership with Reddit could be beneficial. It even gives use cases of how other brands have successfully used Reddit in promotion campaigns.
How to Create a Pitch Deck
So, now that you understand what exactly a pitch deck is, and you've seen some examples of how it might look, it's time to get to the details: creating a pitch deck!
We've broken this process down into 8 steps, so here's what you need to do.
1. Research Your Business Prospects
It makes no sense to create a pitch deck if you have no idea who you are going to be showing it to, so the first step is to identify and research those prospects. According to a survey by sales consultancy The Brevet Group, only 13% of customers believe that sales teams understand their needs, so if you can prove that you've done the research, you'll already be ahead of the competition.
For each potential prospect, aim to understand:
The products or services that they sell. This can be done by reviewing the company's website. To get a better understanding of their most popular and valuable products, you can also use the Top Pages report in the Semrush Traffic Analytics tool.
Their location. Again, you can obtain this information from the prospect's website (or other online directory resources). You can also use the Geo Distribution report in Traffic Analytics to get an idea of the company's presence in other countries and regions.
Their direct competitors. For some companies, this information will be easy to obtain through simple Google searches. In most cases, however, you'll need to dig a little deeper. You can use Semrush's Market Explorer tool to find industry or custom competitors, and identify their positioning using the Growth Quadrant report. You can also identify competitors using:
During your research, you should consider that the company in question may define and prioritize their competitors in a different way (i.e. geographically, by organic traffic volume, by size, etc.), but these actions can still serve to give you a better understanding of the prospective client.
What other products or services already exist in the market. You can review the websites and Top Pages reports of your prospect's competitors, but to get a broader understanding of that industry's product trends and developments, you should review industry reports, publications, and blogs from respected providers.
What gaps there are (if any) in the market. On a broader scale, it's a good idea to try and analyze reviews and feedback reports to get an understanding of potential gaps and user demands in the market. In terms of exploiting online opportunities against competitors, you can also use Semrush's Keyword Gap tool to unearth areas that they may have overlooked.
Who is in charge. This information will often be available on the company's website, but you can also use LinkedIn or similar platforms to identify the decision-makers and/or company heads that are relevant to your pitch.
The size of their in-house team. Again, this information will likely be available via the company's website or LinkedIn page. You don't need to get an exact figure here — just a ballpark figure.
Their knowledge of the services you're pitching. This is probably the most difficult element to research, as the company's "knowledge" might not necessarily match up with their numbers. They may not have the resources available to address poor performance issues in certain sectors, but this doesn't mean that they don't understand those issues.
However, you can garner clues by reviewing their performance and their output in whichever sector your agency operates in.
For instance, you might be a social media agency targeting a company with great growth potential on that channel, but their current social output could be lazy, non-existent, or littered with mistakes. This would suggest the company has limited specialist knowledge in social media strategy and delivery. You can also confirm by checking the company's website and LinkedIn and seeing who is handling their social media (i.e. is it a dedicated social media manager or someone "filling in"?)
Alternatively, if you are an SEO agency and your prospect is ranking highly for a large number of its target keywords, this would suggest they know exactly what they are doing in this field, and you might meet some resistance as to the need for your services.
Their estimated budget. There is, of course, no way of knowing what your prospective client's budget is. However, you can create a ballpark estimate based on the company's size, and align this to one of your pricing levels.
2. Personalize Your Pitch Deck
Taking all the information that you have collected above, the next step is to then tweak your pitch deck and personalize it to the prospective client. This is hugely important, as an elevator pitch that speaks directly to your prospect's individual positioning within their market — and which is clearly well-researched and well-informed — is far more likely to turn heads and be successful.
Indeed, according to a 2019 Semrush study, a client-tailored strategy proposal is the single most important success factor for brands — more so than price, benchmarks, value propositions, or case studies. You can nail every other element of your pitch deck, but if it doesn't resonate with the experience of your prospect, then you may struggle to secure their business.
Remember: the secret of a successful sales pitch isn't to sell your services, but to convey how your services can solve your audience's problems. Every prospect will have different issues in their business and their market, so it's crucial to understand them if you want to convert.
3. Introduce Your Team
The nature of agency-client operations means that it's important to build personable relationships between key stakeholders. Therefore, when pitching to a prospect, introduce the key people in your team, such as the assigned account manager and any relevant C-suite personnel.
When making a pitch deck, you can create a team slide featuring names and photos of the people in question, and give some context to their job role and background. You might even want to introduce some fun facts to help emphasize that human interaction.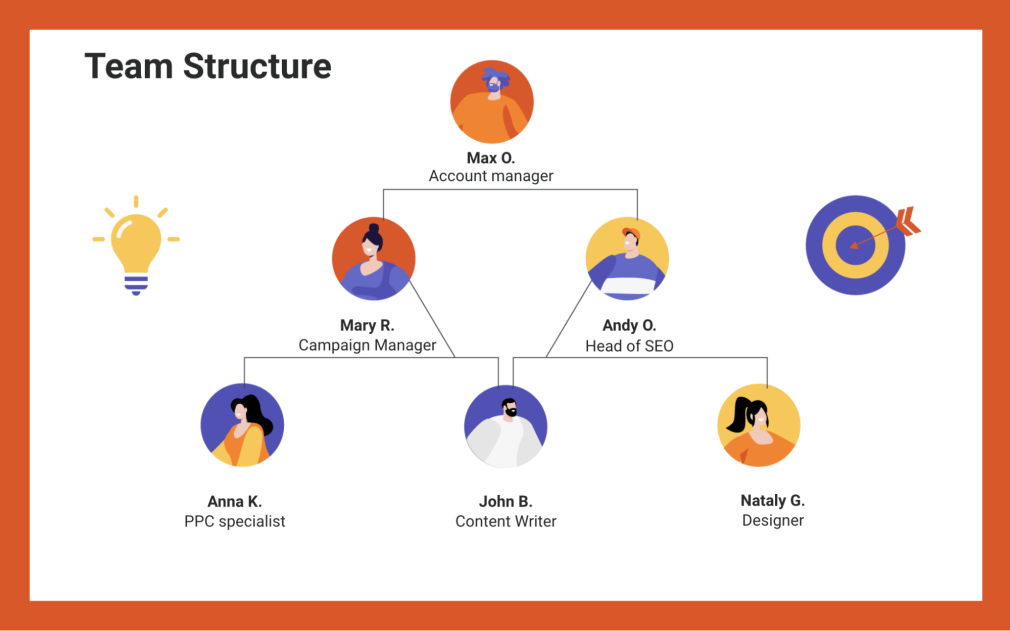 As the deliverer of the pitch, tell a story about your agency, too. According to a famous study by organizational behavior experts, Dan and Chip Heath, 63% of presentation attendees remember stories, while only 5% remember statistics, so discuss how your agency started, and share your personal experiences as the founder or managing director of the agency.
What is the best way to present a project team?
"We introduce clients to their day-to-day team, not just the pitch team. Generally, we love for pitches to take place at our offices too so that the client can meet the wider team. We encourage them to walk around our open plan office and meet everyone who'd be involved on the account so they can really get to understand how we work together as a team."
4. Define the Problem and the Solution
As touched upon already, this segment is the crux of your pitch deck and the part of the presentation that should be the most impactful.
Of course, you will have already identified the problems that your services solve, and tested their viability when you came to market. The challenge here is not just to convey that, but to personalize it to the prospect.
For instance, if you quote some general market research about how brands in the prospect's market are overlooking a particular demographic that you can help them reach, then that's interesting. However, if you lean on your earlier prospect research, point out how capturing that demographic could significantly increase the prospect's market share, and then provide a detailed pathway of how you can help them do that? That's really interesting.
5. Explain Your Approach
At this point, you've talked about who you are, you've detailed the prospect's problem, and you've offered up your ingenious solution. Now you need to lay out how your agency operates and what your mutual working relationship might look like.
This particular segment of the pitch deck is often overlooked by agencies, but it shouldn't be. Indeed, research by Semrush has shown that the 'how' is actually more important to clients than the 'how much', which illustrates how essential it is to explain your processes.
Specifically, you should make clear:
Which services you'll deliver. Explain what exactly your agency will provide, and then clarify with the prospect what is expected in terms of the work you're going to do. For example, if you propose to start writing SEO-targeted blog posts for the client but you don't offer graphics for the articles, make sure they understand that. 
What you'll be measuring. If your prospect's goal is to increase their market share of organic traffic, then they're not going to be interested in paid campaign reports. You need to identify key metrics that most accurately measure what the prospect wants to achieve, and then explain that these are the indicators that best assess performance. If the prospect has little knowledge of digital marketing, you may need to explain what these metrics mean, too.
The frequency of your reporting. How often you report can depend on several factors, including what the prospect's goals are and the timeframe for achieving them, and how often they want to receive progress updates. Make it clear, though, that you can be flexible in this regard. Semrush's My Reports tool allows you to create customized reports that update automatically and can be configured for direct delivery as often as required.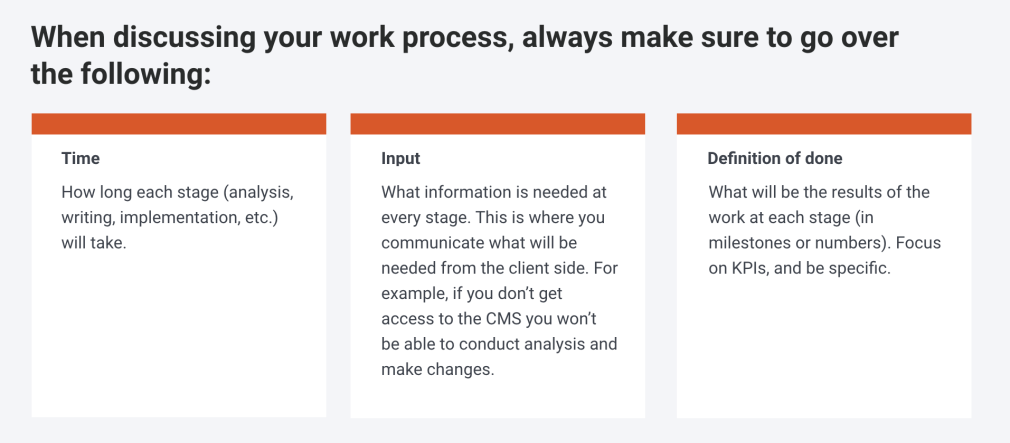 Your USP. The reality, of course, is that you are unlikely to be the only agency pitching for your prospect's business. Therefore, you should also explain what you can offer to the client that none of your competitors can. Depending on your agency, that could be any number of things but focus on something that is likely to be more beneficial and favorable for the client.
6. Include Case Studies
Case studies are an excellent sales tool for two reasons. Firstly, they showcase your previous successes and illustrate your credibility, which is important in itself. Secondly, they allow your prospect to more clearly see how a collaboration would look in practice, and what kinds of results they might expect to see.
Of course, this second point only really applies if there is a connection between the case study and the prospect. For instance, if your prospect is a small bakery looking to attract more local business, then there's not really going to be much of a spark when you explain how you transformed the high-budget PPC campaigns of a multinational logistics firm.
Instead, present use cases and referrals for companies that are similar in size and have similar ambitions. They don't necessarily need to be in the same niche or even industry — they just need to demonstrate that your strategies are viable and proven.
How do you highlight case studies to prospects?
"Whenever you can — show the 'hard evidence of your work. Share links to real websites so that the prospect can evaluate the speed, mobile responsiveness, quality of SEO, etc. It's also a good idea to use case studies as references to what can be improved in the prospect's strategy. So many people look at their business as this precious thing that can do no wrong and has all its ducks in a row. 
When I have the chance to show them where their potential challenges are and then back that up with real-world examples from other client success stories, it allows me to more clearly define the value of digital marketing generally and of our services more specifically."
7. Outline the Next Steps
At the end of your pitch, it can be easy to overlook what comes next, but this is important. If the prospect decides to go with your agency, they need to know what the next steps are, so outline them.
Discuss the time scale in which, if successful, you can start work, and denote any key milestones and onboarding processes along the way. Don't try and "force" the prospect into any decisions, either; avoid saying things like "if you want to hire us, let us know by the end of the week". Instead, provide contact information for relevant people and let the prospect know that you're available to support them in any way they need during the decision-making process.
8. Summarise and Prepare for Questions
The conclusion of your pitch deck should be a summary of all the key points you've already gone over, and a reiteration of what makes you stand out from the crowd. This is your chance to hammer those points home, so offer additional value to what you've already said rather than just repeating yourself.
Be prepared for questions, too. You can't know for sure what you might be asked, of course, but if you know the prospect and their industry reasonably well, and you fully understand your agency's areas of expertise, you should be fine. If possible, refer to questions you've been asked in previous presentations, or to queries that you often receive online, and have solid answers in mind that are backed up by real cases from your experience.
Pitch Deck Outline
Now that you know what your pitch deck should consist of, how do you structure it? What order should everything go in? To help you answer these questions, here's a basic pitch deck outline that you can follow.
Opening slides. Depending on your target client, these opening slides can be as formal or informal as you want. Either way, they should be attention-grabbing and immediately engage your audience. An eye-catching statistic or visual that highlights your prospect's primary pain point is often a good idea.
Table of contents. It's always a good idea to outline what's to come, as this gives the pitch deck a sense of narrative and direction. If you are sending the pitch deck digitally, it also allows the viewer to find their way around easily.
About us. This is where you can offer up your agency's USP and a brief background of your achievements and/or capabilities. This is also where you should introduce your team members, as discussed.
Social proof. On this slide, you should highlight some of the positive feedback you've received online or through external review sites such as G2. You can also list any media publications that you have been featured in. Either way, if you have been associated with some recognizable brands, this is the place to show that off.
Services explained. As discussed, this is where you should focus on describing in detail the services that you offer. The bulk of this section should involve the services that meet the client's immediate problems.
Pricing information. Talking about cold, hard figures can often be discomforting, but the reality is that budget availability is likely to play a big role in the prospect's final decision — especially for smaller businesses. Therefore, there is little point in skirting around the topic. Make sure you clarify your preferred pricing model (i.e. retainer, project-based, hourly, commission-based, or value/performance-based).
The benefits of your agency. As mentioned, it's crucial to convey to prospects why they should work with you and not a competitor. Lay this out in compelling terms and support it with figures and visuals if need be.
Case studies. Discuss at least one case study that is applicable to the prospect; if possible, try to include two.
Your process. Depending on the service you are offering, layout how you like to work. In reality, there will undoubtedly be varying levels of wiggle room for each client, but if you explain that you will send weekly reports every Tuesday, update calls every 2 weeks, and scheduled calendar reviews once a month, this gives the prospect a firm idea of what kind of relationship they are going to have with your agency.
Thank you / contact information. When you deliver the pitch, you will likely conduct your summary verbally. It's important to include a slide that contains key contact information, though, as this can be used for reference.
Free Pitch Deck Template
If you want to see for yourself how this should look, or you're unsure of how to create your slide deck, then you can use our very own free template! Just follow the link below, and insert your own agency information into the slides.
Best Practices for Creating an Agency Pitch Deck
When following the steps laid out above, there are a few additional things to keep in mind. For instance, during the pitch deck creation process, you should:
Consider timings. In any presentation, it can be tricky to estimate if your slides keep you within a certain timeframe. It's advisable, though, to aim for around 20 minutes, as this gives you sufficient opportunity to discuss details without taking up too much of the client's time.
Ensure brand consistency. Pitch decks with multiple fonts, color schemes, and backgrounds can often look amateurish. It might sound superficial, but make sure that the slides are consistent and that you maintain the same font family and color schemes that you use on your website and marketing materials. Ensure that your logo is present, too.
Pick a style. As we mentioned earlier, the tone of your pitch deck's wording will likely depend on the client you're pitching to, but you should also decide whether you want it to be direct or conversational. A direct style is more impactful and urgent, but a conversational style can be more thought-provoking and make you appear more accessible.
Simplify the text. Pitch decks are not really the place for drawn-out blocks of text. You want your wording to be easily digestible and simple to read, so try to break down your sentences as much as possible.
Include visuals. Multiple studies have shown that our brains respond far more favorably to images than they do to words, so you should include visual aids in your pitch deck. It can also be far more impactful to convey information and statistics in the form of graphs and charts.
Create a PDF version. Whether you have used PowerPoint (Windows) or Keynote (Apple OS) to construct your pitch deck, it's pertinent to also create a PDF version, too. This version is to assign to your prospects after the meeting for reference, as they may not be able to access your Keynote presentation on Windows and vice versa. Don't forget to include the prospect's logo on the files, either!
Get comfortable with pitching remotely. Given the current climate, it's highly likely that, at some point, you may have to deliver a pitch remotely. If you've never done this before, then it's a good idea to conduct a practice run-through with a colleague, and ensure that you're comfortable using platforms such as Zoom and Google Meet. You can even pitch directly via Semrush using the Present Mode feature, and highlight your research and data in real-time. You'll also need to make some small allowances for any technical issues that may arise during the pitch.
Plan for on-site problems. Bring more than one laptop or device to the pitch, and create cloud and physical backups of the pitch deck itself in case you lose it. You can even create paper copies. If there are issues on the client's end that are beyond your control, be prepared to improvise and deliver the pitch slightly differently, as well.
During the actual pitch itself, ensure that you:
Bring the right people. There is no "right or wrong" number of people to bring to your pitch, but as a general rule, there should be no more than three representatives from your agency — ideally two. This allows each of you to talk authoritatively on your given area of expertise, and also gives some variety to the pitch. Each person that is present should be able to offer a valuable contribution to both the presentation and the conversation.
Stay present at all times. This should go without saying, but turn your phone off or put it on silent. Ensure that you also employ active listening techniques, such as:
— Nonverbal cues (i.e. nodding, eye contact, and a positive body stance).
— Verbal affirmations (i.e. "sure", "of course", and "I understand").
— Paraphrasing to show understanding.
— Demonstrations of concern.
— Seeking clarification on things that are asked/said.
Pitch Deck Specifics by Agency Type
All of the tips, guidance, and suggestions given above can be applied to any type of marketing agency, but there are also a few specific pointers worth mentioning based on your specialism.
Ad Agency Pitch
For advertising agencies, the key thing to remember is that everything in your pitch deck should be seen through your prospect's eyes. For instance, you might be desperate to show off that you did a hugely successful TV spot for Nike last year. But your prospect is a B2B automotive parts supplier, doesn't have anywhere near that kind of budget, and attracts most of its clientele through industry print publications.
It's fine to mention that you worked with Nike in your social proof section, but your prospect needs to see and hear about use cases that are applicable to them.
Social Media Agency Pitch
Most social media agencies suggest valid improvements and best practices when they pitch, and that's fine, but many fail to convey and implement an actual mid-to-long-term strategy for the client's social media platforms. Therefore, you should discuss in depth what the end goal is for the changes you want to make, and align that with what the client's business goals are.
Digital Agency Pitch Deck
As a digital agency, your client's expectations may be broad, and it's possible that you will have to spend more time clarifying the services that you offer. Take extra care when creating this part of your pitch deck.
The Creative Agency Pitch Process
It's more difficult to quantifiably measure the ROI of creatives, so it might be a good idea to focus more on use cases that illustrate your impact. You can also place more emphasis on your social proof and include referrals from similar clients, and even incorporate a small portfolio of your previous projects into the pitch deck.
Design Agency Pitch Presentation
As a design agency, you should pay extra attention to the visual elements in your pitch deck. After all, no prospect is going to hire a design agency if their own sales and marketing collateral doesn't have a visual "wow" factor. It's a great opportunity to showcase your agency's skills, so make the most of it!
How to Create a Pitch Deck: Final Thoughts
As touched upon several times in this article, the perfect pitch deck doesn't showcase your agency; it showcases how your agency can meet and solve your prospect's problems. Regardless of your agency's specialism and scope, this is something that you should always consider when creating your pitch deck.
The only way you can do this is to research your prospective clients and their industries as thoroughly as possible. The more you know about them, the more engaging and attractive your pitch will be, and the easier it is to tailor solutions to their individual problems.
You can achieve all this by leveraging Semrush's wide array of research and intelligence tools, allowing you to create more impactful client pitches. So sign up for Semrush today, and see for yourself how your agency's pitching capabilities can be transformed.