In response to a recent slew of negative press, Facebook has responded by releasing advertising features that aim to put transparency at the forefront of their processes. For marketers and advertisers, this means that a wealth of data has been made public, which can be incredibly helpful when analyzing competitors.
With just a few clicks and a business Facebook Page, any user can view the following information:
Edited Page Information History - The public can see, in chronological order, if the company has made any updates to their general page information, including company name and date of page creation.
Active Paid Ads - If the business is running active ads anywhere in the world on Facebook, Messenger, Instagram or another partner's platform, the full ad creative, copy and landing page links will display.
How To Find This Information
While logged into Facebook, search for a business page by using the search bar in the top navigation.
Select the correct Facebook Page.
Look to the left-hand column below the page's profile picture for the various page tabs.
Select Info and Ads.
Page and active ad information are displayed.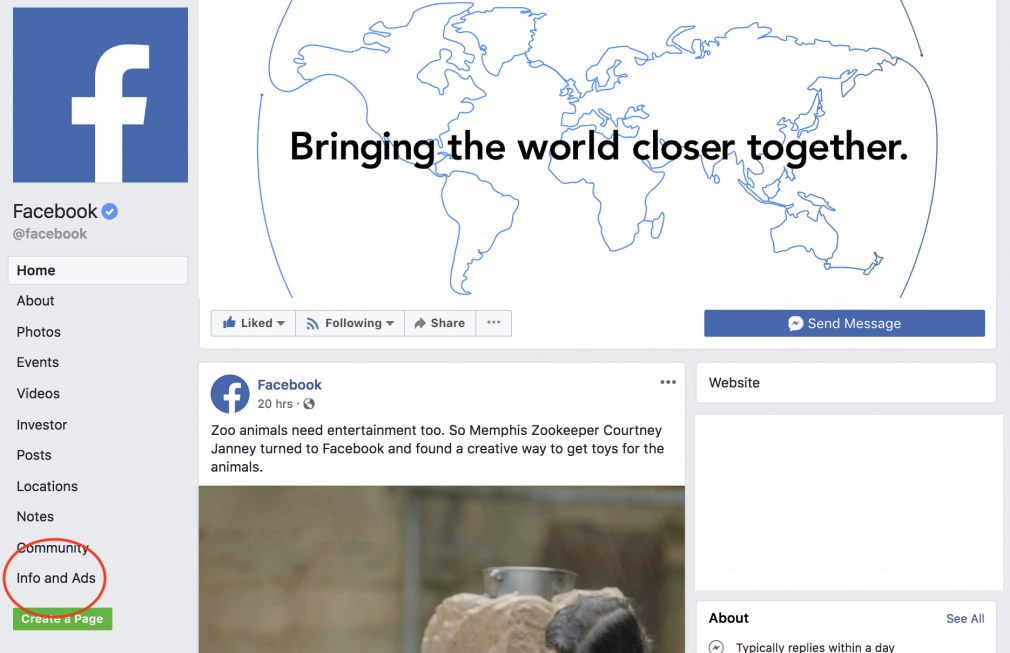 How to Use This Information
1.) Ad Inspiration
Feeling like you have hit a creative block when it comes to building ads? With these transparency features, it feels like every creative team's brainstorming sessions have been documented and made available for consumption.
For example, if you are a retailer who sells sneakers, you could head to Foot Locker's Facebook Page to find that they are running two main ad campaigns: 1) Promoting their New Orleans-inspired Reebok 3AM collection and 2) Promoting their Puma RS-0 Play collection, for which they are targeting consumers who play video games.
While both campaigns utilize video and carousel ads, notice that the Reebok 3AM sneakers use a darker, grittier artistic feel while the Puma campaign is colorful and playful.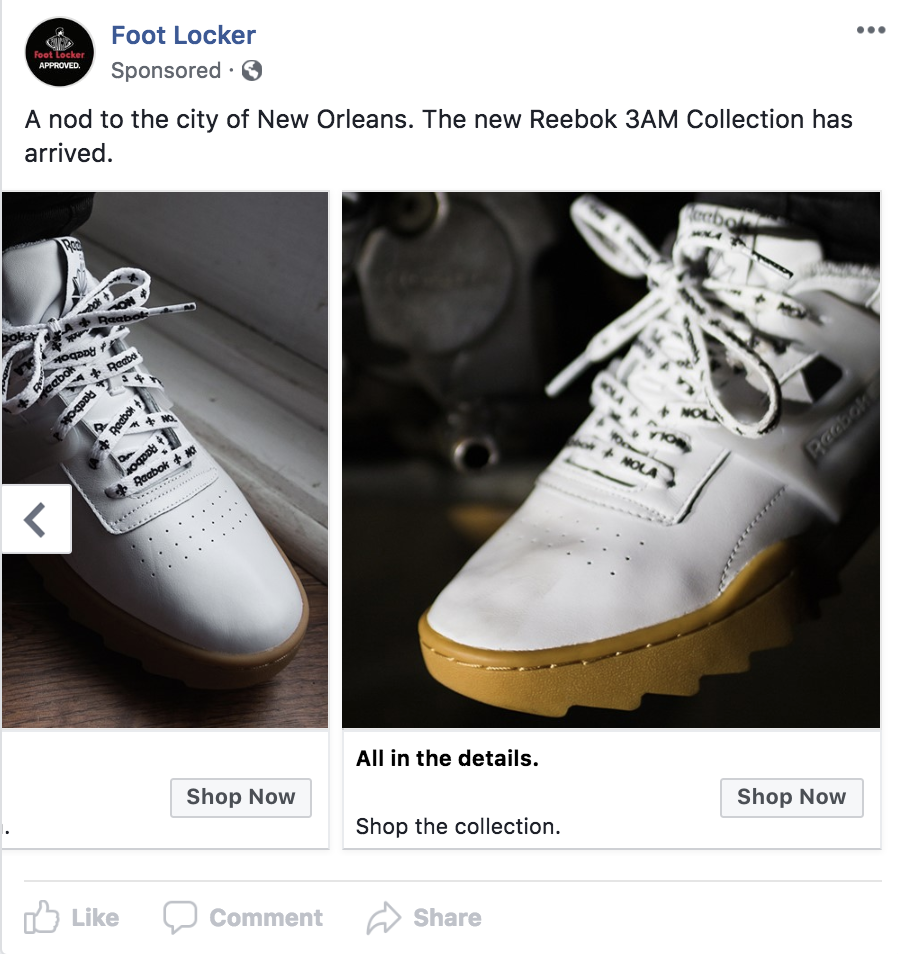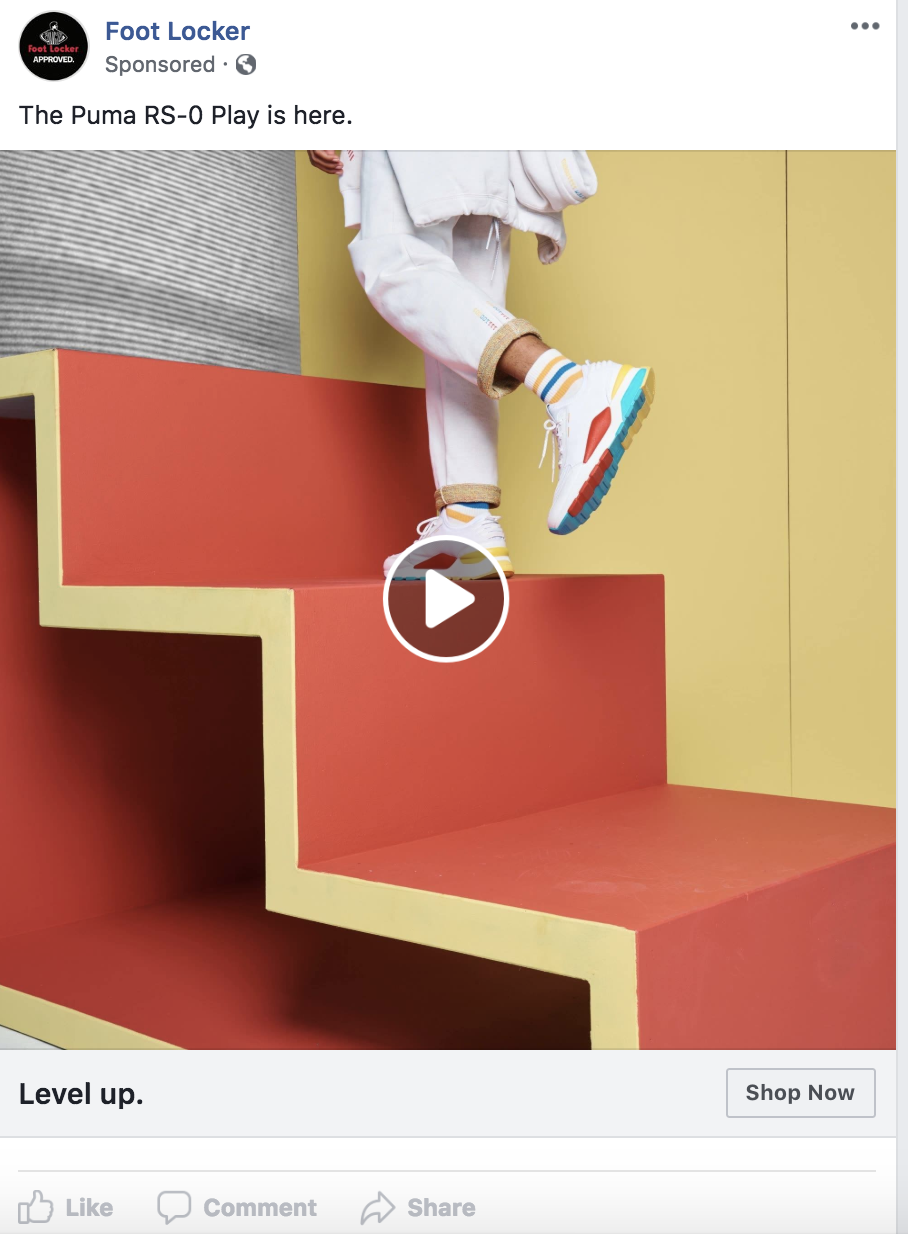 Note that you cannot view any performance metrics through this feature (you can in the flagged political ads - more on that later), but what you can do is use these examples to build out similar ads for your brand and see how they resonate with your audience. 
2.) Landing Page Inspiration
In addition to seeing ad examples, this feature also provides you with links to campaign landing pages and will show you the buyer's path to purchase.
For example (as of July 10, 2018), upon clicking GE's Info and Ads tab on their Facebook Page, you will see that their current campaign is focused on what they are calling The Additive Paradox, referring to additive manufacturing (known as the industrial version of 3D printing).
Once you click on the ad, you are led to this landing page:
And there, you can see the white Call-to-Action button that asks visitors to download a white paper. To complete the download, GE requires the user to submit a bevy of information, giving them new leads in the process.
3.) Global Perspective
Are your competitors playing in the same geographic markets as you are? Or have they infiltrated new markets? You can now find the answers to these questions quickly.
Under the Info and Ads tab, Facebook will tell you that the ads you are looking at are currently being run in your country, but will then give you a drop-down menu of all the other countries that currently have active ads as well. Below is an example from author, life coach, entrepreneur, and public speaker Tony Robbins, where you can see that he is using Facebook Ads across the globe.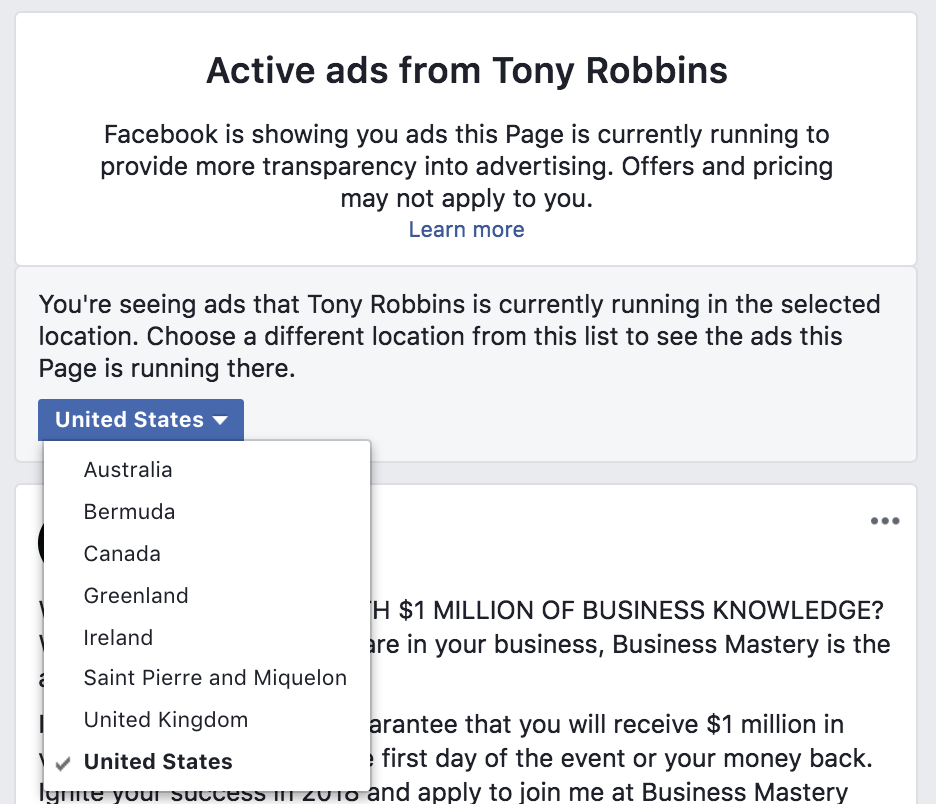 To take it a step further, you can compare location-based ad strategies for each country. For example, Tony Robbins is promoting his Business Mastery course to US and Canadian audiences. However, if you select Ireland from that drop-down menu, you will see the campaign shift to focusing on his messaging around health and wellness.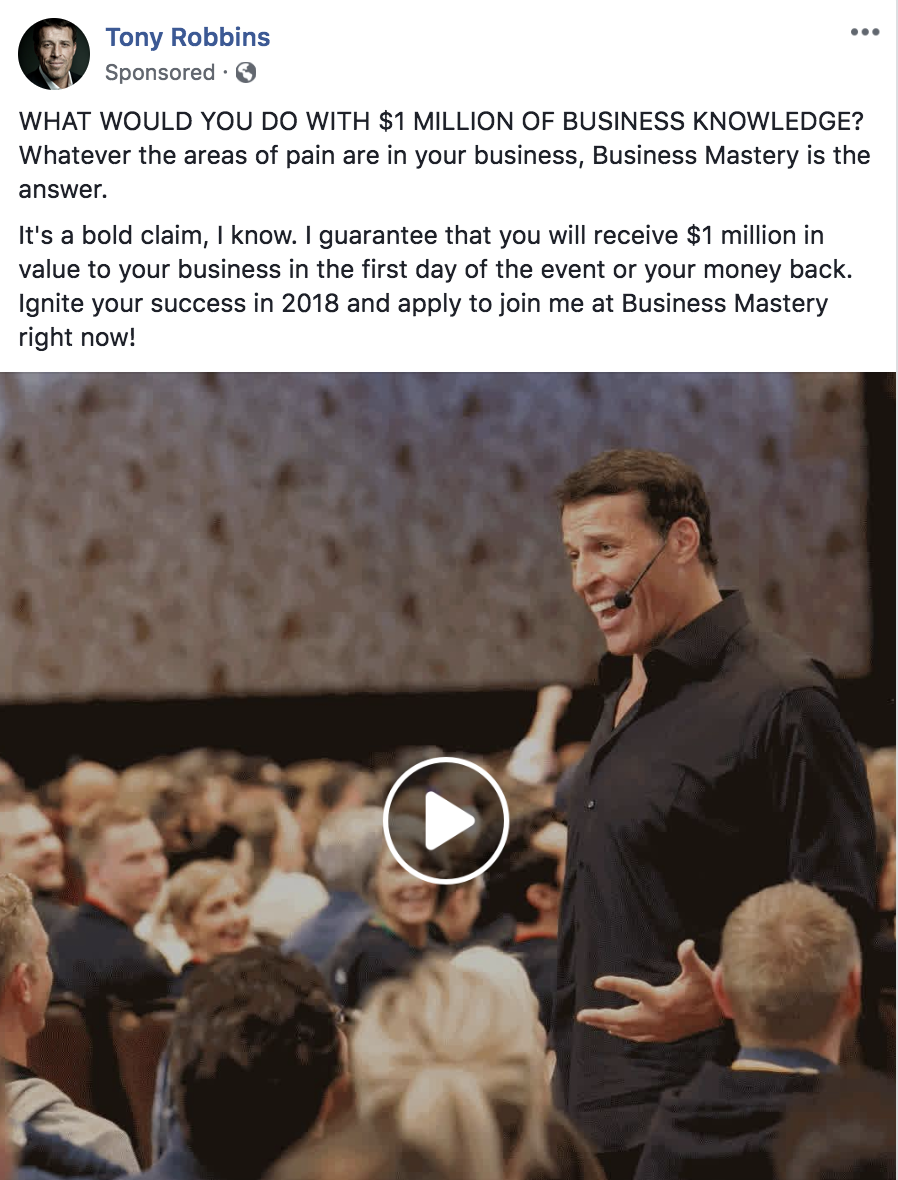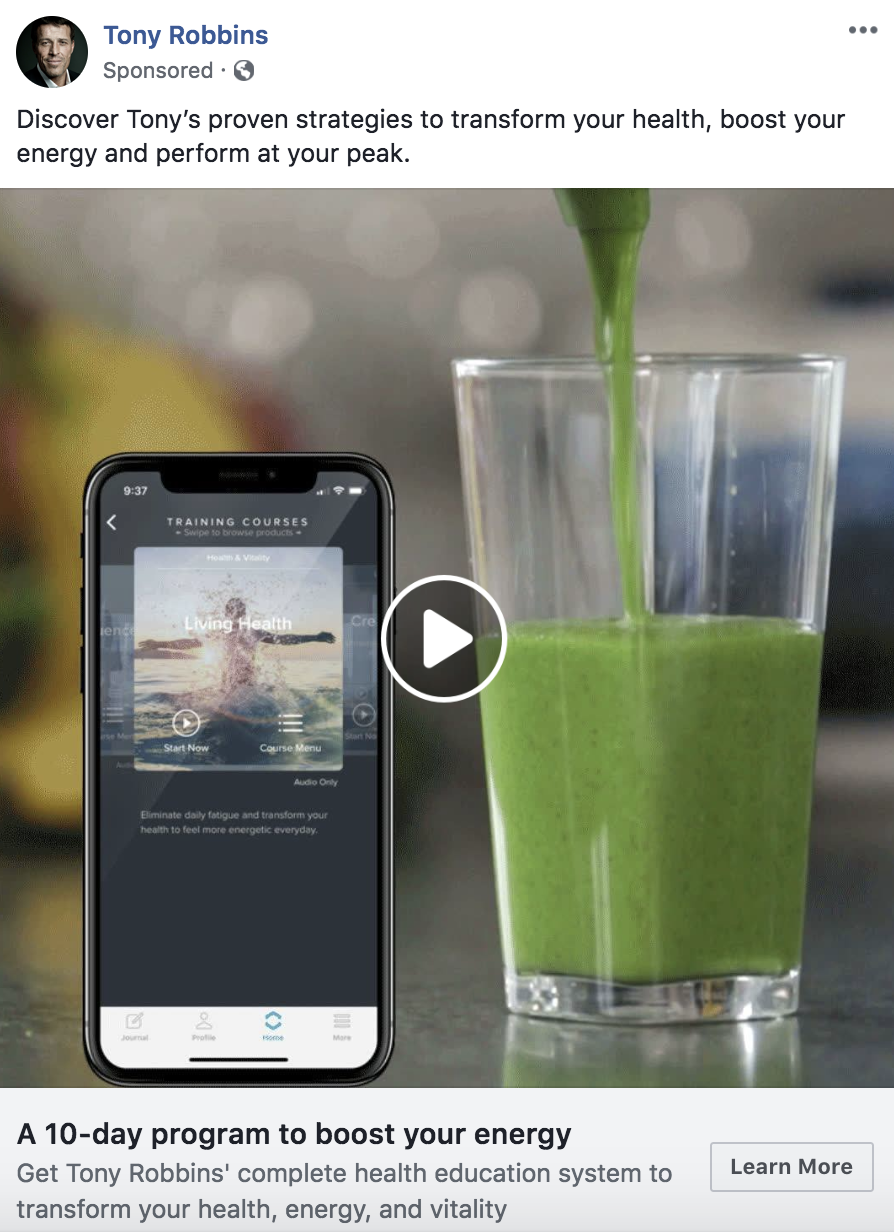 4.) Political Activity
Due to challenging questions regarding Facebook's policies around using advertising for political gain, you will also find a section under Info and Ads called Ads with Political Content. It is here that you can see if the company has run ads that have been deemed political by Facebook. Once you click to receive more details, you will see the flagged ads, when they were run, why they were taken down, and gain insight to metrics like audience demographic and even the budget behind the ads.
Using Starbucks as an example, the Political Content tool shows that their June 2018 ad spotlighting "Hacienda Alsacia farm in Costa Rica" was flagged by Facebook for not being labeled as "Paid for by."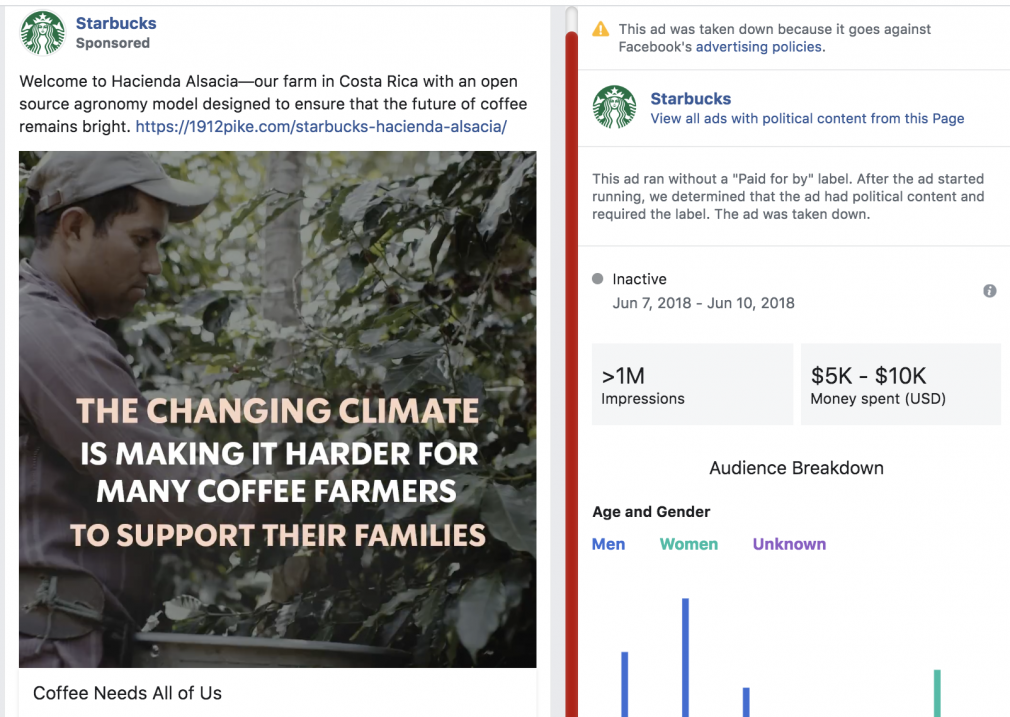 Expect to see many updates to this feature in the next few months. Media outlets, in particular, have complained that their ads are being flagged just for linking to news stories, and Facebook has promised to improve the ad database to distinguish between journalism and political advocacy.
5.) Page Activity
Users can also see if a business Facebook Page has edited any of their information. Take Apple, for example. If you go to Info and Ads > Page Information > See All Changes, you will see that in 2013, they changed their page name from Apple Retail to Apple Store, then again in 2016 to just Apple. This is good for gathering general intel on your competitors, and may even signal internal changes that could impact their business.
Are There Drawbacks to These Transparency Features? 
Keep in mind that if you can view your competitors' ads, then they can view yours too — neatly and in one place. Advertisers aren't accustomed to having strategies and creative on full display to everyone versus targeted audiences, so keep this in mind as you move forward in 2018. With Twitter also having recently rolled out their own Ads Transparency Center, this trend of transparency features and social media advertising doesn't look to be slowing down anytime soon.
How are you using Facebook's new ad transparency features?