Despite the time and effort you spend building an e-commerce site, if it doesn't rank organically, there will be little traffic and few sales. There are so many SEO strategies posted all over the web; which do you choose and what do you do when strategies are not working? 
To help you find the right SEO and marketing strategies for e-commerce, we invited Kate Morris, a digital marketing consultant who specializes in online marketing strategy and international search marketing, to do just that. Kate, along with our other chat participants, discussed various topics on how to boost rankings and have a successful SEO e-commerce strategy. Here is what they had to say:
Q1. Let's say a business has a small store with the same product in different colors and sizes, and they all have the same descriptions. Will Google see this as spammy? If so, what could they do to fix this?
Having the same product in different colors and sizes across different pages negatively impacts SEO in two ways:
Poor User Experience
It is important to remember that SEO is aimed to make it simpler for the user, so, when you spread out the same product, instead of just showing it once with multiple color options, it will lead to poor user experience, which Google will see in a negative light.
Reduction in Authority
When the same domain authority is spread over multiple pages, the pages start to compete with each other on the SERPs, which again, is not an ideal scenario.
The best option is to have one page for each product while allowing the users to browse the different colors or variants.
If you want some inspiration, look at major e-commerce sites like Amazon, where they give users the opportunity to access different versions of a product from the same page. This way, the user has the option to choose the particular color or style that they want.
However, if each variation is extremely specific and each of them is targeted to a different audience, then this is when you may want to put them up on separate pages. Similarly, if your products are searched for by size and color, then you might need different variation for each page.
If this is the case with your e-commerce site, here are a few things you should consider doing:
Use Different Product and Meta Descriptions
Since the products are different enough from each other to merit their own separate pages, the product description should reflect that. Be sure to highlight why each product is different in the product description; if not by size, then by color, and get that indexed. By doing it this way, Google will not see that as spammy.
Pay Attention to H1, Alt Tags, and Titles
To make sure that the Google bot understands that each product is separate and different, you can change the H1 and ALT tags of the images and headings of each of the products, such as including the specific characteristics.
Use Canonical Tags to Prevent Duplication
If you can't have everything under one page, consider a canonical to the most popular version of your product with the other product versions linking to it. However, make sure that the users can access the different variations from this page so that they can see all of the options. By doing this, you will drastically improve your user's page experience.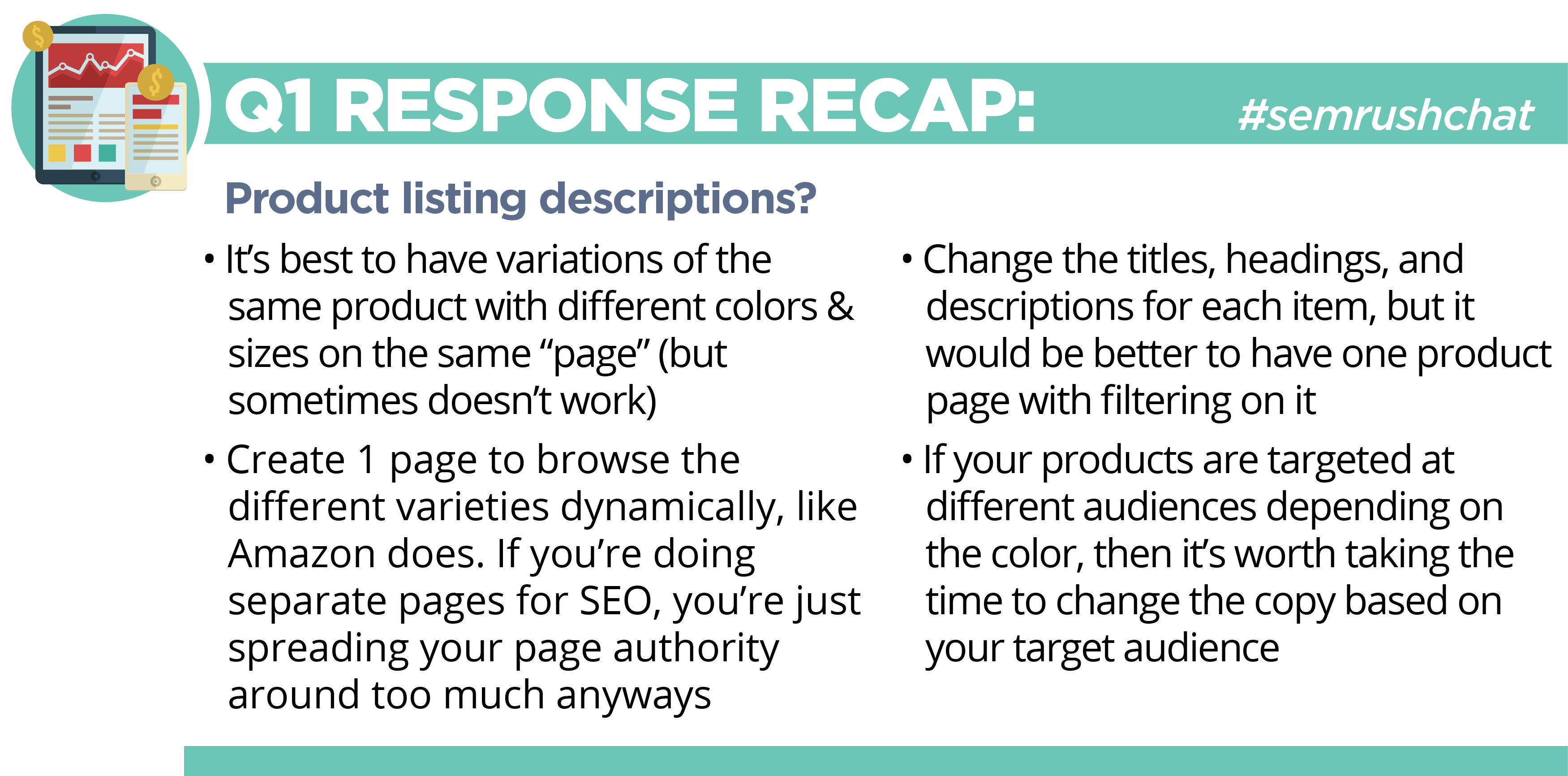 Q2. What is your number one SEO strategy for someone with a brand new e-commerce website?
Here are some tips our #SEMrushchat participants suggested when it comes to building your SEO strategy for a new e-commerce website:
Conduct a Site Audit
There are many good SEO site audit software tools like SEMrush that give you the opportunity to identify major issues that need to be fixed on your site.
Depending on the type of issues your site has, you can either decide which ones to fix first (or let the Site Audit give you suggestions). More often than not, you will come across low hanging fruits such as on-page and off-page SEO details that you can quickly look into.
Improve User Experience
Another strategy is to look at the site from the user's perspective and ensure that it provides a great user experience.
Some things to do include, ensuring great navigation, checking for broken links, duplicate pages, and having the right product description.
You will have to pay attention to metadata, alt tags, images, and more so that every product is not only easily accessible but can also be easily understood by the buyer.
You should also make sure that the product description used is not directly from the supplier or manufacturer. Instead, make sure to edit the copy to be on-brand in order to add more value to the visitor.
If your product is getting shared on social media or advocated by other customers, you not only will become more trustworthy as a business, but the links shared will have more authority. Make sure to track those popular pages to get the maximum SEO juice out of them.
Don't forget: user reviews influence the buying decision drastically. So, make sure to collect reviews for the products listed right from day one.
Conduct Market Research
With any marketing or SEO strategy, begin with your target audience.
Start by conducting a study to see what your target audience is searching for, what they are expecting, and then audit your website to see if your site is, in fact catering to those specific requirements. Your study should look at the products listed, the descriptions, and also the site usability.
Social listening is another excellent way to help you to understand your audience better. You can see where they are hanging out on the web and also the different channels they are using to talk about your products. You can use this data to help you to come up with an SEO strategy for out-of-stock or seasonal products as well.
Regardless of the SEO strategy you choose, ultimately you should start with a complete E-A-T (Expertise, Authoritativeness, and Trustworthiness) analysis of the website since it is one of the major ranking factors. To establish E-A-T, you will have to look at both on and off-page elements and check the quality of your content so that it provides a good user experience.
To see if you are on the right path, you can do a Google search for your own products to see if the landing pages are ranking. This strategy will also highlight duplicate content and other tiny details that you want to fix right off the bat.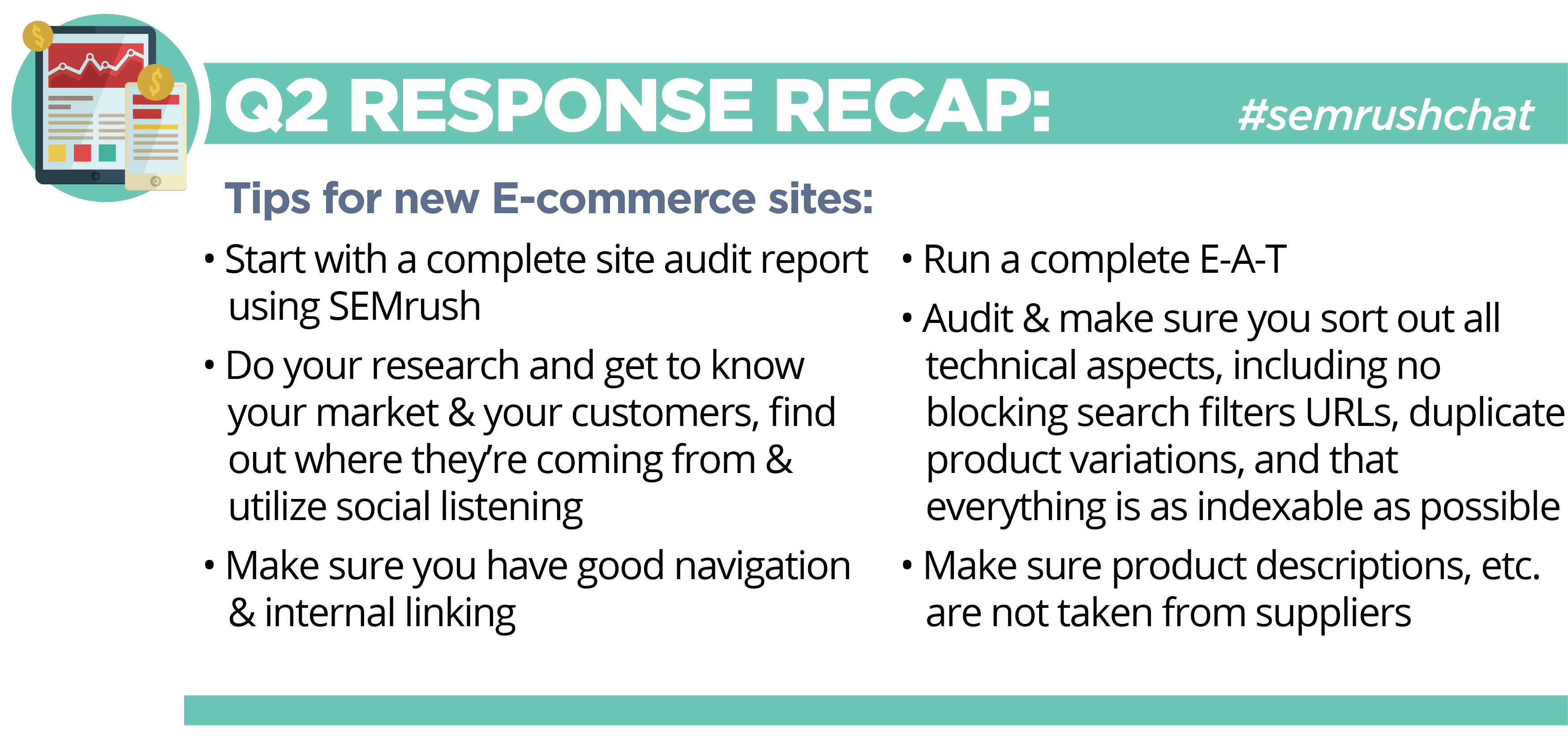 Q3. Real Life Example: A business has a very niche store that specializes in selling spiritual products & online sales. Some of their items are ones that people have never heard of before, what could they do to gain more traffic?
Awareness is the key to getting more traffic. Before anything else, your audience needs to know that your product exists, before they even search for or buy it.
Here are a few ways you can increase awareness of a relatively new product:
PR and Influencer Outreach
Start by reaching out to influencers in your community and see if they can review or endorse your brand.
When it comes to influencers, it doesn't necessarily have to be people with large followings. In fact, the customers who buy your products can also work as "influencers." Ask your existing buyers to review products and share them on social channels for more impact.
Use Facebook Advertising
Use Buzzsumo or a similar tool to identify a similar audience to your target group. You then can utilize Facebook's look-alike audience list to create Facebook ads to target your potential new customers.
Once you get your new audience pool, you can start sending them the right content to engage and then convert them.
Community Engagement
Once you have your target audience's data, the next step is to see which sites they frequent on social media and then establish your presence there.
You could participate in discussions on Reddit or Quora (or other similar channels), comment on posts, or even do something as simple as creating a Facebook presence for your site.
An Educative Content Strategy
The kind of content you choose to publish should be more educational than promotional. It should create a need for your new product amongst your target audience and highlight the advantages and the benefits of the product, instead of just selling it. All guest posting, PR efforts, and other content engagement can be centered around building awareness and educating the audience, rather than a hard sell.
Contextual/Lateral Keyword Ranking
Keyword research is an integral part of any SEO or content effort when it comes to building awareness. A smart way to use keyword research is to look at the general searches done by your target audience on the benefits of the product. This could be more contextual and lateral, based on affinity keywords, so that even if people are not aware of your product, they can still come across it while looking for a solution to a problem they may have.
Re-engage An Existing Client Base
If you already have an existing client base, you can get them back on to your site with retargeted ads or email marketing. This option will give a natural boost to your site's traffic and also give you new keyword ideas to explore.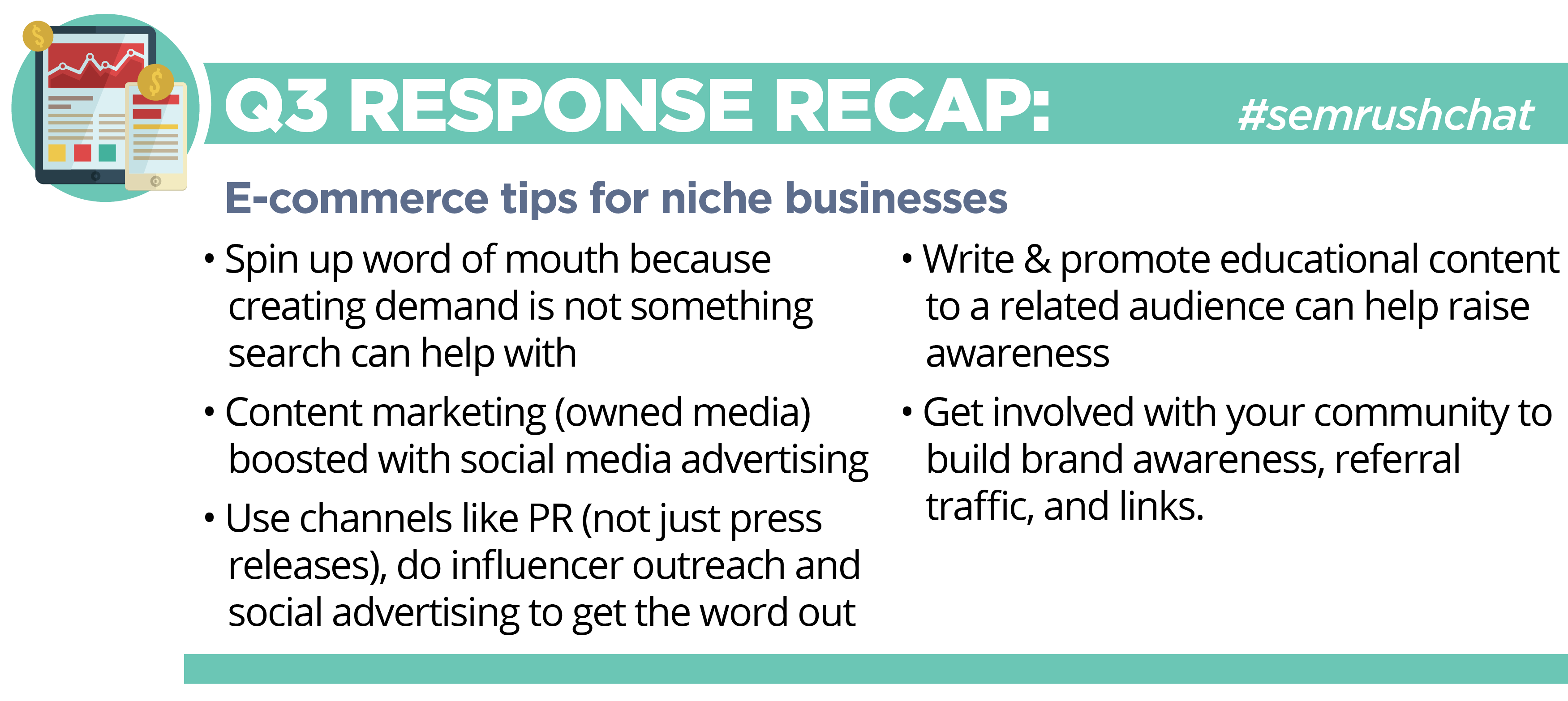 Q4. How can SEOs handle expired, out of stock, and seasonal product pages?
Handling expired, out-of-stock, and seasonal product pages completely depends on the SEO capabilities your site has. Just because a seller has decided to stop selling a particular product, it does not mean that users will suddenly stop using or searching for it. In such cases, they will come across pages with products that they cannot buy, which can be an extremely frustrating experience for them.
To solve this issue, visitors will need some actionable information to improve their user experience. You can either choose to remove the pages altogether, especially if the page gets no traffic for an extended period of time or keep the page up, with messaging that gives the page visitors recommendations of similar products that you are offering.
If the product is gone for good, suggestions of similar products works. If it is a seasonal product or something you will have restocked, give them the option to be notified when it comes back on (which will also give you their email address for further marketing efforts).
Even if your product is discontinued, you can offer a ton of value to users who come looking for them. You can use the page to tell them about how you have updated or enhanced that particular product or inform them about a new model that is an upgrade to this product. This page can be used as a hub for recommendations and information to build awareness about new products with your existing clientele who already loves the expired product.
Use this information to interact with your audience, build your email list, and get new ideas for your SEO or content strategy.
Having a product page with high search terms can also help with your SEO strategy. As long as your product page offers good user experience, you can use this traffic to convert other items.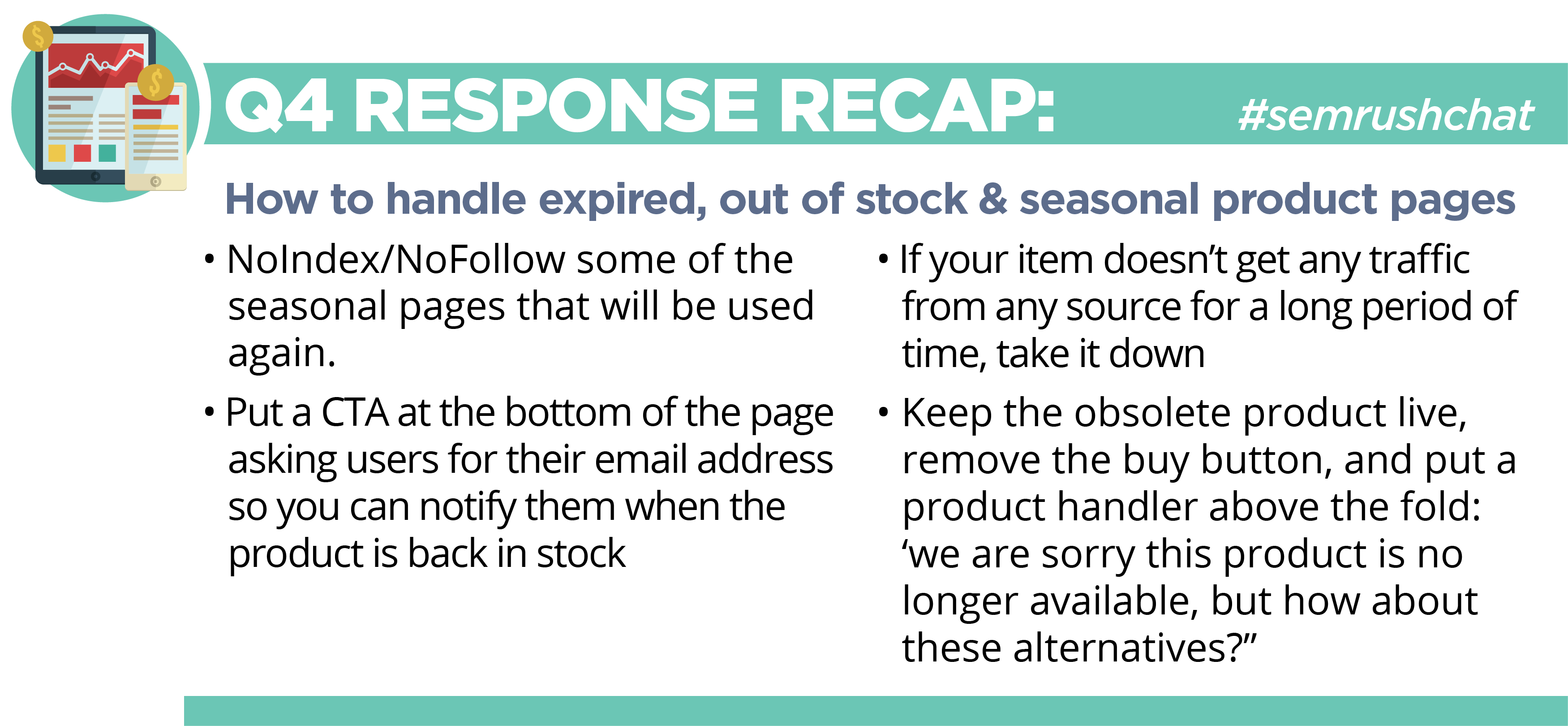 Q5. What is more effective for an e-commerce website: SEO or PPC? Why?
Both SEO and PPC are required to generate traffic and sales for e-commerce sites.In order for both of them to work, they should be combined rather than used separately.
A good lead generation strategy will use an optimal mix of both, but also will keep in mind the business objectives and ROI.
Some users in our community did feel that SEO was more important:
However, it is undeniable that PPC boosts SEO results and brings about a faster impact.
Building awareness for newly launched websites, boosting traffic via remarketing ads, and targeting a niche audience with relevant products are all possible with PPC. These strategies bring about better conversions and, in turn, influences your ROI.
That being said, there is no reason why you cannot focus both SEO and PPC, provided there is no constraint on resources, as mentioned above. You can adhere to the best SEO practices, and while you wait for it to yield results, you can focus your attention on PPC.
This way, you can use PPC to test out ads and messaging and see what your audience is actually looking for. The results you get will help you to understand which keywords you should target for your SEO.
As a rule of thumb, use transactional and action-oriented keywords for PPC (such as buy or sell). For SEO campaigns, the keyword and texts can be more informational and educative.
So, while both have its advantages, the business objectives will define which strategy to choose.
Some products may simply not be conducive for PPC campaigns (maybe because of high CTR), while others could take too long to rank organically.
Thankfully, a lot of best practices for SEO and PPC overlap, since they are both aimed at providing optimal user experience, which is what the search engines care about the most.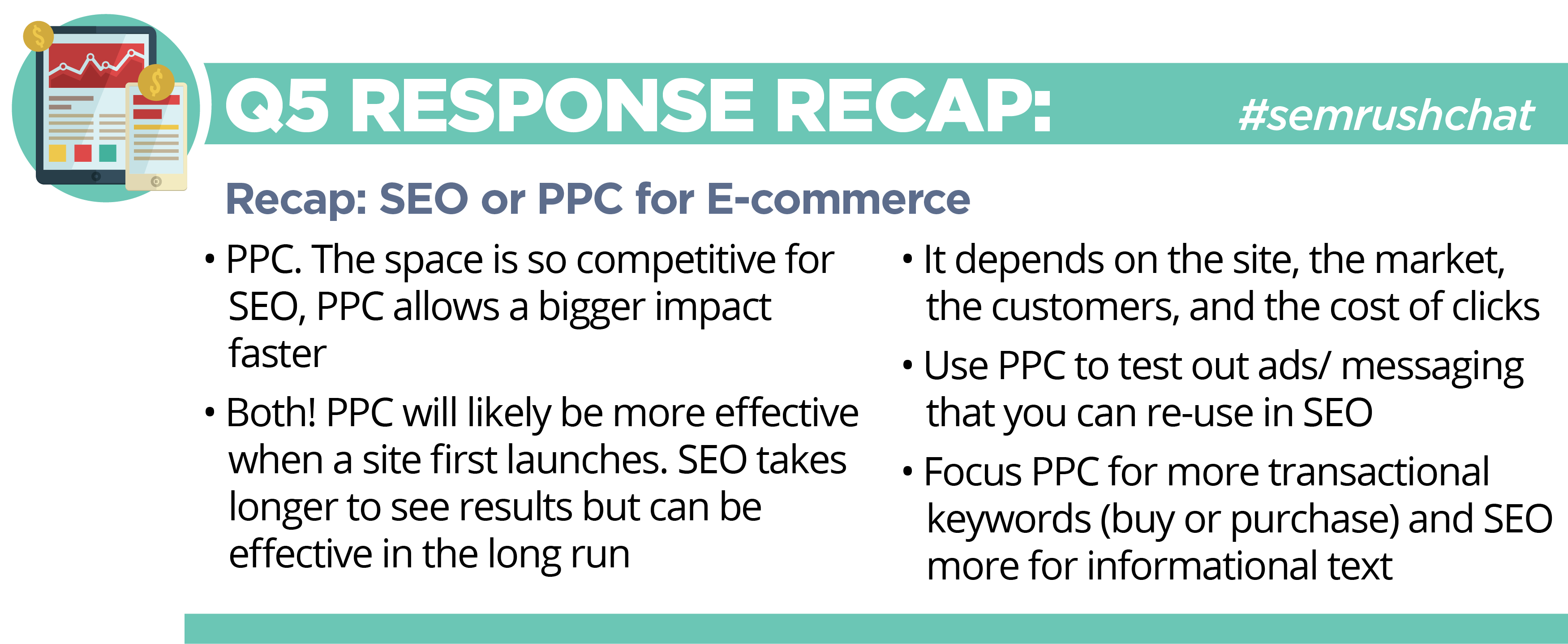 That is all for today! What are the SEO challenges you face for your e-commerce business? Leave us a comment and let us know! Make sure to join us this week as we discuss "PPC In A Cross-Device World" with special guest, Lisa Raehsler!