What Is Dental SEO? 
Dental SEO (search engine optimization), or SEO for dentists, is the process of optimizing a dental practice's online presence so it's more visible in search engine results pages. For example, SEO can help your website rank higher when patients search "dentist near me" in Google.
This can be helpful for those who are: 
General dentists 
Orthodontists 
Pediatric dentists 
Periodontists
Prosthodontist 
Oral surgeons 
Endodontists
Instead of paying for ads, you can optimize parts of your website and attract traffic organically from Google's search engine results pages (SERPs). 
And that can translate into more patients. 
Smileworks, a cosmetic dentistry and facial aesthetics practice, transformed from your average dentist's office into a multi-million dollar business in only 16 months with the help of SEO and Semrush's tools and reports. 
"I've never seen a local dental practice in the world ranking as much as we are now, I've never seen a local practice in the world with as much traffic as we have…My biggest problem now is I cannot hire dentists fast enough!"
SEO Basics
When someone types in a keyword into a search engine like Google, it crawls the web looking for the best answer.
Having your website appear at the top of those results means you have good SEO.
Yet, every business' ideal SEO strategy is different. 
Wondering why?
One big reason is that SEO is competitive by nature. To get to the top of the results, you need to be better than the current businesses appearing there.
A search for a local service like dental care will bring you a results page with a number of Google local listings. These results provide searchers with information about physical businesses. That may be directions, their website, a phone number, or pictures of the business itself. 
Your dental practice will need a local SEO strategy that gives search engines like Google more reasons to show your business website above your competition's.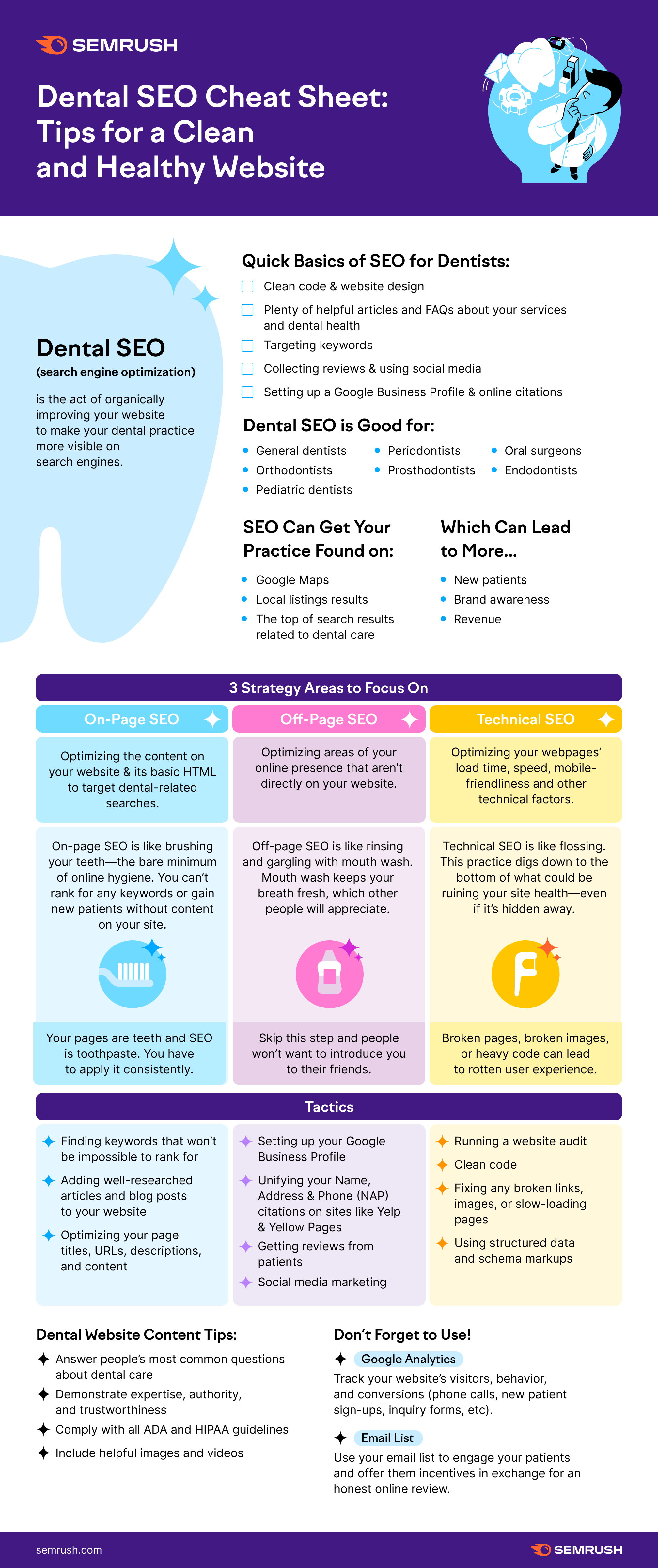 Local SEO for Dentists (Why Dental Practices Need Great Websites)
Local SEO is the practice of optimizing a brand's online presence for location-specific services and products.
Any time a search is made with "near me" in the query, it's a location-specific search.
We mentioned that Google benefits potential patients because it helps them find a dental practice's essential information. 
On the other side of this exchange, local SEO can help you build up your dentistry practice's online visibility in the local market so that you're the first dental practice they find, and choose. 
Yes, with local SEO you're competing with other local dental practices, but the competition is limited to those in the surrounding area for the most part. You're not competing with the entire Internet. 
You just have a better online presence than the other dental professionals near you.
As a dentist, you need an optimized website to sway Google to give your practice more virtual real estate so new patients can find you. That real estate could be in the form of a business listing at the top of Google, a blog article from your site showing up in search results, or being featured in special SERP features. 
There are a few basics to learn before you drill down into your strategy:
Local Dental SEO Marketing Basics 
SEO tactics can be broken down into three basic categories: 
On-page: the content on your website & its basic HTML 
Technical: your webpages load time, speed, mobile-friendliness
Off-page: domains linking to your website, social media, reviews (not on your website) 
An easy way to think about this is that on-page SEO is the bare minimum of online hygiene (like brushing your teeth).
You can't rank for any keywords or gain new patients without content on your site. On-page SEO is the optimizing of the content of your website's pages (page titles, URLs, text, descriptions, etc) to make sure it aligns closely with what people are searching for.
Technical SEO is like flossing.
This practice digs down to the bottom of what could be ruining your site health—even if it's hidden away. Broken pages, broken images, or heavy code can all spoil the technical side and ultimately the user experience on your site.
Then, off-page SEO is like rinsing and gargling with mouth wash.
Mouth wash keeps your breath fresh, which other people will appreciate. Skip this step and people won't want to introduce you to their friends. 
Dental similes aside, there are a lot of tactics you can employ to boost your site's visibility. But those are the basics for most websites. 
EAT and YMYL
Doing SEO in a health-related field like dentistry adds another layer of complexity due to the strict quality control of Google's Search Quality Evaluator Guidelines (SQEG). 
Is it because Google hates healthy teeth? 
It's quite the opposite—Google stresses expertise, authoritativeness, and trustworthiness (EAT) for websites that deal with "your money or your life" (YMYL). After all, your dental practice's website might provide medical advice or services which would affect someone deeply if anything went wrong. 
One of the quickest ways to destroy your local SEO rank and risk penalization would be to provide information that is inaccurate. Not to mention, it won't help with your practice's credibility. 
ADA and HIPAA Compliance 
That brings us to another aspect of your site: Americans with Disabilities Act (ADA) and Health Insurance Portability and Accountability Act (HIPAA) compliance.
ADA-compliant websites are accessible for those with disabilities, per the Web Content Accessibility Guidelines (WCAG) 2.1. 
As for HIPAA, if you take sensitive information through your website (like a potential patient's private health information) you must be sure that it's private, secure, logged, and protected. 
Don't collect this information? Then, don't worry about it. 
Neither affects SEO directly, but violating either might result in needing to take your site offline after a lawsuit. And that's certainly not good for its SEO. 
At this point, you might be thinking that this sounds like a lot of work with an unknown payoff. 
Give us a chance to pique your interest. 
Dental SEO Results
As mentioned earlier, Smileworks saw unprecedented traffic growth of 4773% with Semrush: 
...Smileworks' organic traffic has grown 24 times. In July 2018, they were at 25,000 users a month and this is mainly from some national results. In July 2021, Smileworks gets an average of 80,000 monthly visits.
Now that you're really paying attention, let's polish your website and make it shine. 
On-Page SEO for Dentists 
On-page SEO for dentists should focus on good use of HTML and content that provides value to potential patients. A great example of this in action is the story of Mark Oborn, a marketer working with a dental practice in Oxford.
Mark was tasked with increasing the organic traffic of the local dental clinic. By adding thorough, well-researched blogs to their website, he increased the dental practice's digital conversion rate by 300%. 
Here's a blurb from the success story:
"By producing similar blog posts once a month, Mark was able to nearly triple the number of digital conversions (contact forms filled out on the website) between April and July 2020." 
One blog post went from 13 visits to 19,000 in under a year with his strategy. 

So, what was his strategy? 
Mark used Semrush's suite to find the best keywords and topics to help boost his client's organic traffic. The steps he took included: 
Finding the main keyword (seed keyword) for each blog post. Either through asking his client or by using the Position Tracking tool to see what keywords a competitor was ranking for that his client wasn't. 
Finding keywords that weren't impossible to rank for that will drive organic traffic to the dentist's site. He used Keyword Magic Tool to see keyword difficulty (KD%) and search volume. 
Choosing the right title. He used Keyword Magic Tool again to find the perfect headline that had a decent amount of monthly search volume. The Questions tab makes it easy to find keywords that naturally work as titles.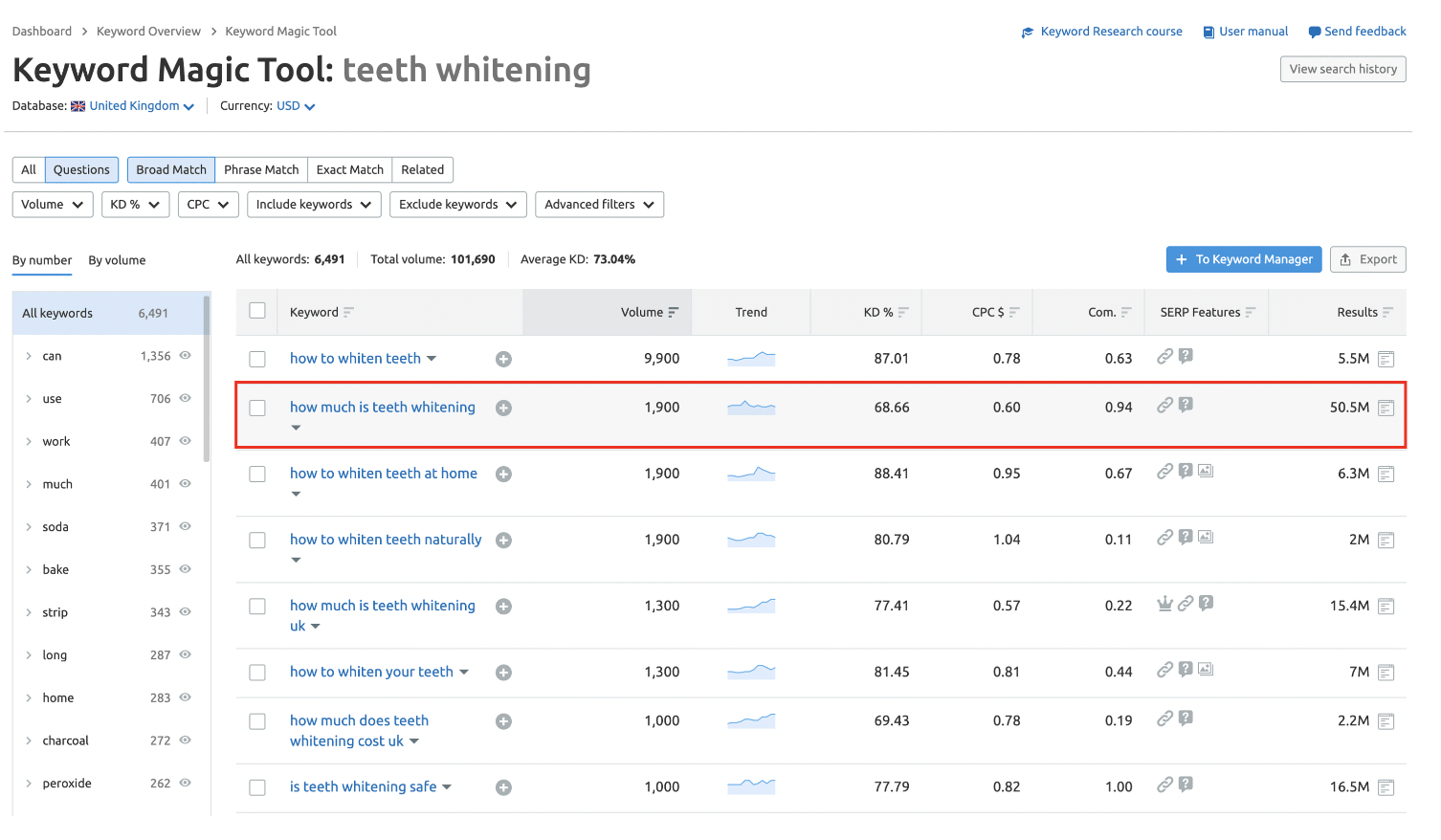 You can use Mark's steps to supercharge your dental website's content. Consistently writing good content with the right HTML and targeting keywords are the most foundational ways to improve your website's SERP rankings. 
Also, with Google's Multitask Unified Model (MUM) update it makes it more critical than ever to get right to the point of the topic. 
The MUM algorithm favors multimedia content and its goal is to show searchers the answers they want instantly. 
So, including digestible videos on your blog might increase your chances of getting featured. 
For example, are you writing a blog about teeth whitening? Get right to the point about the price instead of a story about the time your grandma paid too much for teeth whitening. 
Using this strategy could help you rank for a SERP feature. These kinds of results include: 
Local Pack
Featured Snippets
Google Ads
Images
FAQs
People Also Ask (PAA)
Reviews
Rich Snippets
Sitelinks
Twitter
Videos
This list isn't exhaustive, but you may be familiar with a few of them. The PAA SERP feature is pictured below: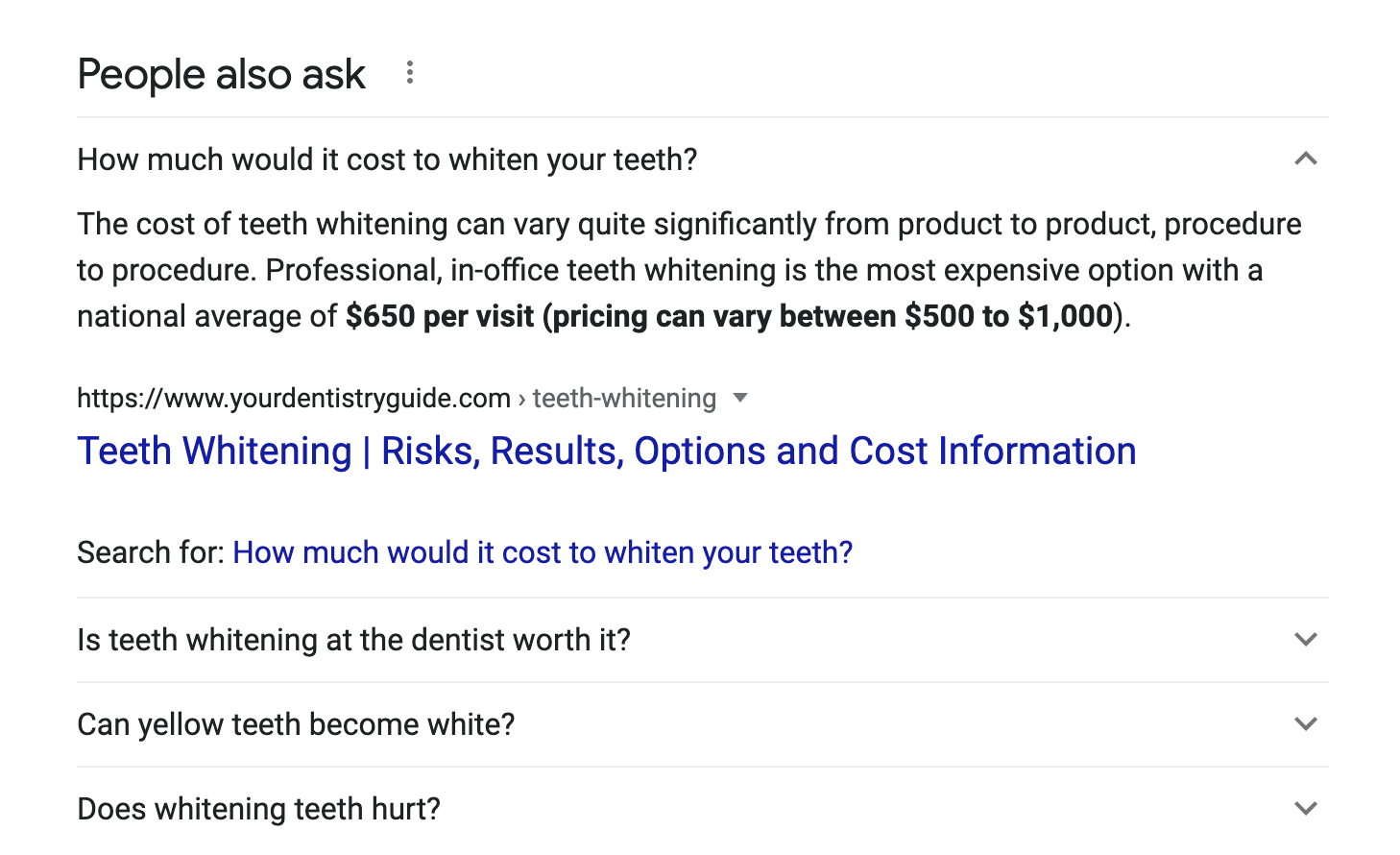 To make sure your content is optimized correctly, try using the SEO Writing Assistant. It'll make sure you're including your keywords the right amount of times, the right links, and a consistent tone.
Technical SEO for Dentists 
Technical SEO refers to the bits of your website that make it easier for search engines to crawl and read it.
Unlike when a human visits a website, search engines have virtual spiders that crawl your website at high speeds. 
They navigate through internal links and sitemaps trying to figure out what your site is all about and how easy it is to use. Slow sites with web pages that would take a detective to find won't look good to Google's crawlers. 
Fast sites with pages that are easy to navigate will provide a better web experience, which is what Google prefers.
It's not easy to see what's hurting your site's technical SEO, but using a tool like Site Audit can identify issues and help you solve them without the help of a web developer.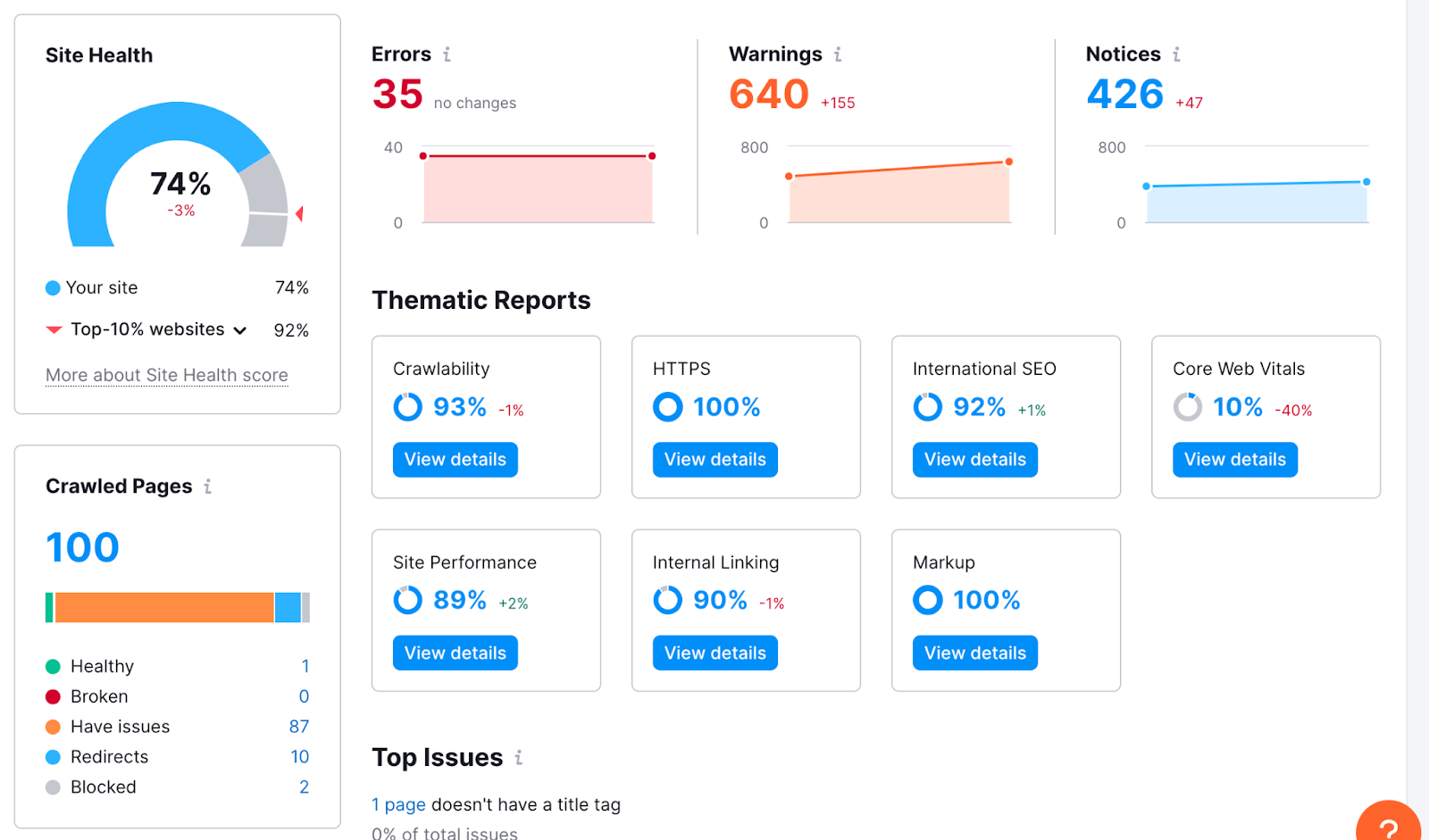 Here's the smallest crash course on what matters for technical SEO: 
It's safe to say that most dentists aren't also experts in coding. So, you may want to hand off these tasks to a web developer. A small error could end up in a big headache. 
Though, you could fix small issues. Easy fixes include writing unique meta descriptions or adding relevant structured data to your site's theme. 
Structured Data for Dental Practice Websites
Search engines love structured data—it allows them to add rich snippets to your organic results, giving your website an edge over other dentists in the area.
Schema markup (schema.org) is a structured data vocabulary that helps search engines understand the info on your website in order to serve rich results.
Because it is a technical process, you should leave it up to a web developer to implement structured data. But, it's not that difficult to do it yourself.
You can use structured data on your dental practice's website to confirm your office's:
Medical specialty
Forms of payment accepted
Insurance accepted
Hours of operation
Slogan
Awards
Address
Phone number
Languages spoken
Once you do, it'll be easier for people to find this info via search engines. Search engines want to provide people with the right and best answer. Structured data helps them do that.
This is just a small example of all the data you can add to boost your site's visibility.
Here's a step-by-step guide on how to add relevant structured data to your website. Proceed with caution.
Off-Page SEO for Dentists 
A dentist's off-page SEO is absolutely essential to local SEO success. Google searches the web far and wide to track down your business' information. These include your: 
Name 
Address 
Phone number 
These key bits of information combined are simply known in the SEO world as NAP. You might be the one to have uploaded them to the internet through your Google Business Profile (GBP). 
Don't know what GBP is? 
It's the key way for dentists to show up to local searchers because it's what powers Google's local listings as a whole.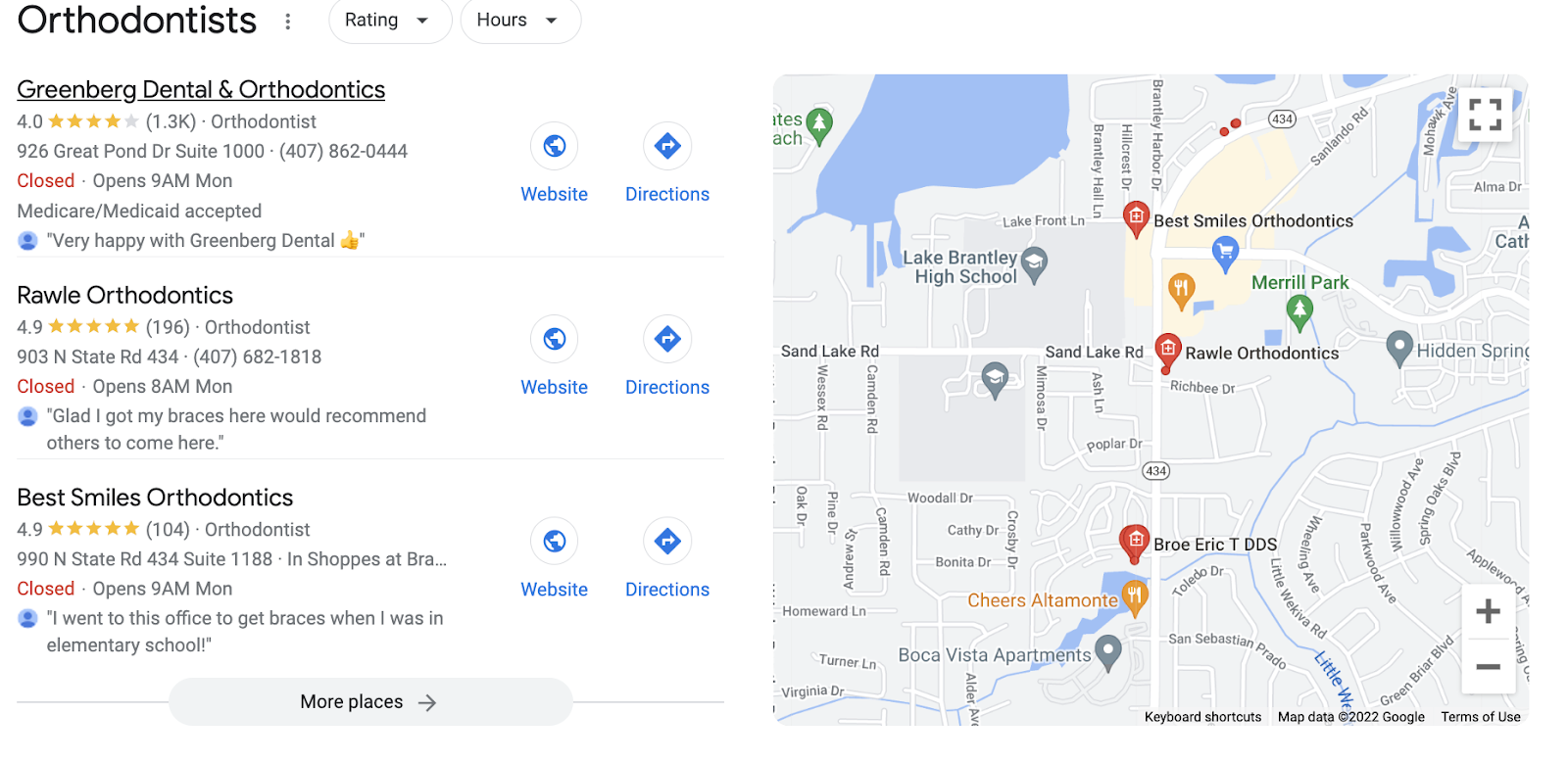 The image above is known as a local pack. It shows searchers local options for location-based queries. An example of this may be "best dentist near me."
So, back to off-page SEO. Why does this matter at all for your business? 
Online directories, like Yellow Pages, feature a business' NAP info. A random person could list your information, meaning it could be incorrect. 
When Google cruises the web to place businesses in its local packs, it cross-references all NAP info. That includes what you may have uploaded on GBP, but it could also be wrong information on online directories. 
You can check this information and keep it fresh through our Listing Management Tool. Input your correct information and it'll browse online directories to make sure it's all up to date. 
Plus, it tracks the location-based keywords you're targeting versus your keyword competitors.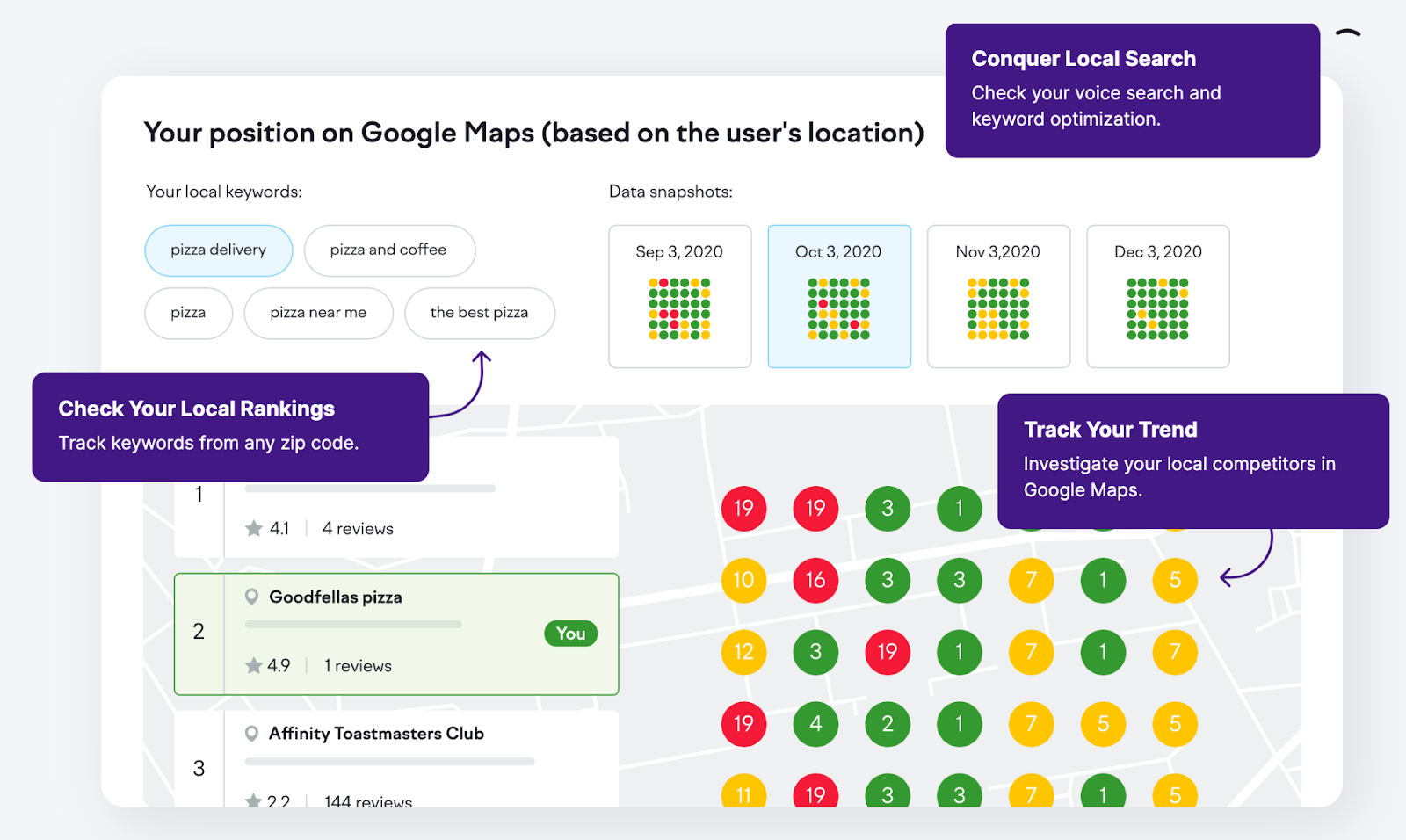 Another way to help rank for these types of keywords is to add them to your GBP's product listings. Here, you're competing for fewer businesses because it's on a local level.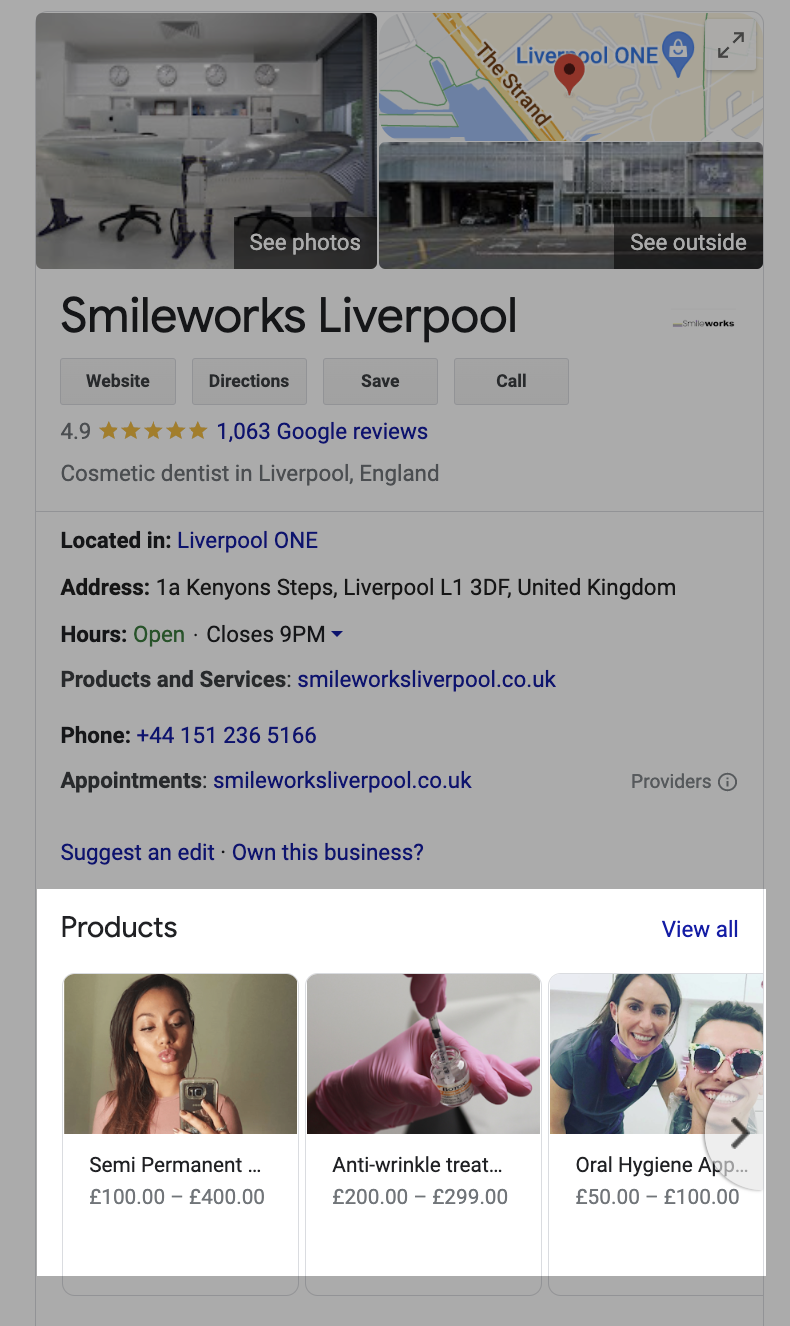 Still, it's important to check out the KD% of a keyword to identify queries that are just way too much work to rank for with too little payoff. 
Weaving keywords like these into your product listings can help you beat your keyword competition organically. 
Optimizing your GBP profile is one of the most important ways to boost your off-page SEO. But there are a few other ways to help with your rank: 
Backlinks 
A backlink is when someone links from their website to a different domain. 
They're a social signal to search engines that your website is worth checking out. It's like an informal vote of confidence—from the right domains. It's not about the quantity, it's about the quality of your backlink profile. 
Backlinks are generally regarded as higher quality when they come from reputable or highly relevant sites. Domains with a .gov or .edu ending will likely have a notable, positive impact on your SEO rank because Google trusts governmental and educational sites. A good mix of backlinks from relevant websites can help you rank higher over time. 
A small warning: spammy websites and paid mentions can hurt your site's search engine rankings. 
Google can penalize your site in instances like these. In a worst-case scenario, they might erase you off of SERPs completely. You can keep an eye on your backlink profile with a tool like Backlink Audit.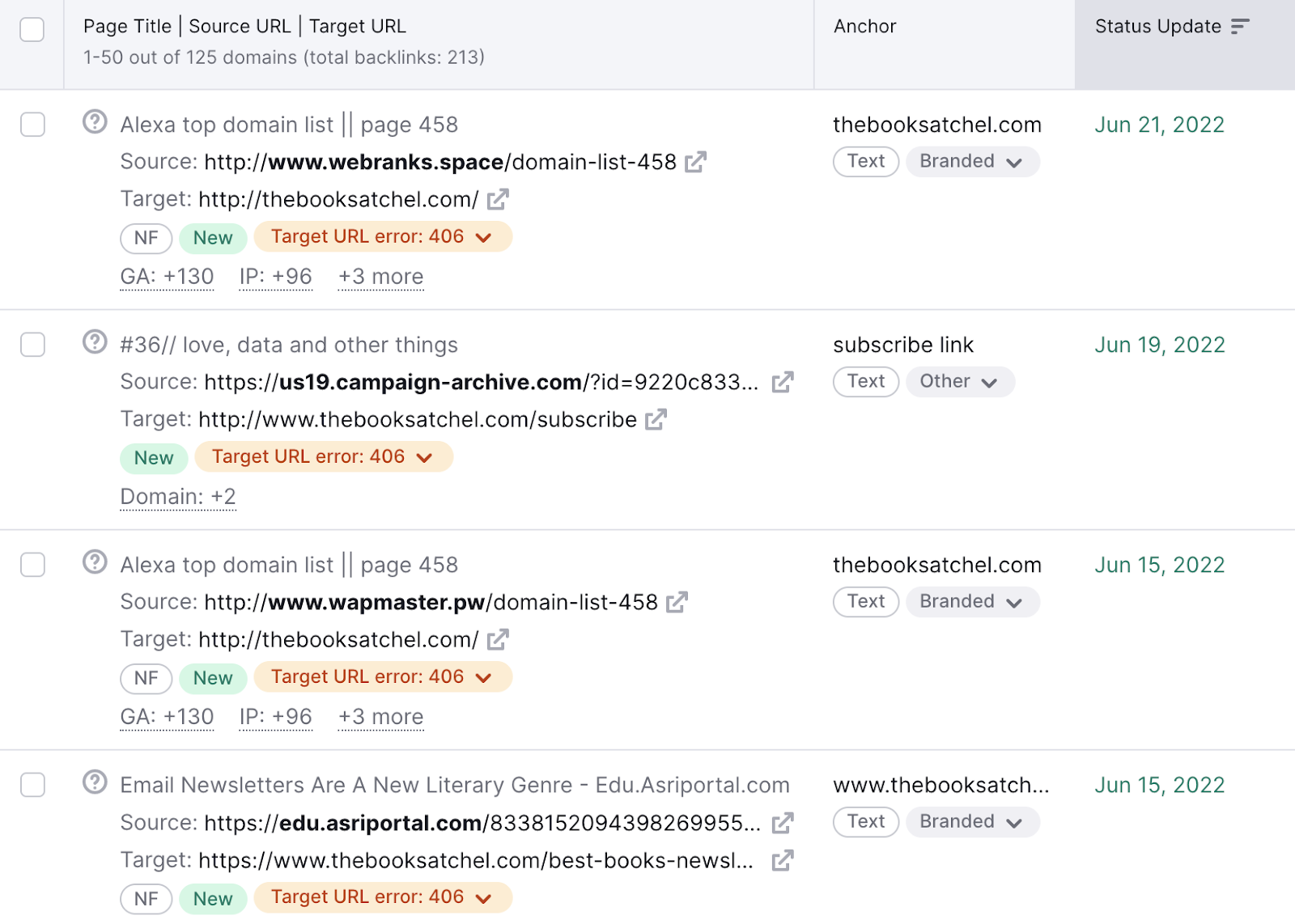 Good content can get the attention of others, especially studies and ground-breaking news. New developments in your practice could be worth a PR release too. If you catch the attention of other website owners, they could link out to your press release or study and your SEO will benefit.
You can also be more proactive and reach out to websites that might be interested in what you can add to the conversation on the dental industry to give you a backlink. There are many methods on how to get backlinks for your dental practice's website. 
Social Media
Social media is another way to help your off-page SEO and promote your website. And that could lead to backlinks.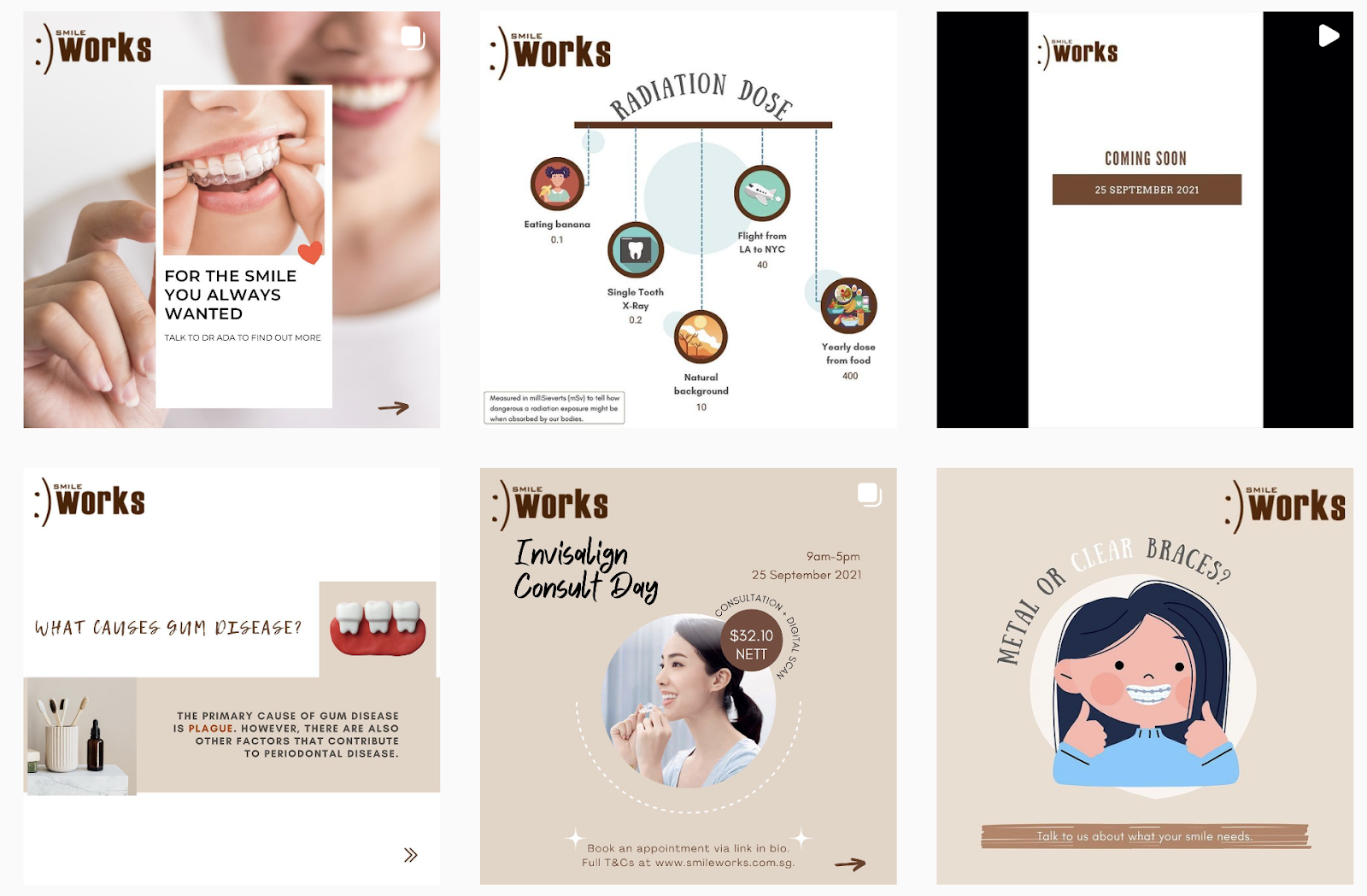 You could also take up more digital real estate with your social media listings showing up on search engines (another SEO score for online visibility).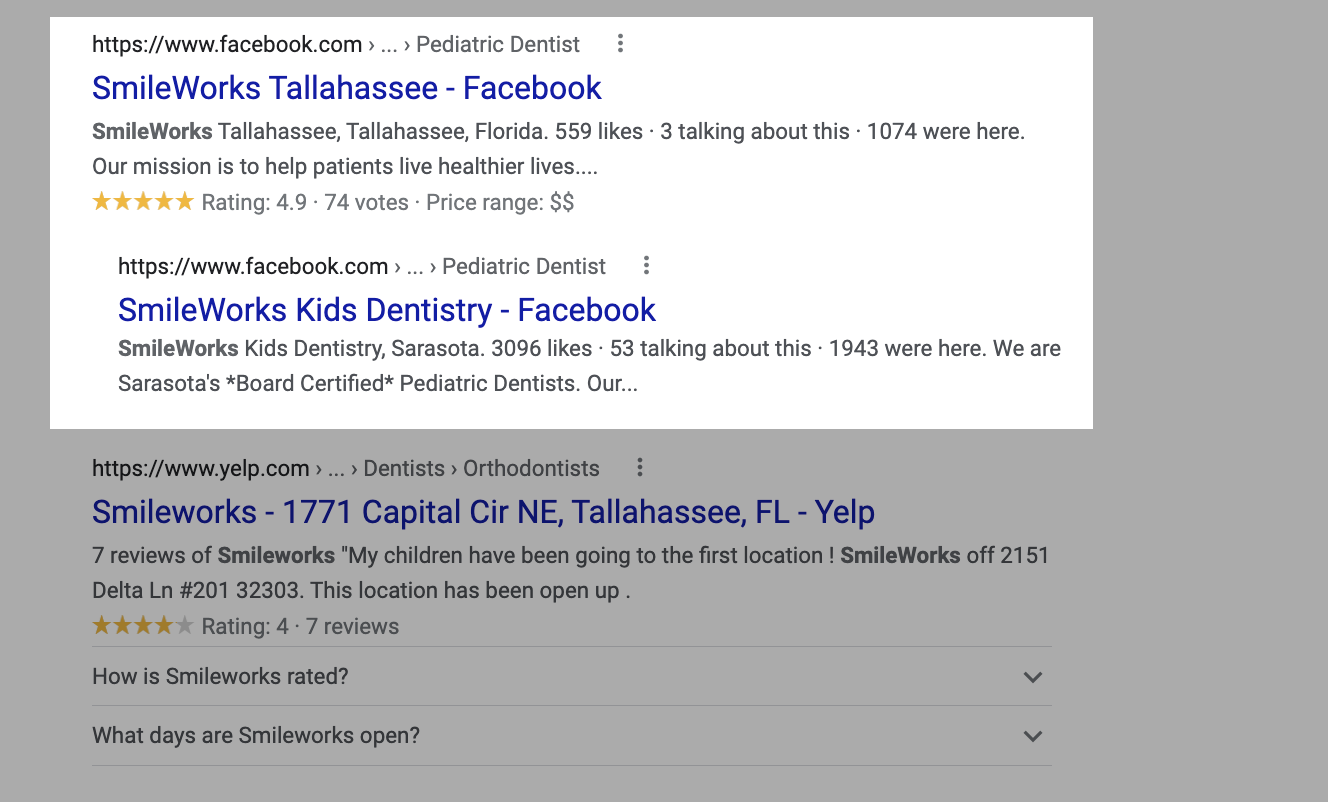 Reviews 
A 2022 study showed that 81% of local consumers used Google reviews to decide whether or not to try out local services. Potential patients care about your reviews. 
So, it shouldn't shock you that Google also cares about your reviews too. It's a local ranking factor that could help your chances of getting in the local pack SERP feature. 
If you already have a solid 5 stars (or close to it), you're already on the right track. If not, it might be a good idea to incentivize your customers to give you a good one—without trying to manipulate the ratings. 
Use Email to Gather Reviews
Have an email newsletter? 
There are many ways to encourage reviews to help boost your local rankings, but one great method is via email. 
Create a segment of patients who have used your services multiple times and are highly engaged with your emails.
Send this group of patients an email offering them a portion off their next visit if they write a review for your practice.
You keep them happy and they help your SEO. It's a win-win!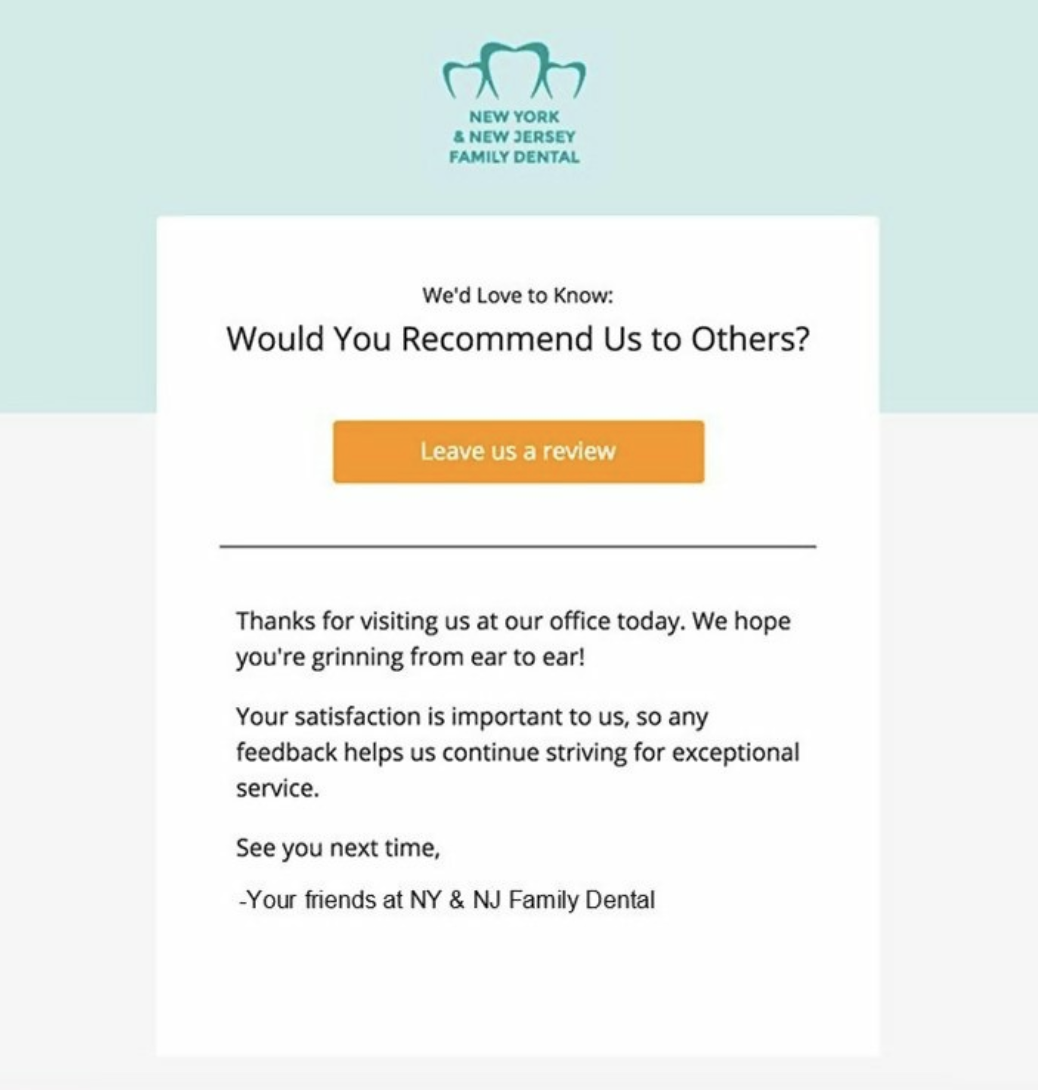 Notice we said just write a review, not write a good review. Suggesting to write a good review could get you penalized for manipulating your reviews. 
No email list? 
You can still offer the same incentive for patients who have just finished up service and are happy with the outcome. You can have a tablet ready for them to leave a review before they leave. 
Tracking Your Results
Without tracking the results, there's no way to know if your SEO efforts are really working.
You can do just that with a bit of software. 
With Semrush
Position tracking lets you see what keywords you're ranking for and where they sit on the SERP. It's an easy way to track when you need to optimize for a keyword or when you don't have to. You can also see when your content snags a SERP feature. 

With Google Analytics
Another way to track your results is by using Google's suite of tools. Specifically, Google Analytics is a must-have tool to link your SEO efforts to leads. You can drill down into your website's content and see which pages are leading to conversions (aka phone calls, new patient sign-ups, inquiry forms, etc). 
One of the most useful features of Google Analytics is how it can integrate with call tracking software. Software like Call Tracking Metrics (CTM) can track calls and texts. It works with a snippet of dynamic code that changes per landing page. 
Use Google Analytics with CTM to see which calls and texts are a result of a marketing campaign. 
A Final Word: How Much Does Dental SEO Cost?
Hiring an external marketing agency to help with your dental website SEO can easily cost thousands of dollars. 
But, if you can achieve results similar to what we've seen with Smileworks and Mark Oborn, that investment could easily be worth it.
There's no shame in hiring external help. But it's not necessary if you have the time to do it yourself. Just keep in mind that SEO takes time. With a Semrush subscription, the tools are there for you to use, and you can always tick off the easiest actions first. 
Most importantly, understanding what impacts your dental website's SEO empowers you to help it thrive. If you can master the art of SEO and bring in tons of organic traffic, it's sure to leave you with a pearly smile.