With ecommerce, social media, and online shopping options becoming more and more available and attractive to the everyday consumer, it's no wonder that digital marketing is becoming a growing, booming industry. 
But there are so many different types of marketing available and numerous agencies that specialize in providing them. So how do you know which marketing style is right for you and your business? How can you be sure that the digital agency you've chosen will generate the results you're looking for? What is a digital marketing company allowed to charge for services?
Every agency is different and has a variety of options for you to choose from. First, you can find a digital marketing agency through a search engine or networking. Then, after looking at its website, you can determine if the agency aligns with your ethos. Often you can request a writing sample or look at their portfolio to see if the business will generate results. 
Lastly, some agencies charge by the hour while others charge by the service.
But before you can start searching, you need to know two things. First, what's a digital marketing company, and does my business need one? 
What Is a Digital Marketing Agency, and Does My Business Need One?
A digital marketing agency specializes in all marketing and advertising through digital channels such as websites, social media, emails, content creation, and more. 
But what does a digital marketing agency do? What does a digital media agency do? What do digital marketing companies do when their client has no digital marketing to start with?
An essential aspect of digital marketing is broadcasting your marketing directly to your target audience. Maybe you have existing customers, or you're trying to draw in new ones. Your marketing should not only reach those targeted buyers. It should also be presented in a medium that will resonate with them.
For example, a company that sells basketball equipment will focus its marketing efforts on people who play and enjoy basketball. Therefore, buying banner ads for ESPN or another sports website would be a great marketing choice for them. 
Or say that your company sells clothes and accessories that are marketed towards young girls. They'd benefit from promoting ads and engagement on a social media platform that young girls often use, like TikTok or Instagram. 
Why Should I Hire a Digital Marketing Agency?
Digital marketing has more than just the benefits of being able to reach target specific audiences and provide them with innovative types of content. It allows you or your marketing agency to view and analyze important data about how well these marketing techniques are working. By the digital agency definition, this type of marketing concerns all things digital. 
If a customer comes into your store to buy something, you can guess that seeing your commercial on TV inspired them to go in. But you don't know for sure.
With digital marketing, you can measure click-through rates from emails and social media posts to determine how many people those strategies reach. Furthermore, you can measure how many visitors continued to purchase something from your company. 
Being able to directly see the results of your marketing efforts, whether through how many clicks you receive, returns on investment, new customers, or so on, is invaluable for the future of your marketing strategies. You can determine what is working, what's not, where you can improve, and which techniques are convincing people to buy. 
Using a digital development agency allows you not only to see progress but helps come up with plans and strategies to build off of that so that you can grow more. So sit back and let them do what a digital marketing company does best: market!
What Is the Importance of Digital Marketing Agency Services?
With the way that the world is becoming increasingly digital by the second, failing to take part in digital marketing could hurt your business. 
Even just having a website with your contact information and information about what your company does can make a huge difference in your business's scope. 
However, imagine you were to take that website and create a coordinated strategy with scheduled social media, written content, or video content available on a linked blog and add an online shop. You could be seeing more visits to your site and greater brand awareness for your company within your industry. 
Targeted ads on social media or direct email marketing could ensure that the people who want and need your products know where they can get them. In addition, improving your SEO can ensure that your name appears above your competition on search engines. 
Conducting marketing research can let you know how customers experience buying your products and interacting with your staff.
Missing out on opportunities provided to you by digital marketing strategies could mean fewer customers, fewer sales, and less revenue. 
Knowing if you need these services can help assess whether a digital marketing agency is right for you.
What Is a Digital Agent or Digital Consultant?
A digital marketing consultant is provided by a digital marketing agency who works with you and your team to learn about your company, your products and services, and your goals. The digital agent will then use that information to craft a digital marketing plan that is designed to meet those goals and often exceed them.
A consultant will help you determine your target audience and their buyer persona. They'll help you figure out what method of digital marketing, along with what channels are right for you and how to carry it out. Having an outside perspective to see how the outside world views your business is endlessly beneficial. They are able to see what's working, what's not, and where you're completely missing opportunities to bring in new customers and sales. 
What Are the Different Types of Digital Marketing Agencies?
As you'll soon discover, digital marketing encompasses an immense array of services across several different channels. They all have different purposes, goals, and specialties. Knowing the difference between these different types of digital agencies and how their services fit into the digital advertising company definition can help you determine exactly what you want to reach your goals.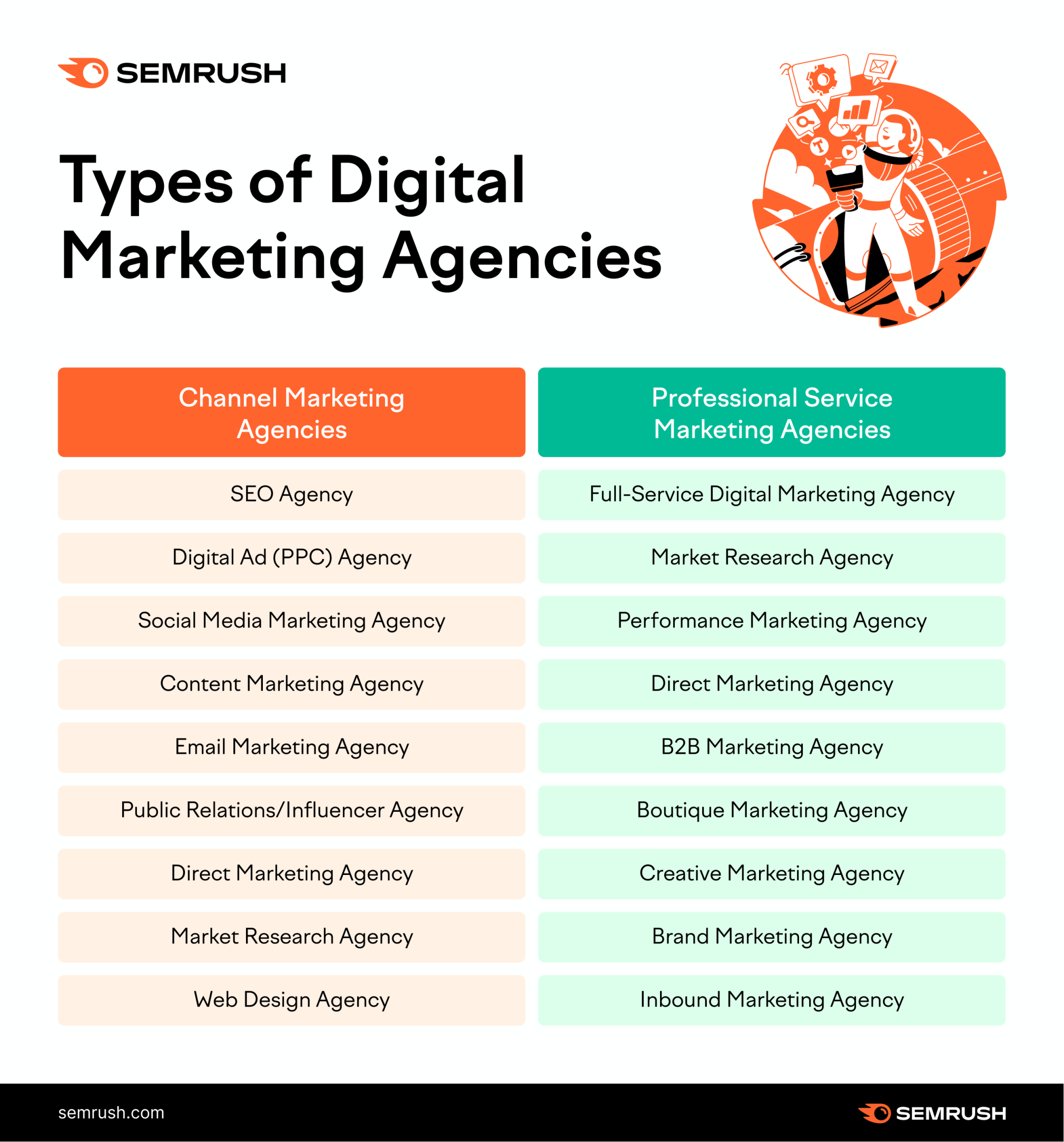 But what do digital marketing agencies do if you only want a specific type of service? 
Full-Service Digital Marketing Agency
What is it?: A one-stop shop for online marketing and advertising services from SEO to digital ads, pay-per-click ads, email marketing, and more. Full-service digital marketing agencies plan and develop strategies for marketing based on the company's current SEO and site audits, customer engagement, and more. They help you launch a coordinated marketing strategy across all channels and platforms. 
After assisting businesses in incorporating those strategies, full-service agencies also retrieve and analyze data based on customer engagement, leads, conversions, click-through rates, and more to determine how well their strategies are working. Then, they adjust their plans accordingly in response to those findings. Full-service industries provide a continuous, comprehensive service for your marketing. 
Goals: Build brand awareness, leads, conversions, and revenue. Establish businesses as thought leaders in their industry. Build a community around consumers and establish authority. Provide a complete overhaul of a company's marketing strategy and brand advertising from start to finish. 
The goal is also to establish a coordinated, consistent brand image and story across all platforms. 
Agencies that specialize in this area of marketing: Rank Fuse Digital Marketing, Lucid Advertising, SteerPoint, Geniuses for Hire, and more.
What is it?: SEO Marketing works with the purpose of increasing a business's visibility in organic search engine results across devices and likelihood. These agencies may audit your site to assess its current performance, carry out keyword research, analyze penalties on your site, and optimize the existing content to promote landing page conversions.
Goals: Increase search traffic to your site. Raise your ranking in search engines so that your business will appear closer to the top when a customer searches for your company, your products, or for information regarding the industry as a whole. Reach more prospects that will turn over into new conversions and enrich the user's journey to your site. 
Agencies that specialize in this area of marketing:Consumr Buzz, ChitChat Marketing LLC, Highbridge, and more.  
Digital Ad (PPC) Agency
What is it?: A short-term form of digital marketing that oversees the online advertising efforts explicitly based on how many consumers click on the ad. These include banner ads, sponsored search ads on search engines, and video ads that play on streaming services, YouTube, and more. Some PPC agencies specialize in a single avenue of advertising through specific channels, while others manage ads across various platforms. 
PPC agencies plan their ads based on your target audience and then report back on how well the strategies are working. This is based on data such as click-through rates, ROI, and conversions. Next, they make adjustments to the ads to make improvements and remove errors. 
Goals: Ensure that the right ads are showing up in front of the right people at the right time. Create content and ads that will draw the customer in and make them want to learn more about your company and your products or services. Establish a high return on investment, and provide the company complete control over ad expenditure 
Agencies that specialize in this area of marketing: Wellspring Digital, NUANCE, Stratedia, and more.
Market Research Agency
What is it?: These agencies research the customers and how your business, products, services, and customer experiences are being perceived by consumers. These agencies specialize in finding the data and research to inform how your image is perceived, what marketing is working, what needs to be changed, and what sort of experience your customer is having while they shop for your products. They may offer qualitative research, quantitative data, or both. 
Goals: Learn more about what customers think about your products and services. Collect data on the customer experience while they are shopping so your business can make adjustments, whether they're based on how your products draw them in, the quality of the products, the friendliness and knowledgeability of your staff, and more. 
Agencies that specialize in this area of marketing: KathodeRay Media Inc., WE݀•DO, and more.
Performance Marketing Agency
What is it?: Performance marketing agencies are focused specifically on achieving certain performance goals for digital marketing. They are compensated when those goals are met. Piggybacking off of the PPC model, performance marketing is "pay-per-action." How many consumers respond to their call-to-action, whether it's clicking through to a site, generating conversions, etc., determines how well the strategies of the marketing agency work.
Goals: Provide goal-oriented and data-driven strategies and content. Implement specific marketing and advertising strategies that drive a consumer to commit a certain action. These actions could include signing up for an email list, clicking through to your website from an ad, or purchasing a product. 
Agencies that specialize in this area of marketing: Wpromote, OpenMoves, New Perspective, and more.
Direct Marketing Agency
What is it?: A form of promotion intended to allow companies to communicate directly with their consumers instead of through a middle-man. This type of marketing requires careful planning and strategizing to ensure that consumers will get the right impression of your company and products. 
Goals: Provide information about your company, product, and services directly from you to your target audience of new, prospective, and returning customers instead of to a larger, general audience. The goal is to create deeper connections with the target market and build brand loyalty among customers who you know are looking for what you're selling. 
Agencies that specialize in this area of marketing: Currier Marketing, Ehlen Analytics, Tilladelse.
What is it?: Marketing and advertising that is specifically carried out through social media channels such as Facebook, Twitter, Instagram, etc.
Goals: Customer engagement, improving customer experience, building a community of advocates. Position the company as a thought leader in the industry. Improve click-through rates on landing pages. Promote more leads and conversions. Provide data and information about your customers, what platforms they're using, and how they're engaging with you. Boost brand awareness. 
Agencies that specialize in this area of marketing: meMarketing, BizzyWeb, Belt Creative, Rad5 Media, and more. 
B2B Marketing Agency
What is it?:A B2B (business-to-business) marketing agency works specifically with businesses looking to advertise or conduct business with other businesses rather than with consumers directly. While B2C (business-to-consumer) content uses more general language and content so that any layperson can learn about their industry, B2-B marketing will use more industry jargon to establish their authority in the industry. They get to the point of what they want the other business to know.
Goals: Promote leads and conversions for businesses that cater to and serve other businesses, such as office supply and furniture manufacturers, material manufacturers, etc. Help clients establish themselves as the trustworthy authority within their specific industry. Add value to their company as a whole.
Agencies that specialize in this area of marketing: Peaks Digital Marketing, Allegiant Digital Marketing, New Perspective
Boutique Marketing Agency
What is it?: Boutique marketing agencies serve as an alternative to full-service marketing agencies. They are smaller advertising agencies that focus on only a few specific, more customized services and industries. Boutique agencies are able to take innovative risks with their marketing and are perfect for small- to medium-sized businesses. 
Goals: Provide personalized, high-quality content from their own specialized suite of expertise. Promote growth in small and medium businesses. Develop close, personal rapports with their clients and understand their message and goals intimately. 
Agencies that specialize in this area of marketing: Altered State Productions, Junk Removal Authority, Beyond Indigo Pets
Content Marketing Agency
What is it?: Content marketing agencies focus on strategies that utilize the content that a business is putting out, whether it's written blogs, videos, podcasts, and more. 
Goals: Reach, engage with, and inspire customers to act based on the expertise they're providing as thought leaders in the industry. Raise brand awareness and establish their name in the industry so that the consumers will think of them first when it's time to buy something. 
Agencies that specialize in this area of marketing: Noble Studios, Missional Marketing, SEOReseller, and more.
Creative Marketing Agency
What is it?: A creative marketing agency specializes in content creation and "creative" marketing strategies to help its clients meet their goals. These services might include copywriting and copyediting, graphic design, explainer videos, motion graphics, presentations, white papers, ebooks, and more. 
Goals: Inspire more clients to engage with the brand and click through and visit the website. Build brand awareness through unique and creative content. Provide connections to creators and creator networks. Quickly produce high-quality, innovative content.
Agencies that specialize in this area of marketing: Root and Roam Integrated Marketing Agency, Dreamtech, FieldRoutes, Wingard, and more. 
What is it?: A marketing agency that specializes in creating and launching brands and their marketing strategies. These agencies work with brands that are either just starting or are rebranding themselves. They help to ensure that companies are getting their message across and building a strong foundational customer base to grow off of. This can include designing logos, websites, UI, and mobile apps, as well as building an email list, creating content, and curating a social media presence. 
Branding impacts how your customer views you and can determine whether or not they're going to buy your products or services. 
Goals: Distinguish yourself from your competition within your industry from the very beginning. Establish a strong branding image and message so that your customers know who you are, what you sell, and what your ideals are as an organization. Establish and promote your brand's identity to everyone, especially your target audience.
Agencies that specialize in this area of marketing: The Media Shop, Wepa Marketing, Full Circle SEM
Inbound Marketing Agency
What is it?: Inbound marketing works along with the principle that customers no longer want to be sold to. Instead, they want to conduct their research and make a buying decision based on what product best meets their own individual needs. This creates an experience for the customer that makes learning what your products and company are all about easy and even fun to access. The targeted audience's buyer persona drives inbound marketing. This includes what their needs, values, and questions are. This might include subscription forms, chatbots, email campaigns, thank you pages, and more. 
Goals: Attract visitors to your site and give them the information they're looking for easily, clearly, and attractively. Provide more content, information, and testimonials, so they feel that information about the product or service is readily available. Build brand awareness and establish the company as a trusted authority in their industry. 
Agencies that specialize in this area of marketing: Ciphers Digital, Suffolk County Webmasters, Arcsec Digital 
Web Design Agency
What Is It?: A web design marketing agency works specifically with the visuals of your website to provide an attractive, easy-to-navigate experience as customers explore your site, look for more information about your brand and products, and purchase items. These agencies often employ graphic designs, website designers, coders, and others. In addition, some agencies offer web development, which is starting a site from scratch, while a web designer works on the visual aspects of your site.
Goals: Create an attractive, accessible website that the user can easily navigate to find shops, FAQs, contact information, blogs and other content, social media links, and more. Make visiting, exploring, and converting leads on the site easy so that they are willing to come back.
Agencies that specialize in this area of marketing: Mejix Inc., Exo Agency, BizzyWeb, and more.
Public Relations/Influencer Agency
What Is It?: Influencer marketing is marketing that uses popular names and faces to promote your brand, whether it is a trustworthy voice in the industry or someone with a large social media following. Public relations marketing also includes a company having its social media accounts to engage with its customers, answer questions, respond to and resolve complaints, and more. 
Goals: Draw in customers using influencers, famous names, faces, and personalities within the industry to advertise and represent your products or company. Build brand awareness with these big names. Use company-wide social media channels to engage with customers. Build a community of advocates. Establish a presence in the industry.
Agencies that specialize in this area of marketing: MedTech Momentum, Junction Creative, and more.  
Email Marketing Agency
What Is It?: Email marketing specifically uses email campaigns to reach its customers. Emails inform them about their products, deals, and sales. They inspire them to visit their site and purchase a product or service. Every part of the email is used during email marketing, including the subject line. The subject line should drive the customer to click through, read the email, visit their site, and click on a link within the email. Email marketing reaches directly to customers who have either signed up for the subscription list or shopped with them before, so email marketing also entails trying to grow that email list to reach more people. 
Goal: Create a sense of urgency in the customer to check the email to receive a discount, deal, or coupon. Provide personalized calls-to-action for customers of this company to ensure they visit the site. Improve click-through and open rates. Gather data based on customer interactions and conversions. 
Agencies that specialize in this area of marketing: Concentric Wellness, The Media Shop, Rad5 Media, and more. 
How Much Do Digital Marketing Agencies Charge?
In short, it depends on how you want to let the digital agency work with you.
What's a digital agency able to charge for single-use work? What about a digital business agency that works over several months? What is a digital advertising agency able to provide for small businesses with small budgets?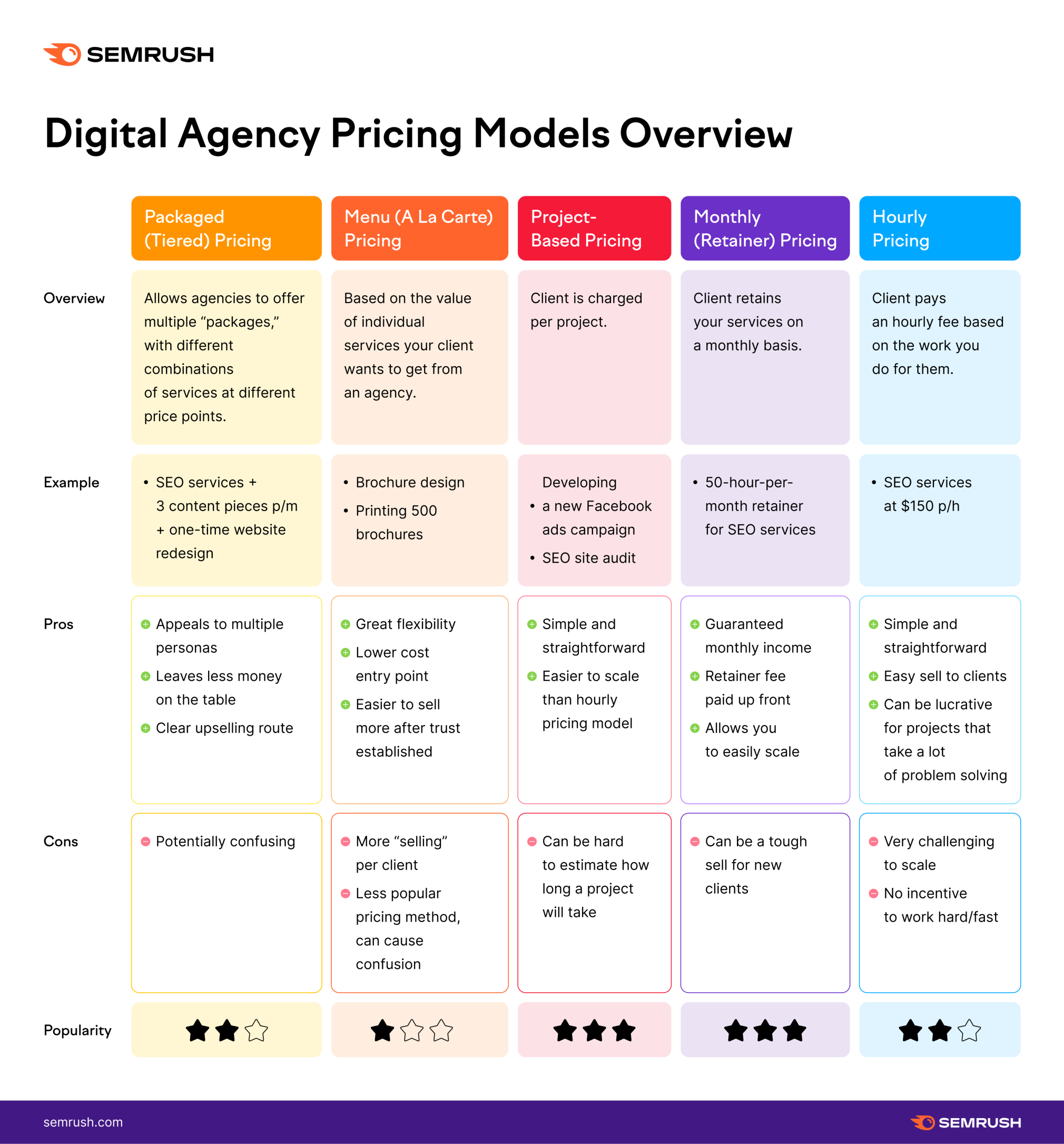 Digital marketing agencies often charge monthly for the continuous, consistent development, creation, implementation, and analysis of different digital marketing strategies. This is called a monthly retainer. It's the most common way that agencies charge their clients. A monthly retainer is used for agencies putting out new content often for the client through social media posts, blogs, and more. 
Small- to mid-size firms may charge around $2,500 monthly for about 17-20 hours of professional time. Larger firms that are providing more services may request $15,000 a month. 
Other firms may ask for a one-time fee. This is common if they are redesigning a website, creating a brochure, etc. New websites come in at around $3,000 to $3,500, but single-point ads might charge for hourly work. 
With all of these different costs, you don't want to be spending any extra money. Semrush is proud to offer our Agency Partner catalog for free to anyone looking to hire an agency. For those within a specific budget, we allow you to refine your searches based on budget and whether you're looking to pay based on a monthly retainer or project to project. 
What Makes a Good Digital Agency Partner?
A suitable Agency Partner is someone who hears your specific goals and comes up with a comprehensive plan based on data and research to meet those goals. 
You want someone knowledgeable about the different digital marketing methods so you can be sure they know which type will be right for you. Every Agency Partner featured on Semrush has been certified via Semrush academy, so you can rest easy knowing they are trustworthy and knowledgeable. 
Transparency and responsiveness are also traits you should prioritize. You want someone who is going to answer you honestly and keep you updated on all of the things they're doing to better your business's marketing and advertising. 
Semrush gives each of its Agency Partners an Agency Score out of 5, rating them based on the effectiveness of the agency. This is determined by the digital growth and success of their clients. In addition, all of the agency data is aggregated and analyzed based on an even scale, so any agency, no matter how big or small, can be given an equal opportunity to provide their services.
Semrush's extensive Agency Partner catalog spotlights 851 Digital Marketing Agencies that can provide you and your company with high-quality, consistent, and effective marketing strategies to extend your reach, bring in new customers, promote brand awareness, and boost sales. Browse our Agency Partners or to find your perfect fit with our Get Matched feature.