Welcome to another edition of Discovery Thursday! Here is where we will show you various reports and features within SEMrush that you may not be taking advantage of.
One of the most powerful ways you can reach your target audience is through advertising. Putting your name out there with compelling ad copy can help you stand out amongst your competition. Also, if someone has visited your website before, you may want to find a way to reach back out to them or get their attention to get them to return.
You can best achieve this through Display Advertising or Google AdSense and there is no better time to jump in than now: with the new redesign of our Display Advertising report.
How to Generate the SEMrush Display Advertising Report
First start by entering a domain into the search box. Once you enter the domain of your choice, you are then brought to the Display Advertising Overview report. This will display their advertising and publishing behavior through Google AdSense & AdWords.
The Overview chart to the left will go into the specific numbers SEMrush found for the domain either advertising or publishing ads. 
Now this chart may seem slightly confusing at first, but it's much easier than it looks. Start by analyzing the top line which has three columns: Title, Advertiser and Publisher.
The Advertiser column signifies what activity SEMrush found the queried domain conducting as an advertiser (advertising on other websites).
The Publisher column signifies what activity SEMrush found the queried domain conducting as a publisher (publishing ads on their own site).
If we are going off of this example shown, this is saying that SEMrush found 554,316 different publishers publishing the queried domain's ads. You will see a dash under the advertisers row as this does not apply if you are looking at a domain as an Advertiser. The same will go in the Publishers row under the Publishers column.
The Ads row shows many different ads SEMrush found the domain either advertising or publishing. Here are the meanings for the rest of the rows:
Times Seen: how many times SEMrush noticed ads either being published or advertised for a queried domain.
First Seen: the first time SEMrush noticed the domain advertising or publishing ads
Last Seen: the last time SEMrush discovered the domain advertising or publishing ads
To the right of the overview chart will be a trend chard breaking down the domain's advertising and publishing activity. This will reveal the domain's advertising behavior along with publishing behavior over a 30 day period. You can use this information to determine how much a competitor is using Display Advertising.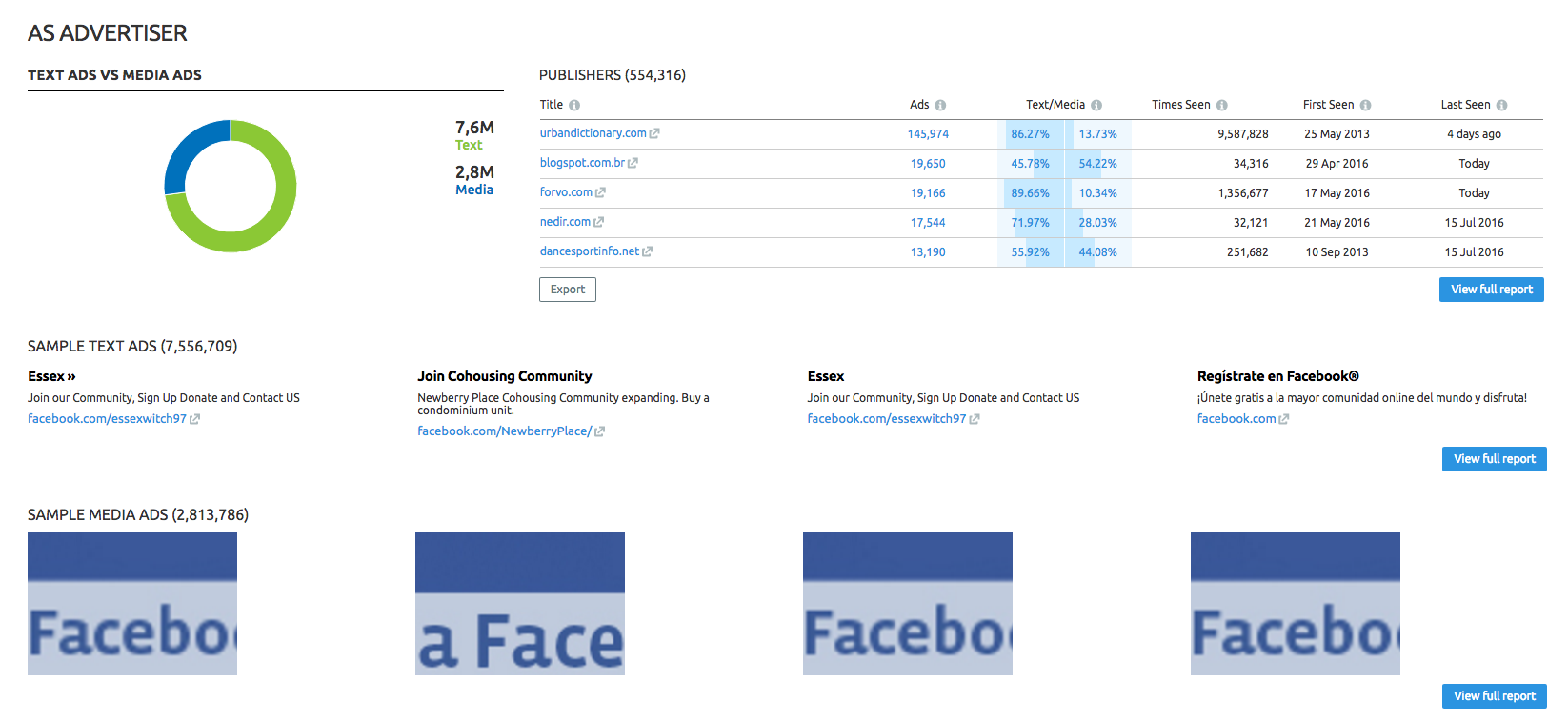 As you move further down this Overview report, you will notice the domain's advertising and publishing behavior broken down further. To the left the amount of ads the domain is running will be broken down by text ads vs. media ads.
This can help you if you want to determine which ad format works best when you want to compete with the domain. As you can see, Facebook runs more text ads than media ads. To the right of the donut chart, you will see a list of publishers that are publishing Facebook's ads.
You can break this down further by clicking the "View Full Report" button in the bottom right. Below this will be actual ad copy Facebook is using in their advertising behavior. These can also be broken down through the "View Full Report" buttons.
This same information will be listed for the domain as a publisher. You may want to use this information if you are looking to publish ads on a particular website. By analyzing what other websites advertise on their site along with what ad form they use (text or media), you can structure your ad to appeal the most.

By clicking on the Publishers tab, you will be redirected to a detailed report on every domain SEMrush found the domain advertising on. This can report can be broken down by device type, whether it be Android or Apple products.
The summary chart will break down the amount of publishers we found publishing the domain's ads along with how many ads we found the queried domain running. To the right, you will notice a trend chart breaking down publishers vs ads, along with media ads vs text ads.
Below you will see a detailed report breaking down the publishers for the domain. You will see the name of the publisher, the amount of ads the domain is publishing, a breakdown of text ads to media ads the domain is publishing along with the first, last and amount of times we saw those ads.
You can break this report down by the specific text ads the domain is running, the media ads the domain is running along with what landing page the domain is using for their ads. These can be found through the headers at the top of this section. The same information you see displayed for the Publishers report will be available for the Advertisers report. This provides with detailed information on your competitor's advertising activity or on the activity on a possible website you wish to publish your ads.

The last report within Display Advertising is the Top 30 report. This will break down the top 30 advertisers SEMrush found along with the top 30 publishers. You can also break this report down by device type to see more specific results. You are also given the total statistics on our Display Advertising database which includes the total amount of advertisers SEMrush found, total amount of publishers found, total amount of ads found along with the last time our database was updated.
This information can become useful if you are looking to create a case study on Display Advertising or if you are looking for potential publishers for your ads.
The Display Advertising report will help you explore the world of Google AdSense. You can receive valuable insight into your competitor's advertising behavior along with any potential leads you have for publishing ads. Whether you are active in your AdSense campaign or even considering conducting an AdSense campaign, this report will really help you gain the insight you need.
Have you used any of our Display Advertising reports? What do you think of the new view? Have you found any other uses for this report than what was mentioned above? Please let us know in the comments below!
If you still have questions about any of this information, please feel free to reach out to our Customer Success Team at: (855) 814-4510 or by email at mail@semrush.com. You can also contact us on Twitter by using the #semrushcare hashtag.