Welcome to yet another edition of Discovery Thursday! Here is where we will show you various reports and features within SEMrush that you may not be taking advantage of.
When you are analyzing data within SEMrush, you might notice some dips or spikes in traffic or the amount of keywords a domain is ranking for. The reason for these changes could be from multiple factors. However, what if you had the ability to look at this data with all the information you need in one place? What if you could mark these changes, giving you the ability to make the necessary changes to your campaigns? Now you can with the SEMrush Notes feature!
The new Notes feature within SEMrush allows for users to create custom notes within charts and graphs to signify anything you wish. Along with the ability to create these custom notes, by default, changes made to Google or made within SEMrush will be mentioned. This can help you understand your data and make the necessary decisions moving forward within your marketing campaign.
SEMrush is constantly updating the Notes that are presented to users. For example, with the Penguin 4.0 Google Update being released, you can now find this Note within our interface.
The first place you will notice this feature is within the Domain Overview. Located in the chart featuring Organic vs. Paid traffic, here is where you will notice by default any notes that came from Google Updates or SEMrush updates. To access your notes, you will want to click the arrow next to Notes. A popup menu will appear asking if you wish to see notes for Google Organic, Google Paid, SEMrush, My Notes and Unconfirmed. Here is the breakdown by choice:
Google Organic - any confirmed news/updates reflecting Google Organic Search.
Google Paid - any confirmed news/updates reflecting Google Paid Search
SEMrush - any news/changes made within SEMrush
My Notes - any notes you as a user have created.
Unconfirmed - Any news or updates SEMrush was unable to confirm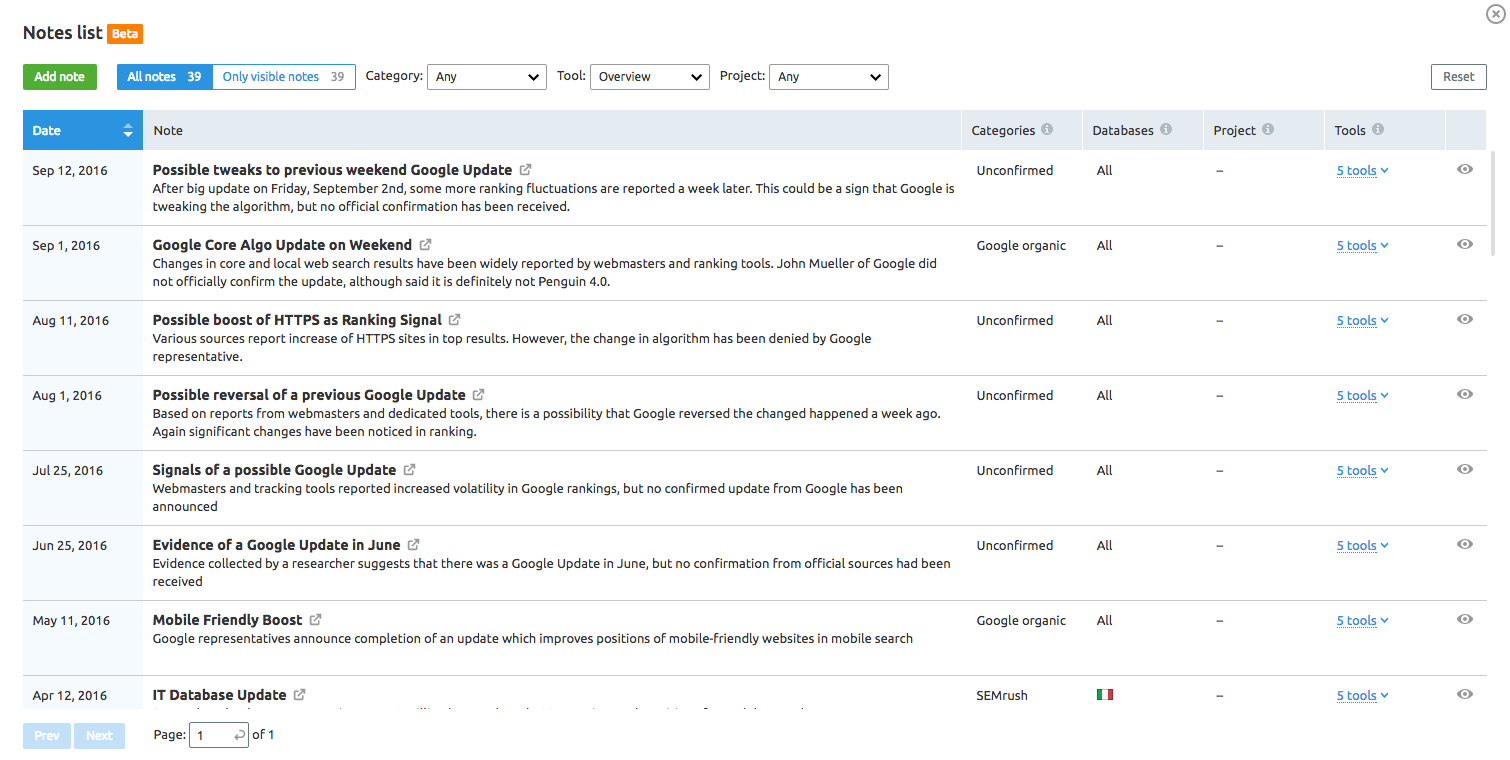 These options can be toggled on or off through this dropdown menu. Along with this option to hide or show notes, you also have the ability to send us feedback, add a note yourself or choose Notes List to see a total of all of the notes generated for your query.
Clicking the Notes list will show an additional popup interface, displaying each note associated with your domain. Here is where you can review all of your notes for the given graph you are viewing. By default, the only visible notes will be for the given report/tool you are currently in. You can change which notes are visible to you from the Tool option. This will reveal a list in which you can select which tool/report you wish to see notes for by checking the checkbox.
Another option to access your notes is through the Profile dropdown. By clicking the person icon in the top right of your screen and selecting My Notes from the dropdown, you will be brought to your notes list. Here is where you can see the same list you would from within the interface, however, here you are given the ability to import notes. Only available with CSV files, you can import a mass list of notes you wish to include within your account. Choose between adding your notes to any of the Domain Analytics reports or through any of your projects.
The Notes feature can be accessed through the following reports & tools:
Domain Overview
Organic Positions
Organic Position Changes
Advertising Positions
Advertising Position Changes
Position Tracking Tool
Backlink Audit Tool
(the Notes feature will be available soon for the Brand Monitoring Tool & Social Media Tool)
Notes provide users with key indicators to understand the data provided within SEMrush. By implementing notes into these reports, data can become much easier to understand and process. Make sure to signify any changes to budgets, Google penalties, or when a disavow of backlinks was submitted. So what are you waiting for? Try out Notes today!
Have you used the Notes feature yet? What are the main benefits you have found with this feature? How has this feature changed the way you have used SEMrush? Please let us know in the comments below!
If you still have questions about any of this information, please feel free to reach out to our Customer Success Team at: (855) 814-4510 or by email at mail@semrush.com. You can also contact us on Twitter by using the #semrushcare hashtag.