Welcome to yet another edition of Discovery Thursday! Here is where we will show you various reports and features within SEMrush that you may not be taking advantage of.
SEMrush offers multiple reports and features that can help you, including reporting, data analysis, keyword analytics and competitive research. But did you know that you can actually find leads using SEMrush? Well, now you do! Today we will be focusing on the Ranks reports within SEMrush. Specifically, this will focus on the SEMrush Rank report and the Winners & Losers report. You can find this information under the Ranks tab in Domain Analytics.
SEMrush Rank Reports
If you are not familiar with the SEMrush Rank report, this is a custom ranking of the top 100,000 domains. The domain with an SEMrush Rank of 1 means it is the top domain on the Internet. The way this metric is determined is through the SE Traffic (Organic Traffic) and the SE Keywords (Organic Keywords). 
Now you may be asking "Why do these two metrics make up SEMrush Rank?" Well it has to do with the traffic coming from keywords. For example, lets take a look at Amazon and IMDB.As you can see Amazon ranks for more keywords than IMDB does. However, because IMDB is getting more traffic to their website and from less keywords, this makes them a more authoritative website than Amazon.
How SEOs Can Use SEMrush Rank Information to Identify Leads
Now that you understand how this tool works, we can now go into how you can use this information. The first way this report can help you is through obtaining backlinks. When you are looking for domains to link to your website, or for domains you want to link to, you need to find those with the highest authority as possible. The more authoritative a website is, the more credible they look to search engines. And with the SEMrush Rank report, you can see exactly this and review the top 100,000 authoritative domains on the internet.
This can serve as valuable information when performing link building for yourself or a client.
The next report within the Ranks section is the Winners & Losers report. This tells you who has had the biggest increase or decrease in SE Keywords (Organic Keywords), SE Traffic (Organic Traffic), Estimated Cost of Organic Traffic, Ads Keywords, Ads Traffic and Ads Traffic Price. You can sort by any of these metrics by clicking the title at the top of the chart.
Here is where the leads part comes into play. We can now sort this report by any of the listed metrics to find out who has received the biggest decrease in the respective category. For example, lets say we are an SEO agency looking to find new clients. We can go to the Winners & Losers report and sort this report by SE Traffic ascending. We are now seeing domains that have experienced the biggest drop in Organic traffic.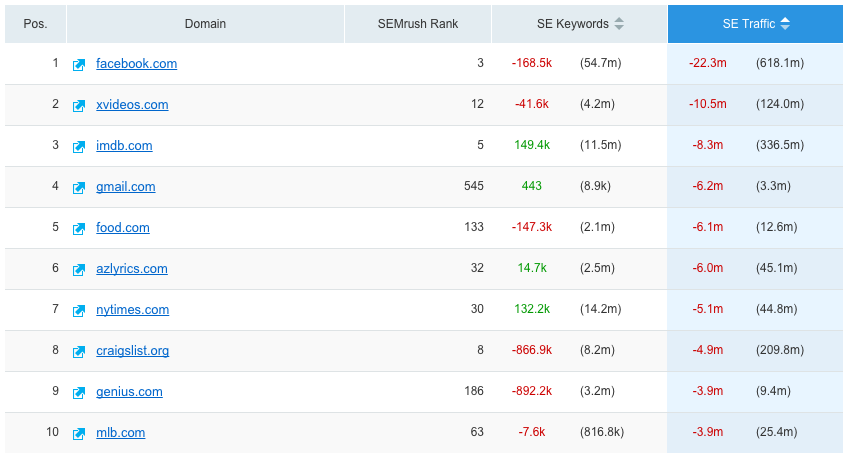 By sifting through this information, we can now see particular domains that may fit our criteria for being considered a potential client. Now, although the top domains listed in this report are most likely out of your range, you can sort through 100,000 domains that are experiencing the biggest decrease and find the leads that suit your business best. By the click of two buttons, you have found the leads you have been looking for!
Another great use of this data is for case studies or articles. When you are presenting data to your audience, it really helps to find examples that can further demonstrate your point. For example, the tutorial videos we create for SEMrush use examples found within these reports. By analyzing the drops and increases being experienced by doings, you can find various topics to write about in case studies or white papers. This can also drive a point you are trying to make home with a real-world example.
You can find some valuable information through both of these Rank reports. From finding leads to creating case studies, this information can serve as an integral piece of your research process. Have you found any other uses out of these reports? Are there other reports within SEMrush that have helped you find the same things? Please let us know within the comments below!
If you still have questions about any of this information, please feel free to reach out to our Customer Success Team at: (855) 814-4510 or by email at mail@semrush.com. You can also contact us on Twitter by using the #semrushcare hashtag.