Welcome to yet another edition of Discovery Thursday! Here is where we will show you various reports and features within SEMrush that you may not be taking advantage of.
With YouTube now being one of the most used search engines online, it is that much more crucial that your business shows up in YouTube results. One way is by creating videos to organically show up in YouTube search. The other option is to run advertisements on YouTube. For those unfamiliar with YouTube Ads, these are the videos that appear before the main video you are attempting to view. You will usually see this accompanied by a "Skip Ad" button in the bottom right of the video after watching for a given amount of time.
Without researching what videos you should be appearing in or what your target audience should be, you will have a lot of trouble finding this information. However, instead of trying to conduct this research manually, you should try and use the SEMrush Video Advertising Report.
Listed under Domain Analytics, the Video Advertising report will assist you with finding advertising data found on YouTube. When you first open this report you will be brought to the Overview page. Here you can see recent video ads that SEMrush has discovered, Top Advertisers, Top Channels, along with Top Videos and the Total amount of ads and channels found by SEMrush.
Search By Domain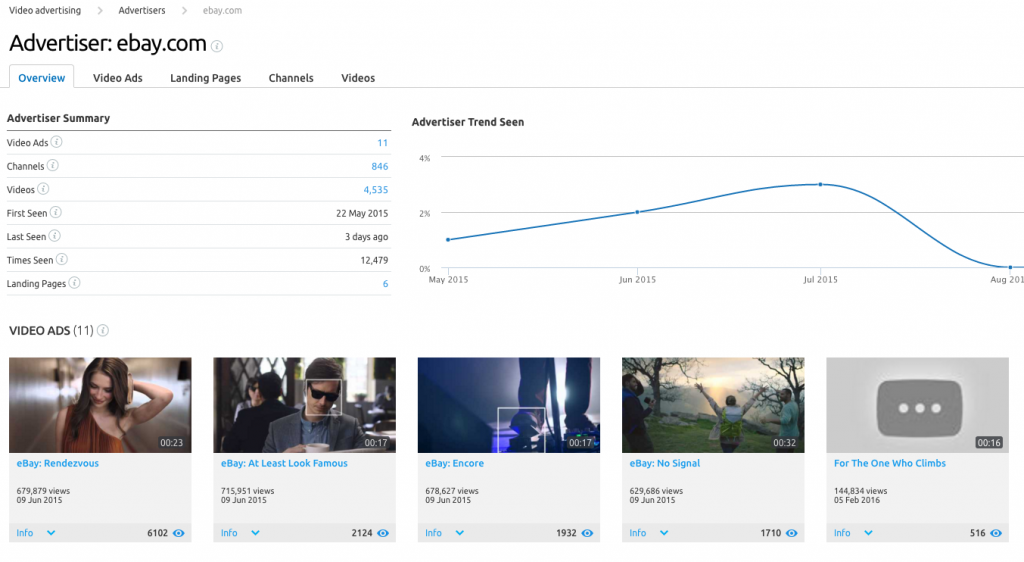 You can search throughout this report by domain or keyword. If you have a particular competitor you would like to analyze, you can enter them in the search bar above. Lets use eBay as an example. If we search eBay.com, we will see results for them as an advertiser. If you look to the left, you will see we can break down the total amount of Video Ads we saw for eBay, along with the channels and videos their ads appear in. As you move further down this report, this data will be broken down further.
We can see the exact video ads that eBay has used in their advertisements. Under each video we can see the total views for the ad, when the ad was published, along with how many times SEMrush noticed the video. By hovering over the info arrow, a dropdown menu will appear displaying this data including the name of the advertiser, the landing page associated with the ad, along with the date range the ad was seen for. By clicking on any of these ads, you will be taken to an individual overview for that video.
This individual video overview will give you all of the information displayed in the dropdown along with the landing pages associated with the individual ad, what channels this video ad appears in along with the videos this advertisement appears in. Any of these categories can be broken down further by clicking the "View Full Report" button.
We can also use the tabs at the top to navigate around this report. If we go to the channels tab, we can now see all of the channels this individual video ad appears in. If this is one of your competitors, this may provide you with more ideas as to where else you would want to place your own ads. You can also find insight into other industries or video categories based on where your competitor is placing their ads. For example, you may look at this report and notice that your competitor's ad for men's fashion is receiving more views on a channel dealing with basketball rather than an arts and crafts channel. This can provide you with the data you need to determine what channels you would like to start advertising your video ads.
Search By Keyword
You also have the search by keyword option to view video ads. Lets say you're running a video ad about pizza and you want to see what other advertisers are doing. You can search pizza in the top search bar and see all of the information we have for the keyword pizza.
As you go down this overview for the keyword pizza, you will notice it contains the same information for domains but for a keyword. We can view all of the video ads that have to deal with pizza, the advertisers that are advertising for pizza, along with the channels matching the search and individual videos on YouTube that contain the searched keyword. This can serve as valuable data if you are unsure of who your competitors are, you can search by keyword for the general topic you are looking to appear for and uncover this information.
The Video Advertising can help you take full advantage of your video advertising behavior. Just like how the Organic Search and Advertising Research reports help you with SEO and PPC, the Video Advertising can serve to be just as powerful. Have you been thinking about doing Video Advertising? Try out the Video Advertising report today!
Have you used the Video Advertising report yet? Have you found other benefits from this report other than what is mentioned above? Please let us know in the comments below!
If you still have questions about any of this information, please feel free to reach out to our Customer Success Team at: (855) 814-4510 or by email at mail@semrush.com. You can also contact us on Twitter by using the #semrushcare hashtag.