Adding a rel="nofollow" tag onto internal links used to be very common practice back in the 'dark days' of SEO where directory links, article spinning and keyword-rich anchor texts were all the rage. The nofollow tag could be used to prevent Google crawling and passing PageRank through to the pages on a site that weren't central to SEO performance, and in turn ensuring that more valuable pages received a greater portion of the authority.
'PageRank sculpting' is a term that was coined to describe the process of manipulating the way PageRank would be distributed throughout a site. The purpose of this manipulation was to guarantee that an SEO campaign's most valuable landing pages received the greatest portion of link authority. However, in around 2008/2009, Google clamped down on this by changing the way that PageRank was distributed to links on a page.
Pre-change: In very basic terms, if you had ten links on a page, then each link would receive one-tenth of that page's link authority. If you applied the nofollow tag to five of these links, then the remaining five would instead receive one-fifth of the link authority (put another way, the authority of the nofollow links would be redistributed to the remaining links)
Post-change: This is no longer the case, as any link authority going to nofollow links is simply lost and not repurposed.
This change completely killed the process of PageRank sculpting, as webmasters could no longer control the flow of link authority through their website by using the nofollow tag. As a result, it would be easy to think that there's little to no reason for using the nofollow tag internally.
Hypothesis
The nofollow tag was always used as a method to say to Google: "Don't pass link authority through this link," and that's why it became such a powerful tool to use internally. However, Google has never been clear about whether it even crawls the link to discover new content. If it doesn't, then this could mean that rel=nofollow is still an awesomely powerful tool to use internally in order to maximise SEO performance.
Google's official stance on the matter is this:

But that's pretty ambiguous – it doesn't actually say whether content linked with a nofollow tag will be discovered.
On top of this, Rand Fishkin shared his opinion in a Moz Whiteboard Friday that Google does crawl these links:


We were intrigued, so decided to conduct a little experiment. Here at Search Laboratory we are always putting SEO theory to the test to ensure that our clients receive the best possible recommendations in order to drive increased organic search performance.
Methodology
Our test started with building two brand new websites using simple WordPress installs. We then analysed their crawl logs to determine whether content behind nofollow links could be found by search engines. The following method was used on two sites in order to gain a bigger sample size and statistically significant results:
Block the site to search engine crawlers prior to commencing the test. We didn't want any pre-test crawl activity skewing our results
Set up three pages – the homepage, a second page (Page B) and a third page (Page C)
Build a link from the homepage to Page B, and apply the rel="nofollow" tag
Build a link from the homepage to Page C, without the rel="nofollow" tag (this was done to ensure that Google was actually crawling further than the homepage)
Unblock the site and open it up to search engine crawlers:

Remove the Disallow: / command from robots.txt
Use the Fetch As Google command in Google Search Console – selecting 'Crawl only this URL' to make sure that Google would find the nofollow link naturally and without us helping it
Monitor Googlebot activity on the site using raw access log files
Results
After ten days of crawling, we saw no crawl activity on Page B despite numerous hits on the robots.txt file, homepage and Page C. We were a little sceptical that Google might have simply not detected the link to Page B, so we went back into Google Search Console to use 'Fetch As Google' once again. This time we told Google to 'Crawl this URL and its direct links,' leaving no stone unturned: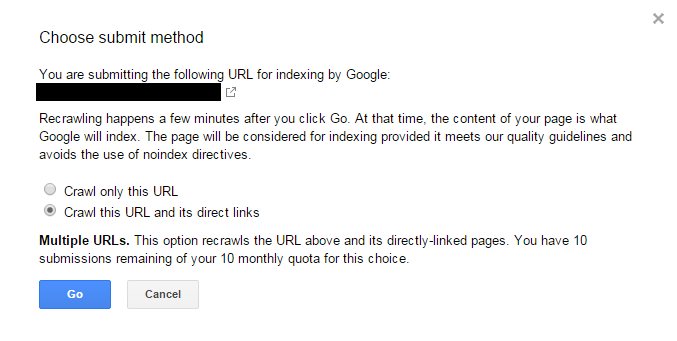 We then gathered a month's worth of crawl data to truly determine whether Google was crawling our nofollow linked content:
SITE 1
| | |
| --- | --- |
| URL | Crawl instances  |
| robots.txt | 113 |
| Homepage | 69 |
| /page-b/ | 0 |
| /page-c/ | 8 |
SITE 2
| | |
| --- | --- |
| URL | Crawl instances  |
| robots.txt | 75 |
| Homepage | 39 |
| /page-b/ | 0 |
| /page-c/ | 4 |
Conclusion
What we have drawn from this test is that Google will completely honour the nofollow tag when used internally and will not use it to discover content. This has huge implications for webmasters, as they can use this functionality to moderate crawl budget within their site. This is especially relevant for websites that utilize faceted navigation, something that can be a real Pandora's Box of crawling and content discovery if not handled correctly.
Do you utilize nofollow tags on your website? Let us know what you think about it given our new findings.
Jamie White is the Head of Technical SEO at Search Laboratory. Jamie has worked in SEO for over six years in a number of top UK digital agencies, and joined Search Laboratory in 2013. Follow him @jammy8891 on Twitter.