If there's one thing we know, it's that people really love visuals. This is why infographics, videos and photos do so well on social media.
Just look at how popular YouTube, Instagram, Snapchat and Pinterest have become! These platforms are entirely visual! And even Facebook and Twitter have jumped on the bandwagon of offering users video publishing capabilities (and even live feeds). 
If you look at your social media feed, you'll find more and more businesses, and even people, capturing gorgeous views from way up high. Getting your hands on your own drone is quite simple, and can be an interesting way to set yourself apart from your competition. Almost everywhere you look today you can find powerful videos and images of landscapes, fields, stadiums and cities.
In the past, brands could only obtain this type of imagery by hiring an expensive helicopter pilot and photographer for a few hours at a time. And you were at the mercy of fluctuating weather patterns, which could easily ruin your chances of getting shots of sunny vistas. All the guesswork and rescheduling of flights is enough to deter anyone from obtaining such shots. But with the advent of the drone, this problem has diminished.
Social media has really paved the way for businesses to do just that – amplify their marketing and increase visibility. Now, we are seeing all areas of business transform – social media marketing, video content, branding, and even SEO.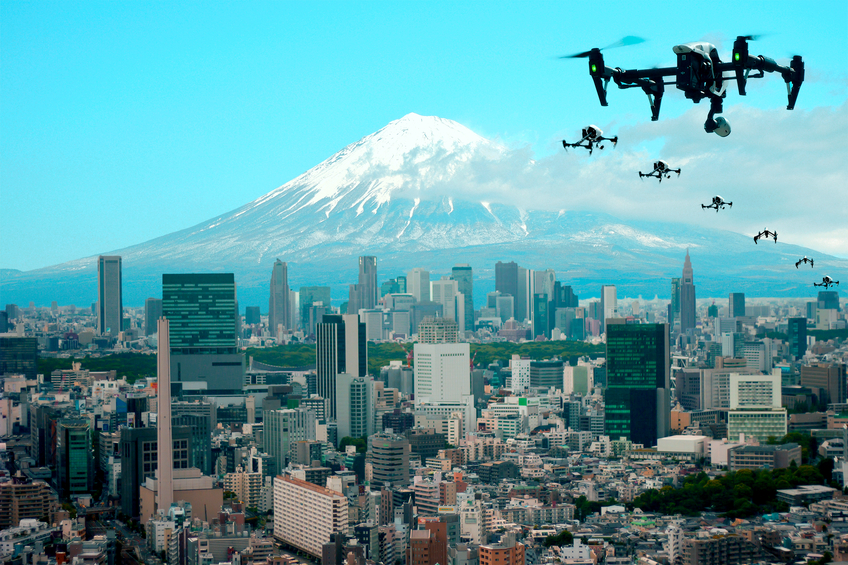 But How Exactly is Drone Content Helping to Shape the Future of Marketing? 
Imagine you're the owner of a travel agency. Your sole mission is to sell more vacation packages to various destinations around the world. You can continue with your snapshots of hotel rooms and street-level photos of nearby restaurants, shops and nightlife, or you can use aerial drone photography to take pictures or even record videos that capture the full essence of the area. 
With this content, you can showcase these astonishing photos of gorgeous daytime and nighttime visuals right on your social media page. There's nothing like eye candy to get people to click on a link and potentially book a visit!
But that's just a concept – now, let's talk numbers.
According to Business Insider, the number of civilians and commercial drones being purchased between now and 2020 will increase by 20 percent.
You can imagine how much more common aerial footage will become over the next few years. 
There are already brands and social media influencers using drones to really enhance their content. It's getting to the point where social media marketers and influencers are going to have to jump aboard the drone bandwagon in order to keep up!
Enhancing the Online Video Experience with Drones
As we already mentioned, social media is becoming saturated with online video. This means that simply publishing your own footage to your profile isn't going to be enough. There's just too much video content to sift through to really set your content apart. This is where drone videos come into play. It's the wave of the future, which means you need aerial photography and recording to keep up with competition.
According to the chief business officer of YouTube, by the year 2020, 90 percent of all internet traffic will be to online video.
This is his own prediction, but he may not be too far off. It's also expected that the spend for digital video ads will go up by 30 percent between 2015 and 2016. Already, 70 percent of marketers are claiming they will increase their use of social media video ad budgets within the next year.
Drones in Different Industries
Social media marketing has crossed boundaries into various industries. The door has already been opened for businesses of all types to engage on social platforms and build a presence for their brand. With an innovative mindset, adding drones into the mix wouldn't be difficult at all.
Let's take a look at how various industries can make use of drones and social media:
Filmmakers: Drone cinematography is already booming. This has opened the gates for directors with smaller budgets to offer the same appeal of aerial footage as the big budget films. It can also be used for making killer commercials and trailers to post on social media.
Real estate agents: Selling properties is all about selling the home, as well as the community. Since most people are using social media and search engines to find their next home, offering home buyers aerial visuals of properties and the surrounding communities makes a lot of sense. It allows them to travel to the location without setting foot outside of their home.
Online marketers and agencies: Drone video can really boost SEO for businesses. The potential is really there if amazing drone content can be created and then optimized for search engines (and with a backlink pointing to the brand's website).
Consumer market: Everyday people are addicted to social media, videos and photographs. With drones, people are taking spectacular selfies and capturing videos of themselves climbing mountains, swimming in oceans and doing just about everything else imaginable.
This is only the tip of the iceberg – as more brands find the potential drones offer for their organizations, you can expect to see more aerial photography and footage being posted on websites and social media, especially YouTube.
Right now, aerial footage is quite popular and bridges the gap for YouTubers and brands to get in on the action. Now is a great time to create YouTube channels to showcase aerial drone videos (and even monetize them).
Social Media is Already Adapting
Drone videos are taking marketing to new dimensions. Social media is a great way to showcase these videos and images. Naturally, the marketing industry is adapting to the new direction. Marketing for real estate and resorts will be changed forever with this new device. It's also worth noting that Facebook has already created a department called the Connectivity Lab, which is dedicated to creating aerial tech.
We can expect to see all of the other social media platforms do the same, which means more capabilities and features for drones to come in the near future. It's really an exciting time to be posting drone content on social media!
Can you think of a creative way to use Drone video content for a social media or digital marketing agency? Share your ideas below!