What Is Dwell Time in SEO?
Dwell time is the amount of time users spend on a page from the search results before returning to the search engine results page (SERP).
It's a measurement of a user's dwelling time—how long they linger on a page starting from the time they click on a search result and ending when they navigate away from the page.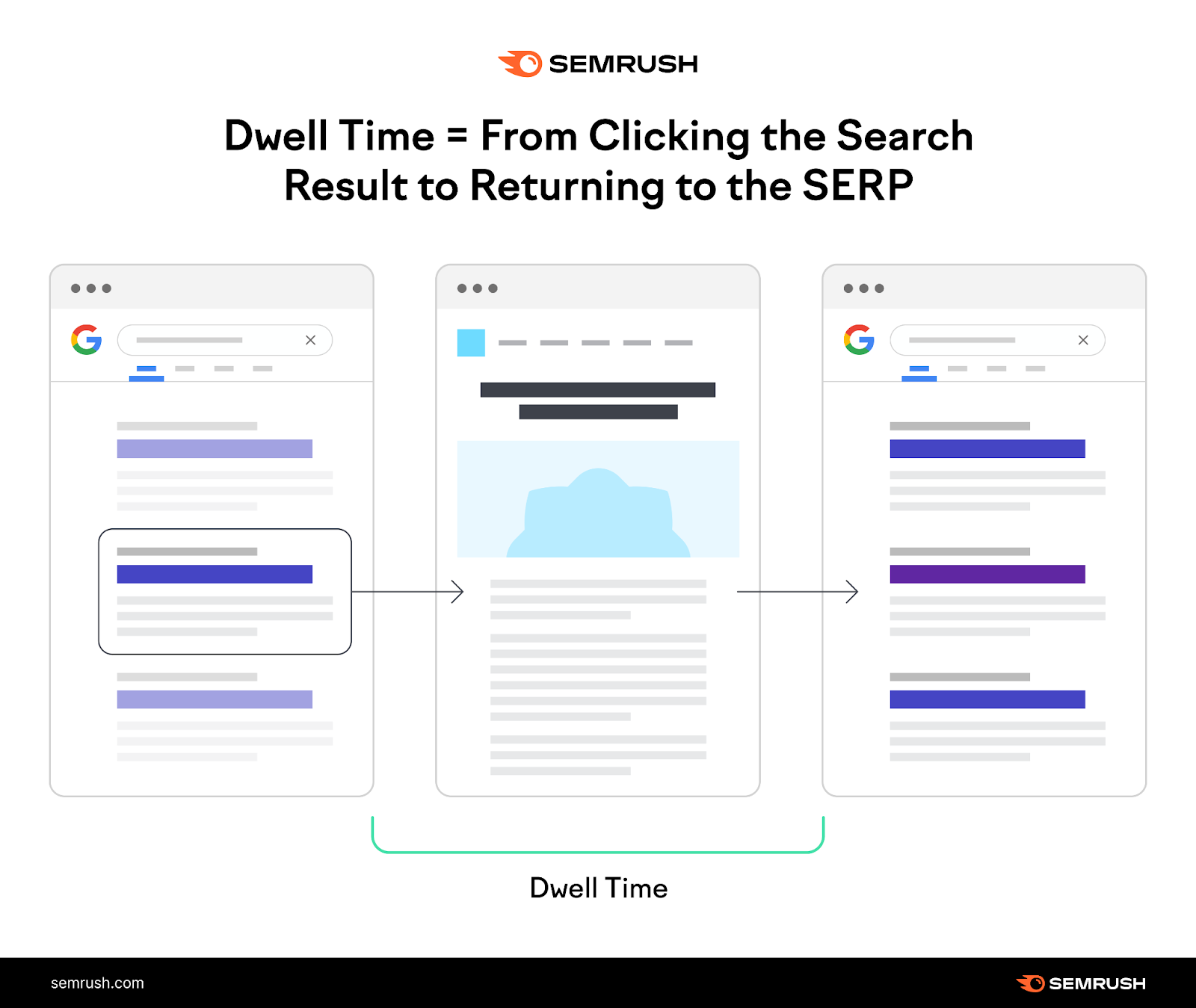 Let's say you search for a "homemade pesto recipe."
You click on the first organic result you see. It's an unstructured article with a lengthy personal backstory before the recipe. And it's full of ads. 
You return to the SERP after only 10 seconds. The dwell time is 10 seconds in this case.
Then, you visit another recipe article. It's easy to follow and helpful. You use that recipe and spend more than five minutes on that page. The dwell time is much higher here.
Dwell time is not a confirmed Google ranking factor. But it can help you measure users' interest in your pages. 
Let's discuss dwell time's relationship with SEO. Then, we'll show you how to calculate and increase your dwell time.
Is Dwell Time a Ranking Factor?
Bing was the first search engine to mention dwell time back in 2011. It described dwell time as "a signal we watch" to determine quality.
But is dwell time a ranking factor for Google? It doesn't seem likely.
Some SEOs believe dwell time impacts rankings because Google has hinted it could impact machine learning algorithms. But there's no definitive proof.
In fact, Google's Gary Illyes said in a 2019 Reddit AMA that dwell time is "generally made up crap." And that "search is much more simple than people think."
The thing is: Lower dwell time doesn't necessarily indicate lower content quality or user dissatisfaction. 
For example, users could find the information they need at the top of the page and return to the SERP quickly. 
Meaning the page did what it was supposed to and fully addressed the user's search intent (i.e., the reason behind someone's search). Which is what Google wants to see happen.
So dwell time isn't likely a ranking factor. At least not a direct one. 
However, dwell time can still provide insights about your users. If users tend to stay on your pages for longer, it could mean they find your content engaging.
But consistent lower dwell times could mean there are underlying issues causing users to bounce from your pages.
Dwell Time vs. Bounce Rate vs. Time on Page
Many people confuse dwell time's meaning with bounce rate and time on page. But they all mean different things. 
All three metrics measure user engagement. But bounce rate and time on page differ from dwell time because they do not indicate whether the user returned to the SERP.
Here's a breakdown of the metrics people often confuse with dwell time:
Bounce rate: A bounce is when a visitor lands on a page and spends less than 10 seconds on it and/or leaves before clicking on anything or otherwise interacting with the page. In other words, bounce rate measures sessions where the user did not engage with the webpage.
Time on page: Time on page refers to how much time a user spends on a page before navigating elsewhere (another page on your website or an external page). Two clicks determine this metric—the click that brings the user to the webpage and the click that takes the user away from that page.
How to Calculate Dwell Time
Since dwell time can indicate audience engagement, you're probably wondering how to measure this factor.
The truth is: There is no dwell time calculation formula. 
However, you can use the average session duration metric in Google Analytics as a workaround. This metric refers to the average time a user spends on your site after landing on a page.
Important note: This is not an exact measurement of dwell time. Average session duration measures how long the user spends on the entire site rather than one page. And it does not tell us when users return to the SERP.
However, understanding how long users spend on your site can indicate their level of engagement (like dwell time can).
Start by logging in to your Google Analytics account. (Read our Google Analytics guide if you don't have an account yet.)
Then, go to "Behavior" > "Site Content" > "Landing Pages."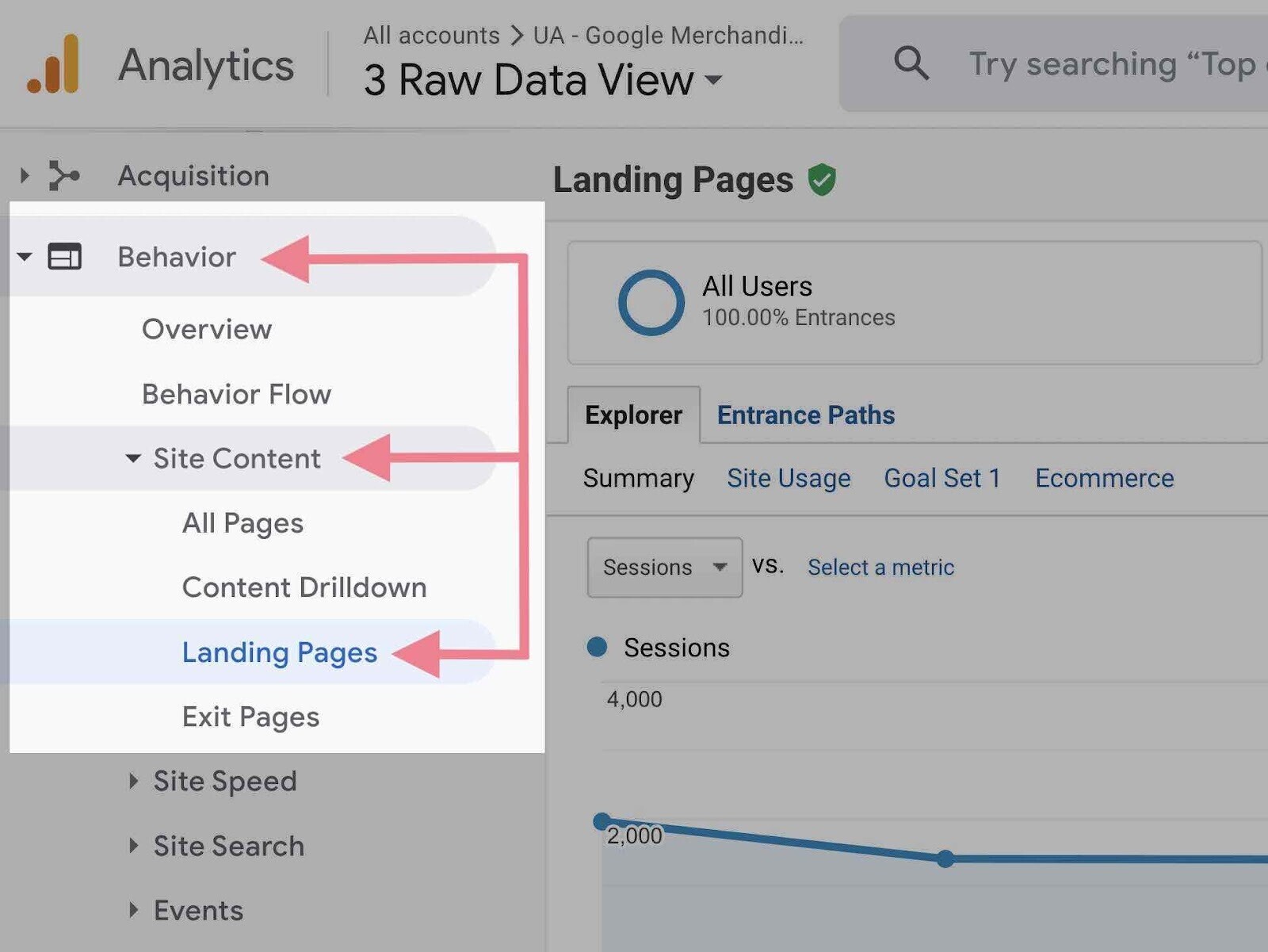 Click "+ Add Segment."
Then, check the box next to "Organic Traffic." Click "Apply." This way, you can review organic traffic data specifically (i.e., non-paid search results).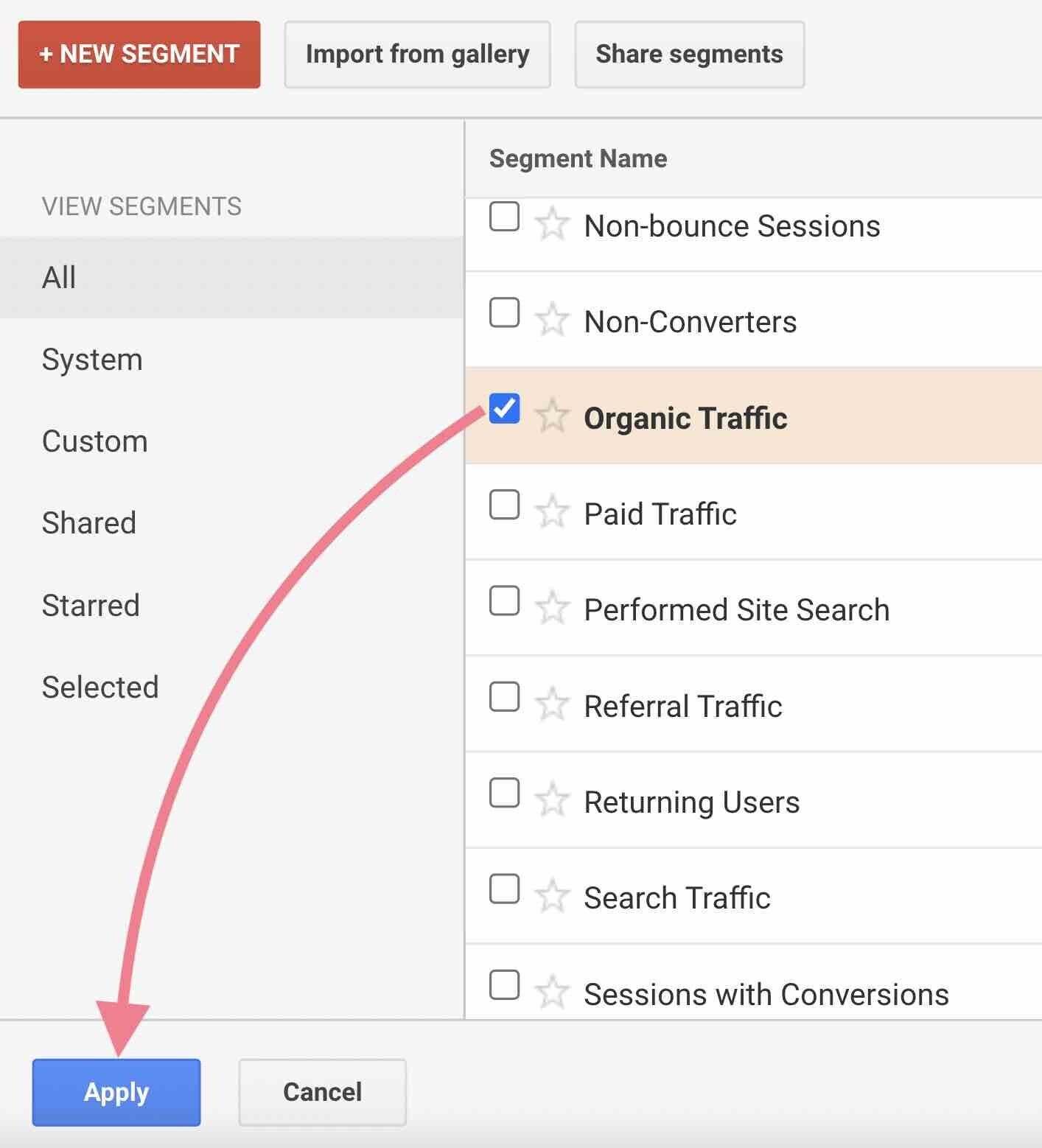 You will then see a column titled "Avg. Session Duration."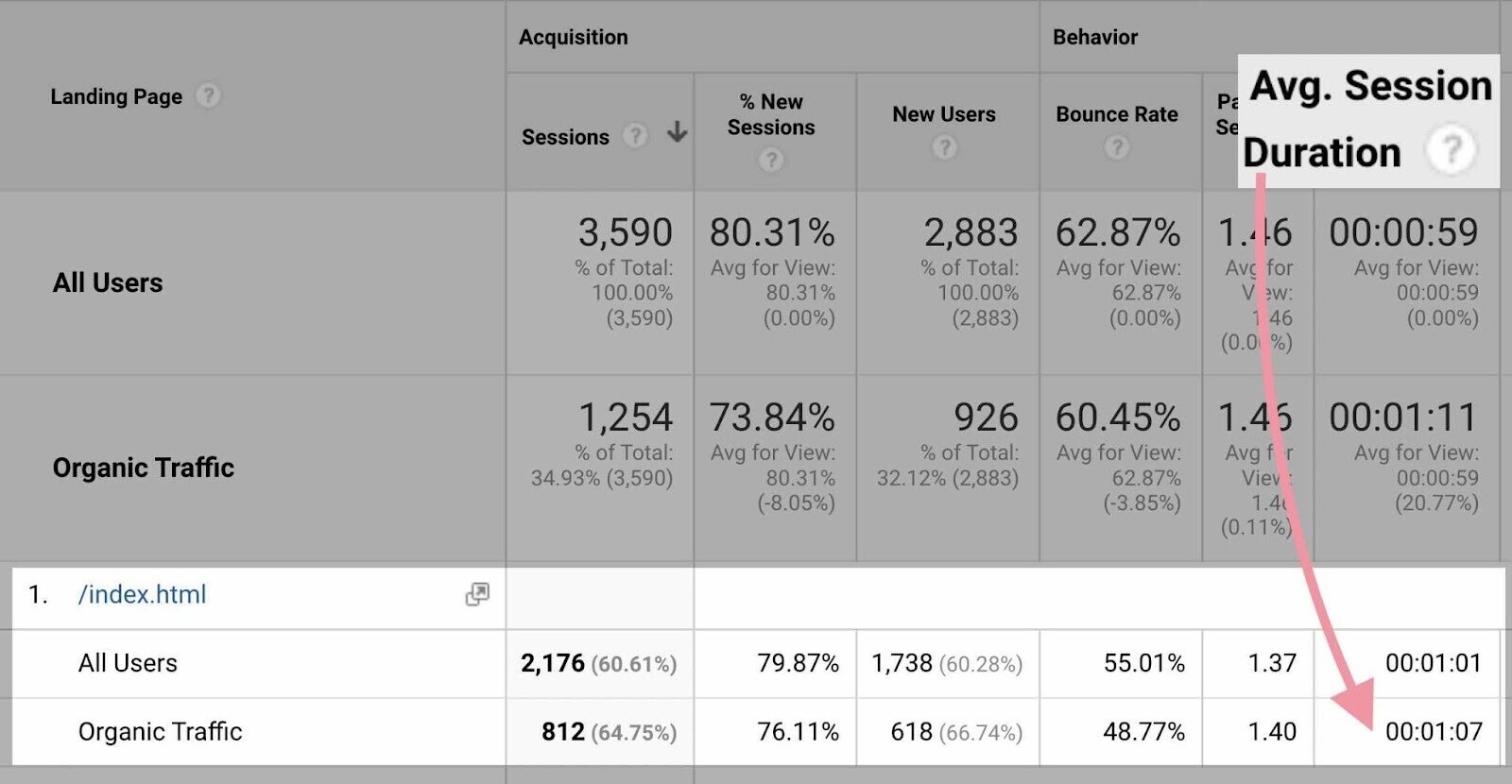 As with any metric, average session duration lets you determine what is and isn't working. 
Say you look at the average session duration across different pages. One stands out with a four-minute duration. All other pages have a duration lower than two minutes.
Take a look at the page with the higher duration. How is it different? Maybe it has more text, uses custom visuals, or incorporates a video. 
These are a few ways you can increase dwell time. Read on to find out more.
Tip: When you switch to Google Analytics 4, you can also use a metric called "Average Engagement Time" to learn how long users actively engage with your page. Learn more about how GA4 measures user engagement.
How to Increase Dwell Time
Whether or not you believe dwell time is a ranking factor, having people spend more time on your page is a good thing.
Here are a few ways to increase dwell time and keep visitors on your pages longer.
Nail the Search Intent
Search intent is the reason why a user types something into a search engine.
Users are less likely to stay on your page if it doesn't provide the information they're looking for. That's why you always need to consider what users want. And do your best to help them reach their goals through your content.
There are four main categories of search intent:
Navigational intent: Users want to find a specific page (e.g., "google search console login")
Informational intent: Users want information about something (e.g., "what is dwell time")
Commercial intent: Users want to do research before making a purchase (e.g., "best inflatable pool")
Transactional intent: Users want to complete an action or make a purchase (e.g., "buy dog food")
All of Semrush's keyword research tools label the search intent for each query.
Here's where you'll find it in the Keyword Magic Tool: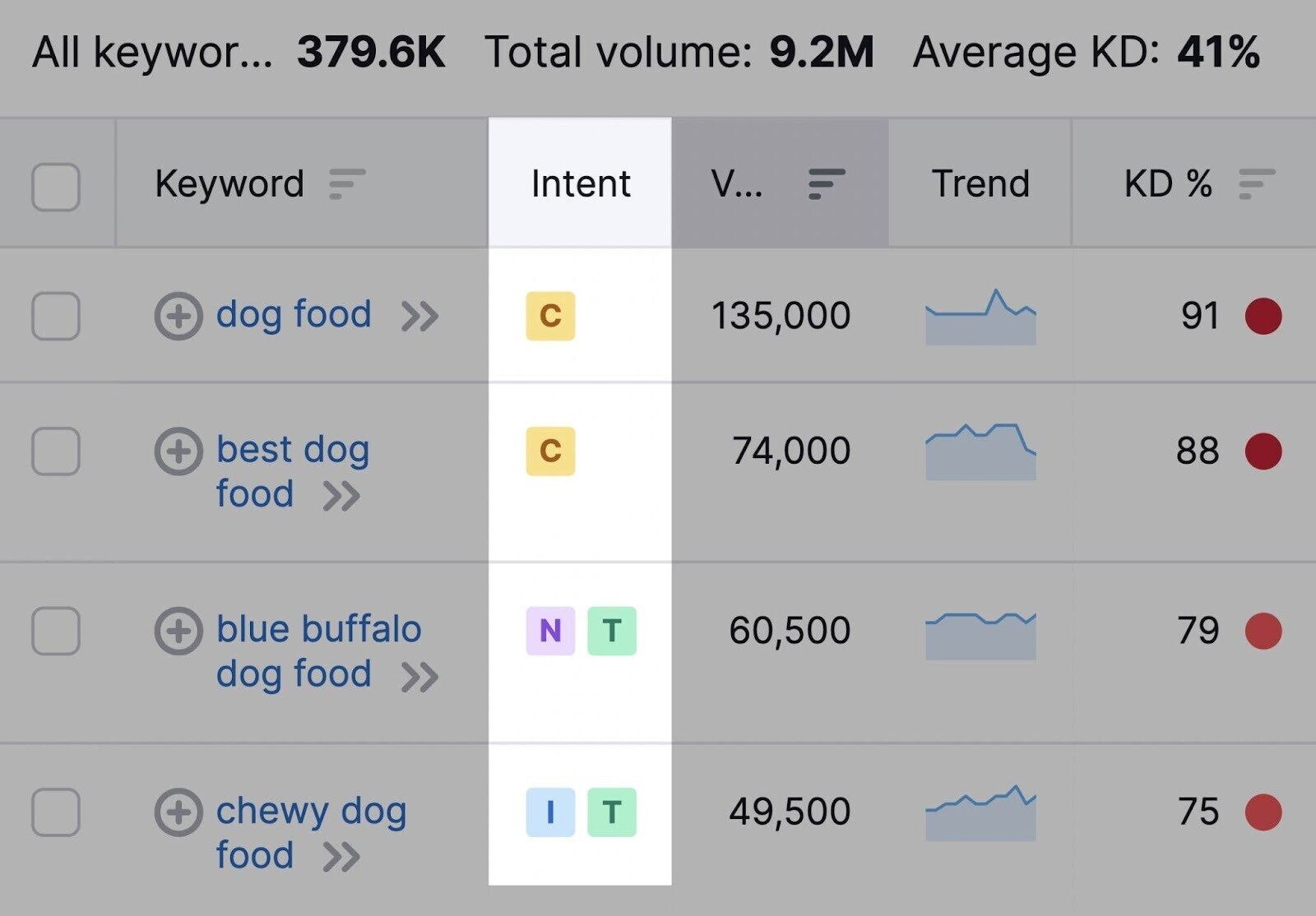 Tip: Read our keyword research guide to learn how to effectively analyze search intent as a part of your content strategy.
Produce Longer (and Better) Content
It seems logical enough: If you put more content on the page, people will have to spend more time consuming it. As a result, dwell time increases. 
Of course, it's not just the quantity that matters. Quality is also critical. Users will probably click away if they read a paragraph or two of low-quality content. 
Use a tool like Semrush's SEO Content Template to create content that's more likely to keep your readers interested (and rank well in Google). 
Enter the primary keyword you want to rank for. You'll receive SEO and content recommendations based on the top 10 search results.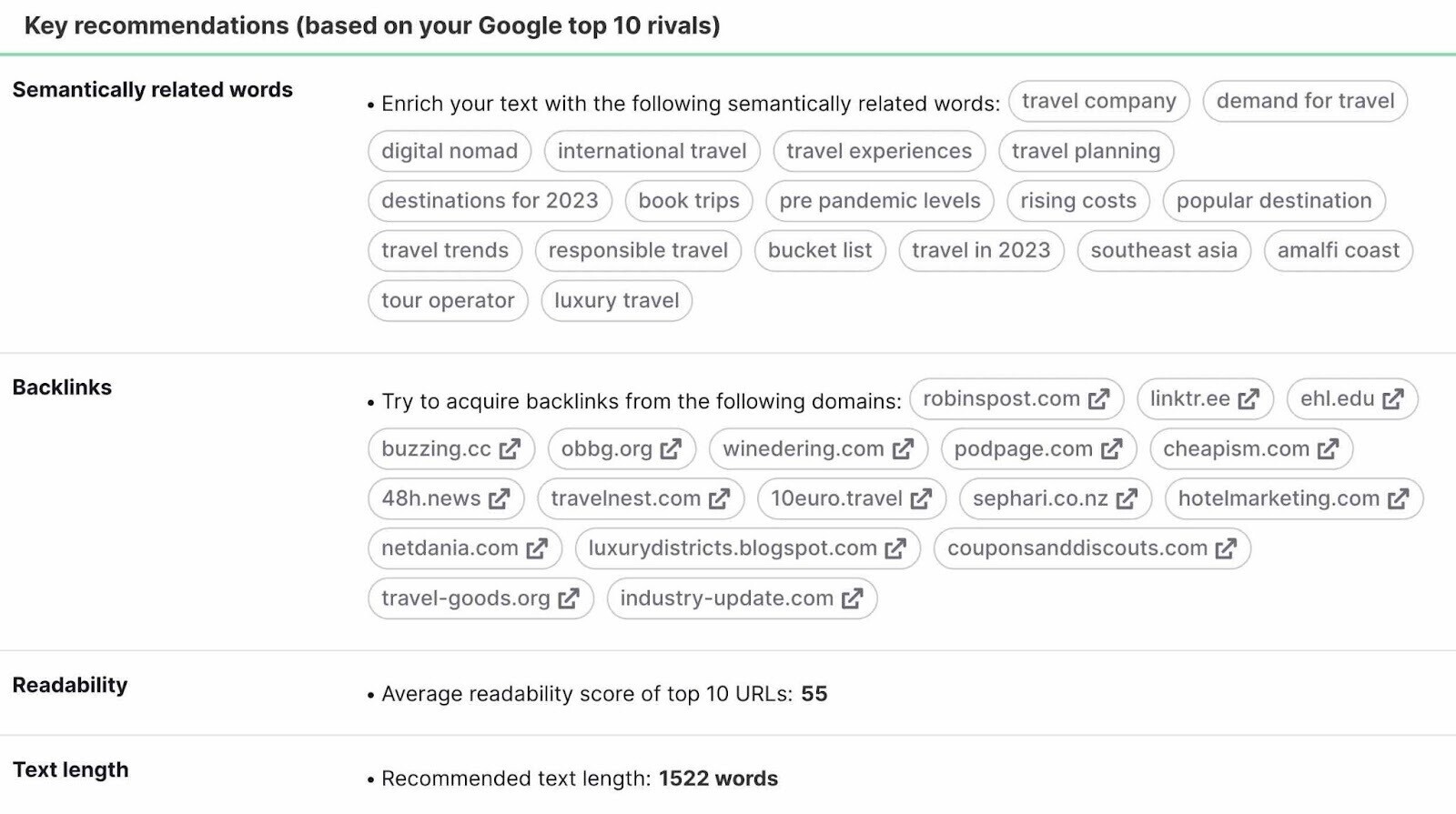 Another tool that will help you optimize your content is the SEO Writing Assistant.
Type directly into the tool, or use it as a WordPress plugin, Google Docs add-on, or Microsoft Word add-on. 
Within seconds, the tool will analyze your text and score it based on four categories: 
Readability
SEO
Tone of voice
Originality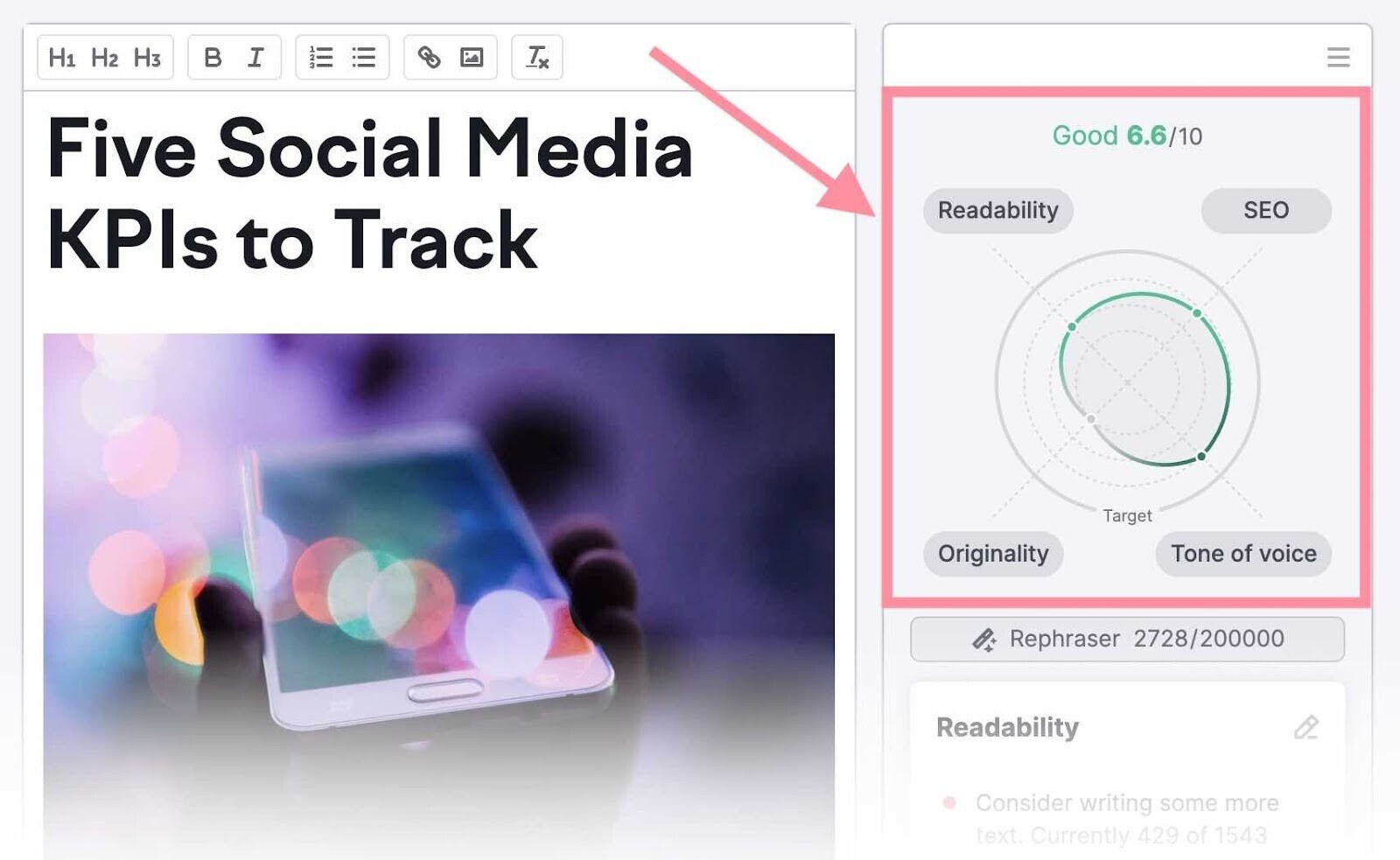 Apply the suggestions in each category to improve your content in real time.
Prioritize User Experience
Google prefers pages that prioritize user experience. So you should consider both on-page SEO factors (like SEO-friendly content) and technical SEO factors (like page speed). 
Here are a few ways to improve readability and the overall page experience:
Scannable content: Format content with headings and subheadings. Further organize body content with bullets, lists, and short paragraphs.
Load time: Ensure that your webpage's main content loads within 2.5 seconds or less
Browser compatibility: Check if your site loads correctly by testing it across browsers like Safari, Firefox, Chrome, and Opera
Navigation: Make it easy for users to find what they're looking for with clear navigation bars
Technical SEO: Monitor page loading time, audit your site's code and markup, and check for other issues with a tool like Site Audit
Create mobile-friendly pages: Every webpage should also have a mobile-friendly version
Tip: Read our guide to technical SEO to learn more about improving your user experience and website usability. 
Make Your Content Engaging
Improving dwell time requires you to analyze your webpage content to find out what's working and what isn't. 
And the key to making your content more engaging is giving users reasons to stay on the page longer—even after you've answered their primary question.
For example, you could write a page that targets "how often should I change my oil?"
You can technically answer that question in one sentence at the top of the page. But you can provide additional value to the user in the following ways:
Include cost breakdowns by car type
Warn users about common issues that happen when you don't change your car's oil
Add a chart that covers the average driver's yearly maintenance schedule 
And so on
Here are some more examples of how you can keep users on your page longer:
Provide useful visuals like screenshots, illustrations, and infographics
Embed relevant videos that will make visitors spend more time on your page
Provide additional context with specific examples
Improve page speed so users don't go back to the SERP before your page loads
Enable your visitors to engage with you (through comments, ratings, etc.)
Improve User Engagement with Semrush
Many of the elements that enhance dwell time are part of basic on-page SEO.
Tools like our On Page SEO Checker can help you find gaps in your strategy.
The tool allows you to enter your most important URLs and get ideas for improvement in several SEO categories (such as user experience, technical SEO, and content).

Tip: Connect your Google Analytics account to the On Page SEO Checker for user experience improvement suggestions based on your Google Analytics data. 
Ready to start improving your dwell time and overall user engagement? Sign up for a free trial of Semrush today.