Only few days are left before the 10th Annual Internet Conference taking place in Australia. This conference brings together online retailers and the best local and global e-commerce experts. As a warm up, we've organized an online session with some of the conference speakers. Please meet Alita Harvey-Rodriguez, Jim Stewart and Jim Banks as they share sneak peeks of their speeches and their favorite e-commerce tips. They'll conduct a real-time analysis of an e-commerce website!
You can watch the full masterclass here, and in this post I'll highlight some actionable advice and secrets for optimizing an e-commerce website.

The biggest mistake that most brands make is treating email marketing like every other platform on the internet. But the truth is that email is a trusted source. Your subscribers are part of your tribe, and you really need to speak to these people like they're friends; they're not people who are at the top of the funnel.
Talk about your top sellers and add a call to action at the bottom of each image of your email campaign. Your call to action should be "Shop now." Alita recommends avoiding the use of buttons like "Buy now" in emails, as they freak people out and make them feel as though they have to commit to buying.

Pay careful attention to your email marketing channel. It will help you bridge the gap and give you really solid information about consumer behavior across multiple devices and multiple channels.

Know what you're trying to achieve. Are you trying to warm up a brand new subscribe and educate them about your brand, your products and your community? Make smart decisions about your data; this just comes down to really understanding your customers. Who are they? If you're talking basics, is it male versus female? Is it pants versus skirts? Is it somebody who hasn't purchased versus someone who is loyal and has purchased from you multiple times?

The main thing that you need to do is to redirect all your old URLs to their new equivalent URLs. Otherwise, Google will think your site is completely broken, and you'll probably disappear from Google for about a week to 10 days, depending on the size and authority of your site.
The other part that is easy to forget is knowing exactly what you're ranking for and what's driving traffic from Google to your site. It is never just one phrase – a multitude of variables for your keyword phrase may also exist. Jim provided the example of ProBlogger, which targeted "make money blogging," but also ranked for "can you make money blogging," "making money blogging" and other variations of the phrase. And if you're not thinking about these phrases when you're pushing your site live, you are probably going to lose some of your traffic.
You also need to understand why you are ranking for those phrases and make sure those elements are transferred to your new site. These can be things like titles or header tags, but they can also be interlinking structure of the website.

Set up analytics – if you don't measure things, then you can't manage them. With analytics you can understand how people interact with your content. And if there are changes that you need to make, you can make them as soon as possible. Proper analytics can actually tell you some of the things that you need to change.

Explore different channels besides Google. For example, today Bing has around 21-22 percent of the market share in the USA, and it is definitely one of those things that is worth throwing into the mix.

The more specific a search query is, the more likely it is to convert. Without setting your priorities, you'll end up wasting money that you shouldn't be wasting.

Segment your audience and tailor your message to that audience.

Enhanced e-commerce can help you to know if you have a particular issue with payment gateways or if you're asking for too much information on your address page. You are actually able to see where things drop off and consider it during redesign. Look at different pages on your site that you may need to make some adjustments to.
E-Commerce Website Clinic
The particular part of our webinar was dedicated to the real-time analysis of an e-commerce website. Here are some tips from our experts:
1. Check if the currency on your website matches your target country.
In the given example, the website was targeted for Australia, but the currency was set by default to US dollars.
Jim Stewart: Was a little bit confusing for me at the start; I didn't know whether it was a US-based site or an Australia-based site. Everything was in US dollars, which I found a little bit confusing.
The website had a drop-down menu where users can choose the currency, but, as Jim Banks pointed out, the website had a pop-up that still displayed prices in US dollars, even after the currency was switched to Australian dollars. This creates a confusing user experience.
2. If you're targeting different countries, choose the most relevant type of URL structure.
Jim Banks: The website uses a .com URL rather than .com.au. one. In my opinion, if the audience is multi-country – Australia and the US – they probably should have two domains, one for Australia and one for the US.
3. Set International Targeting in Google Search Console.
Jim Stewart: There is something really important in Google Search Console that you need to set up, and that is International Targeting, which is located in the Search Traffic menu. If you have a .com website and are targeting people in Australia, then you really need to have it set up in Google Search Console to tell Google that your .com is actually intended for people in Australia. You can do that by going to Google Search Console => Search Traffic => International Targeting.
4. Make sure you're targeting the right keywords.
Know which language your target audience speaks and which keywords they use to find what they need. Sometimes this might be more tricky than it seems.
Jim Stewart demonstrated the importance of targeting the correct keywords using the example of the analyzed website. It used "prom dresses" as one of itsmain keywords. While their targeted market, Australia, uses the term "deb dresses" instead of "prom dresses."
In this post Mauricio Escobar has provided more examples of how different products are named in the USA and Australia.
5. Check out your traffic analytics using link shorteners.
Jim Banks: I don't know if you are aware of this, but if you add a "+" to a bit.ly link or a goo.gl link, you'll be able to see the specific traffic that those links have generated.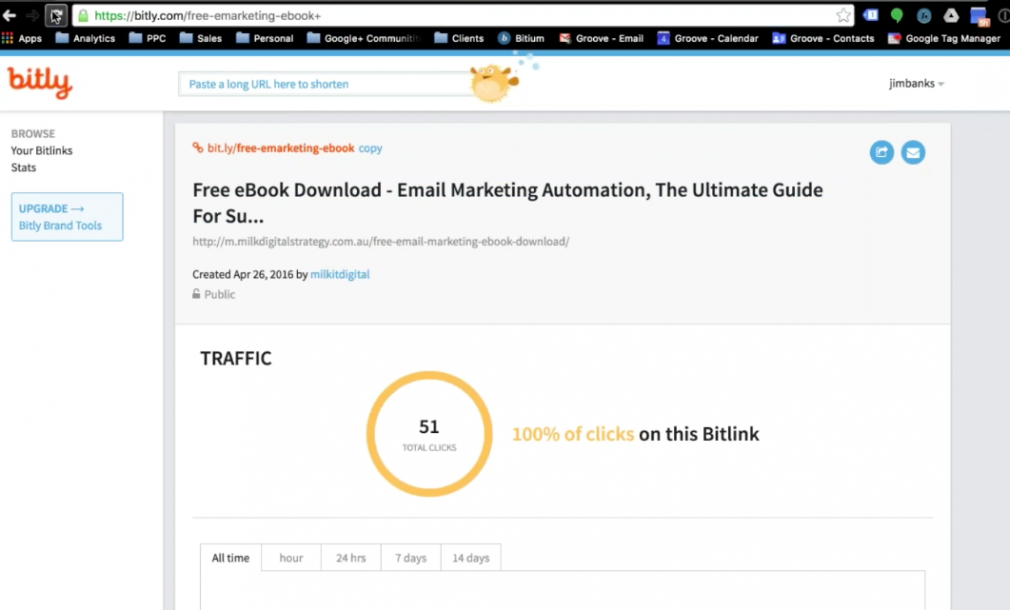 So Alita published her e-book earlier, and as we can see, we've had 51 clicks and most of those have actually come from today. So everyone thank you so much for downloading Alita's e-book!
6. Unify your calls to action.
Make sure your calls to action are consistent, otherwise it may look confusing to your website visitors. For example, if you have an "Add to Bag" button, check that you actually have a "Shopping Bag" on your website, and not, say, a "Shopping Cart."
7. Make sure your company looks different on different social media platforms. If you post the same content everywhere, why should users sign up for all of your channels?
Jim Banks: The website has Facebook Shop set up, which is good. But it looks like they've just let the entire shop into set up, so they should look at how they can optimize this page to be different. Their Twitter, Instagram, Pinterest look pretty much the same; they're mirror images of one other.
8. Provide the option of guest checkout.
Alita Harvey-Rodriguez: We live in a mobile-enabled universe, and most retailers and websites are now getting a high percentage of traffic from mobile devices versus desktops. And one of the biggest barriers for mobile users is that you need to set up an account.
I recommend that every e-commerce website owner make sure they have a guest checkout enabled through PayPal. It works, and itwill increase your conversion rate on a mobile device. Don't disconnect the shopping journey when you've already got these people, make it as easy for them as possible!
Make it super easy for people to checkout on a mobile. And once you earn their trust by selling them a great product, getting it to them fast and creating a beautiful customer experience, they're going to tell seven of their friends about your business.
Jim Banks: You need to remove as much friction as possible and make it easy for customers to do what you want them to do: to buy a product from you. Forcing them to set up an account can often result in losing a sale.
Questions and Answers
What analytics tools can you use aside from Google Analytics?
Jim Stewart: There are a lot of different tools that you can use for different purposes. For example, Facebook has a lot of great information available to you. Facebook gives you the capability to add one pixel to your site and then add additional information: you can track "add to carts," social interactions, the use of specific pages, lead forms being filled in, purchases being made and so on.
Some people are logged into Facebook all the time on all their devices, right? With Facebook you can see devices people use, and you can see cross-device measurement.
Jim Banks: And the other analytics tool we've been using is Hotjar. It tracks user interaction, and the videos it provides – the videos of the whole user session – are quite educational.
I work in the health industry. Does email marketing work?
Alita Harvey-Rodriguez: Of course it does. Email marketing works in every industry. What you need to know, specifically, is what you're trying to sell: a health product, a personal training, etc. The way that email marketing is going to work really well in the health industry is by taking people from being just subscribers to being customers, identifying the people who are loyal customers versus those who have never purchased before, and trying to win people back – trying to win back campaigns as well.
I think, it's just like with everything in digital marketing: our possibilities are only limited by our creativity and how we can think about our data. You need to be really specific about what you're trying to achieve and build a campaign around that.
What plugin do you use to see the headers?
Jim Stewart: It's called Stylish. You got to configure it and you can automatically see heading tags up there.
If we have two websites, one is for native users and one is for international users, is there any tip for that?
Jim Stewart: There're a couple ways you can handle international targeting. You can go with a top-level domain like a .com or a .co and set up International targeting in Google Search Console.
The other way that you can do it is having a top level domain like a .com and target specific countries with subdirectories. Make sure that you're using the International Targeting section within the Google Search Console. And if it's multilingual, make sure you're using hreflang as well.
Jim Banks: A good friend of mine was able to generate eight million dollars in additional sales for a site that was targeting Australian visitors using hreflang. Even though hreflang is supposed to use a foreign language, you can actually specify: "This is the Australian version of my site; this is the US version of my site."
Can you please give us tips on how to reduce your number of email unsubscribers?
Alita: There's one really simple thing that you can do to reduce your number of unsubscribes and that's editing your actual unsubscribe form. Instead of making a simple unsubscribe, I would ask questions about frequency. "Is it because I mailed you too much? Set your own frequency; tell us a little bit more about the type of content that you want." Because once people can set their own frequency, they feel like they're more in control of how they're beingcommunicated with. You're going to see your open rates and click-through rates increase as well.
The other thing – even if they're really solid on leaving your subscriber list, they might still be interested in your brand. Don't let them just walk away, ask them if they still want to connect with you. Invite them to follow your brand on social media and keep that circle really connected.
Jim Banks: If you write a really lousy subject line, you're encouraging people do delete your letter before they even have a chance to read it. They may unsubscribe without ever having read any of your emails at all. So your subject line is really important, as it encourages people to open your email.And once they've opened it and realized it's valuable, they're more likely to stay on your list.
Alita: One more tip: make sure that you have what's called a "preheader text". And use it very wisely; give your subscribers a preview of what they're going to see in the rest of your email.
Hope you discovered some useful tips for your business, and to learn more from the best e-commerce masterminds join the 10th Annual Internet Conference on the Gold Coast on May 25-27!