What Is Ecommerce SEO?
Ecommerce SEO is the practice of improving organic rankings for online stores. Common tasks associated with ecommerce SEO include optimizing product and category pages, fixing website architecture issues, and link building.
Why Is SEO Important for Ecommerce Sites?
It's simple: ranking at the top of Google for product keywords your customers search for can lead to more sales.
For example, Nikon is ranking #1 for "DSLR cameras."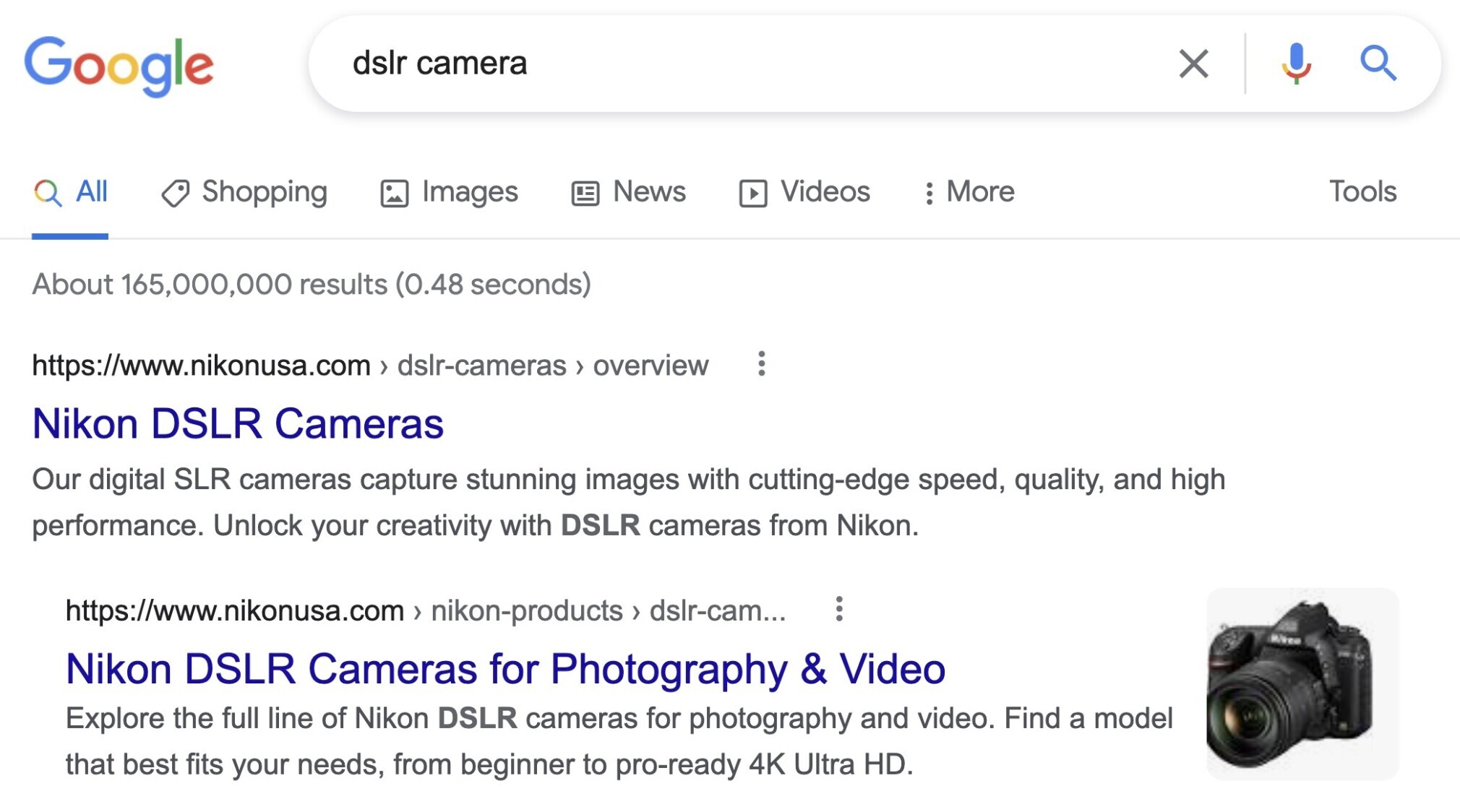 Which means people searching for that product will see (and probably click on) Nikon's product page first.
And Nikon isn't alone. According to Wolfgang Digital, 33% of overall ecommerce traffic comes from organic search.
So if you want to get more traffic to your product and category pages, SEO is one of the best ways to do it.
With that, it's time to cover the exact steps you need to rank your ecommerce site higher in the SERPs (search engine results pages).
How to Perform Ecommerce Keyword Research
Find Product-Focused Keywords
The first step of any ecommerce SEO campaign is to find a number of product keywords that describe what your ecommerce business sells.
Here's how to do it:
Use Search Suggest
Search suggestions are the suggested terms that search engines show you as you type a keyword.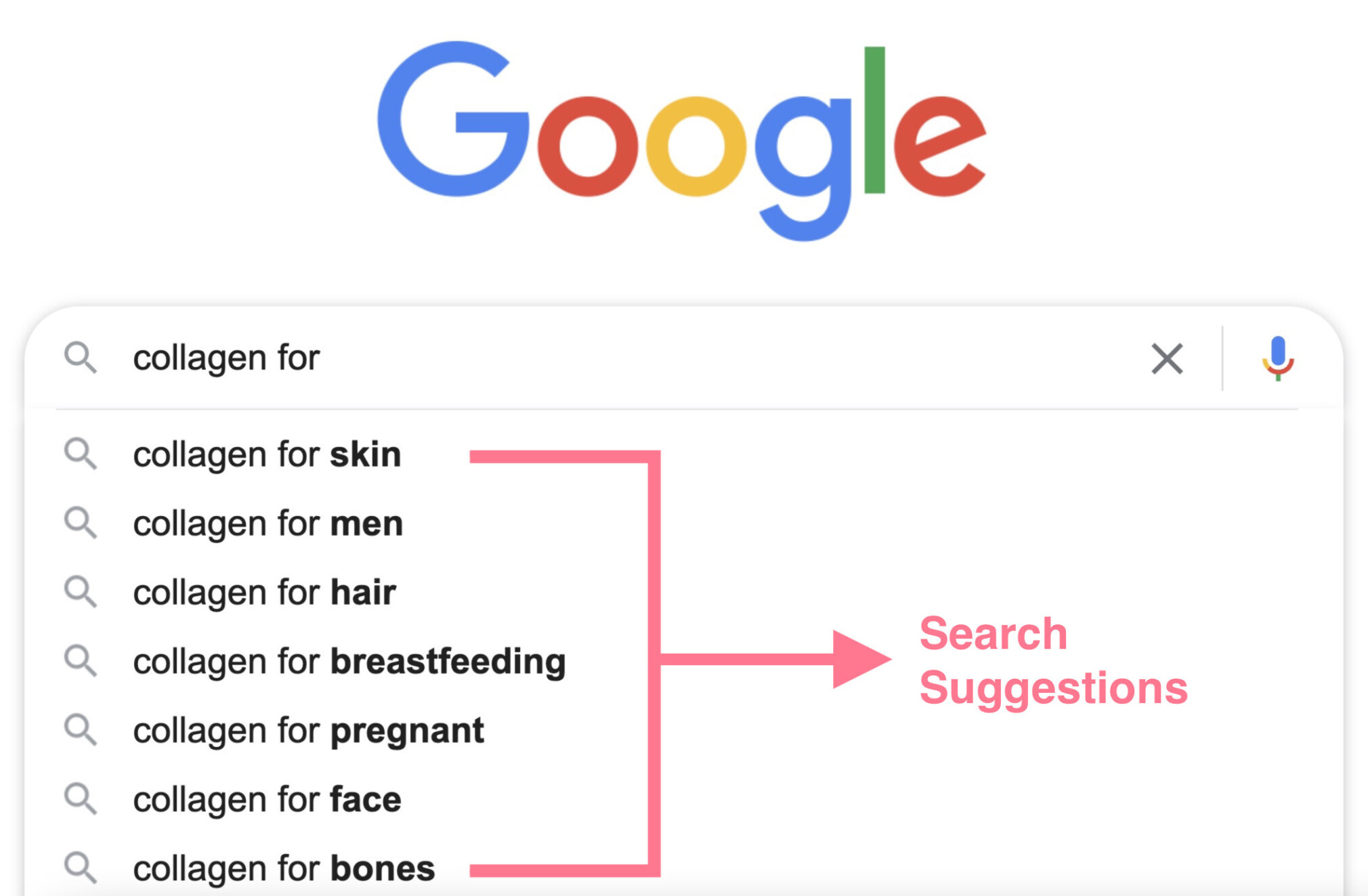 As you might expect, these suggestions are based on what people are actively searching for. Which means they're often trending terms that aren't yet super competitive.
You can use search suggest to find product keywords on Amazon: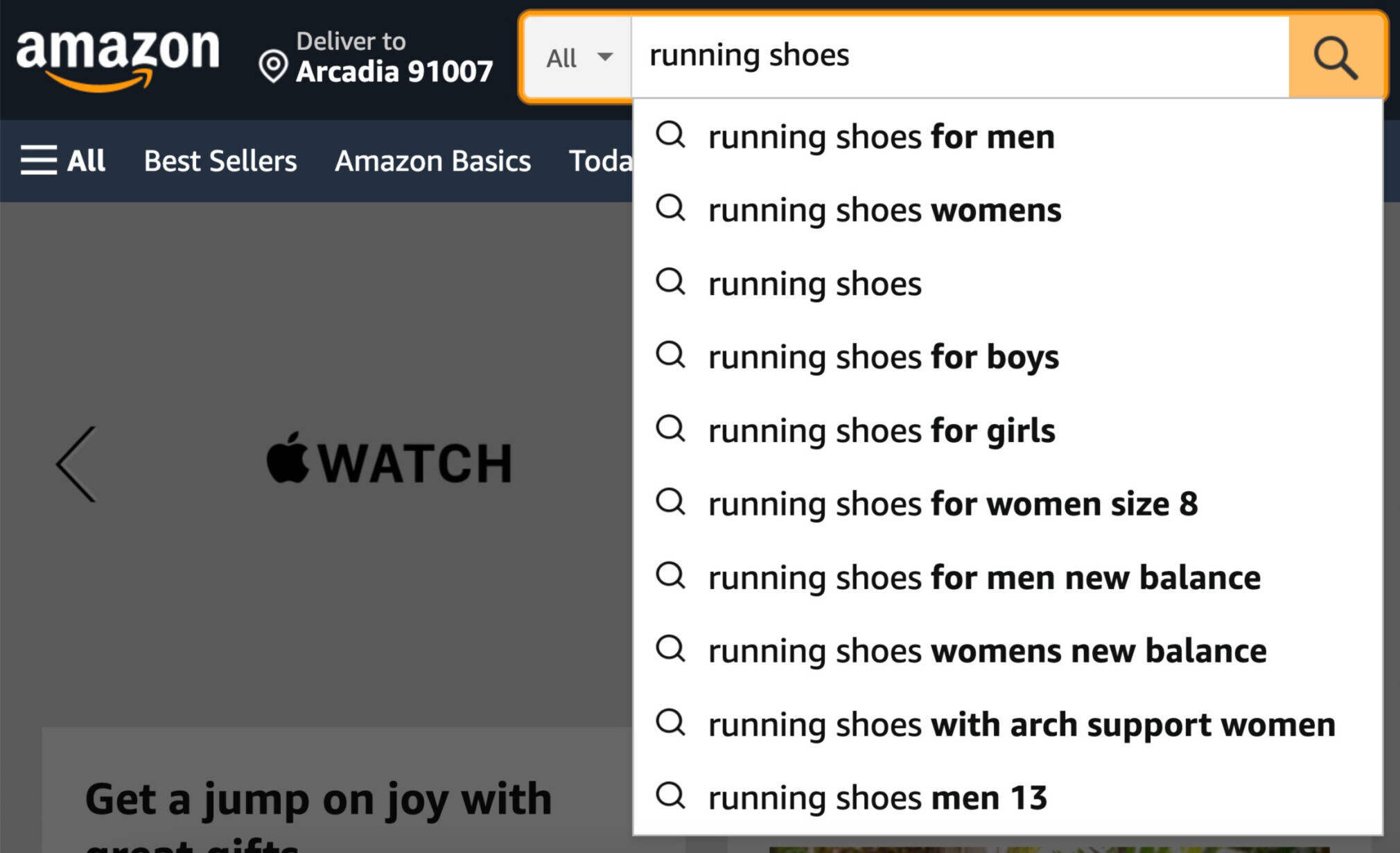 Google: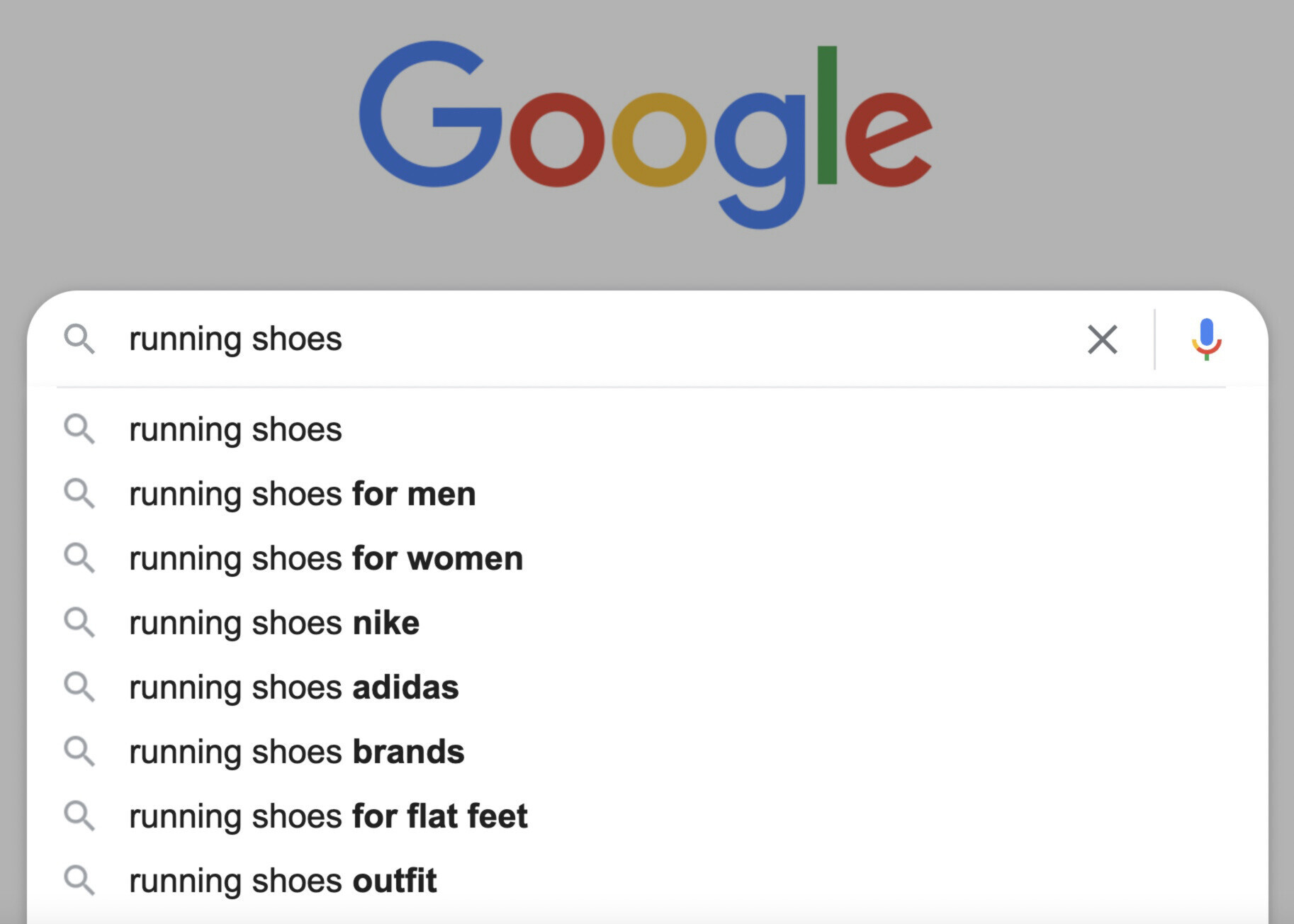 eBay:
Etsy: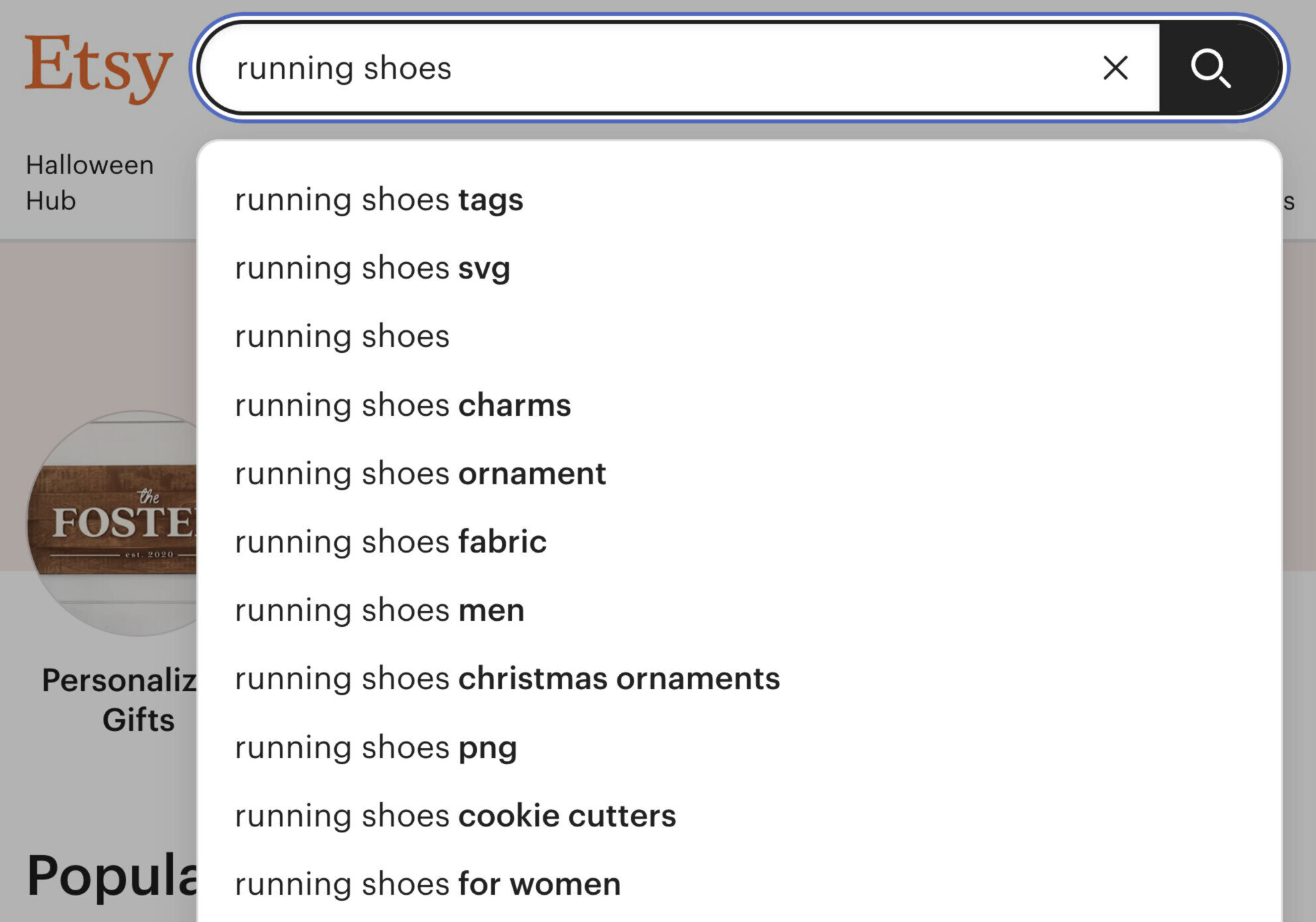 Or any ecommerce site that you're competing with.
Let's say you run an ecommerce site in the pet niche.
Chewy is probably one of your major competitors. What you want to do is type in a product that you sell into the search bar. And see what suggestions you get.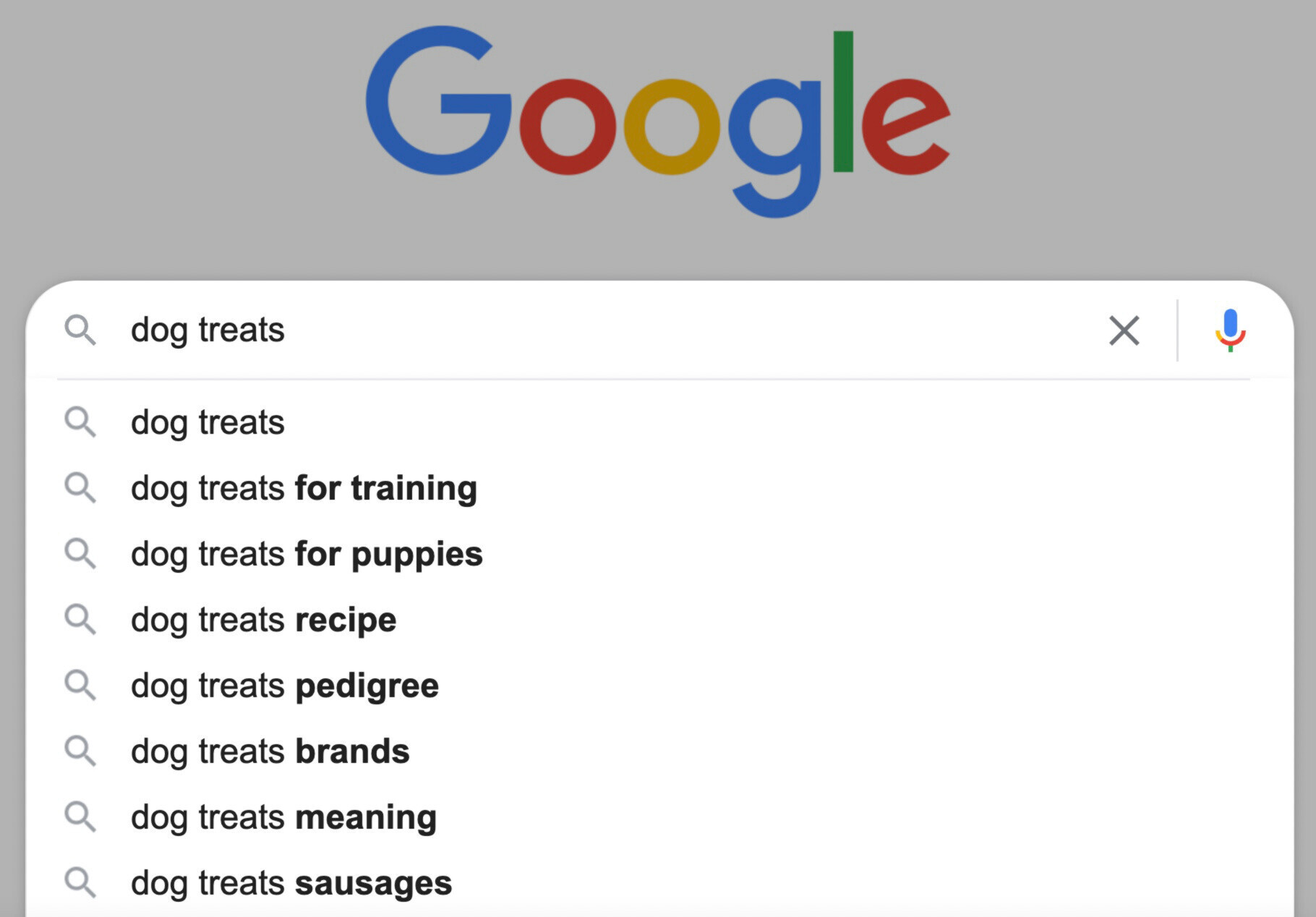 Rinse and repeat for any ecommerce sites in your space that sell similar products.
Use Social Media & Reddit
Social media can be a goldmine of product keywords.
First, head over to a social media profile or subreddit where your target audience hangs out.
If you sell pet products, for instance, you can check out r/DogCare.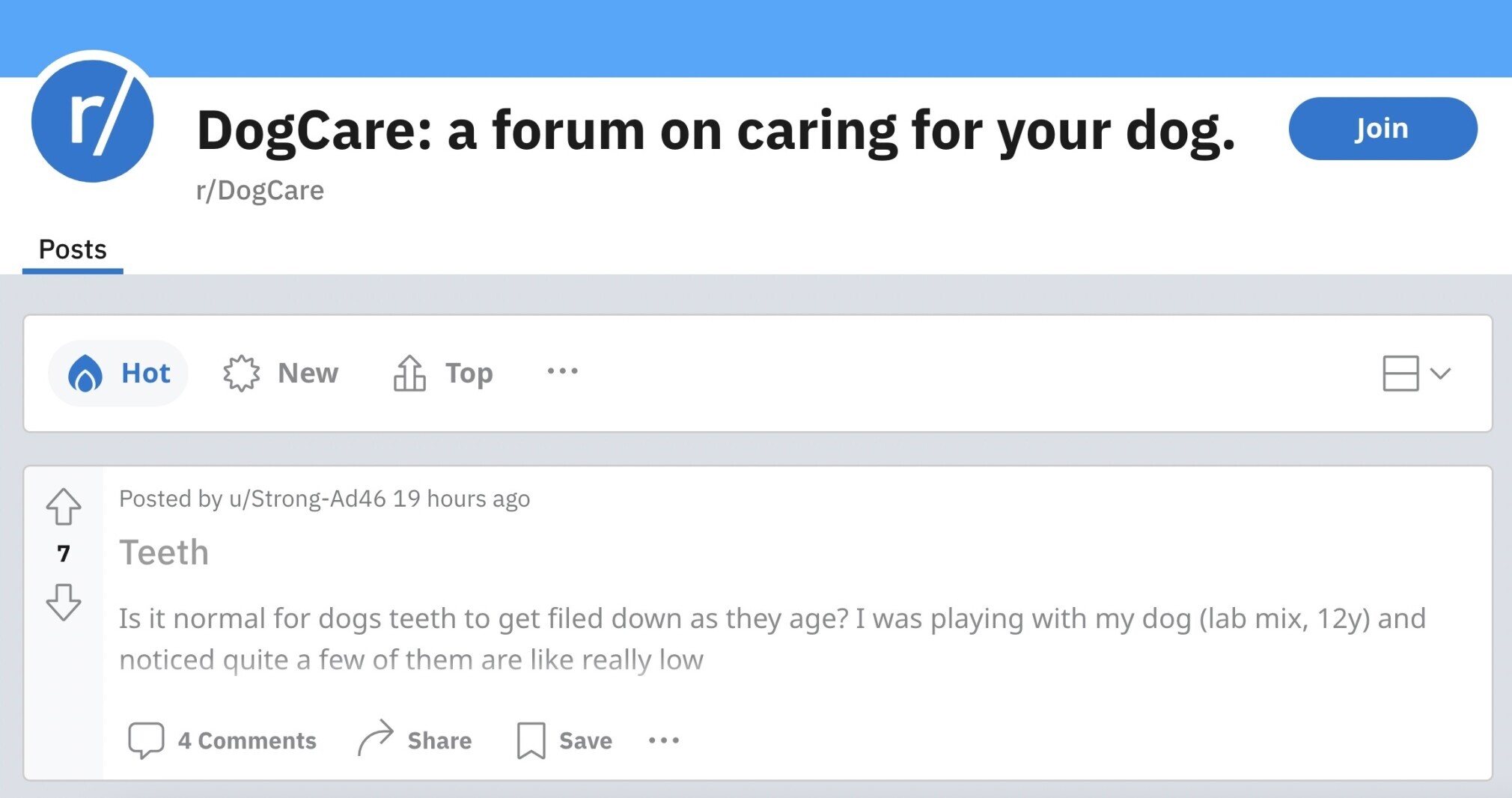 Then, read through the comments that people are leaving on posts.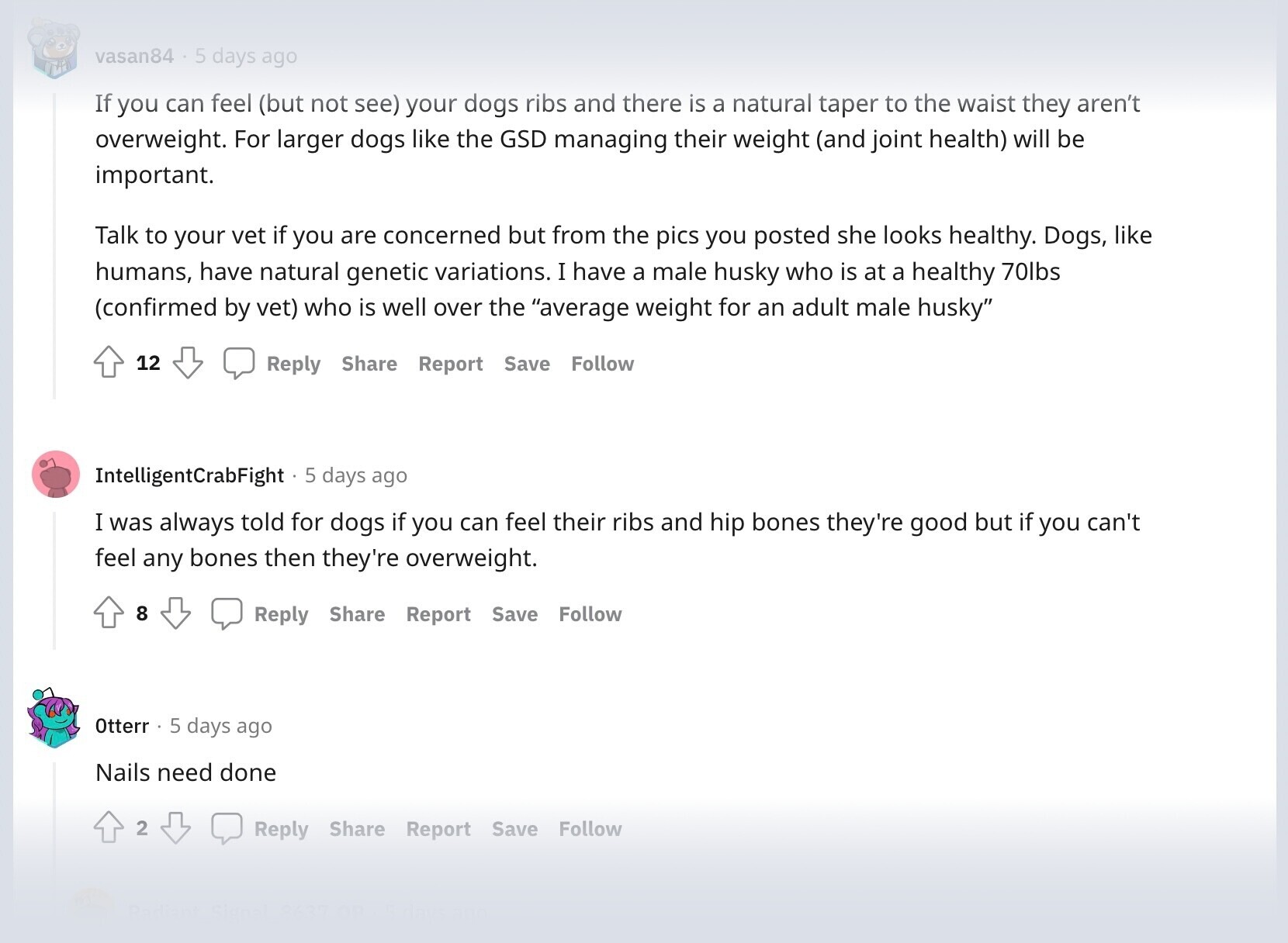 For example, this type of comment cropped up a few times in r/DogCare to answer a question about dog weight.

Which tells us that a product or category page focused on "dog health and weight" could work really well.
Use Google Image Tags
This is an ecommerce keyword strategy that isn't talked about very much.
All you need to do is enter a product or product category into Google Images.
When you do, you should see a number of tags above the image results.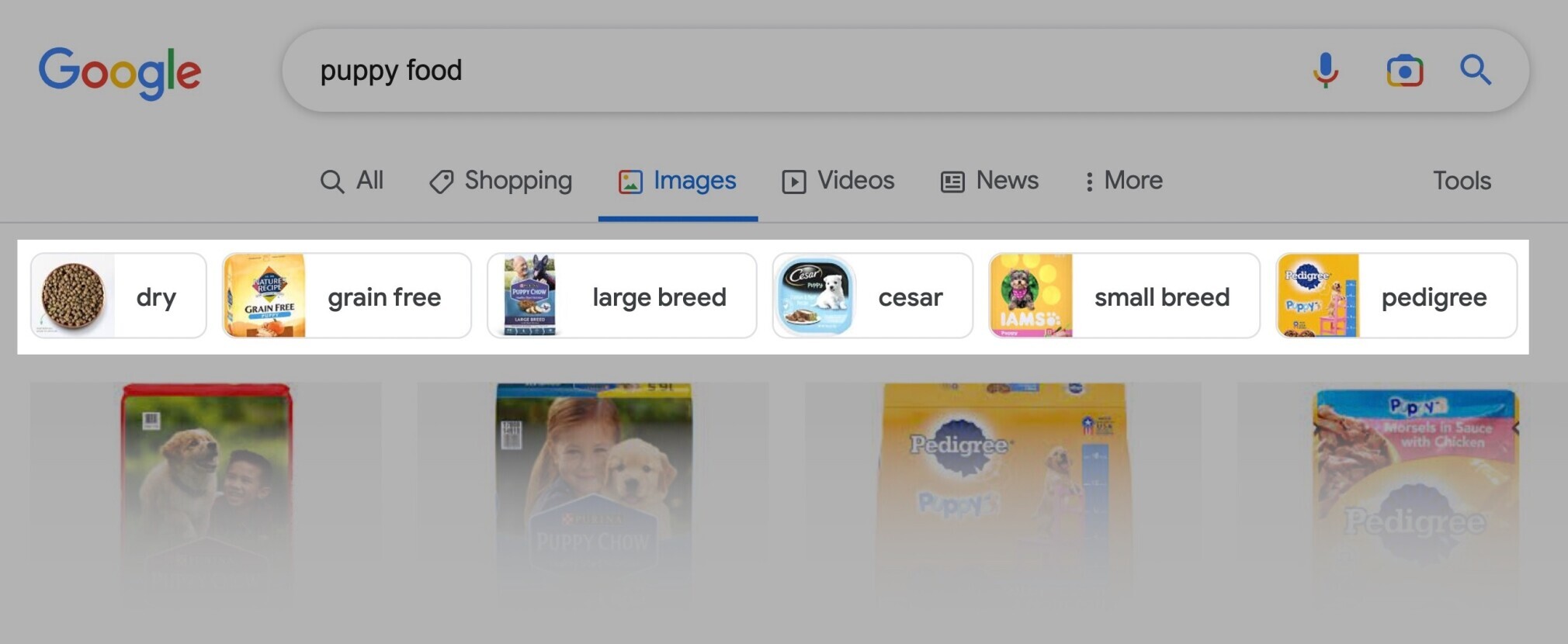 These are all tags that are closely related to the keyword that you just typed in.
Let's say you do a search for "cat toy."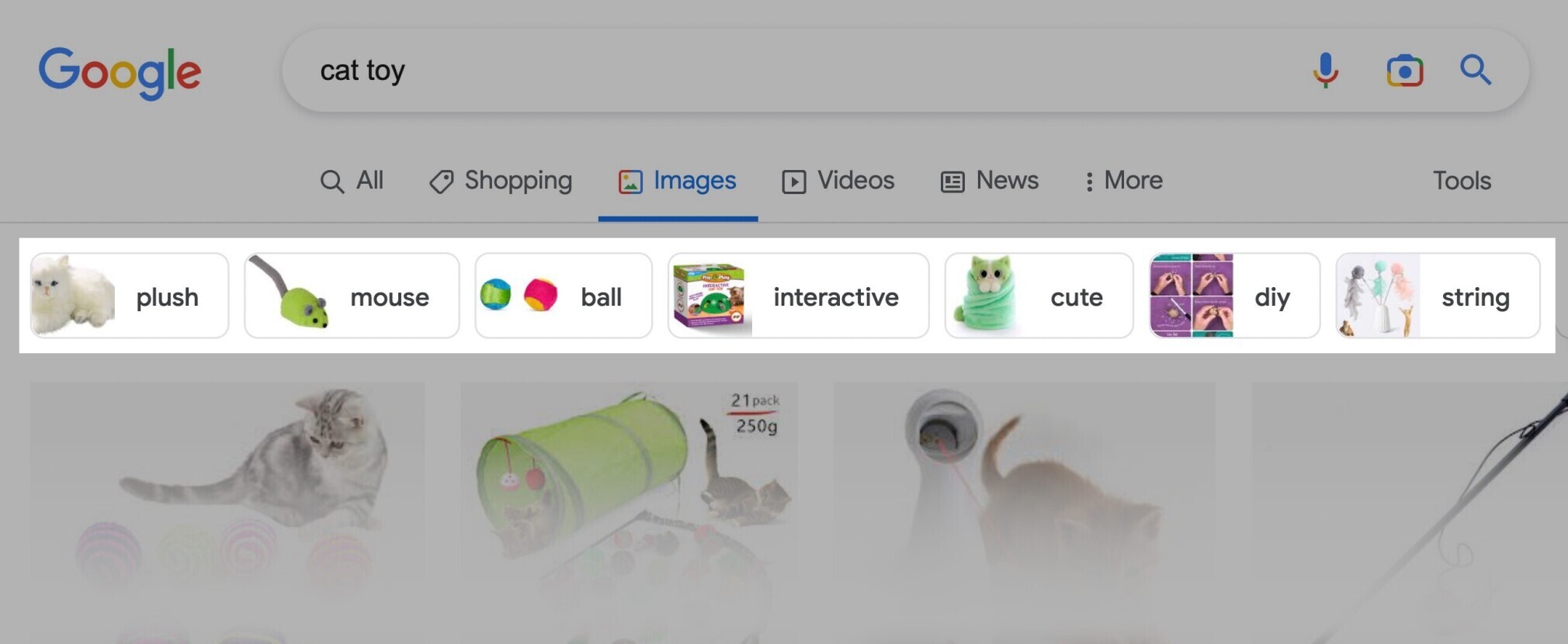 When you combine some of the tags with that term, you end up with a handful of interesting product-focused keyword ideas, like:
Interactive cat toy
Plush cat toy
Mouse cat toy
Ball cat toy
Use an Ecommerce Keyword Research Tool
If you want to find ecommerce keywords, there's a helpful tool in the App Center to check out. 
The Ecommerce Keyword Analytics app collects data from the top global retail websites and can help you find high-converting ecommerce keywords. 
For example, want to see which laptop-related keywords convert the best on sites like walmart.com, amazon.com, and bestbuy.com?
Just search this app and it will be able to show you tons of metrics about a keyword, including:
Clicks
Searches
Orders
Conversion rates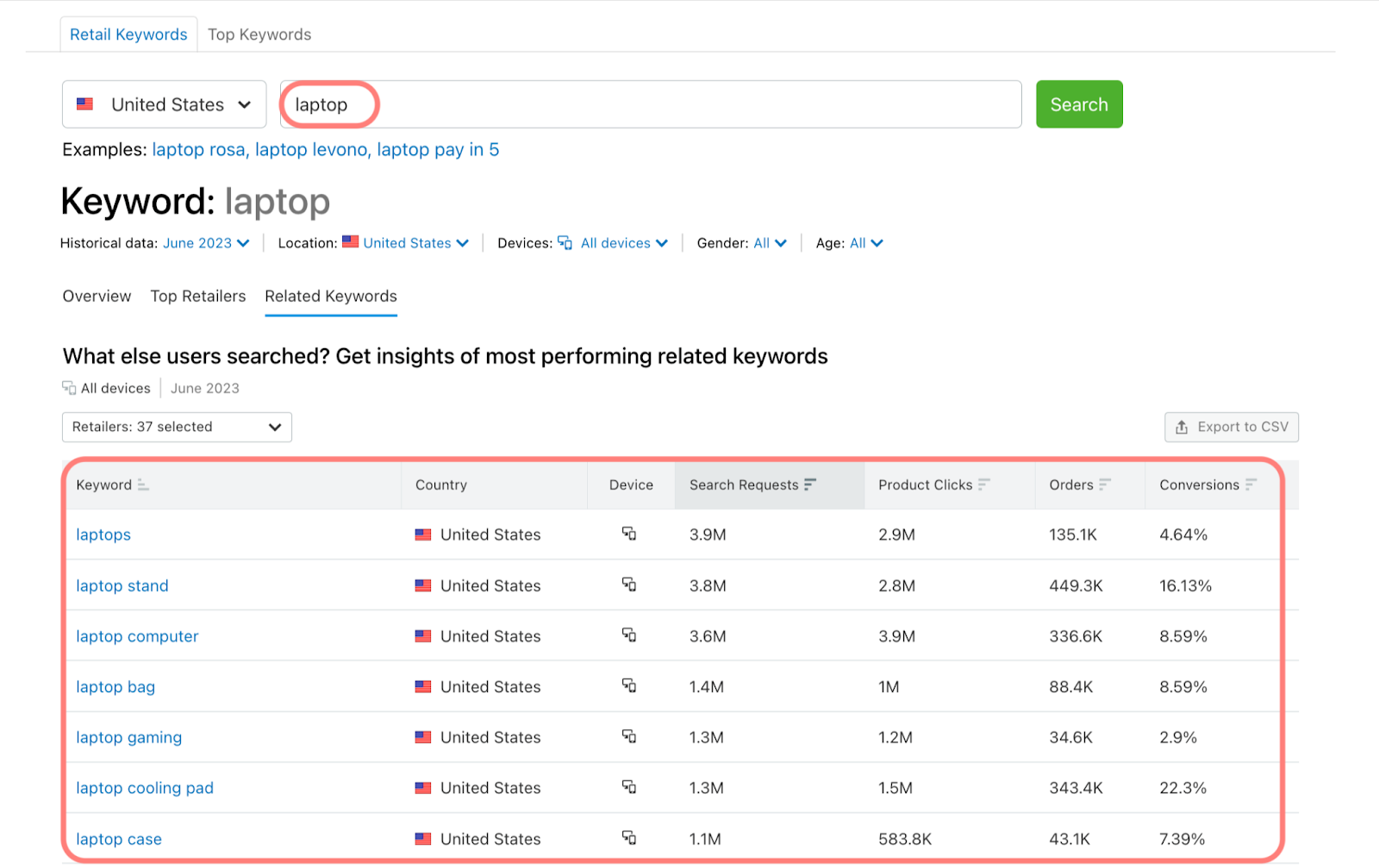 It's important to note that these keyword metrics are about searches happening on retail websites, not on Google or other search engines. This tells you more about the language of customers while they're on their buying journey.
Use a Keyword Tool
If you have the budget, a professional keyword research tool can help you find dozens of product-based keywords in minutes.
Let's say that your ecommerce site sells tennis rackets. All you need to do is type "tennis racket" into a keyword tool like Semrush's Keyword Magic Tool.
And the tool will generate literally thousands of potential keyword ideas.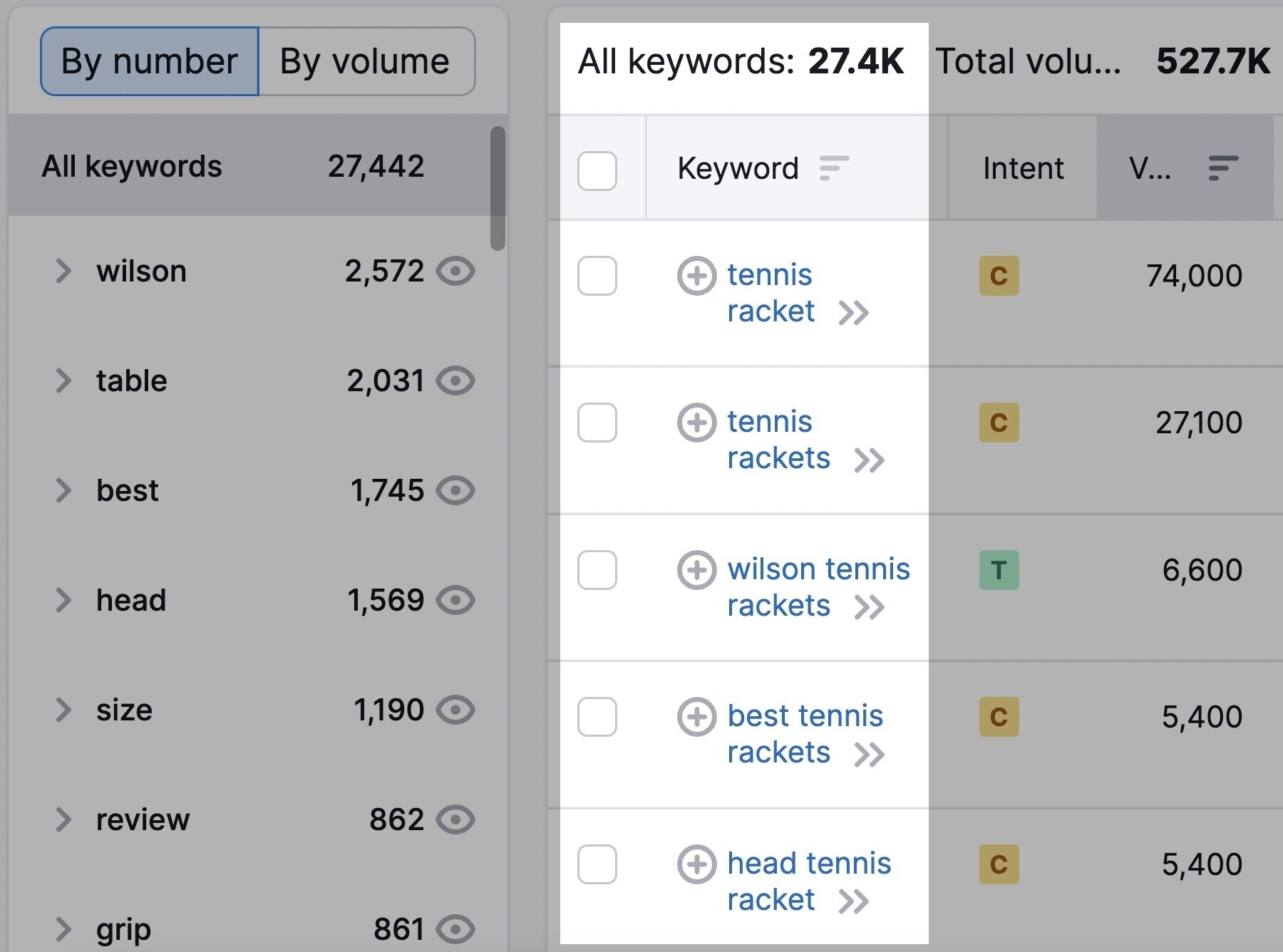 Obviously, most of these may not be a good fit for one reason or another.
(For example, your store doesn't sell that particular product. Or the keyword is too competitive).
But with a little bit of digging, you should have no problem identifying at least a few product keywords that are good fits.
You can also use the E-commerce Keywords Analytics tool to find top-performing keywords specific to your niche.
Find Informational Keywords
At this stage, you should have a few product-focused keywords that you'll optimize product and category pages around.
But product-focused keywords are only one "pillar" of ecommerce SEO keyword research.
The other pillar (that can be just as important) is "informational keywords."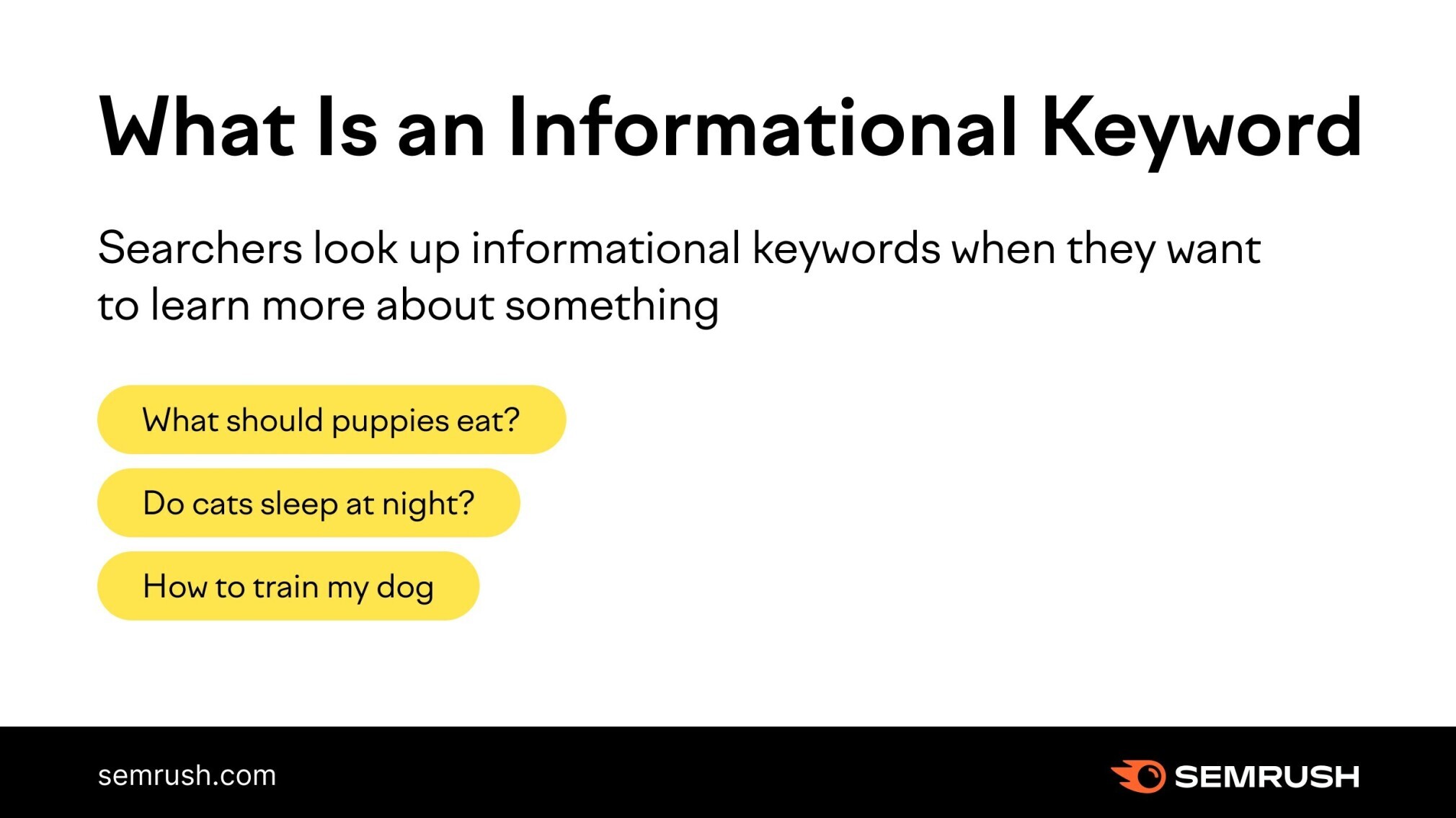 Informational keywords are pretty much what you'd expect: keywords that people use when they're searching for helpful content.
(I.e., not shopping for products or services).
So if your ecommerce site sells cat toys, informational keywords would be things like:
How to train your cat
How many times to feed your cat per day
Is my cat sleeping too much?
As you can see, these keywords aren't directly related to what your site sells (cat toys in this example). But the same person searching for these informational keywords is probably in the market for a new cat toy.
In other words:
These informational keywords may not convert super well. But they tend to bring in a large amount of traffic. And some of those visitors will convert.
Plus, informational keywords tend not to be super competitive. 
For example, according to Semrush, the product-focused keyword "cat litter" gets 49,500 searches per month. But it has a keyword competition level of 80%. Which means it's very difficult to rank for.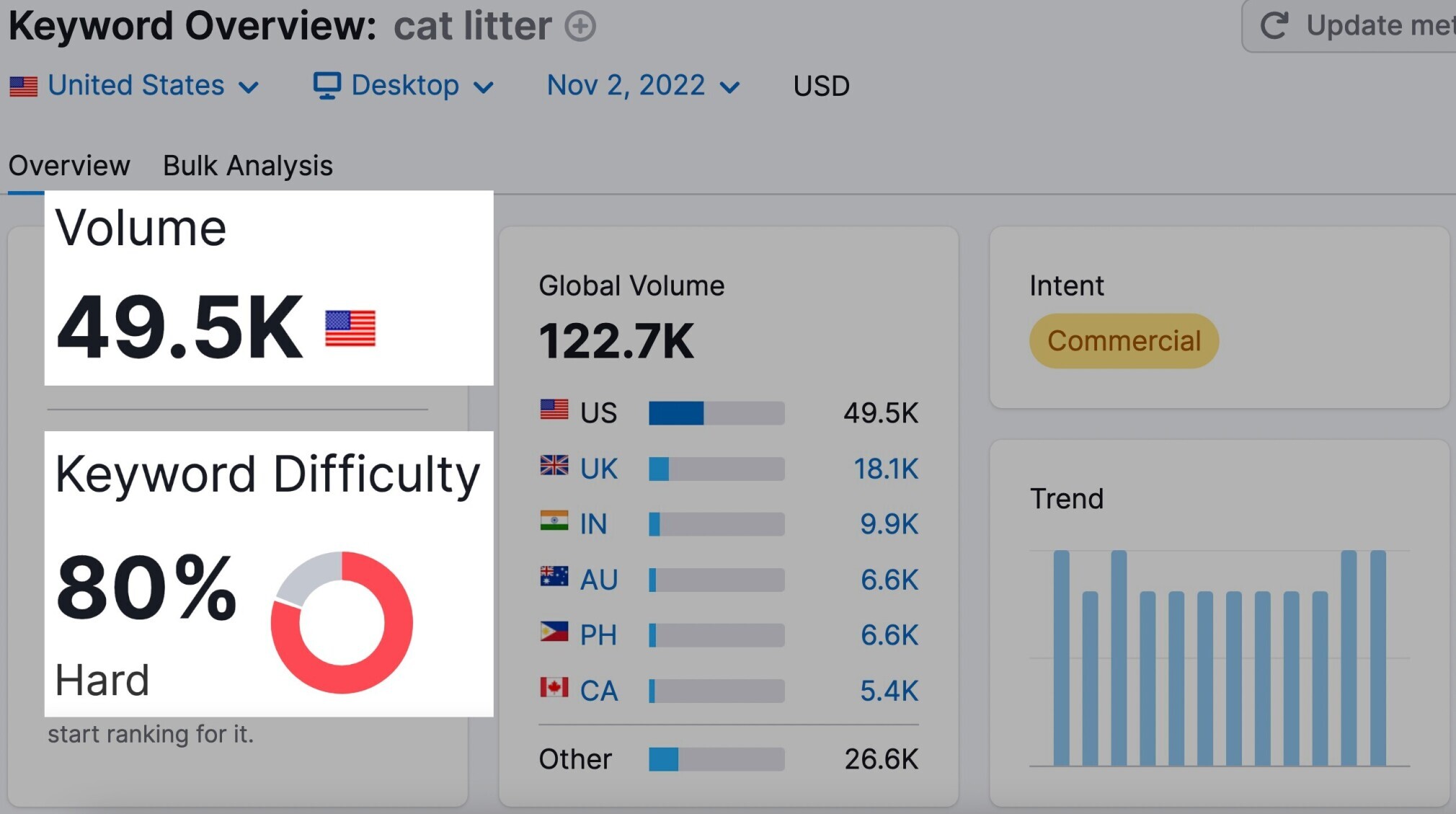 On the other hand, the informational keyword "why is my cat peeing outside the litter box" gets 1,300 searches per month. But is a lot less competitive at 38%—meaning it's easier to rank for. 
In short, your ecommerce SEO strategy should include optimizing product and category pages around product-focused keywords. And creating helpful blog content on informational keywords.
This one-two punch will help drive quality and a solid quantity of visitors to your site.
Now let's cover a few different ways of finding informational keywords:
Read Amazon Reviews
Amazon reviews are a goldmine for customer research. Including blog post ideas.
That's because many people will describe the problem they were trying to solve with the product that they bought.
Here's an example: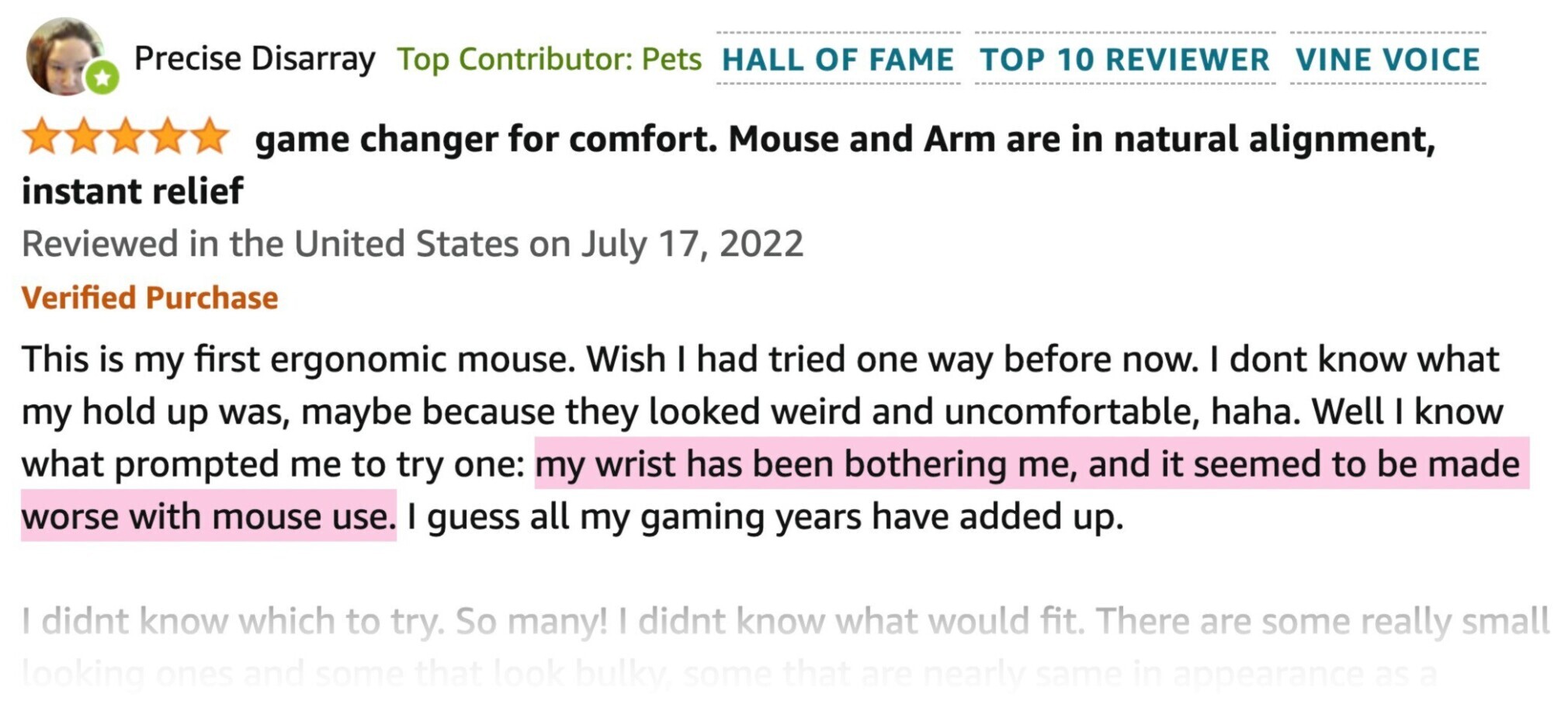 In this case, the customer's problem was basically wrist pain.
In the review, they mentioned, "My wrist has been bothering me, and it seemed to be made worse with mouse use."
Sure enough, 210 people search for "best mouse for wrist pain" each month.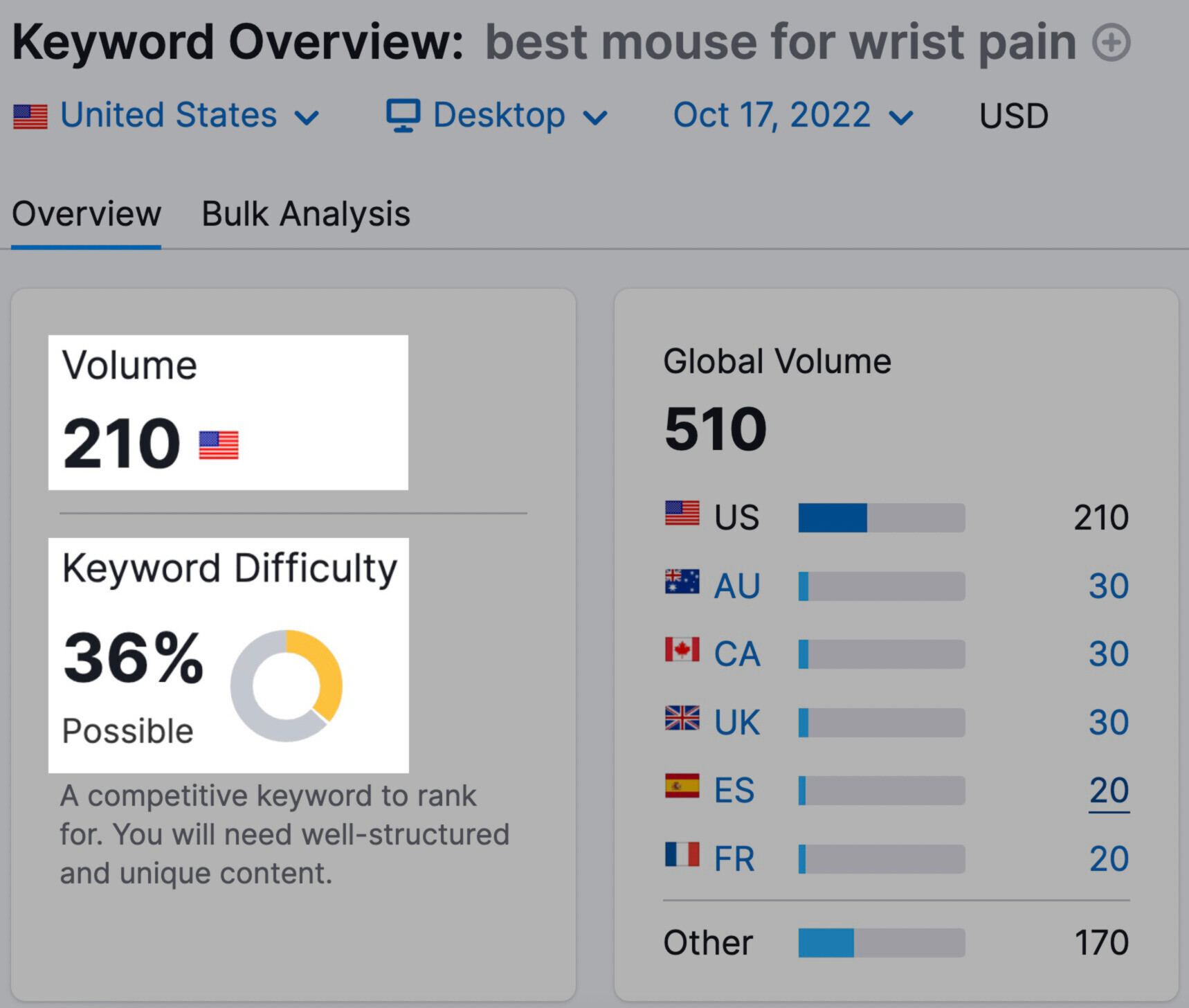 That's 210 opportunities for you to get in front of people looking for your solution each and every month.
Analyze Competitors
Sometimes the best keywords are those that your competitors already rank for.
All you need to do is copy and paste a competitor's homepage into Semrush's Organic Research tool.
If you own a pet store, for example, you'd want to check out Stella & Chewy's.
And the tool will show you the exact keywords that they rank for.
If you want to drill down to keywords ideal for blog posts, you can enter their blog homepage URL into the tool instead (usually website.com/blog).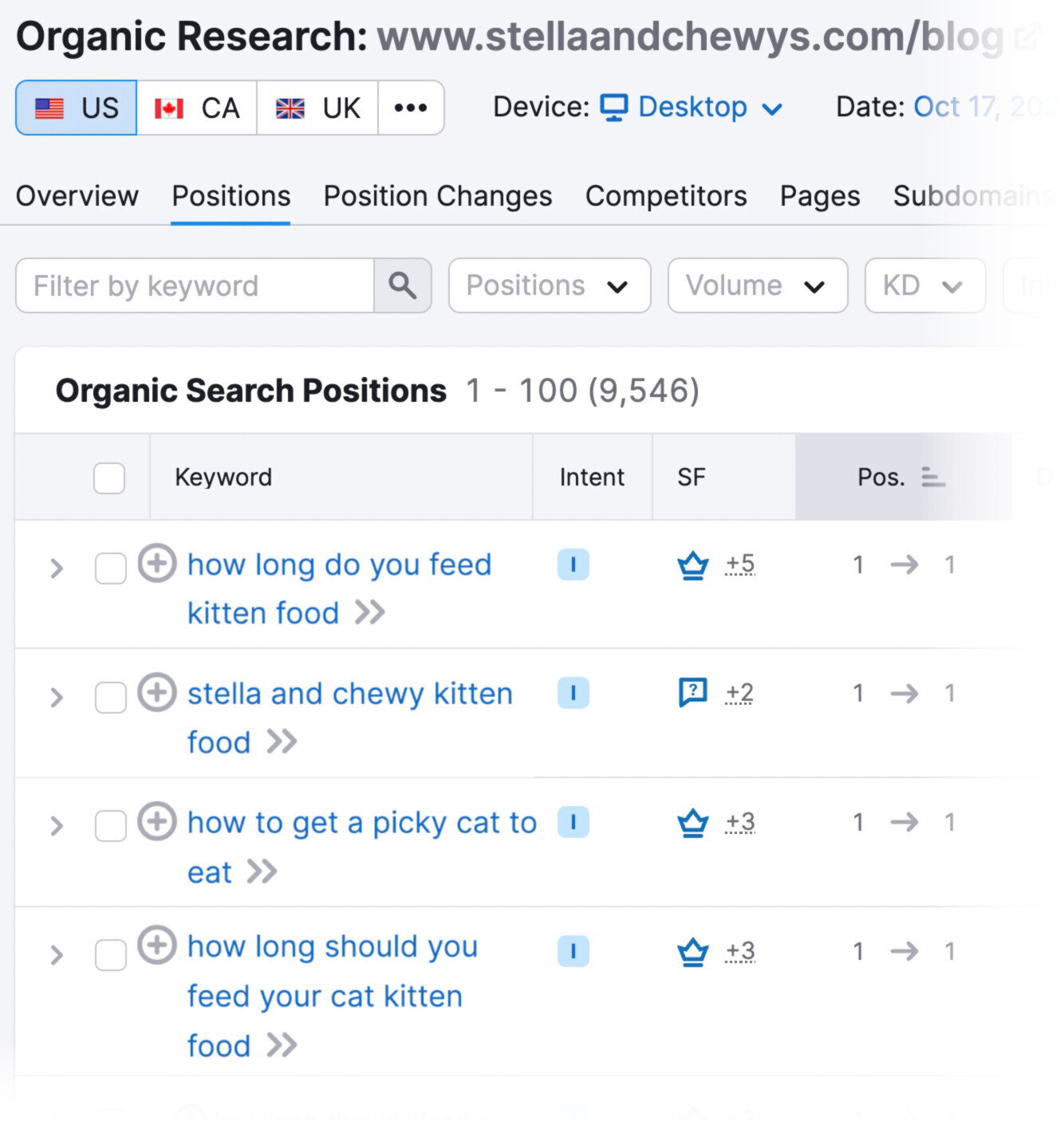 And this will show keywords that their blog posts currently rank for. 
Use Answer Socrates
Answer Socrates is a free tool that generates lots of question keywords.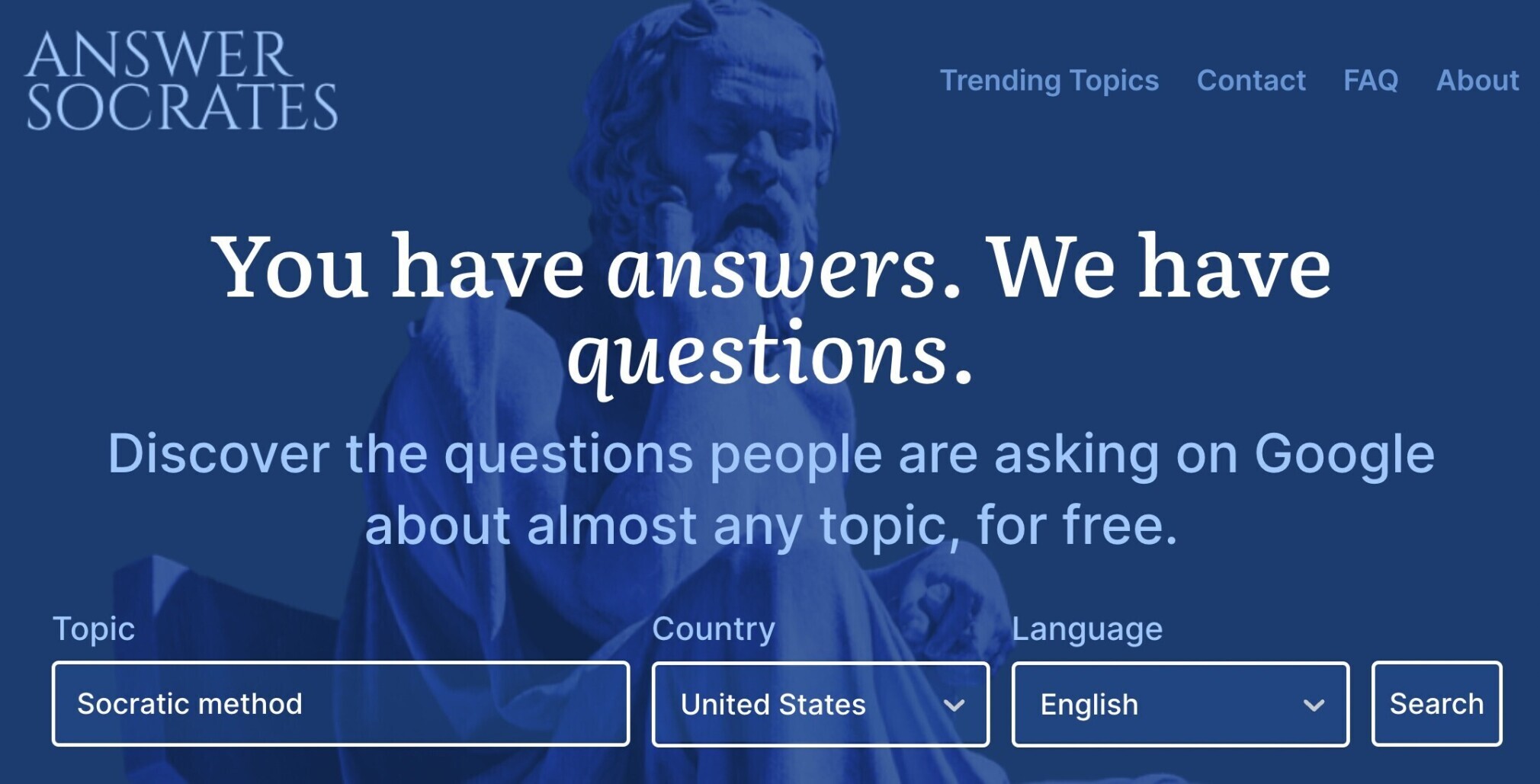 By definition, question keywords are almost always informational (after all, they're people looking for answers to questions).
Let's say you run an ecommerce site that sells gardening supplies.
Just pop in "gardening" into the tool, and it will generate questions and related terms that people tend to search for in Google.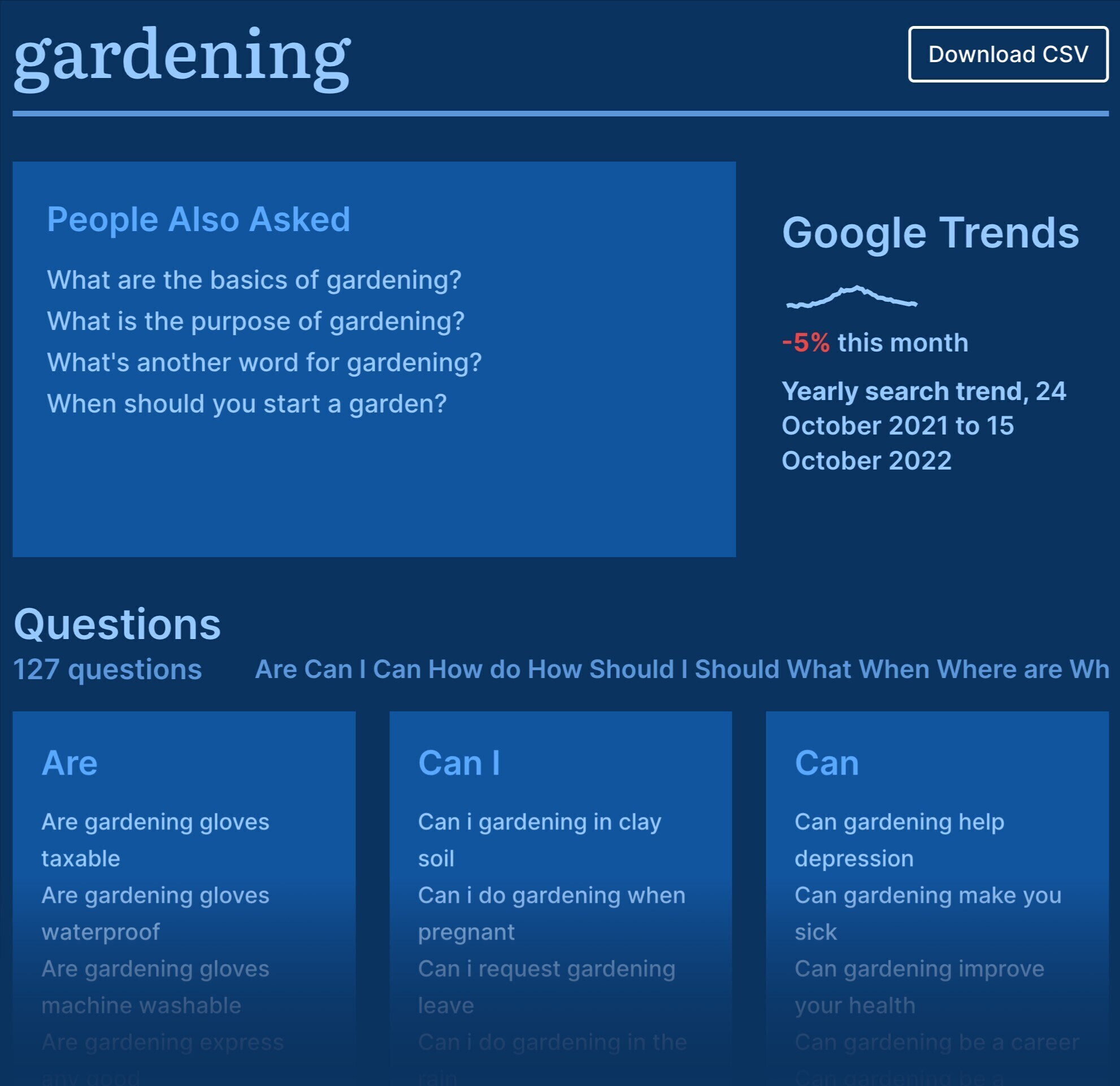 Determine Search Intent
Search intent is the underlying reason why someone opens up Google and types in a search term.
The main types of search intent are navigational, informational, commercial, and transactional.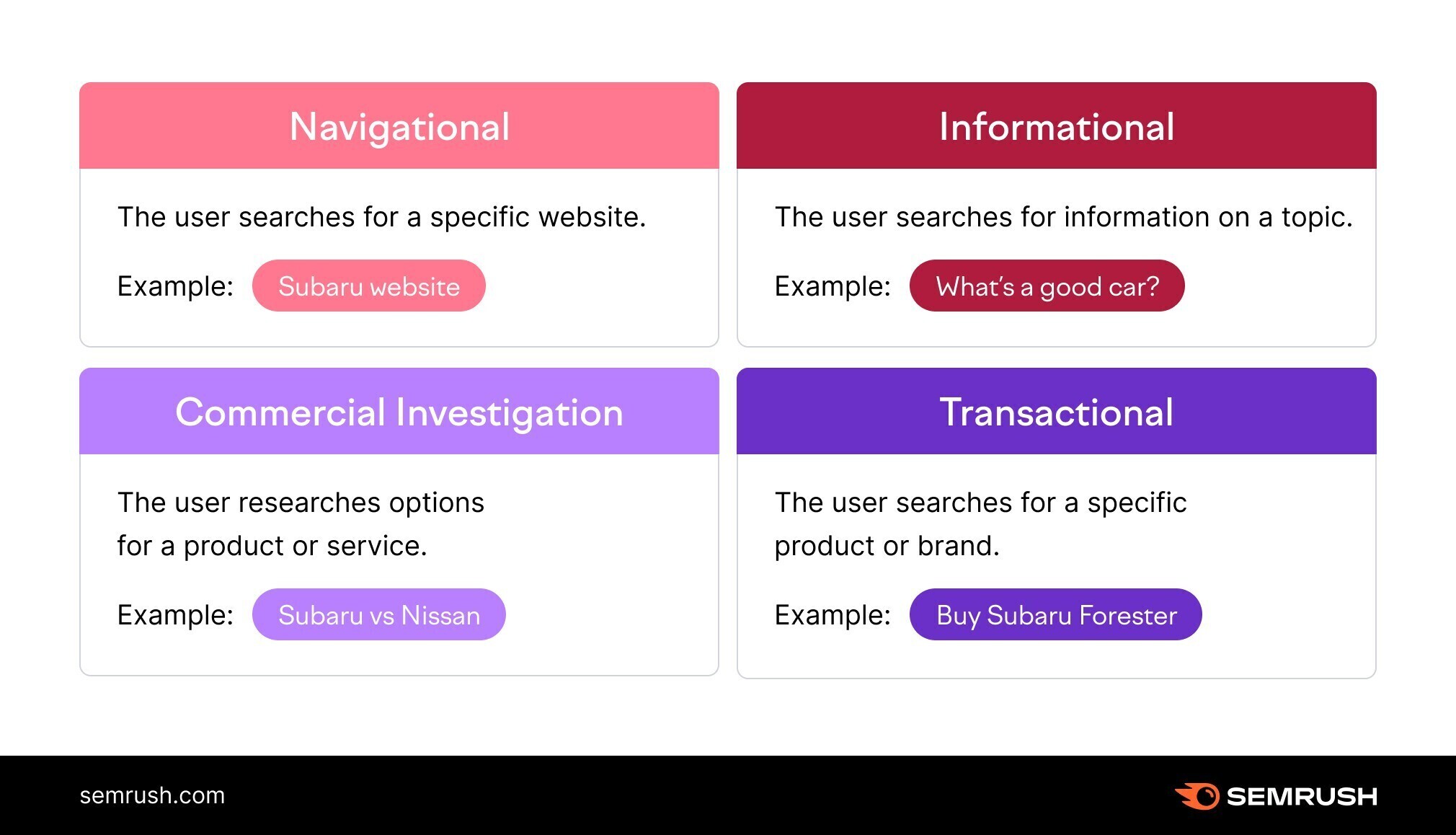 Search intent is an important concept for ecommerce SEO. That's because you want to ensure that you're matching each keyword's search intent with the right pages on your site.
For example, a keyword like "buy dog food" has a strong commercial search intent. So you'd want to optimize your product or category pages around that type of product-focused term.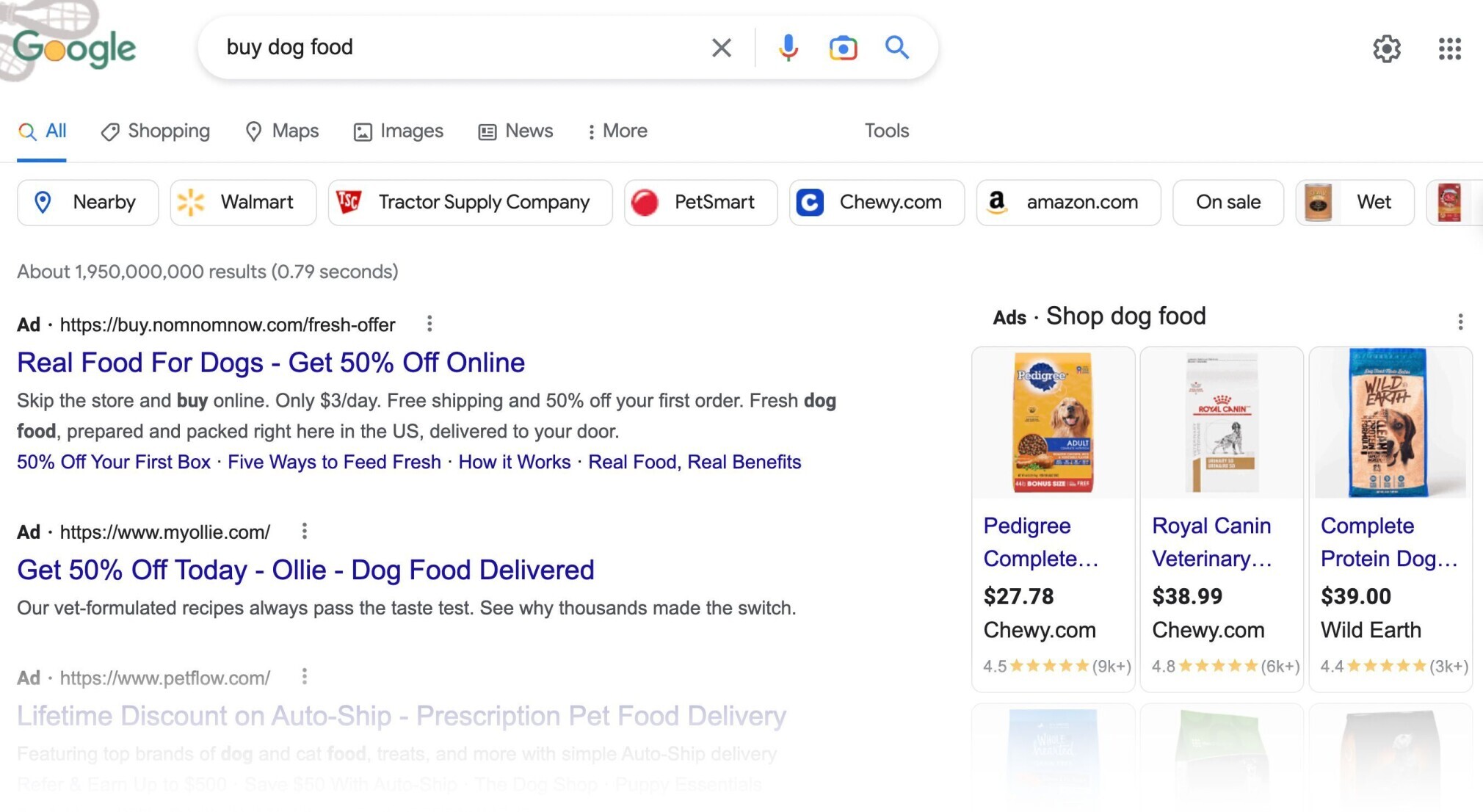 The SERP for "buy dog food" has lots of dog food ads from online pet shops.
On the other hand, "how much food to feed my dog" is more informational. This is a keyword that would be a good fit for an article.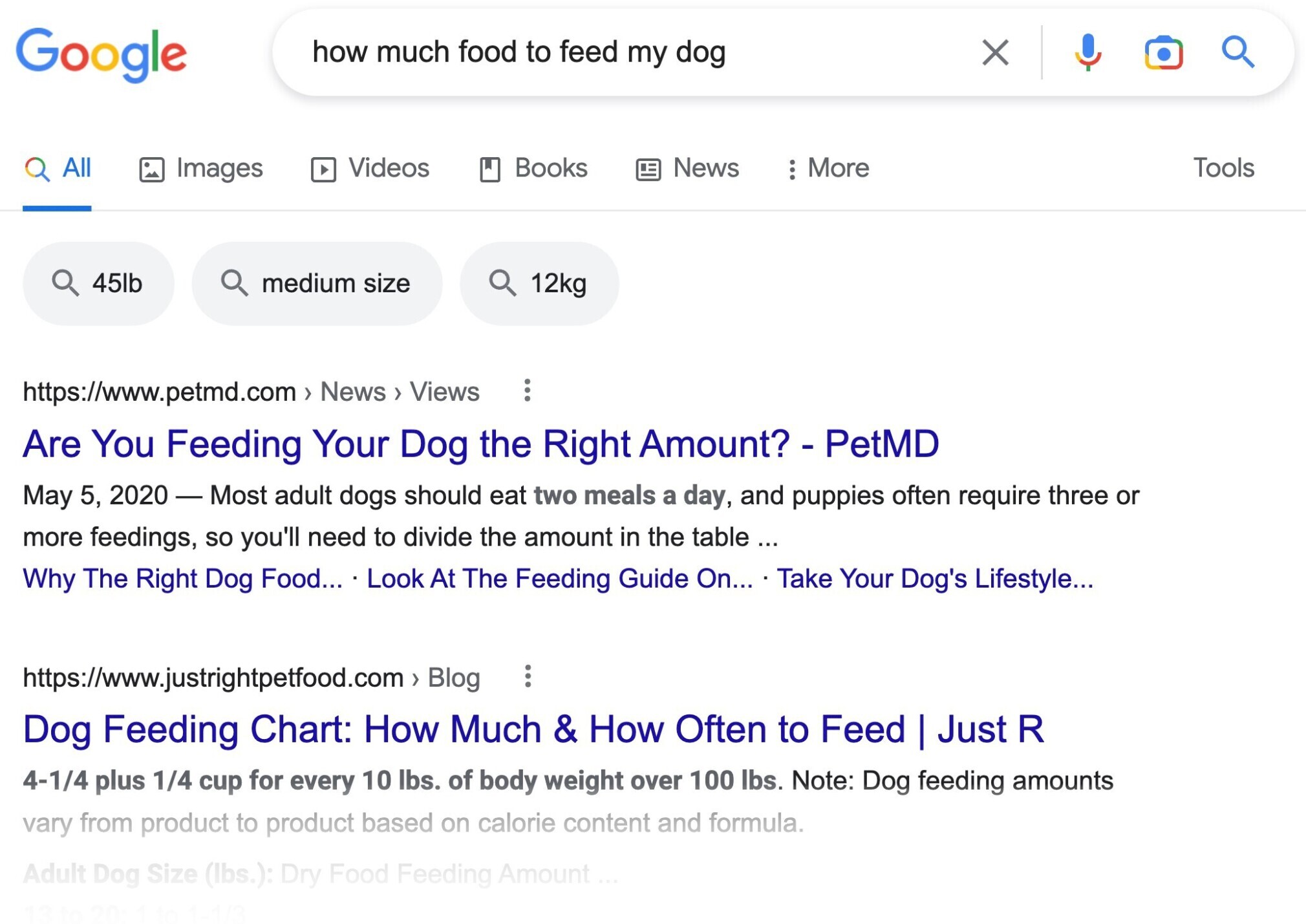 In many cases, the search intent for a given keyword is clear. But not always.
Plus, it's hard to identify search intent for a huge set of keywords at scale.
For example, let's search for "cat toys" in the Semrush Keyword Magic Tool.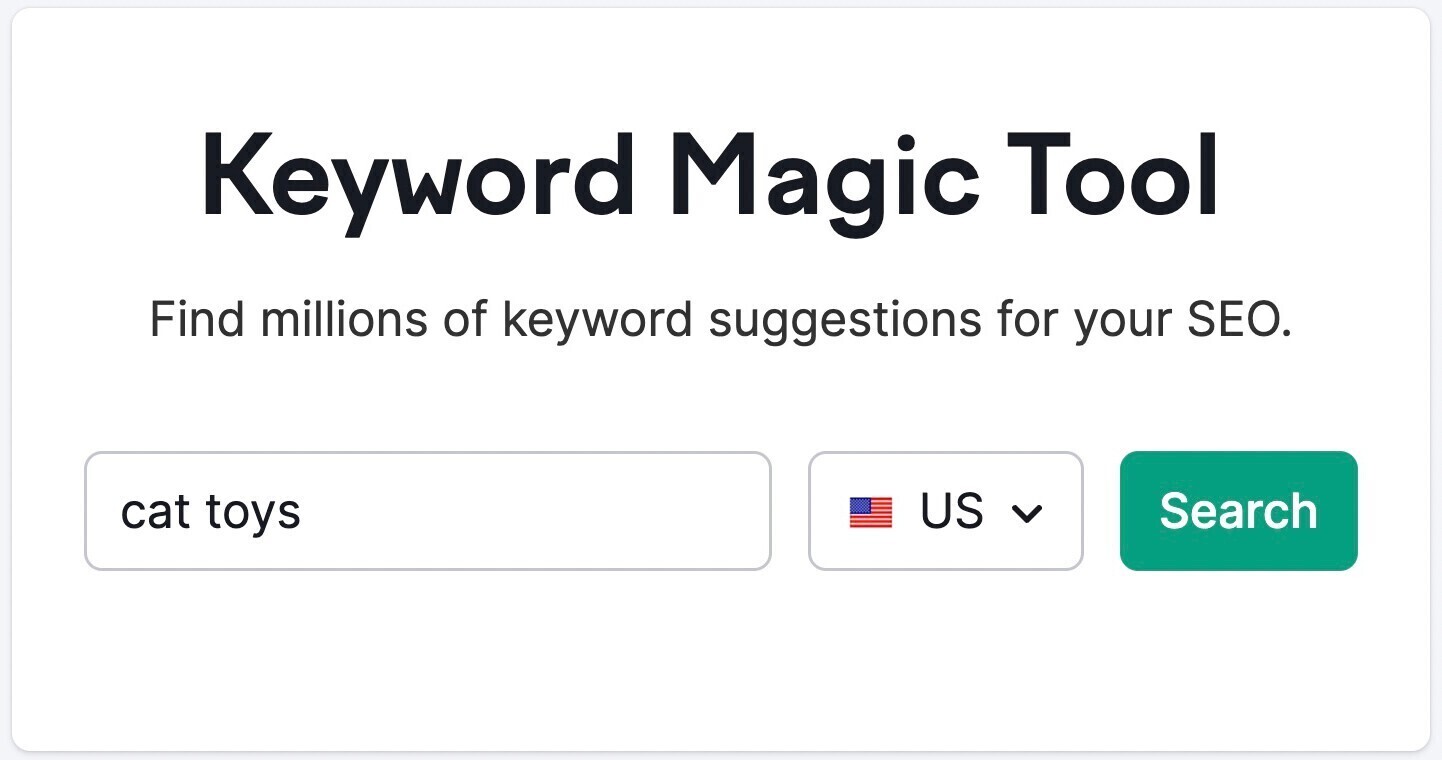 You now have 34,200 different keyword ideas to work with.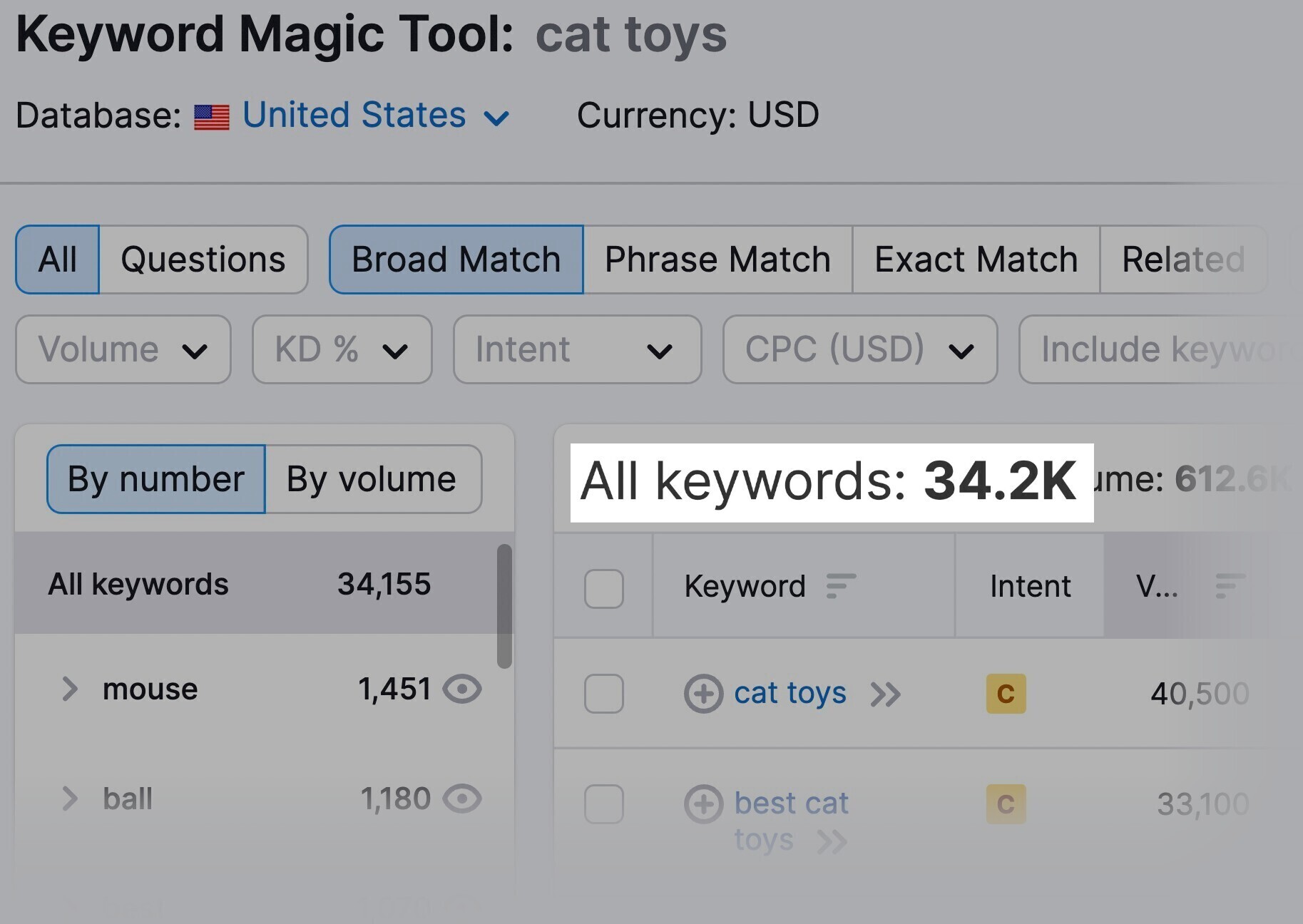 That's (obviously) great. But it doesn't really make sense to go one by one through each keyword's search intent. 
The Keyword Intent Filter makes the task of determining the search intent behind keywords much faster. 
Similar to the cat toy example, you can enter "shoes" into the Keyword Magic Tool, and it will give you a series of semantically related keywords.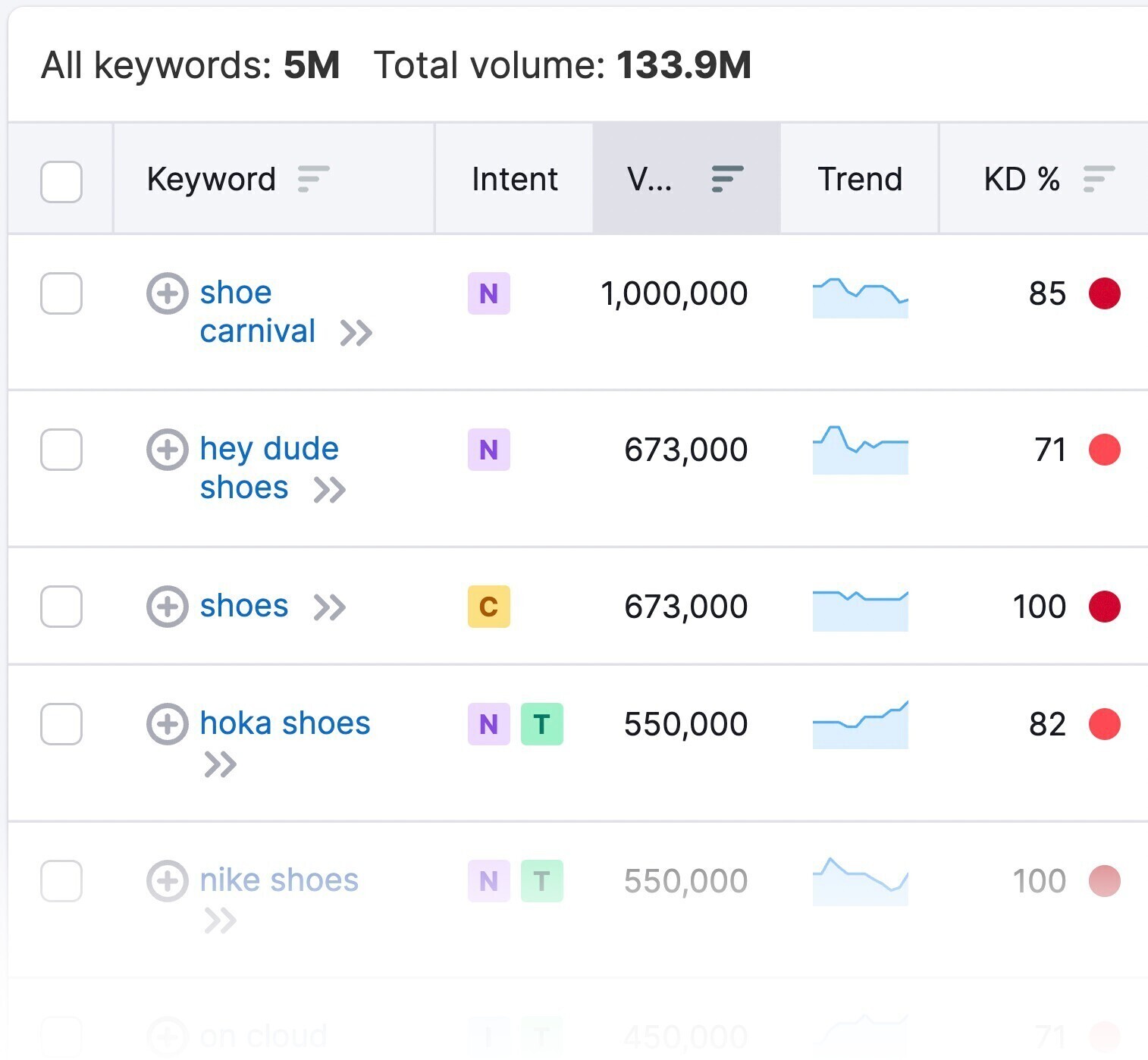 And you'll also get search intent for each term: Navigation (N), Informational (I), Commercial (C), and Transactional (T). 
You can filter keywords by intent, as well.
That way, you can drill down specifically into keywords that would be good fits for product pages (commercial and transactional). And keywords that are ideal for blog content (informational). 
Finalize Your Ecommerce Keyword List
In general, most ecommerce sites should focus on long-tail keywords.
This is especially true for newer websites. Or sites that don't have a lot of backlinks.
Long-tail keywords are basically low-volume, low-competition terms. This means they won't bring in a boatload of traffic.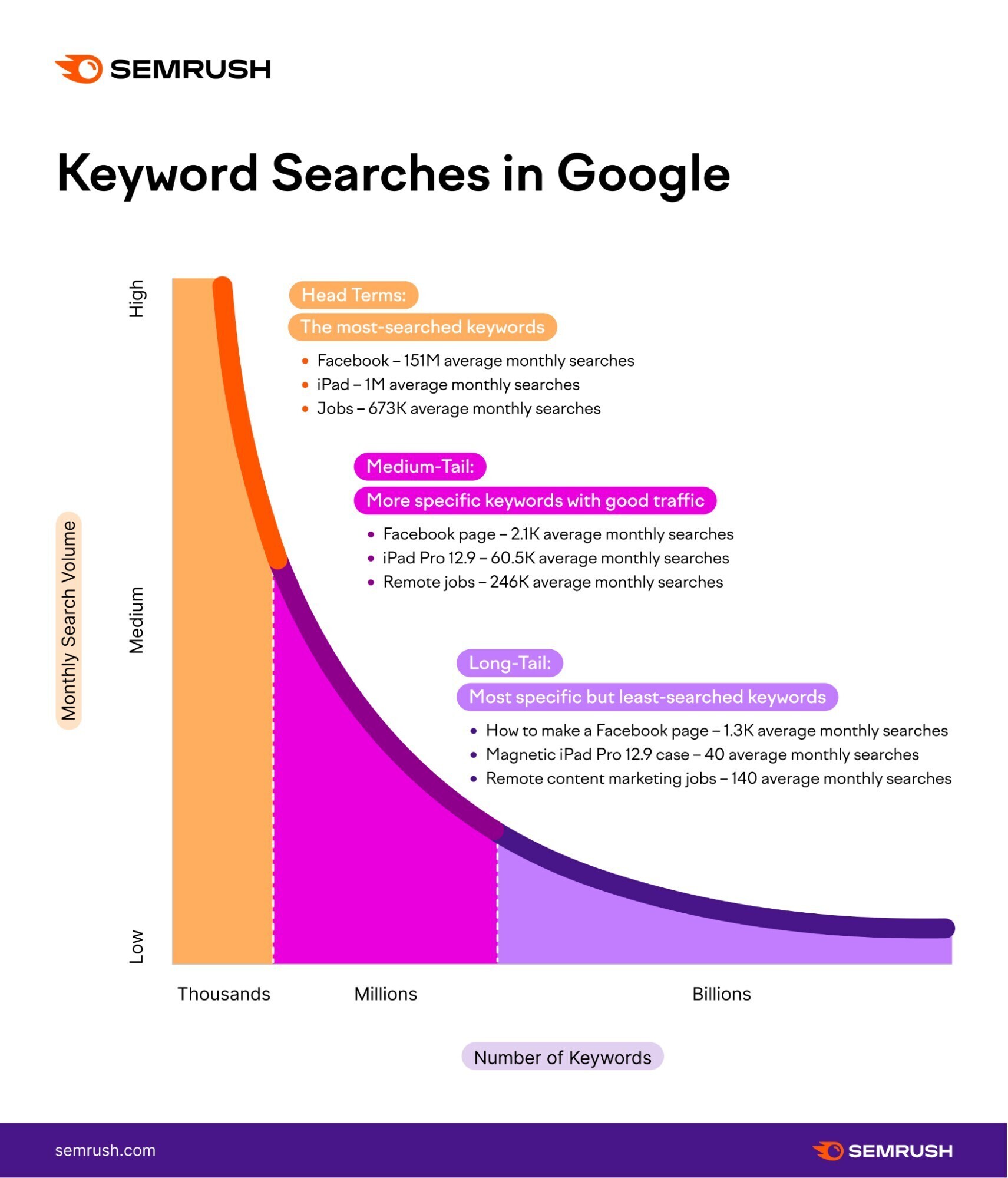 But long-tail keywords also won't have ecommerce giants like Amazon clogging up the search results. Which means your site has a good chance of ranking. 
In other words, you want to avoid highly competitive keywords that are almost impossible to rank for. 
Even if that keyword gets a ton of searches each month.
Take a product keyword like "fair trade chocolate."
1,600 people search for this keyword every month. On the flip side, this keyword has an SEO competition level of 57%.
So unless your site has quite a bit of link authority already, it's going to be next to impossible to rank for that term.
On the other hand, a long-tail version of that same keyword gets fewer searches. But is also fairly accessible in terms of the first page competition in Google.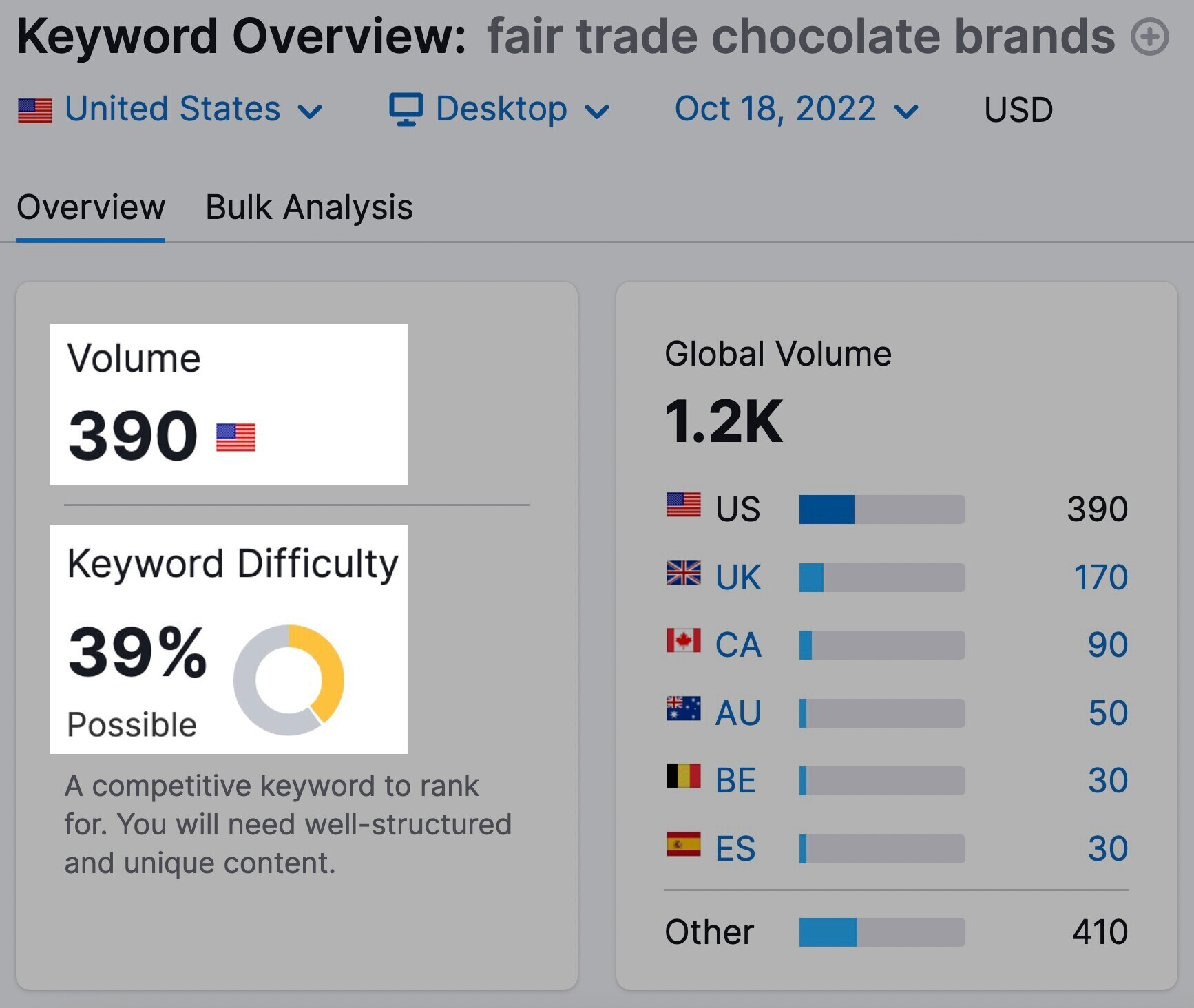 Those are the types of keywords you want to focus on. 
Site Architecture for Ecommerce Websites 
Site architecture is an important technical SEO consideration for any ecommerce site.
That's because an optimized architecture:
Helps Google crawl all of your product pages
Makes it easy for users to find products
Increases the likelihood of your pages getting indexed
But how do you optimize your ecommerce website architecture? 
You want to organize your site in a way that enables visitors to need only three or fewer clicks to reach any product from your homepage.
For example, let's look at the ecommerce giant Chewy.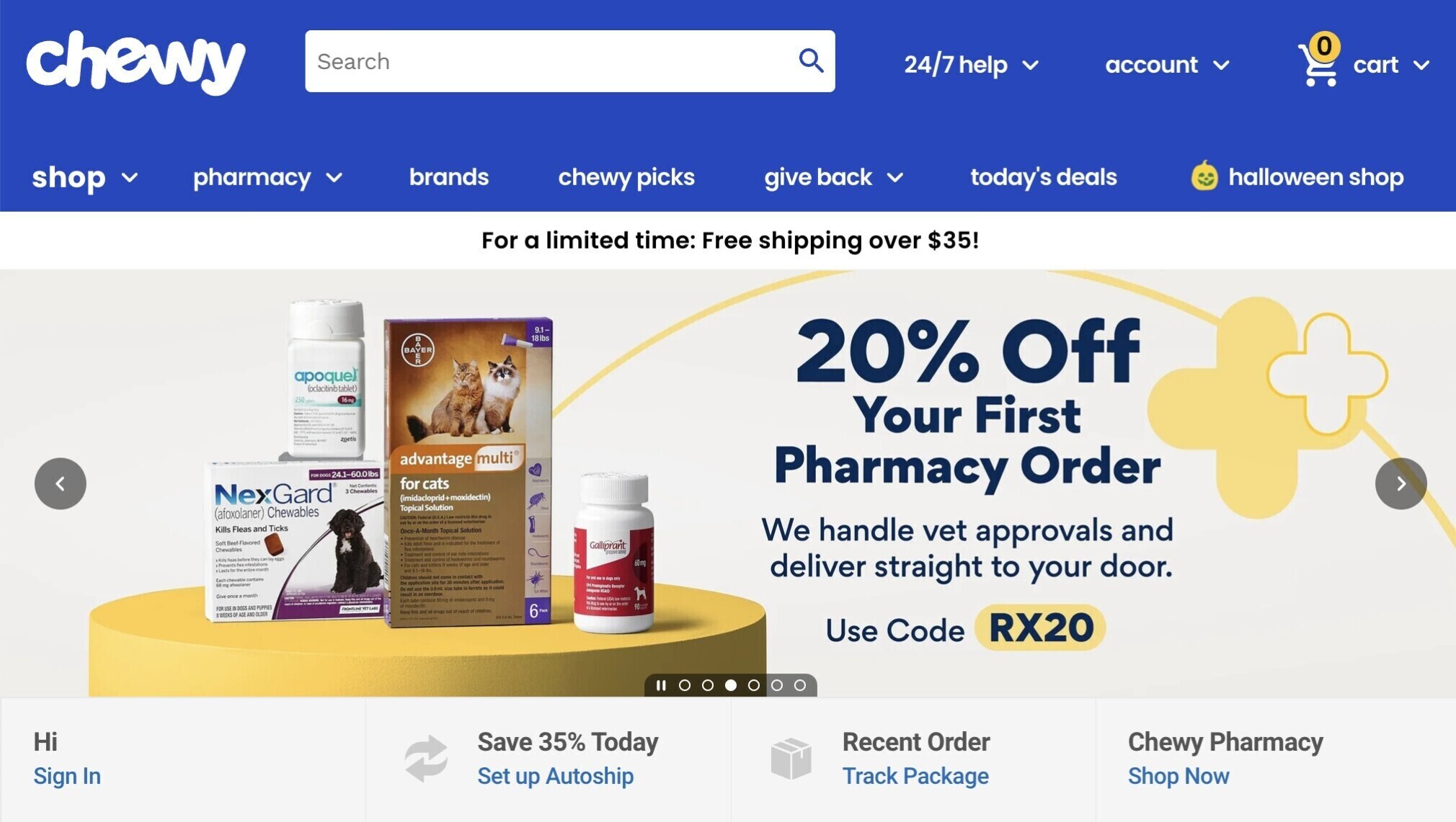 Thanks to a well-organized dropdown menu, you can get from their homepage to a product page in only three clicks.
So not only is this "three clicks rule" ideal for UX—it's great for SEO too. 
That's because making all pages three or fewer clicks from your homepage makes it easier for search engines to crawl your site (important for ranking) and preserve link authority.
Why? The further a page is from your homepage (which is typically the most authoritative page for ecommerce sites), the more your authority gets diluted.
Need an example? Below is the kind of site architecture you should avoid:
Here's what you should be doing instead: a flat architecture that links to the top category pages. Which is easy for visitors to browse and for search engines to crawl.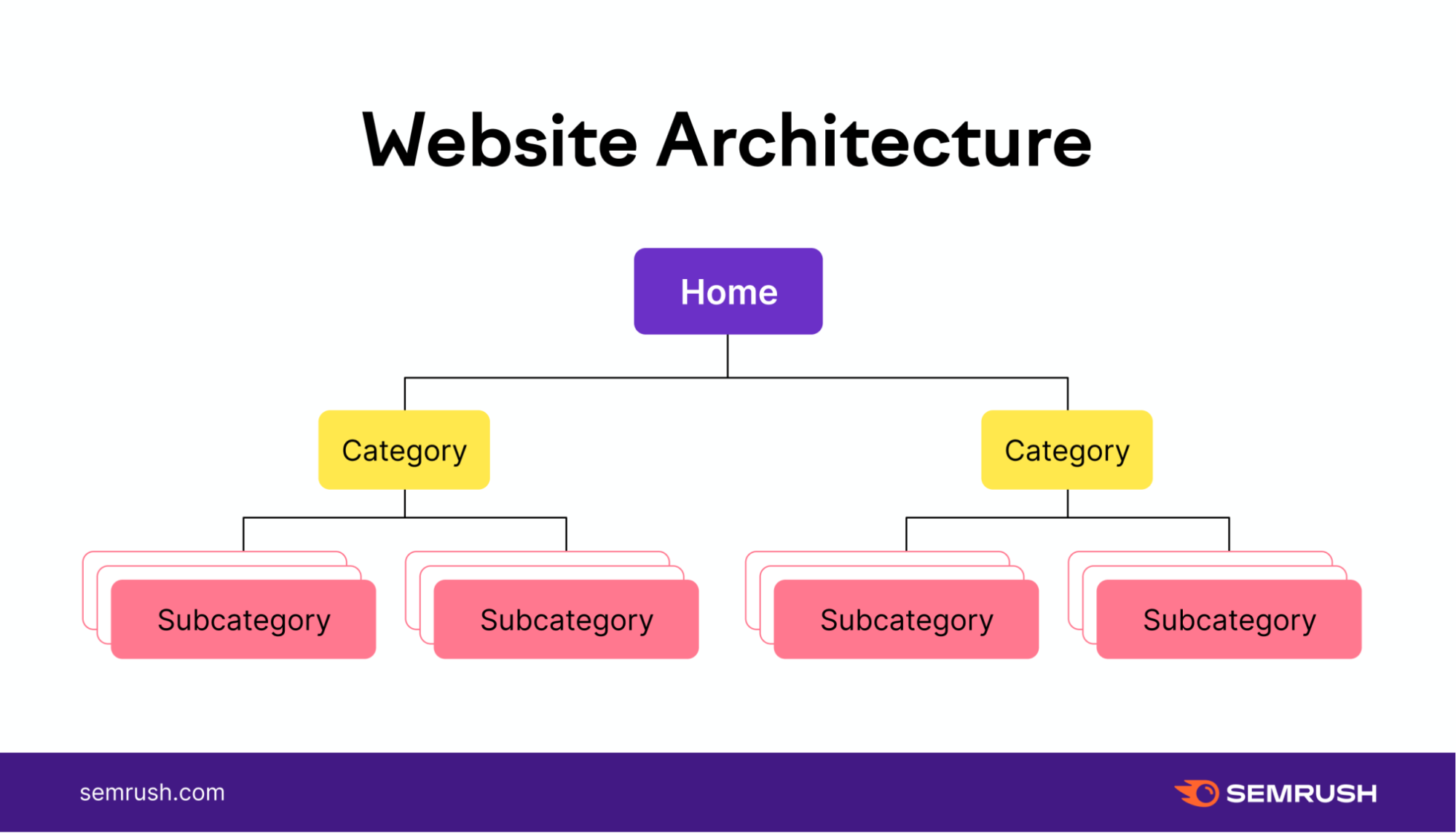 On-Page SEO for Ecommerce Websites
Optimize Your Title Tags
Title tags are probably the most important part of on-page optimization (not just for ecommerce sites. But for basically any type of website.)
In general, your title tag's job is to accurately describe what that page is about. In fact, Google uses your title tag (along with the rest of the content on your page) to classify the topic of your page.
Your page's title is the blue link that appears in the search results. 
Overall, your title tag should be:
Fewer than 60 characters in length
Descriptive of the page's content
Use target keyword
Enticing for Google searchers to click on 
And for ecommerce sites, here are a few extra things you can do to get more results from your title tags:
Mention a deal "25% off"
Include a compelling benefit "[Free Shipping]"
Describe what makes your product unique "Best, Fastest, Lightest etc."
Here's an example of a really well-written ecommerce title tag:

Optimize Your Meta Descriptions
Meta descriptions appear directly below the title tag in the SERPs.
Important note: Google doesn't consider your meta description for ranking purposes. 
However, like with your title tag, users consider your meta description when deciding which search result to click on.
But how do you actually write them?
We have a full guide on the Semrush blog, but here are some quick tips:
Cap your meta description length at approximately 120 characters (the cut-off for mobile search)
Make each description unique
Explain exactly why a shopper should click on your site. Featuring perks (free shipping, save X%, buy-one-get-one) are simply ways you can grab a visitor's attention. 
Optimize Your Images
Although perhaps not as important as other Google ranking signals, page speed is used by Google as part of their algorithm. 
Large images on product pages are a common reason for slow-loading pages for ecommerce sites.
Using next-gen image formats (like PNG and especially WebP) can keep your image file sizes relatively small without sacrificing quality too much.
But optimizing images doesn't stop there. 
You should use filenames that accurately describe your image. This makes it easier for search engines to understand what the image is.
So instead of adding an image to your product page "IMG125403.png", use the product name and a relevant keyword (if possible). Like sweater-red-polka-dot.png
Another element of image optimization is image alt text. This alt text, like with your filename, helps Google understand what your image is. 
Again, you only need to describe what's in the image. There's no need to stuff your keyword into an image's alt text. 
Use Ecommerce Booster to audit your images, generate alt texts, improve image quality, and remove image backgrounds in seconds using the built-in AI tools. You can also focus specifically on the "Increase Page Speed" collection to boost your store's loading speed, traffic, and conversion. 
Add Unique Content to Each Page 
Each page on your site should have essentially 100% unique content. 
If your site has thousands of products, writing unique content for each of them won't be easy. But there's unfortunately no way around it. 
For a page to have a chance of ranking in Google, it needs unique and valuable content.
If you're stuck, here's a template that you can use to create SEO-friendly product page content that also pushes people to convert. 
Add Schema.org Markup 
Schema is a markup language that can help your site stand out in the search results. 
This is an example of what FAQ Schema markup looks like in the SERPs.
Some of the most common schema types that ecommerce sites can take advantage of include:
Reviews and rating schema
Product schema
Breadcrumb markup
Business details, including contact information
Product availability schema
FAQs
To learn how to add markup to your site, read our guide to schema.
Focus on Internal Linking
Internal linking involves linking directly to other pages on your site.
When done correctly, internal linking can boost your SEO. That's because, unlike natural external links, you can choose your own anchor text when creating internal links.
Internal links also funnel authority directly to pages that you want to rank.
This is an especially powerful strategy for ecommerce sites as getting links directly to product and category pages can be tricky.
For example, this blog post on Stella & Chewy's has 63 internal links pointing to it:

As you can see, they link from that post to a high-priority product page—FreshMade Gently-Cooked Dog Food.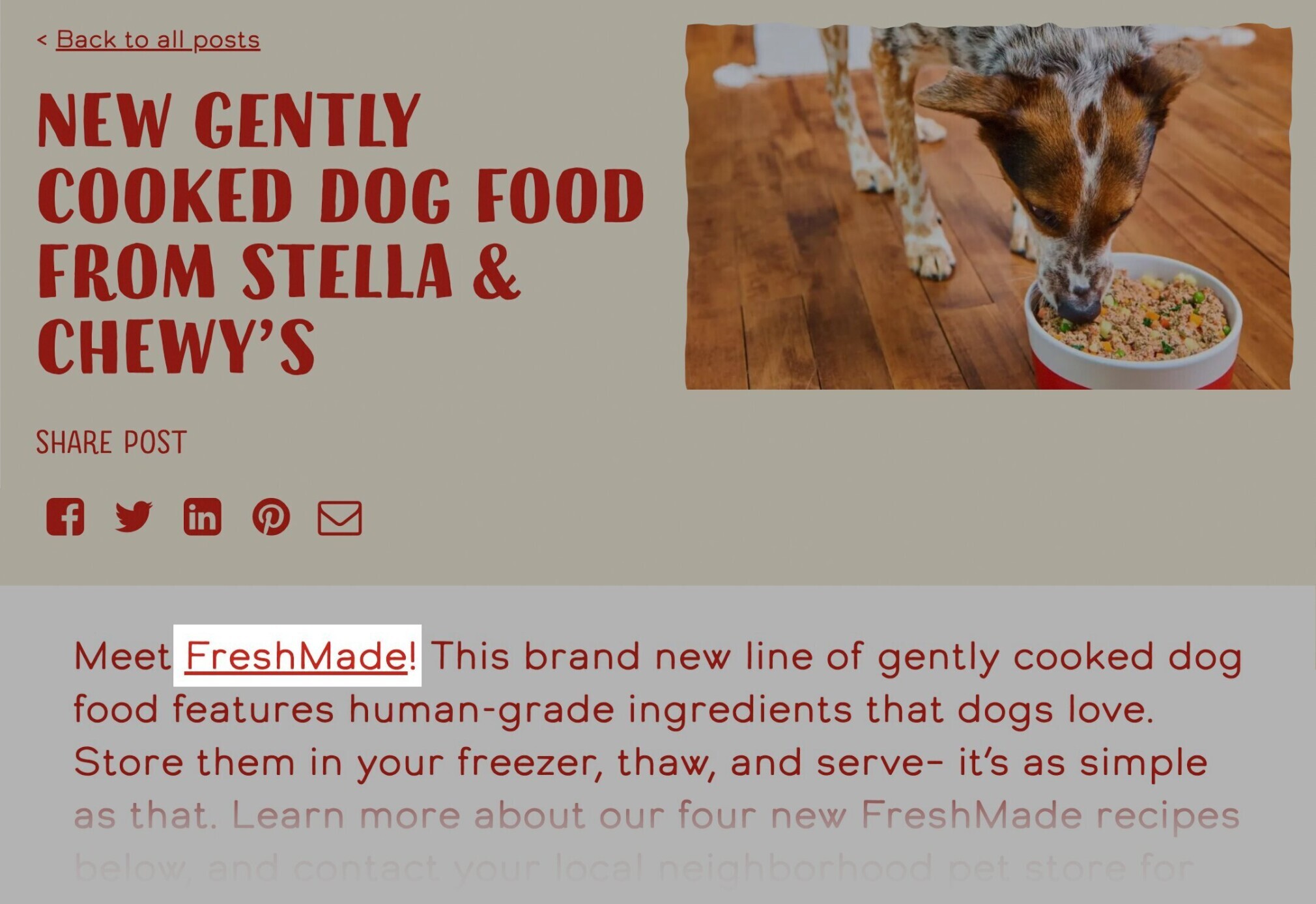 Which is one of the reasons that the page ranks on the first page of Google for that product name.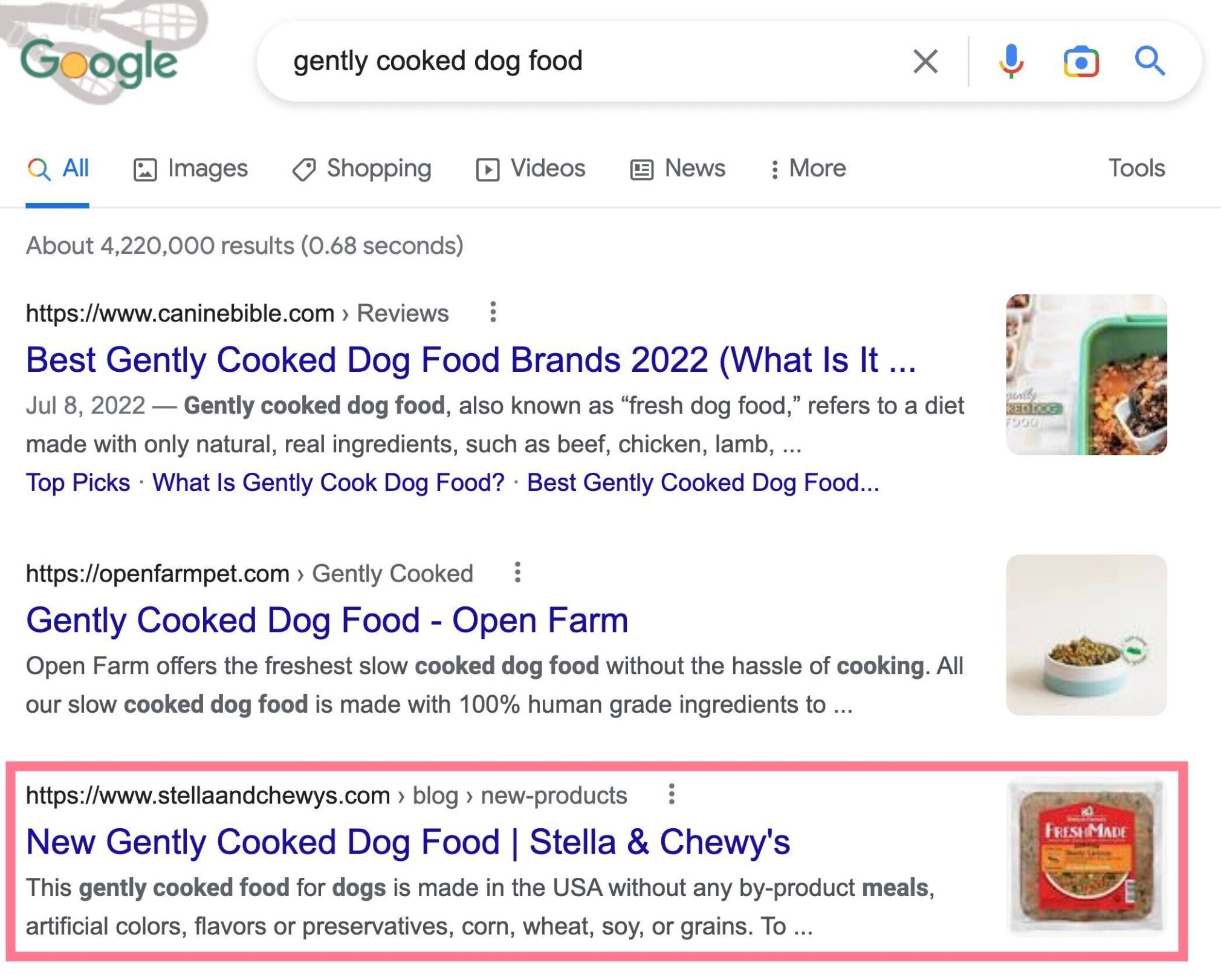 The Internal Linking report, found within the Semrush Site Audit tool, can be useful for identifying potential problems with your internal link structure.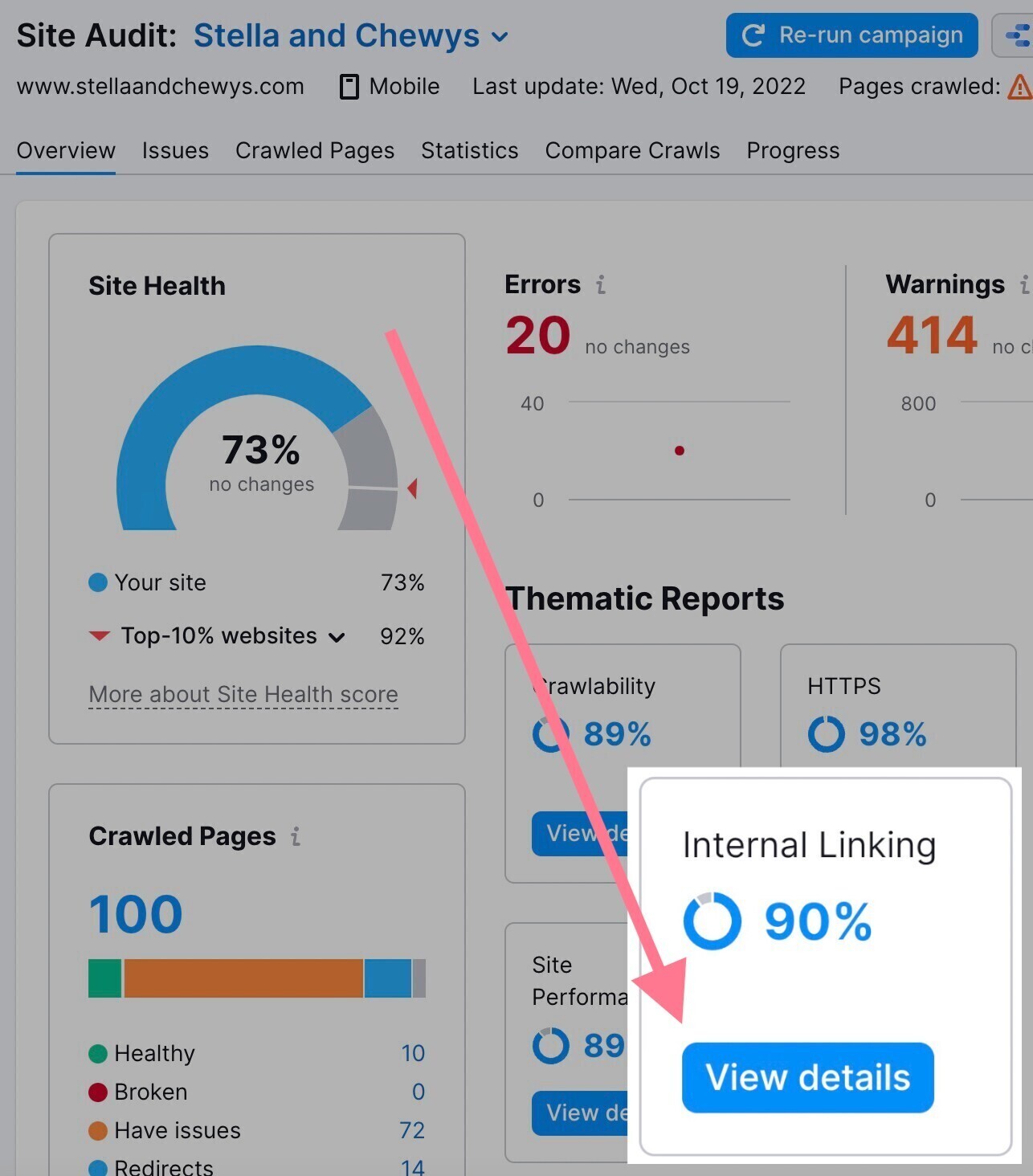 Technical SEO for Ecommerce Websites
Technical SEO is an important factor for any website. But especially so for ecommerce websites as they tend to have lots and lots of pages. 
For example, the ecommerce site Stella & Chewy's has 1,270 pages indexed in Google.

For context, a typical blog or service website may have around 100-1000 pages total. 
Here are two ways to get a feel for how your ecommerce site's technical SEO stacks up.
First, check out the "Index" report in Google Search Console.
This report shows you if Google has found any technical SEO problems that may be impacting your Google rankings.
You want to pay special attention to the "Why pages aren't indexed" report.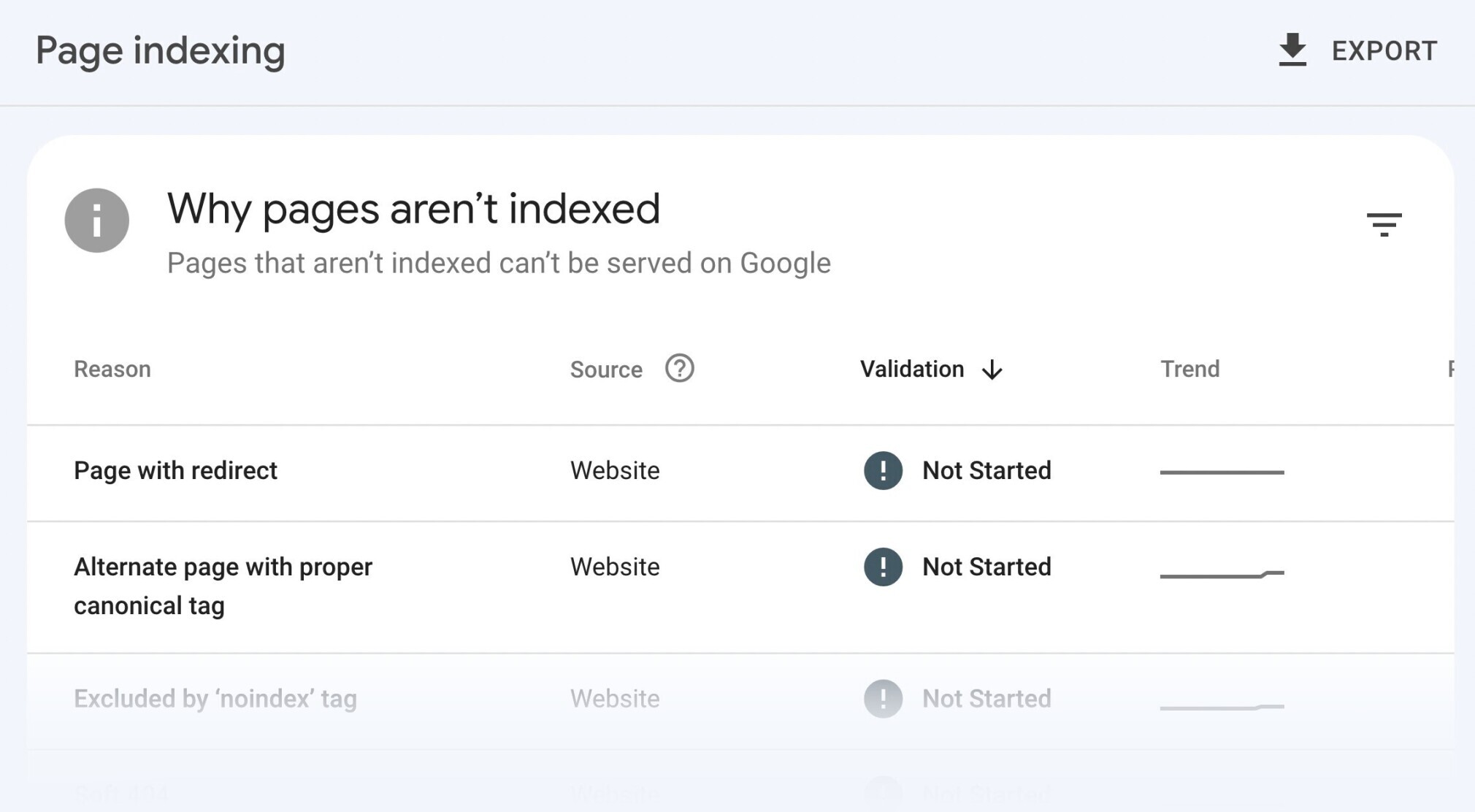 It's obviously important to get all of the pages you want indexed. Otherwise, they have zero chance of ranking. 
And this report tells you why Google may not be indexing certain pages on your site.
If you want to dig deeper, Semrush's Site Audit tool is a website crawler that can help ecommerce owners uncover technical issues their website is facing.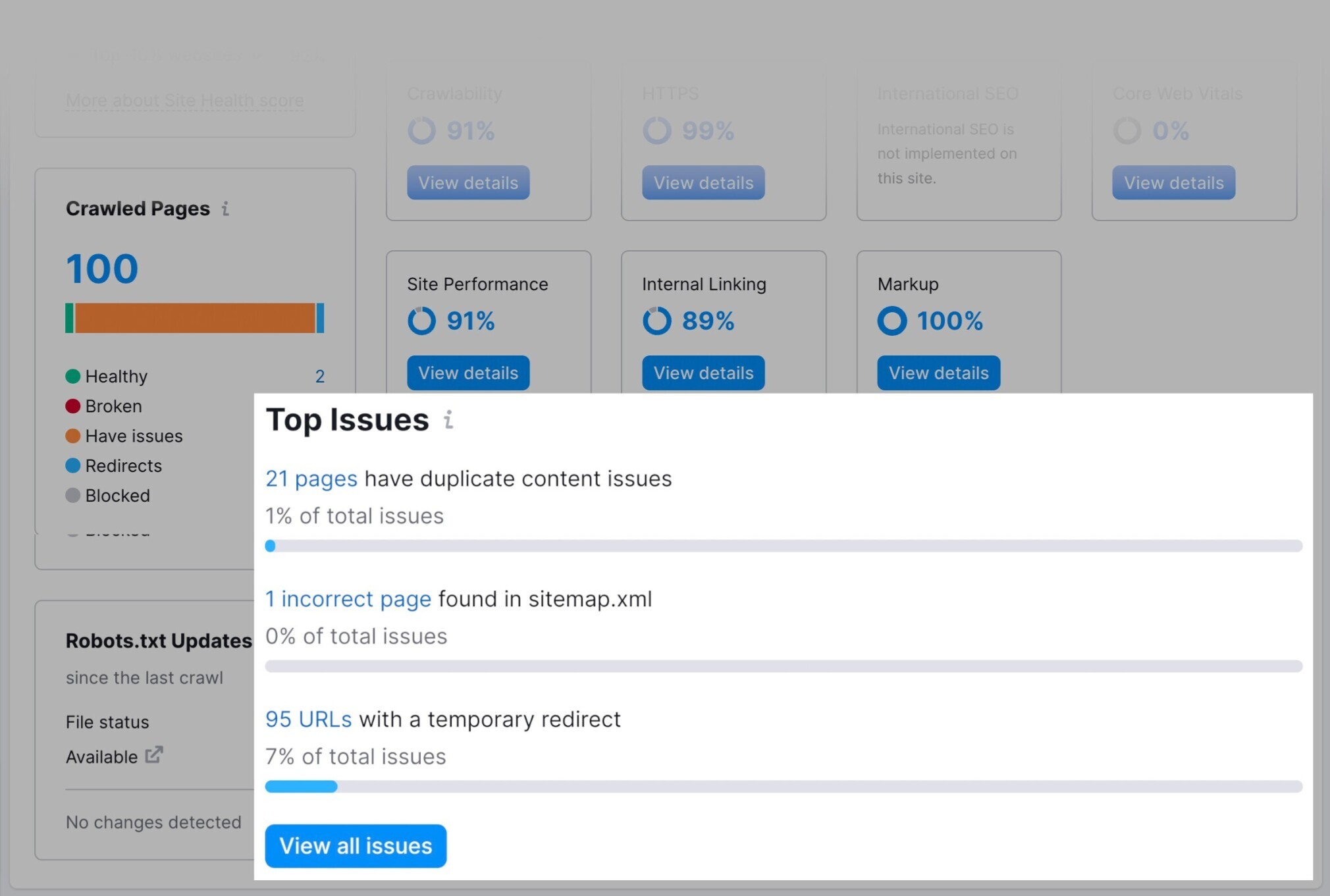 For ecommerce sites, Site Audit can help you find:
Duplicate content: Is a common issue for ecommerce sites 
Slow page load speed: Can impact dwell time and conversion rates 
Broken internal links: Can be bad for usability and can signal to search engines that a website is of low-quality
Broken images: Can hurt your site's UX
4xx codes: Can happen due to broken links and can cause crawling issues
Pages containing large JavaScript and CSS files: Can impact page load speed time
Core Web Vitals issues: Can negatively affect pages' overall user experience 
Content Marketing for Ecommerce Sites 
Create Content Your Audience Wants to Share and Link To
A successful ecommerce site is more than a collection of product and category pages.
In fact, creating high-quality blog content can help your ecommerce site's SEO by:
Bringing in targeted traffic
Generating backlinks
Building a well-known brand
Providing value to potential customers
Take online store Rover as an example. They consistently create engaging, visual content through blog posts and buyer guides:
These blog posts are optimized around keywords that their target audience searches for… when they're not searching for a specific product.
For example, this post is optimized around the informational keyword "new puppy checklist."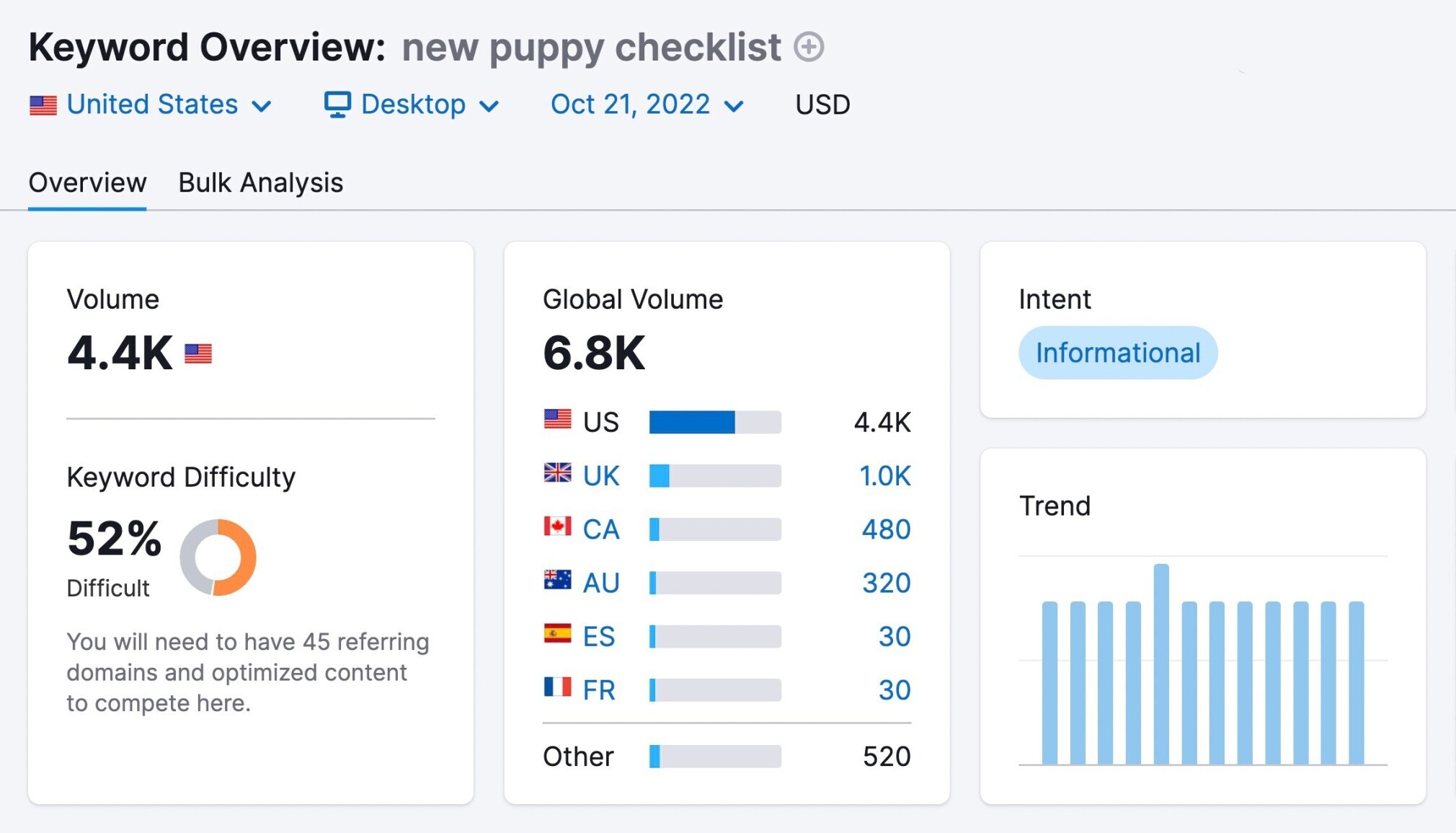 As you can see, the content provides value. But also promotes some of their products.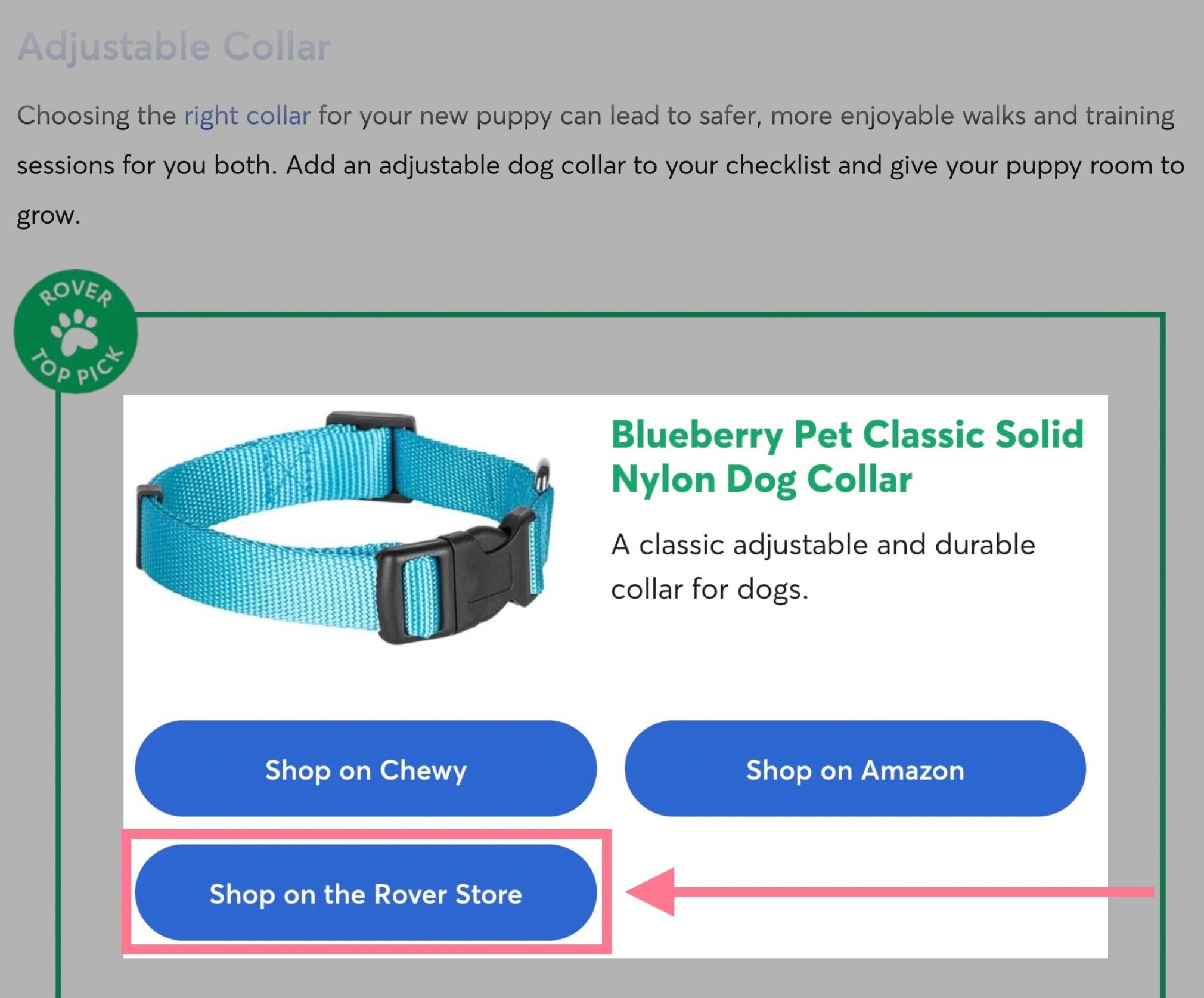 The person searching for this term is probably more in the browsing stage. But a certain percentage of folks that land on this page will make a purchase. 
Use Video Content
Including videos in your content marketing strategy is an absolute must. 
90% of consumers say that video content helps them with their purchasing decisions. In the graph below, it's clear that order values increase in accordance with the number of products viewed.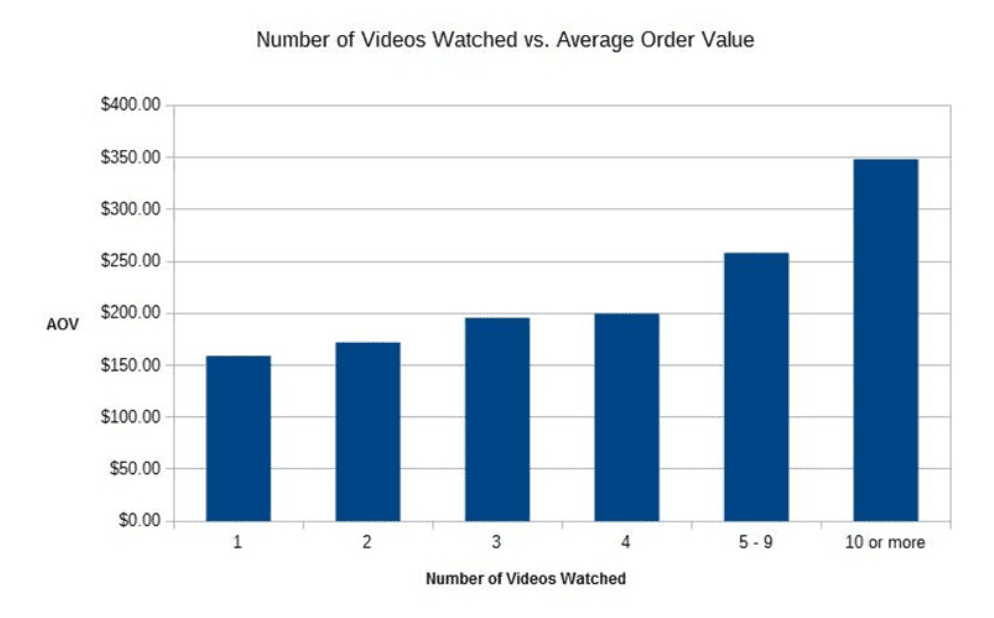 Source: Quicksprout
What's more, these videos can be repurposed across multiple channels (including TikTok and Instagram). 
Link Building for Ecommerce Sites
Links remain one of the top three ranking factors for Google, which is why link building needs to be part of any ecommerce SEO strategy. 
Participate in Guest Posting 
In a recent survey we carried out involving 850 SEO professionals on the most effective link building strategies, guest posting still remained the most popular tactic (recommended by over 53% of those that answered).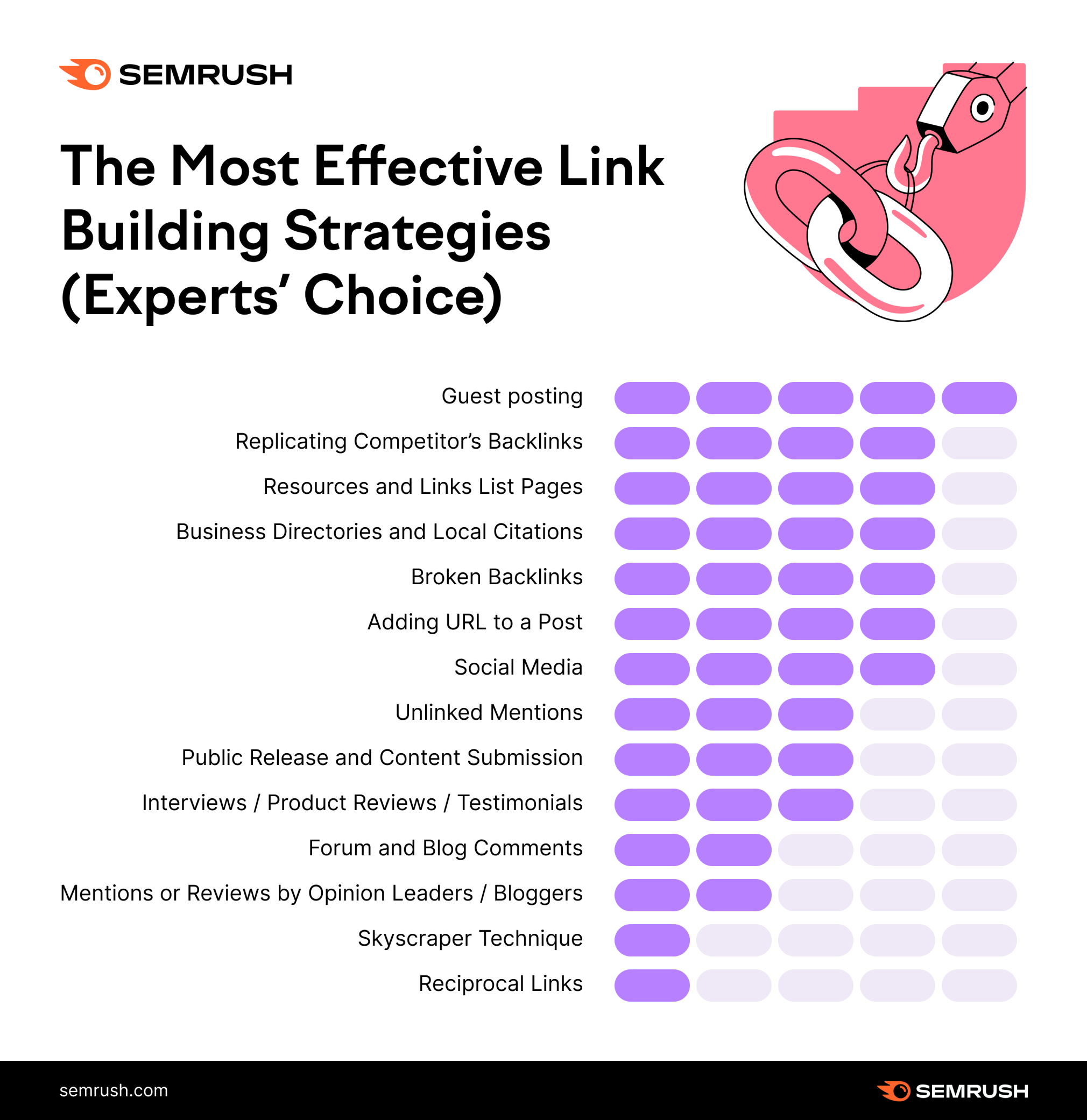 That said, guest posting really shouldn't be a cornerstone of your link building strategy. 
In fact, Google warns against "large-scale article campaigns." (Or campaigns where the main purpose of content is to build tons of links that point to the author's site).
When guest posting, make sure that the content you create is actually useful to your audience. And not just to farm links.
So as long as guest posting is more of a strategy for getting your link building off the ground, and you follow these guidelines, you're good to go. 
Organize a Creative Campaign to Promote a Product
Product PR can have a huge impact on SEO if done correctly. Take a look at the Missguided PR campaign created by Rise at Seven PR. 
Spotting the opportunity to create an engaging story on dog jumpers that the ecommerce site sold (which at the time wasn't ranking well), the PR firm found an identical women's jumper. 
It was an immediate success. After launching online on social media, it landed over 30k engagement in just under an hour before becoming a full-blown campaign and gaining over 60 links from US, UK, and EU publications.
As a result, Missguided went from position 30 for their target keyword to the number 1 ranking position in the SERPs in just a few months.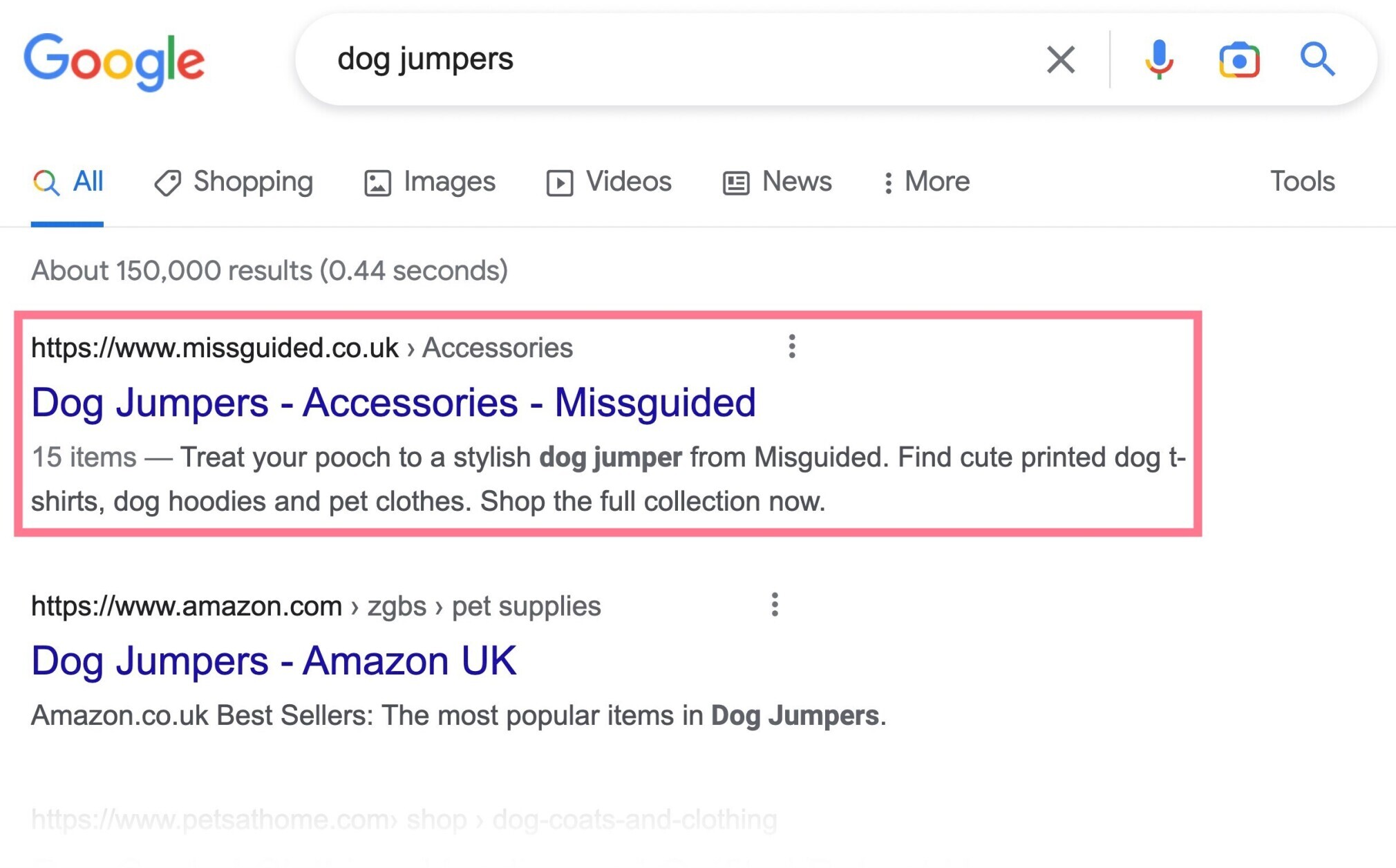 Find Sites Linking to Your Competitors But Not You
Semrush's Backlink Gap tool can help you compare your backlink profile with up to four of your competitors' websites.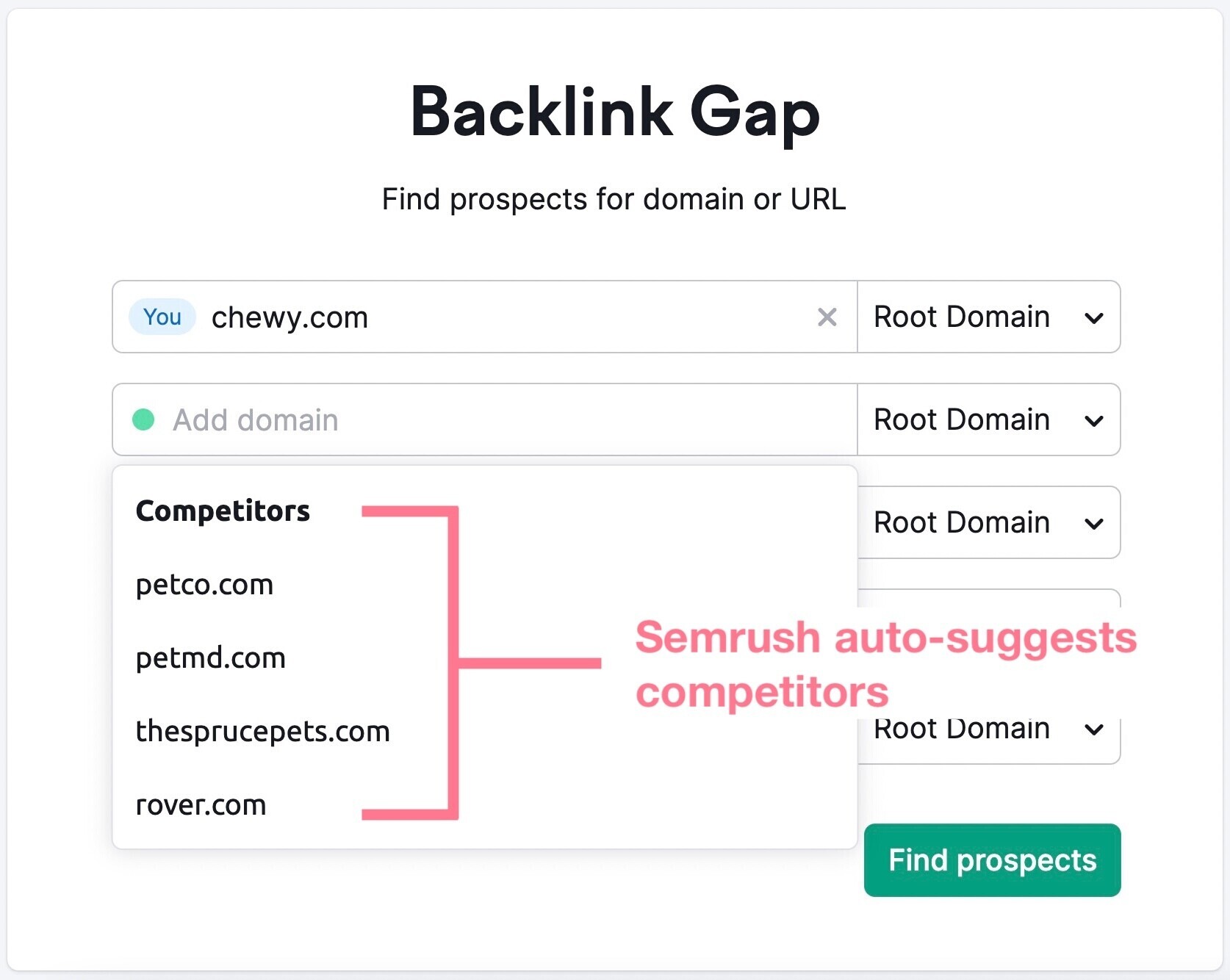 The tool auto-suggests a list of your competitors to get you started.
It then analyzes your competitors' backlink profiles. And generates a list of sites that link to your competitors—but not to you.
Let's pretend you're Chewy, an online pet shop. The first line in the chart above shows you that Time links out to your competitors.
Clicking on the arrow beside the numbers will show you the specific articles that link to your competitors.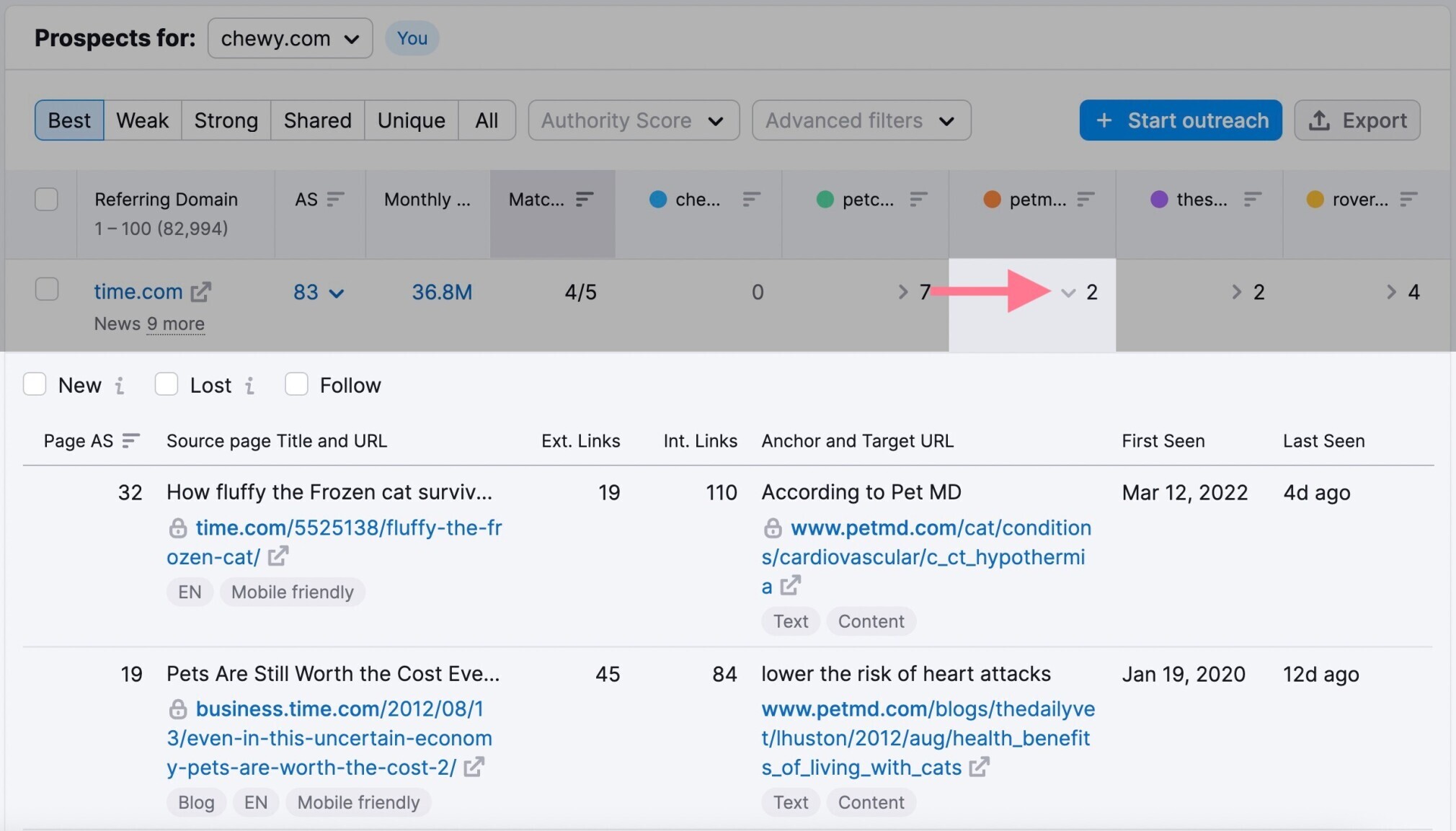 From there, you can gauge whether or not you could benefit from a backlink from that same site.
Get Links from Your Suppliers or Distributors
If you're a reseller or retail ecommerce seller, contact the supplier or distributor that curates lists informing people where they can purchase the products. 
Then, ask for yours to be included too. 
This is an easy way to get an authoritative backlink.
This example of Greenies vendors is the type of list you want your site to be on: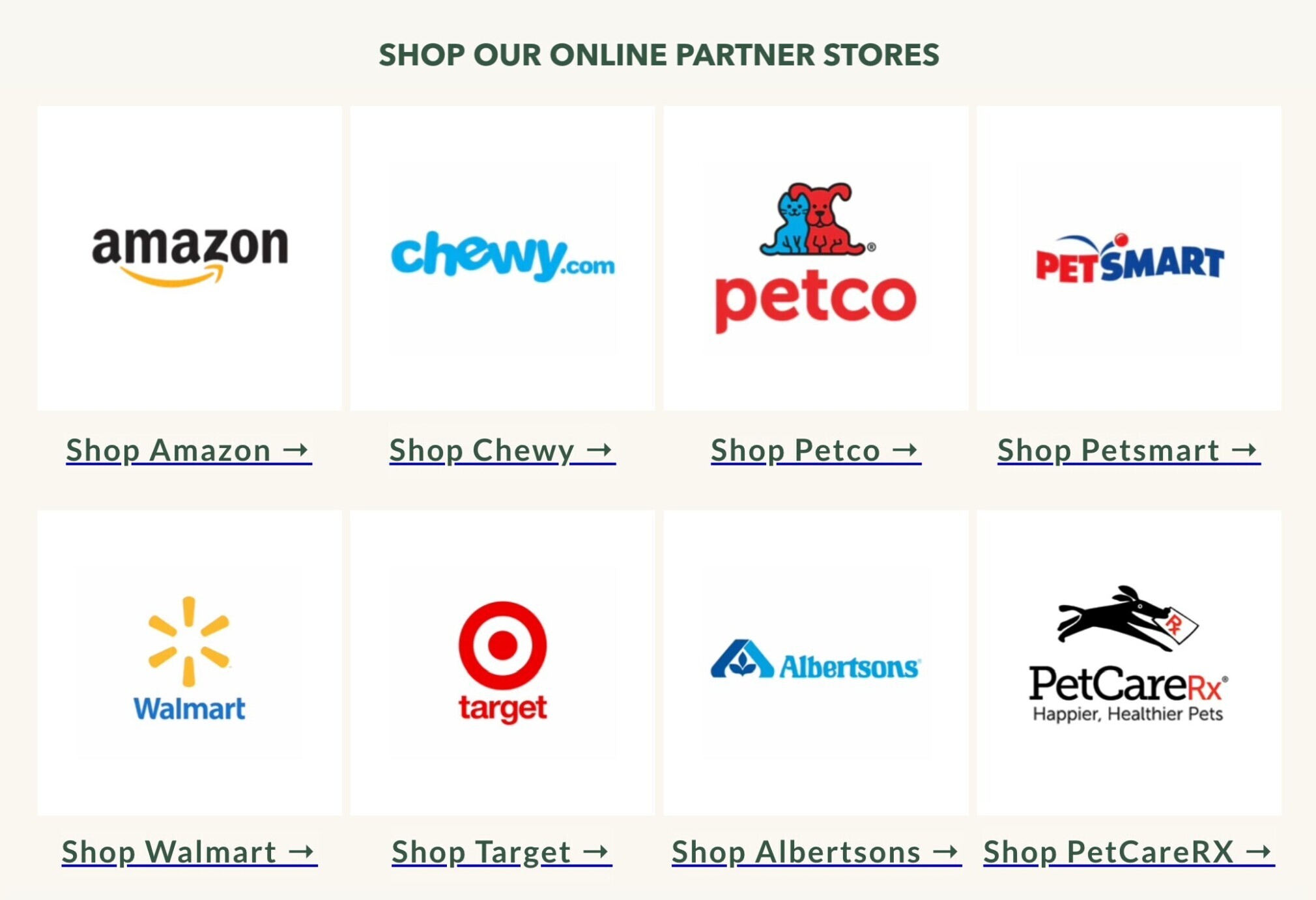 Looking for more link-building tips and tricks? Take a look at our link building for SEO guide to find out more about SEO techniques for ecommerce websites.
Ecommerce SEO: Some Final Best Practice Tips 
Optimize for Mobile Devices
As our research shows, mobile traffic now dominates ecommerce globally.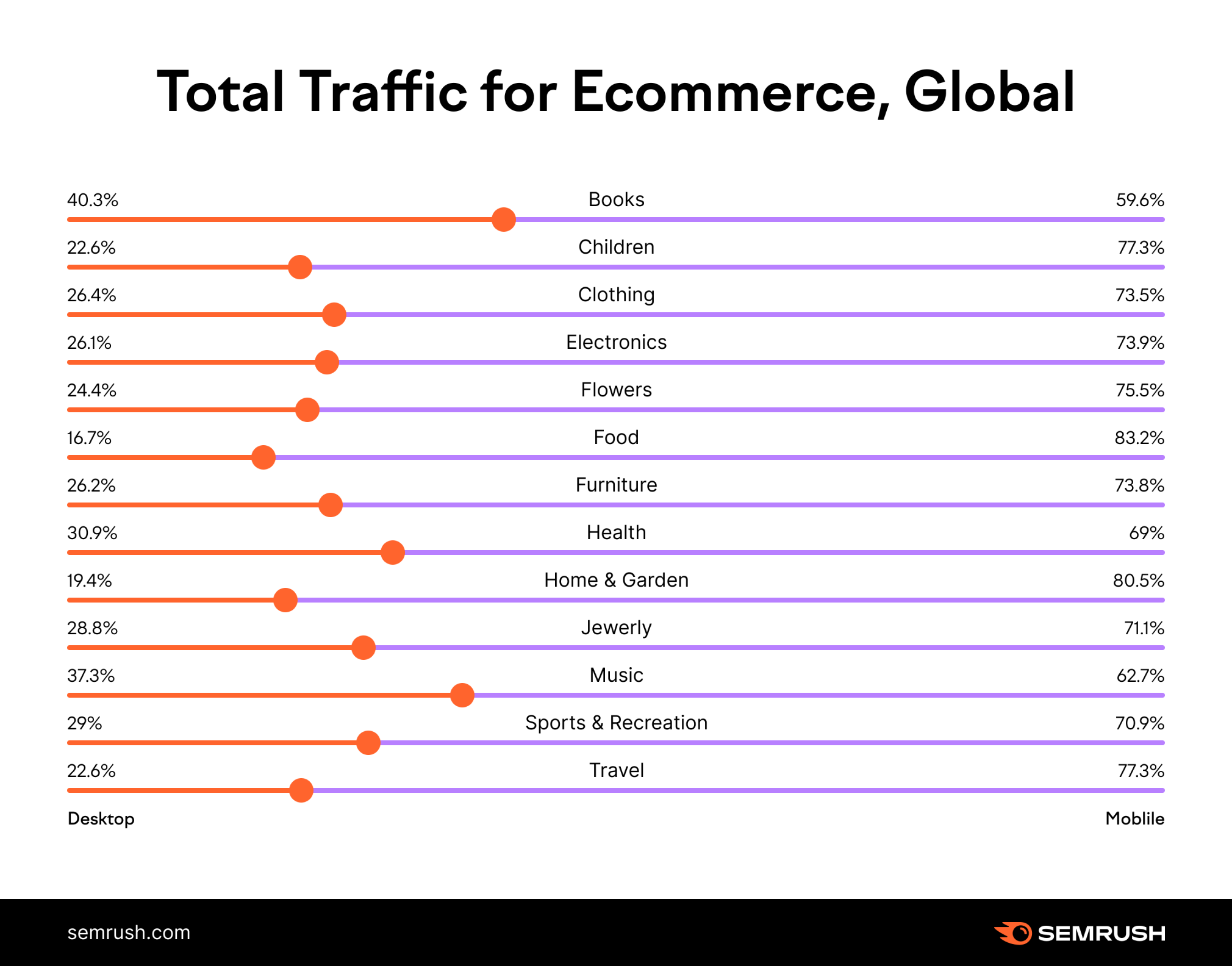 Which is why creating a mobile-optimized ecommerce site is key.
A mobile-friendly site not only helps with conversions but can also boost your site's rankings.
You can test how your site behaves for mobile visitors using Google's Mobile-Friendly Test tool.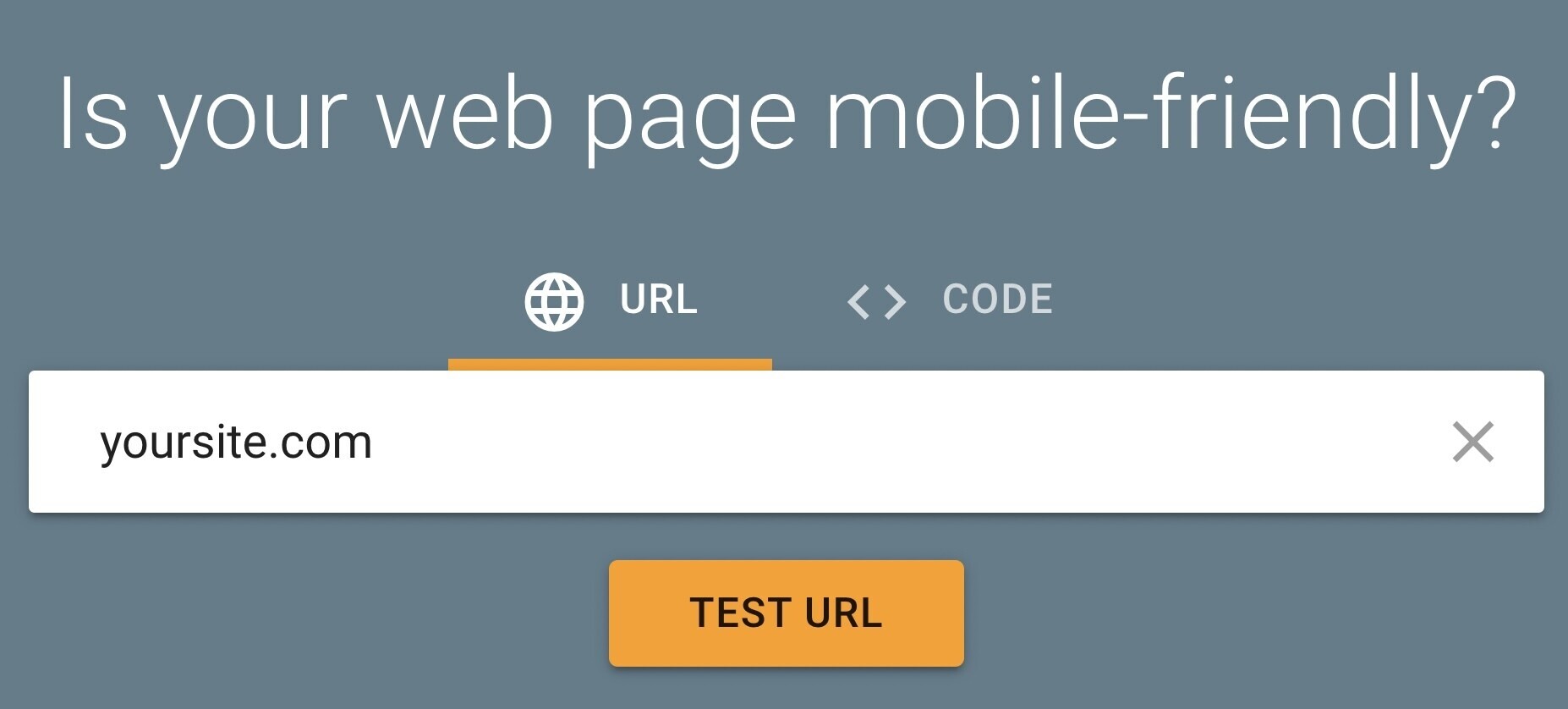 Optimize Pagination
For ecommerce sites, pagination typically comes in the form of "load more" buttons or numbers of product pages at the bottom of the page.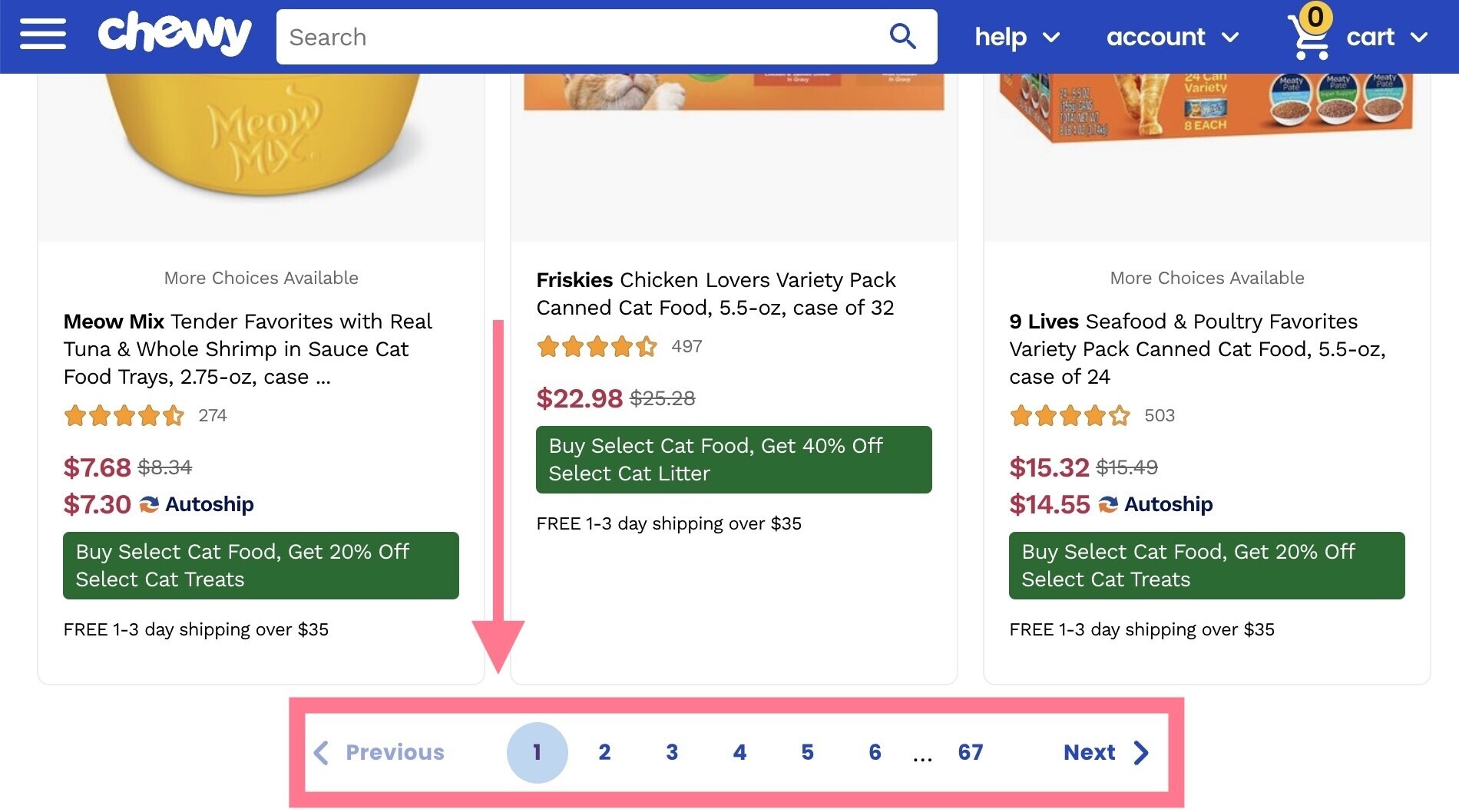 If not optimized properly, pagination can often result in deep site structures, which affect crawlability and should be avoided.
Want to find out how to optimize pagination? Take a look at our advice for SEO-Friendly Pagination Strategies for Ecommerce here.
Encourage Your Customers to Review Your Products and Services
Online reviews matter more than ever before: 98% of customers feel it's essential to read online reviews when making a purchase.
Send a follow-up email after a customer has received your product requesting a review. Or create a small pop-up on your site that encourages users to leave a review without needing to sign up.
Deal with Out of Stock & Discontinued Products
If an item is out of stock, you want to keep the page live. That way, it can maintain its rankings.
While you're waiting for stock to come in, keep the page content essentially the same. And add a recommendation for similar products.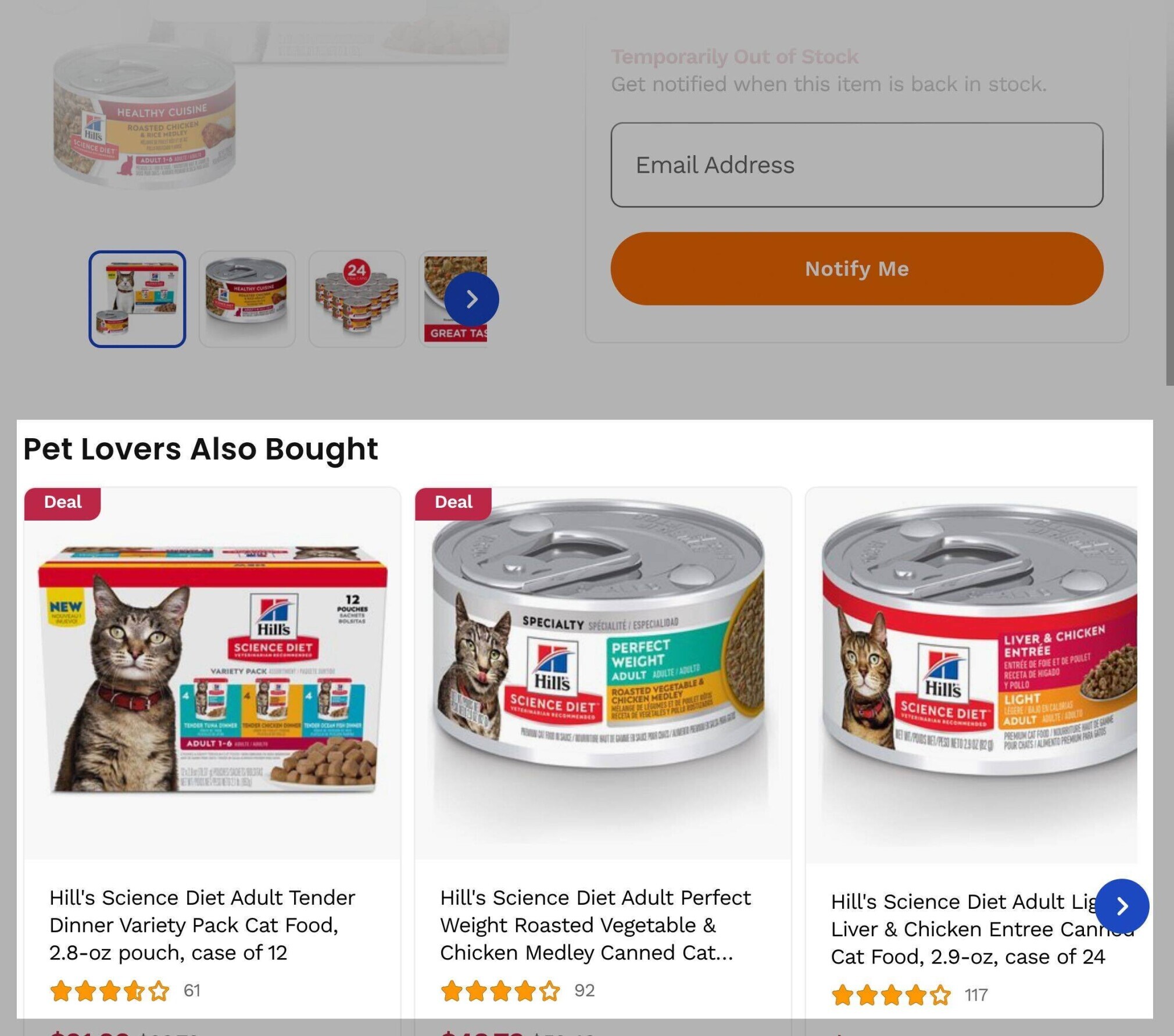 You can also include a "contact me when this product is available" field.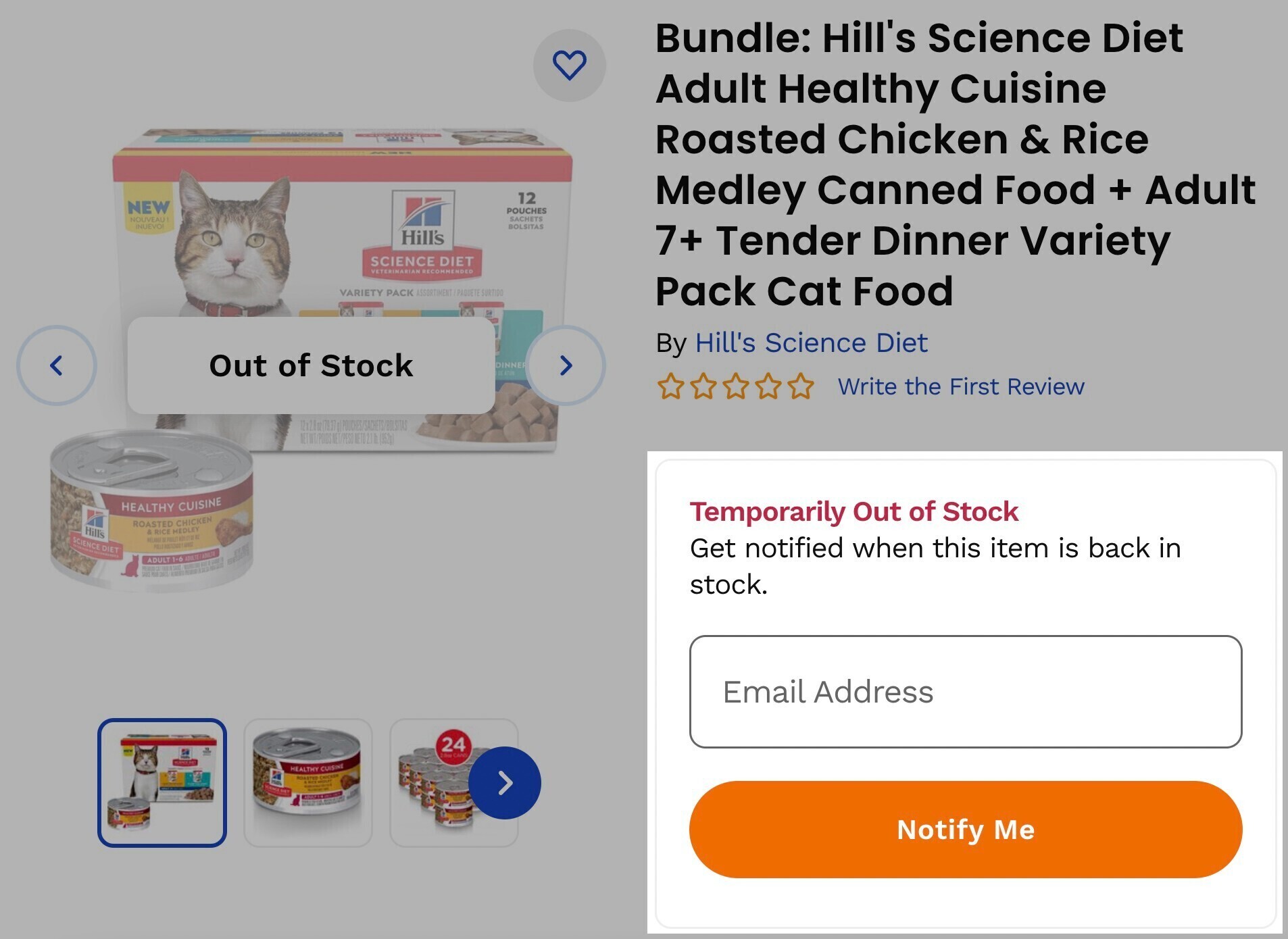 If an item is discontinued but the page ranks highly, you have two options:
Make the page a comparison page that compares the discontinued product to other products that you sell
Redirect the page to another product page on your site using a 301 redirect
Summary
In many ways, an SEO strategy for ecommerce websites is more challenging than for services sites or blogs. That's because ecommerce sites have several unique challenges (indexing, pagination, and more) that can impact Google rankings.
Hopefully, the advice provided in this ecommerce guide will help you develop an SEO action plan for your ecommerce site.
To get started on your ecommerce SEO strategy with Semrush, start your free trial today.