2021 has been an interesting year for businesses across the globe. From major advancements in technology to widespread challenges with supply chains, the last 12 months have kept business owners and marketers on their toes. And with no end to the excitement in sight, it's more important than ever to track emerging trends and stay ahead of the curve. 
The explosion of ecommerce this past year is one global trend we've been watching closely. As 2021 comes to an end, we're reviewing the data and thinking about what trends we can expect in this realm. Here are our top 5 ecommerce trends for 2022! 
1. Sustainability, or Bust 
Despite the foot-dragging we've seen among the world's leaders at successive Climate Summits, consumers are growing increasingly dedicated to sustainable brands. Their message is clear: a bleak future awaits if businesses continue their unsustainable practices. 
Especially true among younger audiences, a focus on sustainability is already a trend in marketing, and will undoubtedly continue as one of 2022's ecommerce trends. 
In the past five years, monthly search queries for "Sustainability" have skyrocketed. In the US, search volume rose from 49.5k in the month of December 2016 to 135K in the month of November 2021. Globally, the increase is even more impressive, from 164.5K to 724K.

Many brands are transitioning away from plastics, especially when it comes to packaging. Other companies have begun to include product information about the origins of materials and how to recycle them. 
Furthermore, companies have started sharing information about their carbon footprints with consumers. For example, Mastercard just unveiled a new carbon footprint calculator for banks.
These trends illuminate the shift in consumer sensibilities toward the environment, and also present significant opportunities for ecommerce businesses willing to lean into sustainability. 
2. Upcycling, Vintage, Second Hand... Reuse to Power
Closely linked to the previous section, but deserving of its own, upcycling, vintage, and second-hand items (also known as, reuse) are growing in popularity and will certainly impact ecommerce trends for 2022. 
Businesses focusing specifically on second hand items have thrived in the past few years. Poshmark and Depop are two leading platforms focused on second-hand clothing that have seen solid growth. 

Furthermore, retailers that sell new products are also extending their inventory to include used items. Zalando and Ikea already have second-hand sections, and many additional companies offer rewards for recycling. 
Companies that focus on electronics, like Apple and Bestbuy, also offer deals on refurbished items, allowing consumers a wider range of choices in their shopping experience. 
Those engaged in Ecommerce could capitalize on this trend by providing similar options and appeal to customers by considering suppliers who offer upcycled products. 
3. Say Hello to Crypto 
Though cryptocurrencies have always been presented as an alternative to banks and fiat currency, challenges such as volatility and difficulty of use have slowed their adoption. That said, it looks as if the tides are changing. 
Top Cryptocurrency websites and trading platforms have seen massive spikes in traffic over the past few years. In fact, the top three in the industry more than tripled their traffic numbers in 2021.
The rise of decentralized finance is already impacting all kinds of markets. Even some large banks and payment platforms, such as PayPal and Visa, have included cryptocurrencies within their offerings. 
Similarly, many governments are creating their own cryptocurrencies, while others, like the Salvadoran government, have already accepted them as official forms of payment.
But blockchain, which is the technology on which cryptocurrencies are based, has far more utility in ecommerce than serving as an exchange for currency. For example, transactions made through the block chain are recorded permanently and immutably, demonstrating the journey of a product in the supply chain, and thus, providing greater confidence to buyers.
For those focused on ecommerce, getting familiar with blockchain and cryptocurrency technology is a must for staying ahead of the curve as these technologies become more and more mainstream. 
4. The Delivery Revolution Will Continue 
Home delivery service is rapidly evolving. Since the start of the pandemic, companies have risen to the occasion to meet consumer demand for fast and convenient doorstep delivery, but efforts still aren't meeting consumer desires.
Younger generations–millennials and gen Z–are driving demand for more flexible and faster delivery times, and companies are getting creative to meet their needs. For example, same day delivery options are expanding through partnerships between delivery services and retailers, like the recent Ulta Beauty and Doordash partnership. 
When it comes to more personalized delivery options, labor is a major roadblock. Working conditions for delivery and logistics workers are often low paying and lack benefits. And with the ever evolving state of the pandemic, there is more supply than demand when it comes to these jobs.
Despite these hurdles, we're seeing major growth in the delivery industry. Take food delivery services like Doordash, Ubereats, and Grubhub. While these companies have seen steady growth since 2017, notice the massive gains maintained since April of 2020.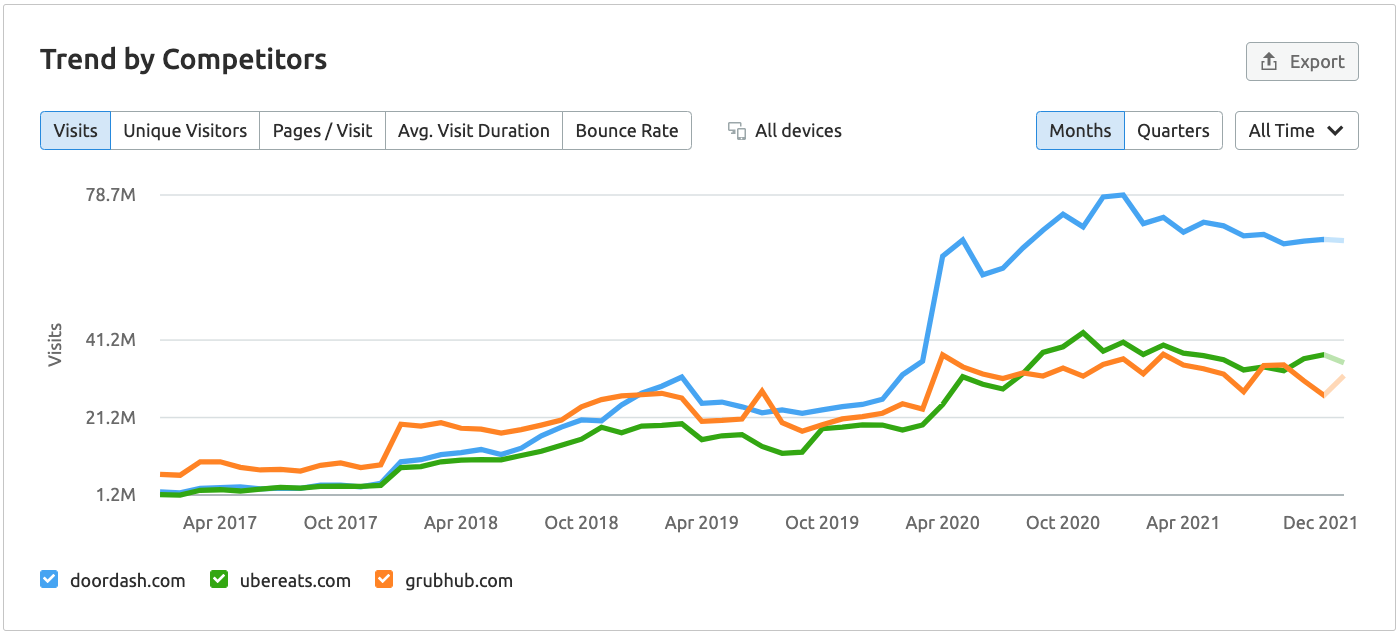 Super-optimized supply chains, multilayer distribution, and software-assisted delivery are already changing the rules of the game in home delivery, and these will be trends to take into account in 2022.
5. Welcome to D2C Direct Sales (a Millennial Love Affair)
With the evolution of ecommerce, businesses can better afford the luxury of selling directly to consumers, thus avoiding a large number of resellers and intermediaries. This is known as D2C trade, or "direct to the consumer."
The idea of "direct to consumer" sales has been growing in popularity over the past five years. With a monthly Keyword Volume of 880 in November of 2017, the volume has quadrupled to 4.4K in November of 2021.
Thanks to the possibility of direct connection through online stores, manufacturers and large wholesalers are focusing on this type of trade. In fact, it is quite common for big brands to abandon massive trading platforms like Amazon, because they already have their own online store. For example, Nike has stopped using Amazon and eBay because it already has its own store.
Direct to consumer sales offers consumers lower prices and companies greater profits. With these factors in mind, there's no question this trend will continue into 2022. 
Final Thoughts for the Coming Year….And Beyond 
In addition to these trends, here are a few recommendations to further boost your e-commerce business in 2022: 
Analyze the market to uncover industry trends. Capitalizing on some of the above trends depends on first recognizing how they relate to your business and being able capitalize on them. Studying markets and their audiences constantly will help you establish better strategies.
Study the competition. To thrive in any business, you have to keep a close eye on your rivals. What creative trends are they embracing? What innovations are they making? What are the differentiating elements? Insights into these questions will allow you to best position your business for success. 
Monitor industry news and influencers. Keep an ear open to industry news sources and influencers for alerts when it comes to shifting market conditions. Stay ahead of emerging trends and keep an eye out for challenges on the horizon and you'll keep your advantage over the competition.
Regardless of what trends emerge this year, you can't go wrong with these three suggestions. We look forward to seeing where this year takes you. Here's to a happy and prosperous 2022 for all!