Email marketing today is less about solely promoting your offers and products/services and more about giving the subscribers a personalized experience that serves their needs. When the emails speak about what the subscriber desires, they are more likely to engage with them. Hence, businesses promoting their offers via email need to make sure they send emails that are targeted and relevant to them.
According to Experian's report, 50% of companies think that using personalization in emails can increase and improve email interaction among subscribers. This is because the open rate for emails with a personalized message was 18.8% as compared to 13.1% for emails without any personalization.
If you are a business sending regular emails to your subscribers and customers, you need to incorporate advanced email personalization tactics, and most importantly do it in the right manner. Read on to learn about the various ways in which you can personalize your emails for your business.
Essentials of A Personalized Email Campaign
To set up a successful personalized email campaign, you need to follow the right methods. To start personalizing, you do not need to reset your entire database or set up an entirely different campaign; simple changes here and there can help you get started. Here are the essentials that you need to have to set up a personalized campaign:
1. Collect Data for Personalization
Before you begin to personalize your emails, you need to collect the right data of your subscribers and customers. Any data that gives you insights about an individual can be used. The more information you collect, the more targeted your email campaigns can be. Data collection can be done in the following ways:
Using Sign-up Forms: Apart from the standard name and email address, add extra fields such as gender, location, birthday, etc., in the sign-up form. Capturing extra details helps you in creating more personalized and targeted emails.
Using Integrations: Get subscriber data such as past orders, total spent, location, purchase data, etc., by integrating your email marketing tool with your CRM or e-commerce platform.
Through Preference Center: The best way to get precise data from your subscribers is to ask them to set preferences in the preference center. This will give you information about what kinds of emails they actually want to receive from your brand.
With Third-party Apps: Integrate your email platform with third-party applications and import customer data from them.
With Behavioral Website Tracking: Track your subscribers' activities and behavior to collect data about their interests and preferences.
2. Segment the Email Lists
Once you have collected all the necessary data, you now need to group the subscribers into various segments. Group together the segments with similar purchase histories, interests, and traits to send relevant and targeted emails.
The major criteria that can be used to segment your email lists are as follows:
Demographics
Psychographics
Geographic Location
Interests
Purchase Behavior
Browsing Behavior
3. Create Tailor-made Emails
Now that you have all the data and segments set, create emails that are most suited and targeted for each individual subscriber. Following are the major ways of email personalization that every business should follow.
a. First Name: Add the Subscriber's First Name in the Emails to Build Trust
First-name personalization is the most basic form of email personalization. Adding the subscribers' name in the salutation or copy of the email is a great tactic to capture their attention and the simplest way to build trust for your brand. Here is an email example from Facebook that uses first name personalization.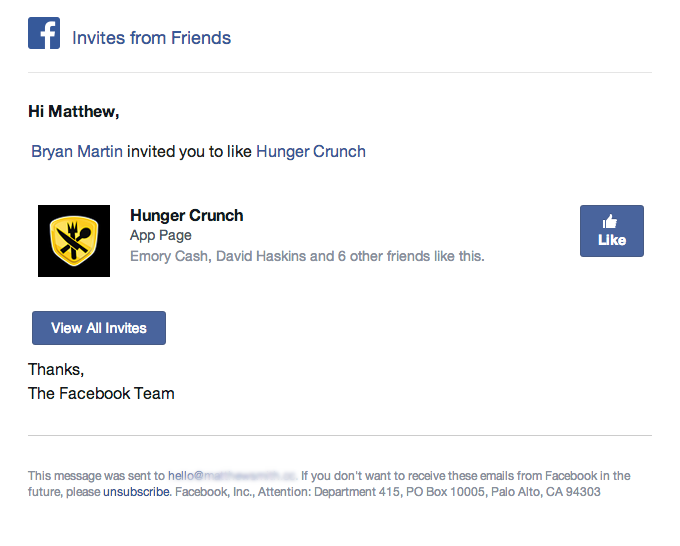 Facebook's triggered email has the content customized to the user's online behavior.
Source: Really Good Emails 
b. Subject Line: Capture their Attention by Personalizing the Subject Line
Emails with a subject line that has the subscribers' name or other relevant information have higher chances of getting opened than emails with non-personalized subject lines. When you include the person's name, something about the product that they recently purchased, some information about the recent event they attended or something that is of their interest in the subject line, they are more likely to open the email.
Here are a few examples of personalized subject lines:
LOFT: We'll let you in on a little secret, Kevin
UrbanDaddy: You've Changed
Rent the Runway: Happy Birthday Kevin – Surprise Inside!
c. Content Offers: Provide Relevant Content Offers to Improve Engagement
Personalizing the content and copy of the email boosts engagement and loyalty. Sending tailor-made and relevant content increases the click-through rates of your emails.
You can personalize the content of your emails in the following ways:
Create emails that change content and image sections according to the end user's needs, interests, location, and other demographic data. By dynamically changing content, you will be able to send the most relevant emails to every subscriber. By showing them the offers and product recommendations that they are more likely to engage with, it is possible to garner their attention and thereby drive them into making the purchase. Check out these emails from Billabong that have different content for two different subscriber groups.

Billabong's email uses dynamic content, wherein the content changes as per the user preferences that was set when signing up.
When you segment your email list based on the subscribers' past purchase, make sure you send different emails to your regular customers, the ones who frequently buy from you. Categorize your subscribers based on their sending threshold and purchases and send specially tailored offers and discounts to them. This will help your brand in making the engagement stronger and driving the revenue. Check out this email from Johnny Was which is exclusively for their VIP customers.
Everyone loves when they get rewarded for their loyalty. This email by Johnny Was follows this practice very well.
Source: Milled
Keeping an eye on what your subscribers are purchasing and browsing on your website will help you in sending tailor-made emails with recommendations for the products or services they might be interested in. When you send them recommendations based on a recent purchase, there are more chances of them purchasing the recommended products.
Cross-selling and up-selling products via timely emails will boost engagement and increase conversions. Here's an example of a product recommendation email from Uncommongoods.

Based on a user's purchase patterns, the email by Uncommon Goods suggests the subscriber relevant products.
Source: Really Good Emails
d. Reminder Emails: Set up Automation to Send Reminder Emails
Set up email automation that tracks the user's activity or inactivity with your brand's emails or website and sends them timely emails. When you have a huge database, it is impossible to keep track of each subscribers' activity manually, and hence setting up email automation is vital. An automated campaign sends the following emails:
Sending emails that remind the subscribers to refill their stock and giving them offers on the products is a great tactic to encourage them to buy from you again. Replenishment emails help your brand to generate recurring revenue. Study each subscriber's buying cycle and set up automated campaigns to send timely replenishment emails. Here's an example of replenishment email from The Wodlife.
In case of perishable goods, a reminder email for stock replacement, like this one by The Wod Life, provides a good user experience.
According to Statista, about 69.23% of digital shopping carts were abandoned in 2017; a lot of revenue is lost in abandoned carts. It is, therefore, necessary to retain the customers who leave your shopping carts halfway without completing the purchase. Sending personalized cart abandonment emails keeps your subscribers engaged with your brand. Here is an example of a winning cart abandonment email by Orvis.

Source: Milled
Your email list decays every year by 22.5%. To refrain your subscribers from getting inactive, send them timely emails that keep them engaged with your brand. Identify the inactive subscribers and send a series of emails with enticing copy and offers to bring them back. Check out this re-engagement email from ReturnPath.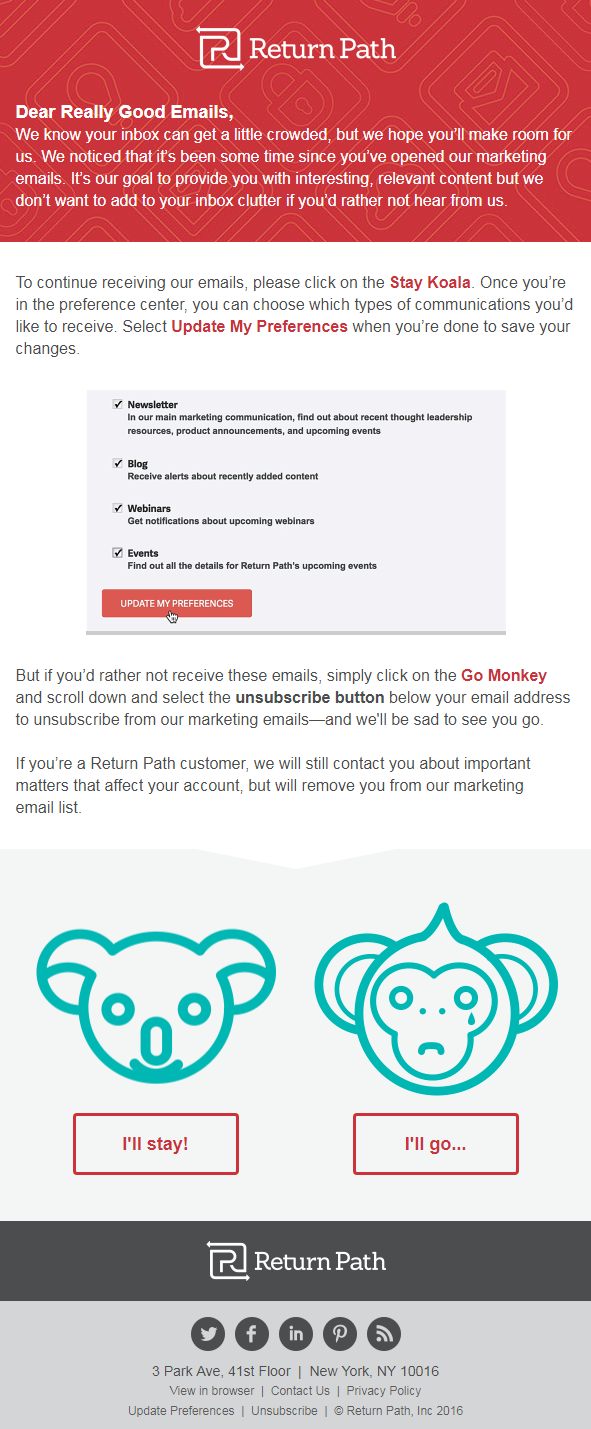 Source: Really Good Emails
Wrap Up
With the strategies outlined above, you can set up a winning personalized email campaign for your business. Personalized email campaigns result in better engagement and build better relationships between your brand and your subscribers. People receive email newsletters all day long; you need a way to stand out, and the steps I have outlined above will help you do just that.