Recently, SEMrush launched the social media tool to help you track your social media campaigns and compare yourself to your competitors. While playing around with this tool you have most likely developed questions and are not sure on a few features offered. Well, I am prepared to hopefully answer those questions and provide you with a little more insight on this new tool.
Set It Up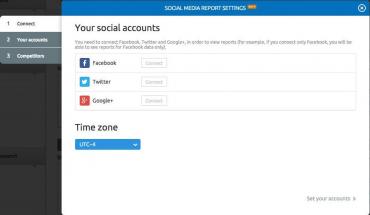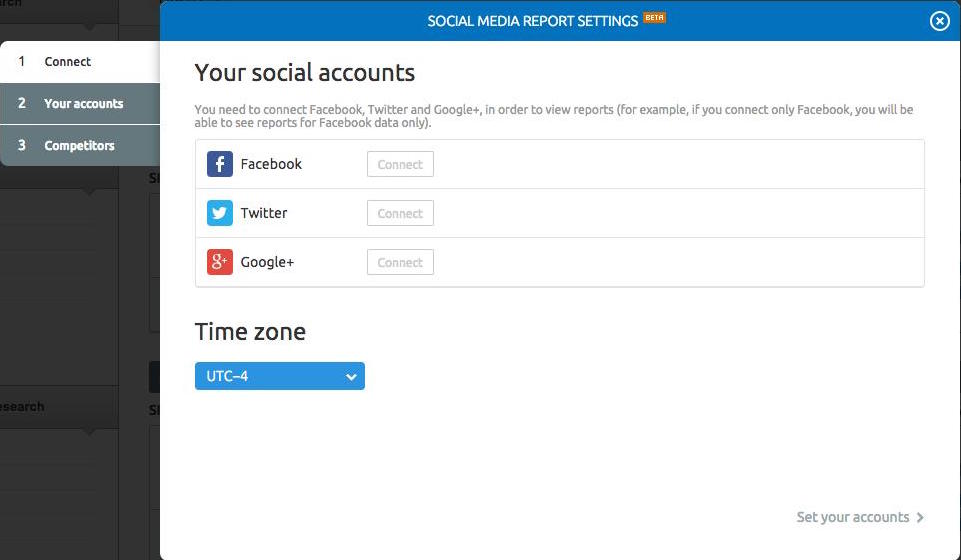 Lets, start by first setting up a project with social media. When you first see your project, you will see the Social Media tool box and it will have a blue button included that reads "Set Up Social Media Tool." Once we click this button we will see any connected accounts we have.
If you do not have any accounts connected it will ask you to connect an account. With this, you will be able to only see data for social media platforms that you have connected. For example, if you only connect a Facebook account, you will only be able to see data for Facebook.
Once you have connected your accounts, it is now time to set the social media accounts for your project. Automatically, SEMrush will search for these social profiles and suggest them to you in the social media report settings. You can also connect the social media accounts through a given profile URL if SEMrush is not able to find a social account for your domain.
After the social accounts are set for your project, you can then add the competitors you wish to track. To do this, add the competitor's domain in the search box then click the "add competitor" button. SEMrush will then return a list of suggested profiles for Facebook, Twitter and Google Plus for whatever domain you enter. These can be cleared and edited with a different social account if the one suggested is not correct or suggested.
After you have sorted through this information and found the correct competitors you want to track, you will click the green "start social media tool" button. After clicking this you will see instant results for all of your social profiles.
Overview
You will be redirected to an overview report listing the stats for Facebook, Twitter and Google+. Now you most likely notice a caution sign next to some of these numbers. This is being displayed to tell you that currently we do not have all of the historical data for your project. We need a little bit of time to gather this data for you.
As the campaign ages and we gather more data, this will eventually go away. Below each number you will see a percentage change number telling you how the number displayed has changed since the last update. Below, you will be able to compare your own website to those of your competitors that you have entered. You can compare your audience, activity, engagement and engagement rate across all three social media channels.
These number will help you as you continue your social media campaigns. As you see these numbers grow, you will be building up your audience and authority. If you are starting to see these numbers decrease, it may be time to make a change in your social media campaigns.
Engagements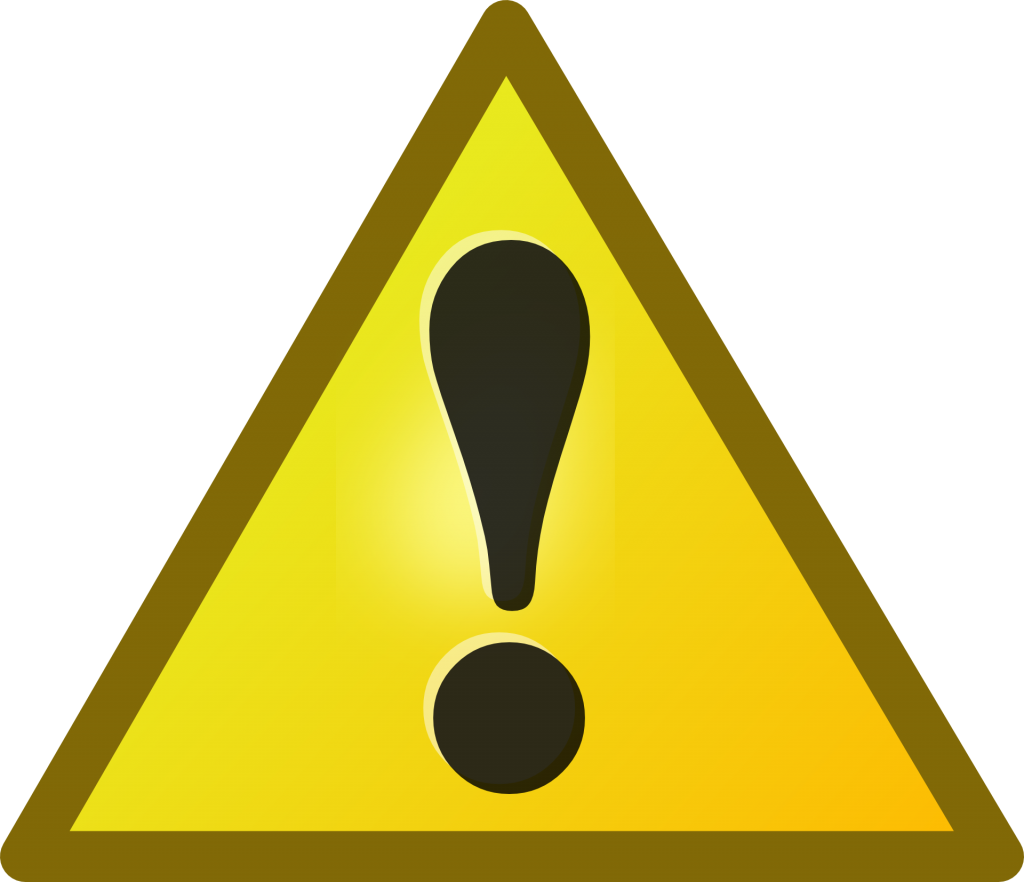 In this report you will be able to gauge the engagement levels you have for each social media channel. Here you can break down likes, shares, favorites, retweets, +1s, etc. This will show how your engagement levels have changed for each social network. Now you are probably wondering what this engagement number is. This number is referring to the actions people take on your posts. This goes into any mentions people take for your site that are broken down by the various categories listed in this report. It is an overall sum of these different types of engagements people have taken based on your posts in that particular social media platform.
Also, this report will display a trend comparison between you and your competitors. You can break this down by total engagement, likes, shares or comments. You can also show this change between each platform as well.
The social media tool is great for getting a glance at your social media profiles and how well you have been interacting with your audience. Monitoring and tracking your social media campaigns are essential to know if you are properly keeping your audience in sync with your business plan and if you are out performing your competitors.
If you still have questions about any of this information, please feel free to reach out to our Customer Success Team at: (855) 814-4510 or by email at mail@semrush.com. You can also contact us on Twitter by using the #semrushcare hashtag.
Image Source: Pixabay
Mike Isaac
Mike Isaac is the Customer Success Content Manager at SEMrush. He has been working at SEMrush for over 3 years and is constantly pushing out new content to keep users engaged. Feel free to connect with him on LinkedIn or follow him on Twitter.