For SEO specialists and web/digital marketing agencies, it can be a bit of a nightmare to keep on top of the day-to-day issues that can impact a client website. SEMrush's Projects feature works wonders for those looking to keep on top of important SEO changes on a website, but what about those more specific behavioral or e-commerce based problems, only visible within a tool like Google Analytics?
In this post, I am going to share with you the essential Google Analytics custom alerts I have set up while managing SEO services at a small to medium sized web agency. Obviously, these alerts will only work if you have the Google Analytics tracking script installed on your website. If you aren't already tracking your website users behavior, I definitely recommend you start - it is essential if you want to be able to track the impact of your SEO activities.
If you don't know what the Custom Alert feature does, it is pretty simple - Google will send out an email (or text message, if you don't value your social life!) whenever a specific website-based action is triggered. For example, maybe you want to get an email every time a specific goal is triggered, or you want to know about a drop in organic visits.
With some custom combinations (or more advanced segmentation), nearly anything is possible here. Custom alerts are great because they are easy to setup, can be scaled reasonably well, and can involve multiple stakeholders simply by adding other email addresses to the alert.
For your ease, I have taken and annotated screenshots showing the exact steps needed to set up these alerts quickly and easily.
Setting Up Custom Alerts in Google Analytics
It is really simple to set up a custom alert within Google Analytics. First of all, you need View level access to the Analytics Property you want to work on. Simply open up Analytics, navigate to the settings area (click the gear-icon in the bottom-left of the screen), choose the right Account/Property, and then from the View menu choose Custom Alerts. From this screen, you can then set up each alert needed.
As a side-note, I really recommend having a well structured Google Analytics account which has a clearly identified Property set up followed by well-labeled Views. You should have a clean view, which has no filters applied, followed by a filtered view (which should exclude bots and other spam traffic) which should become your everyday view. Having a clean view means you have data to refer to if you happen to make a mistake when adding filters to your main view - essential, in my opinion!
Custom Alert #1 - 404 Page Increase Week-Over-Week
This alert will be triggered when the number of 404 error page visits increases on your website, by a specific amount, over a particular period of time. In this case, I specified the alert to be based on a 10% increase, week-over-week. 
I chose the percentage-based trigger because to me, for 404 page visits to be significant and have a large impact on your SEO, the number of errors received should be relative to your general website traffic levels. A webmaster of a site which has thousands of sessions on a daily basis probably doesn't care about 404 visits which are in their 10's.
404 errors aren't always an SEO issue, it could just be a result of cleaning old content which did not need redirecting (it had no value and you had no similar content to redirect to). For me, a more valuable insight could be a broken internal link which is resulting in a large number of 404's, which leads to a bad user experience and may give confusing signals to search crawlers.
For this particular alert to work, it is essential that your website shows a specific text element in its page title when a 404 error is returned. For example - visit a non-existent URL on your site and check the page title returned, plus the content shown. It might be something like "My Amazing Site | Page Not Found" with a not found message and sitemap. Your analytics script should be included on this page but it is best to check (view the Page Source and look for your Analytics script or Tag Manager container code). In this case, "Page Not Found" will then become part of the alert within Analytics.
The setup of the 404 Error Increase Alert within Google Analytics
Custom Alert #2 - Organic Session Decline Week-Over-Week
This one is quite self-explanatory - as an SEO you will want to keep on top of any SEO traffic declines on your client's site (if there are any!). This alert will be triggered when traffic from the organic Medium decreases by more than 20% vs the previous week. 
Sometimes organic traffic declines are normal; you might have a client in a highly seasonable industry, or that could have been some specific event which caused a surge in organic traffic previously (maybe your company hit the news and so branded search volumes went up hugely for a few days, which couldn't be maintained). Regardless, you may want to have this kind of alert setup to help keep on top of any negative SEO issues. You may want to change this alert to be based upon a monthly range, or a value higher than 20%; it will depend on your own particular needs.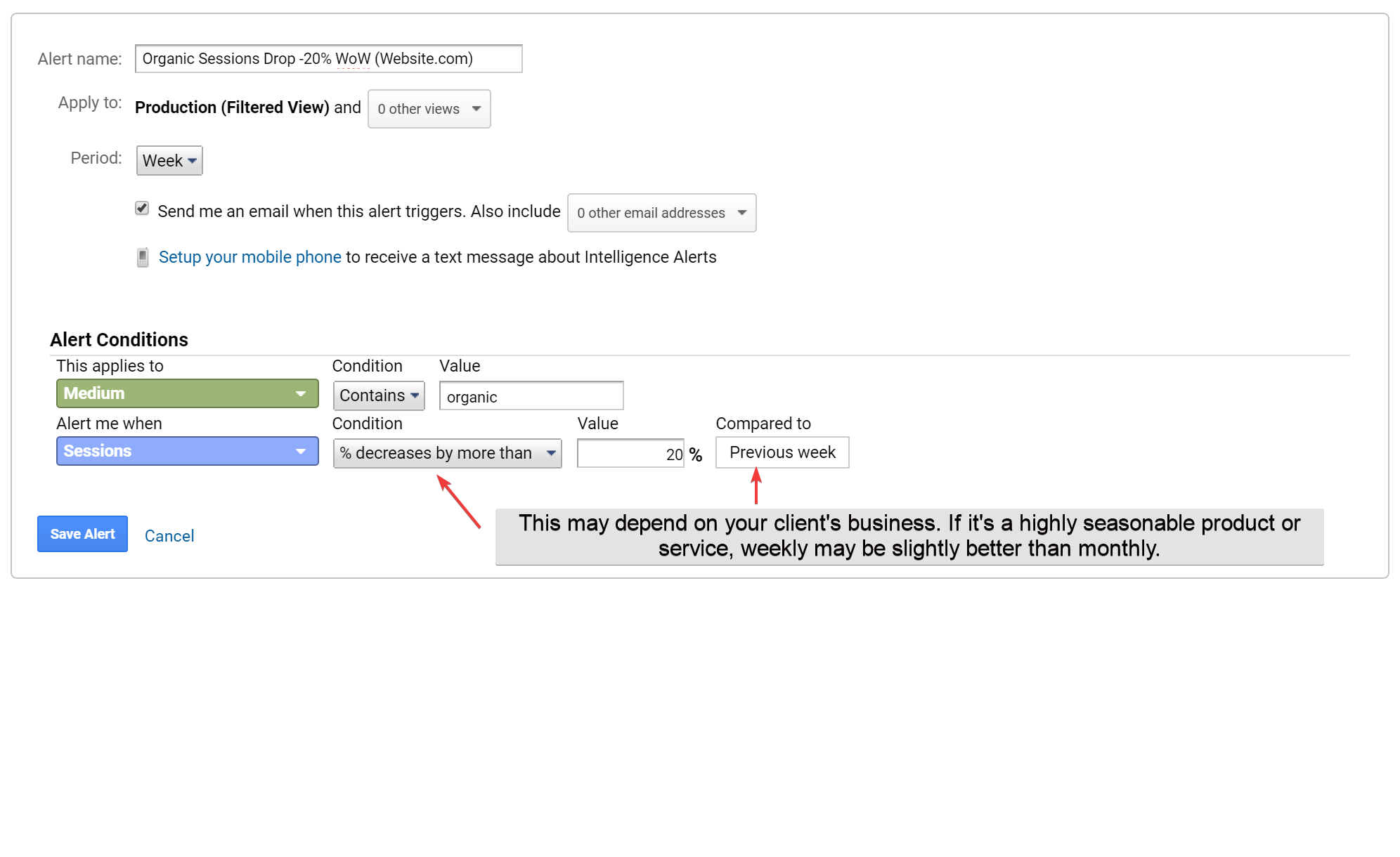 Custom Alerts screenshot from Google Analytics for an Organic Traffic drop
Custom Alert #3 - No Transactions Recorded
This may be an alert that resonates with many SEOs - in particular, those extensively working with e-commerce clients. There are a number of reasons why e-commerce tracking may not be working as it should be, but one way to stay on top of this would be to have an alert setup which fires when no transactions were recorded during the previous day within Google Analytics. Some may argue that a day is already too late, but it is better than going a week, month or longer without e-commerce tracking working (trust me on this one!). Within the Custom Alert features the smallest comparison period of 1 day, so this would have to suffice.
As with all of these alerts, you may want to adjust the trigger to suit. For those businesses which sell extremely luxury items, it may be normal to have days without any transactions. You may instead want to choose the Week option instead of Day here: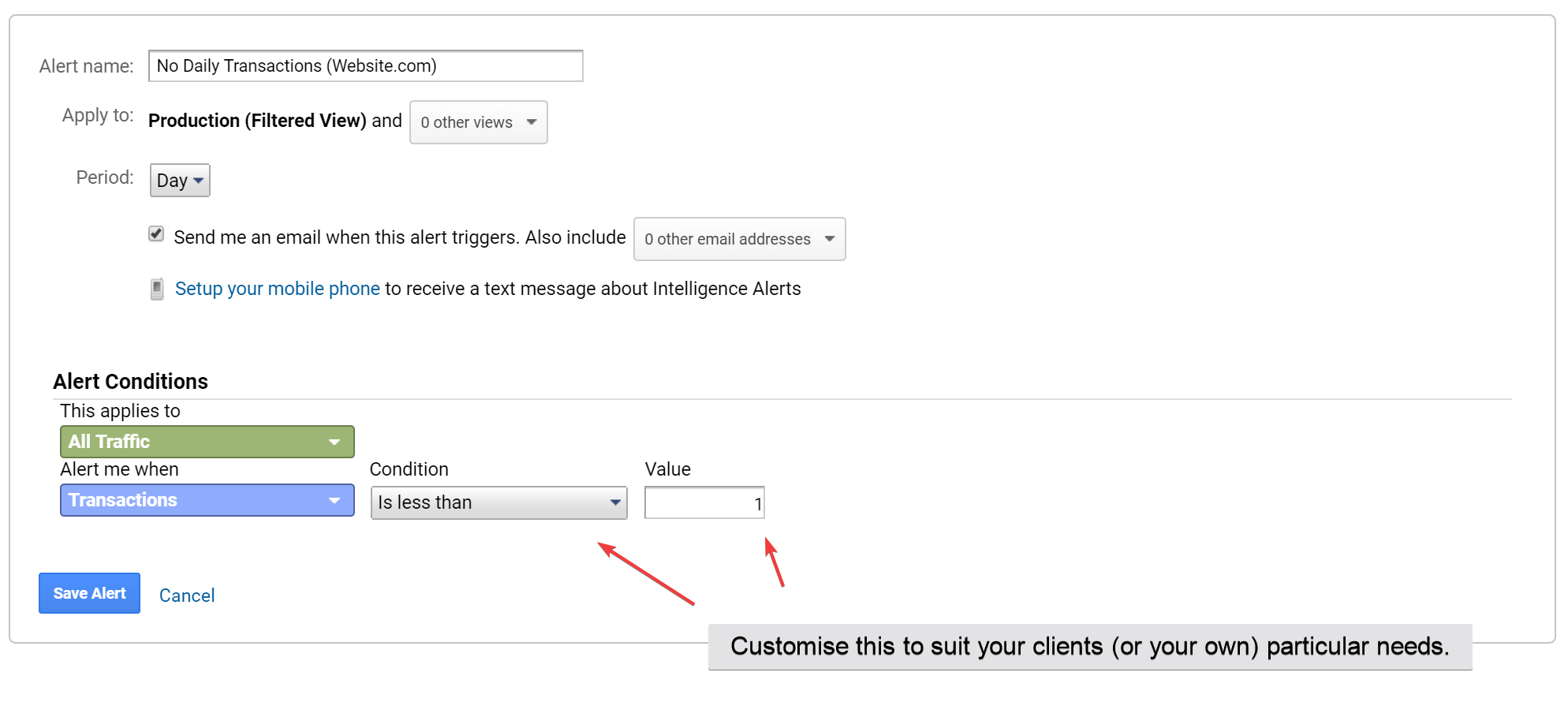 Screenshot showing the Custom Alert setup based on no daily transactions
Custom Alert #4 - Surge in Social Media Sessions
Dream of helping your client go viral on the likes of Facebook or Reddit? For social networks like Reddit you need to act incredibly fast if you wanted to help give things a boost, so you will want to have an alert setup based on social media traffic here (and with regards to Reddit you may already be too late after 1 day).
This alert triggers when traffic from specific social network sites increases by 100 vs. the previous day. The regular expression used here is simply: 
twitter|facebook|instagram|linkedin|reddit|pinterest
On a side-note, if you do ever make it to the top of Reddit (acquiring some huge backlinks in the process) your attention may be diverted to this fact already via your client, inquiring why their website is currently down. Known affectionately as "the hug of Death" (or the Slashdot effect, according to Wikipedia), the only way to be prepared for this is by having your client's site hosted on an extremely capable web host.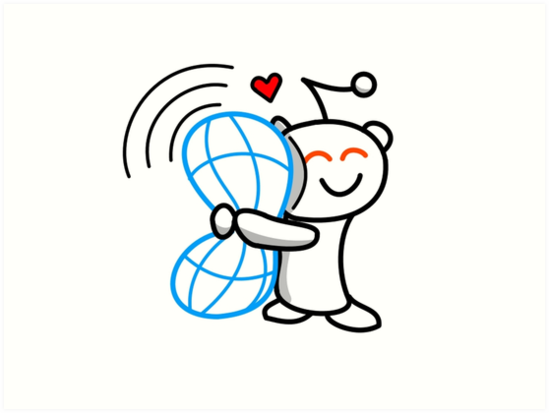 The aptly-named "Hug of Death" from Reddit, from https://www.redbubble.com/people/mikedece/works/24828530-reddit-hug-of-death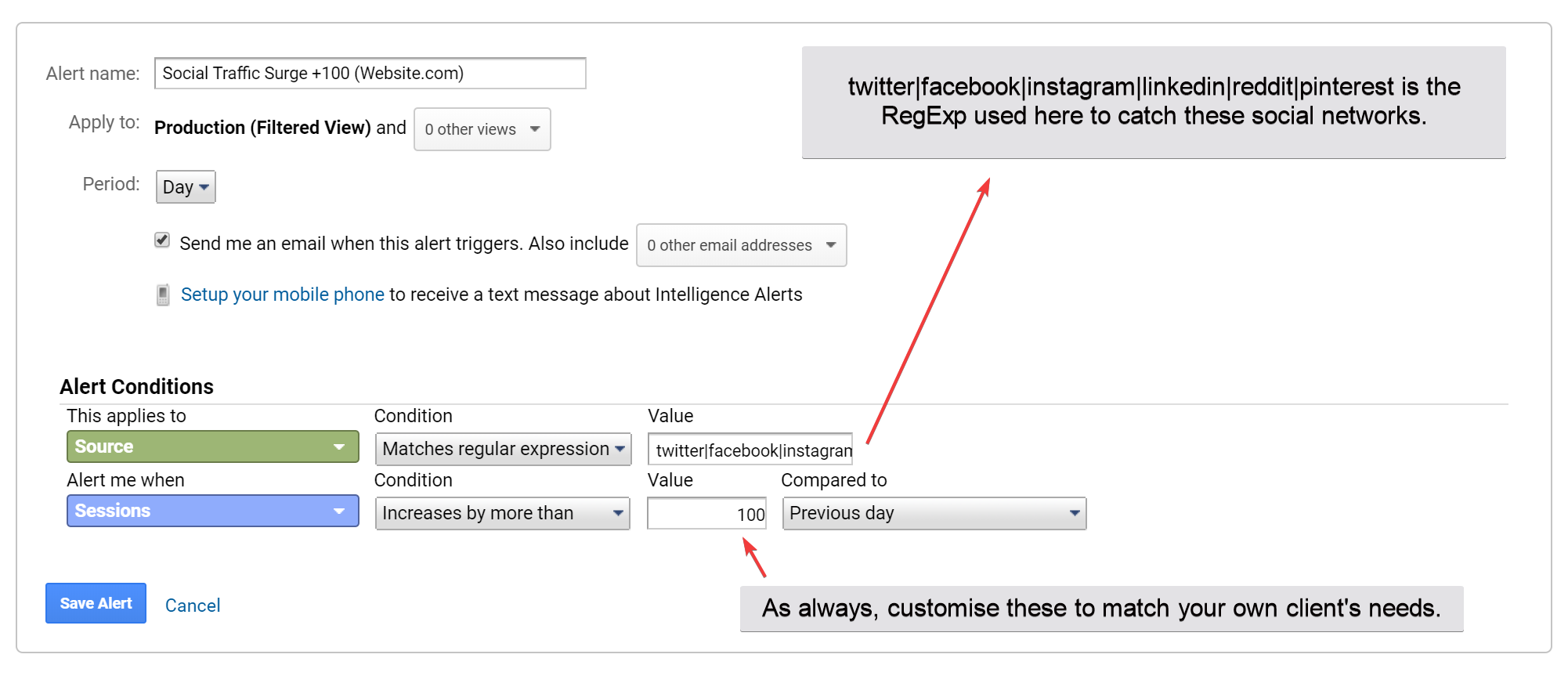 Screenshot from GA showing an alert based on social traffic
Custom Alert #5 - No Visits From Google My Business
This is an alert which may not apply to many situations, but for those involved in providing SEO and digital marketing services within the hotel industry, it may be useful to know. Google My Business listings are an incredibly important source of traffic, in particular, due to their prominence in the Google Knowledge Graph Panel (on both Desktop and Mobile devices). In many cases, the Google Business Listing is providing more than 50% of organic traffic to client websites - a huge amount, from what is a highly competitive market.
Hotels often change ownership, and so getting your hands on the ownership access to the Google Business Listing can be difficult. In some cases (often where a hotel is part of a chain), the corporate group may want the Google Business Listing to point customers to the corporate, group website instead of your "vanity" site. 
You will want to be notified when a third party has made changes to a Google Business Listing, and so this custom alert will tell you when traffic from the business listing drops. For this alert to work correctly you will need to ensure you are tagging your business listing URL with some specific UTM's (which I recommend to enable clearer reporting on local SEO within Analytics anyway). 
Here is an example of a custom UTM you may like to use (just copy and paste everything after the / at the end of the .com element of the URL):
https://www.website.com/?utm_source=google&utm_medium=organic&utm_campaign=local-listing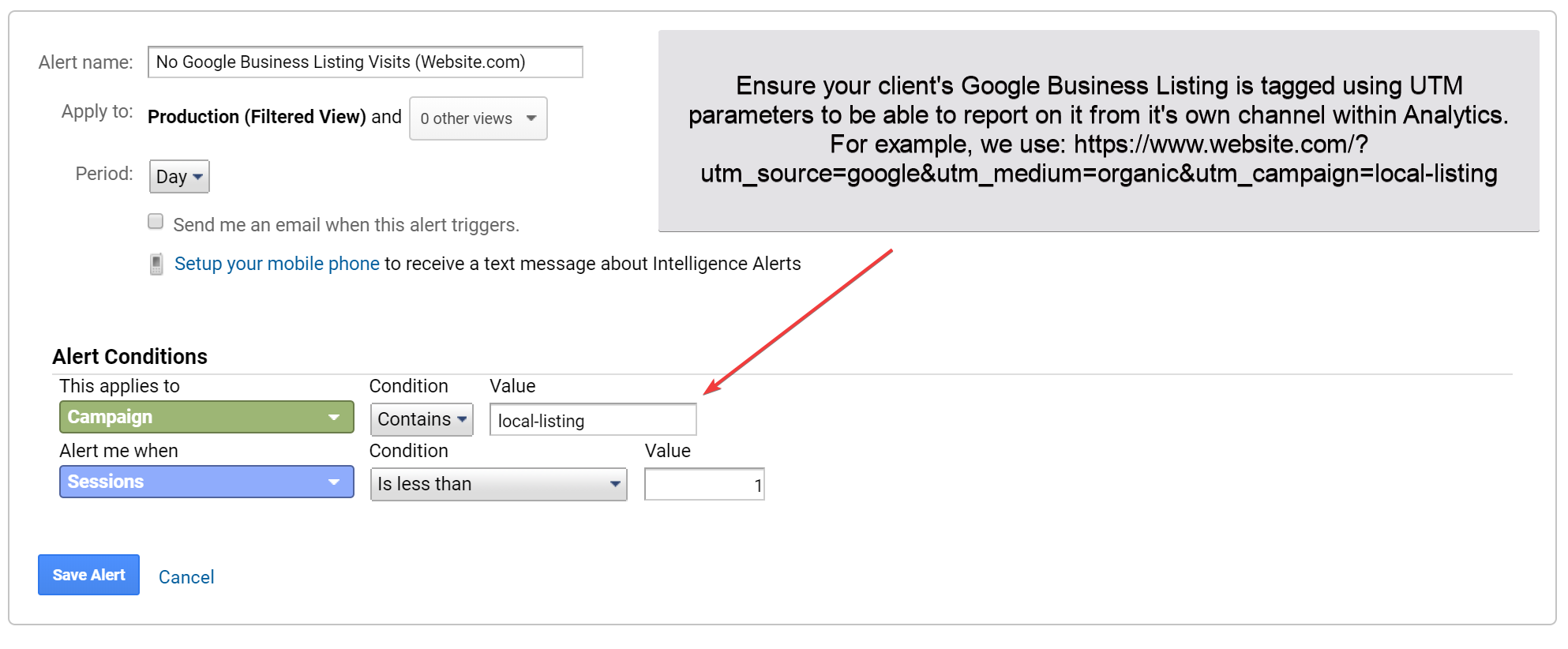 Screenshot from Analytics based on GMB traffic
Custom Alert #6 - New Hostname Visits (Spam!)
I briefly mentioned at the start of this piece that you should definitely have filters applied to the main view you use within Analytics. One of my favorite filters is based on your websites hostname, whereby it will only include traffic that actually comes from your hostname - which is highly effective at preventing "ghost-spam" visits, whereby people were running scripts that spoof referral sessions on random UA scripts within Analytics.
One of the most famous instances of this happened when a Russian spammer wanted to show his support for a certain Donald Trump (maybe he had lots of spare time on his hands?), which resulted in many webmasters having skewed Analytics data for a while. Google's getting better at filtering this automatically within Analytics, but it is not perfect yet.
So this alert is recommended alongside the hostname inclusion filter, but you may prefer to choose one over the other. Mark at Megalytic wrote a handy guide on how to do this if you need help. My alert will be triggered when there are sessions that are originating from hostnames which don't match those belonging to your website (or anywhere that uses your UA script). You may need to tailor this to include other domains that use the script intentionally - perhaps useful if you are unlucky enough to have a complicated cross-domain setup (including subdomains for example).
In theory, this alert may not be needed if you have the "include only" hostname setup correctly, but if you are OTT than you may want to use both, just in case. Another potential scenario for using this alert could be on your "Unfiltered" Analytics view, alerting you when other sites accidentally use your tracking script (which may happen accidentally if you are a web design agency).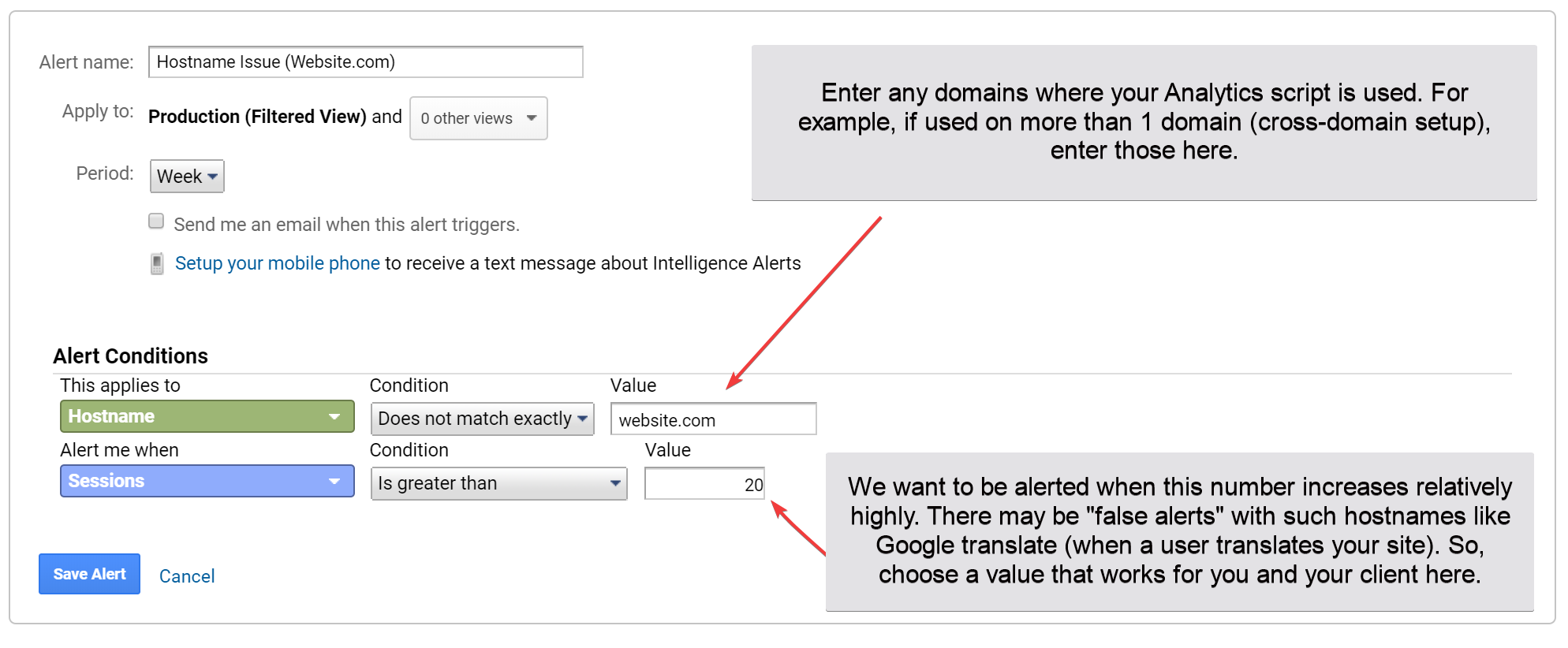 Screenshot showing an alert set up for new Hostname visits
Final notes on setting up alerts in Google Analytics:
Once you have set up the above filters, your Analytics view may be similar to that of the screenshot below. A useful item to note here - if you are a web, SEO or PPC agency dealing with a huge number of clients, I would recommend you set up each filter with it is own custom name. 

Screenshot showing Custom Alerts in Analytics
Although it is true that you can easily setup a filter and then apply it to a number of Analytics views at once, the problem is when your alert is triggered the email message from Google may not contain the name of the website which the alert relates to, making a quick diagnosis hard. The UA-script is included (so you can copy & paste into Analytics' search function) but you may prefer to label your filter so the website URL (or client name at least) is included.

Custom Alerts email from Google Analytics, showing the importance of naming your Alerts correctly!
Hopefully, you find that by using the above custom alerts you will be able to make your life a little easier going forward! When working with a large number of SEO clients it can be difficult to keep tabs on everything that happens, and so while using custom alerts may not eradicate issues occurring on your sites, they at least will give you a warning before they (hopefully) go on to cause lasting damage. 
Although I have focused here on alerts based on negatives, there are plenty of ways in which these can be used to keep tabs on the positives too; for organic traffic growth, tracked revenue increases, and so on. 
Feel free to let me know which alerts you are currently using in Analytics, or if you want to know about setting up some for your own custom needs!