Does searching for lucrative new clients feel like a very wild and very expensive goose chase?
Your digital marketing agency relies on a steady stream of customers to keep it afloat, but it can often feel like that stream is meandering in the opposite direction.
While pricey, gimmicky outreach tactics might help you acquire short-term business, it doesn't take long to realize that these techniques cost more than they are worth. In addition, most leads generated this way fall flat and fail to turn into lucrative, long-term customers. 
If you are wondering how to find clients, the answer is closer than you think. Today, we are introducing you to the SEMrush Oppty Tool, our innovative new platform that directly connects your sales team with the qualified leads who need their services. 
Join us as we explore how this tool works and why it should take a starring role in your customer acquisition strategy.
What is Oppty?
Oppty is a new tool designed to take your digital marketing business to new heights. If you are tired of spinning your wheels searching for qualified leads, this resource can do the legwork for you in a matter of minutes —expediting your overall lead generation process. 
With Oppty, your sales reps and business development managers can quickly see leads that match their unique needs. Understanding each lead's current digital marketing setup, SEMrush categorizes them based on this intelligence, as well as their target location and business type. 
The result? You are connected in an instant to profitable businesses that are ripe for your services.
If you are still searching for leads via traditional lead generation tools, how often do your efforts lead you to the ideal connections? Most often, you will never know because your data access is limited. With Oppty, you have access to the following points on each lead:
Digital marketing budget

Location

Industry

Organic traffic
With that data in hand, you will be able to make a more qualified and sound decision to move ahead. 
The Value of Data Analysis
When you receive your custom lead report from Oppty, those leads are already filtered and qualified by the tool's data analysis function. 
If you have ever spent days or weeks cold calling or emailing contacts from a standard lead generation report, you know that the process can be laborious and futile. 
What makes Oppty different from other sales intelligence software?
It leverages SEMrush's big data analysis tools, as well as the platform's in-depth business knowledge spanning the past six months of top trends. When you generate your report, the tool uses this intelligence to pull only those leads who actually need a digital marketing agency like yours. 
In addition, when you use Oppty to narrow your prospect field down to the leads that are the most qualified and receptive to your pitch, you will also reap the following benefits:
Spend less time prospecting

Use meaningful data to create tailored offers

Make a strong and positive first impression

Gain actionable insights

Achieve a deep understanding of client needs
How to Find Clients with Oppty
If you lie awake at night wondering how to get marketing clients, it is time for a change. Let's take a step-by-step look at how Oppty works.
Performing the Search
First, you will go to the Oppty home page. You will see that you can search for qualified leads in four different ways, isolating those that have:
A marketing budget positive spend

Strong competitors

Gaps or holes in their Pay-Per-Click (PPC) or Search Engine Optimization (SEO) budgets

Negative trends in Search Engine Results Pages (SERPs) positioning
After entering your industry and city under each of the four sub-sections, you can press the "Get Leads" button.
Before we delve into what the results share, let's take a look at the four search criteria in greater detail
Marketing Budget Positive Spend
Companies will ping here if SEMrush noticed that their marketing budget recently grew; this is an opportunity for your digital agency because it signals that their business is also growing. 
As such, they can afford to pay for third-party services like yours to propel them to even greater success, so make that connection! Here, you will be able to see:
The lead's exact digital marketing spend over the past six months

The likelihood of your offer's success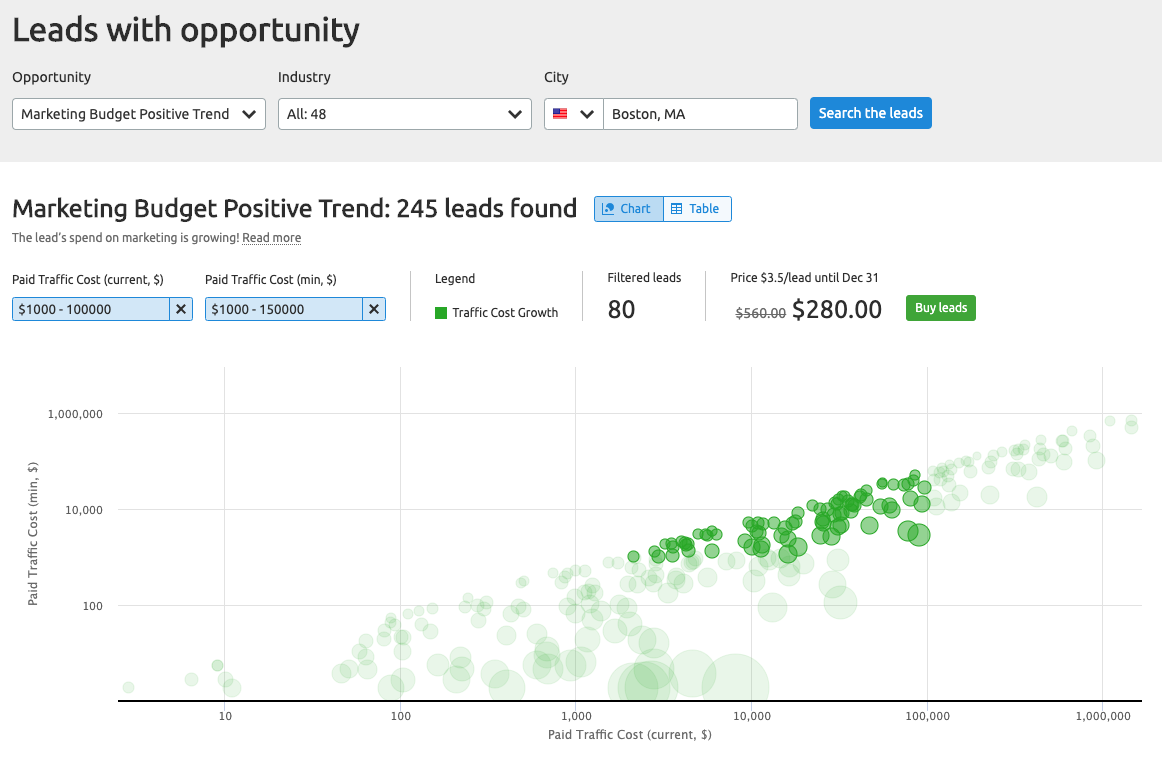 Strong Competitors
These leads are those that SEMrush believes will struggle to stand out in their market due to the presence of strong competition. In their quest to direct traffic and business their way, they could use your services!
In this section, you can:
Demonstrate your expertise by revealing knowledge on rivals

Offer to help the lead see greater results than its competitors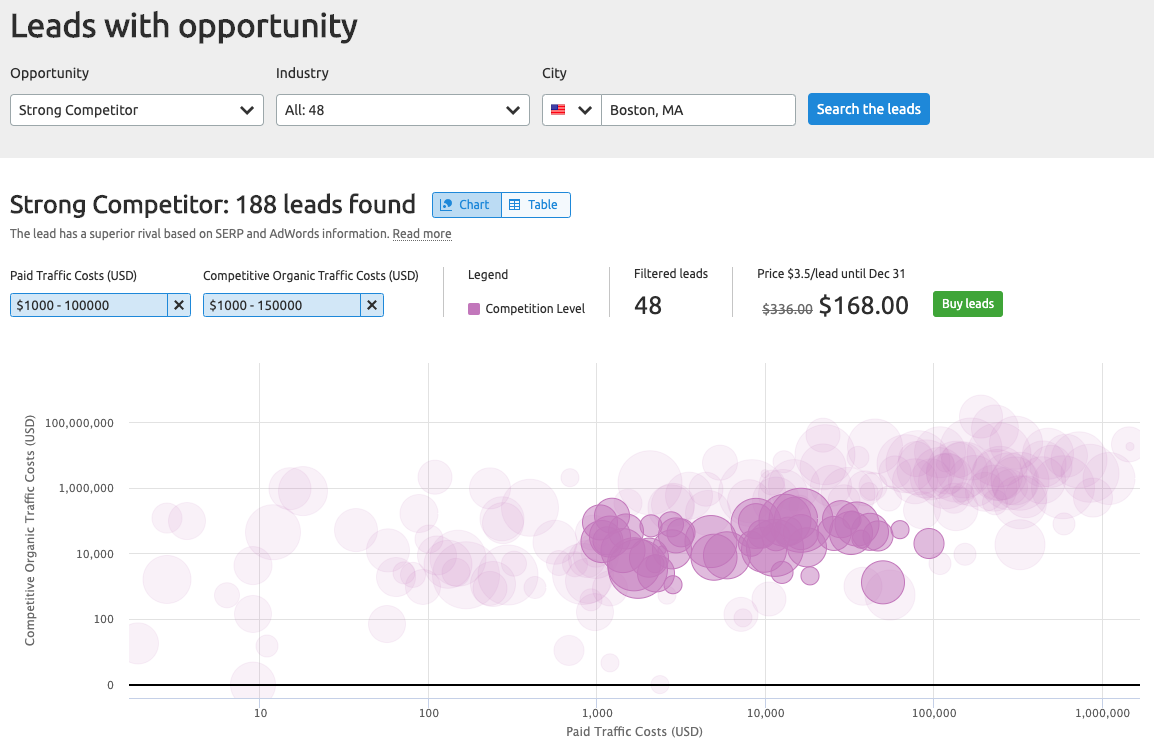 PPC/SEO Budget Gap
Using its advanced analytics, SEMrush found that these companies have a major hole or gap in their total budgets when it comes to PPC or SEO strategies. That signifies that they haven't made major investments in these areas, and would be willing to listen to your pitch. 
With this information, you can:
Valuate the reduction in their PPC or SEO campaigns

Reveal the value of your service in relevant areas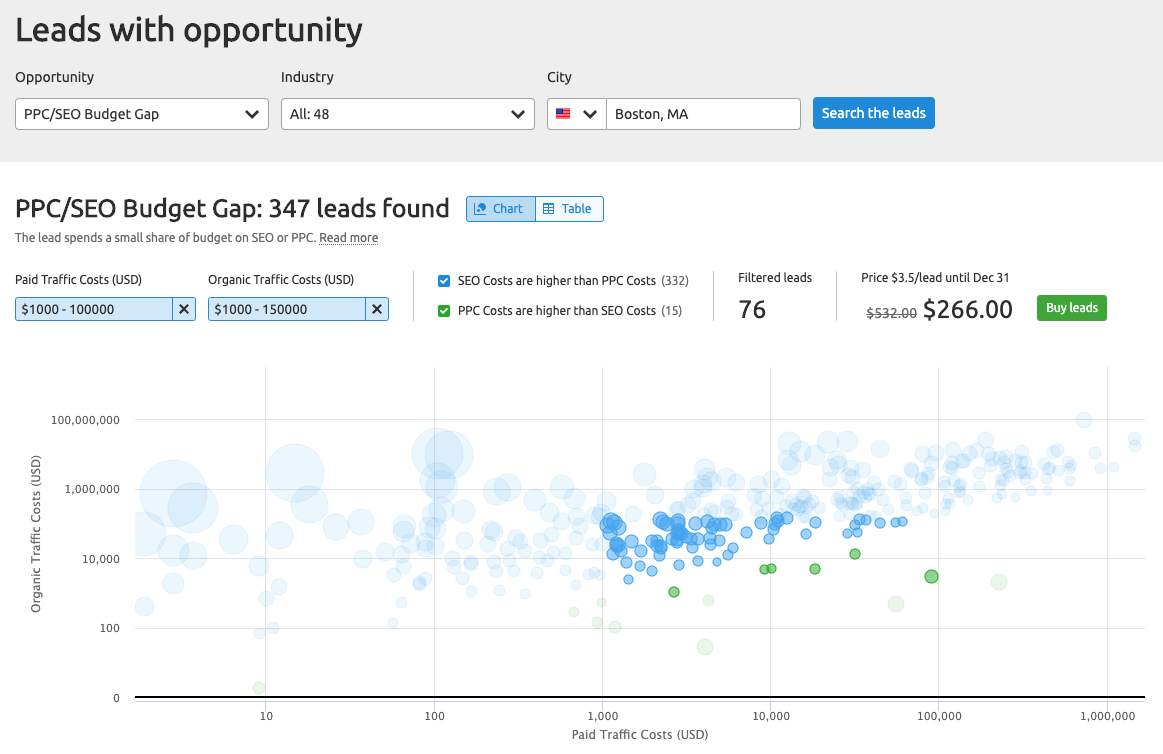 Negative Trends in SERP Positioning 
Sure, there are other search engines, but Google is still king. SEMrush noticed that these leads were slipping behind on Google search results, harming their online visibility, and costing them business. 
This data is a sign that the company's SEO efforts are minimal or nonexistent, which is a clear role your company can step into and fill. This sell is often a quick one, as these managers already know that restoring rankings or getting higher positions is critical to their sustainability.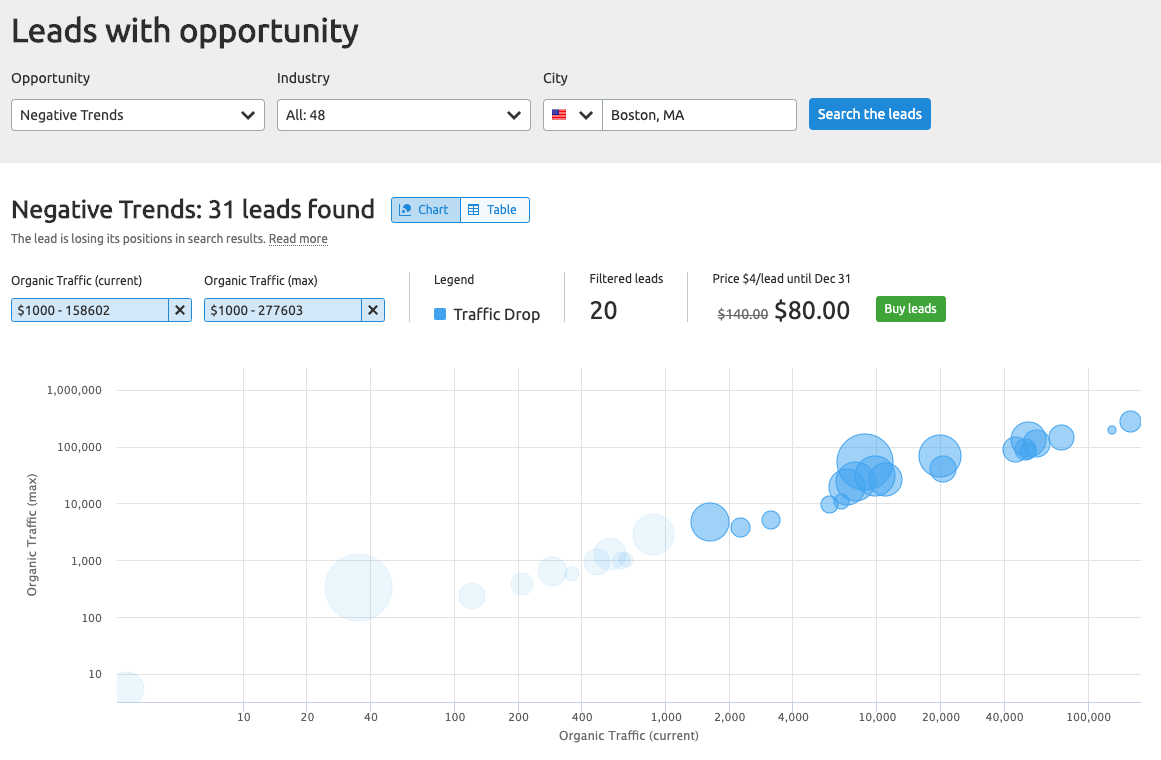 Your Hidden Preview
After you perform each search, you will see a hidden preview that shows you a high-level overview of the leads in individual bubbles. You can view the data in either a chart or table form. 
By hovering over every bubble, you can see some details about the lead, depending on the search criteria you selected. Most of the key details, including the company's name, address, website, and phone number, are hidden from view.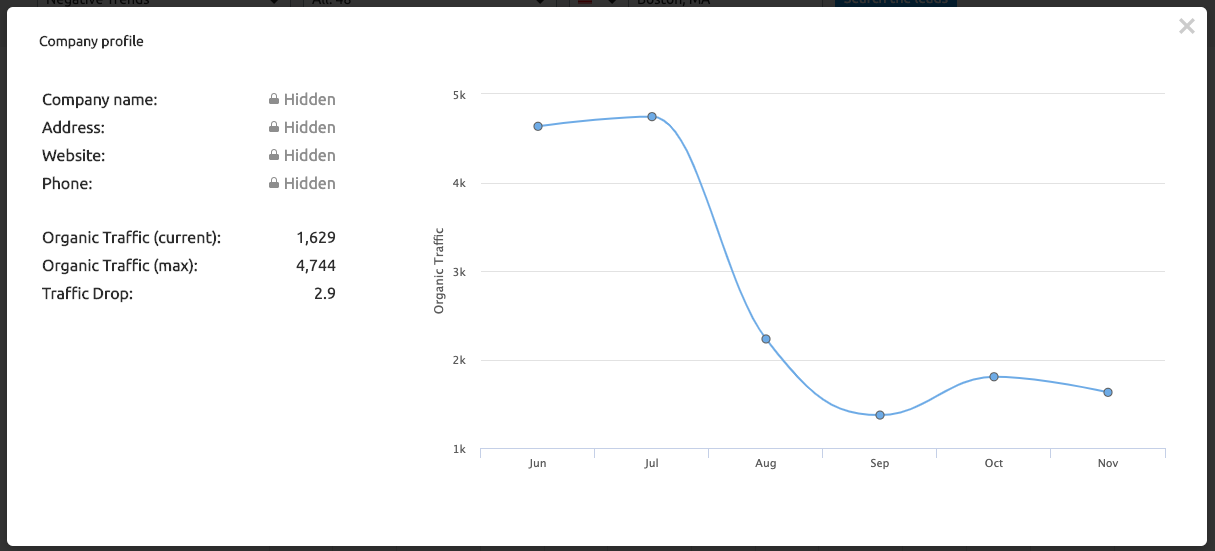 Here are the data points you can see with the hidden preview only:
Marketing Budget Positive Trend
Available stats include under the "Marketing Budget Positive Trend" section include:
Paid Traffic Cost (Current) 

Paid Traffic Cost (Minimum)

Traffic Cost Growth
Strong Competitors
Available stats under the "Strong Competitors" section include:
PPC Costs (USD)

Competitive SEO Costs (USD)

Competition Level
PPC/SEO Budget Gap
Available stats under the "PPC/SEO Budget Gap" section include:
PPC Costs (USD)

SEO Costs (USD)

Traffic Cost Difference
Negative Trends
Available stats under the "Negative Trends" section include:
Organic Traffic (Current)

Organic Traffic (Maximum)

Traffic Drop
Buying Your Leads
Ready to see more than just the bare minimum? It is time to buy your leads!
On the lead details page, click the green "Buy Leads" button to get started. Then, fill out the quick form and pay for your order by entering your credit card information. 
For each lead you buy, you will receive detailed company information such as phone numbers and estimated digital marketing budgets! You can use these points to break the ice, guide your discussion, and lead into how your agency's services can help.
Creating a Custom Report
Some digital marketing agencies might require more information beyond what is available on the Oppty tool dashboard. If this is you, that is OK!
On the tool's home page, click the "I want more opportunities" button to send a custom request. From an analysis of your existing pipeline to advanced lead filtering capabilities, our team can do it all, and we are here to help.
Oppty Helps Turn Leads into Customers
Your digital marketing agency might be the best in town, but unless you know how to find clients the right way, your business and bottom line could both suffer.
To keep sales numbers up and establish yourself as an industry leader, you need leads that turn into repeat customers, who then tell all their friends about the great job you did.
The quickest and most effective way to find these leads? Check out Oppty.
When you do, you will wonder why you ever spent time on fruitless prospecting efforts or other sales intelligence tools in the past.