Facebook contests are a common way of promoting and elevating your brand through social media, and can be effective at expanding your reach and increasing your potential customer base. However, when you run a Facebook contest or sweepstakes (surprisingly, the exact term you use does matter), there are a number of legal pitfalls you need to be careful of.
We'll take a look at what Facebook's rules are for running contests, sweepstakes, and lotteries; what the difference between those terms is; and how to comply with both Facebook's rules and other laws.
Facebook's Rules
Before we start, let's quickly look at what the difference is between a contest, sweepstakes and a lottery.
First, sweepstakes are where a prize giveaway occurs, with the winner or winners chosen by luck. Contests are different in that they choose a winner based on merit, such as most votes. Finally, a lottery is a prize draw where people must pay money to be in to win. Lotteries are subject to numerous laws, and should not be conducted without legal advice. When holding a Facebook promotion, it's crucial to ensure that you are not running a lottery.
Facebook's previous rules set out a number of conditions that applied to these types of promotions, including not allowing "likes" or "check-ins" to be a condition of entry, or the entry mechanism itself. They also prohibited using Facebook features such as the Like button as a voting mechanism.
In 2013 these rules were overhauled, and the new Facebook Promotions Guidelines removed those conditions, which means that you can now use "likes" as part of your competition. There are some issues you should consider before choosing to use "likes", which we'll discuss below. Facebook does still have some rules that must be followed, which state:
"If you use Facebook to communicate or administer a promotion (ex: a contest or sweepstakes), you are responsible for the lawful operation of that promotion, including:
The official rules;
Offer terms and eligibility requirements (ex: age and residency restrictions); and
Compliance with applicable rules and regulations governing the promotion and all prizes offered (ex: registration and obtaining necessary regulatory approvals)
Promotions on Facebook must include the following:
A complete release of Facebook by each entrant or participant.
Acknowledgement that the promotion is in no way sponsored, endorsed or administered by, or associated with, Facebook.
Promotions may be administered on Pages or within apps on Facebook. Personal Timelines and friend connections must not be used to administer promotions (ex: "share on your Timeline to enter" or "share on your friend's Timeline to get additional entries," and "tag your friends in this post to enter" are not permitted).
We will not assist you in the administration of your promotion, and you agree that if you use our service to administer your promotion, you do so at your own risk."
Let's take a look at the key rules here, which are including your own terms and eligibility requirements for the promotion, and the release of Facebook from liability or connection with your promotion.
How to Include Your Own Terms and Eligibility Requirements
The first step in complying with Facebook's rules is setting up your own offer terms and eligibility requirements.
One of the most important things to remember when setting up your own terms for the contest is that you should be clear, and think through a number of different potential scenarios that could arise, such as two people thinking they both won, two people submitting an answer at the same time, a winner being chosen who never provides an address for the prize to be sent to, and so on.
Rules for your competition should always include Terms that cover:
A clause setting out that there is "no purchase necessary" to enter the competition. This is a statement that needs to be included to ensure that you comply with sweepstakes and gambling regulations in the US: the FTC states in their small business advertising guides, that "sweepstakes-type promotions that require a purchase by participants are illegal in the United States." Keep in mind that this statement must also be true - you must not require your promotion participants to make a purchase at any point in the process.
How participants can enter for free. This is to clarify the exact method by which participants can enter with "no purchase necessary". To ensure that your proposed method of entry is clear, send out your promotion text or image to a few people to test it before it goes live.
Who is eligible to participate in the promotion, and what the geographical boundaries of the promotion are (e.g. US only). Consider what country's laws you are willing and able to comply with, and ensure that the competition is only open to participants in those jurisdictions.
When the promotion opens and closes. Clearly state a date and a time, e.g. Jan. 12 2016 at 5 p.m. EST.
Who the promoter and sponsor of the contest is (i.e. your business). If you are running a promotion on behalf of someone else, or giving away the products from another business as a joint promotion, ensure that you state this in your Terms.
What the prizes are, an accurate description of each prize, the value of each prize and the odds of winning each type of prize.
Whether all prizes offered will be awarded.
The manner in which a winner or winners will be selected, and how they can receive their prize.
Where and when a list of winners will be published.
In your Terms you should also include that the promotion is "not sponsored, endorsed or administered by, or associated with, Facebook," as per their Promotions Guidelines. You can see this in the example from Shula's Steak House below:
Note that Shula's Steak House asks the promotion entrants to "like" their post, rather than liking the page. Liking the page could appear to be some form of value or payment (in legal terms, called "consideration") for entering the giveaway. A Facebook page "like" may have value to the page owner, and could be considered to be "payment," which would make the giveaway a lottery. This has not yet been examined by the courts, but it's something to be aware of when you're considering what you will require your entrants to do before they can enter into the promotion or giveaway.
Now let's take a look at how to get promotion entrants to agree to your Terms.
How to Get Promotion Entrants to Agree to Your Terms
The next issue you need to consider is how you can ensure that your page followers or competition entrants have agreed to your terms. The two foundational aspects of agreement to your terms online are reasonable notice of the terms, and clear agreement to the terms.
The reasonable notice requirement can be met by providing a link to or a copy of your terms in your promotion text. For example, a hyperlink to your terms on another website, or (if your terms are short) including the terms in full in any posts that you make about the contest or promotion.
With regard to getting agreement, ideally you want your users to have explicitly said "I agree" in some way. One way that you can do this is to post the Facebook contest or promotion on your page, but have the actual entry form accessed elsewhere via a link, such as Google Forms. This way you can include a checkbox in your entry form that states "I agree to the Terms of this promotion." Here's an example of what this form might look like: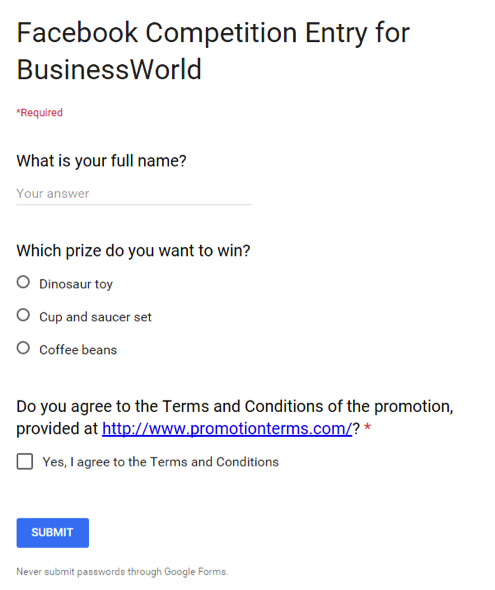 Another example might be in the case where you ask entrants to comment on your post to enter the promotion or contest. If you do this, you could require each entrant to include the words "I agree to the competition Terms" in their comment.
How to Get Permission for Sending Follow-Up Emails
In the same vein as getting agreement to your Terms, you need to get agreement from contest entrants if you want to send them follow-up emails. If you are using an external form setup to have entrants enter the competition, you can include checkboxes that state "I agree to be contacted by email if I have won this promotion" or "I want to receive newsletters and marketing emails from [insert company name]."
By doing this, you are clearly establishing which potential customers want to be contacted and which ones don't. This protects you from falling afoul of anti-spam legislation and unsolicited messages laws.
Follow Other Legal Guidelines
It's also important to follow other legal rules and guidelines, such as tax and gift laws. If your prize is worth more than $600, your prize winner may be subject to U.S. taxes and will need to file a Form 1099 as the prize will be counted as "income" for the winner. From a marketing perspective, it is professional to inform your prize winner of these obligations.
In election season, one extra special guideline pops up: you aren't allowed to give away free stuff to people in exchange for them voting. Last election season, burger chain Z-Burger ended up needing to modify their promotion after they found out that it was technically illegal.
Also be aware of special rules and requirements if your giveaway or contest is targeted at minors. Different US states have different minimum-age requirements for contests, and you'll need to be careful if you are collecting personal information from any entrants under the age of 13, due to the Children's Online Privacy Protection Act (COPPA). COPPA considers email addresses to be "personal information."
If you are collecting personal information of entrants under 13, you'll need to clearly disclose to them in a Privacy Policy what information you are collecting, and obtain " verifiable parental consent" to collect that information.
If you need to put a Privacy Policy in place, TermsFeed can help you to create one.
Conclusion
Running a Facebook contest can be a great way to promote your business and gain new Facebook followers and customers, but you need to be aware of the potential pitfalls before you get started. First and foremost, ensure that you comply with Facebook's rules, by having clear contest Terms, releasing Facebook from liability, and acknowledging that the promotion is not sponsored by or endorsed by Facebook.
Then, ensure that contest entrants agree to your Terms, get permission for any follow-up contact with contest entrants, and stay in line with other relevant laws such as tax legislation.