In this guide, we're going to teach you how to find backlinks that point to any website so that you can use these insights to power your own link building strategy.
Whether you're looking to find fresh opportunities to earn links that your competitors have but that you don't, are looking to understand gaps in their link profile that you could use to gain a competitive advantage, or are even looking to audit your own link profile for toxic links, we want to help you find backlinks! 
As an SEO, you'll need to know how to find backlinks if you want to take your site's organic visibility, rankings, and traffic to the next level. So, we're going to walk you through how you can do this using the tools available from Semrush:
We'll look at how you can use these to find backlinks that point either to your own or a competitors' website and help you to understand why backlink analysis is such an important part of SEO, specifically looking at:
Backlink Analysis As A Powerful SEO Tactic
Backlink analysis is a task that every SEO should be confident undertaking. 
After all, backlinks remain one of Google's top three ranking factors, alongside content and RankBrain. 
If you want to increase your organic traffic, you can't ignore the importance of earning quality links. Still, to do so, you need to find where your competitors are acquiring links from and what's contributing to their rankings.
This means knowing how to discover the links pointing to any website. Understanding how to analyze any domain's backlinks (including your own) means that you're able to:
Find the sites that have linked to your domain, the authority of these, and the anchor text that they use.
Find opportunities to earn the links that are helping your competitors to rank on the SERPs.
Identify which domains link to one or more of your competitors but not you.
Audit your site's link profile for toxic links.
So then, how do you get started?
A Step-By-Step Guide To Finding and Checking Any Website's Backlinks
We'll look both at how you can gain an insight into a website's backlinks to determine who is linking to them and where they're building links from, as well as sharing a simple process to audit your own link profile for toxic links (after all, one of the common reasons that SEOs analyze their own backlink profile is to ensure no unnatural links are pointing to their site).
You'll need a Semrush account for this walkthrough. If you've not already done so, you can sign up here. 
Analyzing A Website's Backlink Profile
First up, we're going to teach you how to analyze a website's backlink profile using Semrush. You can use this process to help you see the links and domains that point to the site (or a specific page) or learn more about these, including the anchor text used.
Step 1: Open Up The Semrush Backlink Analytics Tool
To take a deep dive into a site's link profile, you'll want to head to the Semrush Backlink Analytics Tool.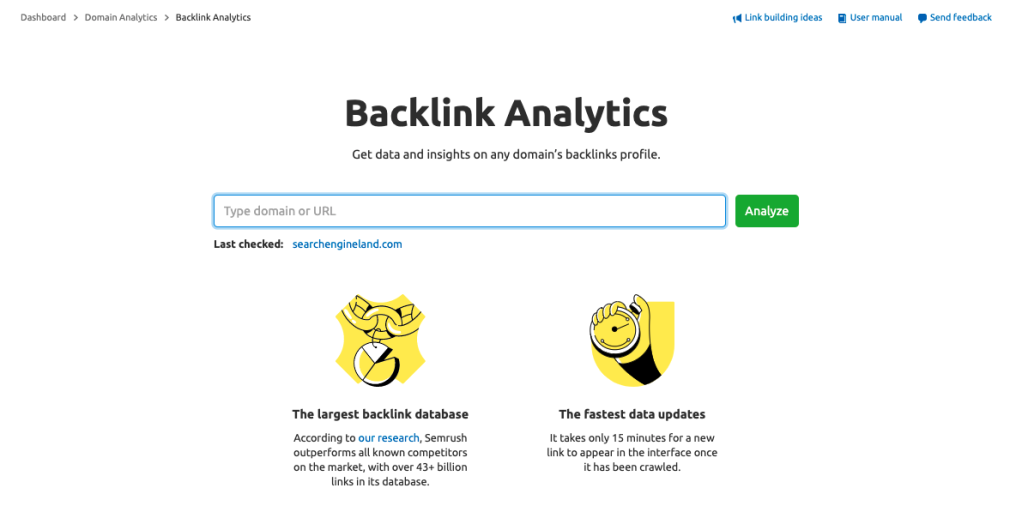 Whether you're looking to analyze the links in your own link profile or your competitors', want to gain an insight into the anchor texts that are linking, or compare a batch of domains, this is where you'll want to start your link analysis.
Semrush now has the fastest backlink checker among leading competitors, so when you do research here you know that you're getting the most up-to-date list of links going to any domain.
Step 2: Enter The Domain Whose Link Profile You Want To Analyze
To get started with the tool, you need to enter a domain. 
This can either be your own website, one of your competitors, or any website whose link profile you want to dig into. If you want to see the links that point to a specific page on a site, enter the URL of that page, rather than the root domain (e.g., www.yourwebsite.com/page rather than just www.yourwebsite.com).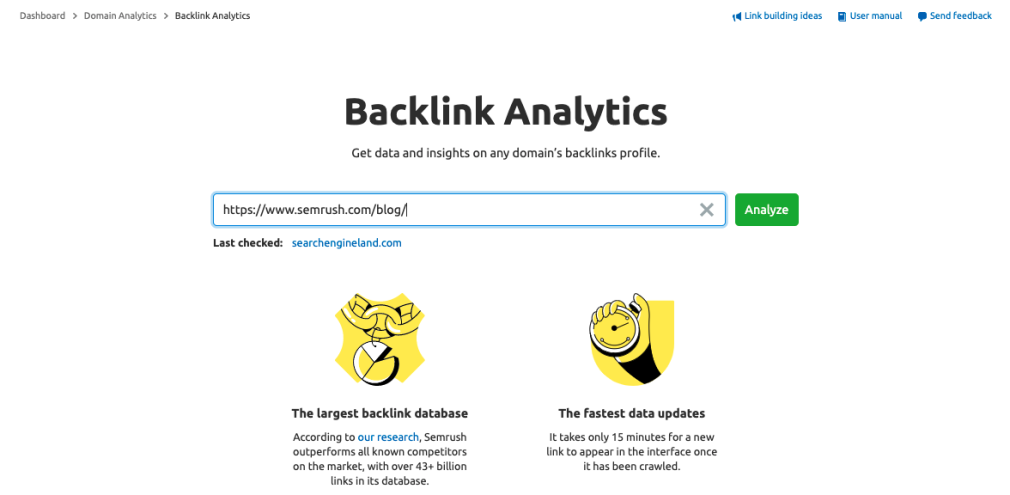 You can either copy and paste a domain into the box or type it out and choose the right one from the autocomplete results. 
Hit 'check it,' and you'll see an overview of the backlink profile for the domain or page that you've entered, with key insights you can take from this, including:
A top-level look at the Authority Score, referring domains, backlinks, monthly visits, and keywords.
How the number of referring domains and backlinks has changed over time.
The topical categories of the referring domains.
The top anchors being used.
A breakdown of referring domains by Authority Score.
The type of backlinks and link attributes.
If you want a quick overview of a backlink profile, there are so many insights you can gain from this single dashboard. 
You can also export as a PDF or to Google Looker Studio (formerly known as Google Data Studio) using the buttons in the top right of your page.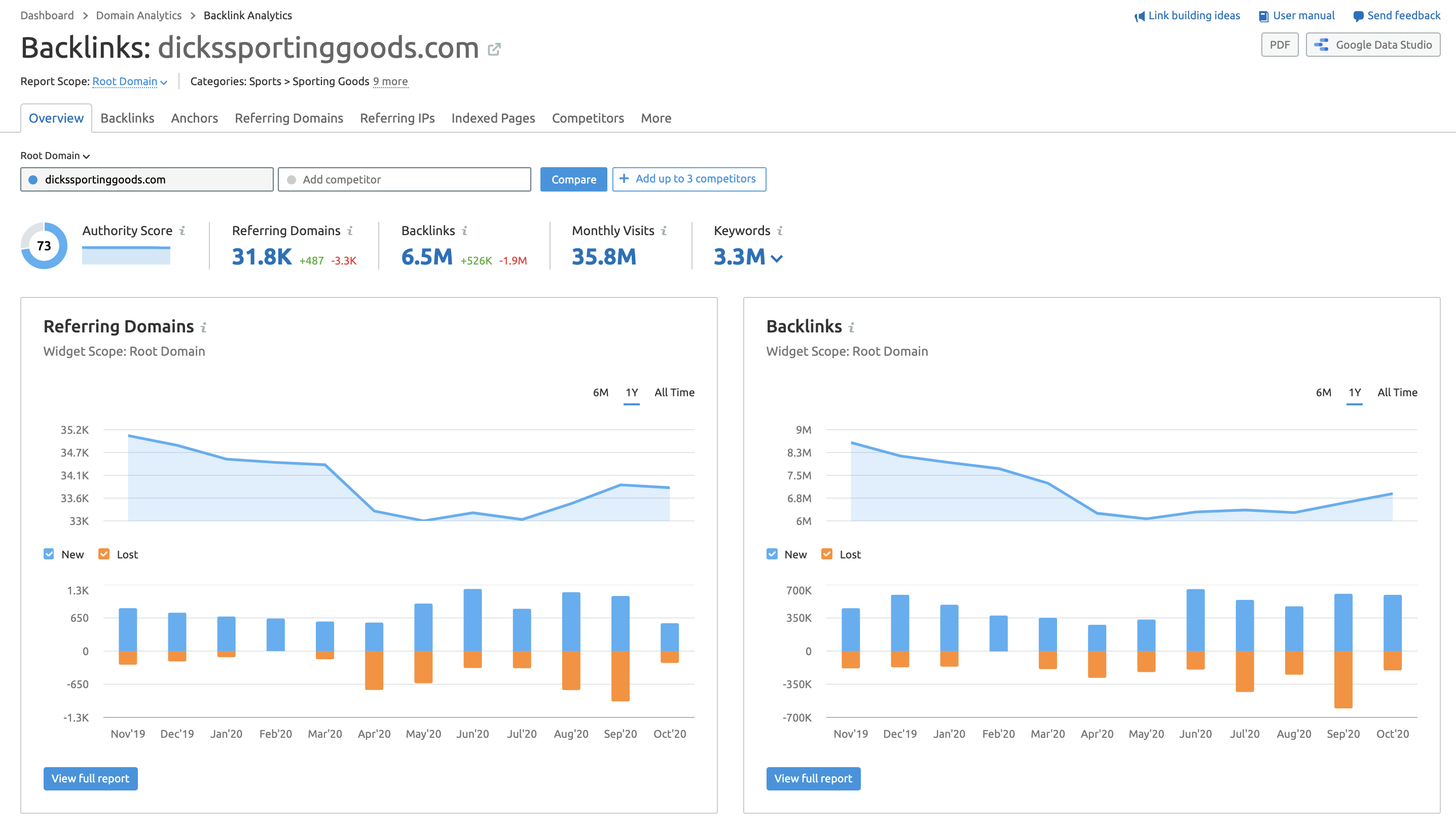 Step 3: Open Up The 'Backlinks' Tab To Dive Deep Into The Links
Click into the 'backlinks' tab within the tool to see a full list of backlinks that point to the domain.
By default, you'll find that the table is sorted with the higher Authority Score links showing first. This helps you to identify the most authoritative links that exist.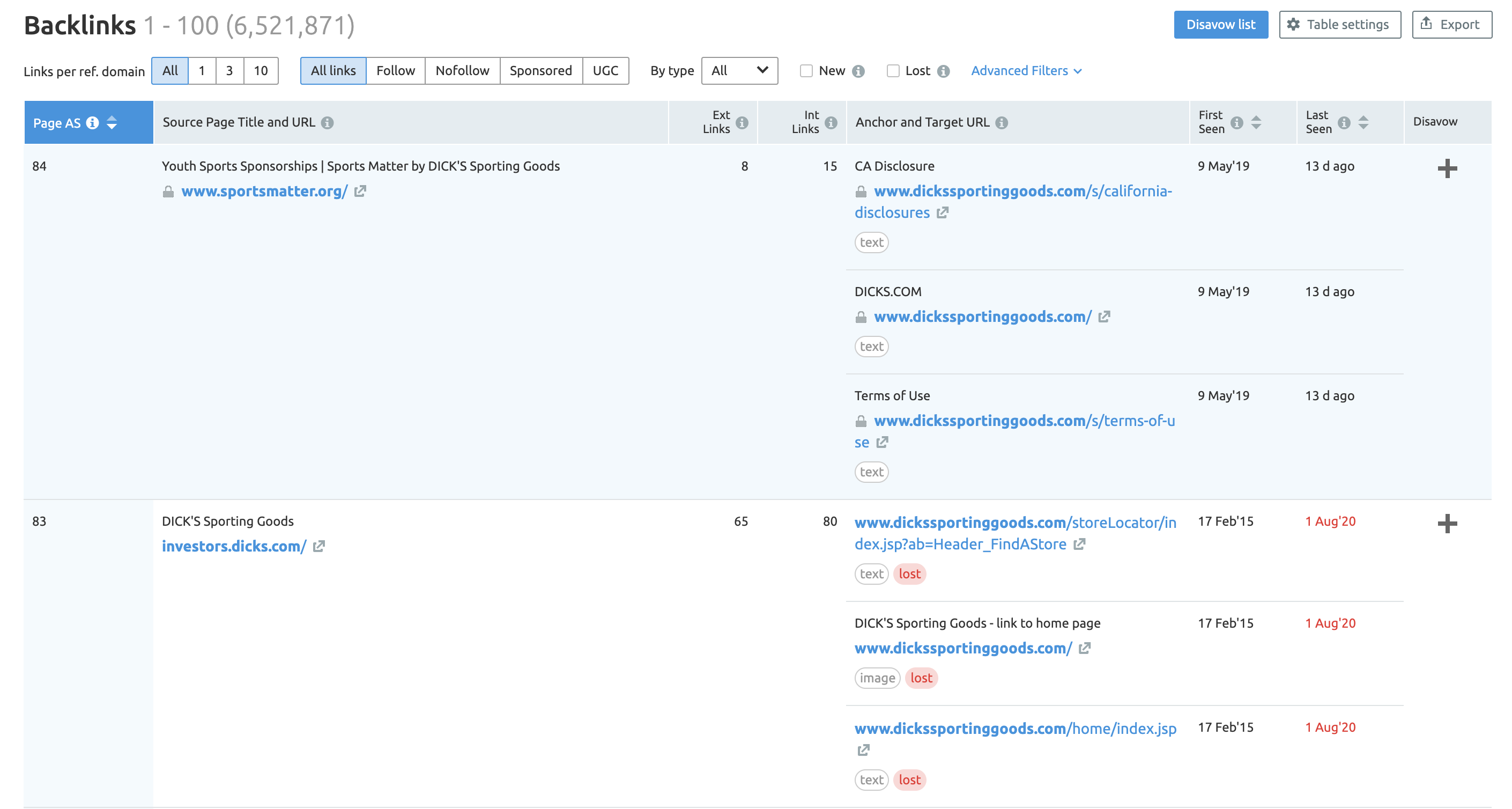 You'll see several filters at the top of the table, making it easier to refine larger link profiles and find exactly what you're looking for.
In particular, these filters are useful for excluding Nofollow links when you're looking for sites for your outreach efforts.
For each link, you'll also see the anchor text used and the target URL, alongside information on the first and last seen dates. You can export this data as a .csv file or an excel document using the 'export' box at the top right of your page. 
See the + icon next to each link? If you're looking to identify potentially toxic links for your own site, you can use this to add a URL to your disavow file. 
Step 4: Analyze Anchor Texts On The 'Anchors' Tab
Even if you're earning links editorially, it's still important that you know what the anchor text breakdown of your link profile looks like or that you've got the insights to help you understand what this looks like for a competitor.
Head to the 'anchors' tab, and you'll see a chart that shows a full list of your site's top linking terms. This chart makes it easy to see whether a site's link profile contains any concerning spikes across a single non-branded anchor text, as well as a detailed breakdown across every anchor term that's being used.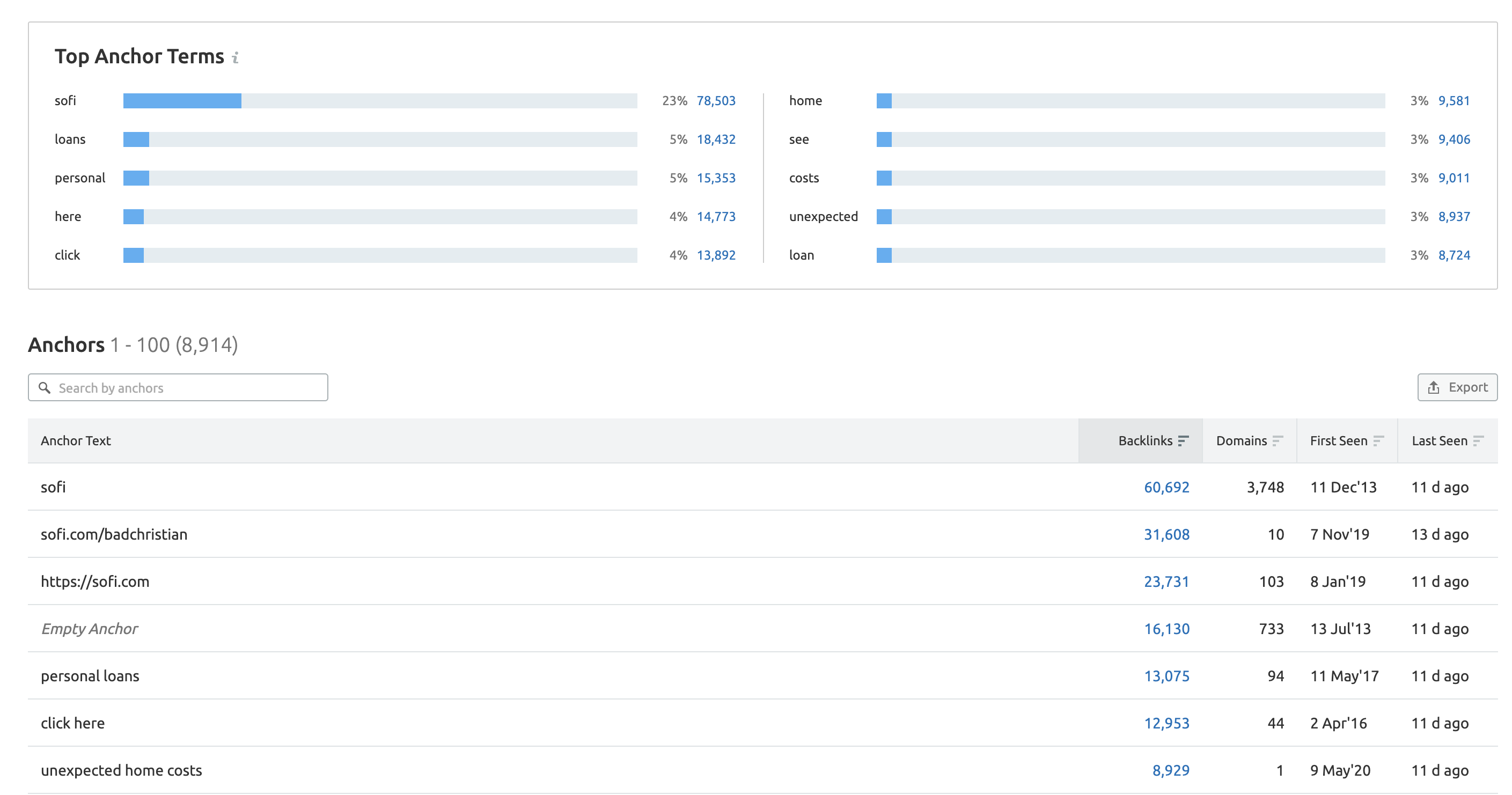 Step 5: Find Unique Referring Domains That Link On The 'Referring Domains' Tab
In many ways, referring domains are a more important metric of link analysis than the number of backlinks. After all, Google considers backlinks as a vote of confidence from one website for another.
You should be paying attention to the number of unique referring domains that point to your own website and your competitors'. 
Head to the 'referring domains' tab, and you can see an insight into not only the specific domains that link (and their Authority Score) but also a breakdown of the TLD distribution and country. These two other metrics can be useful in determining link gaps between you and other websites.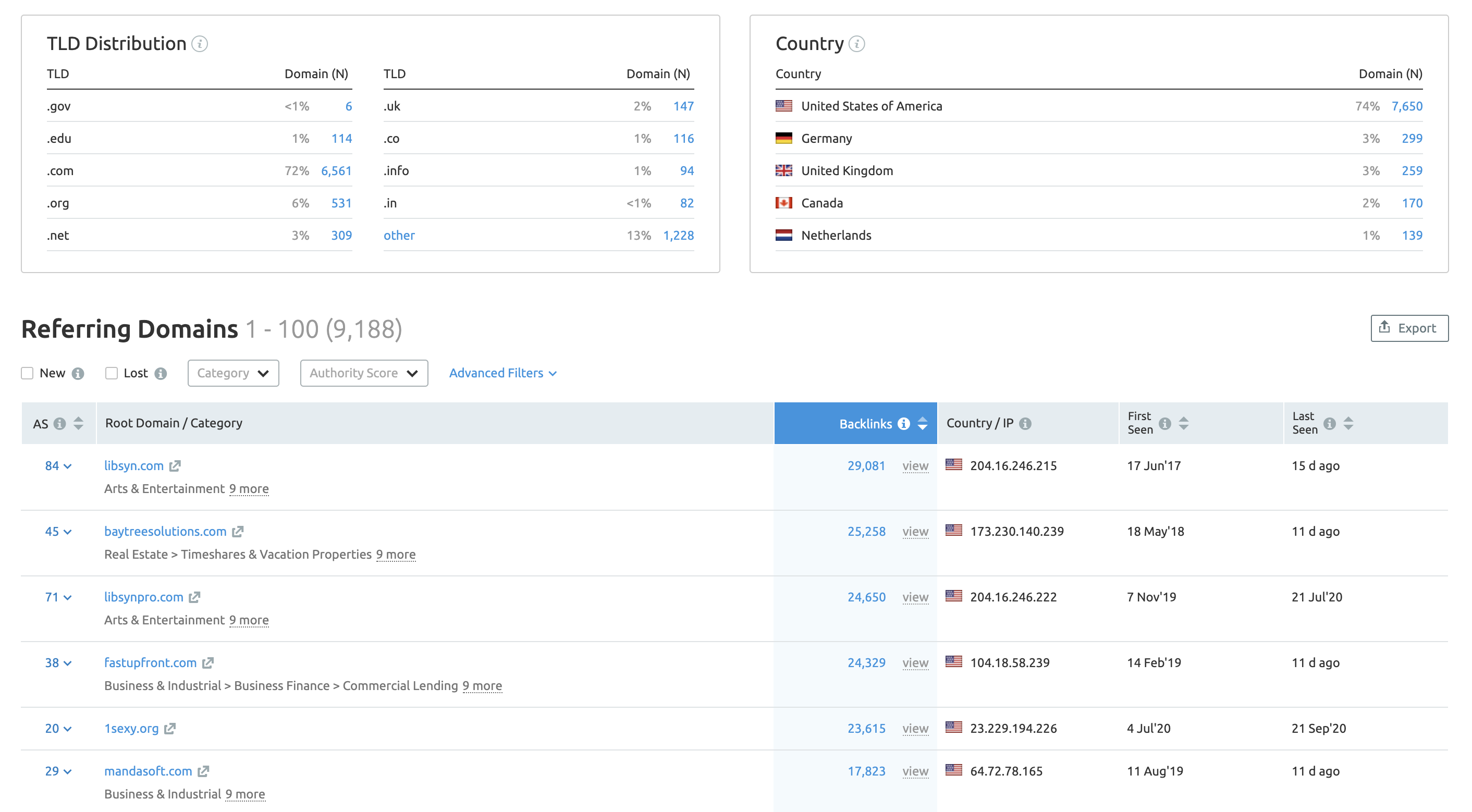 Step 6: See Which Pages Are The Most Linked To On The 'Indexed Pages' Tab
Alongside finding the specific pages and domains that are linking to a website, a useful piece of competitor insight can be to determine which pages on a domain have been linked to the most from other websites.
When you look into which pages are landing links, you can discover why a page is getting links, whether that's because it's a great piece of content, a promotional offer, or even a product launch. By analyzing both the page and the type of links it's earning, you can learn what's working for others and look to replicate this approach as part of your own strategy.
Head to the 'indexed pages' tab, and you'll be able to dive deep into any website's most linked to content.
It's recommended that you sort the table by 'domains' in this instance to ensure that you're looking at the URLs that have earned links from the highest number of unique websites.
This insight is particularly useful when using tactics such as The Skyscraper Technique, during which you'll need to start your efforts by uncovering pieces of content that have performed well in terms of earning links from a significant number of publications. 

Tick the 'target URL error' box, and this tool can also help you to uncover broken link building opportunities, showing 404 pages on a website that have links pointing to them. Click into these specific URLs to see the links that point to it, and reach out to these websites and journalists to point out the broken link and to recommend your own content as a replacement.
Step 6: Compare The Link Profiles Of Up To Five Domains
It can be incredibly useful to compare your domain against multiple competitors at the same time to see the strengths and weaknesses of each one.
For this, head back to the overview tab, and you'll be able to add up to five domains (including your own) to compare link metrics. Either enter your list of competitors or choose from the suggestions that you're presented with.
Hit 'compare,' and you'll see key link metrics across the domains you're comparing, including the number of backlinks and referring domains, the type of backlinks, and link attributes.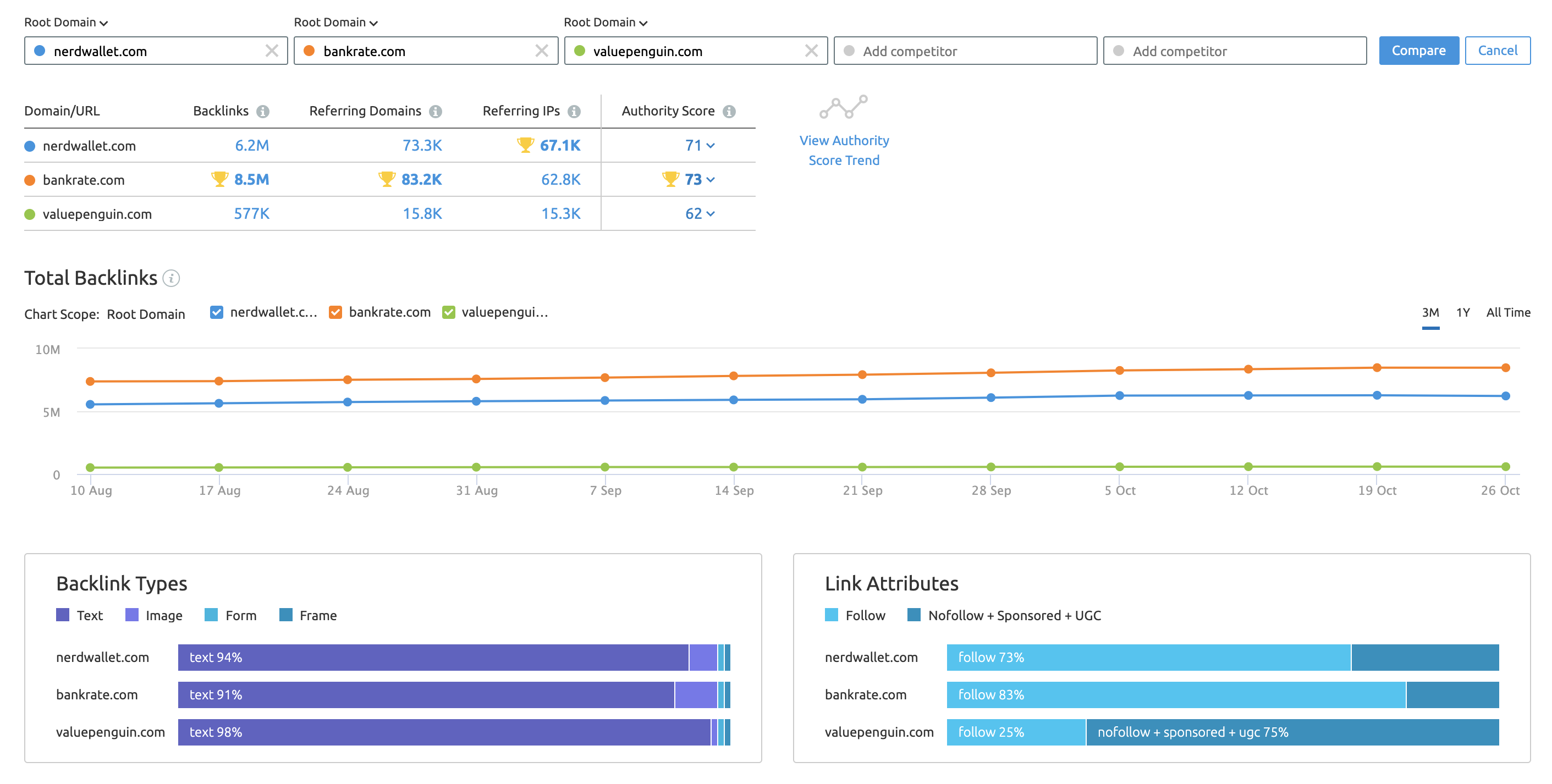 To dig further into the link gap between your own site and your competitors, you can also use the Backlink Gap Tool and see specific opportunities to explore sites where these other domains have earned links from, but you haven't.
Checking For Toxic Links
In addition to finding links that point to either your own site or your competitors', one of the common reasons why SEOs want to analyze their link profile is to check for toxic links. To make your life easier, Semrush can run a full audit of your backlinks to help you to identify any potentially unnatural or risky links.
Step 1: Open Up The Semrush Backlink Audit Tool and Set Up Your Audit
Open up the Semrush Backlink Audit Tool and set up your audit.
At this stage, you'll need to choose your domain, set your brand name, domain category, and target country so that the tool can help you to discover and disavow any toxic links.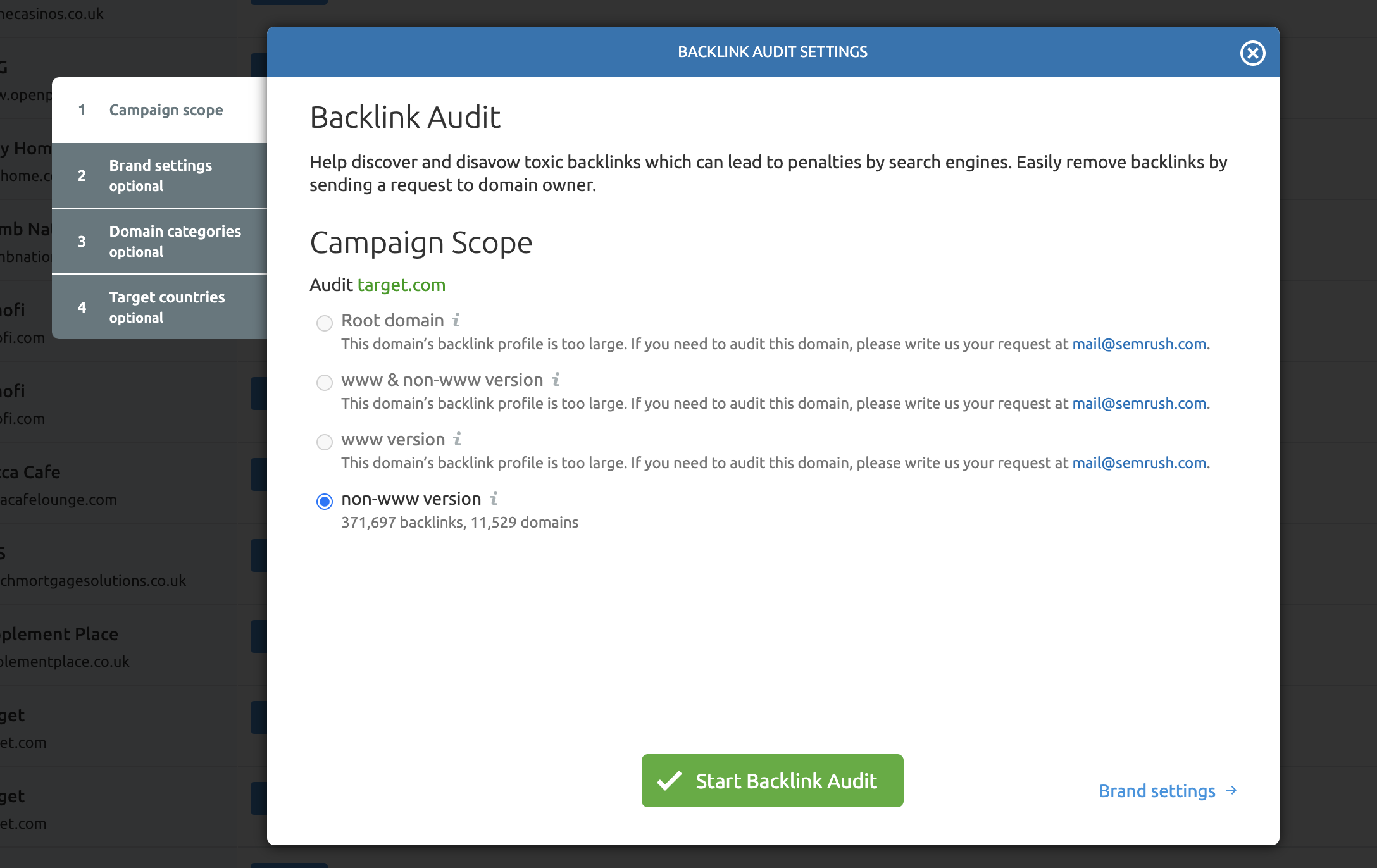 Step 2: See An Overview On Your Site's Link Toxicity
Once the audit has run, you'll be presented with an overview that shares an insight into the toxicity of your site's link profile.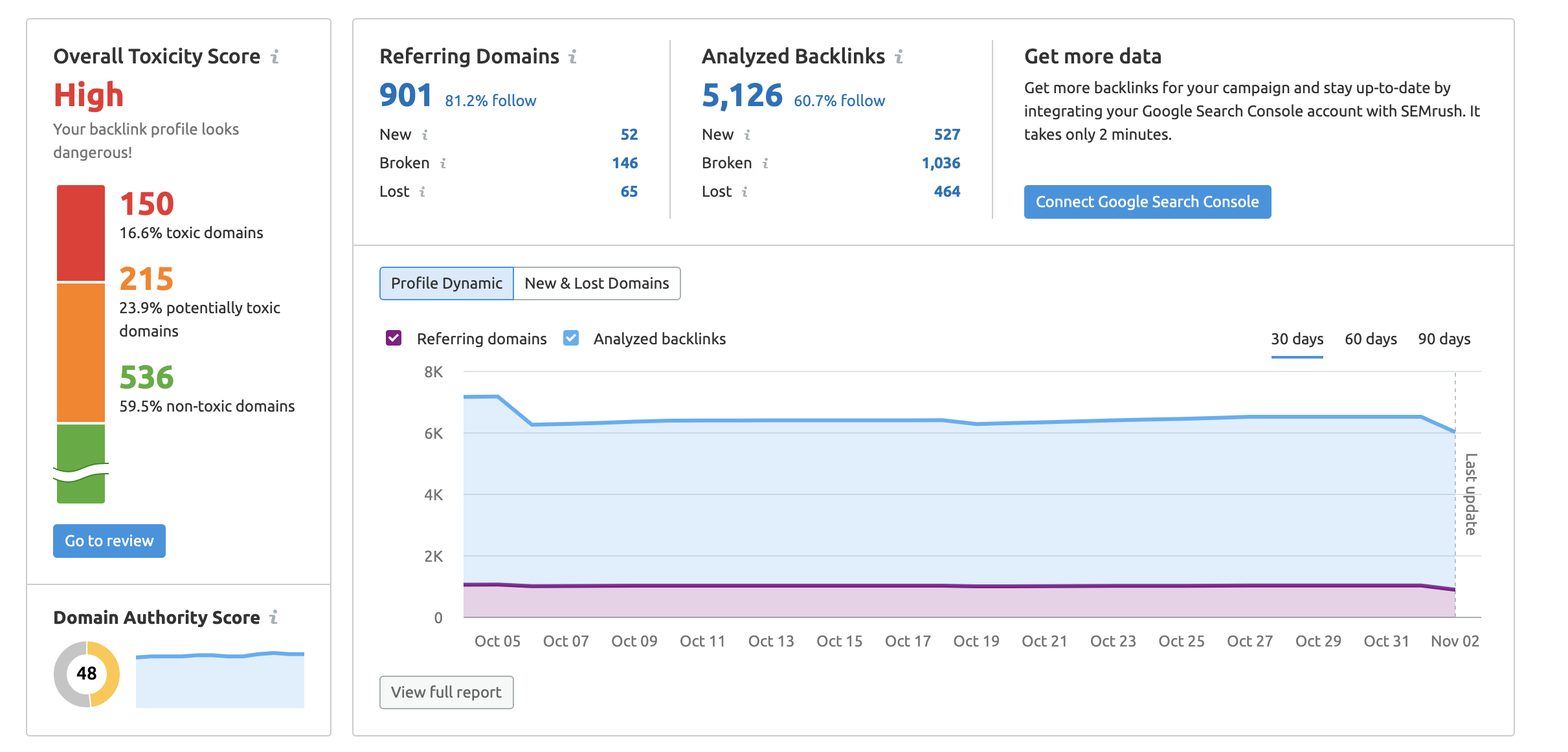 Specifically, at this stage, you'll want to pay attention to the overall toxicity score and the specific breakdown of toxic, potentially toxic, and non-toxic domains.
The overall toxicity score can be a strong indicator that you need to take action on specific links or domains either by adding to your disavow file or removing these to prevent any negative impact resulting from such links.
Step 3: Audit Your Site's Toxic Links
Hit the 'Go to review' button under the Overall Toxicity Score, and you'll be able to dig deep into the links that the tool has marked as toxic (or with any of the other markers).
On the right, you've got three actions:
Move to Whitelist
Move to Remove list
Move to Disavow
You can learn more about cleaning up your link profile here.
---
Knowing how to find the backlinks pointing to a website is one of the SEO basics you need to master. However, with the right tools, you can focus your efforts on using the insights made available to you to close that link gap with your competitors, build new links, or ensure you have no toxic links that could be harming your site's organic visibility.