Finding Black Friday deals can be a hassle when you are busy. If you are using SEMrush for your SEO needs, why not use them for your shopping needs as well?
I decided to use the Topic Research tool to think outside of the box: finding the best Black Friday Deals (you can also do this for Cyber Monday). The content ideas are shown in the form of cards with subtopics.
You might ask, why is this process better than just Googling something? Well, our Topic Research tool pulls subtopics that rank the highest on the SERP for your seed keyword and also takes backlinking into effect. Google only looks at how many Web pages link to a particular site to determine its relevance.
How to Use the Topic Research Tool
Type your seed keyword into Topic Research, and you will see a dashboard with the most popular subtopics posting about related topics.

Each topic card will show you the top 3 headlines for the main keyword.

You can expand this number to the top 10 headlines and titles by clicking on the topic card.

You can also target your search by country and city to ensure you are only getting ideas for the location you intend to know more about.
Step by Step Finding Deals:
 Add "Black Friday Deals" into the Topic Research tool

The subtopic "cards" will include subtopics of headlines, questions, and related searches to Black Friday Deals.

Sort out cards based on trending topics and your favorite Black Friday Deals.

If you would like to see local level deals, you can see a regional level (statewide) or a specific city level.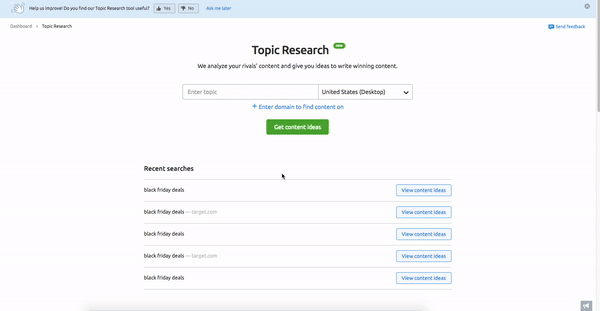 Navigating Through Topic Research
(1) By default, the trending subtopics marked with a flame icon are shown first. Trending subtopics are the most popular subtopics over the last 60 days across the internet. So it might be in your best interest to check out the trending subtopics first.

(2) If you click on a card, you will see more info like the top headlines and questions regarding Black Friday Deals.

(3) The resulting information can help you narrow down where to shop on Black Friday, showing links to what stores have the best deals.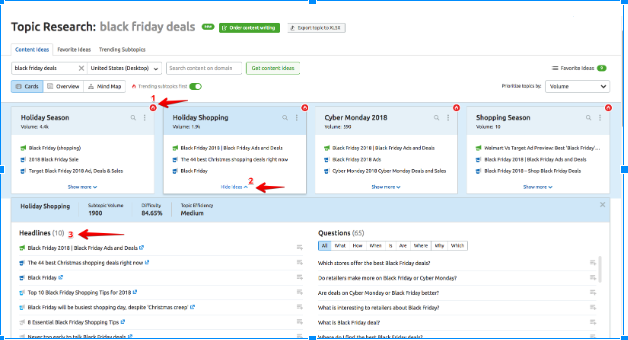 Competitive Insight
Whether you are a large E-commerce store or a small, local mom and pop shop, you are still able to see the ads your competitors are running, and their content for the upcoming holiday season. One of the ways to do this is to find out whether your competitor has any articles on the topic you plugged in and check if you have similar content or ads to compete with.
Type your seed keyword into Topic Research, and you will see a dashboard with the most popular resources posting about related topics.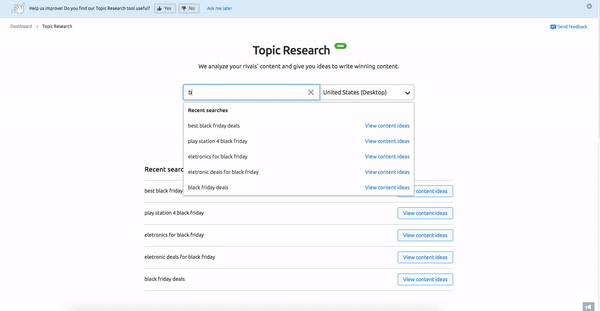 2. Type in your competitor's domain to see if they have any content on a topic you are interested in. The tool will highlight those content subtopics with green.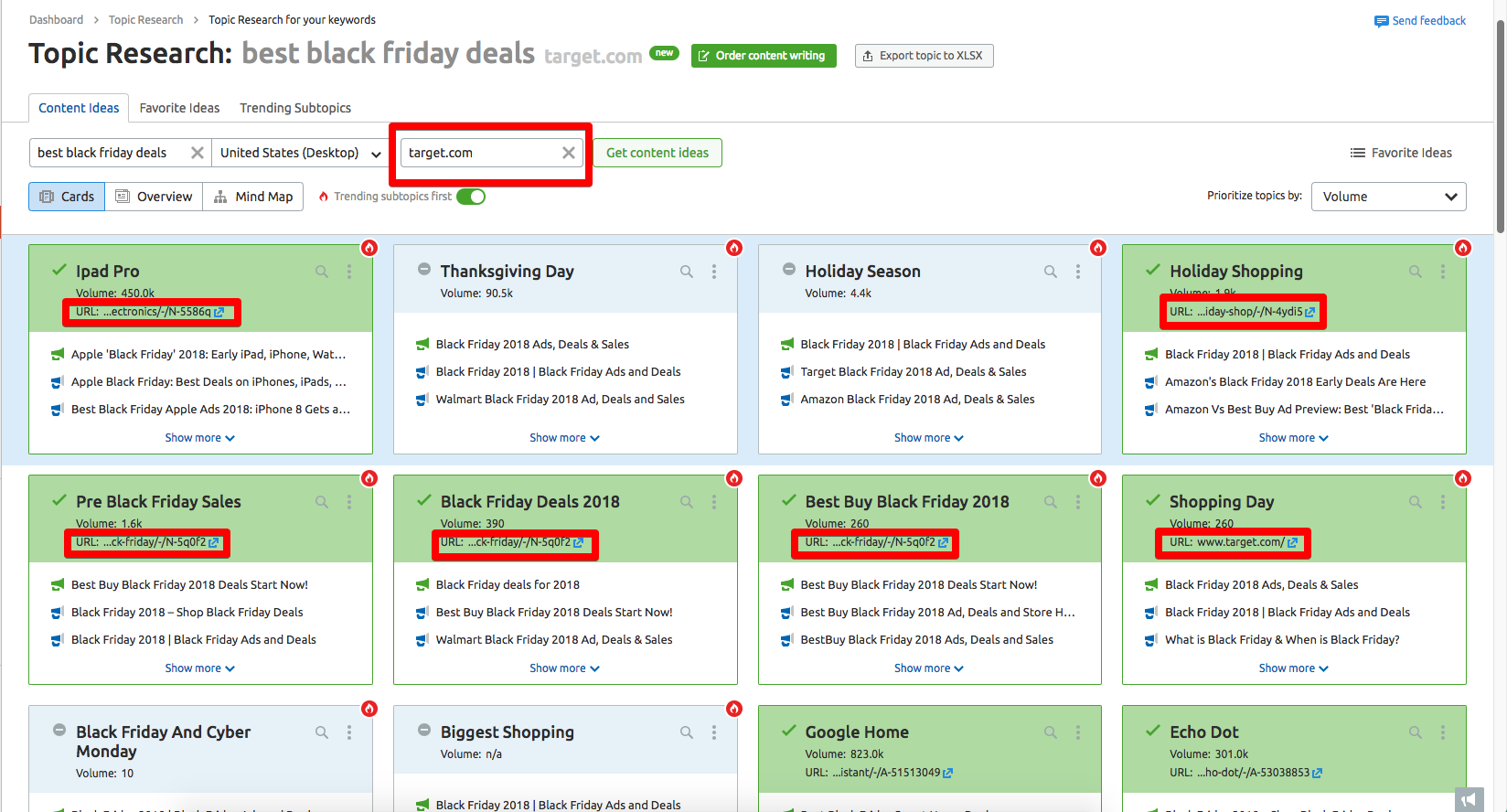 3. Using this feature, you can find out:
The topics that are covered better by your competition.
The topics that have not been written about that you might want to capitalize on.
The type of ads or content your competitors are running for the holidays.
If your competitors have content/ads for a specific item.
4. By finding a competitor's top articles for holiday deals, you can see what the traffic is to their site.
You could essentially steal your competitor's traffic by writing about the same topics your competitors are, but do it better!
How to Find Trending Topics
The topic cards are showing actual Black Friday deals on a national level. Some of the cards are listing:
Headlines of articles to domains that are writing about the best Black Friday deals.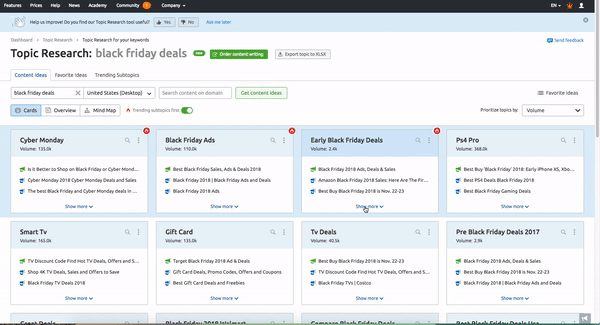 Other cards are listing deals, such as electronics.
You can click on the domains within the headlines tab to see these electronics and what stores are offering those deals. Also, you can click "Show more" to see headlines of Black Friday Deals and what pages resonate the best with what you are shopping for.
Discover Top Headlines and Articles
Alongside the Headlines, there are "Search Queries" towards the bottom of the search. If you are interested in more ideas, you can see all of the searches related to the subtopic you chose at the bottom of the topic card.
You can click on any of these related searches to start a new topic research for that keyword; this could come in handy regarding a different Black Friday Deal you were looking for. The related searches work on a local level as well.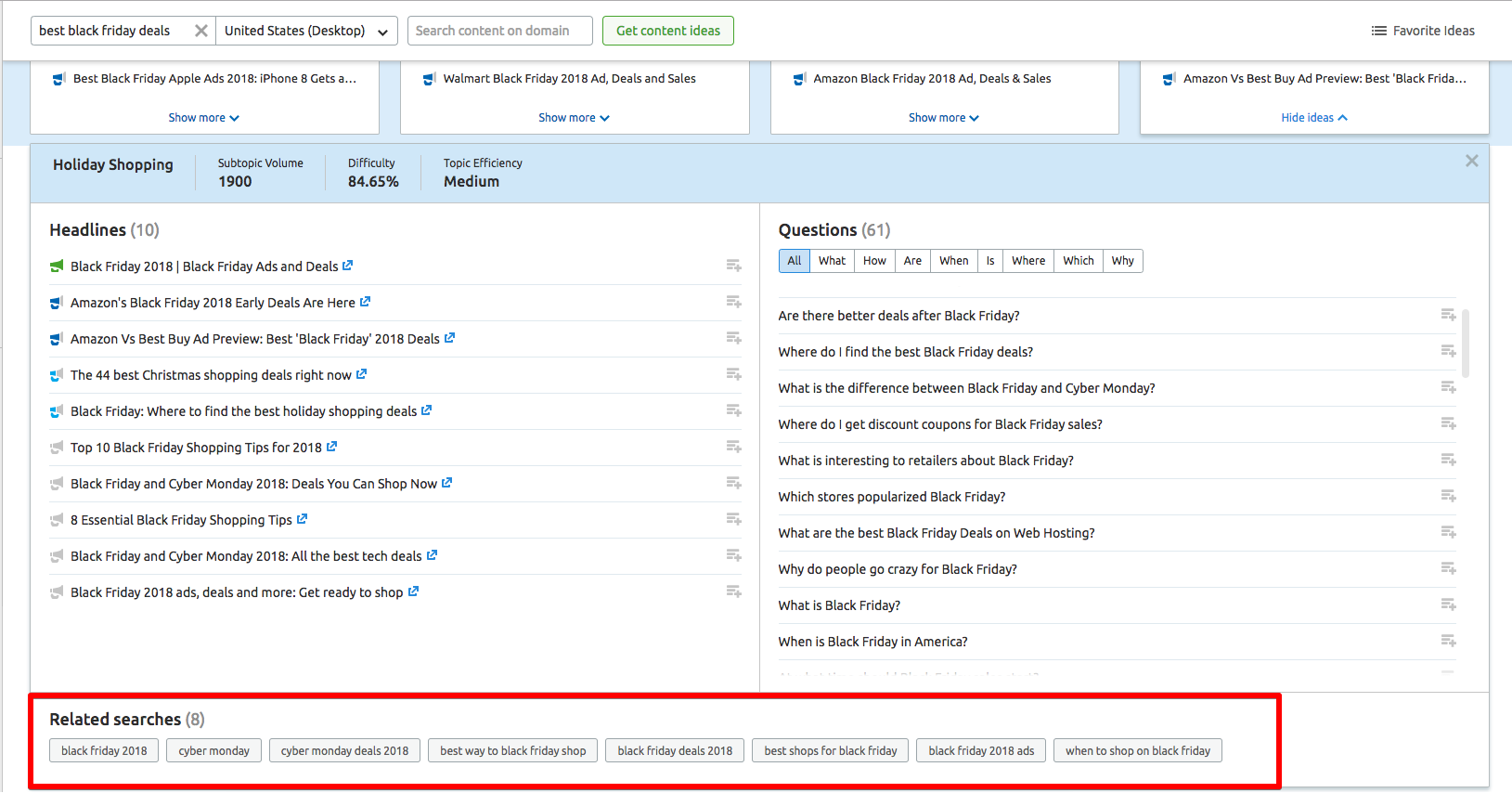 Local Level Deals
If you want to see the best trending topics for your favorite store, we have got you covered. You are still able to search a store on a national or local level.
Once you plug in a store's website, the subtopic cards will turn green if the website has a URL containing your main topic (Black Friday Deals).

The green subtopic cards provide you with the URL to the domain you plugged in, along with the article containing the best Black Friday Deals.

The topics shown are being ranked by volume, which means the cards towards the top of the page are being searched more often.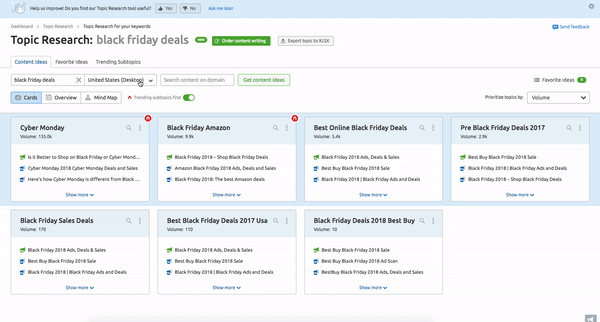 Find Deals from Your Favorite Store
You can use the Topic Research tool to see which of your favorite stores are offering coupons and "in-store only" deals. These articles are attached to the URLs depending on what store you plug in. The URLs are shown once you click the "Show more" tab.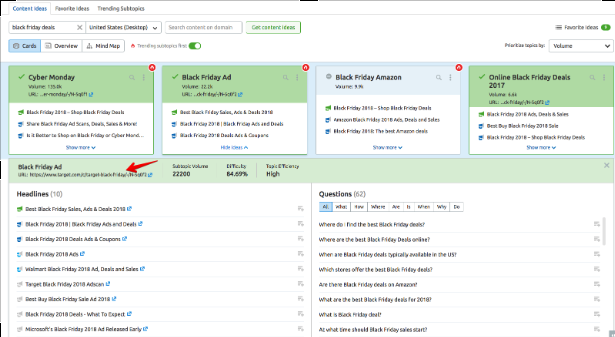 The Headlines will include article titles that you can click on that will have information about coupons or "in-store only" deals that you should know about.
Search by Item
Using the tool to search by using your favorite store is very convenient, but you can also search by an item you were looking to buy. For example, Black Friday is known for having the best sales for electronics.
If you were looking to buy a PS4, just plug the keyword into the Topic Research tool and let it work its magic.

The tool will show you articles that people have wrote on where to find the best deals on a PlayStation 4.

The tool will also provide URLs from certain stores having a deal on this item.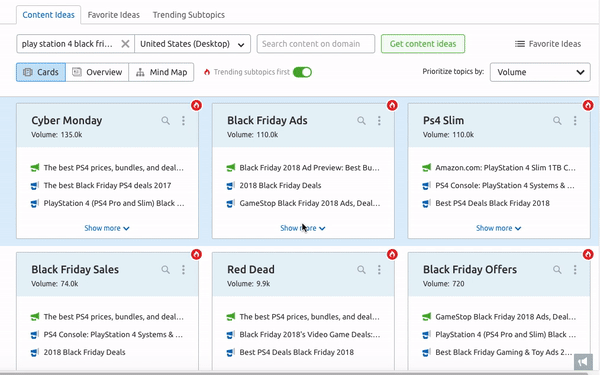 Integrations
You can save your favorite articles for later and also integrate your ideas with other tools. We have integrations with Trello, the Marketing Calendar, and SEO Content Template.
Trello:
You can send the subtopic idea to your account and set it as a task on your board.

Send a task directly from the front page or from the 'Favorite Ideas' tab.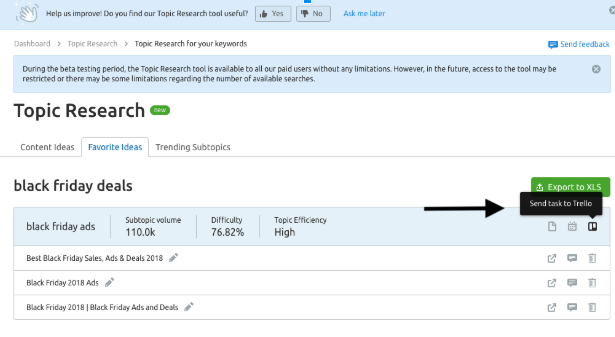 The Marketing Calendar:
Save the subtopic as a content task in the Marketing Calendar.

You can 'Schedule content task' from the front page or from the 'Favorite Ideas' tab.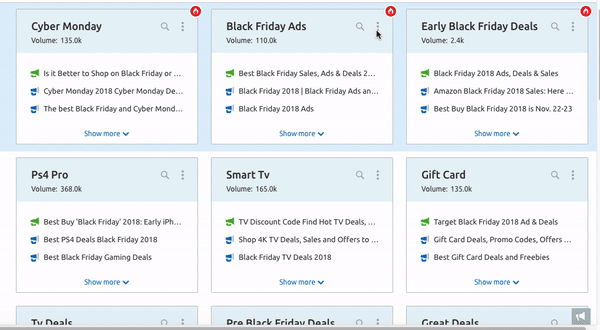 SEO Content Template:
This tool could help enhance content creation for your subtopic if you wanted to write some content.

The SEO Content Template will open with your keywords inserted from the Topic Research tool.

Help with SEO recommendations for future content regarding the subtopic keyword.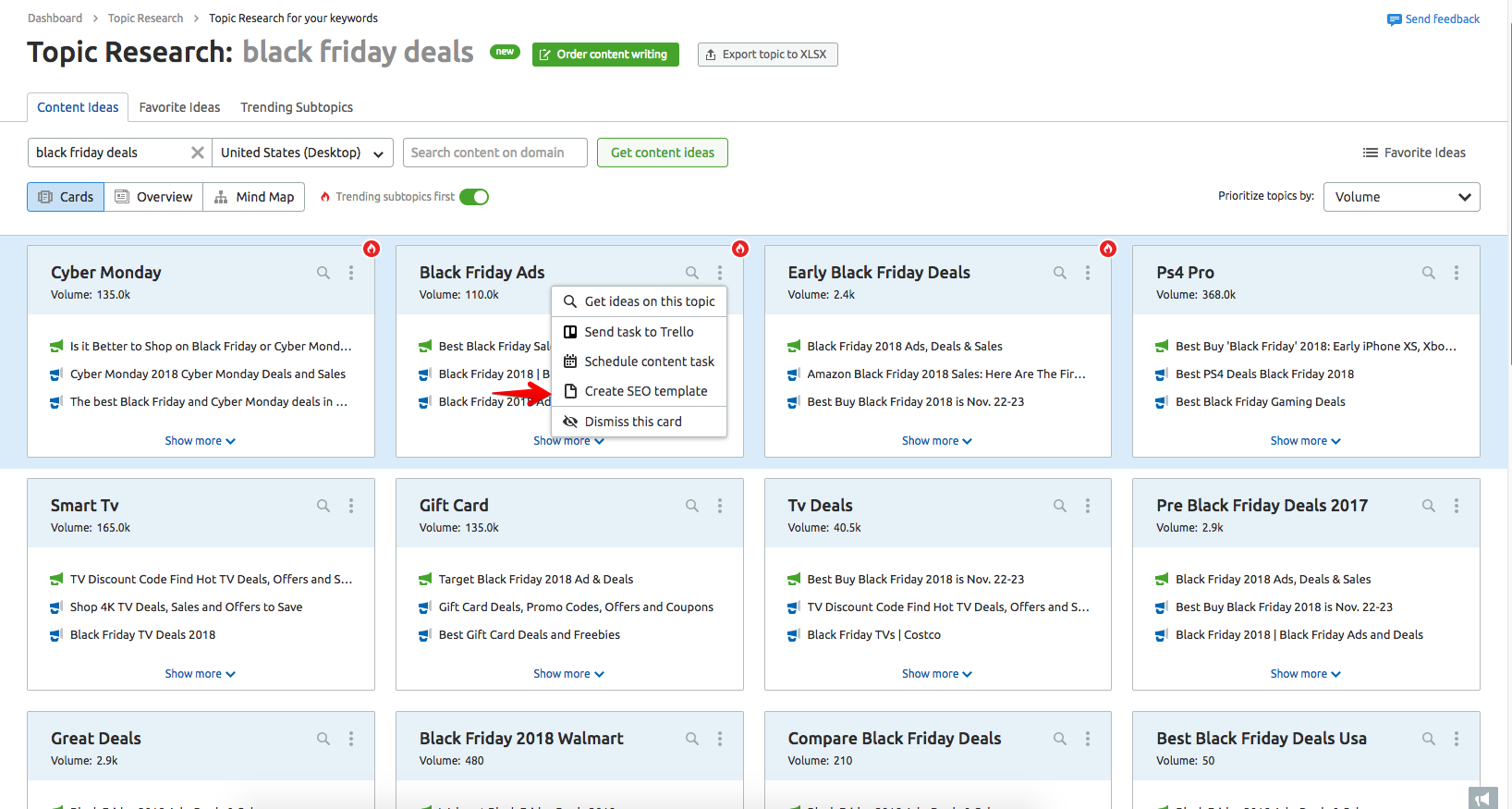 In Conclusion
The Topic Research tool can help research your competitors, find content gaps to focus on, help you generate content ideas if you are having "writer's block", help you find websites and interesting topics and subtopics regarding things you are interested in, and it can also be used for everyday functions, like researching Black Friday and Cyber Monday as well.