Four Stages of Understanding Large Datasets from SEMrush
May 02, 2017
3 min read
SEMrush may first and foremost be known as a tool provider. At first glance, the tools may seem transparent, but by taking a closer glance, the amount of data made available goes beyond the obvious.
The tools provide in-depth data about keywords, corresponding metrics, content, paid efforts, social, and competitor analysis. These datasets are oftentimes underused. Due to the stigma that massive amounts of information are overwhelming, many marketing professionals ignore the information at hand, or don't dive deep enough into it.
When large datasets are available and presented to even the smartest of us, it can be intimidating. It's important to understand that regardless of our individual understanding of the datasets, we're all continuously learning and growing.
There are different stages of understanding when it comes to analyzing large datasets.
Recollection:
The first level of understanding data is to accept that data is a thing. An imperative thing at that. When at the recollection stage, most are new and inexperienced with large datasets or SEMrush.
As a novice to SEMrush and its data offerings, it'll take time to better understand its usefulness, what tools are most beneficial, and what the data is describing. It may be daunting with the amount of information provided, but over time you'll begin to decipher the datasets.
Recognition:
You've graduated from knowing that data is a thing to understanding what the compilation of data is saying upon seeing it. No longer do you just see numbers, percentages, and titles like Keyword Rankings and Organic Research, you actually start to piece the puzzle together and develop an understanding.
When viewing SEMrush, you now have a newfound degree of competence toward the data. You know more than the evident keyword ranking or positions, but recognize the underlying worth of those keywords and their correlating metrics. Only now, you have to decide what to do with this data.
Decision:
Within the decision stage of analyzing large datasets, you completely understand the information. You have a high degree of competence and have demonstrated proficiency. But you are in the process of deciding what can be done with the data in full.
You've surpassed the basics of keyword analysis and starting to dissect the information. You look at multiple variables like the keyword volume, density, difficulty, and competitiveness.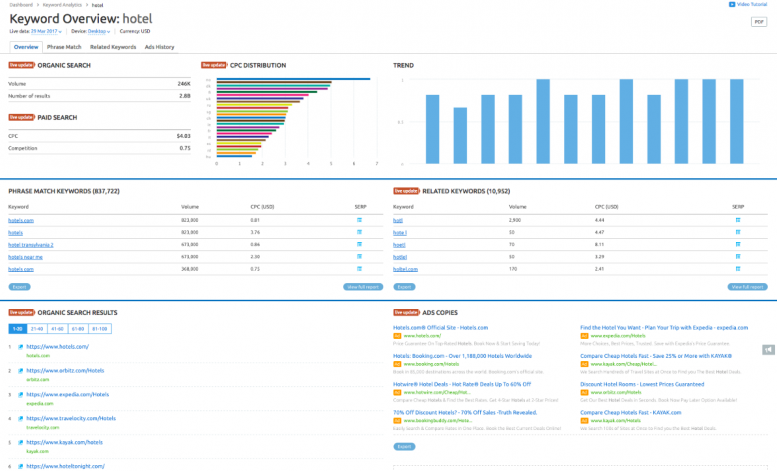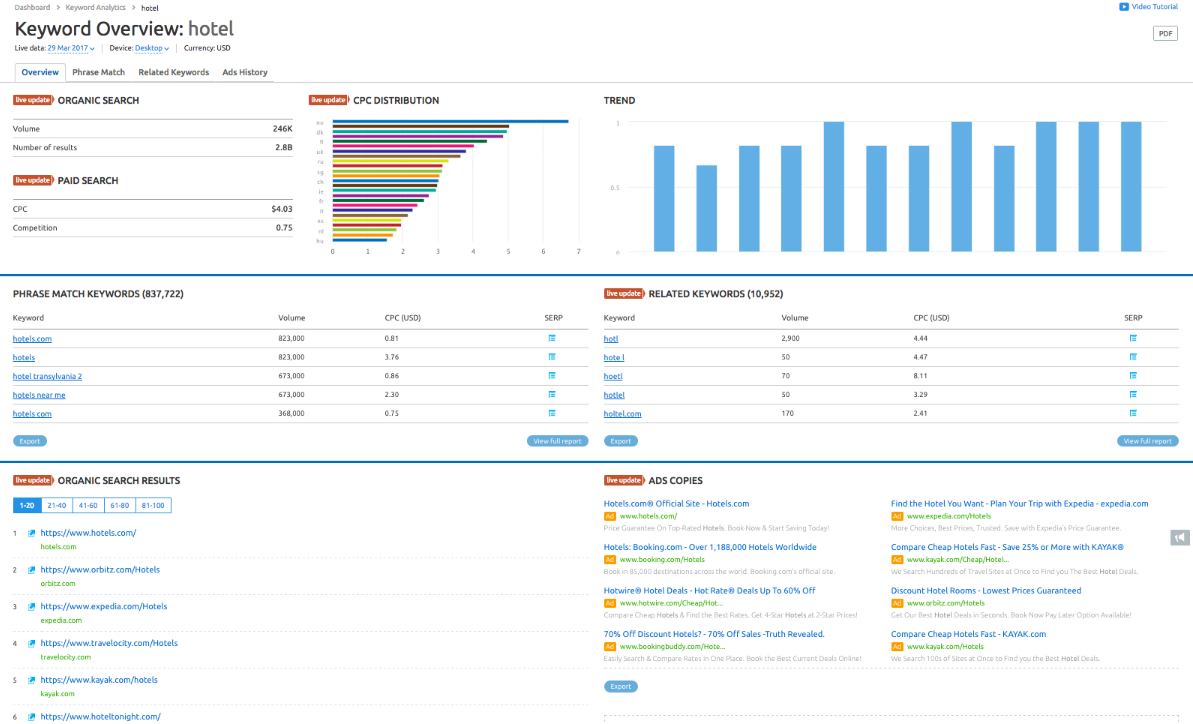 While there may be some underlying confusion there, you are a lot more comfortable and are starting to lean toward more tactful and strategic marketing decisions due to the data provided.  
SEMrush provides varying data from several tactics of digital marketing. At this stage, you're able to determine which datasets should outweigh the others. You're able to compare different reports and understand the uniqueness of different datasets, tables, and sites. You've discovered the opportunities that the data presents and begin to ask important questions. For example, are you more focused on competitor analysis? Or do you want to know which queries are suffering and why? This is where your judgement and newly found expertise come into play.
Awareness:
At the final level of analyzing large datasets, you've reached peak awareness. Now you know exactly what to do with the vast sum of information and what its potential could be. You're now an expert within SEMrush or perhaps excelled toward mastery.
Expertise is having an authoritative knowledge of the information. You've excelled within the field and can easily navigate through the data. There's always going to be a bit more to learn and expand upon, but you're a specialist that continuously develops.
As an expert specialist, you begin to set different filters within SEMrush. For example, you're excluding branded queries, and look at queries only containing a specific keyword. While exporting, you've developed a firm grasp as to what every table and tool does. With a comprehension of the entire feature set, you easily develop strategies ready for implementation.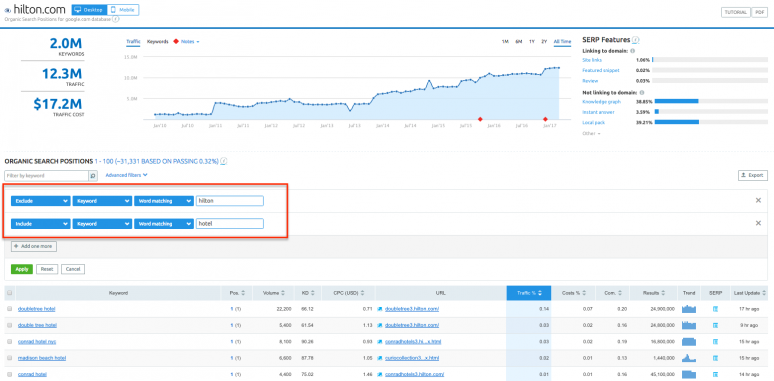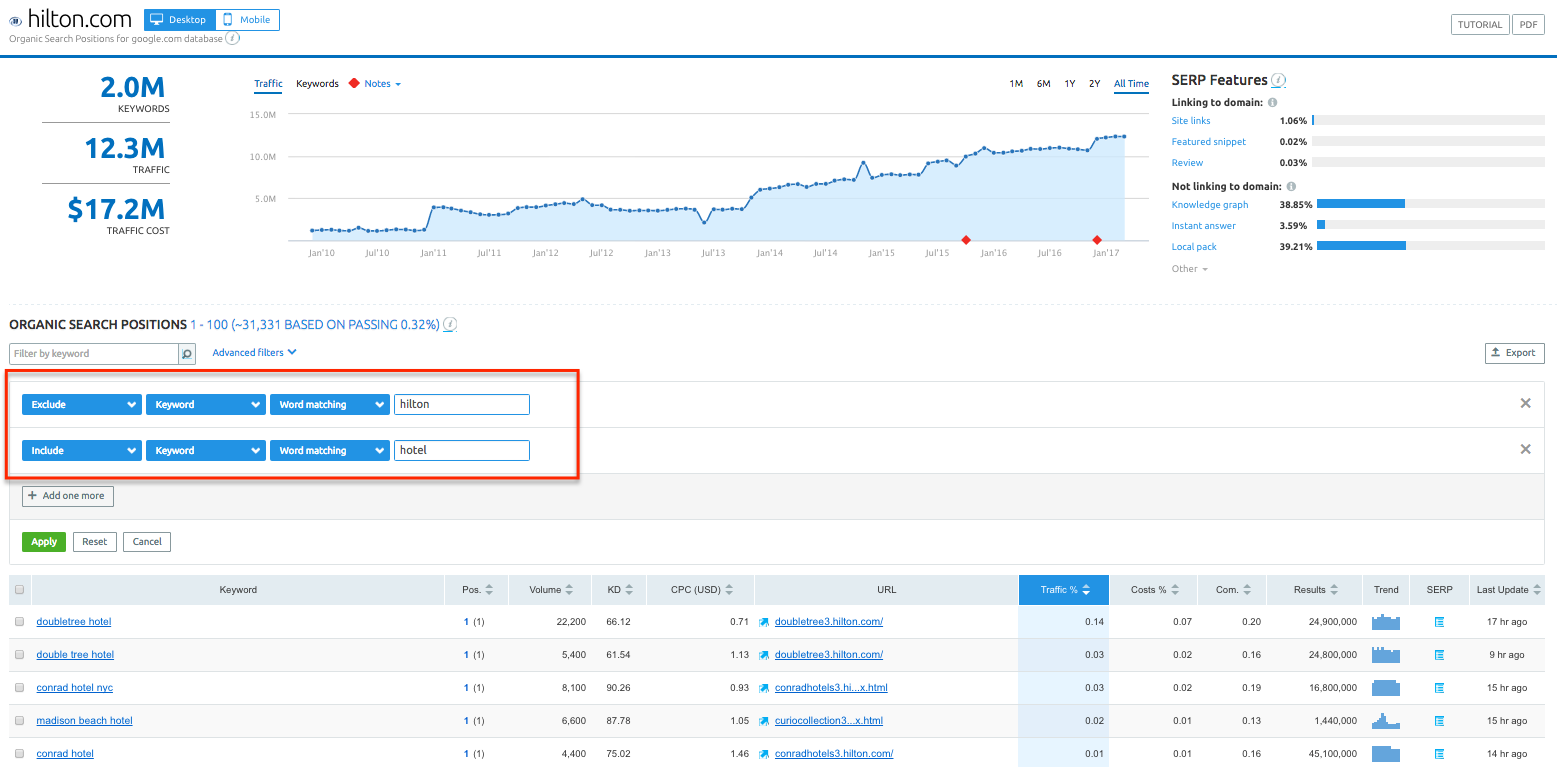 Mastery is knowing the possibilities of the data exports and being able to pursue them. It's a deeper level of thinking with an original thought that transcends. As a master, you can look at all fields and data types and easily anticipate how users will react and respond – you know what comes next.
You're pulling multiple reports from different features and tools and taking the overarching data, alongside other tools to create your own data visualization. This helps to develop a broader understanding of the data's potential and go beyond the tool itself.
A small number of brands and digital agencies go beyond the tools of SEMrush. Even within the industry, you can easily be taunted by data. Rather than letting the intimidation take control, you should establish which level of analyzing large datasets you're at. Once you've determined where you reside and continue to weigh into SEMrush, you'll be able to climb the ladder of comprehension – eventually building strong data visualizations.
Mark Healey
Mark joined ZOG Digital in 2012 as an SEO analyst, and he's led the department ever since. He actively oversees teams dedicated to delivery of on-page, off-page, local, and search content, as well as reputation management work. He's passionate about data-driven SEO and is an early adopter of the latest industry tools and technologies. He's worked for brands like Allstate, Amtrak, Wyndham Vacation Rentals and Sunbelt Rentals