Linking is at the very heart of the web. While external links are thought to lose their impact on website rankings year by year, they are still a sign of trust and relevance for search engines. The difference between link building and link earning is huge – just like the difference between a black hat and white hat approach. In fact, if you use external links the wrong way, search engines may even exclude your website from SERPs. So, how can you earn links that are worthwhile?
In our last SEMrush Twitter Chat with our expert Yiğit Konur, the founder of SeoZeo, and our other participants, we discussed ways for today's marketers and SEOs to earn backlinks. Below you'll find a recap including the best tips.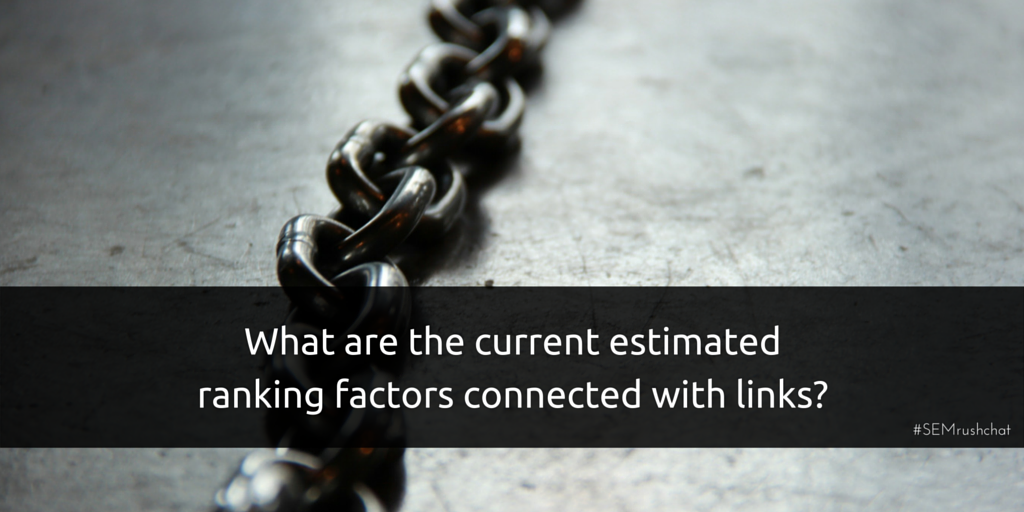 As always, we started this chat with the basics, and a lot of readers were dying to know why they even need to have external links. With so many changes as a result of Google Penguin, is there any sense in waiting for your position to improve? Let's find out.
A 1: Ranking factors connected with links are: Anchor Text, Link Velocity, Relevancy, Domain Authority and more ;) #semrushchat@semrush

— Amel Mehenaoui (@amelm) October 21, 2015
According to Amel Mehenaoui, search crawlers are still interested in anchor texts, domain authority and a few other things. If a link is relevant to the resource it's placed on and to your website, it will help your website gain and retain authority.
A1) Link ranking factors could be quantity, quality of linking site, topic of linking site, maybe anchor text #semrushchat — MacKenzie Krantz (@kenziemmk) October 21, 2015
MacKenzie added the quantity factor to the stack. Indeed there is a certain correlation between quantity and link effect. One or two will make no difference, so think of links as a long-term strategy.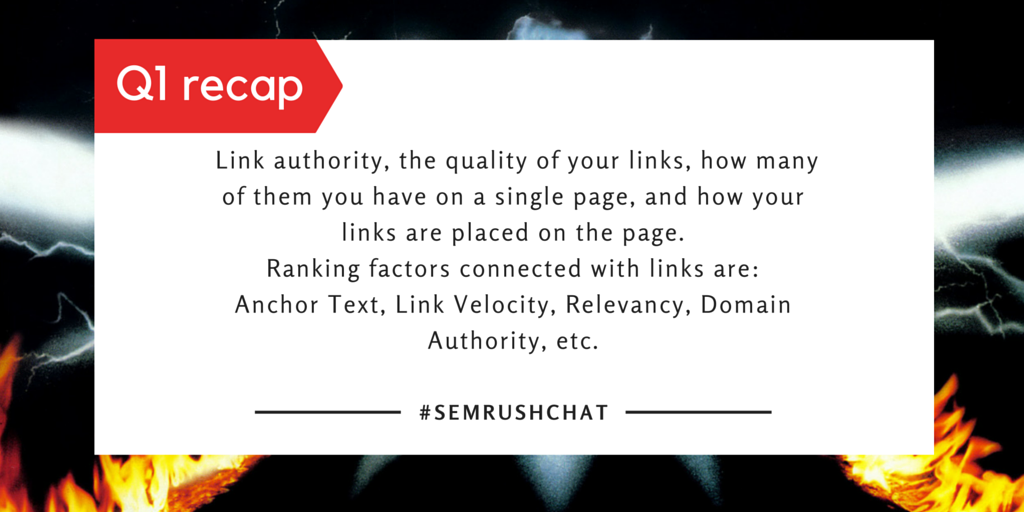 Marketers often confuse link building and link earning, but in a nutshell they are different processes. For the next question, we asked our guests to share their thoughts on the difference.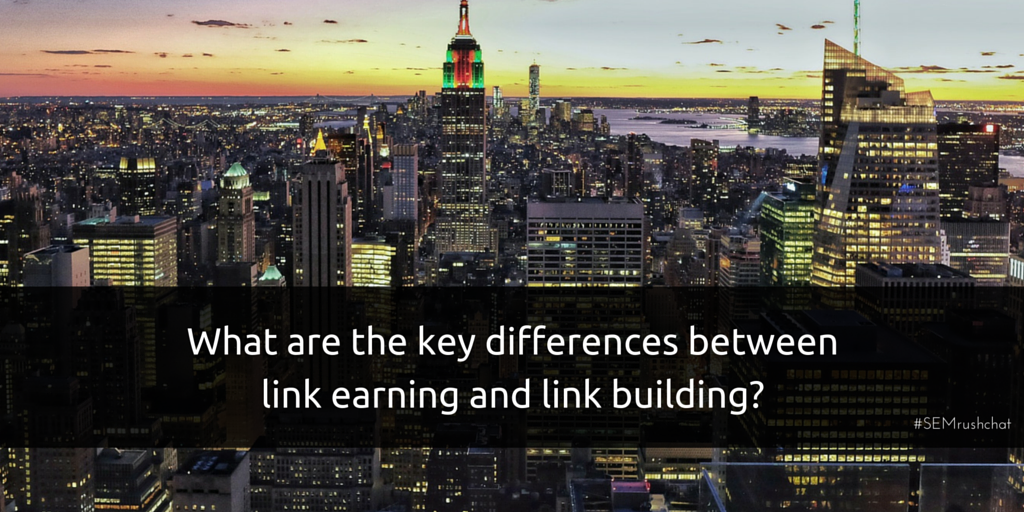 According to Yiğit Konur, If you find out about backlinks through alerts, that's link earning. If you report to your boss after creating them, that's link building. We can't help but agree with him. The typical approach to link building is to contact administrators hoping to get a link no matter the quality, but link earning is far more than that.
A2. Link building = done for the sake of it. Link earning = creating content people want to share. Although there are semantics #semrushchat

— Emma P (@Emma_SEO) October 21, 2015
Most marketers knew they were done with link building when Google Penguin showed up. But some still think that black hat SEO will get their site into the top three by simply building links. Link earning is about creating unique content that's worth sharing without any more work from you.
A2. Link earning has the connotation of content. Building connotes getting links for links sake #semrushchat

— Matthew Young (@MatthewAYoung) October 21, 2015
Semantics and connotations are becoming more important for search results. In case of link earning links are harmoniously blended into the content and help users to learn more about the topic or product. Boris Krumov @SeoKungFu also added that the difference between link building and link earning is just like the difference between the beginning and success.
A2: link earning: you get the links on a natural way, for merit. Link builindg: you make links not for merit only for relations #semrushchat

— Obed M. (@MrClics) October 21, 2015
Although uncontrolled link building may cause problems, there is good news too: link exchange can help you build relationships with other players in the industry. But all these opportunities should be considered and reconsidered twice before taking advantage of them. Let's compile the best answer overall.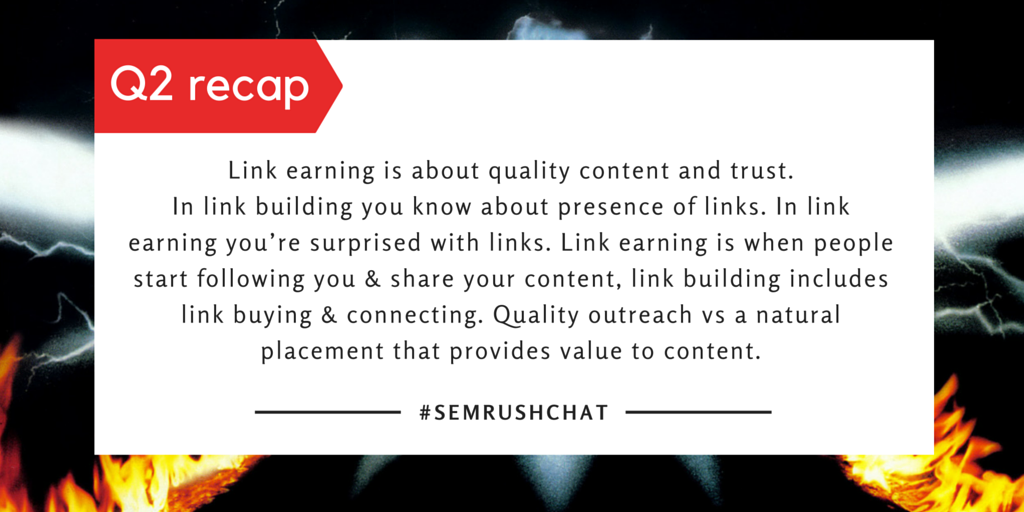 So, link earning is far better than link building when it comes to SEO and user experience, but what should you do to make all these people share your content? The next question refers to the applied tactics marketers can use to earn more relevant links.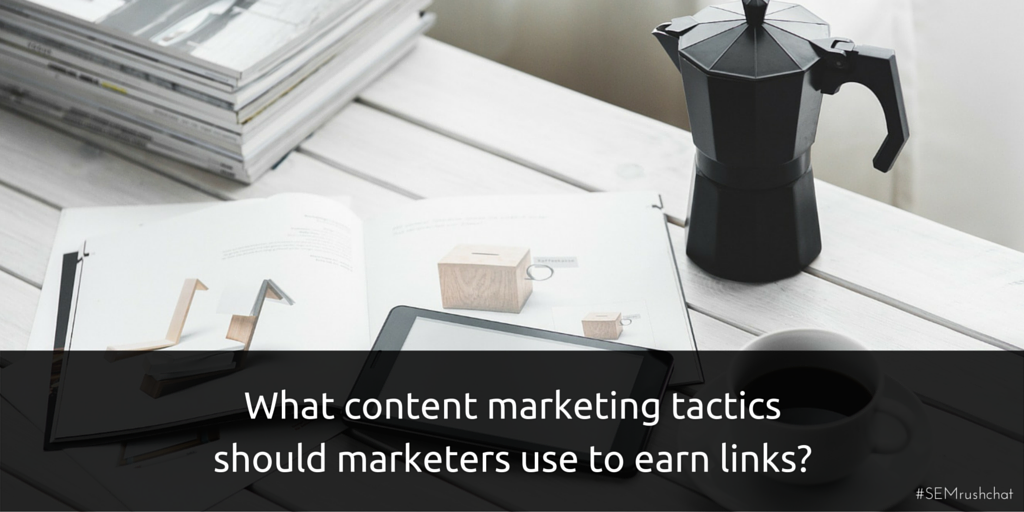 The scalable tactic (when you increase the amount of links period by period) was popular in the past, but it doesn't work any more, as Yiğit kindly points out.
A2: If you build your links by scalable tactics, you need to prepare yourself to be penalised by Google. #semrushchat

— Yiğit Konur (@yigitkonur) October 21, 2015
You should also reach out to the most relevant and popular resources in order to get links and make them work! It doesn't matter what you use – emails, webinars or attending expos – you should always be friendly and talk to everyone.
A2) Talk to 'real people' to get links from content marketing - talk either virtually or in 'real life' - #semrushchat

— Dawn Anderson (@dawnieando) October 21, 2015
Research is one of the best tactics for earning links. By really knowing your audience, it's possible to create content that is sure to be shared either within the community or the global market (if your efforts are appreciated by the big players).
A3: Research what your audience wants, then create quality content that's helpful/informational and make sure to promote! #semrushchat — KoMarketing (@KoMarketing) October 21, 2015
Luen @AlvoHippo recommends promoting content within your community. It can be shared on social media or simple internal links between blog posts (including those previously written). And here comes Julia McCoy with a great summary.
A3 I like to think of good content marketing as tactic free. Be of real use. Give readers excellent content, you'll earn back #semrushchat

— Julia McCoy (@JuliaEMcCoy) October 21, 2015
All in all, you have to create something that your audience will share without hesitating and answer questions to earn more links and increase brand awareness. Let's recap.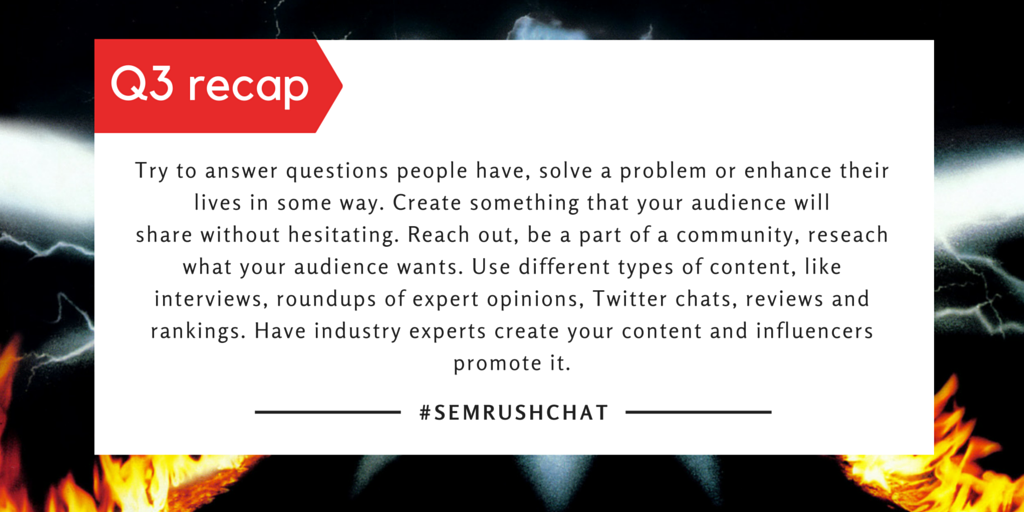 It seems that the most effective tactic for earning links is building relationships with others. But how should you go about this? Let's hear some expert opinions.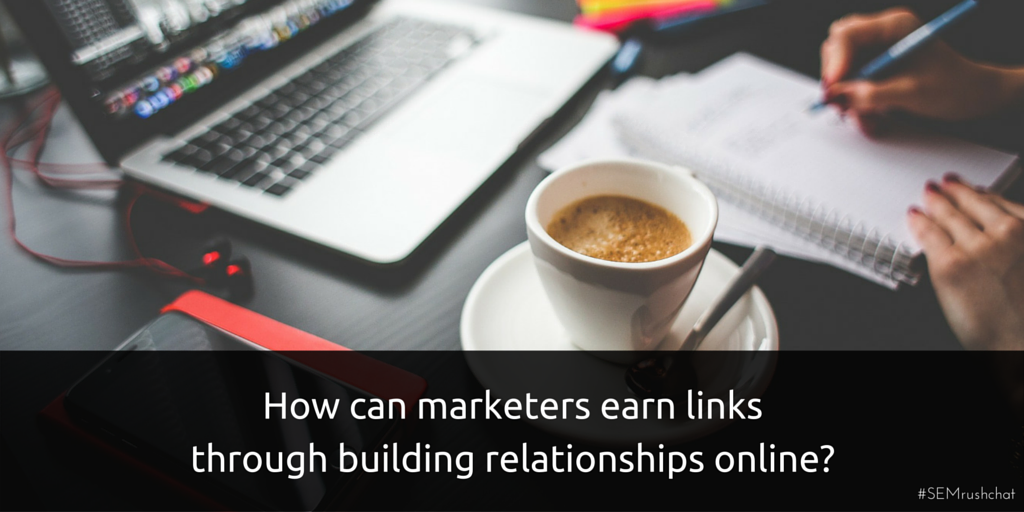 There are a number of marketers that limit their outreach to Twitter, but there are more opportunities to keep in touch with influencers.
A4: Following people on Twitter is not only way to engage. Ask questions on public social networks, connect by different ways #semrushchat

— Yiğit Konur (@yigitkonur) October 21, 2015
As for tools that you may find interesting, Yiğit recommends Buzzsumo and Impactana. These services will help you identify content that is shared the most and find influencers to build relationships with.
A4: You can use Buzzsumo + Impactana to find best influencer on your industry. Then you can make a plan for better relationship #semrushchat

— Yiğit Konur (@yigitkonur) October 21, 2015
Asking and answering questions is a good way to build a relationship with your audience and show your level of expertise. It also increases brand awareness.
@semrush A4...engage with people, ask questions, answer theirs, share their content not only yours. Show them you care. #semrushchat

— Denisa Turkova (@Dtzz81) October 21, 2015
Don't forget that building relationships is a two way strategy. It's not enough to simply wait until your content is shared; you should start by sharing it yourself.
A4 Give before you take. Real relationships are two-way. #semrushchat#linkspic.twitter.com/1J7QetATcJ

— propecta (@propecta) October 21, 2015
The best strategy is to provide your audience with great content and leave some room for advertising opportunities. That way, more influencers will be interested in collaborating.
A4: It's a win-win strategy: You offer good content & a place to go for a link from your 'new digital mate', and you win credit #semrushchat

— Sergio Redondo (@sergio_redondo) October 21, 2015
The bottom line is that marketers should ask and answer questions, engage with people, and share their content back. Plus, show that you care about their interests or problems.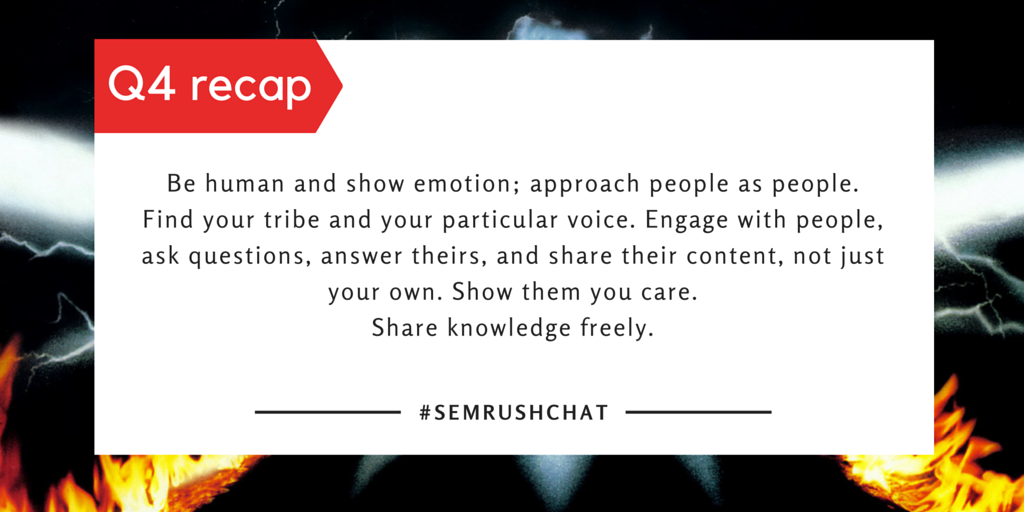 It's time to ask our guests about their personal experiences and see if they have any "secret recipes" for link earning. Read carefully and decide which of them you should implement in your daily marketing strategies.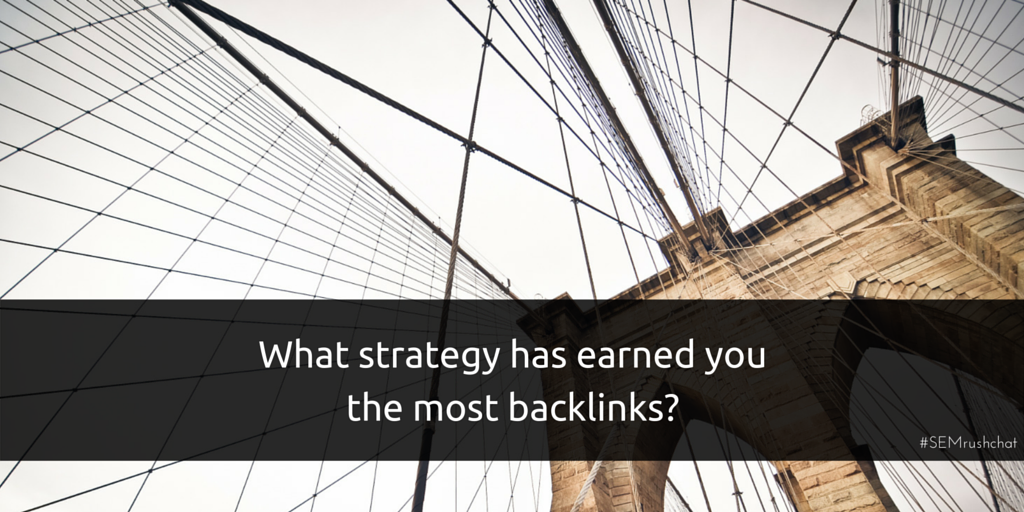 Stalking is bad. Well, until you touch the marketing, this way the ability to quickly find out who is who and where to concentrate your efforts would be helpful.
A3: You don't need to be next Steve Jobs to find linkable ideas. For some markets, being a great stalker will help you a lot! #semrushchat

— Yiğit Konur (@yigitkonur) October 21, 2015
Being part of a community is the only way to make an impact and earn links, so don't just sit there! Above, you can find a few tactics for how to do this.
Q5) Just getting out there and being part of a community and telling clients to do the same..Produce something useful. Works #semrushchat

— Dawn Anderson (@dawnieando) October 21, 2015
Another good opportunity is creating "evergreen content" such as ultimate guides and comprehensive whitepapers to inform and educate your audience.
A5: Creating a piece of super-content like a comprehensive illustrated guide (aka "#SkyscraperContent" #semrushchat

— SEOcial (@SEOcial) October 21, 2015
Don't forget to actively pursue links you think you deserve; and, as Nicholas Chimonas @NChimonas added, you'll never earn them all. Many will remain unlinked mentions.
A5: You can use egobaiting for top-bloggers by listing them as blogging partners. Even #smx crew use this tactics on events! #semrushchat

— Yiğit Konur (@yigitkonur) October 21, 2015
Here's some awesome advice from Yiğit: make famous bloggers your contributors and list them as partners and you will build a good two way relationship in no time. Nicholas summarizes this discussion with the truth behind link earning.
A5: Here's the truth of link earning - you have to build the links you want to earn. #semrushchat@semrushpic.twitter.com/xf10rI0STh

— Nicholas Chimonas (@NChimonas) October 21, 2015
Let's recap these opinions and decide which tactics are the best fit. The best strategies are: creating long-form evergreen content, creating guest posts and attending industry-level conferences.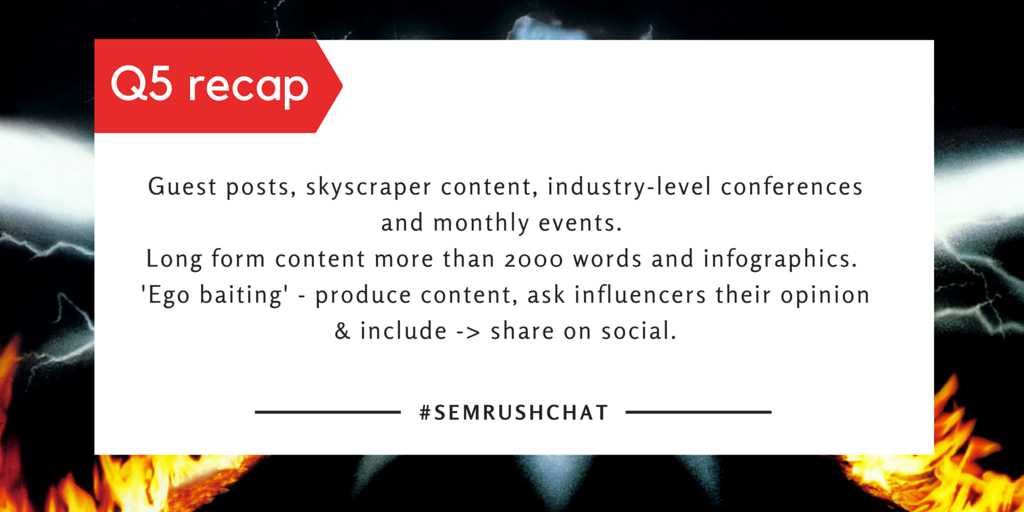 It's time to open our link-earning toolbox and see some tools for evaluating the effectiveness of your link earning strategy. What are the top three tools that you use?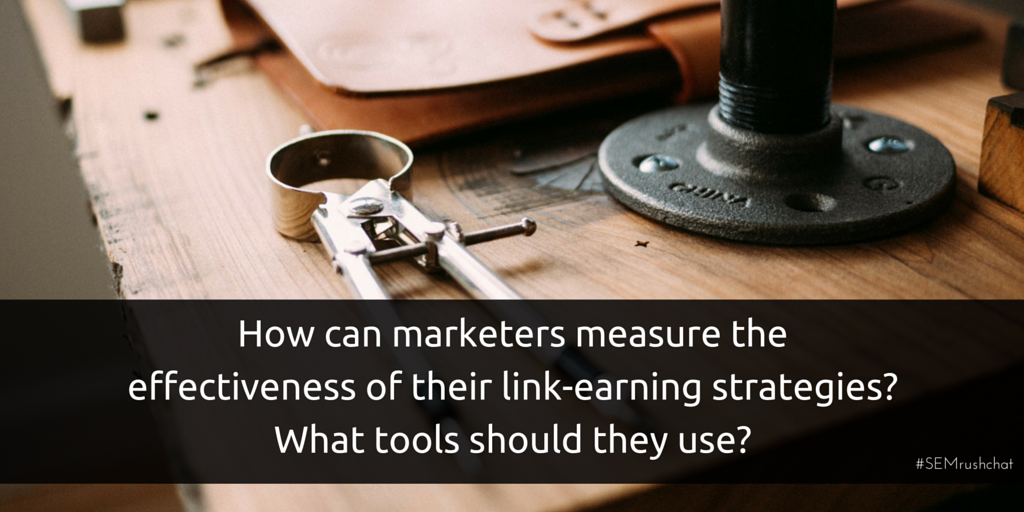 A comprehensive and robust tool means a lot in this field because it can save you time and help you develop new marketing goals related to link earning.
A6: using tools as @semrush, Search Console, @tryMajestic, @ahrefs AND Excel + Google Sheets #semrushchat

— Peter Nikolow (@PeterNikolow) October 21, 2015
Marketers can also use Google Analytics to discover KPIs that can help them evaluate their efforts.
A6. Referral traffic, increased organic in head terms, time one site, bounce rate - those are just a few KPIs #semrushchat

— Matthew Young (@MatthewAYoung) October 21, 2015
Sergio Redondo @sergio_redondo also added such metrics as landing page traffic, page views and average time spent on page.
A6) SEMRush, @linkresearchtools (Strongest Sub Pages Report), Competitive Domain Analysis, Rankings (course), Server logs (yes) #semrushchat

— Dawn Anderson (@dawnieando) October 21, 2015
We are constantly working on our own backlink analysis and are very pleased to see that you are using SEMrush as a tool of choice. Many thanks! To sum up, we are in the top three: Majestic, Ahrefs and SEMrush. Let's recap and add some more.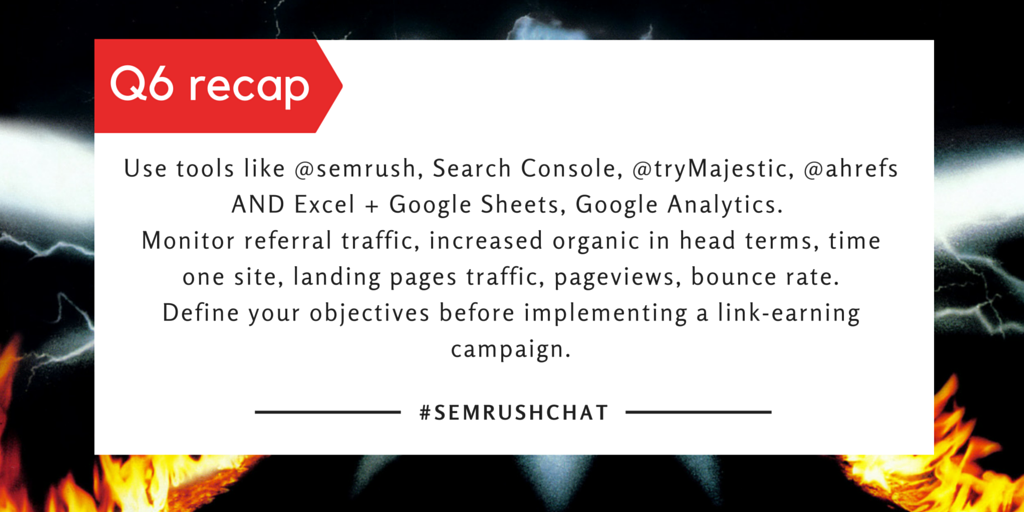 Given all these points, we can say link earning is much better than simple link building, because it helps you reach out to influencers, use their impact, and build long-term relationships in the industry, rather than linking for the sake of linking. Also, above we have specified the best tactics and tools for managing external and internal links. Correctly implementing all these strategies will boost your website's rankings and help you avoid penalties.
That's it for today. A lot of thanks to Yiğit Konur for his expertise and to our other SEMrush chat participants. We love you!
Hope to see you again Wednesday for our next Twitter Chat!
Save the date! This Wednesday at 11 ET/ 4 pm BST we'll discuss #blogging tips with @kesbutters on #SEMrushchat! pic.twitter.com/h2zrRiJB0C

— SEMrush (@semrush) October 26, 2015