Now, more than ever, the average consumer seeks to be more informed, more cautious and does more research before entering the sales cycle. Inbound marketing aims to bring your content and product in front of this audience while they are in the preliminary phase of the buying cycle and can even double your website conversion rate.
Unfortunately, about 40% of marketers still struggle to generate and prove the ROI of their marketing activities, which is why we invited Katy Katz, Director of Accounts at Marketing Refresh to share strategic insights on generating ROI from inbound marketing during our latest #SEMrushchat. Katy, along with our other chat participants, shared their own experiences and knowledge to the discussion. Here is what they had to say:
Q1. What are the fundamentals of inbound marketing success?
At its core, inbound marketing involves getting the audience's attention, encouraging them to convert, and then analyzing your efforts to see what worked and what didn't.
Having a successful inbound marketing strategy isn't easy, it requires a lot of diligence and patience to pull off.
Before launching your inbound marketing efforts, here is what you should do:
Identify a Clear Goal
The first step in launching a successful inbound marketing campaign is to specify the objective. Figure out the business outcome you want to achieve, whether it is increasing conversions, bringing more traffic to your page, or just boosting leading generation. Once you decide your objective, you can work backward to see just how you can achieve it.
Know Your Target Audience
Your inbound marketing strategy should focus on providing a solution to what your target audience is searching for. This means you should define your target audience and understand their behavior.
Details like the search terms your audience uses in search engines and what they expect to see on your site can help you cater to those questions on your website (i.e., add value) and eventually get them interested about the goods or services you provide.
Once that is done, you can map out the content needed to answer all of the questions in your buyer's journey and make it visible throughout your website. This detailed article by Katy Katz has more insights on how to achieve it.
The messaging and content you create should be highly targeted, with custom content for audiences at every stage of the marketing funnel. Remember to include a strong call to action that is relevant to the audience; this will encourage them to convert and move on to the next stage in the funnel.
Define Metrics to Measure and Analyze
To see if you are succeeding with your inbound marketing efforts, measuring the impact of each campaign and analyzing it is essential.
So, remember to set identifying metrics that make sense for your business process and establish ways to track and measure it.
A comprehensive reporting solution, like My Reports within SEMrush, can help you to get it all in one place and analyze it periodically to check what works.
These fundamentals will help you to get started with a healthy inbound marketing strategy that will provide guided and a measured customer journey to your prospects.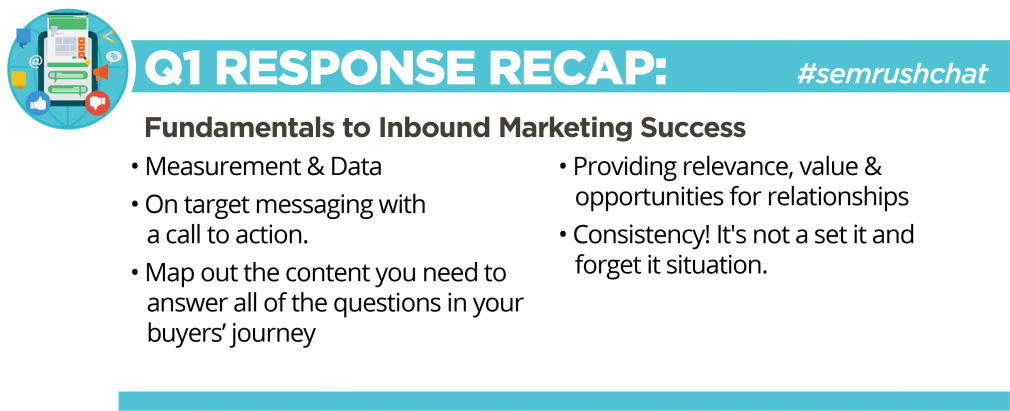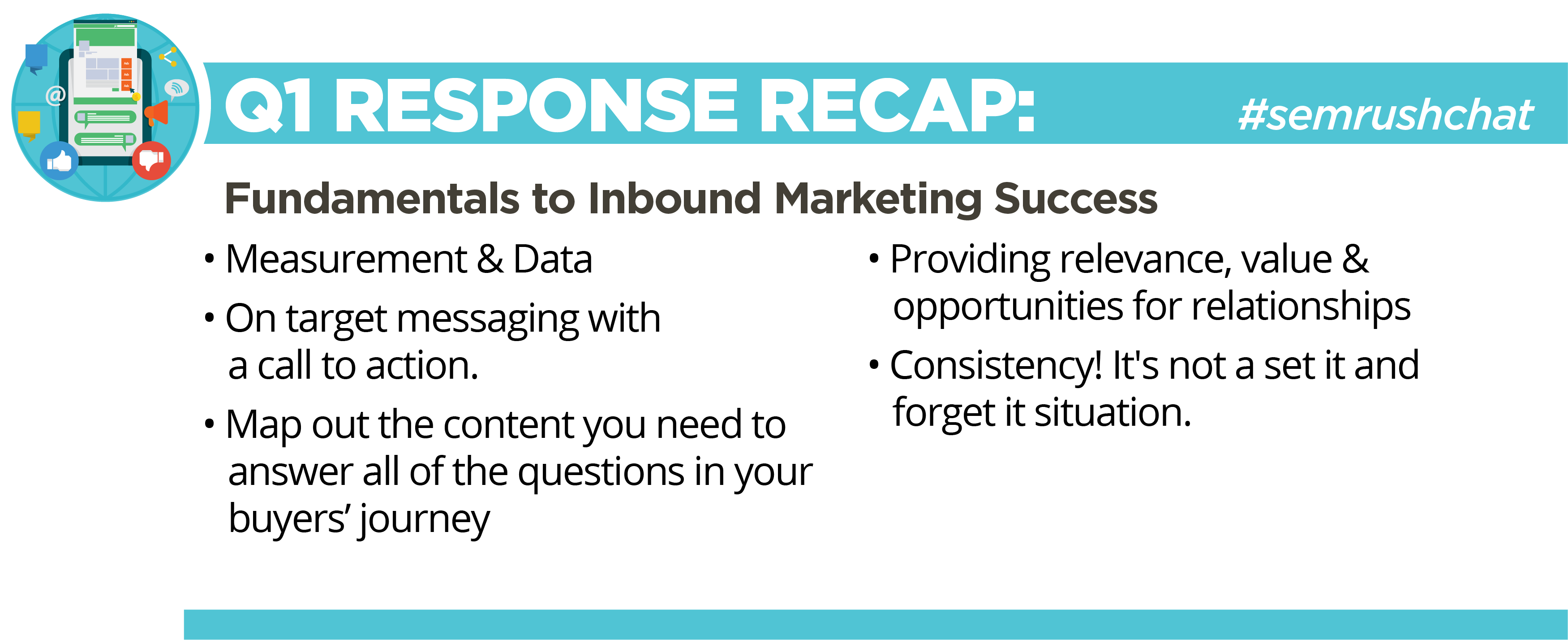 Q2. Do you think certain companies benefit more from inbound marketing than others? Why? Why not?
Inbound marketing improves conversion and works well for every industry. If done right, it can double your website conversion rate from 6% to 12%. However, the kind of strategy that works and the extent to which it succeeds can differ for each business.
It is important to note that it is not as simple as saying that a B2B company would benefit more than B2C. Companies that have a long sales cycle and those that lend themselves to online search have a better scale of success because they can easily map out the content campaign required and focus on attracting and educating their target audience, which then pushes them to conversion.
On the other hand, companies that cater to a specific need, should focus only on targeted content and CTAs to get inbound marketing to work for them quicker.
So, what determines whether inbound marketing would work for a business? Here are some of the key characteristics that our chat participants say can lead to inbound marketing success:
Adapting to Trends
Companies that adapt to trends quicker can tweak their content strategy to be in sync with the target audience. This enables them to resonate with their audience better, win their trust, and convert faster.
Using Non-Traditional Methods
As already discussed, traditional inbound marketing strategies may not work for all businesses. For instance, local businesses need to ace their local SEO, but can not solely depend on Google micro-moments to win conversion.
For businesses that do not have a direct social media or digital audience, they would need a more granular targeting strategy and focused content to convert.
In both of these instances, using out-of-the-box ideas and non-traditional methods can increase their chances of success. It ultimately boils down to creating custom content that is easily consumable by your target audience, which will determine your success.
Investment In Inbound Marketing
Some companies may not have the necessary bandwidth to explore inbound marketing to the fullest.
Even if your business has had success with inbound marketing before, and is aware of what works, adjusting the formula further can bring about better conversions.
Similarly, for emerging companies that are newly entering a crowded market space, it takes a lot of effort and time to rank. If a business does not have the resources dedicated to inbound marketing, it can be quite difficult to be found by their target audience.
Authentic Communication
Another characteristic that can lead to inbound marketing success is how a business is communicating with their target audience. Not only should a company's messages be authentic (not just automated), but they should genuinely listen and react to what their customers have to say; this will help brands build relationships, meet customer expectations, and consistently deliver value through inbound marketing.


Q3. What are the best ways to track inbound marketing ROI? Which metrics do you track?
When it comes to measuring the ROI for inbound marketing, it is easy to look at vanity metrics, such as traffic and rankings, that does not give you a complete picture. While these numbers will tell you if your efforts are on the right track, it is better to track conversions that attribute to your inbound marketing campaigns.
Based on these conversions, you can track the customer's journey and look at supporting elements that will help you to understand your campaign better.
The secondary KPIs will differ from campaign to campaign, and will entirely depend upon your business and marketing objectives. Here are a few metrics that will help you identify the key elements in your campaign performance:
Measurements Based On the Sales Funnel
The end objective of almost any business is sales. If you can track the number of leads generated by your inbound efforts, correlate it to the qualified sales leads, and then to the deals closed, you have a direct measurement of ROI.
Bear in mind, that a lot of content for inbound marketing will center around creating awareness to increase traffic. Typically, the leads generated from this kind of content will not be ready for sales just yet and may need a lot of nurturing before they finally convert.
From a business perspective, measuring the average lifetime value of a customer, the average sales price, and the current conversion rate will give you an idea of the cost per lead. This will show you how much of a profit your efforts are making.
Qualitative Metrics
While hard numbers on sales and revenue can impress your boss, as an inbound marketer, deeper qualitative metrics will be more relevant to you. Metrics like engagement time, how customers perceive your brand, customer satisfaction, sentiment, and reviews can help you dig deeper into your content strategy and revise it to better resonate with the target audience.
Strategy-Based Metrics
If your strategy involves videos, you can look at percentage watched and where the viewers drop off to understand how to improve it. For podcasts, the number of subscribers will help. Similarly, for your blog, look at shares and the number of comments by your viewers.
Ultimately, the KPI of your campaigns will depend upon your final campaign objective. There are, of course, macro and micro KPIs that you can track. But the relevance of these numbers will be entirely dependent on your business goals.
Metrics Derived From Google Analytics
Google Analytics can be your best friend when it comes to tracking campaign performance, as long as you can identify which numbers to track and analyze.
For e-commerce businesses, you can set up conversion tracking to see which keyword converts the most and where exactly the buyers drop off.

Similarly, the source/medium report in Google Analytics will show you the success of your content marketing efforts.
You can also use Google Analytics to track goal completions and page views to check session timings, which page is performing best, and more.
This data can also help you forecast future trends, predict customer behavior, and, in turn, polish your customer funnel to be even better.
In short, there is no blanket metric that is suited for all businesses. Define your business goal, your campaign objective, and then finalize the metrics that are most suited for you.

Q4. What are some of the best inbound marketing tactics that you have found to generate the most ROI?
At the core of every successful inbound marketing effort is the creation of content that resonates with the target audience. This means providing content at the right time (when they need it the most), in the right form (easily consumed), and to the right people (target audience).
To ensure that your inbound marketing efforts perform better, here are few hacks from our chat participants:
Predict the Requirement of the Target Audience
This can give you the upper hand in content creation. Create and optimize content that your target audience is interested in; then you can present them with custom content before they ask for it and direct them towards a conversion
Remember to factor in voice search queries, search intent, and keyword research while creating the content, this will help you create content that resonates with your target audience.
Make the Content Easily Discoverable
Use long-tail keywords to grow your organic presence and rank on the SERPs. SEO is still one of the best tactics you can use to reach your audience and bring traffic to your content.
Remember that for your particular industry, factors influencing SEO may be different. For instance, in e-commerce businesses, image search is important.
Distribute the Content Across the Right Medium and Channels
Great content is not just 'found'. To get maximum impact, it is up to you to market it and push it across all channels and not just one. SEO tactics, influencer marketing, emails, newsletters, and social media outreach can help you reach a larger audience.
Apart from the usual channels, like Adwords and PPC campaigns, you can also try different channels, such as webinars, white papers, eBooks for B2B marketing, quality brand ambassadors for specific products, and even PR releases for product launches.
Use the Right CTAs to Convert
Once your content starts attracting the right audience to your site, it is important that the traffic is captured as leads in your system. Placing compelling CTAs and valuable freebies to build a lead list that can later convert is a great way to convert the traffic to potential customers.
Retarget and remarket to leads
Not all audiences convert on the first try. Once your leads visit your site, depending upon their area of interest, you can send them relevant, remarketing ads that can help them to convert.
In short, creating content and making it 'go viral' cannot be possible without all the above factors. It will also involve solid brand building, community engagement, and providing quality service to get your leads to choose you — giving you the maximum ROI for your inbound marketing efforts.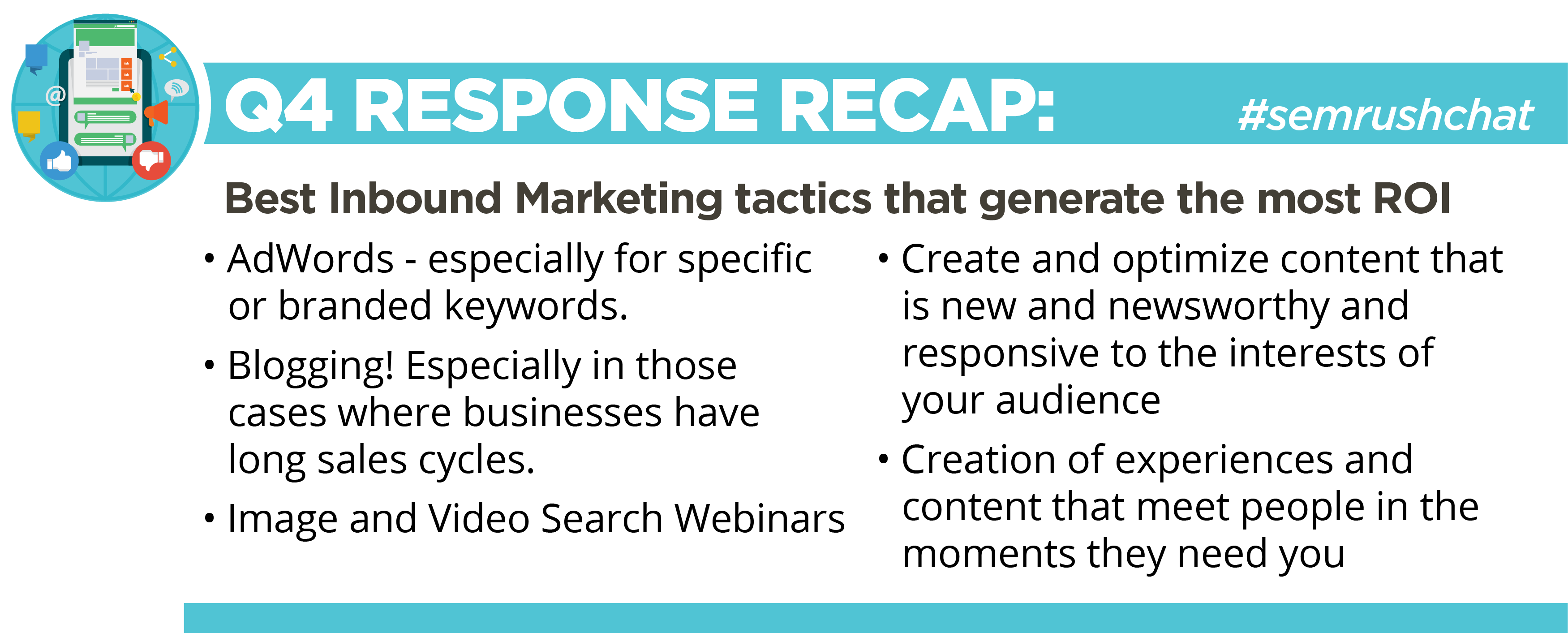 Q5. How long does it take to see results for inbound marketing?
Inbound marketing takes more time to give concrete ROI when compared to direct marketing or outbound marketing (in this case PPC campaigns). According to Hubspot (the pioneers in inbound marketing), the results can take as long as 7 months to materialize – anything earlier is just a bonus!
The amount of time that an inbound campaign takes to work depends upon various internal and external factors:
Competition in your industry – the tougher the competition, the harder it is to cut through the noise and reach your target audience.

Channel used – PPC and paid media give quicker results than building long-form content, blogging, and video engagement.
Sales cycle – The longer the sales cycle, the more time it will take to convert the visiting traffic to sales qualified leads, and finally customers. However, shorter sales cycles, like in the e-commerce industry, give quicker responses. In such cases, even blogs and content (that typically take longer), convert faster.
It is true that you can use analytical and historical data to predict results. This is where constantly analyzing and tweaking your campaigns can help. The more focused and the more targeted your campaign is, the sooner you can see results.
Since your inbound marketing strategy is all about the long haul, it is necessary to incorporate it with other tactics like paid and organic search to see even quicker wins.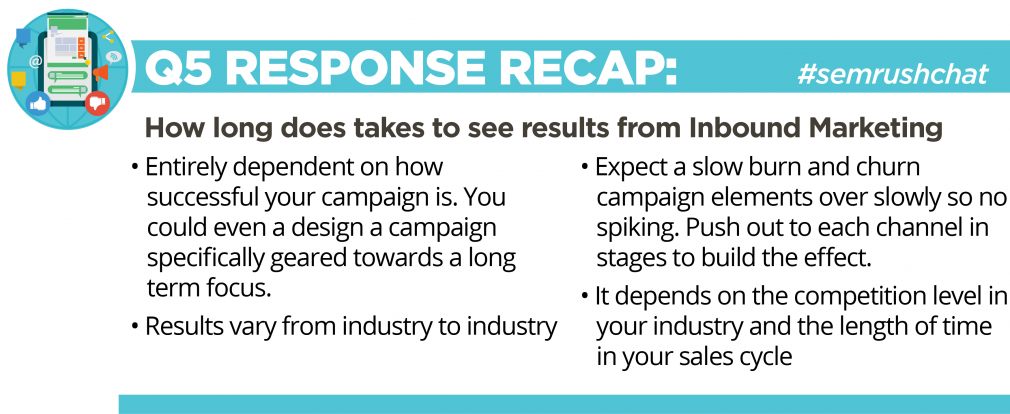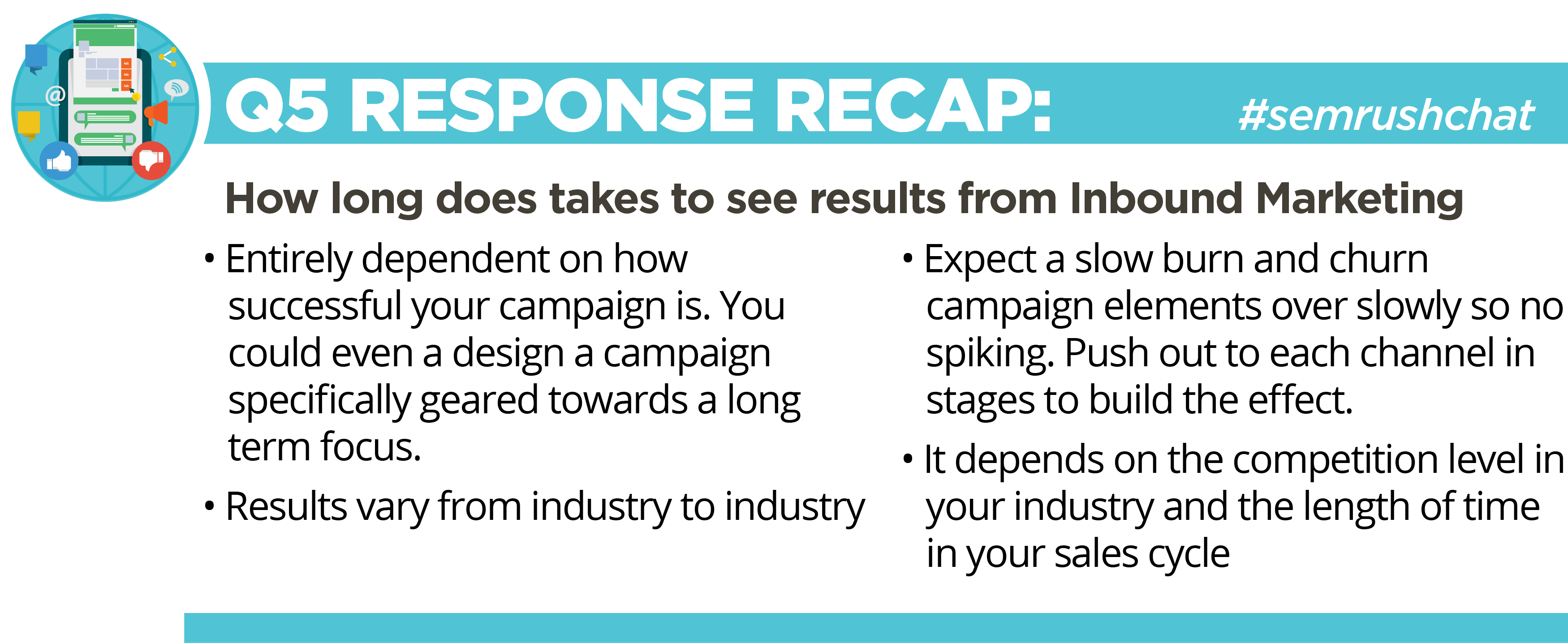 Q6. Real life example: You see that your year-long inbound marketing campaign is not providing you with the ROI you expected when you are at your 6-month point. How do you troubleshoot?
Ideally, if you are monitoring the right metrics, realizing that your inbound marketing campaign is not yielding results should not come as a shock. If you are not looking at hard numbers, a flawed campaign will not add to your organic or social traffic, and your content will not be reaching enough people.
In such cases, you will have to try something different, such as a new content strategy or focusing more on aggressive SEO and link building tactics
To troubleshoot the exact problem, here is a basic guideline that our chat participants outlined:
Look back at the data – Analyze the data you have to see where exactly the leads are dropping off; this will help you to either tweak your marketing funnel or to further customize the content to suit your audience.
If you are unable to identify the problem, it could just mean that you need to dig a bit deeper into the tool you are using.
Run more A/B tests - Don't give up on inbound marketing just because a few of your campaigns don't work. Test different strategies to identify what works best for your target audience. It could mean changing the CTA on site, experimenting with the buyer's journey, or even testing out different kinds or forms of content.
Rework the strategy – Include remarketing campaigns to bring back lost customers. You should also check if new channels can be explored to improve ROI. Don't be afraid to adapt your strategy to new customers. Based on the findings of A/B testing, see how you can further modify the initial strategy to bring in more conversions.
While relaunching your campaign, remember to take into account the target audience once again. If you are able to bring the audience to your site, but they are not converting, then that is a clear indicator that the buyer persona has to be reworked. At the very least, make the CTA on your page more compelling, so that it resonates with the traffic that comes.
If the audience needs have changed, or if you are not targeting them correctly, then the conversions and ROI will not match up. In such cases, go back to the drawing board, redefine your buyer persona and audience, and tweak your campaign accordingly.
On the other hand, if the traffic you are attracting is all wrong, then the keyword strategy will have to be looked at again. Perhaps changing the distribution format or redefining the buyer persona can help you to fine-tune your efforts.
If you want to test these changes quickly, see if 'earned' traffic can work for your campaign. Guest posting, co-running a marketing campaign, and even paid campaigns will allow you to predict the kind of results you can expect from the changes.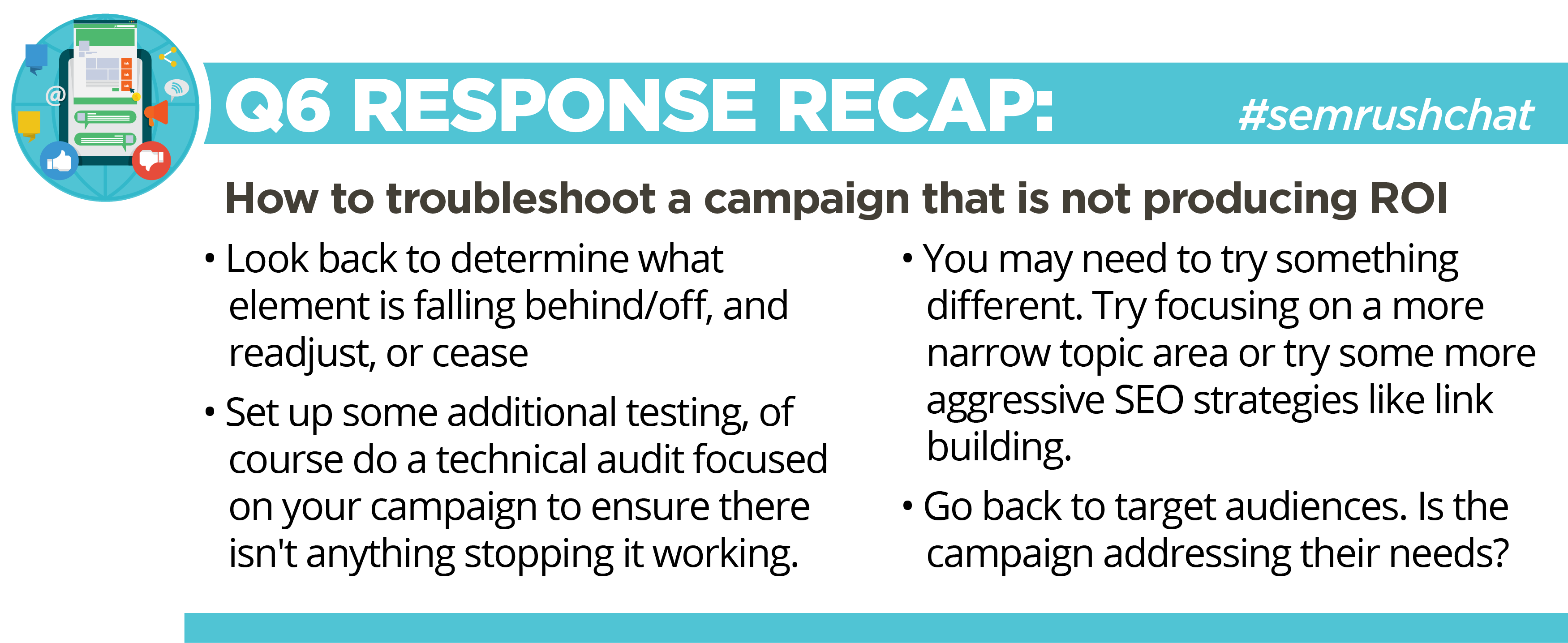 That's all for today! Keep in mind that inbound marketing takes a lot of time and patience – which is why it is not easy and not a lot of marketers succeed. Hopefully, this gave you a better idea of what exactly to focus on for winning in your inbound marketing efforts.
Make sure you join us this week as we discuss "Advanced Remarketing Audiences for Better PPC Results" with special guest, Michelle Morgan!