Online marketing specialists are always looking for ways to improve the efficiency of their advertising campaigns. In particular, companies that have tight budgets need to make the most of their PPC activities to ensure they are not flushing money down the drain.
Although targeting the entire world with your ads may seem tempting, in reality targeting everyone doesn't mean you are reaching everyone. Your ads don't need to be seen in all corners of the world. A well-planned local PPC strategy as part of your wider PPC campaign allows you to put your message in front of the right people.
In this post, I will walk you through the step-by-step process of optimizing your geo-targeted campaign to make it run like a well-oiled machine. At the end of the post, you will find insightful tips for smarter local PPC.
What Is Geo-Targeting?
In a nutshell, geo-targeting, or local PPC, is a paid advertising strategy that is designed to target an audience within a specific area. This strategy plays a paramount role when it comes to creating highly targeted, customized campaigns. By using geo-targeting strategies in Google Ads (formerly known as Google AdWords), you can deliver your message to your prospective customers based on their geographical location.
Why Target by Geographical Location? 
A geo-targeted pay-per-click campaign can be a powerful weapon in your digital marketing arsenal. There are two key reasons why local PPC can be highly beneficial and worth the time and effort:
First of all, if you create your ad copy taking into account location-specific aspects (e.g., it may contain location-specific keywords or terms only locals know), it will successfully resonate with your audience. It means your message will be more likely to grab your audience's attention.

The second point follows on from the first one. If your ad effectively appeals to your users, it will also look better in the eyes of Google. It can help you to improve the quality score of your ad since one of the factors that influences the score is expected clickthrough rate. The higher your quality score, the lower your CPC.
Location Targeting Optimization in Google Ads
Google Ads offers a range of excellent options to suit your specific business goals. You can target users by location according to various criteria:
Countries. You can target entire countries where you sell your product or service. This method is generally used by large companies that operate in large geographical areas.

Areas within a country. With this option, you can target states, cities, or even postal codes. It can be beneficial for businesses that work in a particular area of a country.

Multiple locations. You can target a group of locations (up to 1000 locations within one country).

Radius of location. You can select a distance radius around a specific location. For example, if you own a brick-and-mortar store or provide delivery to a certain radius around your locale, this strategy can be very beneficial. 
After selecting a campaign in Google Ads, click on the "Settings" tab in the interface and choose the "Locations" section. Click on the "edit" button under locations to set targeting options.

Once you click on the search tab and start typing your location, you will see a drop-down menu of relevant matches, where you can select the desired location. You can search by country or regions, such as state or province, city, postal code, and even airports. Near each suggested location you will see a number which represents reach — an estimate of how many people in this particular location (or people interested in this location) fit within your targeting settings. The data is based on the number of signed-in users.
There are two options you can click on for each location that appears in the drop-down menu:
Target. Allows you to add those locations to your list of targeted areas.

Exclude. Enables you to exclude certain areas and prevent your ads from appearing in those locations.
Advanced Location Options
Once you click "Advanced Search", you will see a pop-up window, where you can search for locations to target or exclude, including search by radius, which is also called proximity targeting.
To select a distance radius around a specific location, choose the Radius option. Then enter a location that will be the center of the radius and specify the distance around the chosen area that you are going to target either in miles (mi) or kilometers (km).
For example, the ads on the screen below will be shown to people within a 20-mile radius of Detroit.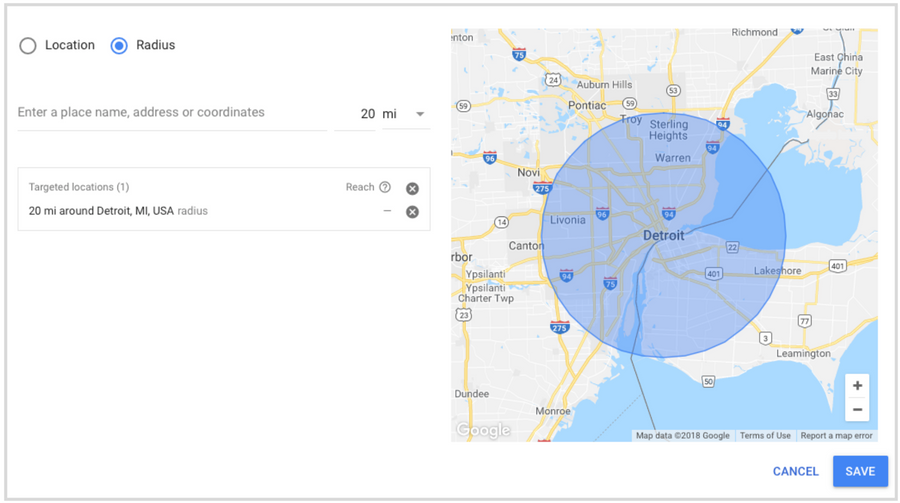 This option can be especially beneficial for businesses that deliver within a selected radius, or local companies whose client base is within a radius around the business.
You can also add locations of your choice in bulk. Google Ads allows you to add a bulk list of location targets. Click the "Add locations in bulk" checkbox. You can then either type or paste in up to 1000 areas at a time to target and exclude them in bulk. Locations can be countries, cities, postal codes, etc.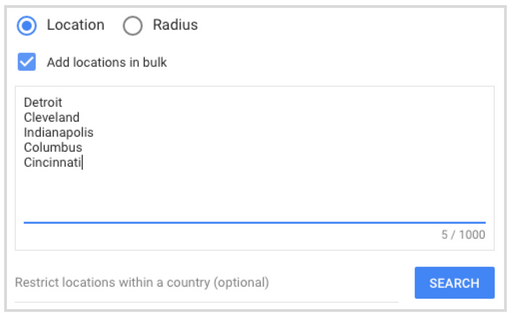 In the "Location" section, you can also adjust advanced location options. Click "Location options" to choose who you want to target and who should be excluded.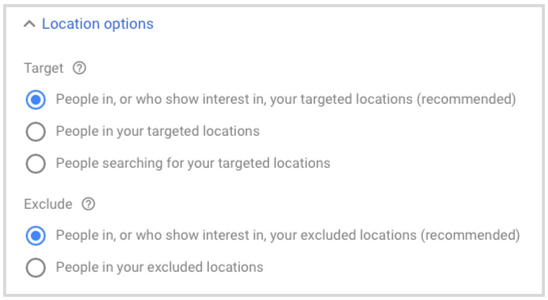 By default, your ads will be shown to people based on where they are likely to be physically located or the places they are interested in. However, you can use the suggested location options to limit ads to appear only for one type of location.
Location Bid Adjustments
If you target multiple locations within one country, it can be worth evaluating their potential in terms of CPC and demand for your services in those specific locations. This is where the CPC Map tool comes into play. It represents an interactive map that displays the average CPC for one of the 17 industries (e.g., online banking, travel, real estate, insurance, etc.) in a particular state or region. Currently, it is available for several countries, including the US, the UK, Canada, India, Australia, Brazil, Italy, South Africa, and Russia. The tool also allows you to check the average volume of queries related to a particular industry in different locations.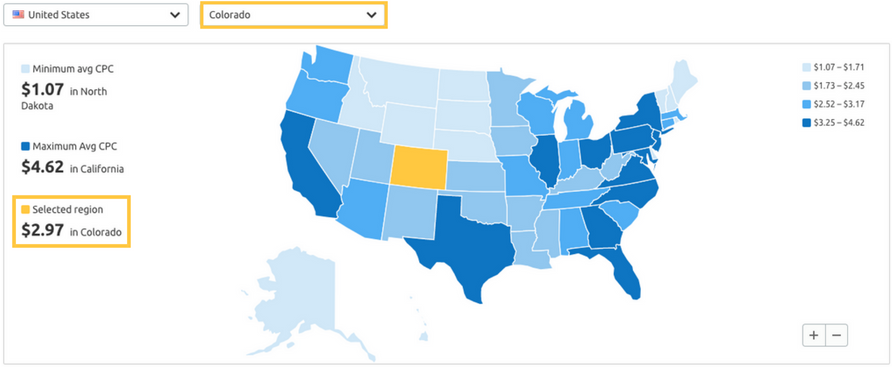 Even within one country, businesses should consider whether or not it makes sense to serve specific areas. For example, if there is low demand for your services in Texas and Louisiana, and the CPC is considerably high, you might not want to target these states.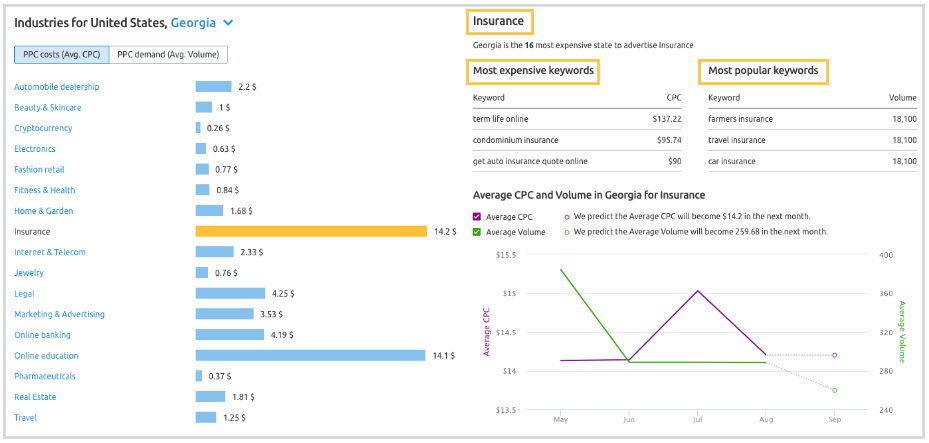 With this information, you can set bid modifications on the state level based on:
How well those states perform.

Advertising costs in those states.
Geo-Targeting Tips for Smarter Local PPC
The right local PPC strategy can have a significant impact on the success of your business. Any successful advertising campaign requires knowledge, experimentation, and testing, and even small changes can make a big difference. To help you go local and boost your marketing results, we have collected six powerful tips for reaching your target audience.
1. Exclude Locations Where Your Potential Customers Will Not Be
Choosing the right target locations is extremely important, but location exclusion is just as crucial to the success of your campaign. It helps you use your advertising budget wisely by not showing your ads to the wrong audience. Also, it can be an effective way to avoid high ad rates of high demand target location.
The exclusion option in Google Ads enables you to prevent your ads from being shown in certain parts of your targeted areas, for example, a region or a city within a country. For example, your company doesn't provide services or ship products to a certain city within a larger area, or your business offers a special promotion that is not relevant to a specific region of a targeted country. In such cases, it is worth preventing your ads from being shown to people who will not have access to what you are offering.
2. Include Location-Specific Terms in Your Ads
Experienced advertisers plan their strategies based on how people are searching for their business. Some users narrow down their search by adding the city or location name to the search query. By including location-specific terms in your ads along with your keywords you can specify your target audience, which may help you remove the unqualified traffic.
You can experiment and use other location terms, like ZIP codes, area codes, tourist destinations, and street names. By adding in location-specific terms, you can target both by geographical location and by search intent. Users who are seeing your geographically relevant ads will be more qualified and, thus, more likely to convert. 
3. Make Good Use of Terms That Only Locals Know
To target local consumers, you need to speak their language. By including words and phrases in your ads that only a local audience knows you can create hyper-local and ultra-relevant messaging. For example, the term "hotdish" is used around the Midwest and refers to a main course that is served in a baking dish, and the word "hoagie" is a word used in Philadelphia for a sub sandwich.
Research to find out what local communities are talking about and how they are doing it. Start leveraging local language and writing ads that perfectly resonate with local consumers.
4. Enable Extensions in Your Ads
Even the smallest detail can have a huge impact on your campaign success. Ad extensions provide benefits to your advertising campaign, but for a local strategy, they are indispensable. The two most popular ad extension types among advertisers are location and call extensions.
Location extensions. These ad extensions showcase your business address, phone number, and a map of your location. Be sure that your Google My Business account is accurate, up to date, and is linked to Ad, since location extensions are based on your GMB profile.

Call extensions. This type enables you to include a phone number in your ad. When your ads show up, call extensions will provide users with a phone number or a clickable call button (if their device can make calls), so they can call your company directly. You can schedule a phone number to show only during your business hours.
5. Gain Local Insights to Create Highly Relevant Messaging
You may have heard about the service named Google Trends that shows how often a given term is entered into the search engine relative to the total number of searches done on Google over a specific period of time. The tool is primarily used by SEOs and content specialists, however, advertisers can make good use of Google Trends by exploring which locations are most interested in what you are offering. You can view where a particular keyword is most popular by country, city, region, or metro.
Be sure to follow local news, traditional holiday celebrations and other local events, which can spike demand for particular products and services, providing an opportunity to boost sales. These insights will help you create relevant and effective ads that will result in better consumers response.
6. Test and Optimize
Finally, your ads are running, but how can you ensure that your ads will deliver the desired results? Testing, measuring results, and optimizing your ads are vital elements of any successful campaign. You can use A/B testing to discover which ads perform better and make the necessary adjustments to your strategy.
Conclusion
Getting your ad in front of your audience can sometimes be tricky. This is where local PPC becomes your indispensable weapon in the pay-per-click battle for consumers' attention. If you can align yourself and your brand with your local audience, you will be in tune with their needs, wants, and preferences. Hopefully, the techniques provided in this post will help you revitalize and invigorate your local PPC ads.